These blackened shrimp tacos are healthy, fast, and packed with flavor! They're the perfect way to shake up Taco Tuesday at your house.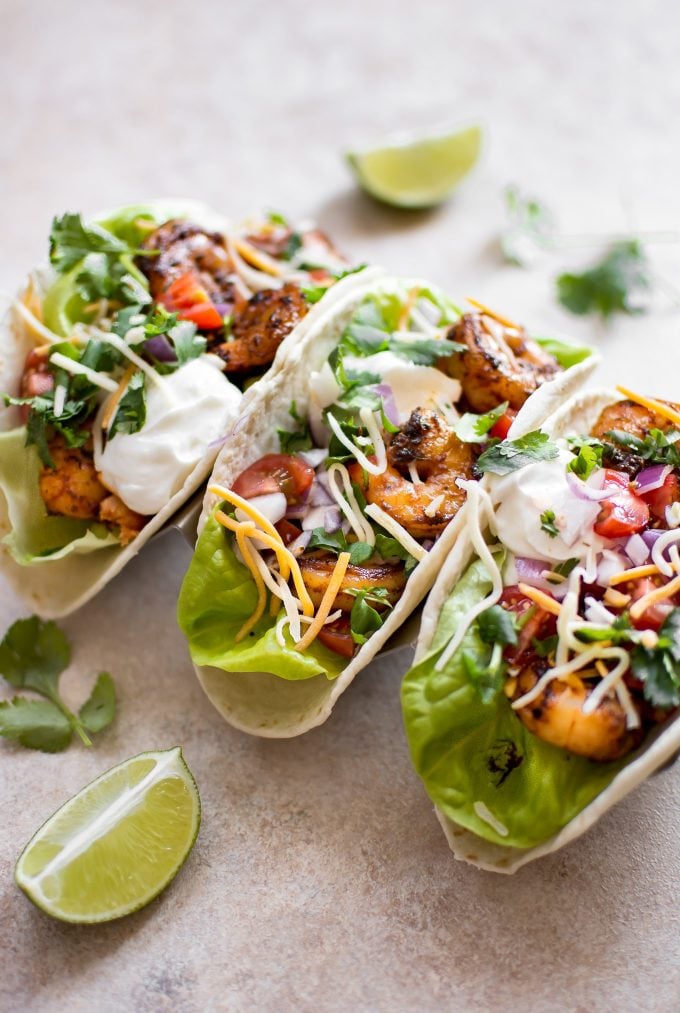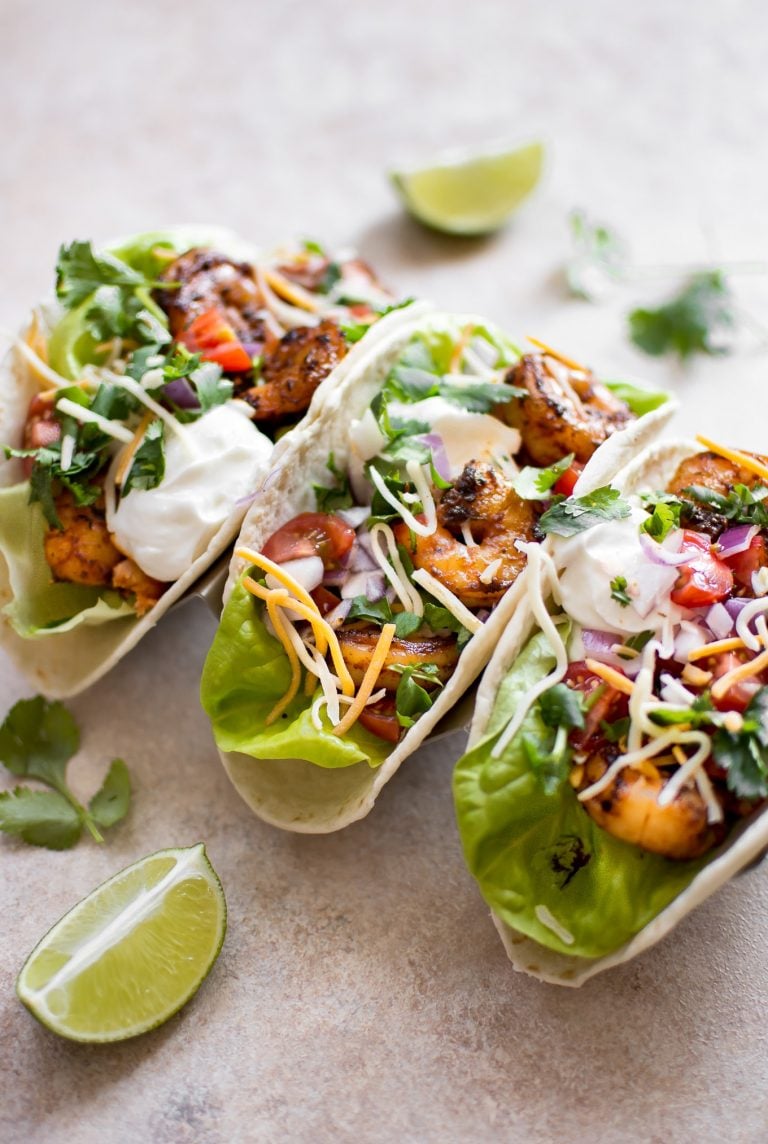 I don't make tacos that often. I felt like making shrimp tacos, and I decided to make blackened shrimp this time.
Even my husband, who isn't a big fan of shrimp in general, loved them.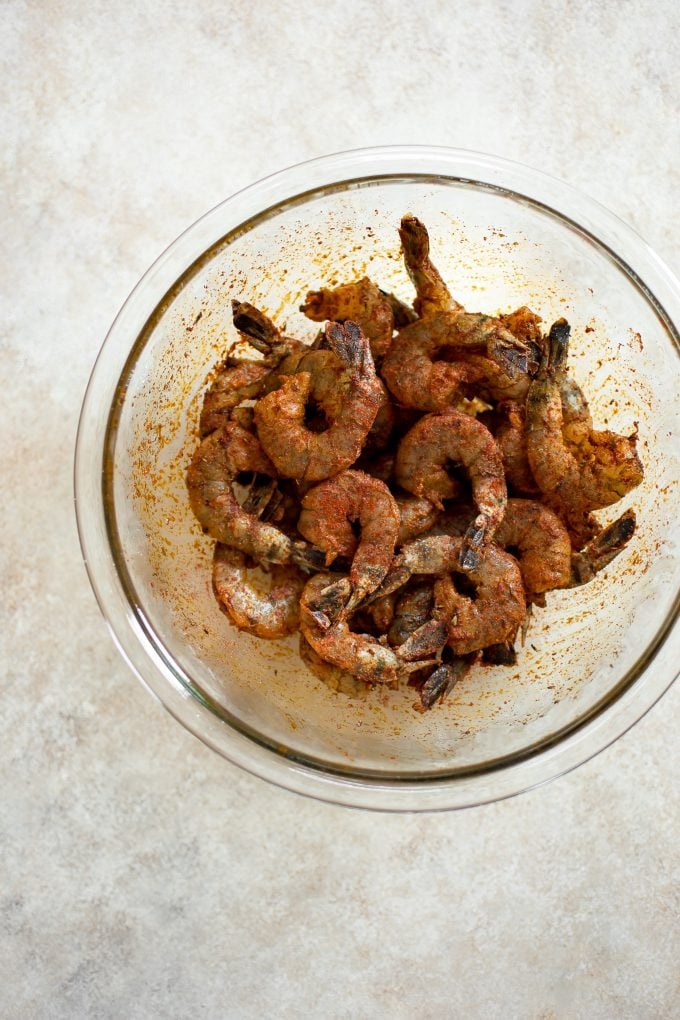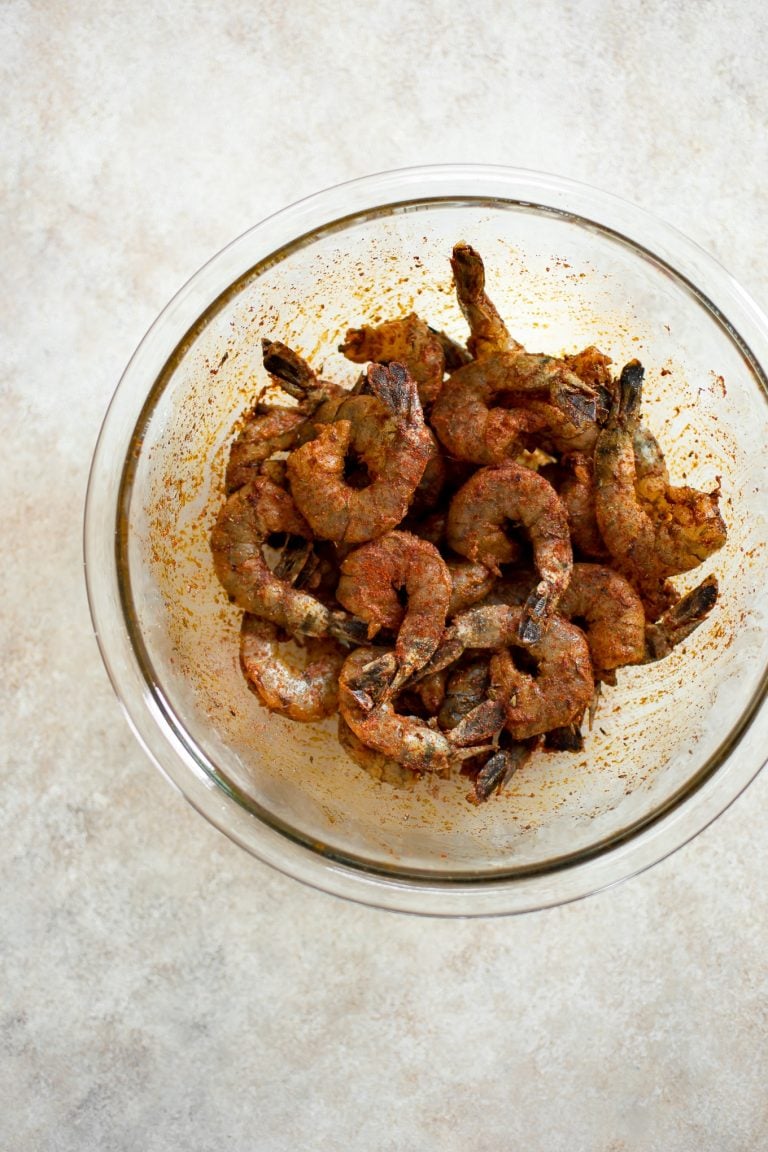 Photographing shrimp tacos isn't my favorite thing either, but it went surprisingly well this time, I thought.
No re-dos, anyway (yet?) - ha!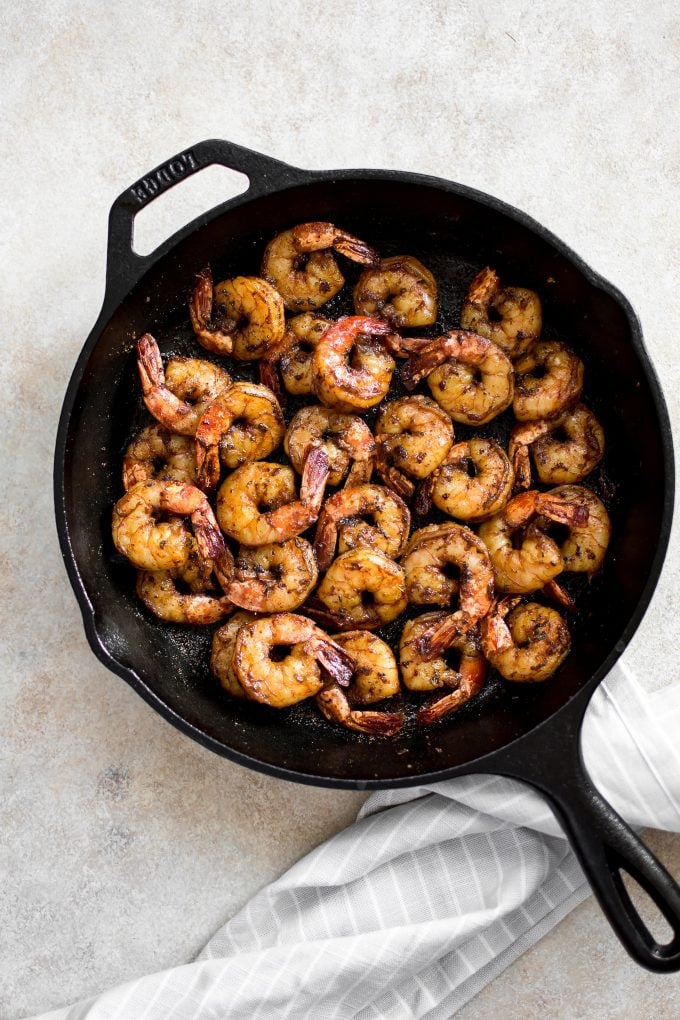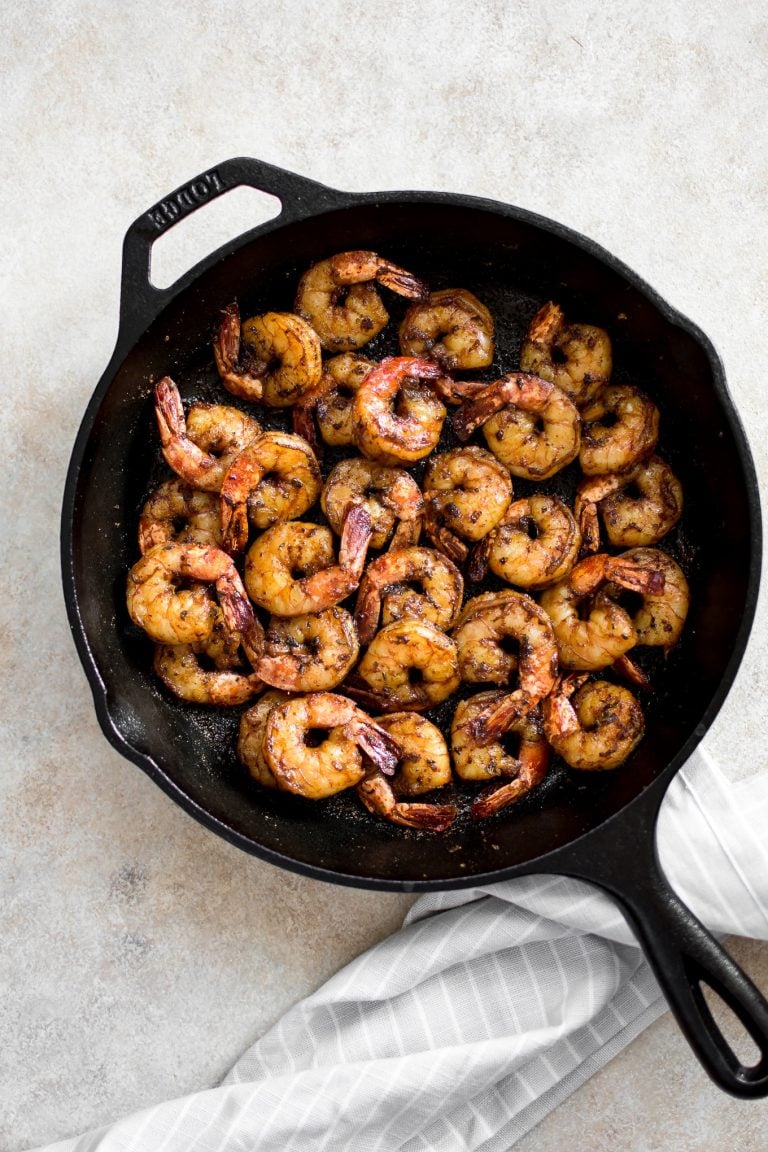 How to make blackened shrimp
Toss the shrimp in the seasoning mixture and some olive oil until they're evenly coated. I like to let them sit for about 15 minutes to absorb the flavors better, but skip this step if you're in a hurry.
Heat a cast iron pan (or a normal skillet) over medium-high heat with a bit of olive oil.
Cook the shrimp for 1-3 minutes/side or until they're pink and cooked through (depends what size shrimp you use and how hot the pan is).
What's in blackening seasoning?
It can vary, but I stuck to fairly standard herbs/spices:
Paprika (I use smoked paprika because I LOVE that smoky flavor)
Garlic powder
Onion powder
Dried oregano
Dried thyme
Dried basil
Cayenne pepper (if you like it spicier)
Blackening seasoning is pretty similar to Cajun seasoning but does not typically include the dried basil, and it sometimes has red pepper flakes. If you have a jar of Cajun seasoning in your pantry, feel free to use it instead and you will get similar results with slightly less effort.
You may also like my healthy salmon tacos, my taco soup recipe, or these easy shrimp tacos.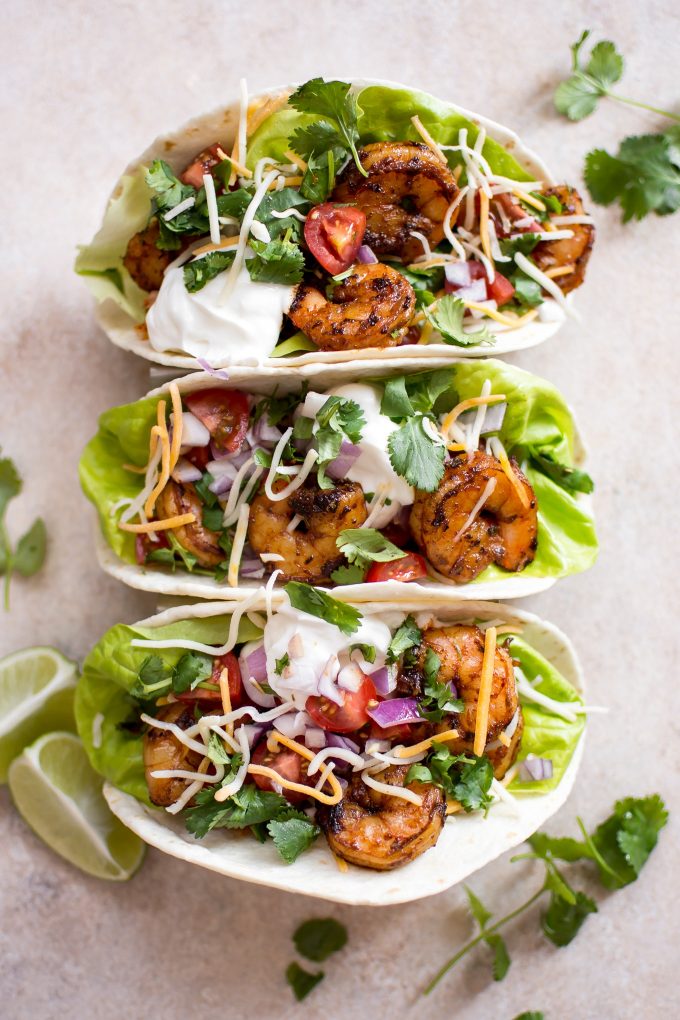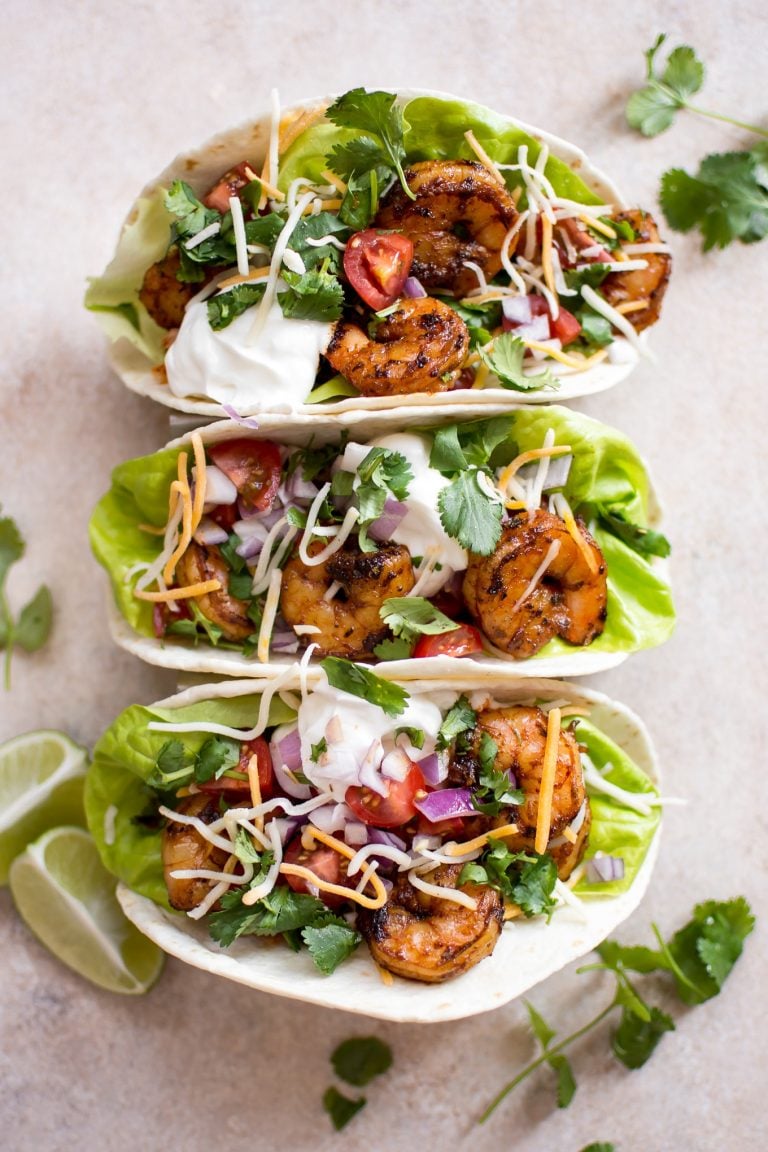 I'm a firm believer in topping tacos with whatever you like and/or have in the fridge. Here's some ideas:
Sour cream or Greek yogurt
Mexican shredded cheese blend (the one I used had cheddar, quesadilla queso and Monterey Jack)
Chopped cilantro
Red onions
Tomatoes
Avocado (had some but totally forgot about it!)
Lettuce (I used butter leaf)
Hot sauce
Salsa
Hope you try this blackened shrimp tacos recipe!
Let me know in the comments below if you made them or have any questions. 🙂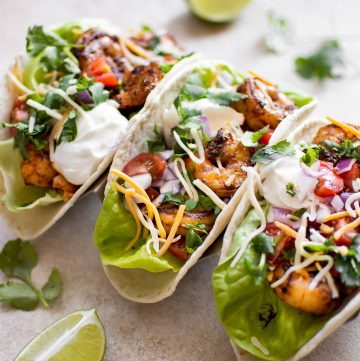 Easy Blackened Shrimp Tacos
These blackened shrimp tacos are healthy, fast, and packed with flavor! They're the perfect way to shake up Taco Tuesday at your house.
Ingredients
1

pound

medium-to-large shrimp

(thawed, peeled, tails off)

1.5

teaspoons

smoked paprika

1

teaspoon

garlic powder

1

teaspoon

onion powder

1/2

teaspoon

dried oregano

1/2

teaspoon

dried basil

1/2

teaspoon

dried thyme

Cayenne pepper

to taste (optional, I added a small pinch)

2

tablespoons

olive oil

divided

8-10

medium flour tortillas
Toppings, to taste:
Greek yogurt or sour cream

Tomatoes

chopped

Avocado

chopped

Red onions

chopped

Cilantro

chopped

Lettuce (I used butter leaf)

Mexican shredded cheese blend

Lime wedges
Instructions
Pre-heat oven to 350F to warm the tortillas. Wrap them in foil and place them in the oven.

Prep your shrimp and dry them off using paper towel. Add them to a medium bowl along with the blackening herbs/spices and 1 tablespoon of olive oil. Toss them until they're evenly coated. Let them sit for 15 minutes so they become more flavorful.

Meanwhile, prep your taco toppings.

Heat a large cast-iron (ideal, but ok if you don't have one) skillet over medium-high heat. Add a tablespoon of olive oil and when it's shimmering, add the shrimp. Cook for 1-3 min/side (depends on what size shrimp you're using) or until they've turned pink and are cooked through. You may need to do 2 batches. Add more olive oil to the second batch if the pan looks really dry.

Take tortillas out of the oven and top tacos as desired. Serve with a generous squeeze of lime juice.