This Thai chicken salad with peanut dressing is quick, easy, and fresh. A great way to use leftover or rotisserie chicken!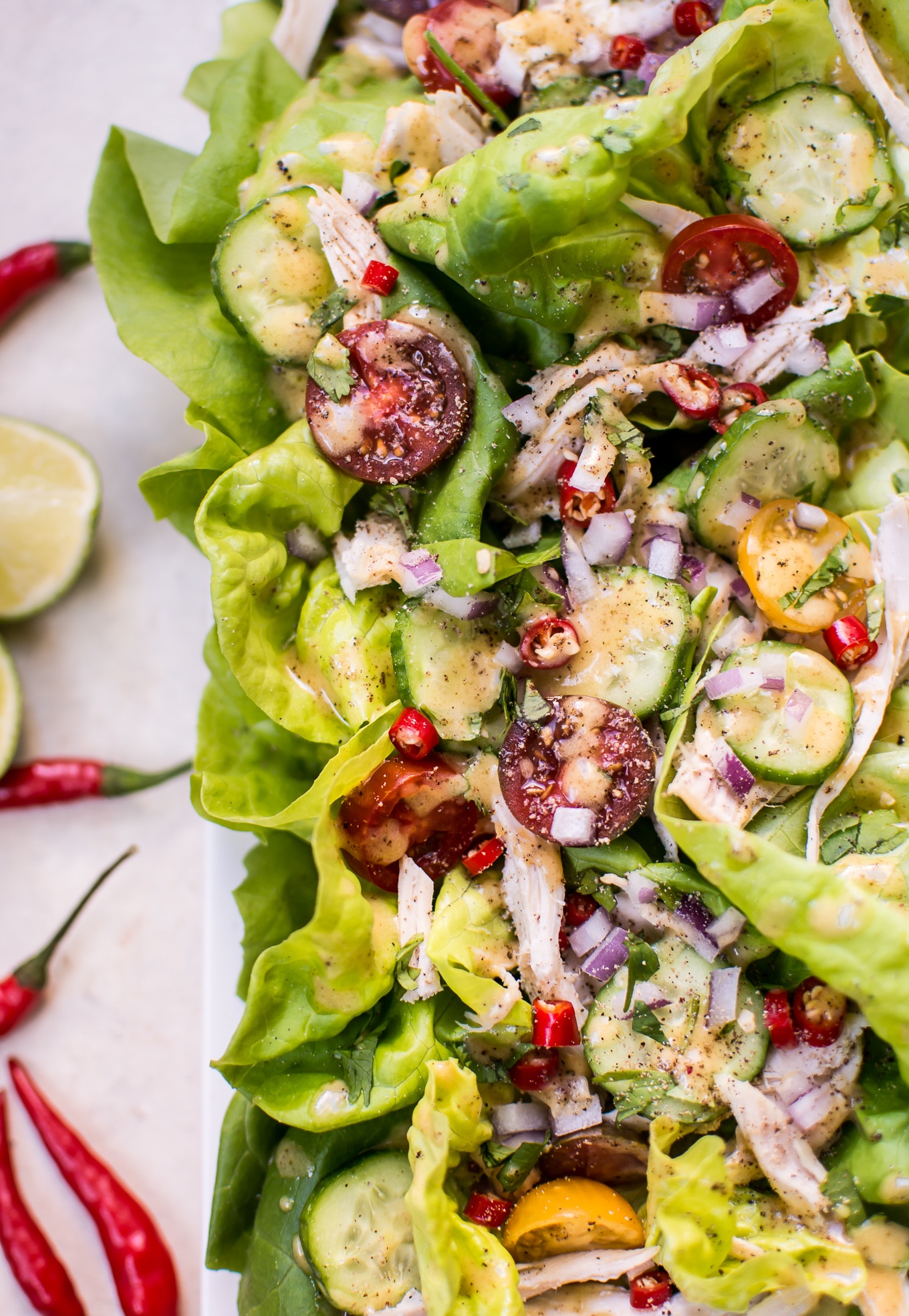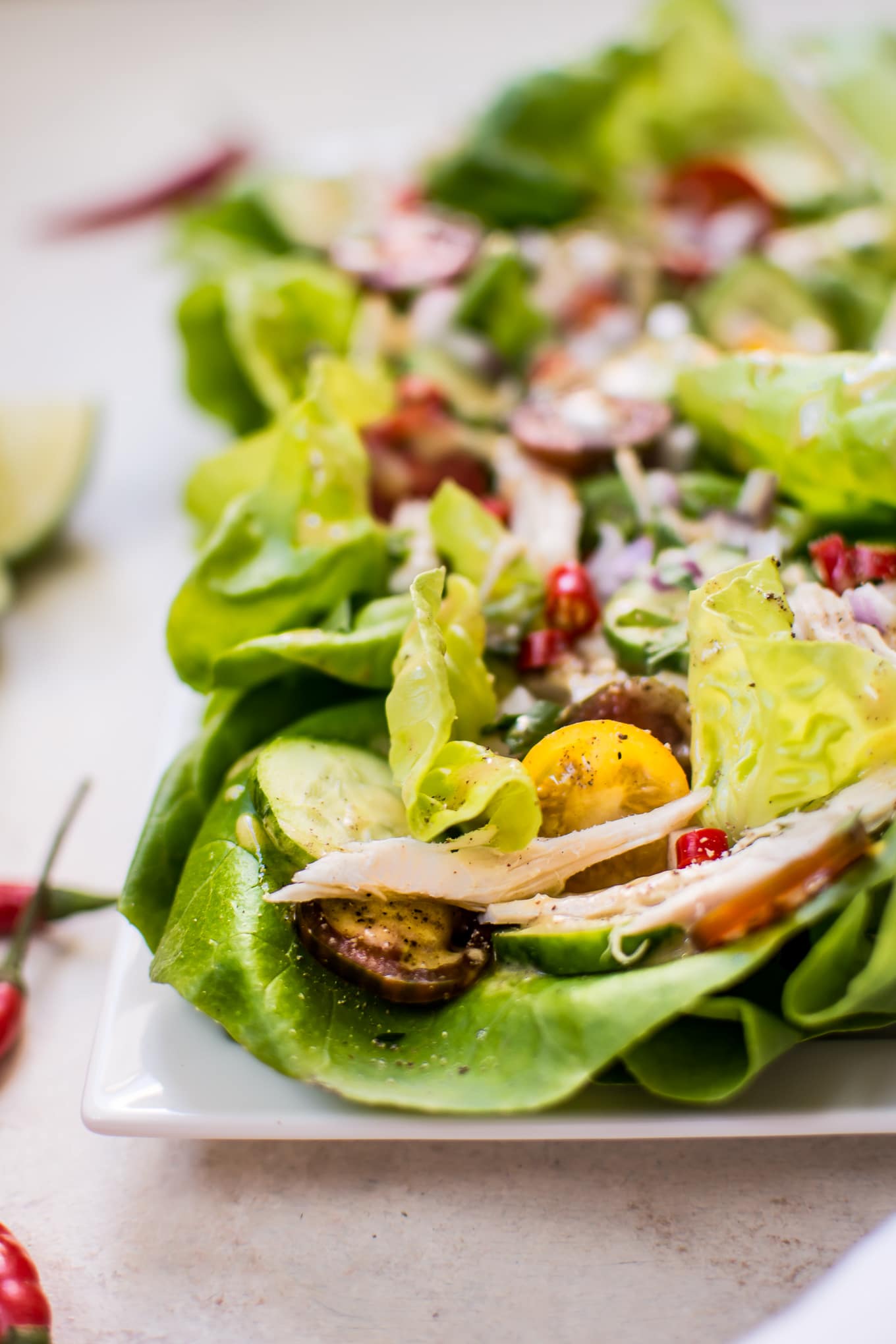 Tender chicken, a moreish peanut-lime-ginger dressing, red onions, cucumber, little tomatoes, Thai chilis, and cilantro make for one tasty and flavor-packed summer salad! I've definitely been on a Thai-inspired recipe kick lately. I just love those flavors so much!
If you're not into spicy things, I suggest omitting the Thai chili peppers. The salad will still taste great, but your mouth won't be on fire. 😉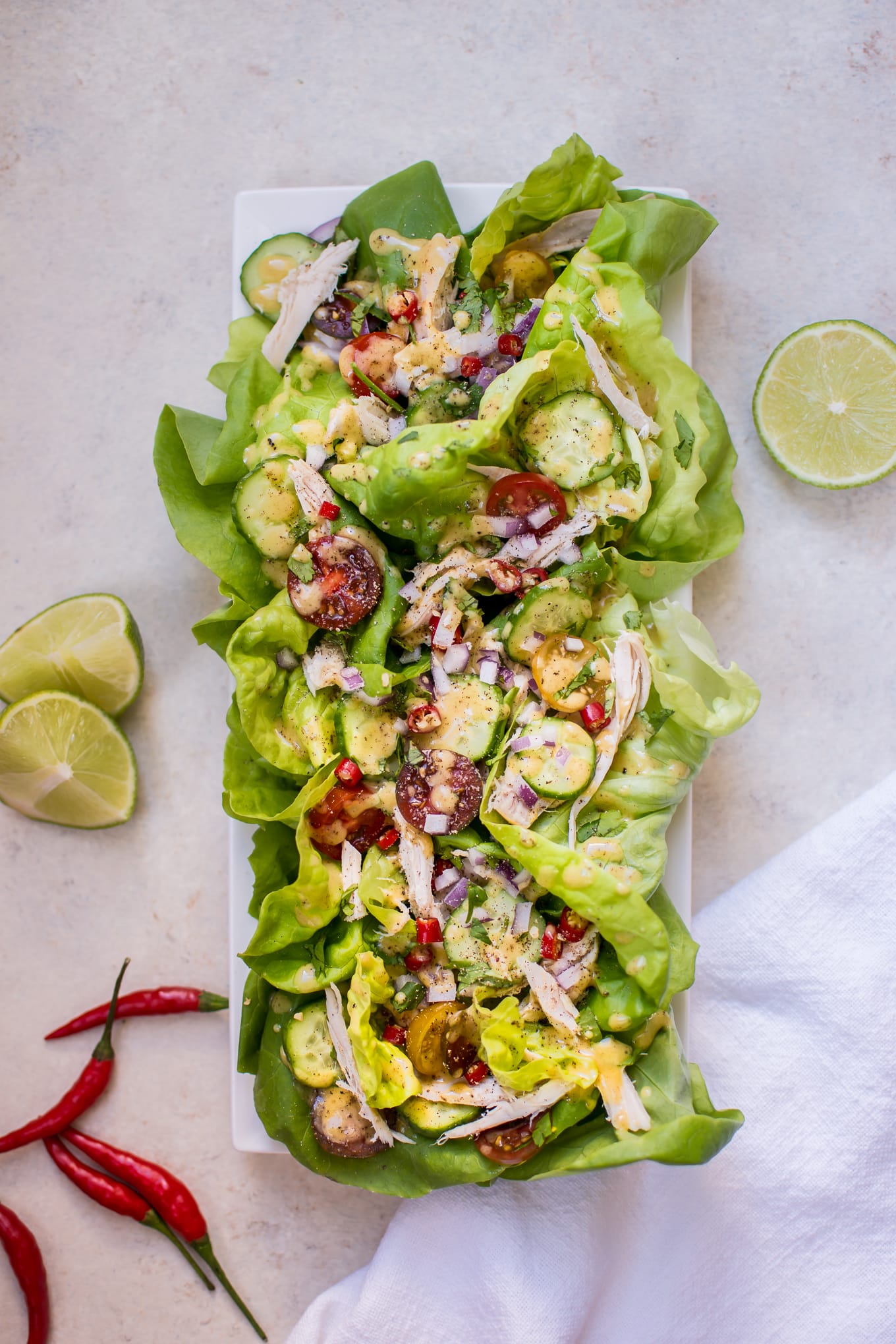 I always keep at least one head of living butter leaf lettuce in my fridge at all times. It's my favorite kind of lettuce, and if you add some water to the bottom of the container it comes in, it'll last in your fridge for at least a week. This has helped me big-time when it comes to not wasting lettuce. As much as I love the convenient bagged mixes, I don't always get to those in time, and I hate throwing them out.
Summer is a great time to not be slaving away in your kitchen, so I made this salad about as simple as it gets. Buy a rotisserie chicken, chuck the dressing ingredients in a food processor, and assemble your salad. Easily done in 15 minutes. Eat it on your deck with a glass of something nice and enjoy the warm weather. 🙂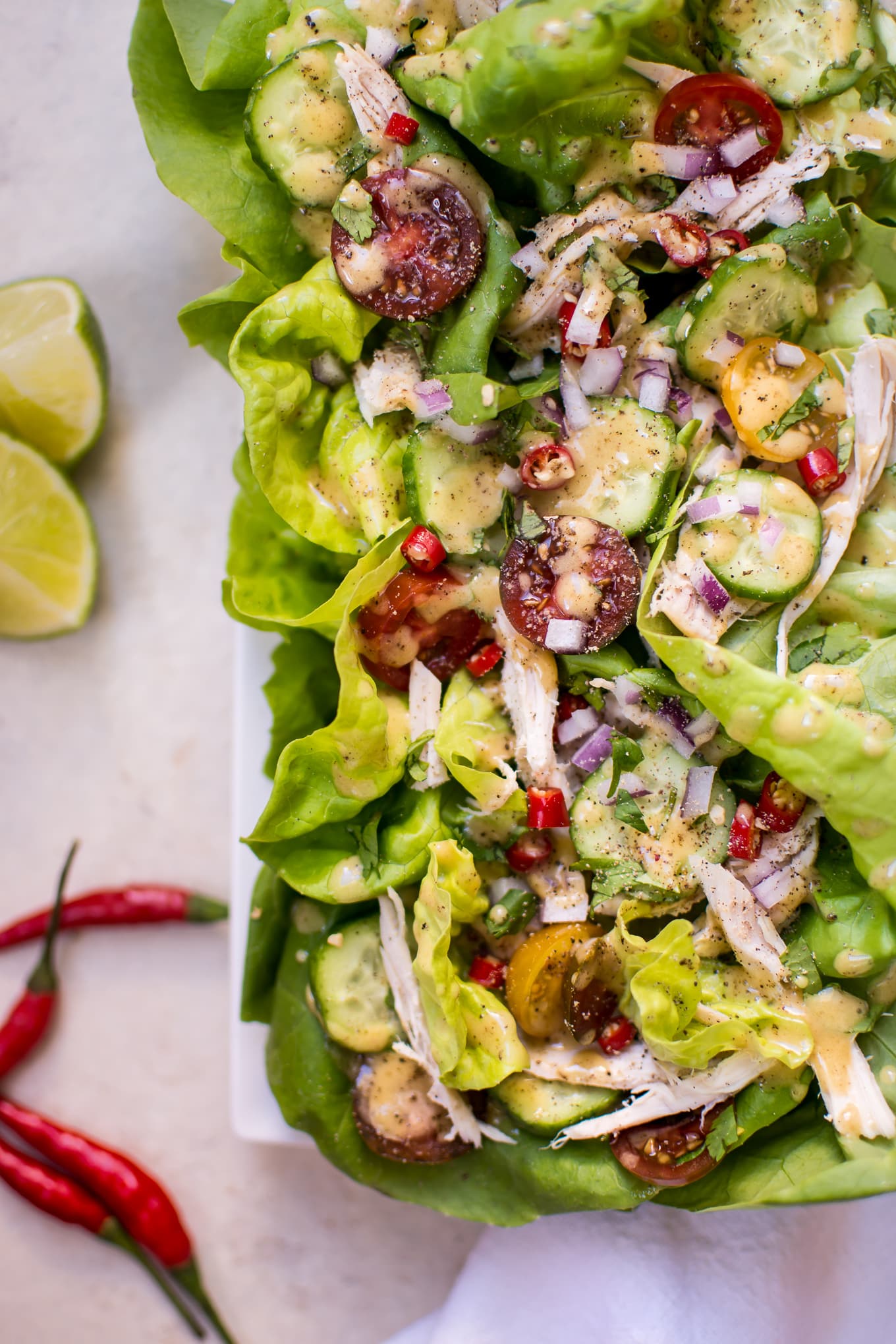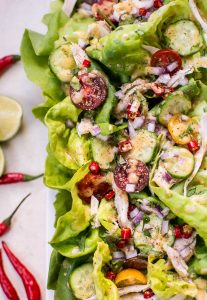 Print
Thai Chicken Salad with Peanut Dressing
Yield 2-4
This Thai chicken salad with peanut dressing is quick, easy, and fresh. A great way to use leftover or rotisserie chicken!
Ingredients
1 large head butter leaf lettuce
1.5 cups shredded cooked chicken 
1 tablespoon red onion, chopped
Small handful fresh cilantro, chopped
Handful assorted little tomatoes, chopped
1 Persian cucumber, sliced
1-2 Thai red chili peppers, chopped (optional)
Peanut-Lime-Ginger Dressing:
2 heaping tablespoons peanut butter
Juice of 1 lime
1 teaspoon fresh ginger, grated 
1 clove garlic, minced
1/2 tablespoon brown sugar
1/2 cup olive oil 
Salt & pepper, to taste
Instructions
Add all the dressing ingredients to a food processor except for the olive oil. Slowly drizzle in the olive oil while processing until you've got a smooth mixture. Set aside.
Prep all the salad ingredients and add to a large bowl. Toss with the dressing and serve immediately. 
Notes
Serves 2 as an entree or 4 as a side. You may have some dressing left over. If you do, it'll keep in the fridge for a few days. 
You can use about 1/4 of a regular English cucumber if you can't find Persian cucumbers. I love using the little cucumbers in salads. 
Helpful hint: It's much easier to grate ginger when it's frozen. I always keep some fresh ginger in my freezer for when I need it. It also helps reduce waste (I always seem to waste fresh ginger when I don't use it in time!). 
Courses Salad
Cuisine Thai
Hope you enjoy this Thai salad recipe!
Like chicken salads with peanut salad dressing? I made a grilled version last summer.
Made one of my recipes? Tag me on IG @saltandlavender and hashtag #saltandlavender so I can see it 🙂
All images and content are © Salt & Lavender.