This vegetarian truffled mushroom naan pizza is super easy, a little fancy, and tastes way better than you'd expect from a quick homemade pizza!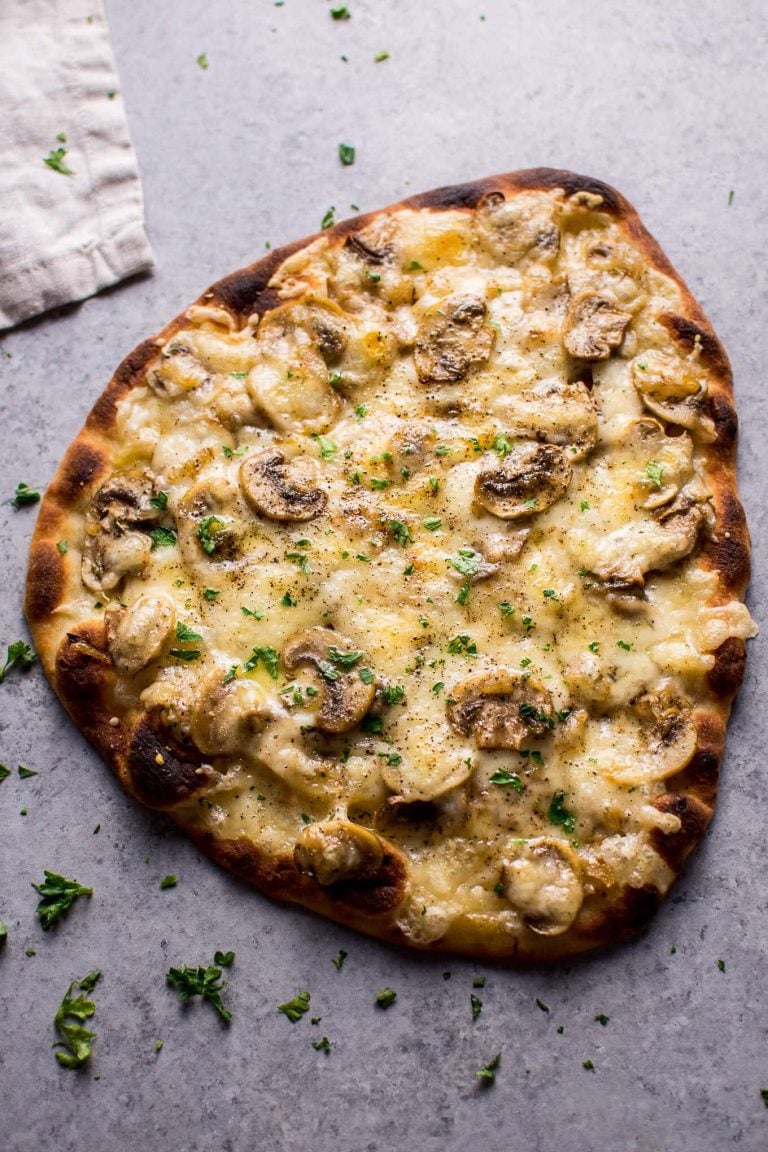 This is Salt & Lavender's first pizza recipe, and it's a good one! My general thoughts on homemade pizza is that it isn't really worth it. The dough is often a pain in the butt to make, working with pizza stones can be stressful, and the results for all the effort you put in are often disappointing. There are plenty of good pizza places around here, so I usually order in.
I've seen naan pizzas trending for a while, and I wanted to see what the fuss is about. If it's something Nigella Lawson snacks on, I'm game to try it. I don't normally buy naans, but I am now convinced they make the best no-fuss pizza base.
I decided on a simple mushroom pizza with Fontina cheese. I love Fontina for pizza because it's pretty mild, and it melts very quickly. I wanted a special touch, so I decided to add a splash of white truffle oil as well. I was recently out to dinner with a coworker and saw a truffle pizza on the menu. I wasn't in the mood to pay $25 for an individual pizza that day, though. I guess the idea of that pizza stuck in my head because here we are!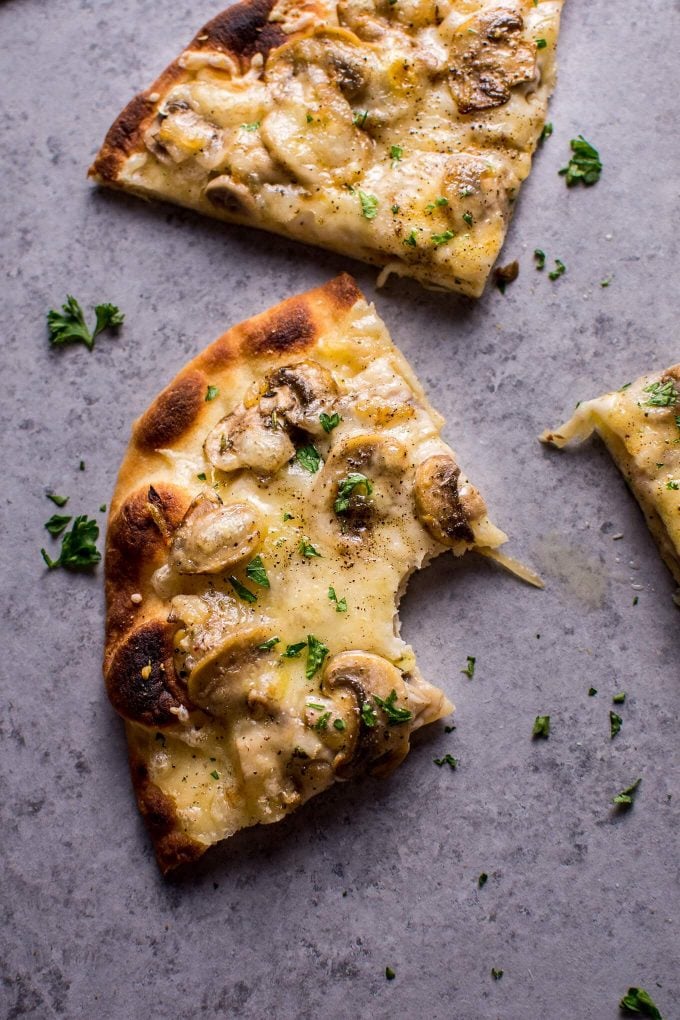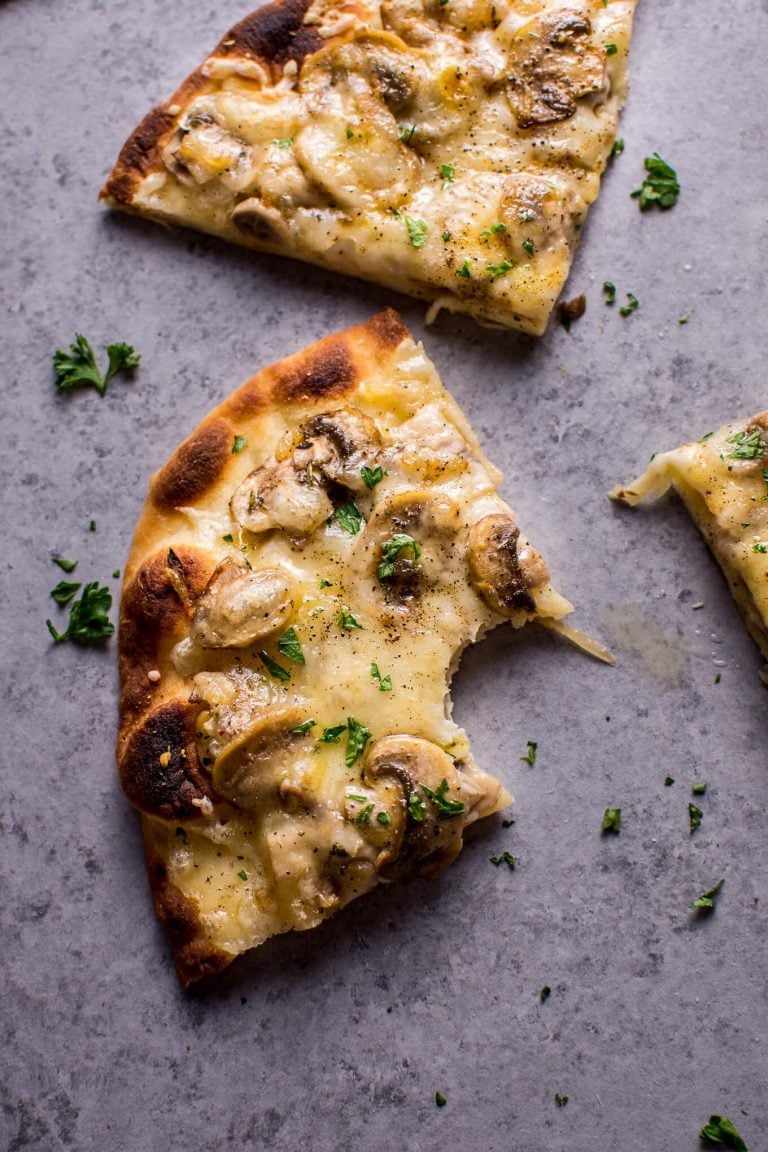 You will like this pizza if:
You like mushrooms and onions
You like a softer crust (the edges crisp up just a bit)
You like pizza. Seriously this naan pizza is fantastic!!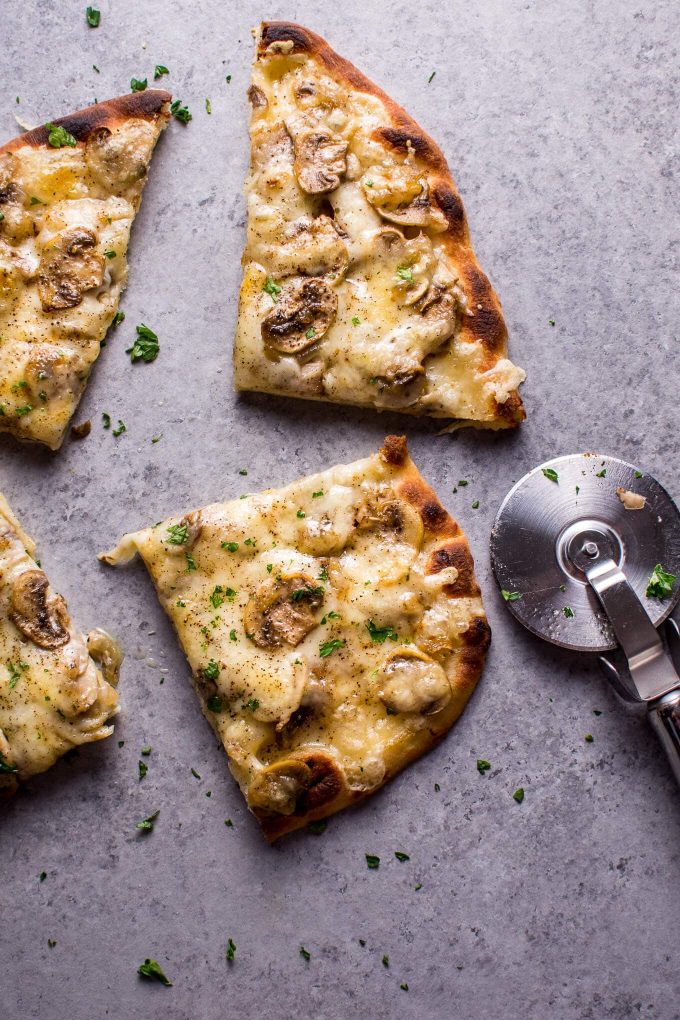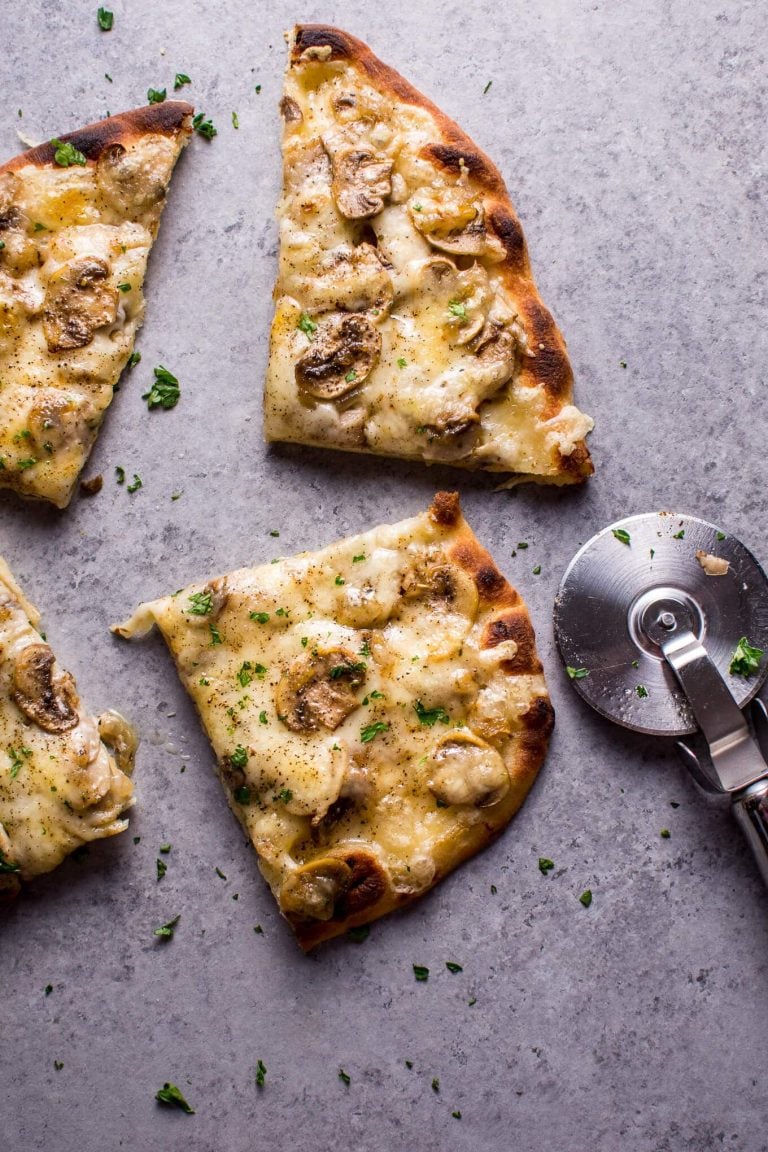 I pre-cook the mushrooms and onions because the pizza only spends about 5 minutes in the oven. It's a necessary step, but only takes about 10 minutes. The whole thing is ready in less than half an hour.
Once it's out of the oven, you just drizzle on some truffle oil and sprinkle a little parsley if you wish. So easy and so good!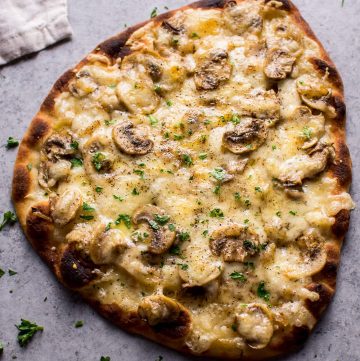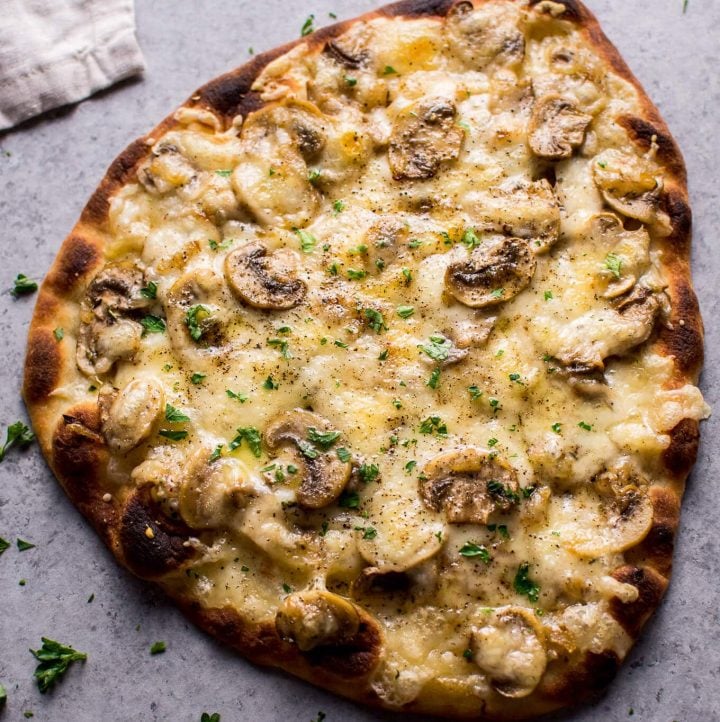 Truffled Mushroom Naan Pizza
This vegetarian truffled mushroom naan pizza is super easy, a little fancy, and tastes way better than you'd expect from a quick homemade pizza!
Ingredients
2

naans

1

tablespoon

olive oil + 2 teaspoons olive oil

1/2

medium onion

chopped

8

ounces

white mushrooms

sliced thin

3-4

cloves

garlic

minced

4

dashes Italian seasoning

Salt & pepper

to taste

1.5

cups

grated Fontina cheese

Truffle oil

to taste

Chopped parsley

to taste (optional)
Instructions
Heat 1 tablespoon of olive oil in a skillet on medium-high heat. Add the onion once the oil is hot, and sauté for 5 minutes. Add the mushrooms, garlic, Italian seasoning, and salt & pepper, then cook for another 5 minutes, stirring occasionally, until everything has softened, and the liquid is released from the mushrooms.

Meanwhile, set your oven's broiler to high and move the rack to the top third of the oven.

Place the naans on a non-stick baking sheet. Drizzle a teaspoon of olive oil onto each naan. Top each naan with the mushrooms followed by the cheese.

Broil for 5-6 minutes, or until the cheese is melted and bubbly. Drizzle the truffle oil on top of each pizza, and sprinkle with parsley. Serve immediately.
Notes
If you can't find Fontina cheese, you could try substituting Gruyère, Provolone, or Gouda.