These vegan sugar cookies are super soft, easy, and require no chilling! A delicious dairy-free sugar cookie recipe.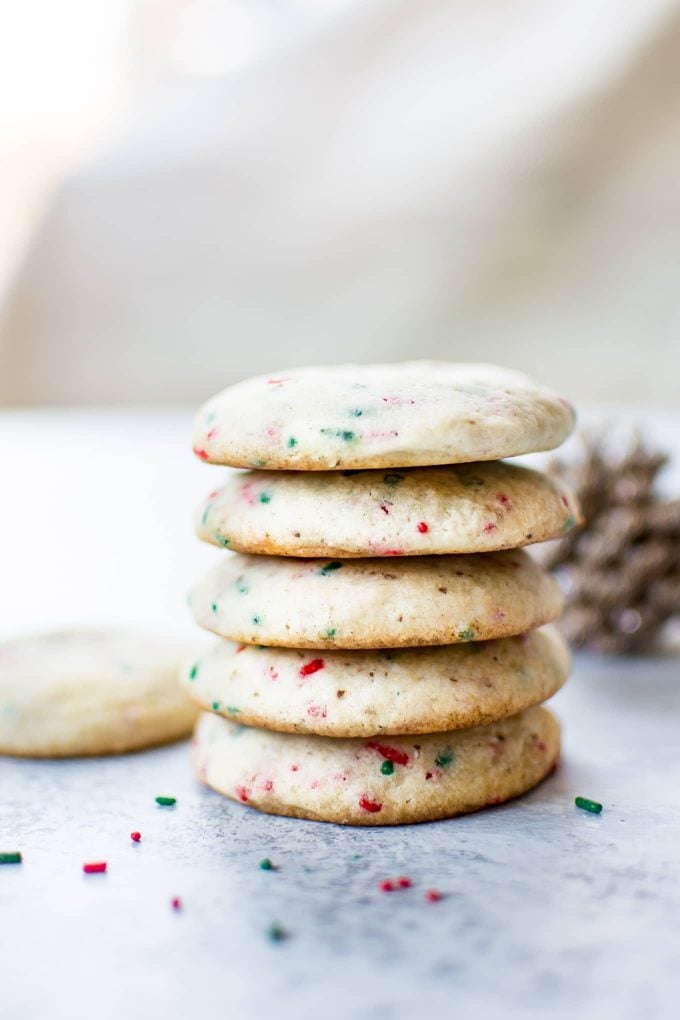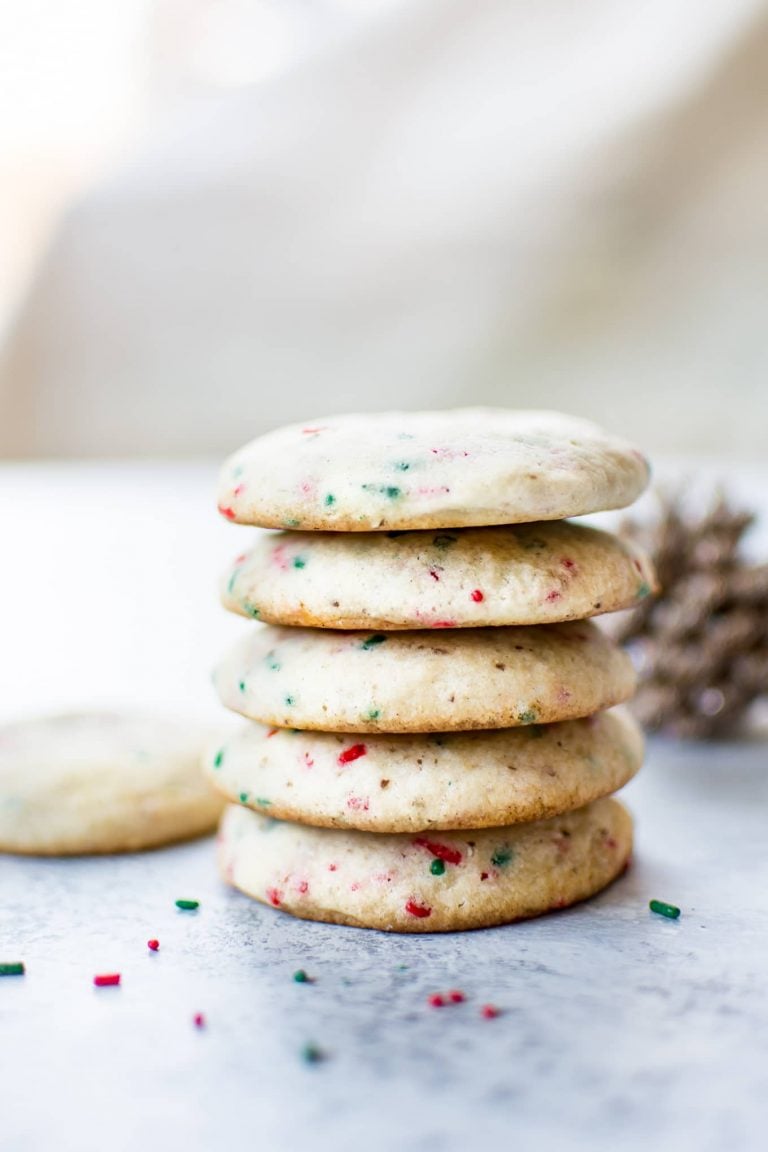 It took a few experiments to get these right, but I am very pleased with the results. I love a soft sugar cookie, and these definitely are.
When I was first tinkering with this recipe, I wanted them to be shape cutouts, but that involved a lot of chilling, mess, and work. I may still develop a recipe for those, but for now, these definitely are less effort and taste great, so I'm sticking with them as my go-to easy vegan cookie. 🙂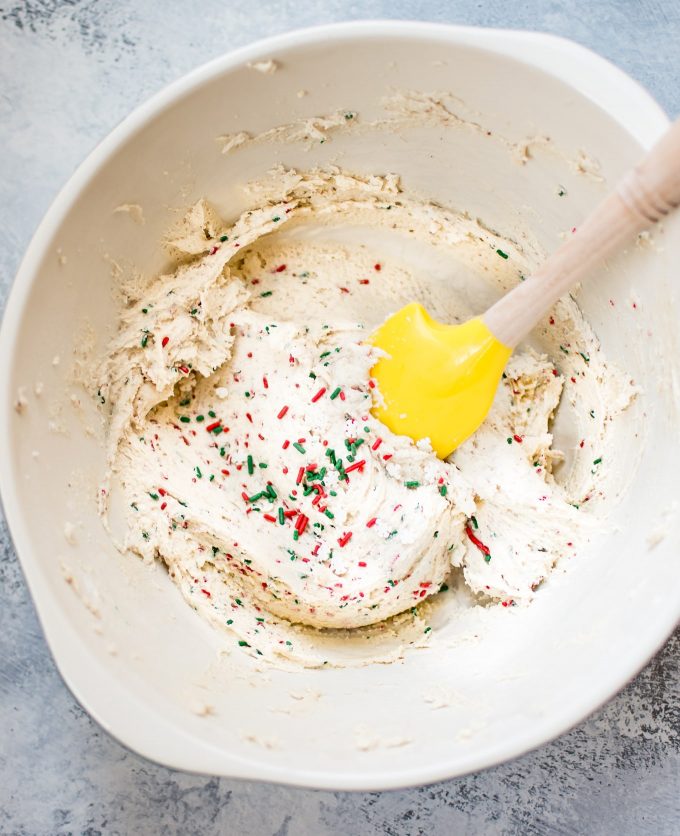 This soft vegan sugar cookies recipe is sweet (but not too sweet), and the ground flax adds a lovely nutty flavor to them.
I made several batches of these cookies, and everyone adored them. My husband's coworkers were definitely happy campers.
What ingredients are in vegan sugar cookies?
Vegan butter, white sugar, flax egg, pure vanilla extract, all-purpose flour, baking powder, salt, and optional mix-ins (e.g. sprinkles).
You can see this recipe is pretty similar to regular sugar cookies, except the egg and butter are replaced with vegan alternatives.
How to make vegan sugar cookies
Make the flax egg; set aside for it to gel. Prep the remaining ingredients.
Cream butter and sugar in a large mixing bowl. Mix in the flax egg and vanilla.
In another bowl, whisk the dry ingredients together. Gradually add dry ingredients to the wet ones. Fold in any mix-ins.
Roll dough into 1.5″ balls and bake on a lined baking sheet at 400F for 10-12 minutes.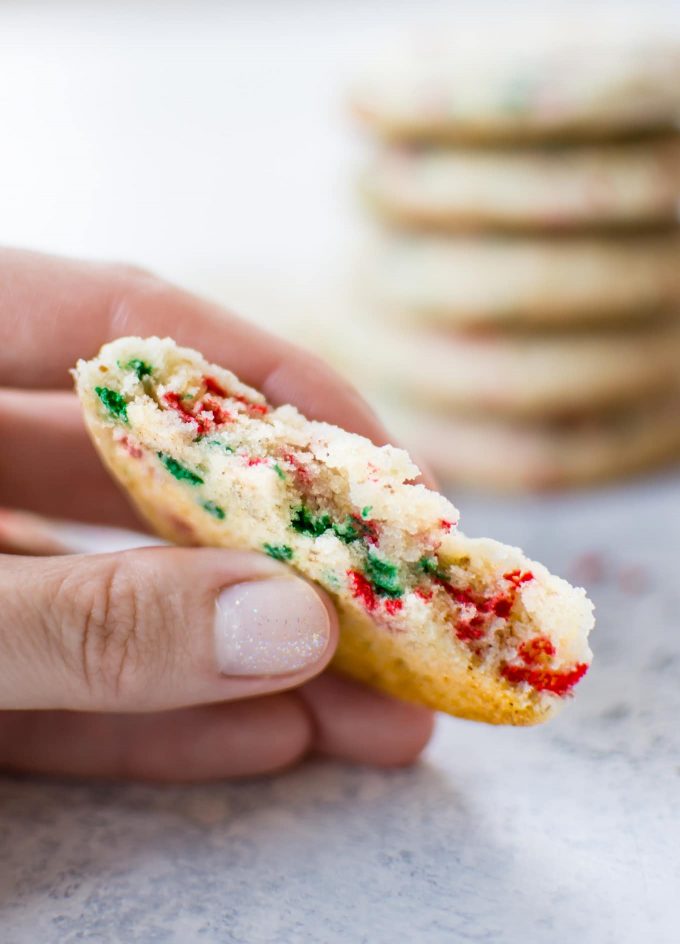 How to customize vegan sugar cookies
It's really easy to customize these cookies. Don't want sprinkles? Skip them.
Want to make these vegan Christmas cookies? Use red and green sprinkles like I did in most of the photos.
Want rainbow sugar cookies? Use rainbow sprinkles.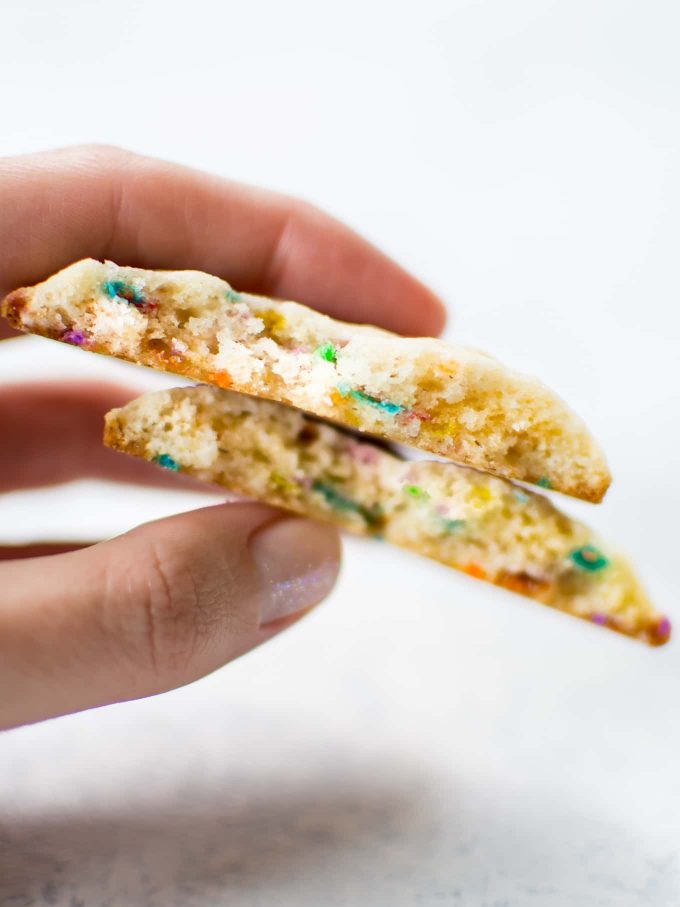 Want to make these vegan Halloween sugar cookies? Use Halloween sprinkles.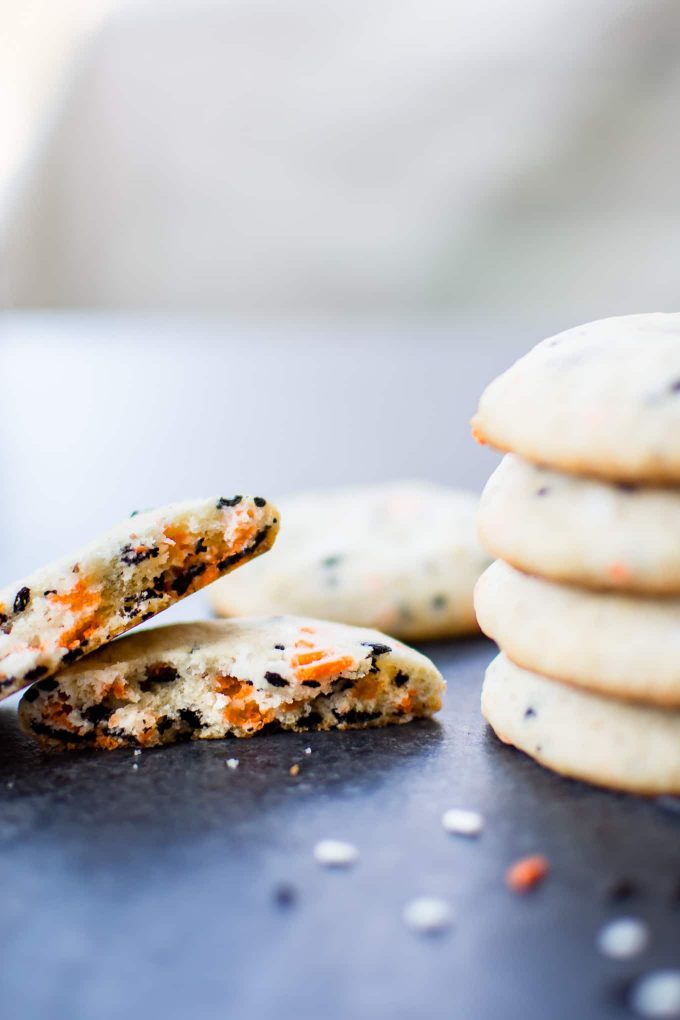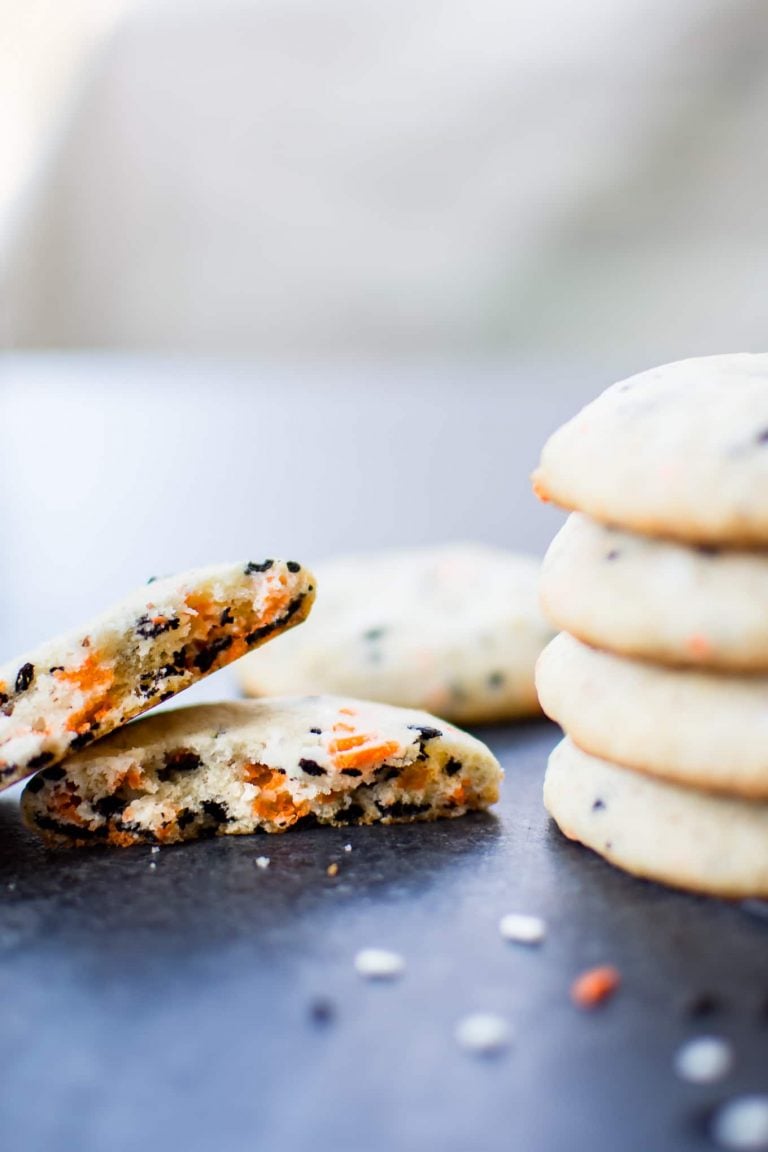 …Or make my vegan chocolate chip cookie dough frosting to go with them!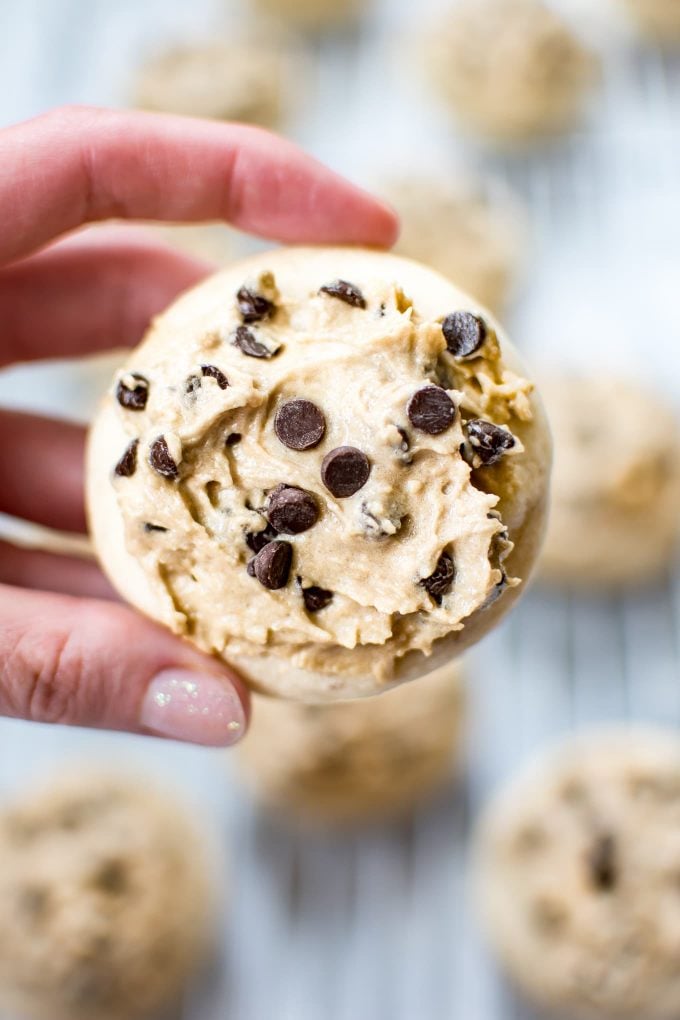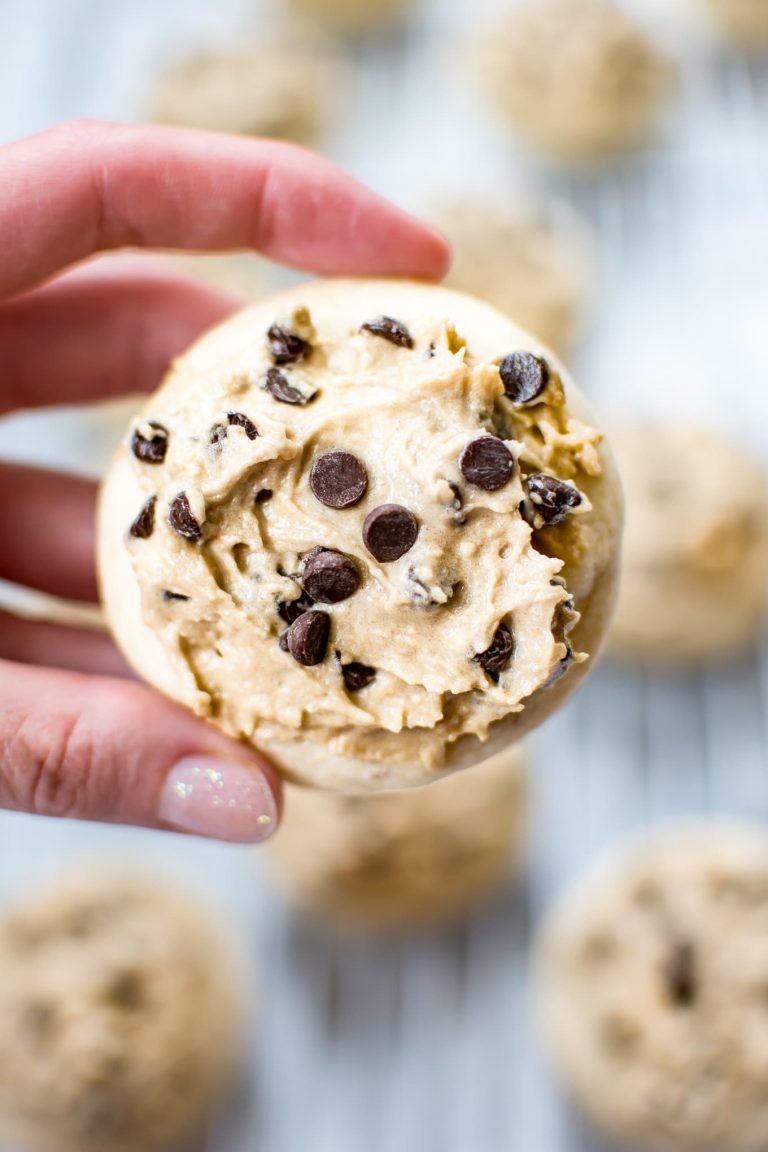 You can see that these are cookies for any occasion, basically. 😉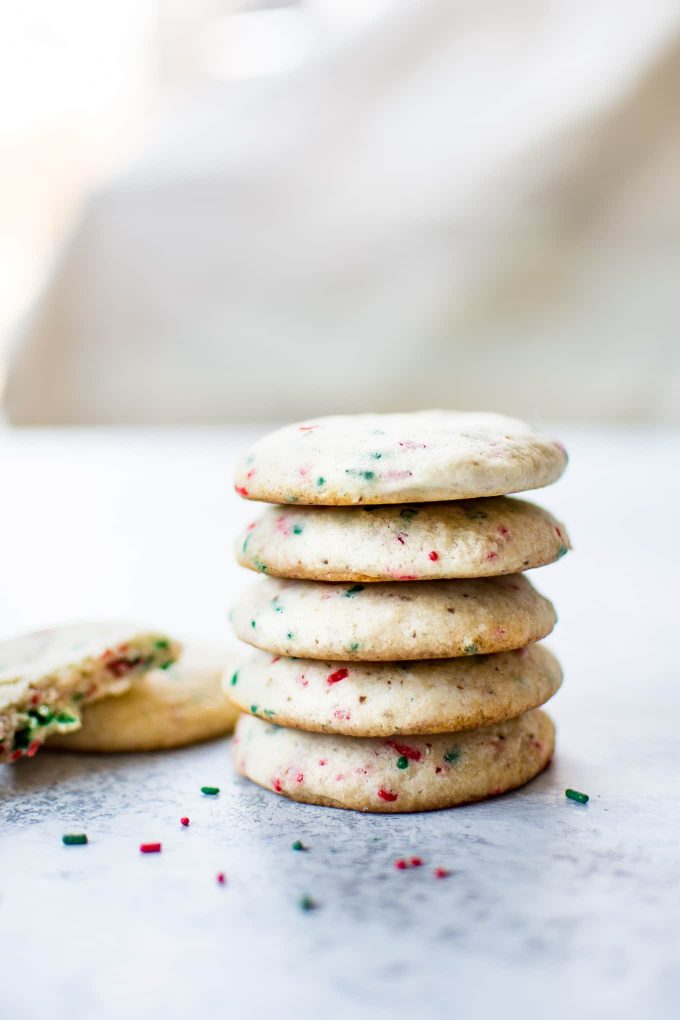 How to store vegan sugar cookies
I like to transfer these cookies to a sealed container as soon as they cool so that they remain nice and soft. They keep well for a few days (in the sealed container).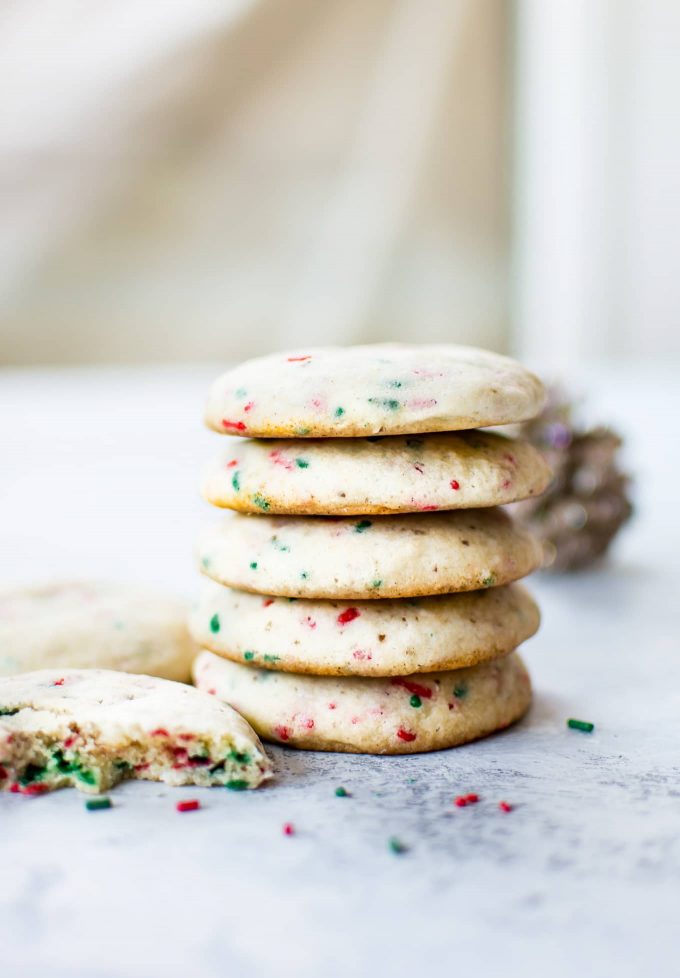 I hope you love these easy vegan sugar cookies!
Have you ever made vegan cookies before? Talk to me in the comments below!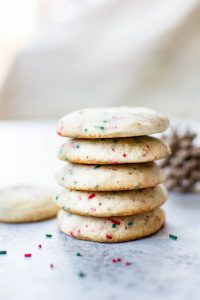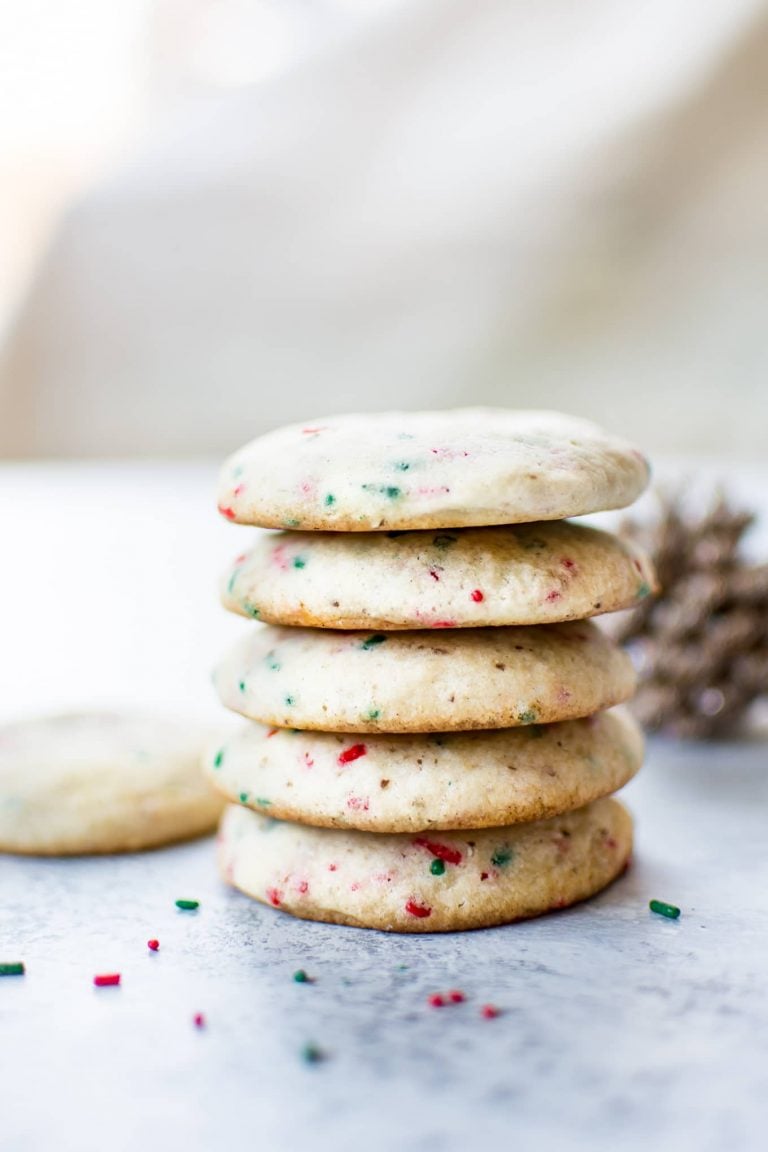 Print
Vegan Sugar Cookies
Yield 20-25 cookies (approx.)
These vegan sugar cookies are super soft, easy, and require no chilling! A delicious dairy-free sugar cookie recipe.
Ingredients
1 cup vegan butter, slightly softened (see note)
1 cup granulated sugar
1 flax egg (1 tbsp ground flaxseed + 3 tbsp water)
1 teaspoon pure vanilla extract
2.5 cups all-purpose flour
2 teaspoons baking powder
1 small pinch of salt
2-3 tablespoons sprinkles (optional)
Instructions
Prepare your flax egg by mixing the ground flaxseed and water in a small bowl. Set it aside, and prep the rest of your ingredients so it has the chance to sit for 10 minutes or so.
Preheat oven to 400F and move the rack to the middle of the oven. Line a baking sheet with a Silpat non-stick mat or parchment paper. 
Cream the vegan butter and sugar together in a large mixing bowl using an electric mixer on a low speed. 
Add the flax egg and vanilla extract to the bowl. Mix on low. 
Whisk the flour, baking powder, and salt together in a medium bowl.
Gradually add the flour mixture to the butter/sugar mixture, mixing it on a low speed until all the flour is incorporated. 
Fold in the sprinkles. 
Gently roll the dough into 1.5" balls. Place the balls at least a couple of inches apart (cookies will spread) on the baking sheet. I bake two batches (one batch at a time with about 10 cookies/batch). Bake for 10-12 minutes. 
Transfer cookies to a cooling rack and then transfer them to an airtight container as soon as they've cooled a bit so they remain nice and soft. 
Notes
I use vegan buttery sticks (2 of them to make 1 cup). I like to let the vegan butter sit on the counter for 10-15 minutes prior to making this recipe. You don't want it to sit too long - it softens much faster than normal butter.
I used ground brown flaxseed, but you could also use the golden variety. I also sometimes see it labeled as "milled flaxseed" and "flaxseed meal".
Make sure you spoon and level the flour vs. scooping it so you don't end up with too much.
Not all brands of sprinkles are vegan-friendly, so be sure to check if that's a concern.
Courses Dessert
Cuisine American
Nutrition Facts
Serving Size 1 cookie
Amount Per Serving
Calories 164
% Daily Value
* Percent Daily Values are based on a 2,000 calorie diet. Your daily values may be higher or lower depending on your calorie needs.
Try more of my tasty recipes: