These cheesy scalloped sweet potatoes are the ULTIMATE comfort food side dish. Gruyère, Parmesan, cream, garlic, and seasonal spices bake to melty perfection. No one will be able to resist this side dish.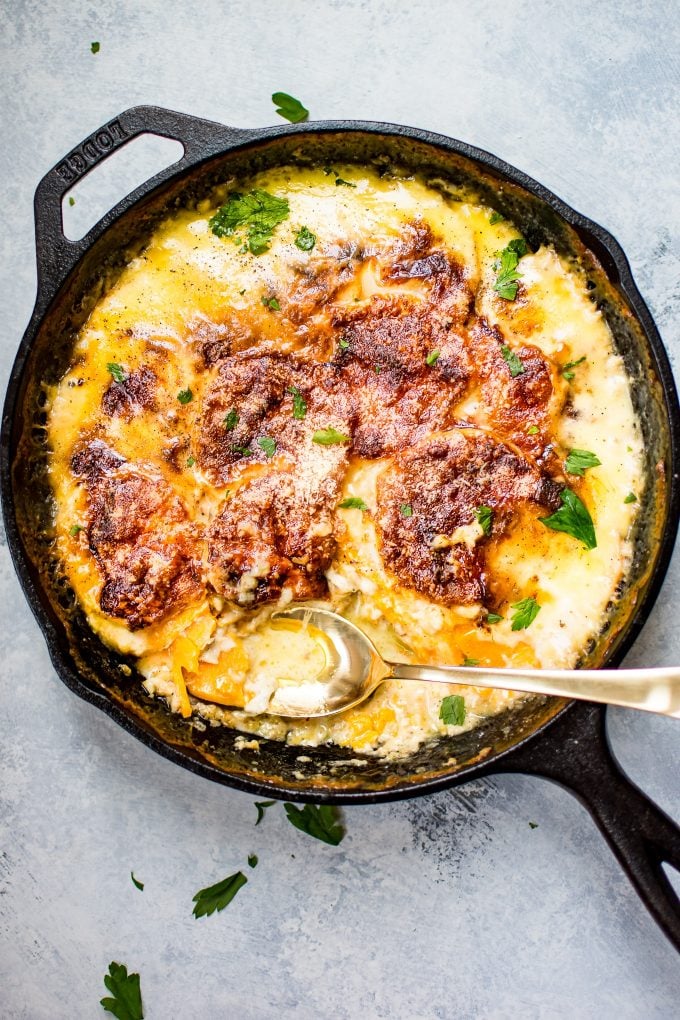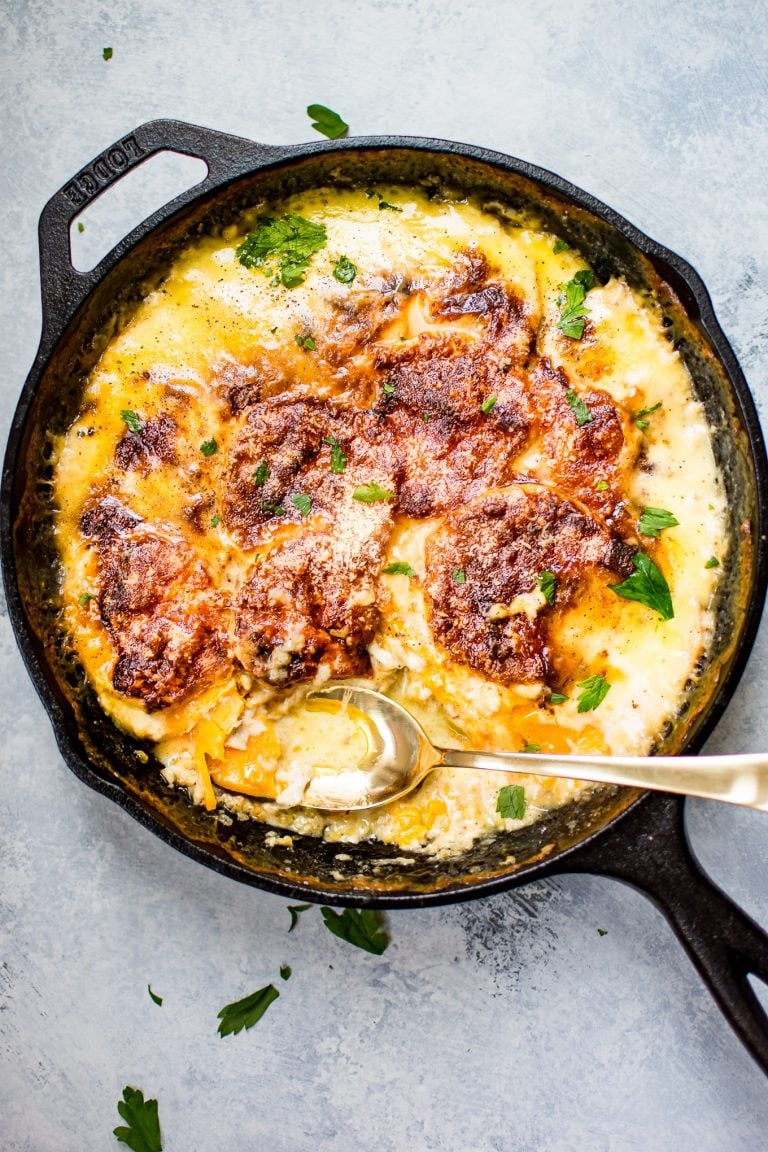 Our regularly scheduled healthy programming has been replaced by this recipe, and I'm not sorry about it.
This sweet potato gratin recipe is everything a gratin/scalloped potatoes should be. We've got our cheeses. We've got our cream. We've got garlic. We let it bake for long enough for the sweet potatoes to soften, everything to beautifully meld together, and for the cheese to bubble up all golden brown and delicious.
I know my description is a bit over-the-top, but I don't care. I stand by this recipe. I surprised myself with how well this turned out, and my standards are usually pretty high. 🙂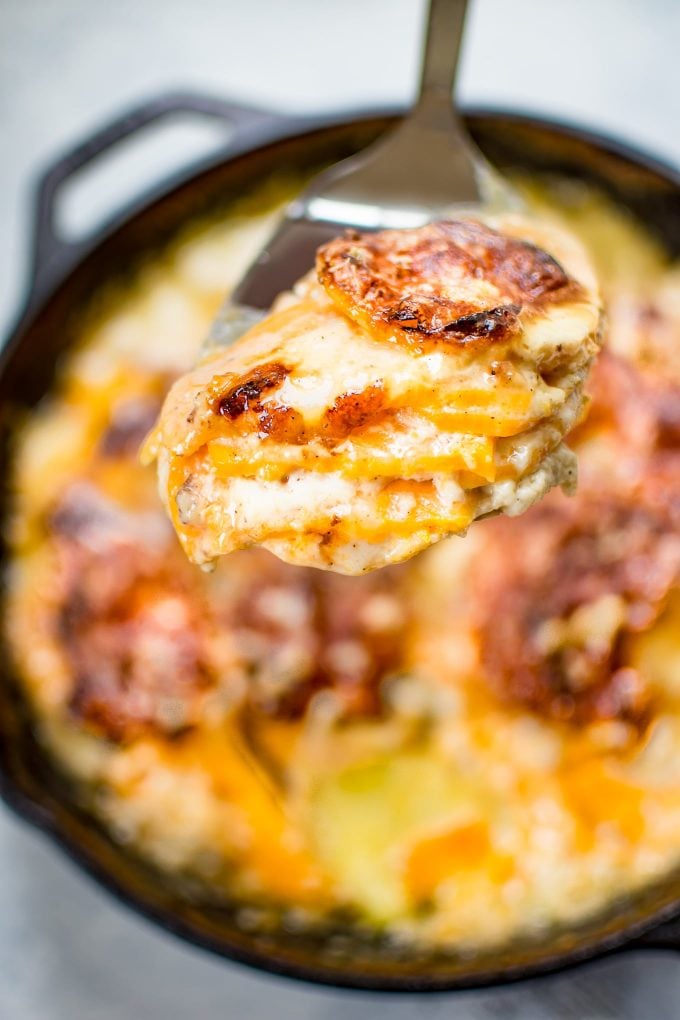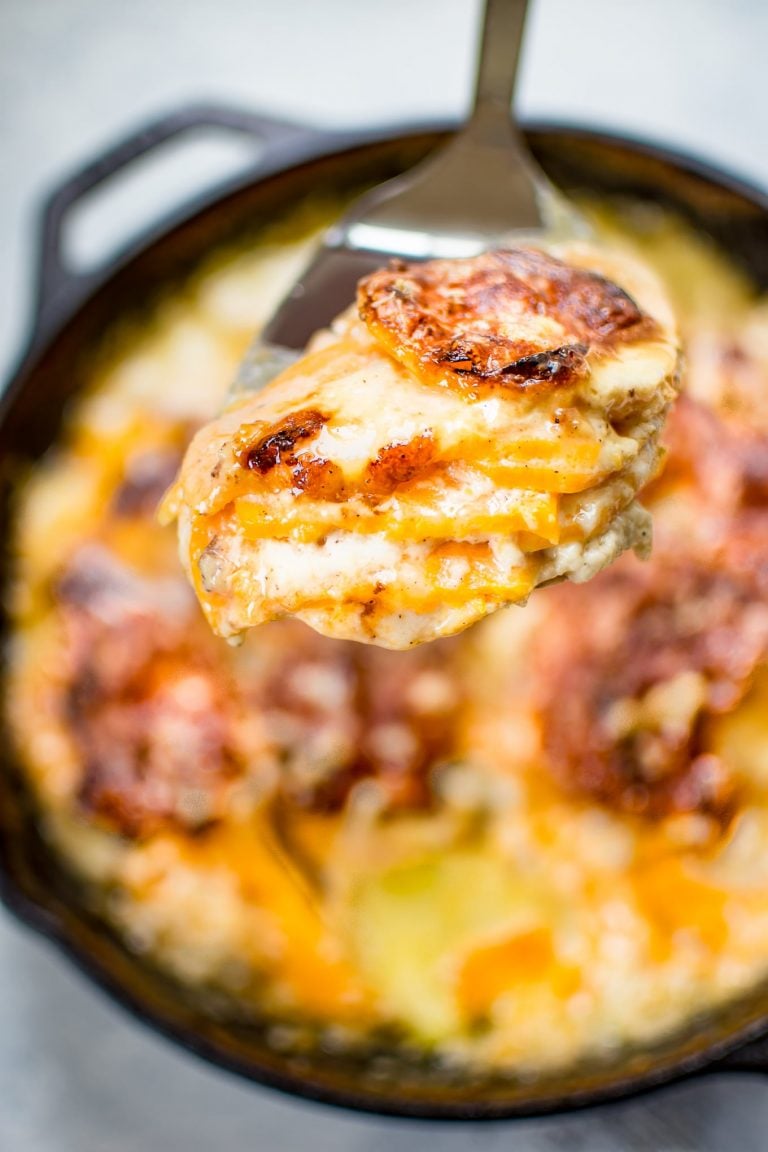 I had to restrain myself from eating way more of this than I should have. I packed up a portion and put it in the fridge, and I left the rest of the potato gratin in the pan and covered it with foil, thinking that my husband may want it for dinner.
I wasn't sure since he isn't into creamy stuff, but he polished the rest of it off just standing over the stove. I told him it was too much (like half the pan was left), but did he care? No. That's fine.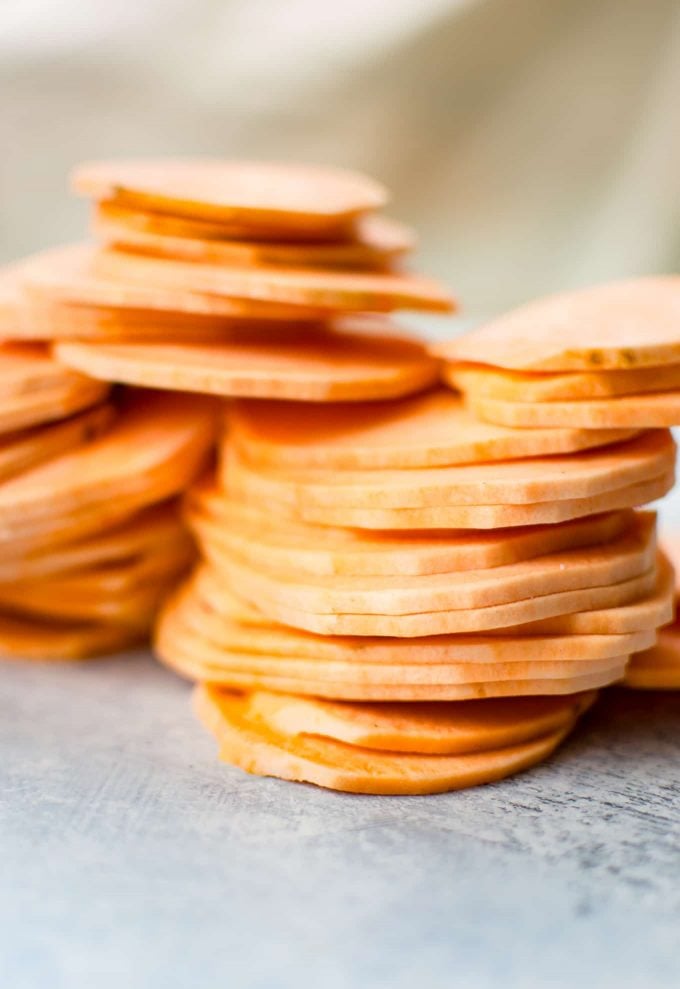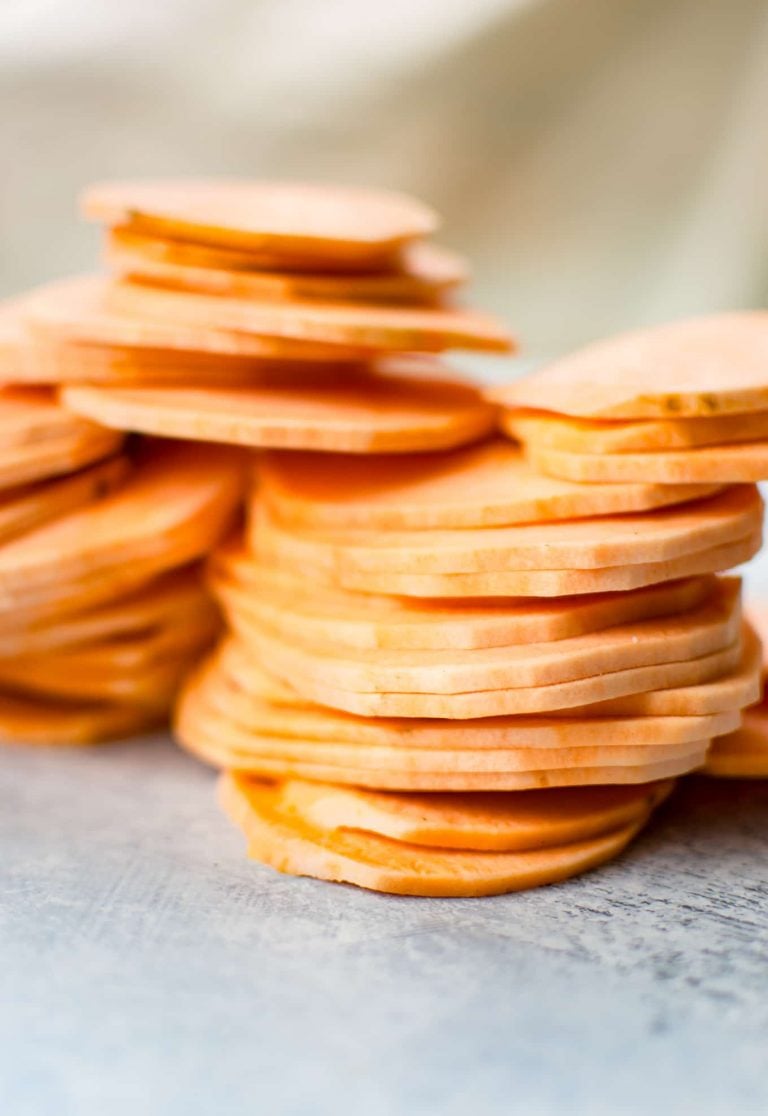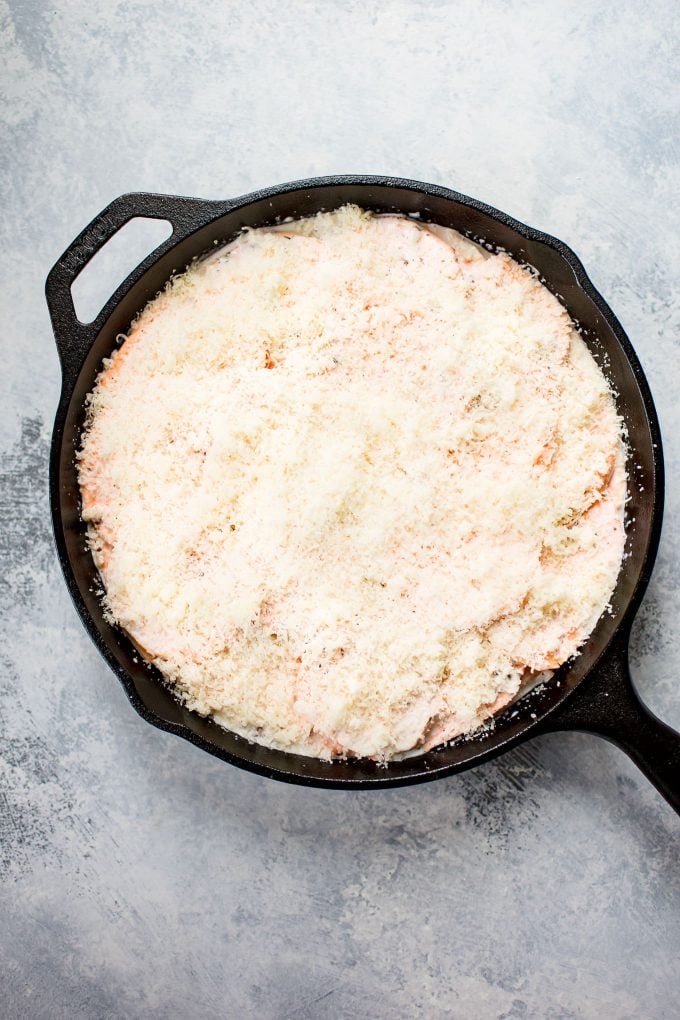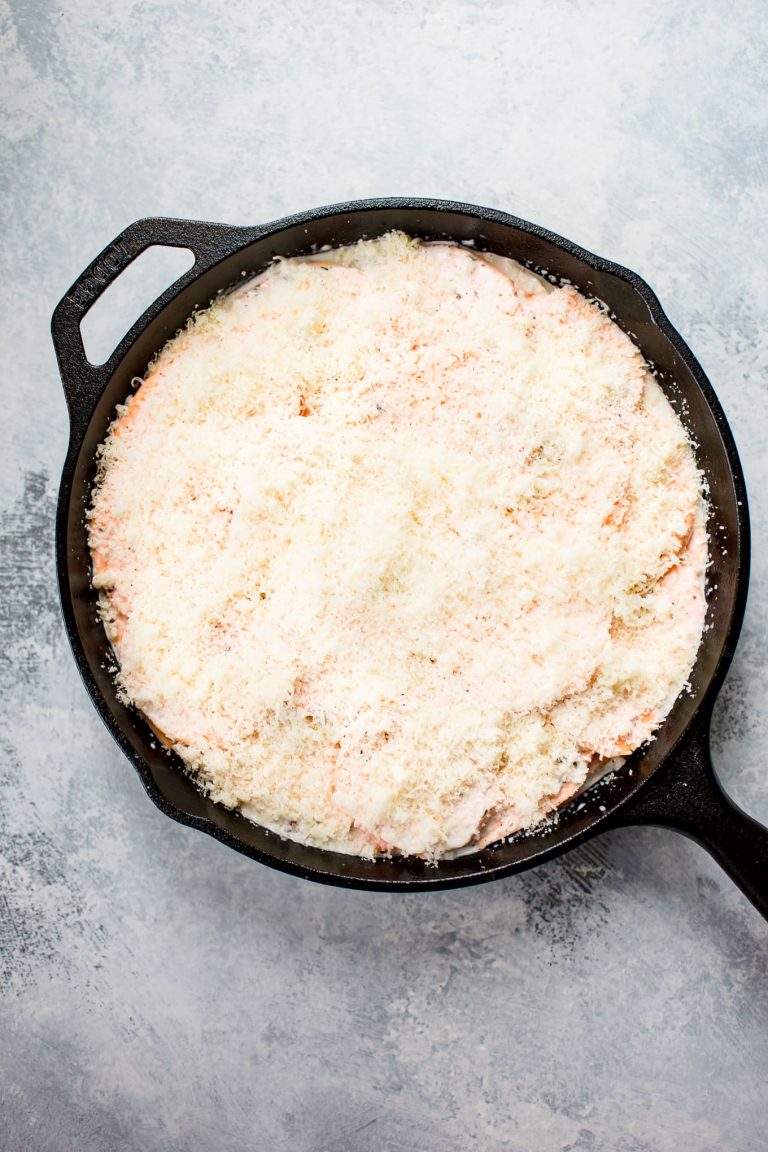 This sweet potato side dish would be great for any cold day, a Thanksgiving side dish, a Christmas side dish... or whenever you want some cheesy comfort food, honestly.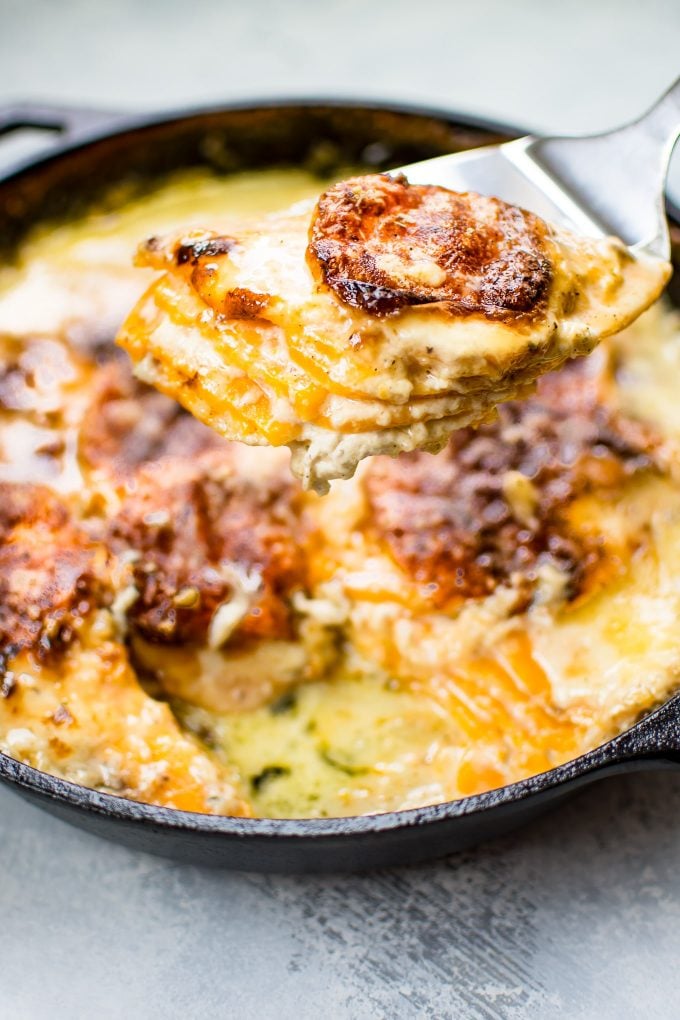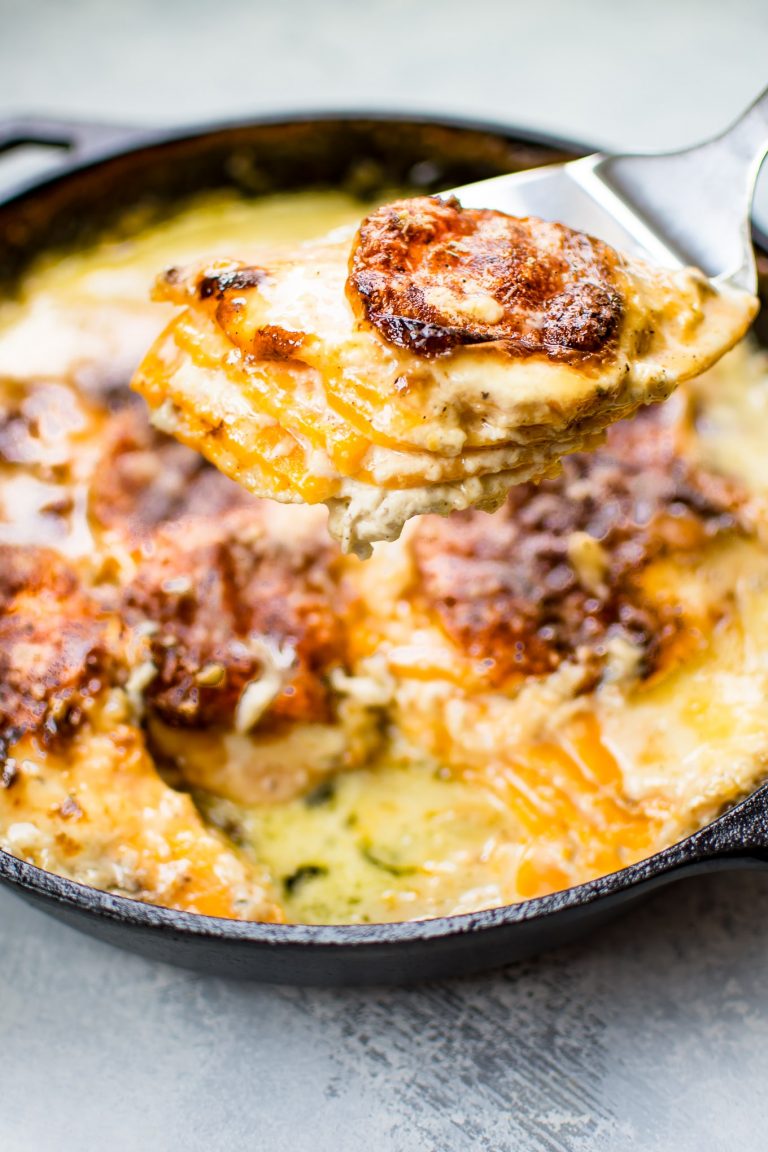 I've got a few success tips to get this cheesy scalloped sweet potatoes recipe right:
Use a mandoline to slice the sweet potatoes thin and evenly (1/8" thick). I don't know what I would do without this little device. I use a protective glove too for peace of mind.
You don't need to make these in a cast iron pan like I did, but just make sure that you leave an inch or so from the top of the pan/baking dish because the cream and cheese will bubble, and cleaning that stuff out of the inside of your oven ain't fun. I was able to do 4 layers in my 10 1/4" Lodge skillet.
Don't be tempted to skip heating the cream mixture. I heat it for a couple of reasons 1) the spices don't dissolve properly in the cream when it's cold and 2) Heating it helps infuse the spices and garlic in the cream so you've got a more uniform taste.
You want around 2 pounds of sweet potatoes for this dish. That's 2 medium-to-large sweet potatoes. I normally don't weigh stuff, but you may end up with too much or too little, so that's what those grocery store scales are for. Sweet potatoes get pretty massive, so what does "medium" even mean? Weigh 'em.
Some of my sweet potato slices ended up being pretty huge, but that's ok. As long as you arrange them in an even layer (some overlap is fine!), it doesn't matter if the slices aren't all the same size.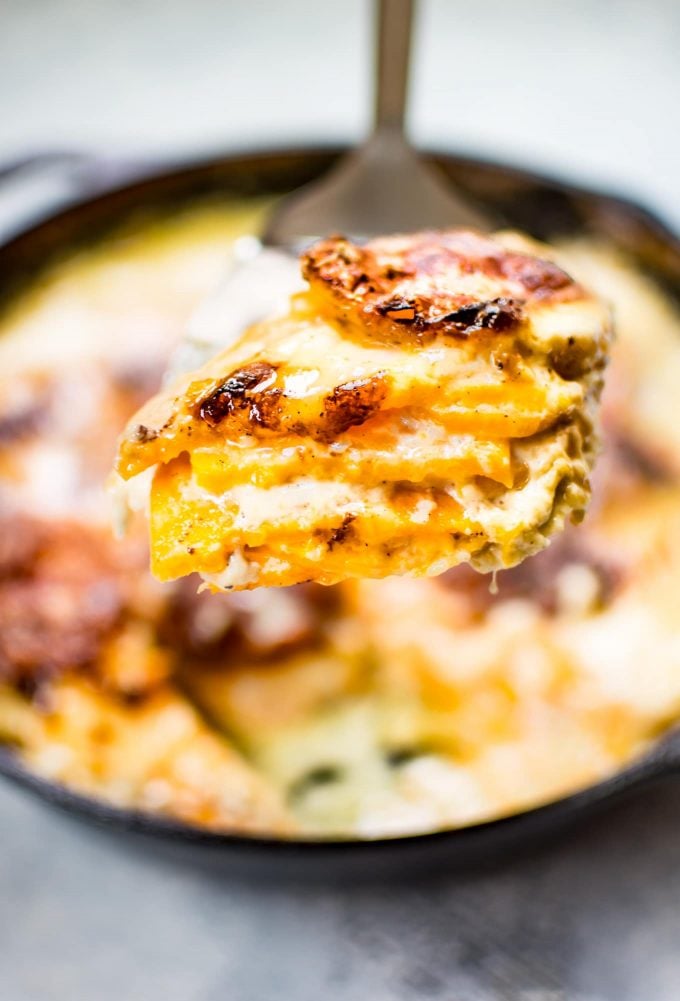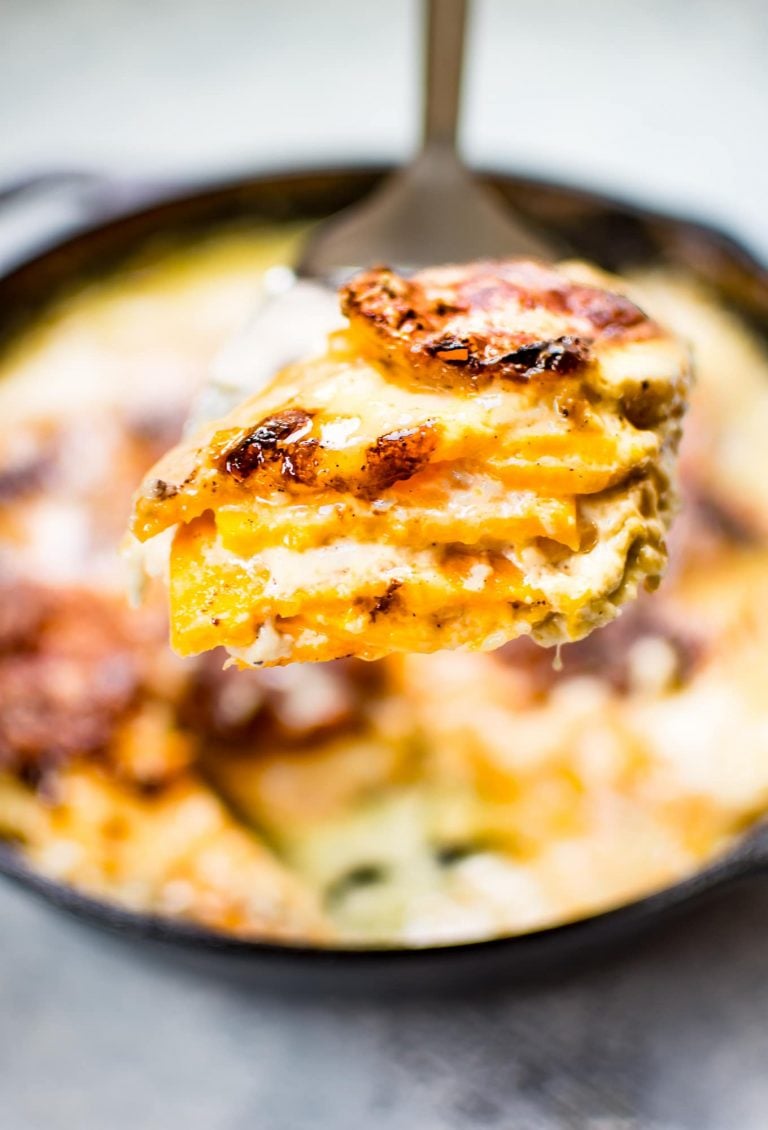 Hope you love this recipe as much as I did!
Questions? Ask me in the comments below!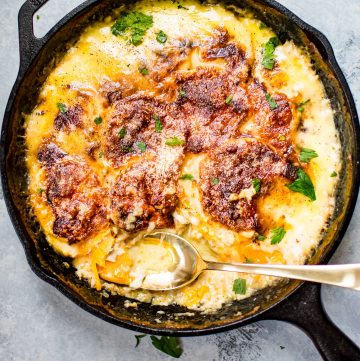 Cheesy Scalloped Sweet Potatoes
These cheesy scalloped sweet potatoes are the ULTIMATE comfort food side dish. Gruyère, Parmesan, cream, garlic, and seasonal spices bake to melty perfection.
Ingredients
2

pounds

sweet potatoes (I used 2 medium-to-large sweet potatoes)

peeled & sliced 1/8" thick

1

cup

freshly grated Gruyère cheese

1

cup

freshly grated parmesan cheese

2

cups

heavy/whipping cream

Salt & pepper

to taste

4

cloves

garlic

minced

1/8

teaspoon

ground cinnamon

1/8

teaspoon

ground nutmeg

4

dashes Italian seasoning

Olive oil

for greasing the pan
Instructions
Preheat oven to 350F and move the rack to the middle position.

Peel your sweet potatoes. Using a mandoline slicer, slice your sweet potatoes 1/8" thick.

Grate your cheeses. Add them to a bowl and toss them so they're mixed.

Add the cream, salt & pepper (I'm pretty generous), garlic, cinnamon, nutmeg, and Italian seasoning to a small pan on high heat. Watch it closely and remove it from the heat just before it begins to boil.

Grease a heavy, oven-proof skillet or a large baking dish with olive oil.

Arrange a layer of sweet potatoes on the bottom of the skillet, then spoon on some of the cream mixture and then a layer of the cheese mixture. We're making 4 layers, so you will want to use about 1/4 of everything for each layer. I overlap the sweet potatoes a bit in each layer. Tip: make sure you've got about an inch or so left at the top of the skillet/baking dish when you're done your last layer. The cream and cheese will bubble all over the oven otherwise.

Bake for 60-75 minutes (will vary depending on your pan/baking dish). I wanted a dark golden cheese layer and the cream to be nicely thickened up, so I went for the full 75 minutes. A toothpick should slide in with no resistance. Let the gratin sit for about 10 minutes prior to serving. Enjoy!!
Notes
This is the mandoline slicer I used to make this recipe. I suggest using a protective glove like this one to safely use a mandoline.
This is the Lodge cast iron skillet I used for this recipe.
I put some success tips in the blog post, so I suggest looking those over prior to making this recipe.
Serves 4+
Like sweet potatoes? Try my stuffed sweet potatoes recipe or my roasted sweet potato tacos.