This Chicken Parmesan recipe has crispy breaded chicken breasts that are tender on the inside and baked to melty, cheesy perfection with a layer of marinara sauce.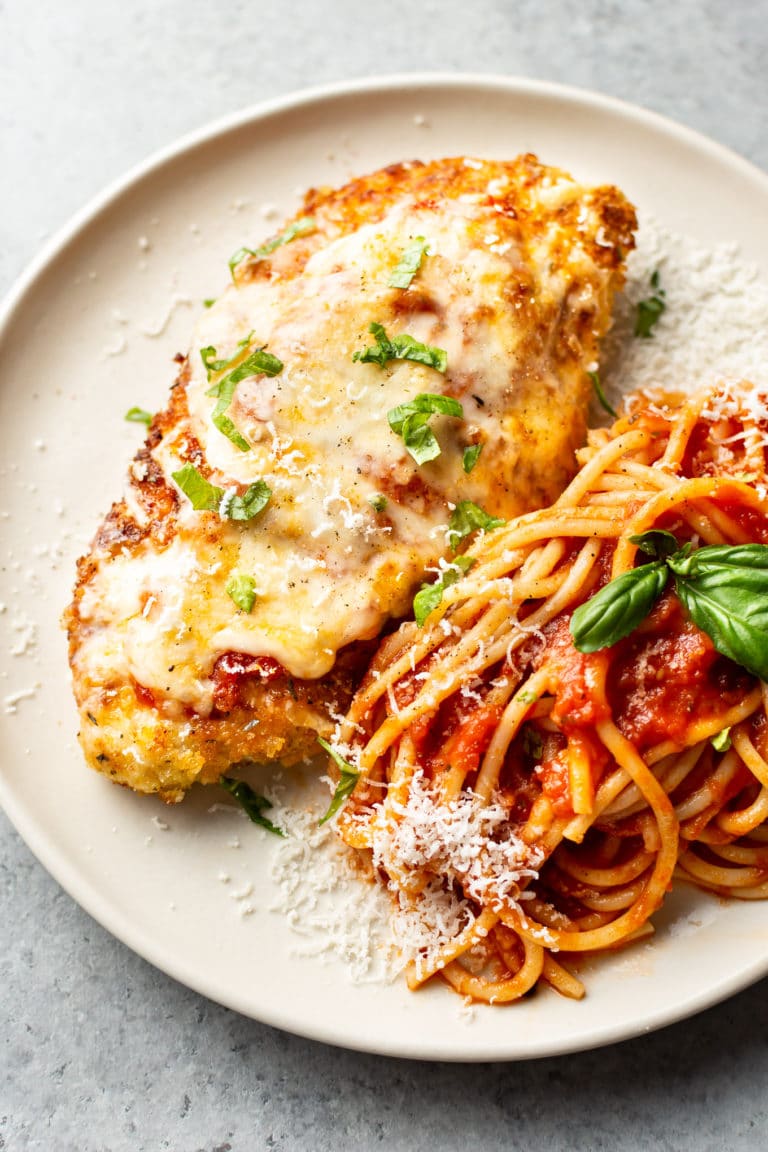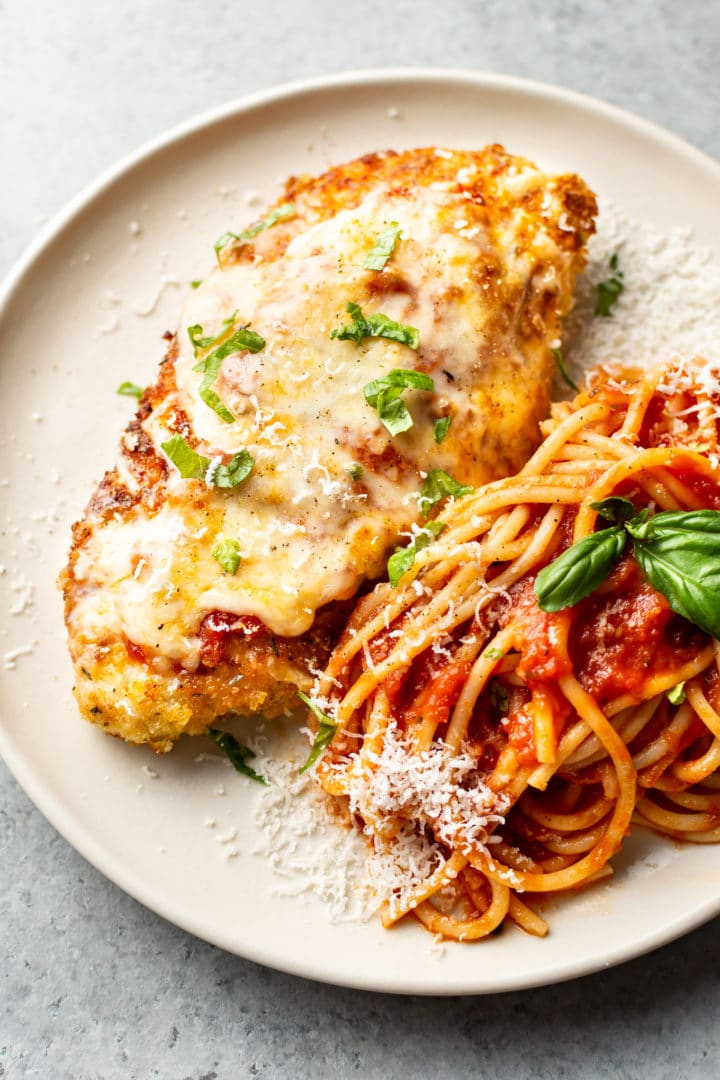 Chicken Parmesan (or Chicken Parmigiana as it's sometimes called) is an Italian-American comfort food staple that's become mainstream in restaurants across North America. My version has crispy breading (a combination of panko breadcrumbs and grated parmesan), just enough marinara sauce on top, and plenty of melty cheese.
I set out to ensure that the breading stays crispy (we only add a little sauce on top), but that the pasta you serve it with has plenty of marinara. Win-win!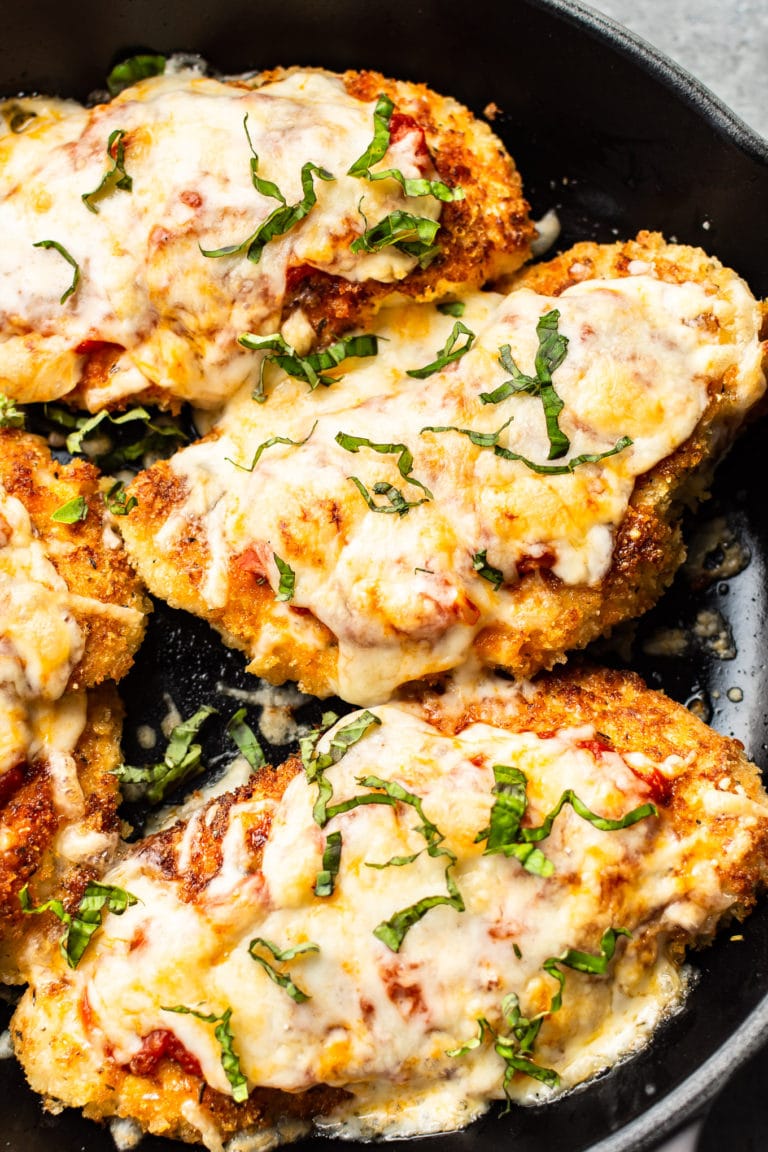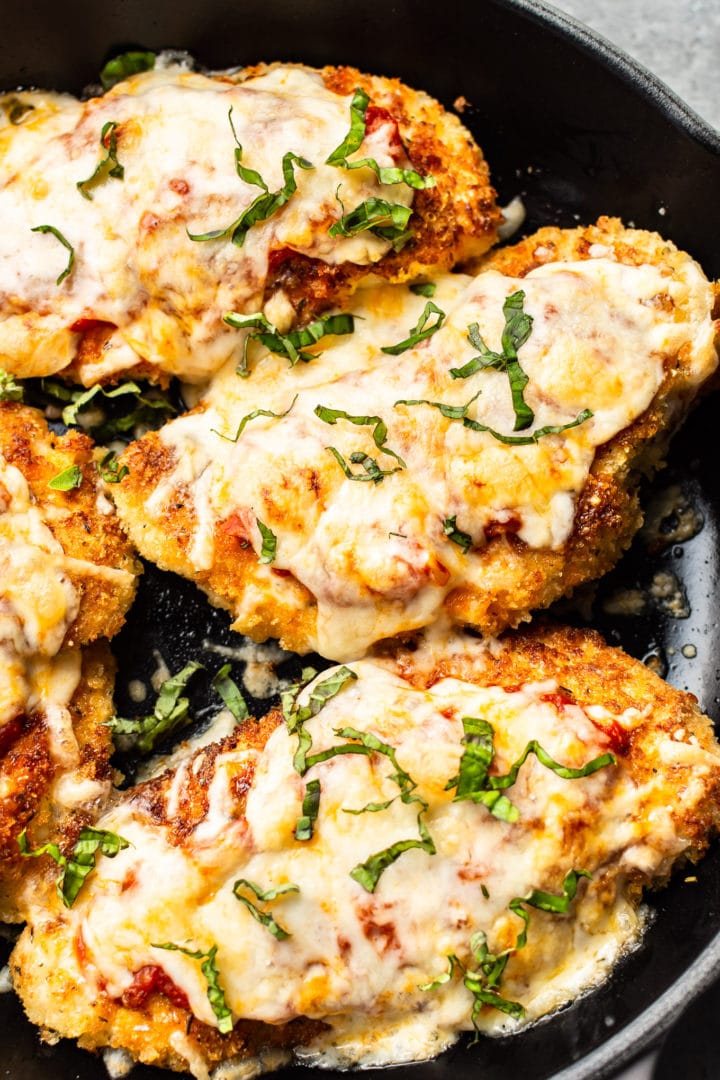 I try to simplify recipes the best that I can and make them easy to follow. This Chicken Parm recipe is no exception. Yeah, you can't get away from the dredging process, but I did eliminate a couple of steps. I decided against pounding the chicken (we just cut it in half lengthwise to make the pieces thinner), and the chicken is cooked in a skillet from start to finish vs. having to transfer it to a baking dish at the end. Little things that save you time and clean-up!
You may also like my Parmesan Crusted Chicken recipe.
Chicken breading tips:
Breading chicken is pretty easy as long as you keep a few things in mind:
Make sure that you dry off the chicken before getting started (I just pat it with paper towel).
During each step of the dredging process (flour, egg, breadcrumbs), be sure to shake off any excess.
Be generous with the coating. You want to ensure the chicken pieces are fully coated. Don't skimp.
When you're frying the chicken, don't overcrowd the pan. I do two pieces at a time and give them plenty of room. Be sure to let the pan heat up prior to adding the chicken.
Don't move the chicken around the pan. Once it's in there, leave it alone until it's time to flip it. When you're ready to flip, gently lift an edge up and check it's nicely golden brown.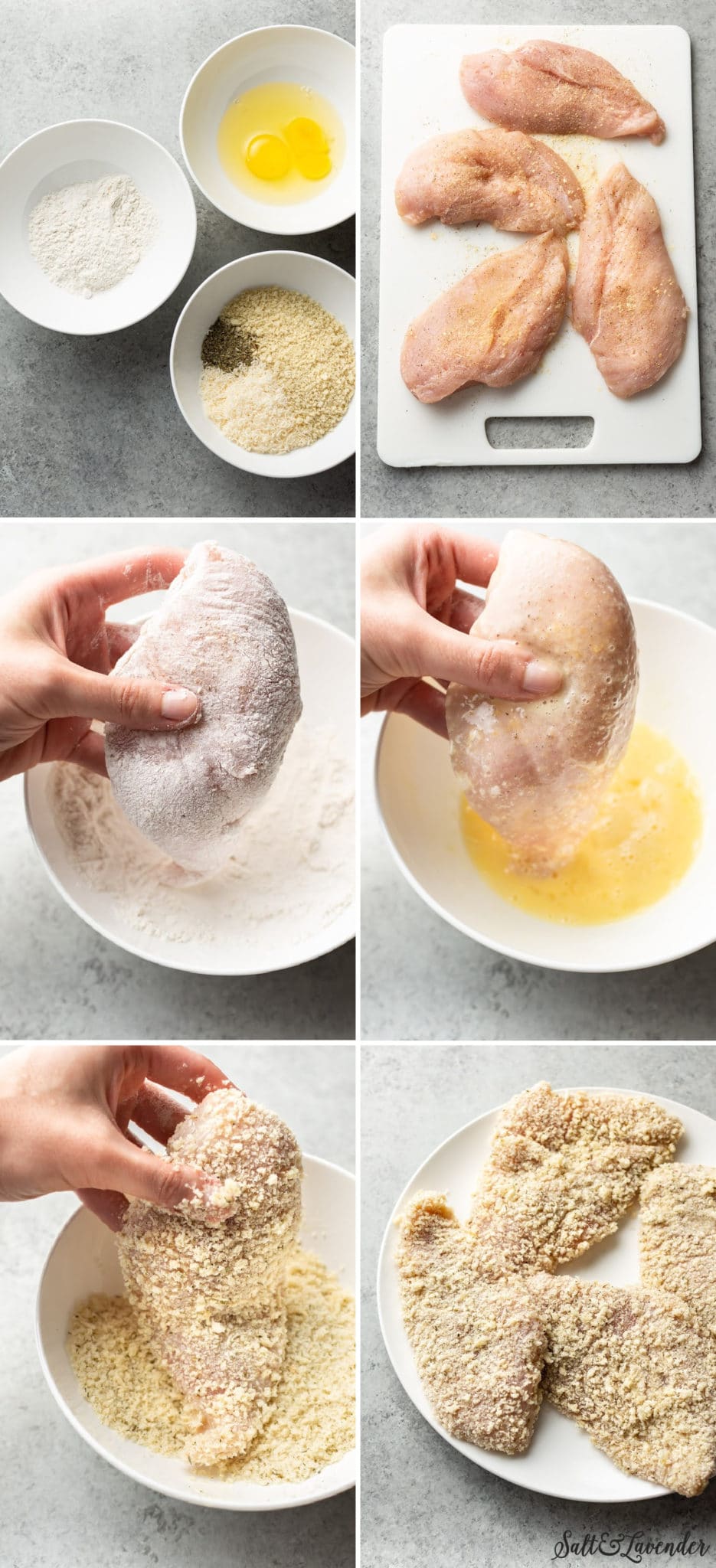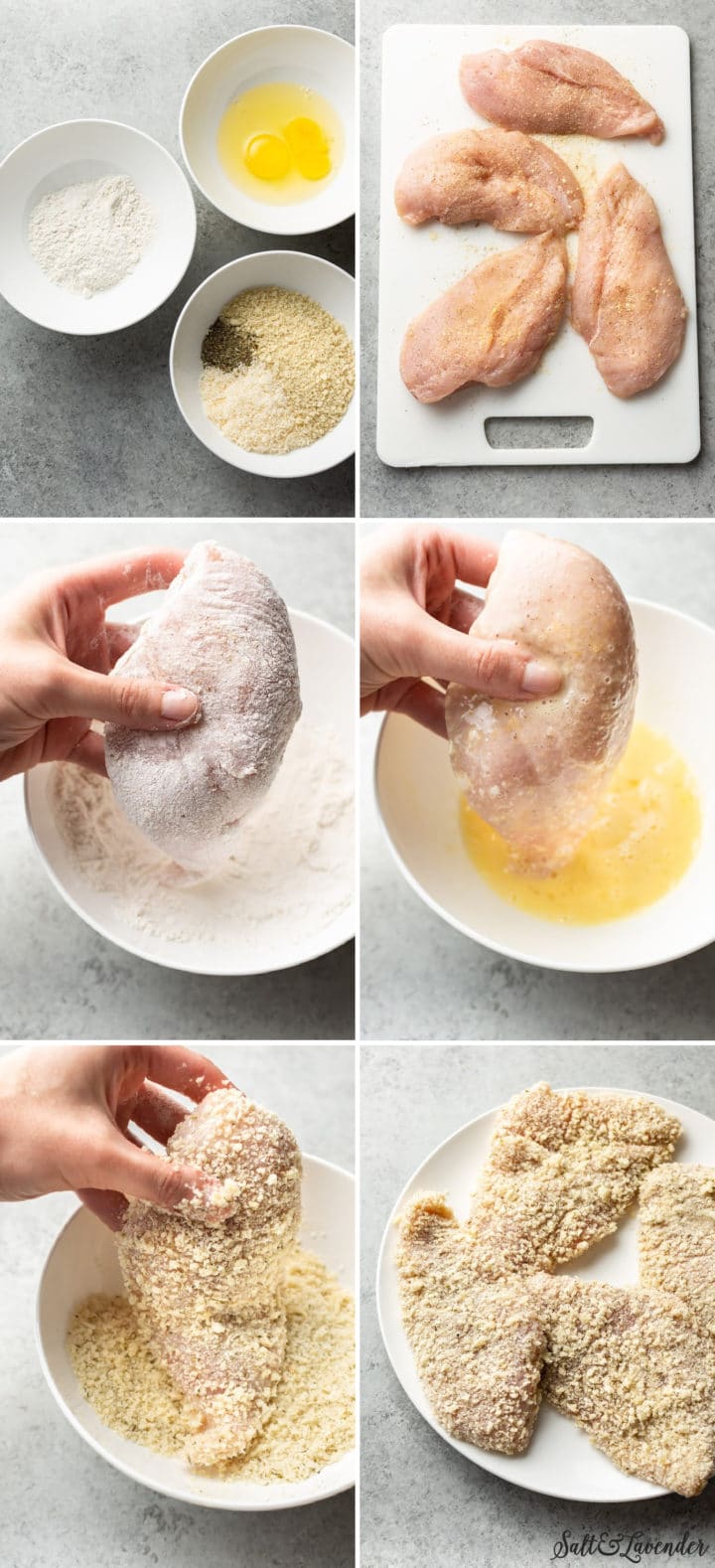 Chicken Parm notes & tips:
Feel free to use your favorite store bought or homemade marinara sauce.
If you can find Italian seasoned panko, use that and omit the extra Italian seasoning.
Chicken is cooked when an instant read thermometer reads 165F. I highly recommend buying one - it's much easier (and safer) than guessing if chicken is done. And overcooked chicken is not good either!
I used an oven-safe skillet for this recipe (my Le Creuset 10.25" one). It's handy for so many recipes. I also love my Lodge cast iron skillet (a more affordable one). If you don't own one, simply transfer the chicken after frying it to a baking dish or baking sheet for the oven steps.
Cooking tongs are one of my most-used kitchen items, and they make flipping the chicken a lot easier.
I prefer to grate my own parmesan cheese (this grater is similar to the one I own). It melts and tastes better than the pre-grated kind. I always keep a block in my fridge.
You can use chicken thighs if you wish, but I do recommend pounding them thinner if you do try.
Chicken parmesan leftovers will last for a few days in the fridge, but the breading will soften up the longer you leave it (it'll still taste good, though!), so this is one of those dishes I recommend eating right away if you can.
Can I freeze Chicken Parmesan? You can, but I can't guarantee it'll be as crispy. I haven't personally tried this, but the general process is to freeze the breaded & fried chicken separately from the sauce and cheese. You then let it thaw in the fridge (preferably overnight), reheat the chicken in the oven (see my instructions below), and then add the cheese and sauce and broil.
How to reheat Chicken Parmesan:
Preheat oven to 400F. Let the chicken warm up a bit (on your counter) while the oven is preheating. Place a wire rack on a baking sheet. Add the chicken on top and bake for 15 minutes or until heated through. You can broil it for a few minutes at the end if you wish. Chicken should be 165F in the middle. This method encourages air circulation so the breading will be less soggy (covering the breaded chicken with foil will make it steam and go soft, so I don't recommend that method).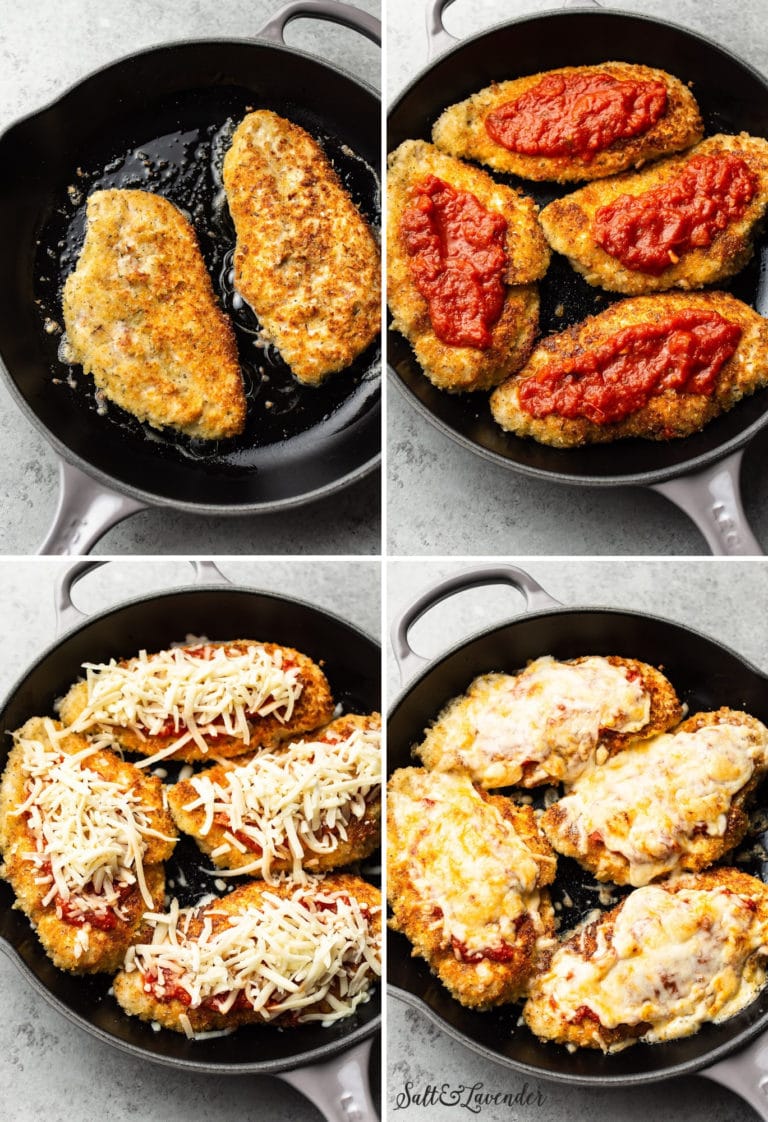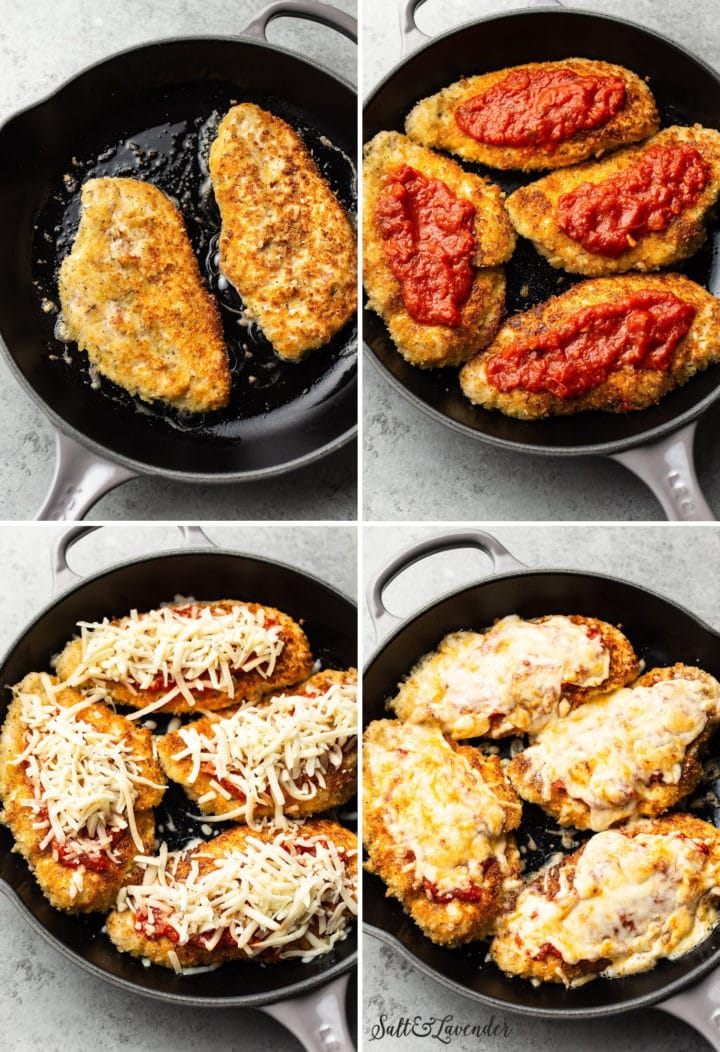 What to serve with chicken parmesan?
I prefer spaghetti tossed in marinara sauce, but you could try any other kind of pasta, mashed potatoes, gnocchi, garlic bread, or a side salad (try my Caesar dressing).
More delicious chicken recipes to try: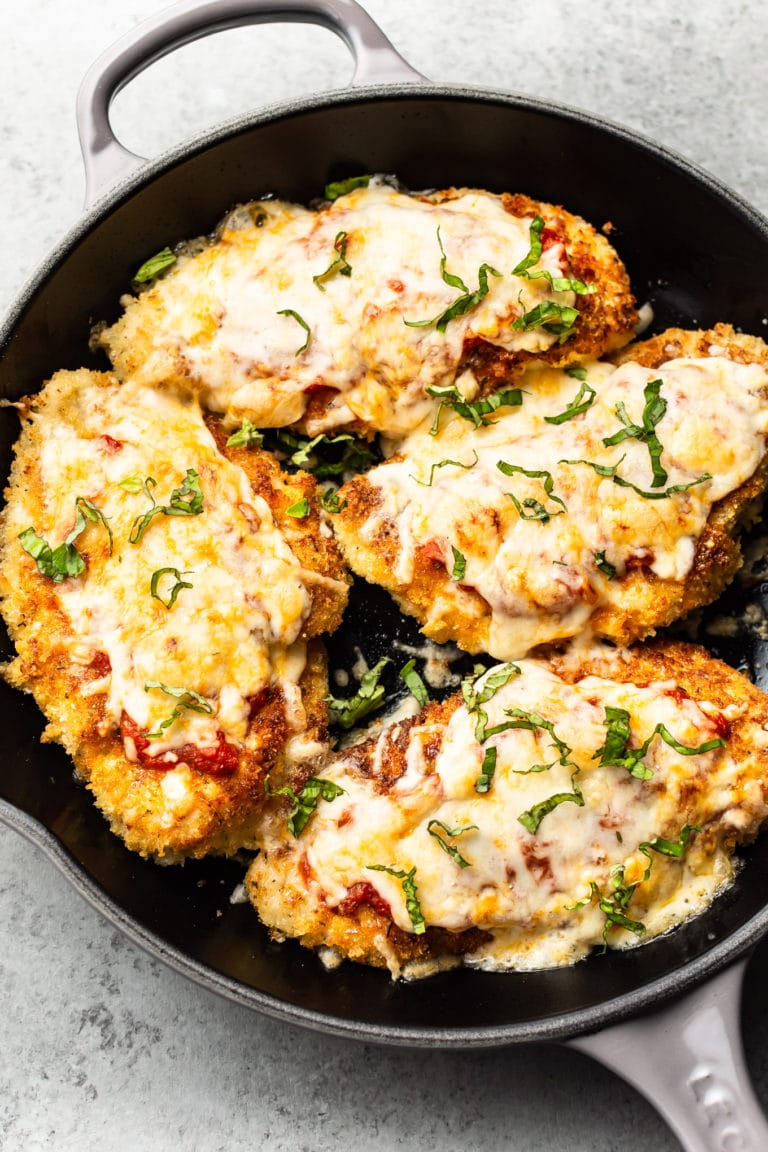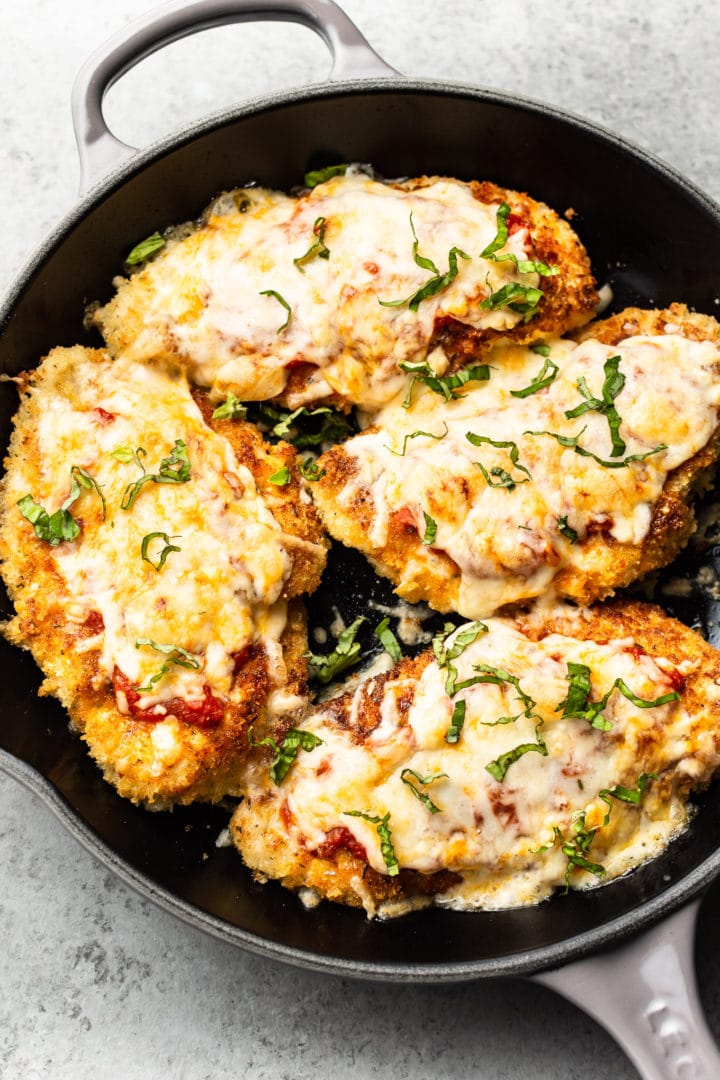 I hope you will love this easy chicken parmesan recipe! Questions? Ask me in the comments below! As always, tag me #saltandlavender on Instagram so I can see your creations.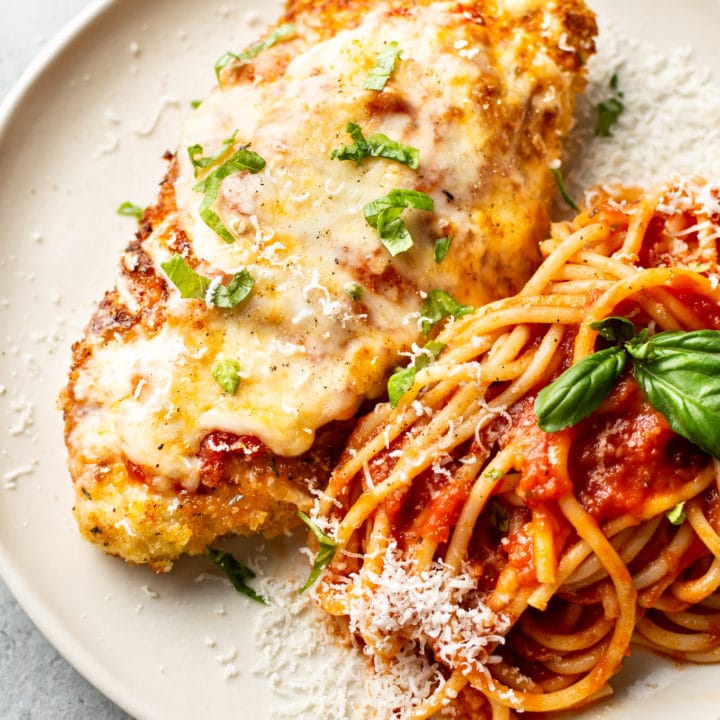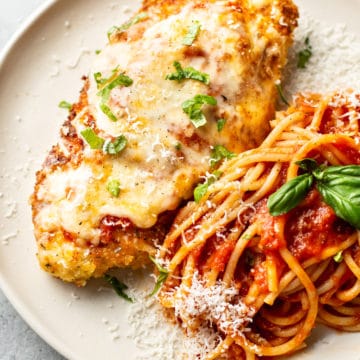 Chicken Parmesan
This Chicken Parmesan recipe has crispy breaded chicken breasts that are tender on the inside and baked to melty, cheesy perfection with a layer of marinara sauce.
Ingredients
2

large

chicken breasts

cut in half lengthwise

1/2

teaspoon

garlic powder

Salt & pepper

to taste

1/4

cup

flour

2

eggs

beaten

2/3

cup

panko breadcrumbs

1/2

cup

freshly grated parmesan cheese

1/2

heaping teaspoon

Italian seasoning

1.5

cups

marinara sauce

see note

3

tablespoons

olive oil

divided

3/4

cup

shredded mozzarella

8

ounces

spaghetti or other pasta

optional

Fresh basil

optional, to taste
Instructions
Preheat the oven to 400F. Move the rack to the top third of the oven. Boil a salted pot of water for the pasta if that's what you're serving it with. Cook the pasta al dente according to package directions.

Cut the chicken in half lengthwise so you have 4 thinner pieces. Pat it dry with paper towel. Sprinkle it with the garlic powder and some salt & pepper (both sides).

Prepare 3 bowls: one with the flour, one with the eggs (beat them with a fork), and the third with the panko + parmesan + Italian seasoning (mix it all together).

Add the marinara sauce to a saucepan and warm it over low heat (it needs to be hot for step 8).

Add 2 tablespoons of olive oil to a skillet over medium heat. Let the pan heat up while you're doing the next step.

Meanwhile, coat the chicken pieces in the flour. You will then dip each piece in the egg, followed by the breadcrumb mixture (shake off any excess at each of the 3 steps). I find it easiest to do the dipping with one hand and leaving the other one free (or your hands get messy and it's all harder to work with). You may need to press the chicken into the breadcrumbs a bit to make them stick.

Add 2 chicken pieces to the skillet (give them lots of space) and cook for about 2-3 minutes/side (should be golden and crispy). I use tongs to easily flip it. Transfer the chicken to a plate, and for the second batch, add another tablespoon of oil to the pan. Once you've fried all the chicken, take the skillet off the heat and arrange all 4 pieces inside. Transfer the skillet to the oven and bake for 5 minutes.

Take the skillet out of the oven. Turn the broiler onto high. Spoon a bit of hot marinara sauce over top of each piece of chicken (I top each piece with about 2 tablespoons of sauce and reserve the rest for tossing with the pasta). I don't add too much sauce because then the breading will go soggy (don't put so much that it runs off). Top the chicken with the mozzarella cheese and return the skillet to the oven. Let the cheese melt/go bubbly (this will only take a few minutes - watch it carefully so it doesn't burn). Meanwhile, toss the drained pasta with the remaining marinara sauce.

Serve immediately with pasta on the side and some fresh basil if you wish.
Notes
This recipe assumes you're making chicken parm with pasta. If you're not, only warm up about 1/2 cup of marinara sauce. If you want lots of sauce on the pasta or you're making more pasta than suggested, you may want to go up to 2+ cups sauce.
See blog post for more tips if you've never breaded chicken before (the breading will be less likely to fall off). I also included handy process photos of each step within the blog post.
You can transfer the chicken to a baking dish for step 8 if you don't have an oven-proof skillet.
Nutritional information is provided as a courtesy only and should be construed as an estimate rather than a guarantee. Ingredients can vary and Salt & Lavender makes no guarantees to the accuracy of this information. Nutritional info just includes the chicken + 1/2 cup marinara sauce. I left the extra marinara sauce and pasta out of the calculation (it's about 660 calories with 2 oz. dry pasta/person + the extra marinara).
Nutrition
Calories:
432
kcal
Carbohydrates:
13
g
Protein:
38
g
Fat:
24
g
Saturated Fat:
8
g
Cholesterol:
182
mg
Sodium:
719
mg
Potassium:
601
mg
Fiber:
1
g
Sugar:
2
g
Vitamin A:
535
IU
Vitamin C:
3
mg
Calcium:
285
mg
Iron:
2
mg