This healthy vegan farro salad is packed with dried cranberries, sliced almonds, honeycrisp apple slices, chives, and a lemon vinaigrette. It makes a wonderful light lunch or side dish.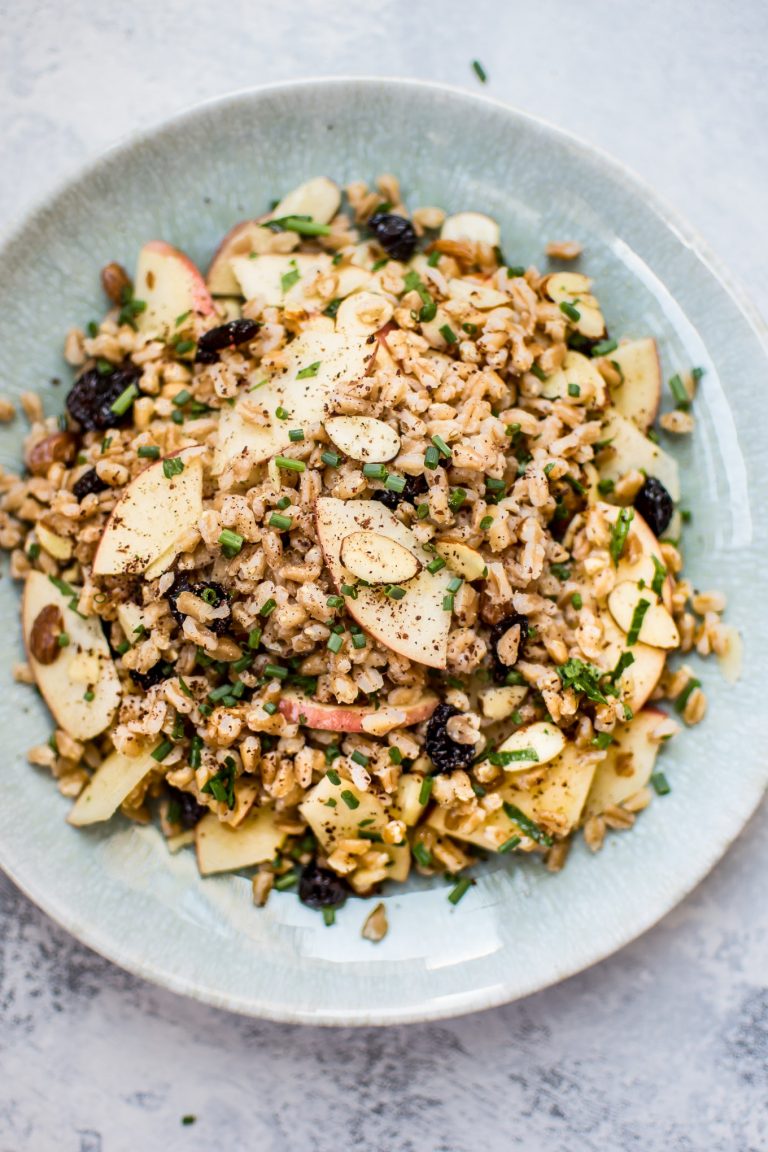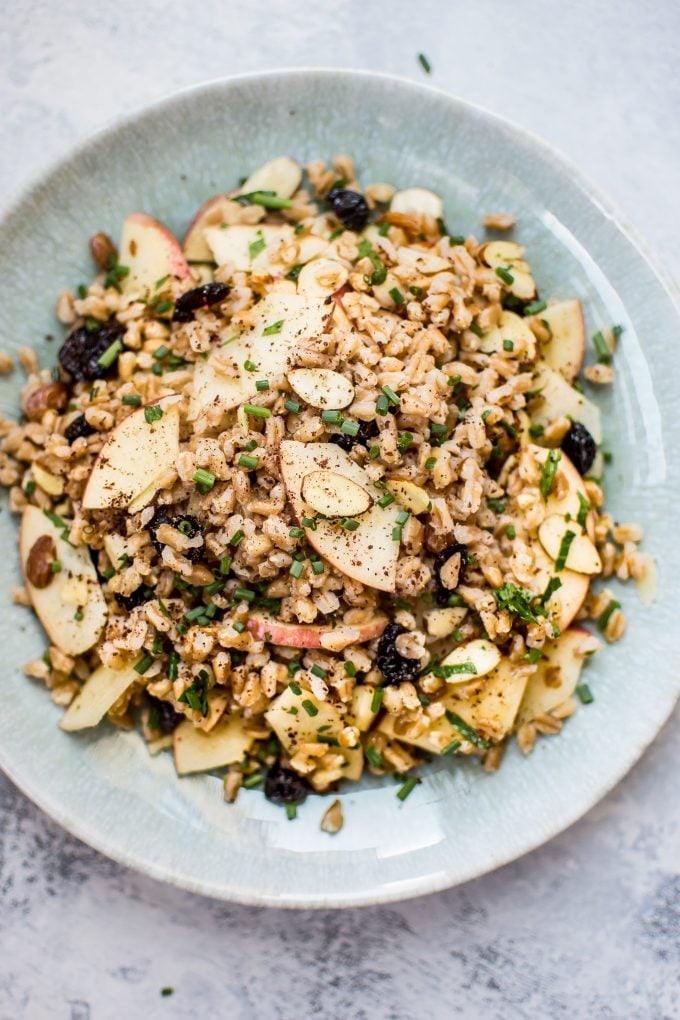 I'm pretty new to farro, and I am surprised just how much I like it. I am notoriously picky when it comes to everything certain grains. I don't like the texture of quinoa or couscous (ok they're not technically grains), for example.
I love the texture of farro. It's sort of chewy/nutty… like it has a bit of bite if that makes any sense. It's satisfying to eat.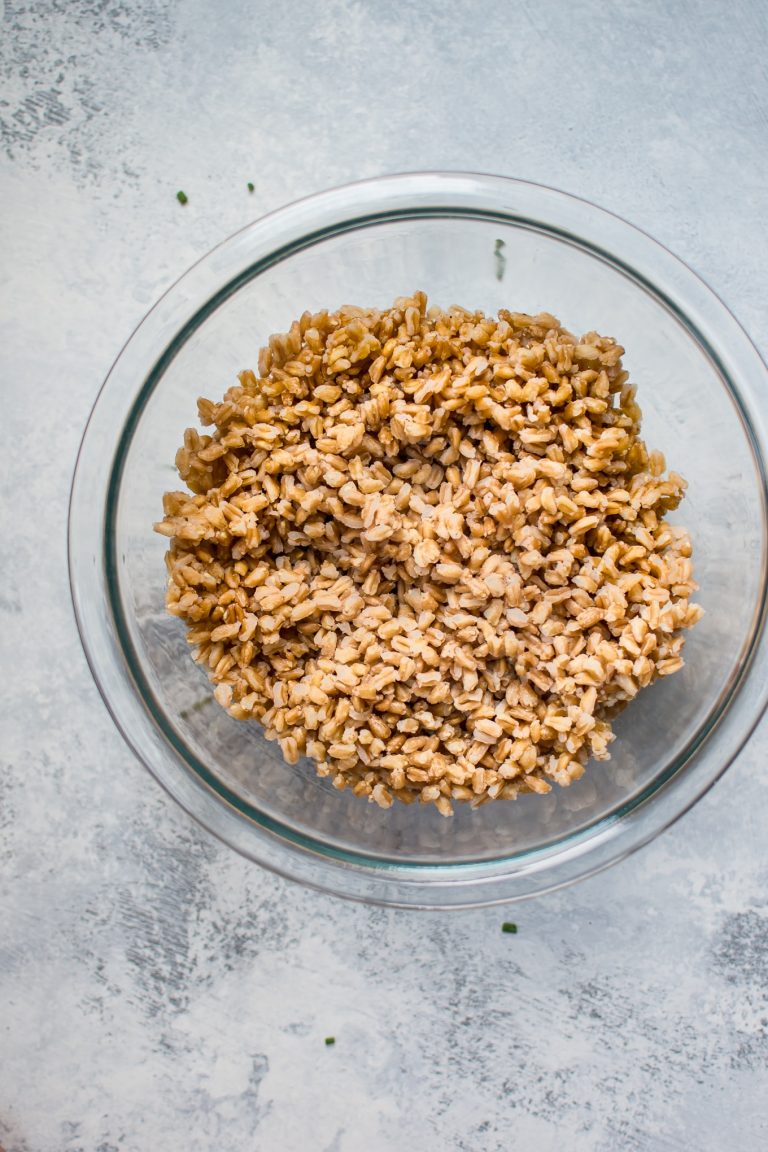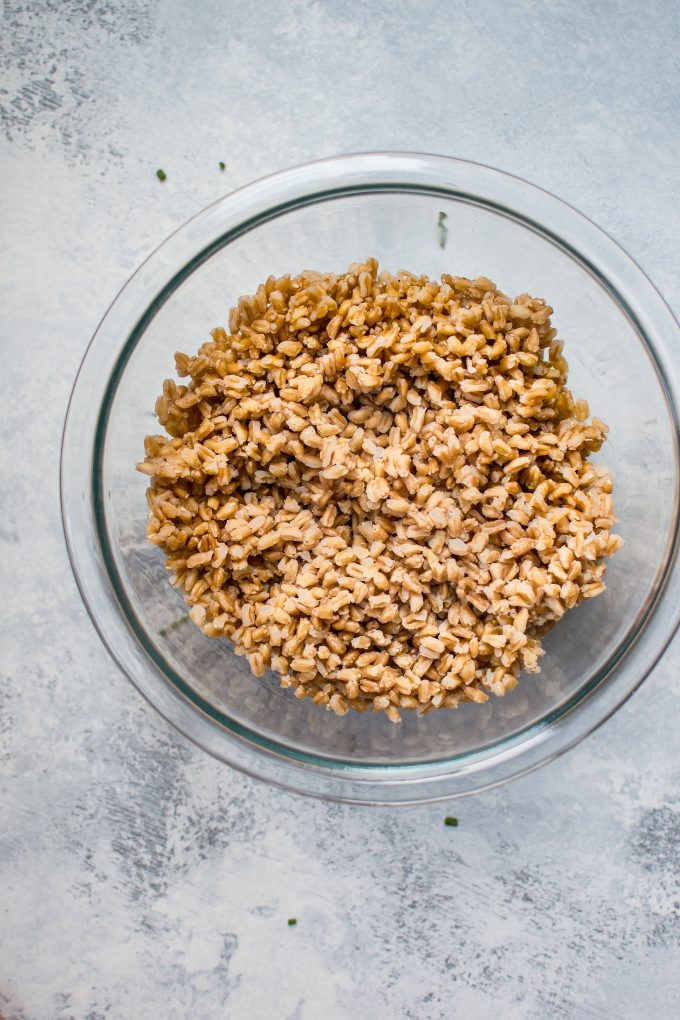 Farro is also quite filling and has a light, pleasant taste. It doesn't overpower anything else that you're serving it with, and that makes it good for salads. I did a bit of research into farro, and it turns out that it's an ancient grain, and the Romans used to eat it. It's fairly easy to find. I did have to go to a couple different supermarkets when I was first trying to locate it.
I ended up buying the trusty Bob's Red Mill brand, and most stores carry that brand in general, so it shouldn't be too hard to find, especially in the States. Farro is high in protein for a grain, and it contains lots of fiber. What's not to love? It's also sometimes mistaken for spelt, but it's not the same thing. And sometimes it also goes by the name "emmer". Now ya know.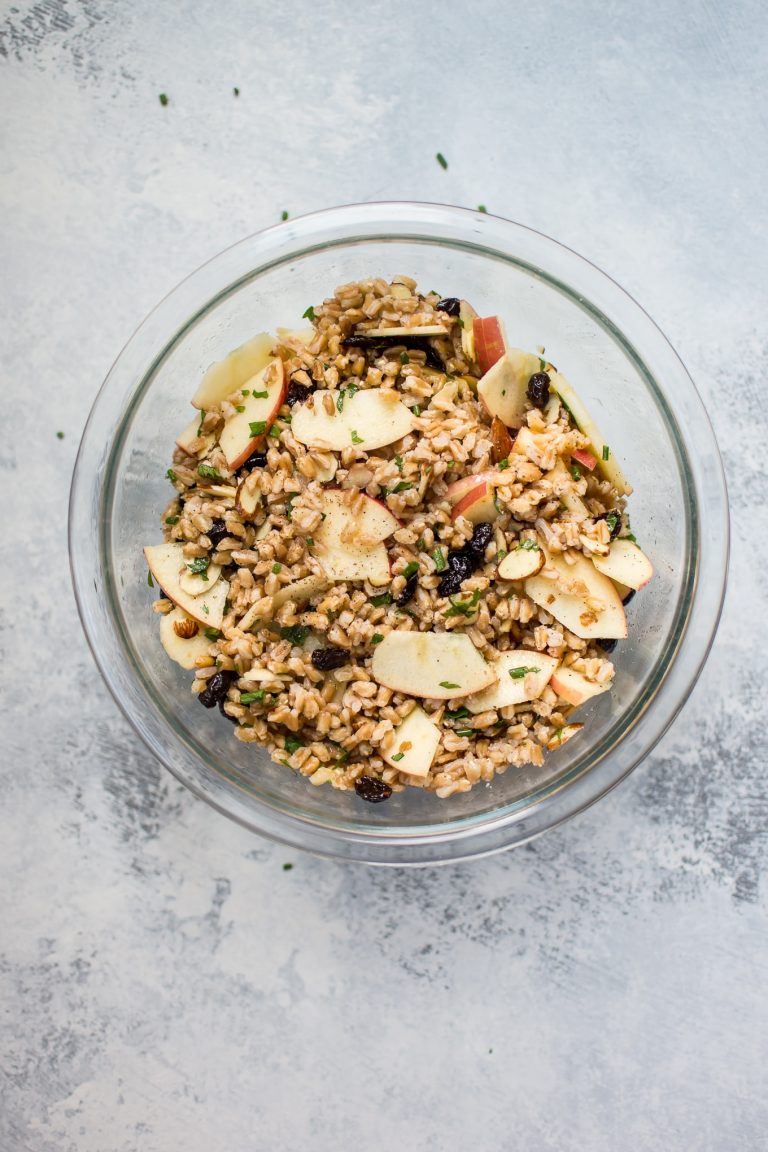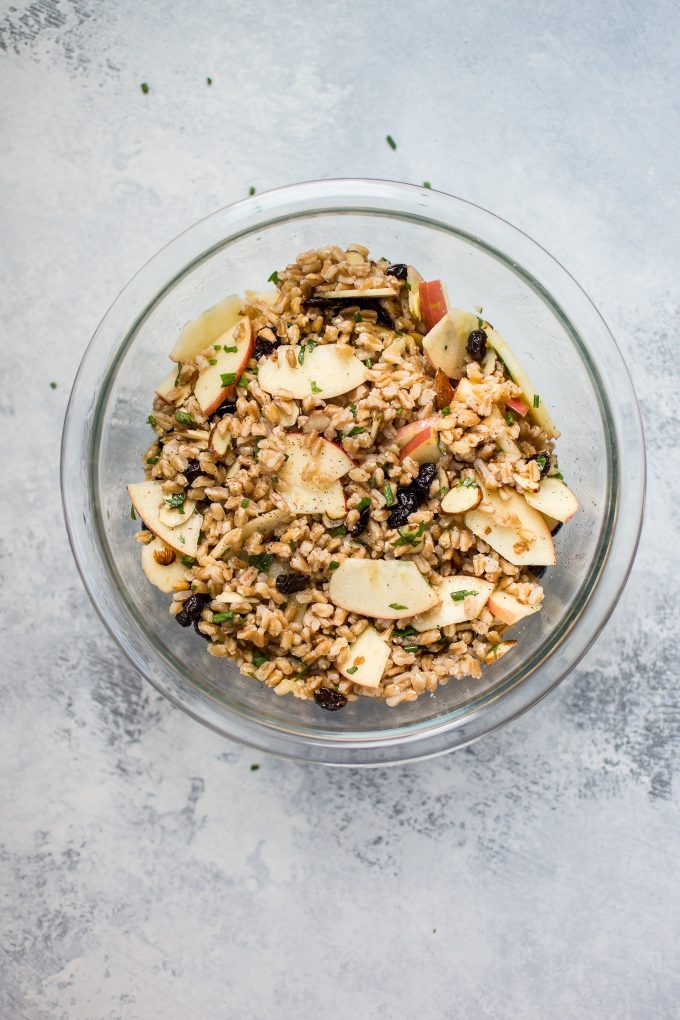 If you're wondering how to cook farro, it's actually really easy. I find it even easier to cook than rice! Why? It doesn't need to soak up all the water, so you won't have it glued to the bottom of the pan unless you really forget about it. 1 cup uncooked farro in 3 cups water or stock, bring it to a boil, simmer for 30 mins, drain it, and you're done. I do strongly recommend cooking it in stock or at least water + a stock cube to infuse some salt and flavor into it.
This cold farro salad is actually a great make-ahead salad, I found. I took it for work lunches 2 days after I made it, and it actually held up pretty well. The apple slices didn't brown too much (I suppose the lemon juice in the dressing helps with that), and it tasted just as good as when I first made it.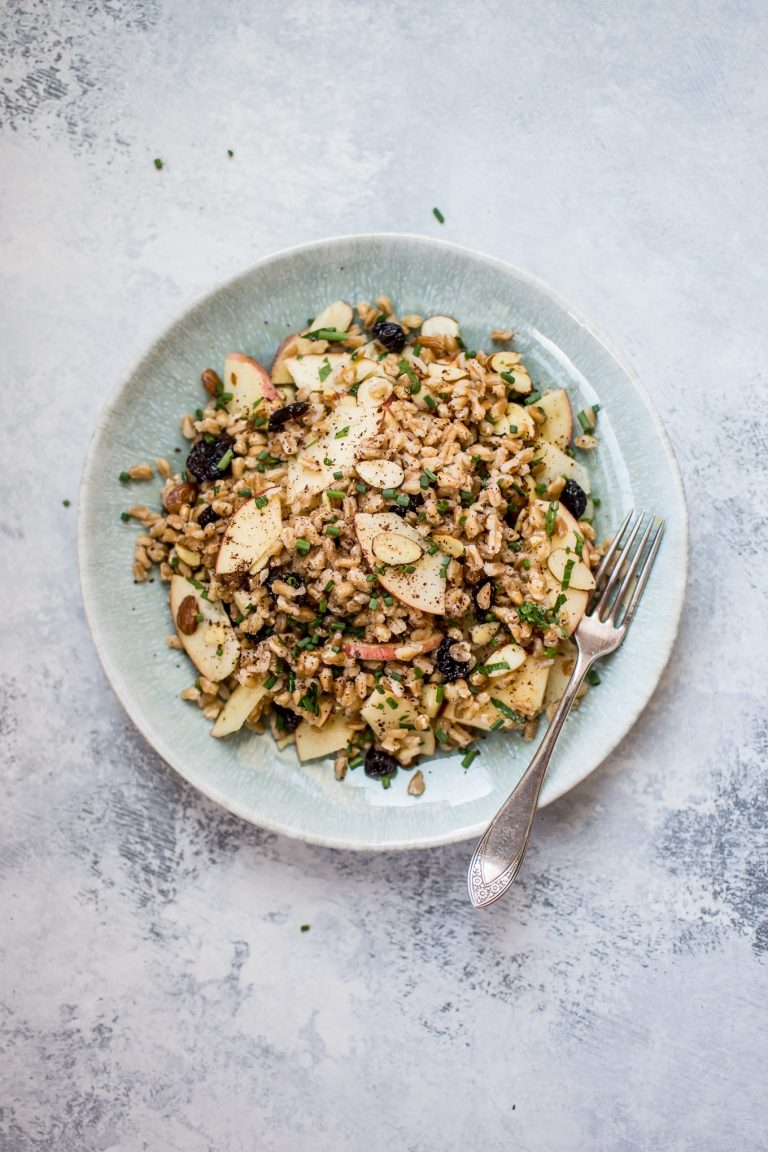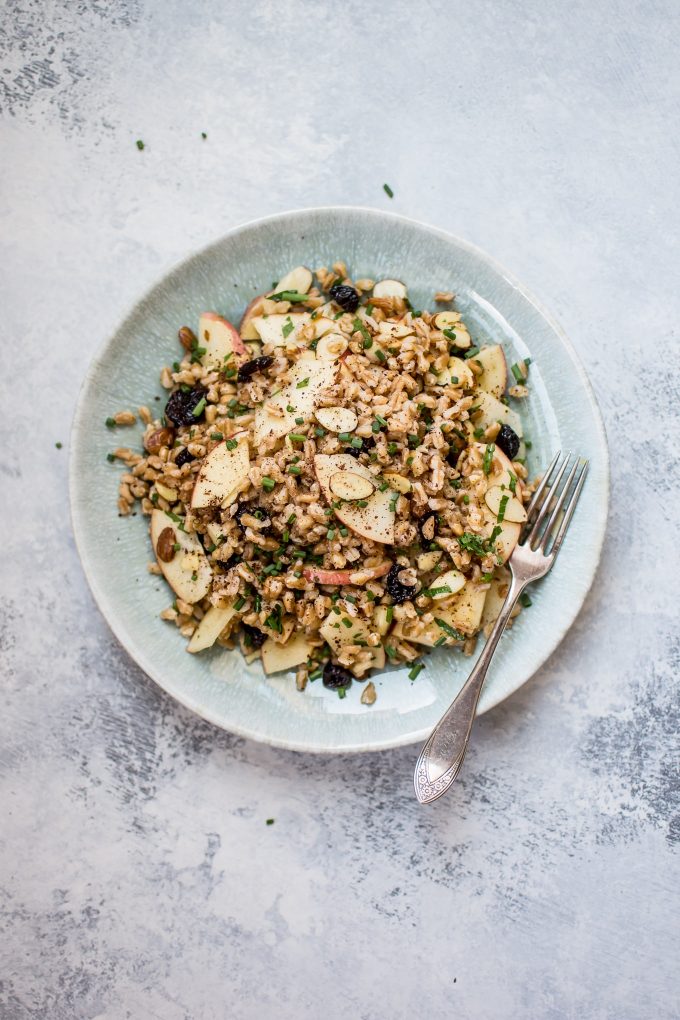 Hope you enjoy my fall farro salad!
Questions? Let me know!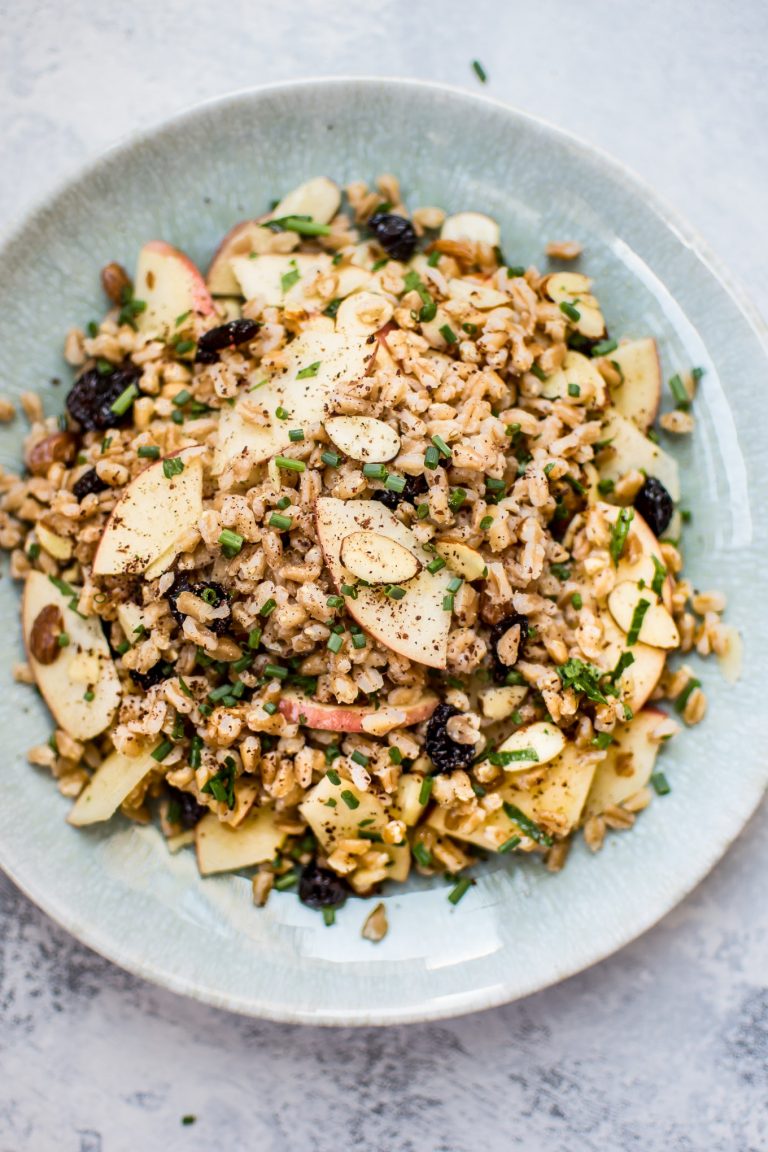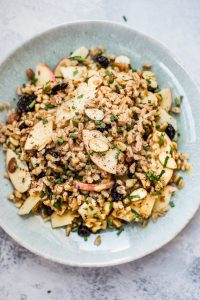 Fall Farro Salad
This healthy farro salad is packed with dried cranberries, sliced almonds, honeycrisp apple slices, chives, and a lemon vinaigrette. It makes a wonderful light lunch or side dish.
Inactive time:
15
minutes
Ingredients
1

cup

uncooked farro

3

cups

vegetable broth or water + veg bouillon/stock cube

1

honeycrisp apple

sliced thin or diced

1/3

cup

sliced almonds

1/3

cup

dried cranberries

1

tablespoon

fresh chives

chopped

1

tablespoon

fresh parsley

chopped

Juice of 1/2 lemon (about 1 tbsp)

2

tablespoons

olive oil

Salt & pepper

to taste
Instructions
Add the farro and veg broth to a medium pan and bring it to a boil. Reduce the heat to medium-low and let it simmer, uncovered, for 30 minutes. 

Let the farro cool for at least 15 minutes. 

Meanwhile, prep your other ingredients. 

Once the farro has cooled (it doesn't have to be totally cold), toss with the other ingredients. Serve immediately or put it in an airtight container in the fridge and chill it. Farro can be cooked ahead of time then combined with the rest of the salad ingredients later on if needed. 
Recipe Notes
I've eaten this salad 3 days after I've made it, and as long as you keep the salad in an airtight container, the apples don't brown much. 
Serves 2-4.
Like this recipe? You may also like my healthy broccoli salad or my chickpea and kidney bean salad.