Wondering how to prepare leeks? This quick guide illustrates how to clean, cut, chop and prepare leeks for cooking.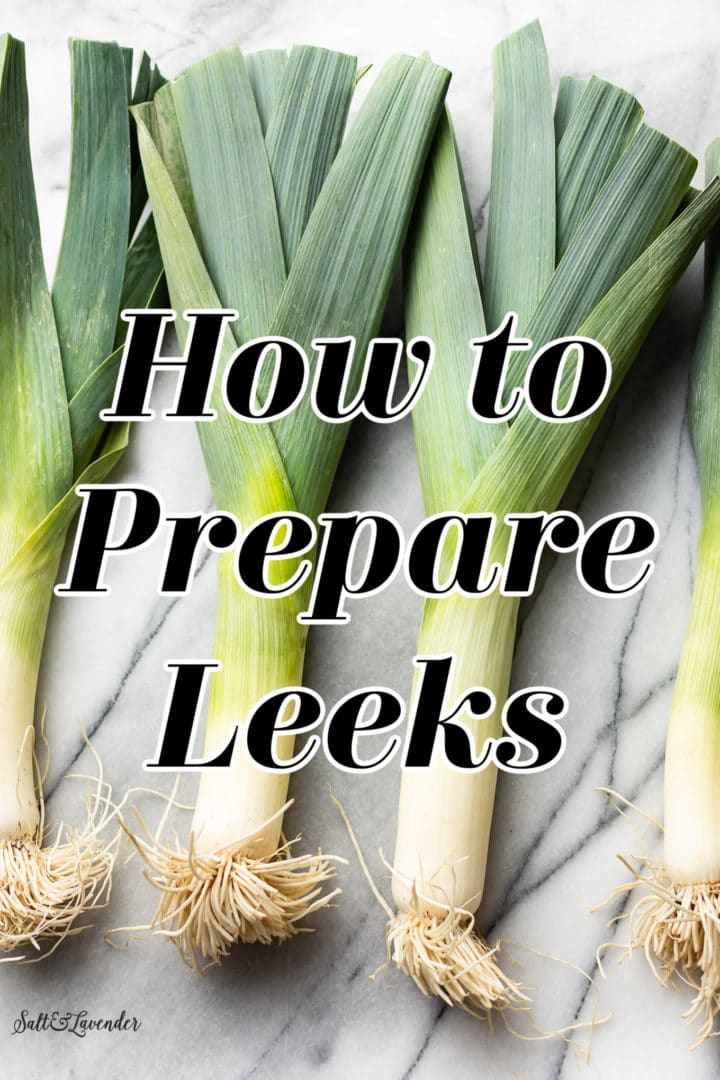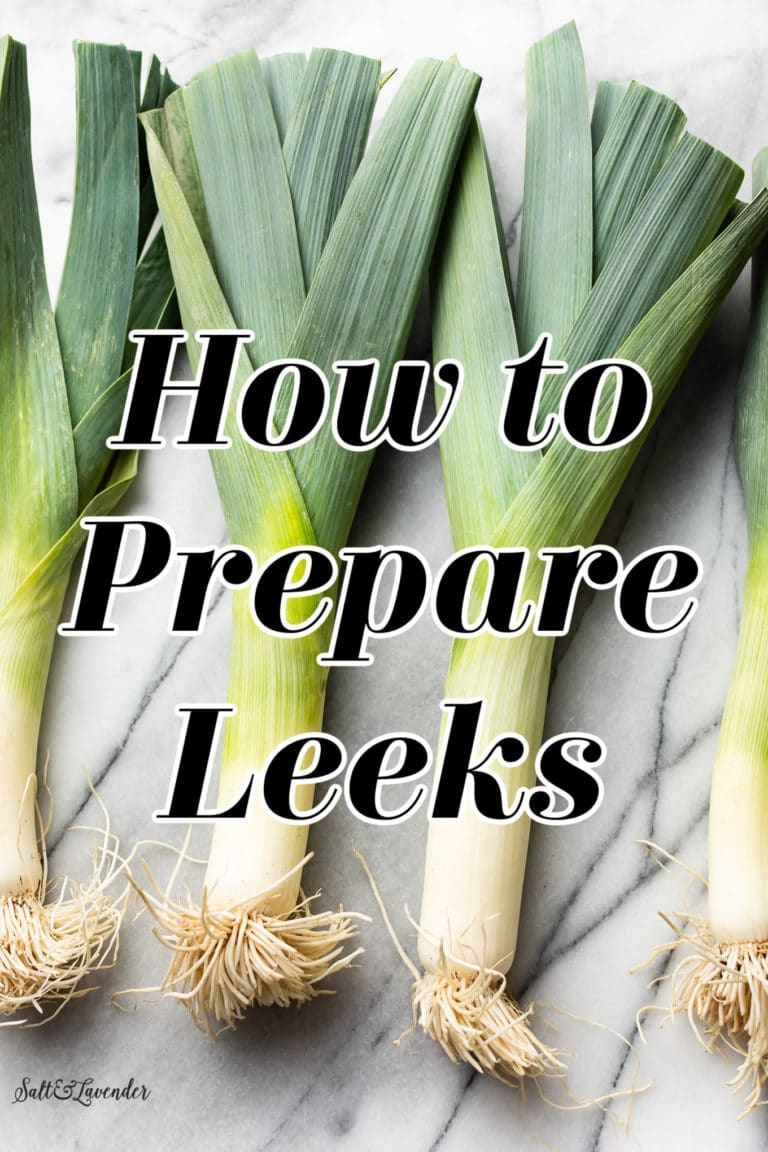 Ever feel intimidated by leeks? I know I have. With a few simple tricks, you'll be an expert in leek preparation in no time. Leeks are delicious in everything from soups and stews to pasta recipes and side dishes. They can even be roasted or grilled! They're versatile and delicious.
What are leeks?
Leeks are vegetables in the onion family (they're alliums, along with scallions/spring onions, chives, garlic, shallots, etc). They vary in size and can range from quite small to quite large (but they're typically much larger than their similar looking family member scallions).
What do leeks taste like?
Leeks taste similar to onions, but much milder and a little sweeter. I find they have a buttery quality, especially when sautéed. Larger, older leeks tend to be a bit stronger in flavor.
How to cut leeks?
Start by cutting off the dark green part (retain as much of the light/medium green as you can... this will vary from leek to leek), then you cut off the end of the root. The white/light green part of the leek is what you'll be using for your recipe.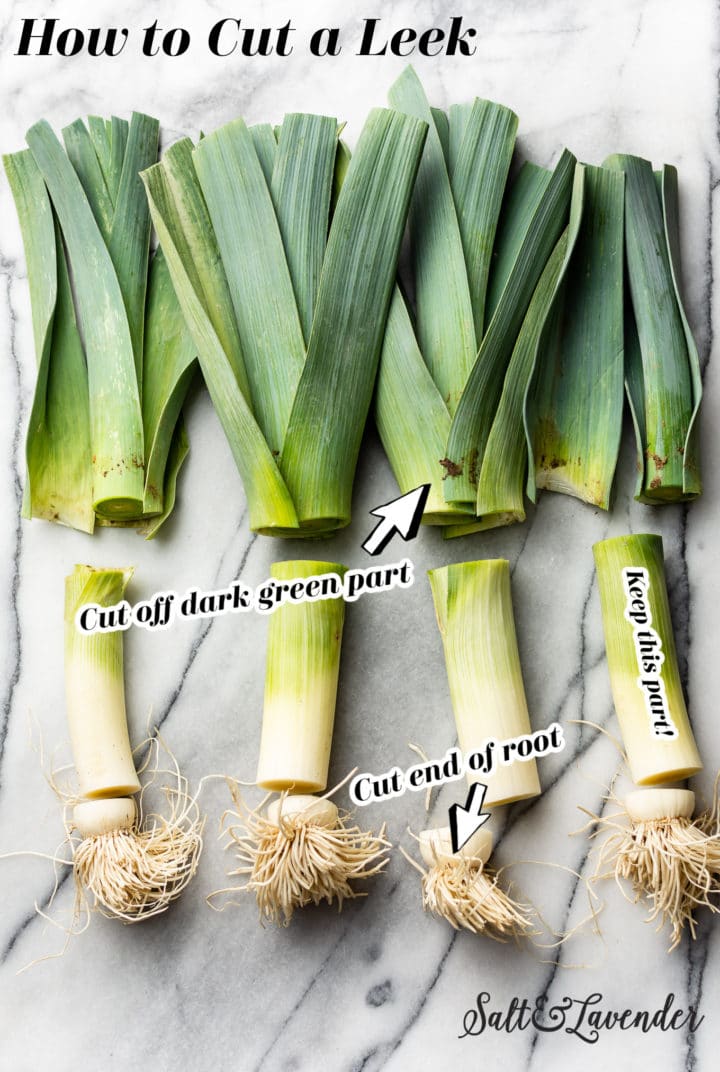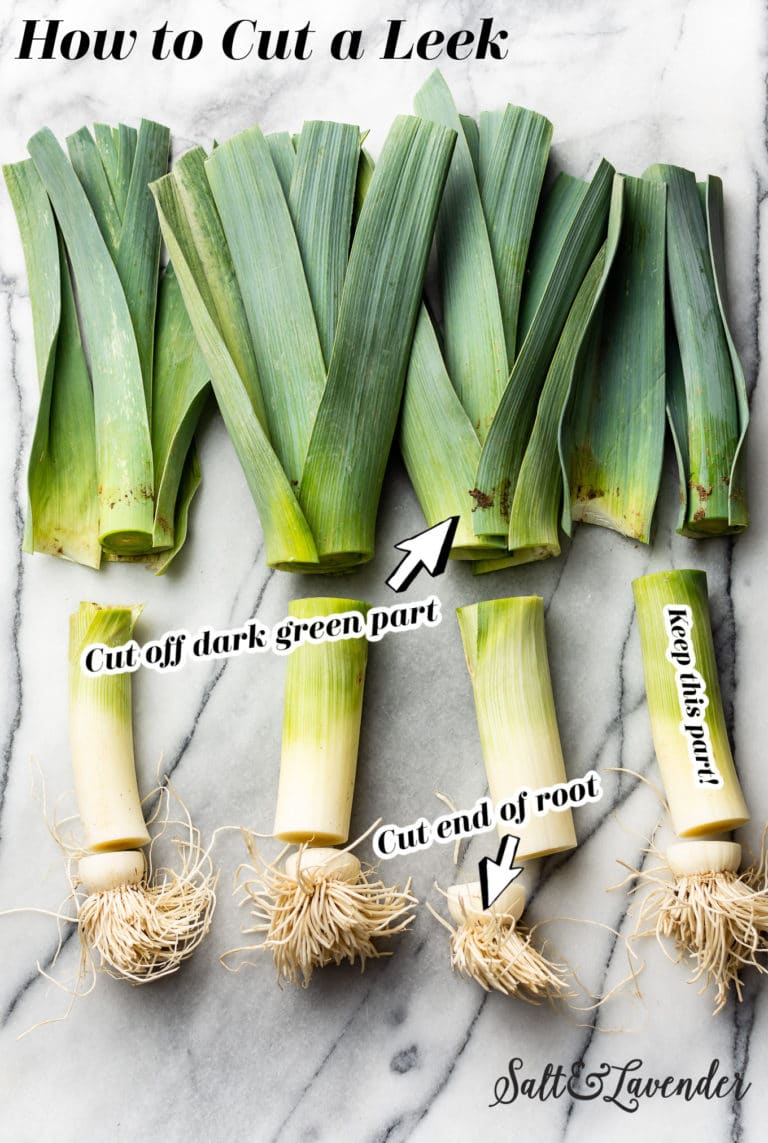 How to clean and chop leeks
Leeks are notorious for having hidden dirt in between the layers. They grow in the soil, after all. There's two main methods I use to clean leeks:
Method 1:
Start by slicing the bulb into rings. Add the rings to a colander and use your hands to break up the rings and dislodge any dirt that may be hiding. Let the rings drain (give it a good shake), then add them to any recipe that requires chopped leeks. Or, you can chop them even smaller after cleaning them.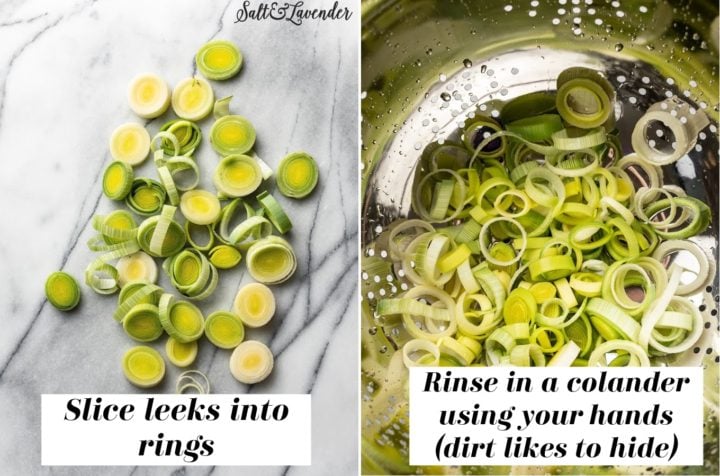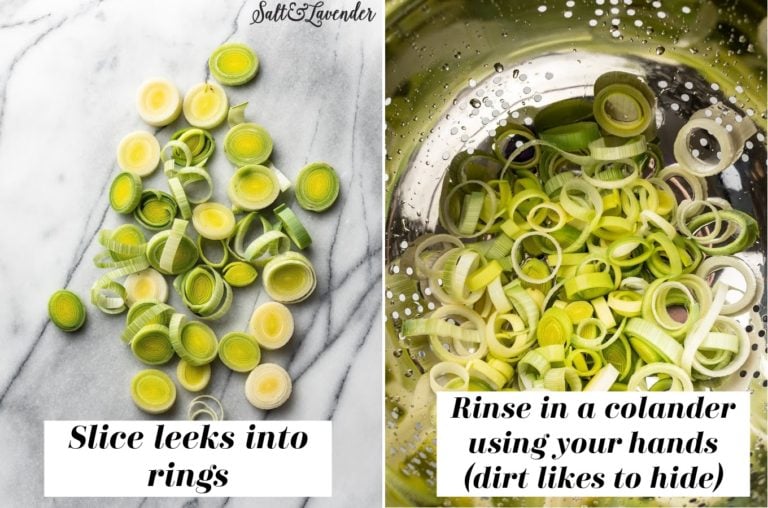 Method 2:
In this method, the bulbs are cut in half lengthwise and you fan out each leek half under running water, sort of like you're flipping through the pages of a book with your thumb. I find this method a little faster for removing dirt, and it's nice if you need to cut the leek up into thin strips (julienne cut) for a particular recipe. Or, just chop it up into half rings once you're done rinsing it. Most recipes aren't too picky about how leeks are cut, especially ones that end up blended anyway (like many soups).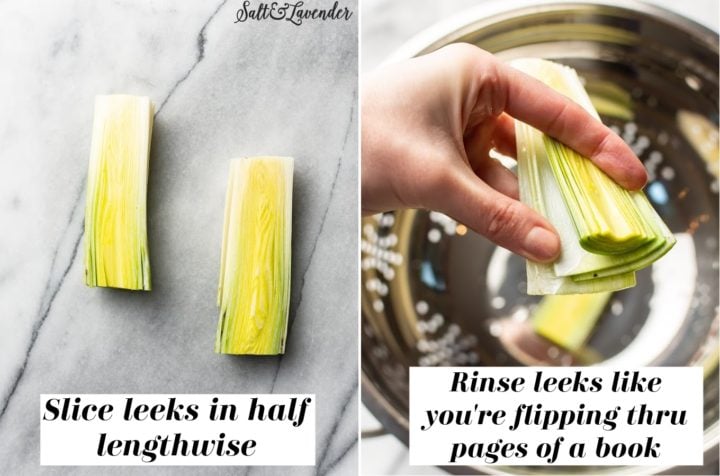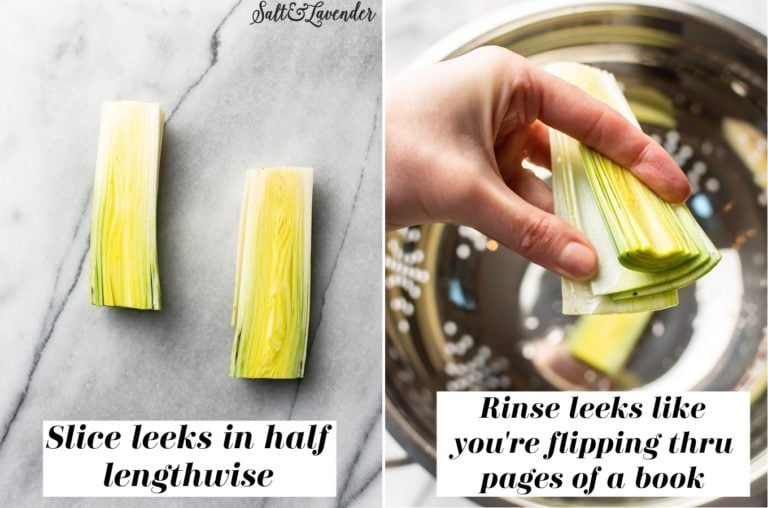 Can I use the dark green part of the leeks?
The dark green portion of leeks is very tough and chewy. If you don't want to discard it, you can add it in when you're making homemade stock.
Can you eat leeks raw?
If you want to slice the bulb VERY thin (like using a
mandoline slicer
), you can use it sparingly in salads or as a garnish to soups (it would work well with more brothy Asian-style soups).
How to store leeks?
Keep them in the fridge as-is, without washing (I sometimes trim the dark green part a bit if I can't fit them into my crisper drawer). They're best prepped right before using.
Can you freeze leeks?
Only freeze them if you're planning on using them in something like soup since it will destroy the texture and the taste can go a little bitter. If you must freeze them, freeze just the bulb in an airtight container.
What's the difference between leeks and ramps?
Ramps are a wild onion. They have a more intense flavor than leeks. They're not as readily available as leeks (they are only around for a few weeks during the spring at some farmers' markets in North America).
Some tasty leek recipes to try:
I hope you enjoyed this quick guide to leeks! What are your favorite leek prep tips or recipes?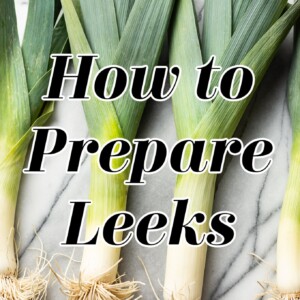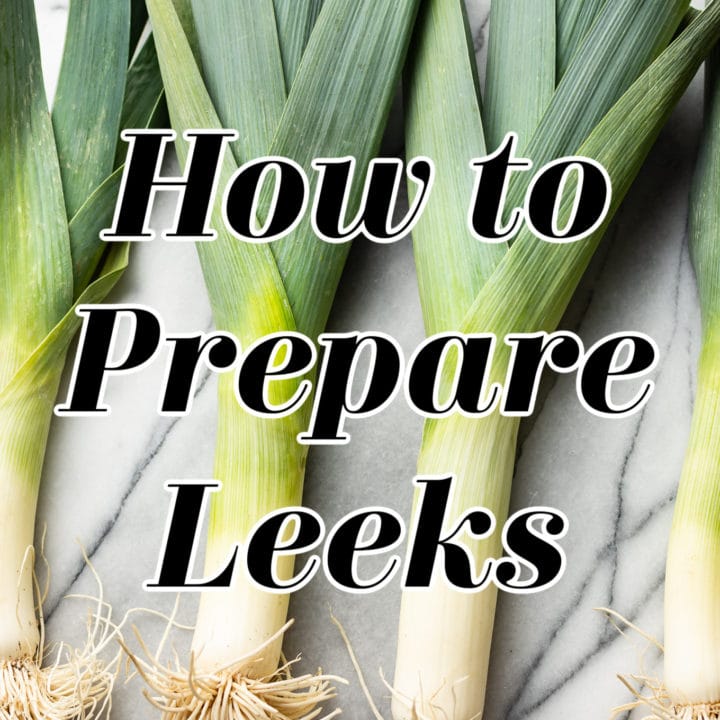 How to Prepare Leeks
Preparing leeks for cooking is quick and simple! Leeks are great in everything from soups to pastas and side dishes.
Instructions
Cut the top dark green portion off the leek (keep the light green and white part of the bulb). Cut the end of the root off as well.

Clean the leek: Start by slicing the bulb into rings. Add the rings to a colander and use your hands to break up the rings and dislodge any dirt that may be hiding. Let the rings drain (give it a good shake). This method and a second method are illustrated with photos within the blog post.

Use for any recipe that requires chopped leeks.
Notes
Nutritional information is provided as a courtesy only and should be construed as an estimate rather than a guarantee. Ingredients can vary and Salt & Lavender makes no guarantees to the accuracy of this information.
Nutrition
Calories:
54
kcal
Carbohydrates:
13
g
Protein:
1
g
Fat:
1
g
Saturated Fat:
1
g
Sodium:
18
mg
Potassium:
160
mg
Fiber:
2
g
Sugar:
3
g
Vitamin A:
1484
IU
Vitamin C:
11
mg
Calcium:
53
mg
Iron:
2
mg