This lemon parmesan chicken Alfredo recipe is a delicious and decadent way to enjoy pasta! The sauce is irresistibly creamy with plenty of lemon and garlic! The tender breaded chicken adds another layer of comfort and flavor to this easy fettuccine Alfredo pasta dish.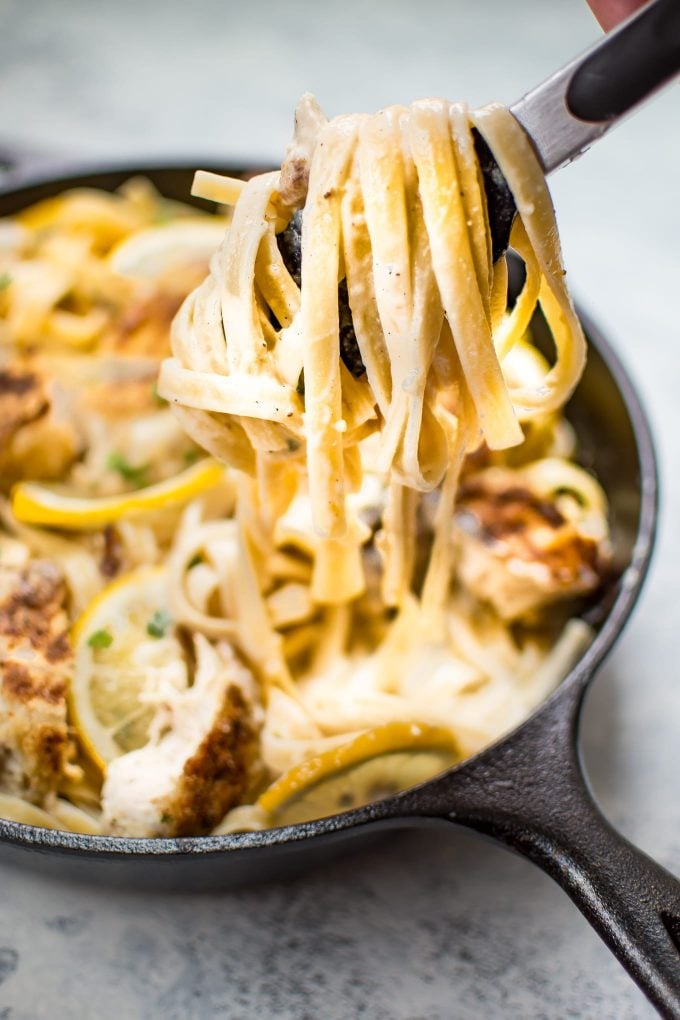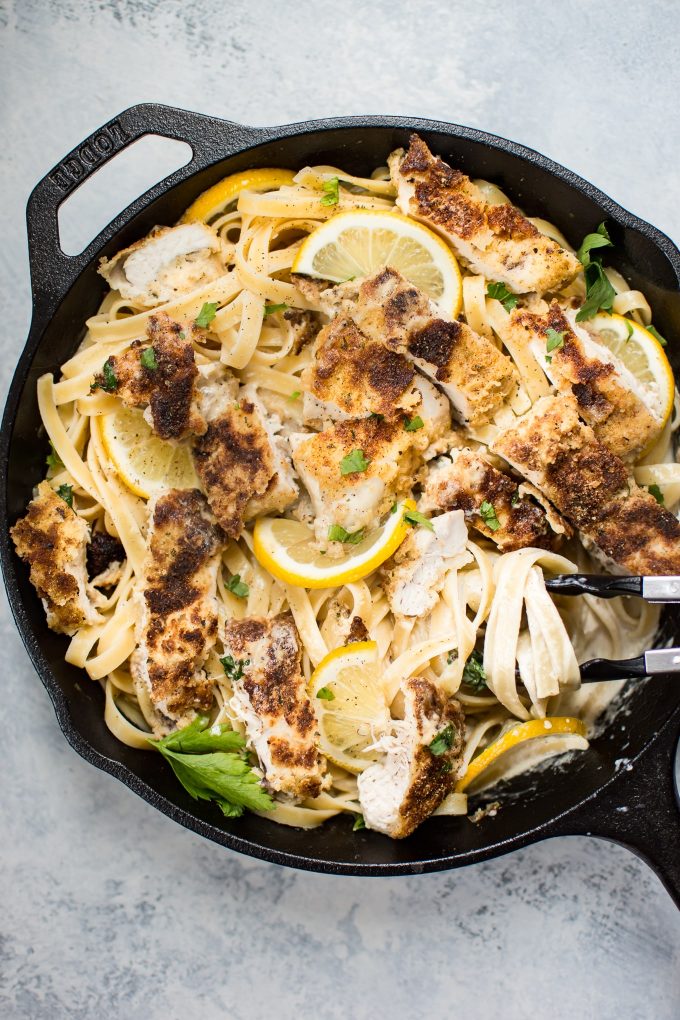 I don't know about you, but after the clocks changed, I started really craving sleep and carb-loaded foods. And by 6 pm it felt like midnight last week. Ugh. Happens every year. There's already been snow here for a few weeks (yes really), and that's when I go through a bit of a phase. Thus, recipes like this lemon garlic parmesan chicken recipe were born!!
I'm attempting to get back to my usual healthier habits, but just let me have this lemon parmesan chicken pasta, ok? 😉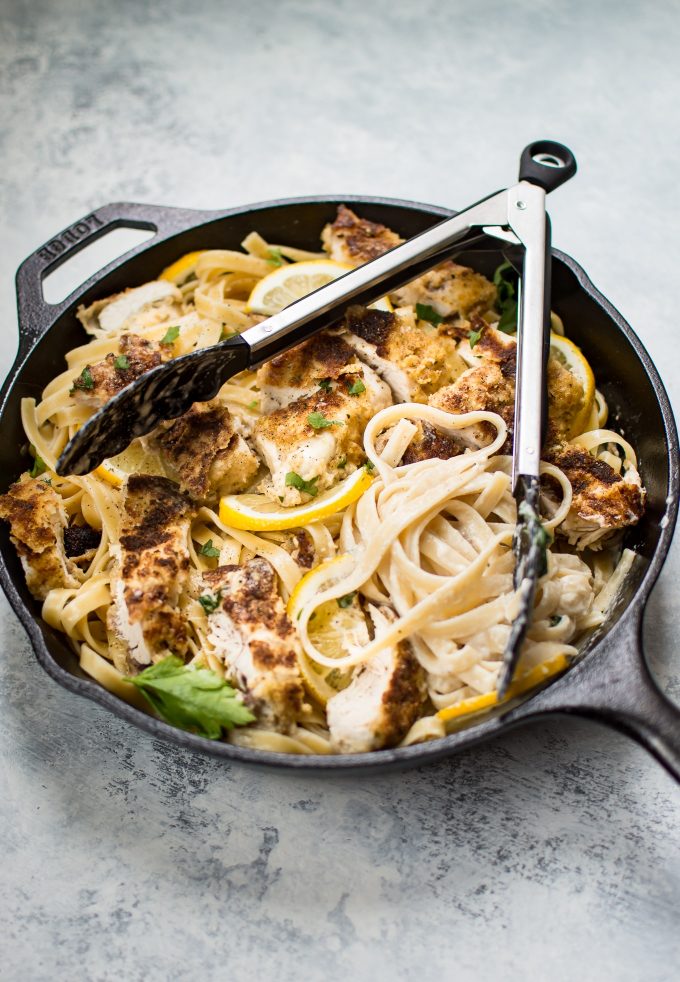 This is a pretty simple breaded lemon chicken recipe. You just coat the chicken in flour, egg, and a breadcrumb + parmesan cheese mixture to make the lovely crust, fry 'em up, and then you finish them in the oven with an easy Alfredo cream sauce. Toss with pasta and voila!
Wherever possible, I like to cut chicken breasts in half lengthwise to make thinner pieces. This helps them dry out less and make them that much easier and faster to cook.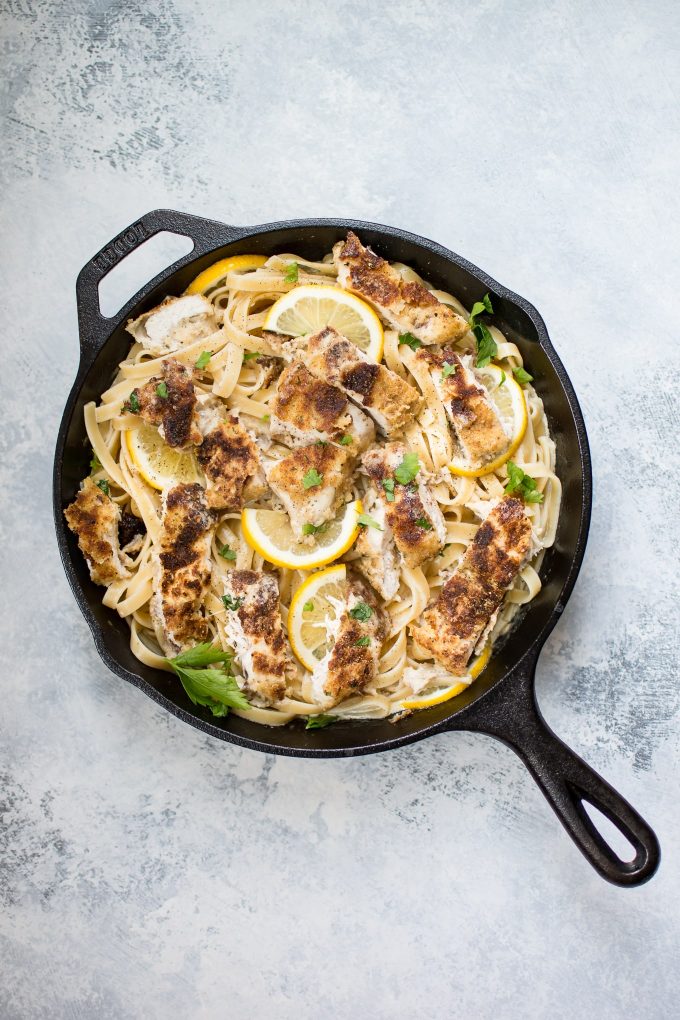 Hope you decide to make this easy lemon chicken pasta recipe! Let me know in the comments below if you did. 🙂 Do you crave more carbs when the weather gets cooler?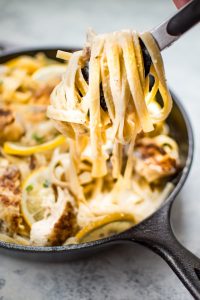 Print
Lemon Parmesan Chicken Alfredo Recipe
Yield 4
This lemon parmesan chicken alfredo recipe is a delicious and decadent way to enjoy pasta! 
Ingredients
2 chicken breasts, cut in half lengthwise
Salt & pepper, to taste
Flour
2 eggs, lightly beaten
Breadcrumbs
1 cup parmesan cheese, divided
1 tablespoon olive oil (add more if needed)
1 cup heavy/whipping cream
1 tablespoon butter
Juice of 1/2 lemon (about 1 tbsp)
4 cloves garlic, minced
4 ounces uncooked fettuccine
Instructions
Preheat oven to 400F and move the rack to the middle position.
Butterfly the chicken and then cut it in half lengthwise so you have 4 thinner pieces. Sprinkle with salt & pepper.
Get 3 bowls ready - one with the flour (start with about 1/4 cup and top up as needed), one with the eggs, and one with the breadcrumbs (start with 1/2 cup and top up as needed) and half the parmesan cheese. Dip the chicken in the flour, followed by the egg and then the breadcrumbs. 
Boil a salted pot of water and cook the pasta according to package directions. 
Add the oil to a heavy, oven-proof skillet on medium-high heat. When the oil is hot, add the chicken and cook for 4 minutes/side or until golden. If the pan starts to smoke excessively, turn the heat down. Take the chicken out of the pan and set aside on a plate.
Add the cream, butter, lemon juice, garlic, and remaining parmesan cheese to the pan. Give it a good stir & add the chicken back in.
Pop the pan in the oven for 10 minutes or until the chicken is fully cooked through and the sauce has thickened up a little.
When the chicken is done and the pasta is about ready, take the chicken out of the pan. Slice it up if you wish. Toss the pasta with the sauce (add in a little pasta water if desired) then top each bowl with the chicken. Serve immediately. 
Courses Main Course
Cuisine Italian
Looking for other easy lemon chicken recipes? Try my creamy lemon stuffed shells recipe or my lemon chicken orzo soup recipe.