This Alfredo sauce with cream cheese is the ultimate creamy, garlicky comfort food! It uses simple everyday ingredients and only takes about 15 minutes to make. Use this sauce to make the best ever Fettuccine Alfredo!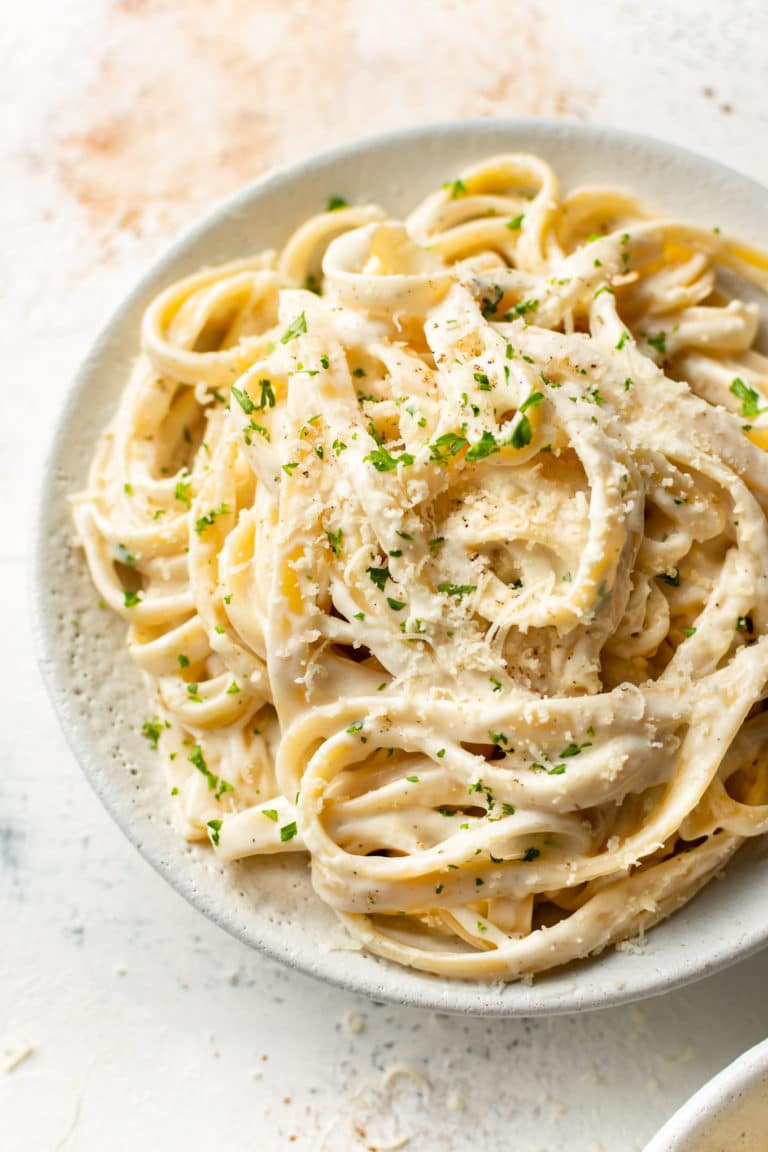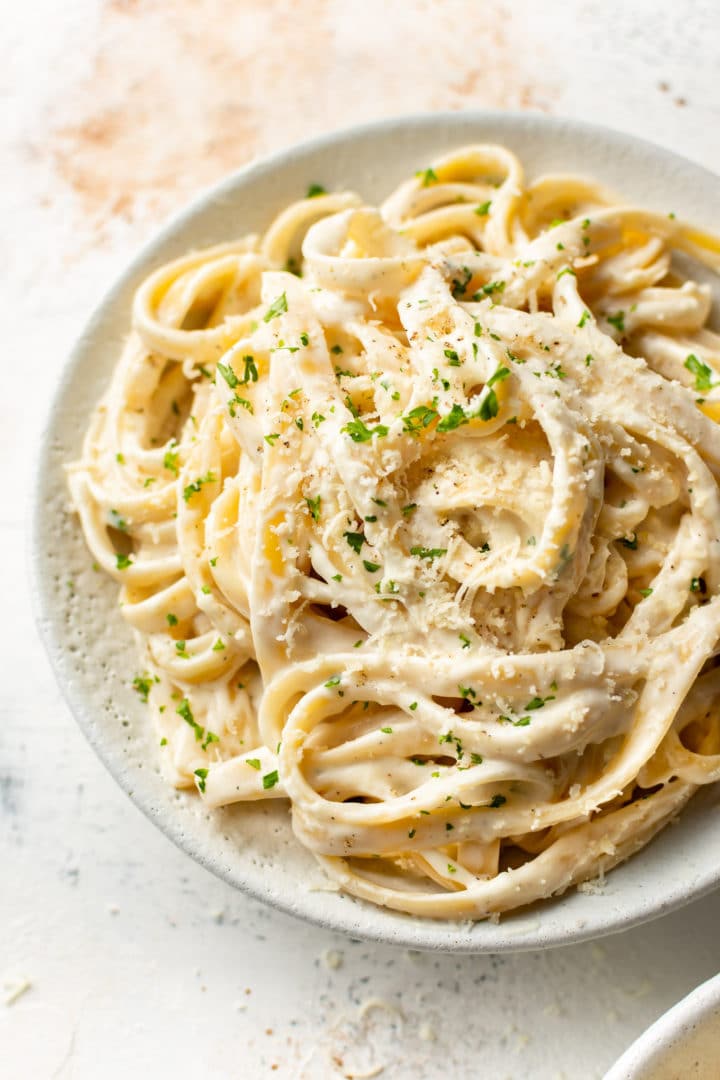 This homemade Alfredo sauce is easy to prepare, and if you're making it with pasta, the whole meal only takes as much time to cook as it does to boil the pasta! The whole family is sure to love it. When you want a treat, this is sure to hit the spot.
This Alfredo sauce is the standalone version of the sauce in my Chicken Fettuccine Alfredo and Easy Shrimp Alfredo recipes. Those are quite popular with readers, but I figured that having good ole Alfredo sauce by itself is also a smart idea.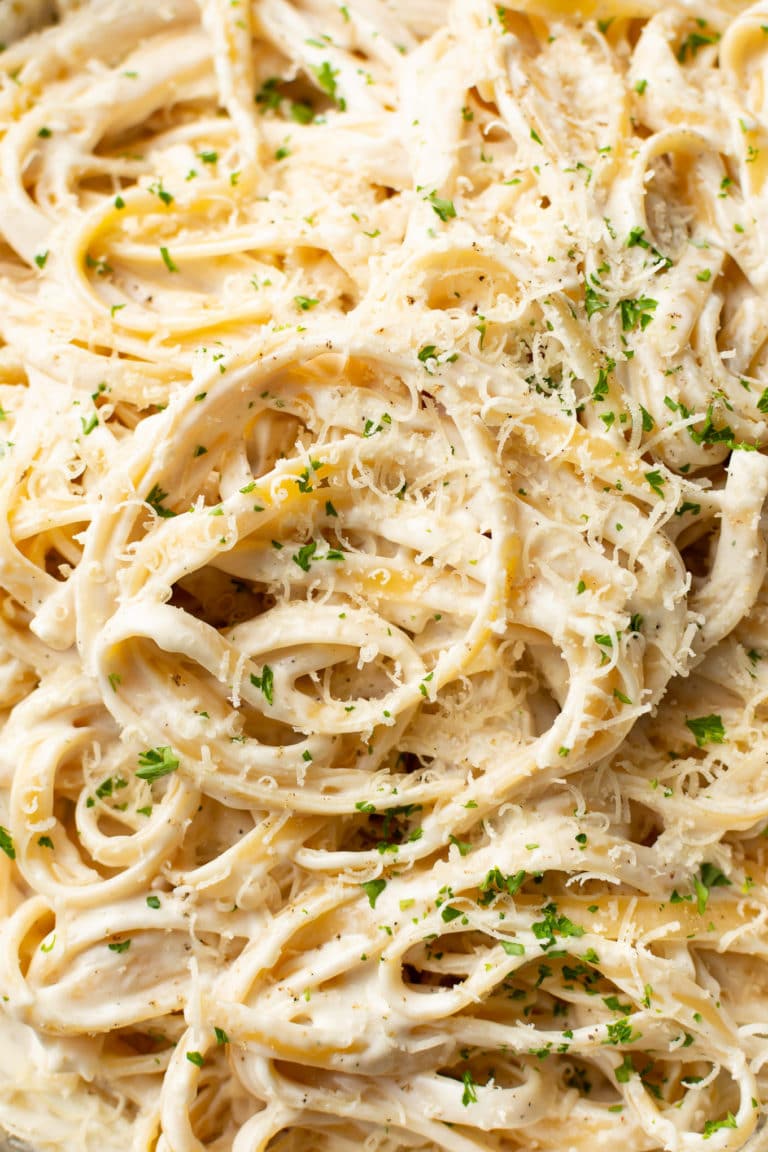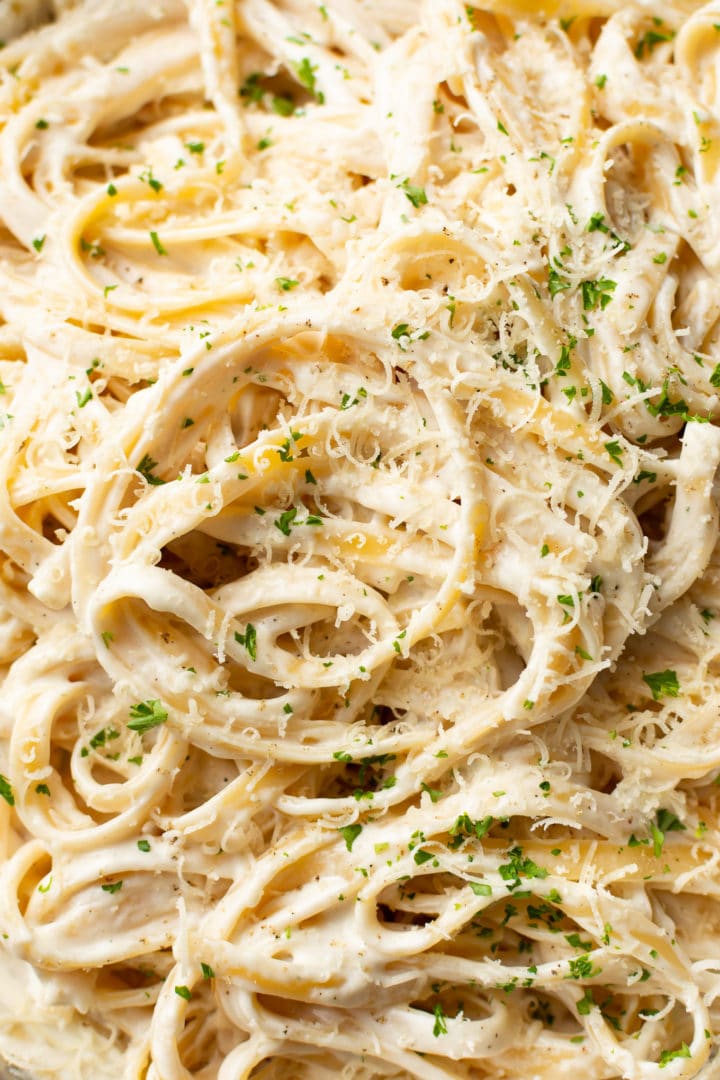 Alfredo sauce is simply a mix of butter, cream, parmesan cheese, and sometimes garlic. My trick to making the best Alfredo sauce is adding some cream cheese!
It helps make the sauce thicker and more silky. It also adds a little tanginess that stops the sauce from tasting too heavy. I love it. Purists would argue that cream cheese doesn't belong in here, but I respectfully disagree. 😉 It's glorious.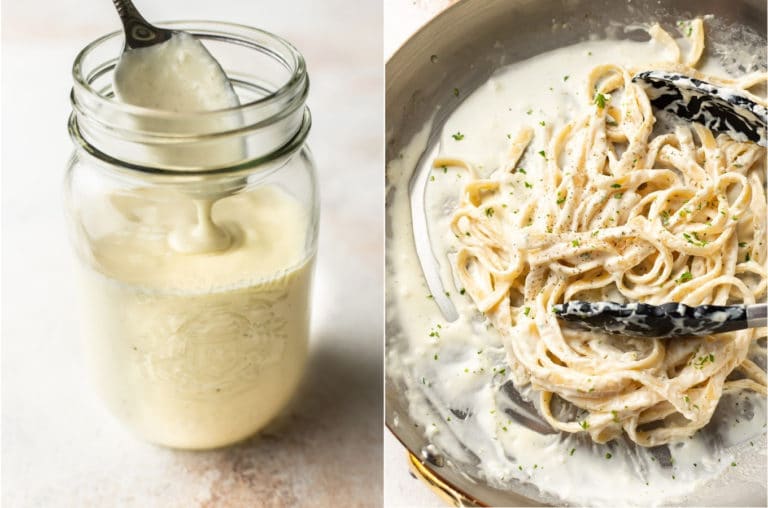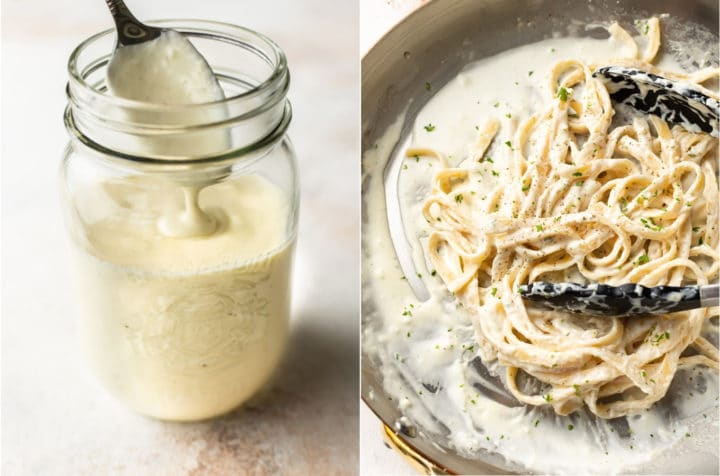 Recipe notes & tips:
I really recommend grating your own parmesan cheese. It melts better and tastes better. I always keep a block of parmesan in my fridge (it lasts for ages), and I use this cheese grater.
Customize it: You can definitely play with the sauce a bit and add more to it! It's a great base. Ideas: a bit of Cajun seasoning or red pepper flakes for some heat. Small broccoli florets or some sweet corn. Leftover cooked/rotisserie chicken.
You can add more garlic if you wish! This sauce is noticeably garlicky but not overpowering.
What is Alfredo sauce good on? Try it anywhere you'd use the jarred stuff (like as a sauce for salmon or chicken breasts, in a casserole or pasta bake, over vegetables, or even as a white sauce for pizza).
Recipe substitutions:
If you want to experiment a bit, feel free to make substitutions (it may turn out great), but do not expect the same results as this recipe that I've tested multiple times. This is meant to be a treat meal, and with milk or half-and-half there's a chance the sauce will separate since I don't use a roux in here. Alfredo sauce is notorious for separating, and that is one of the reasons I have selected these ingredients (to make it more user-friendly as well as delicious).
Storing & reheating Alfredo sauce:
Reheating Alfredo sauce: I recommend reheating it slowly on a LOW heat on the stove. I've had luck adding a bit more cream to get the sauce back to its former glory. If you want to microwave it, be sure to stir every 30 seconds or so and use low power if possible. It can separate if you rush it/warm it on too high a heat.
Storing Alfredo sauce: The sauce will last for 3-5 days in the fridge. You can store it in an airtight container (like a mason jar). I don't recommend freezing it as it can separate when reheating, but if you do, be sure to reheat on a low heat and add a little more cream.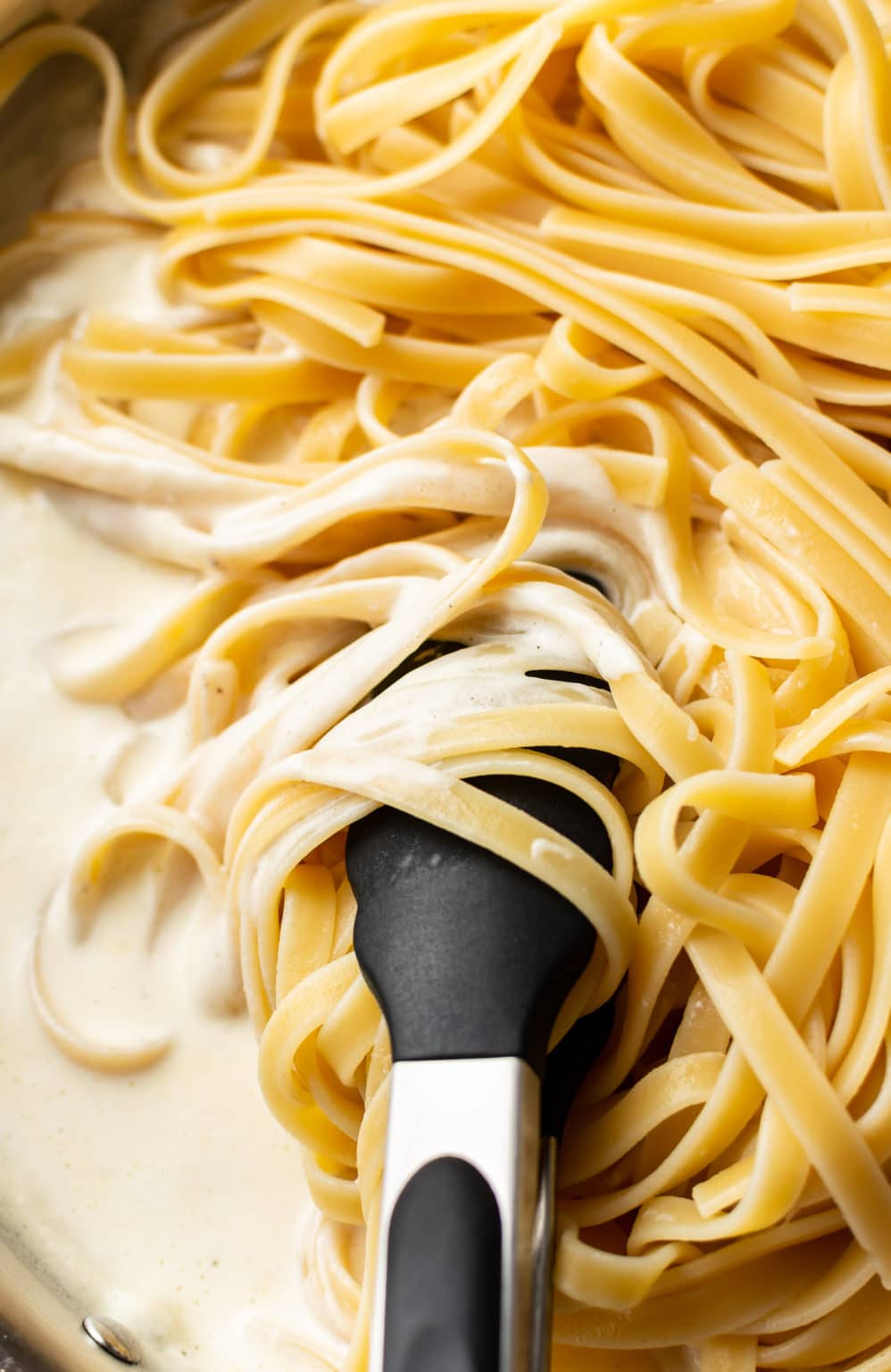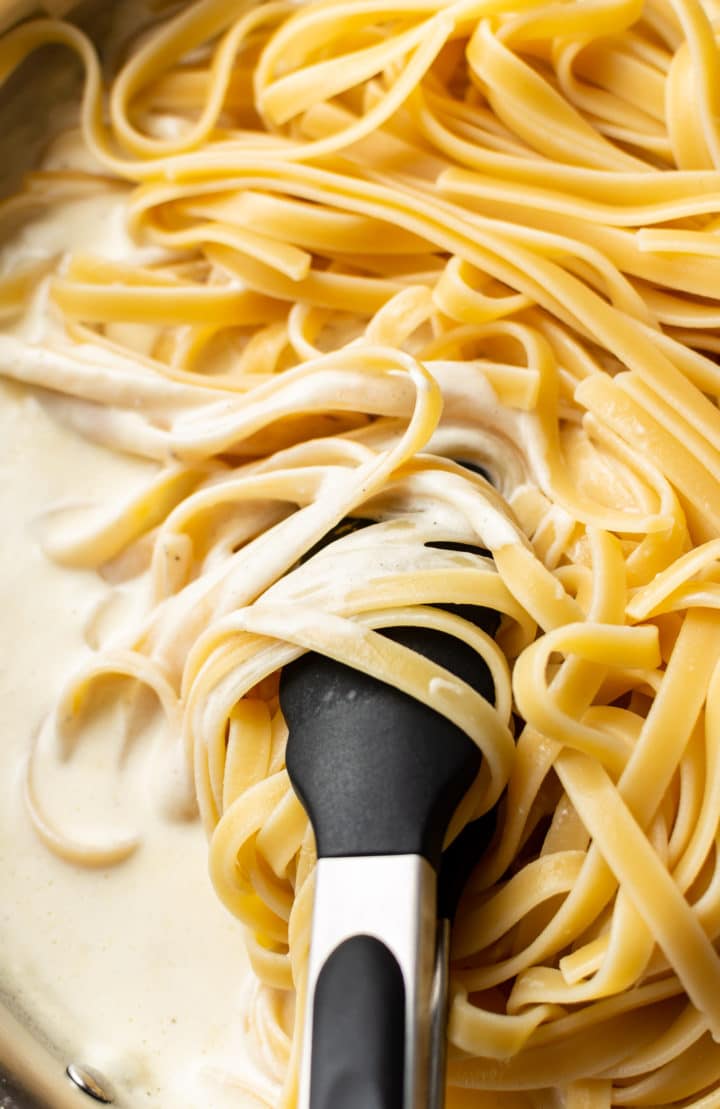 What kind of pasta to serve with Alfredo sauce?
Fettuccine pasta is the easy choice, but any shape will work! Penne works particularly well too. Or try linguine or spaghetti.
What to serve with Fettuccine Alfredo?
This recipe is rich, so I recommend having smaller portions (2-3 ounces dry fettuccine per person) and serving it with a side. Try bread sticks/garlic knots, or make a healthy side salad for a lighter option. Or... go all out and make a Caesar salad with my 10-minute dressing.
More creamy pasta recipes you'll love: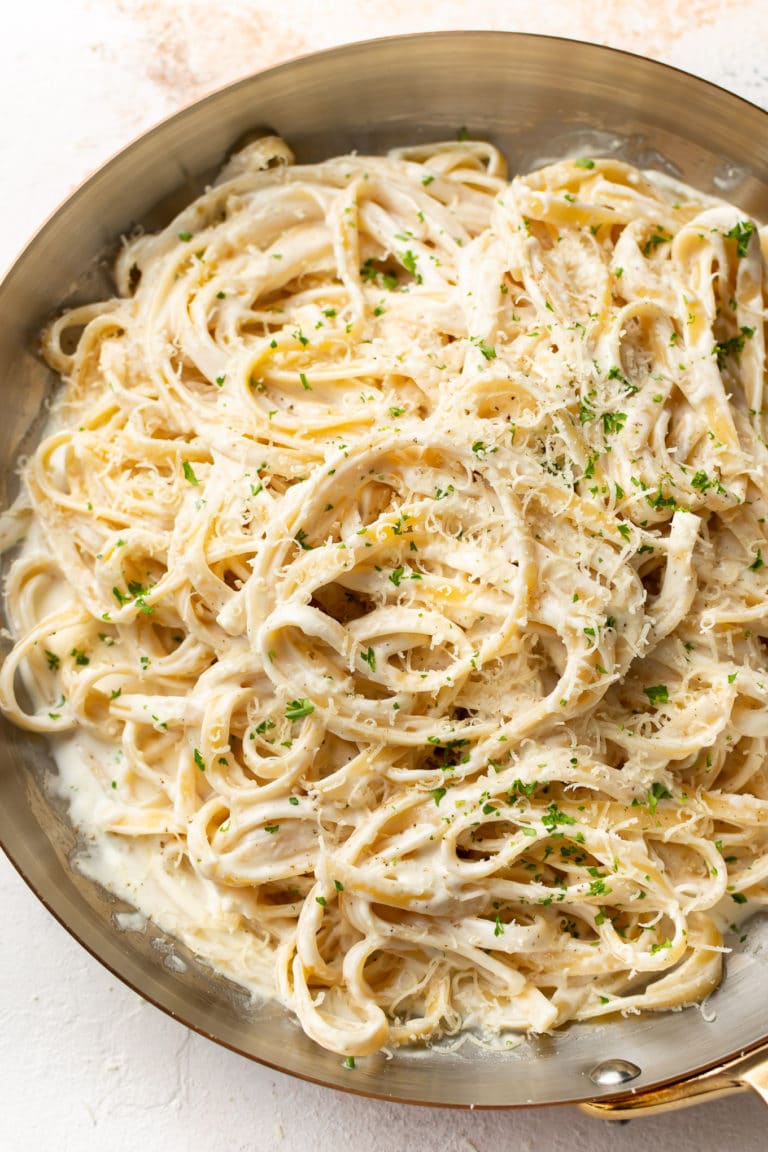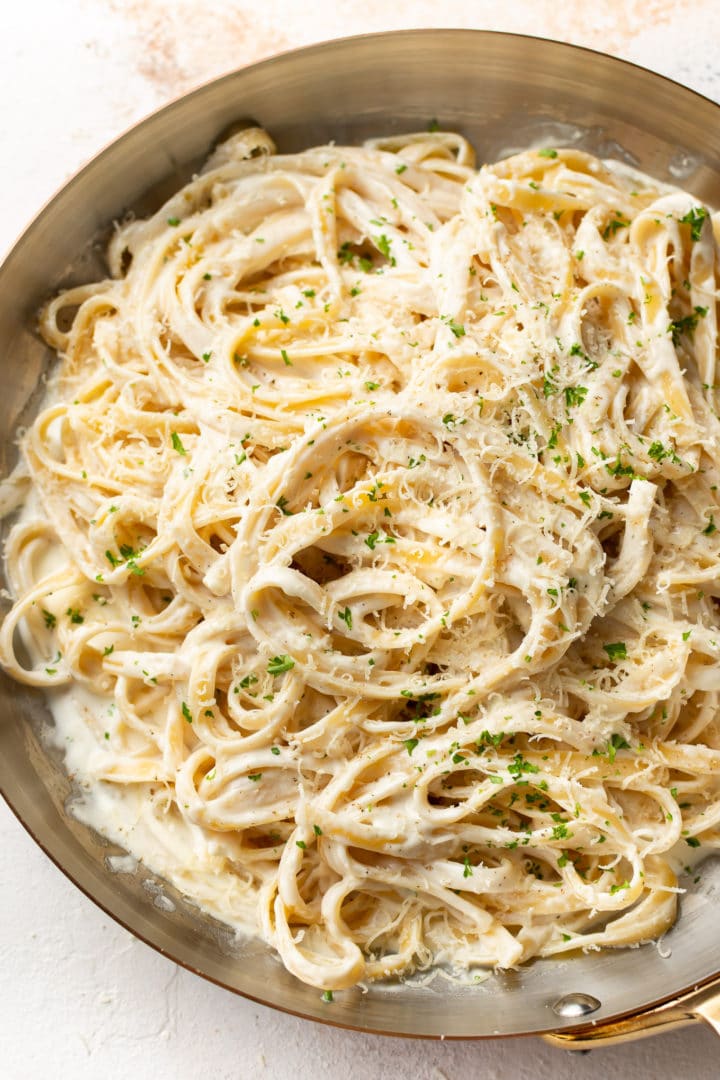 Questions about this easy Alfredo sauce recipe? Did you make it? Let me know in the comments below, and tag me #saltandlavender if you're on Instagram so I can see your creations.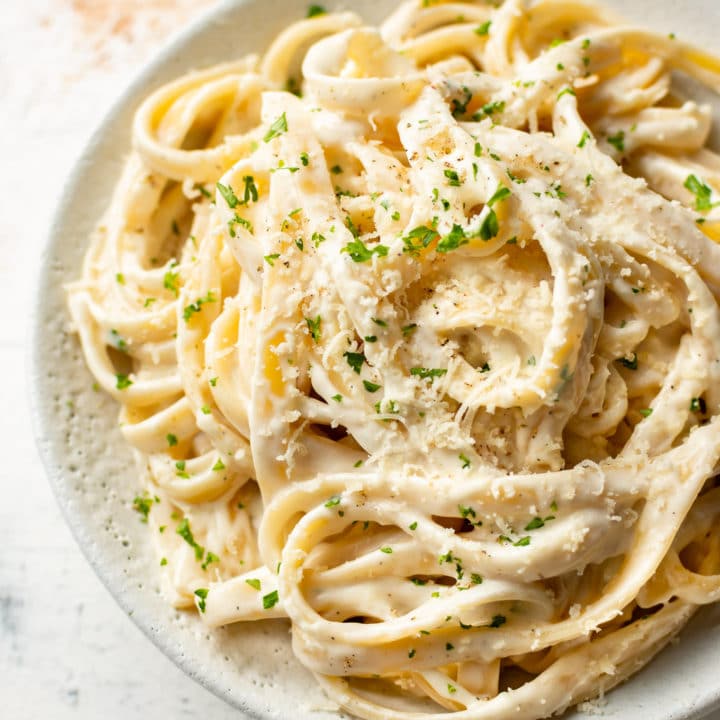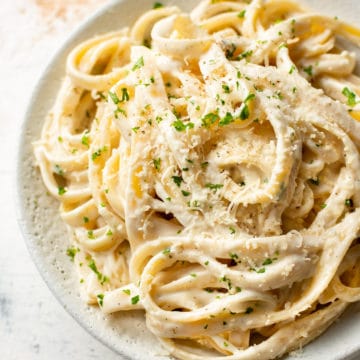 Easy Alfredo Sauce
This Alfredo sauce recipe is the ultimate creamy, garlicky comfort food! It uses simple ingredients and only takes 15 minutes. Great for Fettuccine Alfredo!
Ingredients
12

ounces

uncooked fettuccine

(if making Fettuccine Alfredo), see note

2

tablespoons

butter

4

ounces

cream cheese (I used 1/2 block of Philly)

softened

1

cup

heavy/whipping cream

2

large

cloves garlic

minced

1

cup

freshly grated parmesan cheese

Salt & pepper

to taste
Instructions
Take the cream cheese out of the fridge to soften up at least 30 minutes (or longer) prior to starting the recipe, or microwave it for 20-30 seconds. Grate the parmesan.

If making Fettuccine Alfredo: Boil a salted pot of water for the fettuccine. Cook it al dente according to package instructions. Prep ingredients as you're waiting for the water to boil. I start actually cooking the sauce when the pasta is boiling. Once the pasta is done, I toss it with the sauce right in the skillet (I also add a splash of the hot pasta water), and I serve it with extra parmesan grated over top and a little chopped fresh parsley.

Add the butter, cream cheese, cream, and garlic to a skillet over medium heat. Once the butter has melted and the pan has heated up, use your spoon to help the cream cheese melt into the sauce. This will take a couple of minutes.

Once the cream cheese has been incorporated into the sauce, let it gently bubble for 3-4 minutes or until the sauce has reduced a bit. Stir occasionally.

Stir the parmesan into the sauce, and let it melt in (about 30 seconds), then take it off the heat. The sauce should be thick enough by now, but if you want to reduce it more, let it cook for a bit longer. Keep in mind the sauce will thicken more as it cools/sits. If at any point the sauce gets too thick, add another tablespoon or two of cream OR if you're making pasta with it, the hot pasta water. Give it a taste and season with salt & pepper as needed.
Notes
Note on serving size: This makes about 1.5 cups sauce. Serves 6+ if you don't mix it with pasta (e.g. you just use it as a sauce over chicken/fish/veggies). With the suggested 12 oz. of pasta it serves 4 people. Double the recipe if you want to fill a large jar and use it for multiple meals.
Pasta quantity: If you want to use an entire 1 pound (16 ounce) box of pasta, that's fine, but there won't be quite as much sauce as some people like (I suggest doubling the recipe). Make 8 ounces (1/2 pound) if you want lots of sauce. 12 ounces (3/4 of a box) is a good middle ground!
Alfredo sauce can separate if it's heated too hot/for too much time, so be mindful of that.
Nutritional information is provided as a courtesy only and should be construed as an estimate rather than a guarantee. Ingredients can vary and Salt & Lavender makes no guarantees to the accuracy of this information. For this recipe the nutrition info is just for the sauce.
Nutrition
Calories:
526
kcal
Carbohydrates:
43
g
Protein:
16
g
Fat:
32
g
Saturated Fat:
19
g
Cholesterol:
147
mg
Sodium:
376
mg
Potassium:
215
mg
Fiber:
2
g
Sugar:
2
g
Vitamin A:
1133
IU
Vitamin C:
1
mg
Calcium:
251
mg
Iron:
1
mg