Try my pasta with pancetta, mushrooms, and garlic! It's a quick, easy, and flavorful pasta dish that's ready in 30 minutes. It has a wonderful cream sauce that isn't too heavy.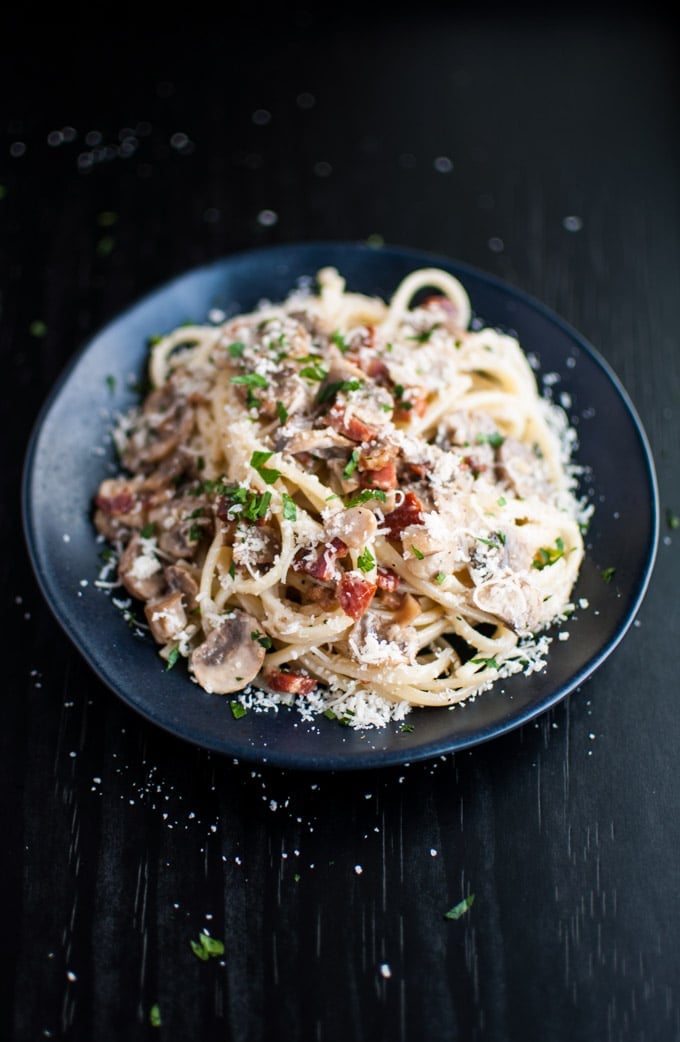 I love bacon. So original, I know. If you've never had pancetta before, it's basically a slightly fancier Italian bacon. It's un-smoked pork belly cured with salt. It's not ridiculously salty, but it does mean that there's no need to add extra salt to this dish... even for a salt lover like me! 😉
As much as I love cooking dishes with tons of ingredients, there's something to be said about a pasta dish with few ingredients. Some of the most famous dishes in the world have only a few ingredients, like spaghetti carbonara, which also uses pancetta.
I love making recipes with pancetta cubes - you can generally find them in the deli section of your grocery store. Easier than having to cut it up yourself.
I've been on a mushroom kick lately if you hadn't noticed. Mushroom soup, stuffed mushrooms, chorizo penne with mushrooms, and chicken with a mushroom and marsala sauce have all appeared on the blog recently. I promise I won't only post mushroom recipes (more are coming though. Never fear).
Better mushrooms than pumpkins, in my opinion. At least OMG PUMPKINS EVERYWHERE season is slowly winding down. Now it's just annoying Christmas music everywhere you go. Humbug! 🙂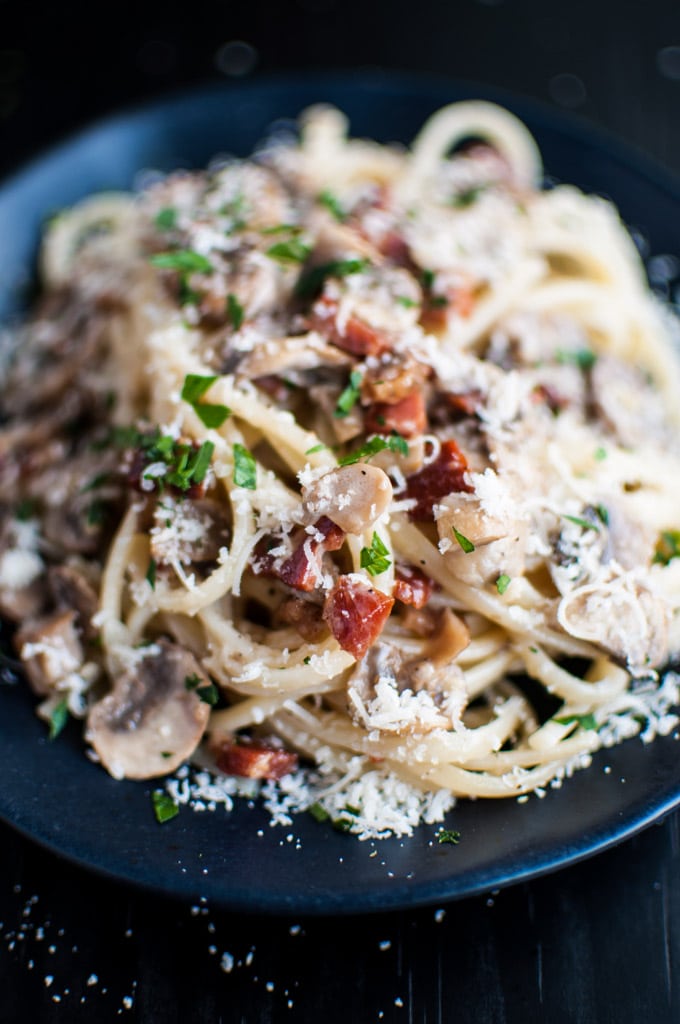 How to make pasta with pancetta
Cook the pancetta until crispy; add mushrooms and garlic to the pan, then add the cream and cook for 5 minutes. Stir the just-drained pasta into the sauce. Serve with parsley and fresh parmesan cheese.
Will you give this creamy pancetta pasta recipe a go?
Let me know in the comments!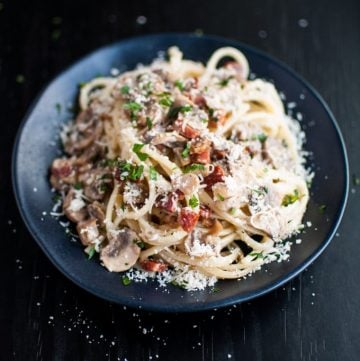 Pasta with Pancetta, Mushrooms, and Garlic
A quick and easy dish with pancetta, white mushrooms, garlic, and cream. Ready in 30 minutes!
Ingredients
1

pound

pasta (I used linguine)

4

ounces

pancetta

11

ounces

white mushrooms

3-5

cloves

garlic

minced

1/2

cup

heavy/whipping cream

Pepper

to taste

Grated parmesan cheese

to taste (optional)

Parsley

chopped (optional)
Instructions
Boil a large pot of salted water for the pasta. You can make the sauce while the pasta cooks. Cook pasta according to package directions.

Cut pancetta into small pieces (dice) if you didn't buy the pre-diced variety. Add it to a skillet and cook on medium-high heat, stirring frequently, until pancetta is crispy.

While pancetta is cooking, chop mushrooms into desired size. I chop mine quite roughly.

Once pancetta is crispy, add mushrooms to skillet and stir. Reduce heat to medium.

Mince garlic into the skillet, and stir. Cook for about five minutes, stirring often, until mushrooms are softened.

Add cream to the skillet and reduce heat to medium-low. Cook for an additional five minutes.

Once pasta is cooked, drain and add to skillet, mixing thoroughly.

Serve immediately with freshly grated parmesan cheese and a sprinkling of chopped parsley if desired.
If you're looking for more Italian pancetta recipes, you may also like my pancetta and pea pasta, my white bean and potato soup with pancetta or my easy creamy turkey pasta with pancetta.