These tropical chicken nachos are a fun and tasty appetizer! Sweet and spicy chicken, pineapple, lime, avocado, sour cream, jalapenos, and lots of gooey cheese are a great combination of freshness and comfort.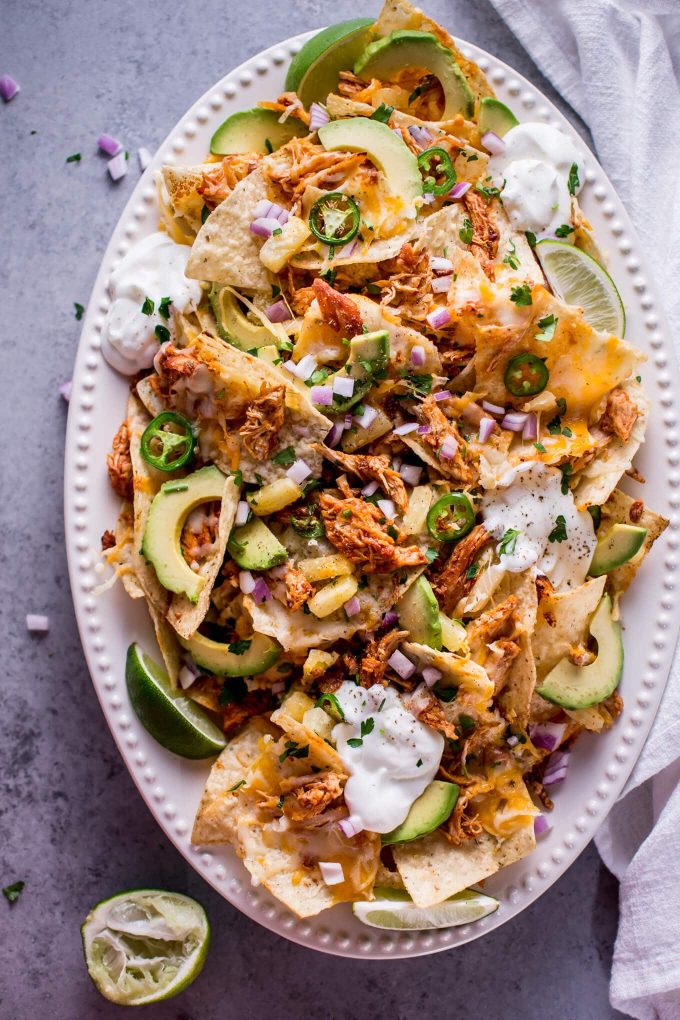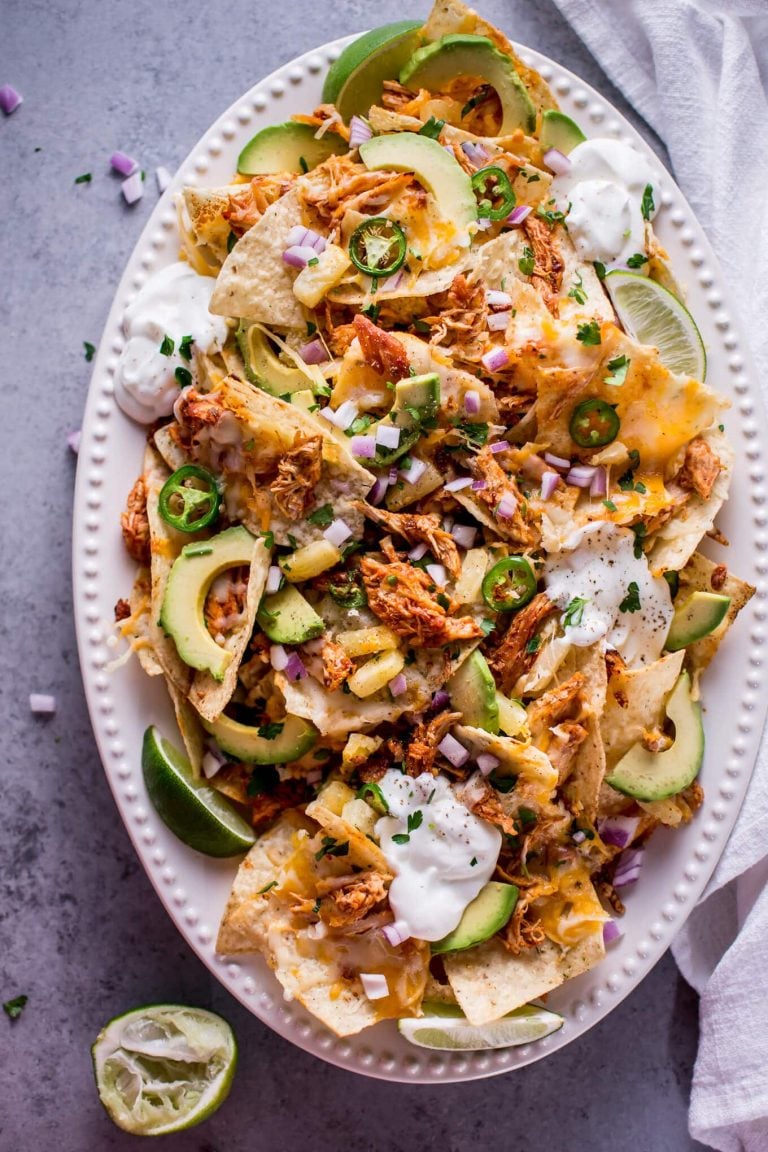 So. These nachos. I worked at a pizza place a looong time ago, and I loved their tropical sauce.
It was shipped to us pre-packaged, so I never knew exactly how to make it.
For some reason, that tropical sauce was on my brain again, and somehow the idea morphed into me making tropical chicken nachos.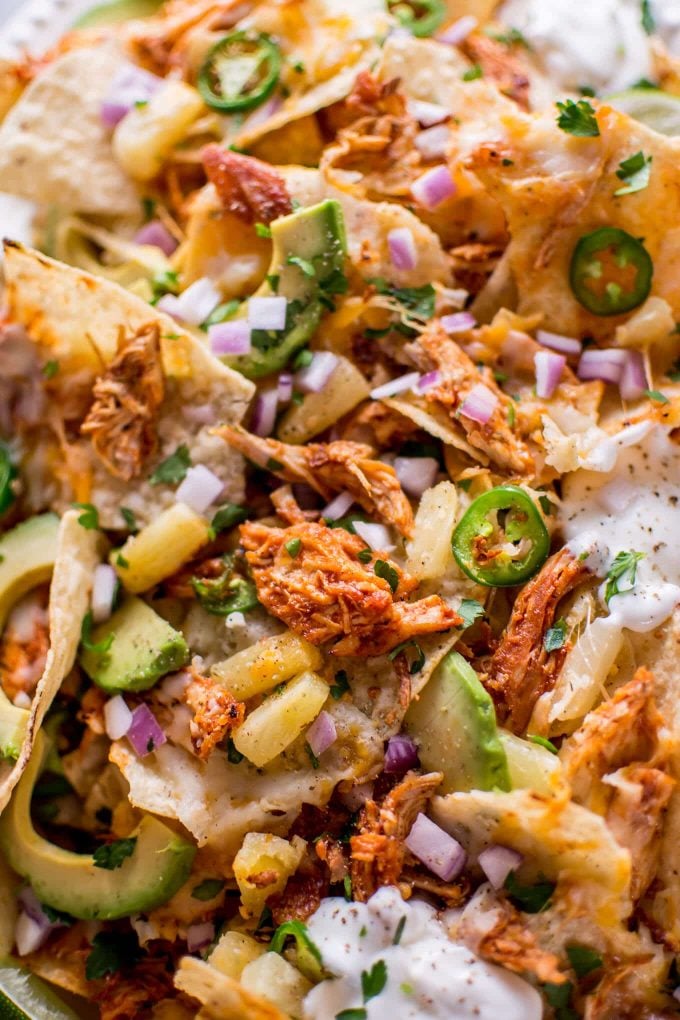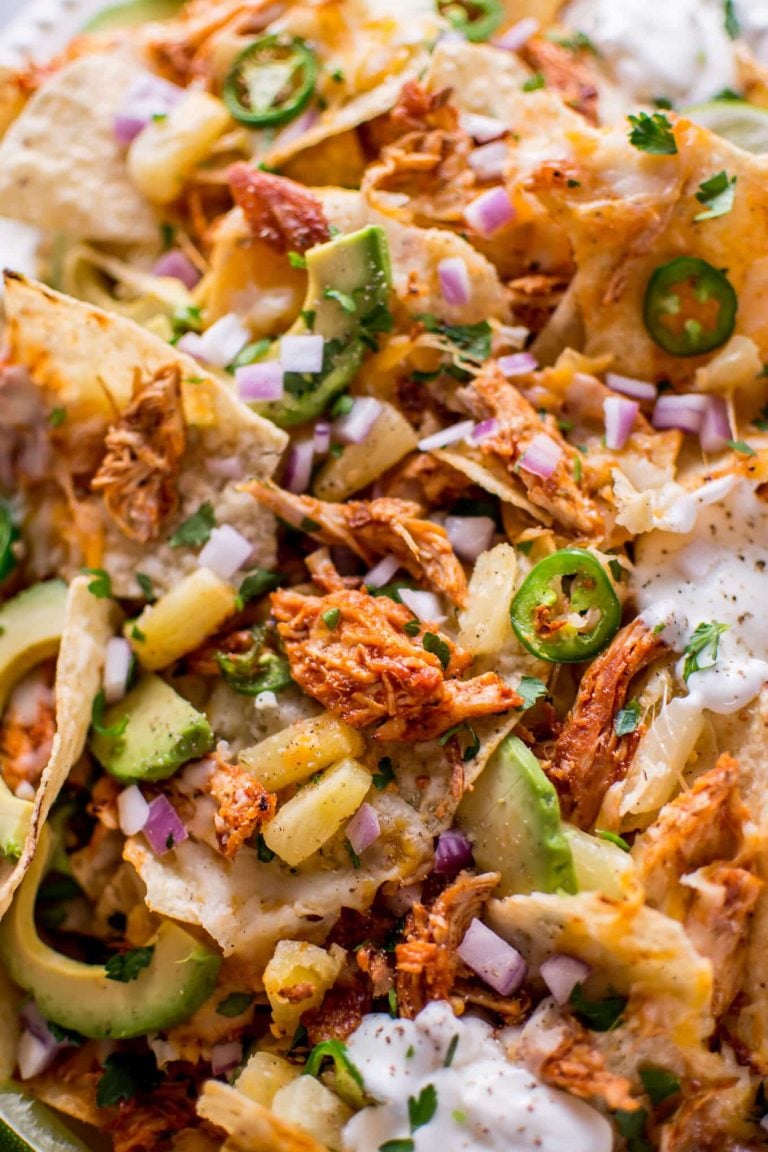 The sauce on the chicken isn't an exact replica of that pizza place sauce, but I was very happy with how these nachos turned out.
The sauce really couldn't be easier - it's just pineapple juice, lime juice, garlic, tomato paste, and Jamaican jerk seasoning. It's really what sets these nachos apart.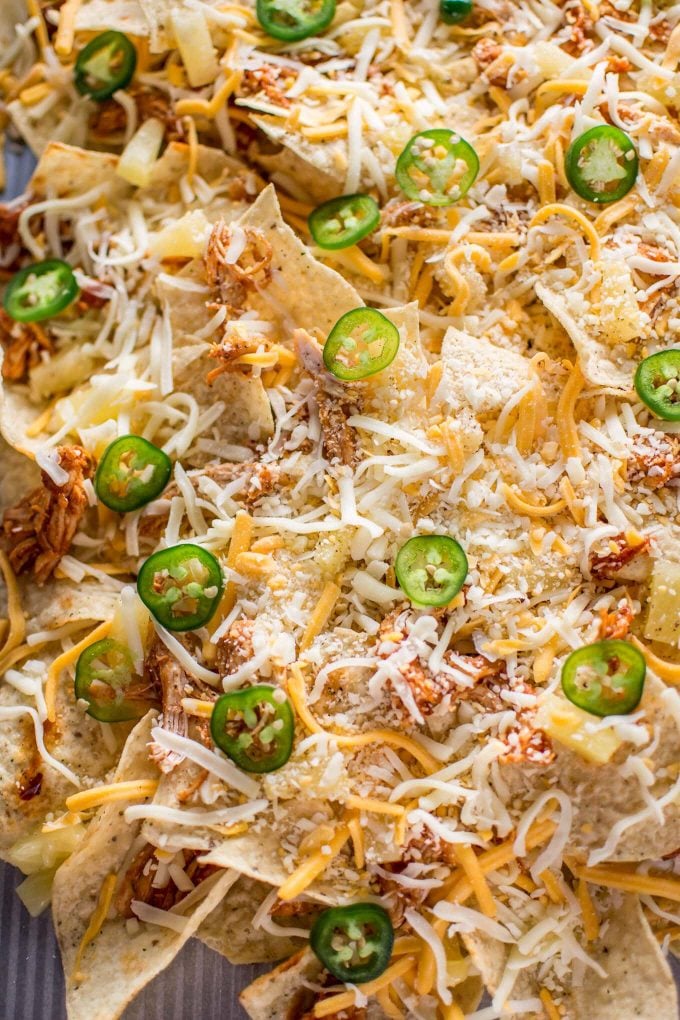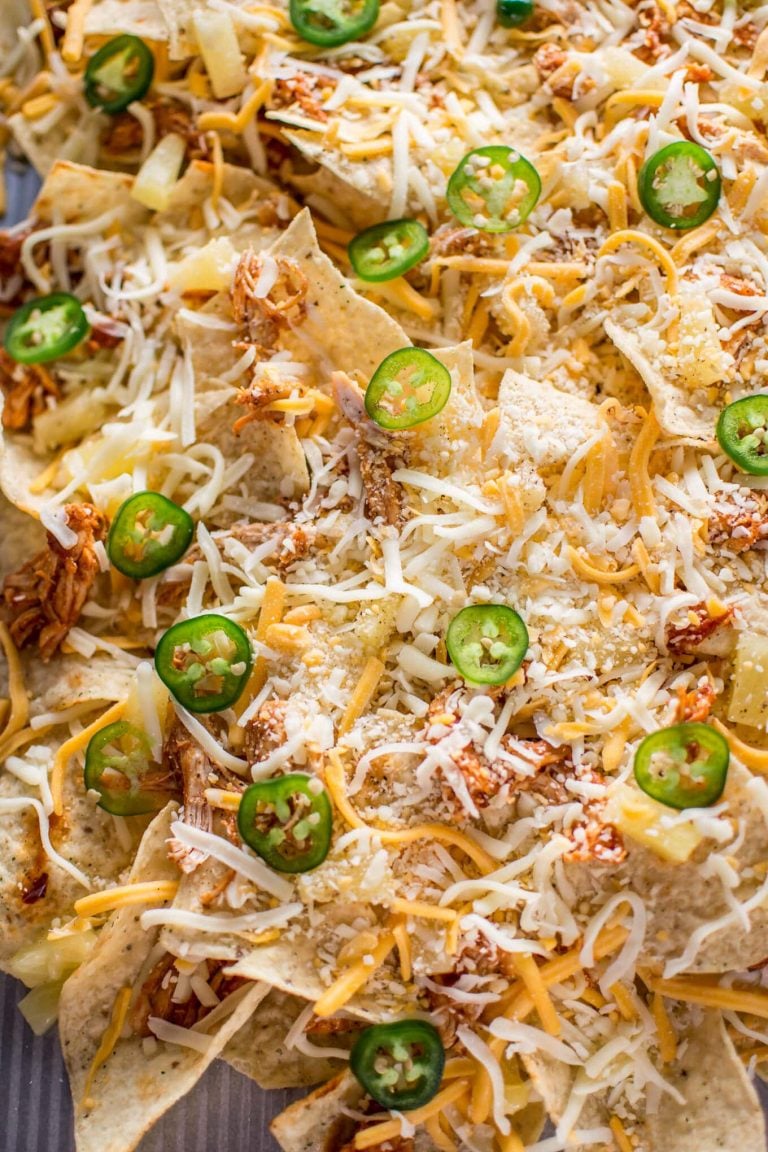 What else do we have in here?
Tortilla chips (I like the lime flavored ones)
Cheddar/mozza blend for melty goodness
A sliced jalapeno (optional for some extra heat)
Red onion
Cilantro
Sliced avocado
Pineapple pieces
Sour cream
These were fun to make and even more fun to eat. I had a bit of help... look at the size of that platter!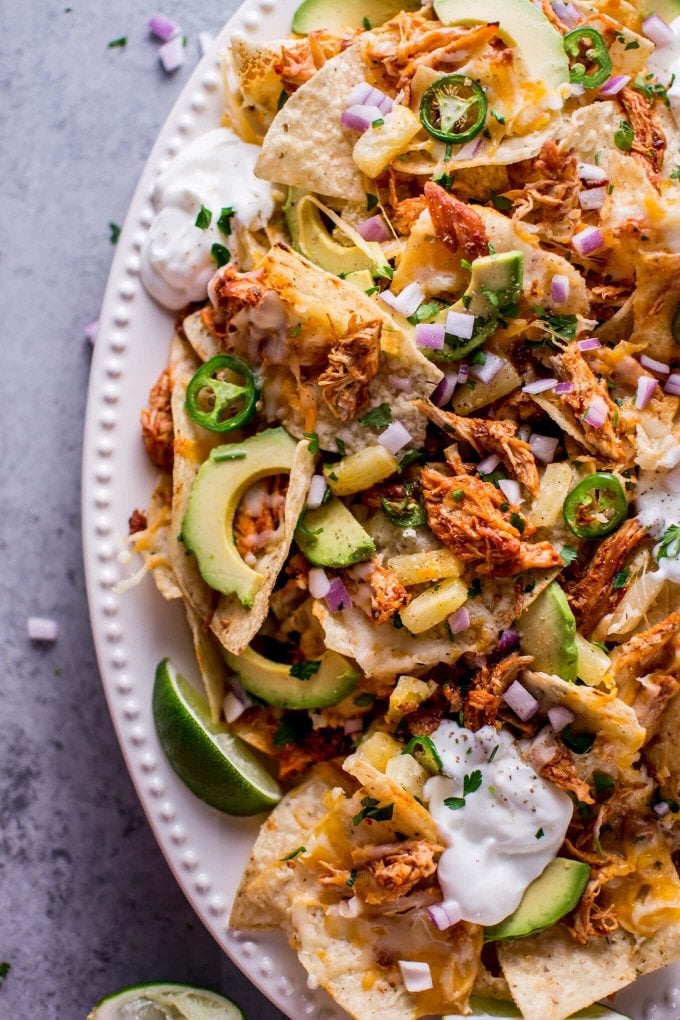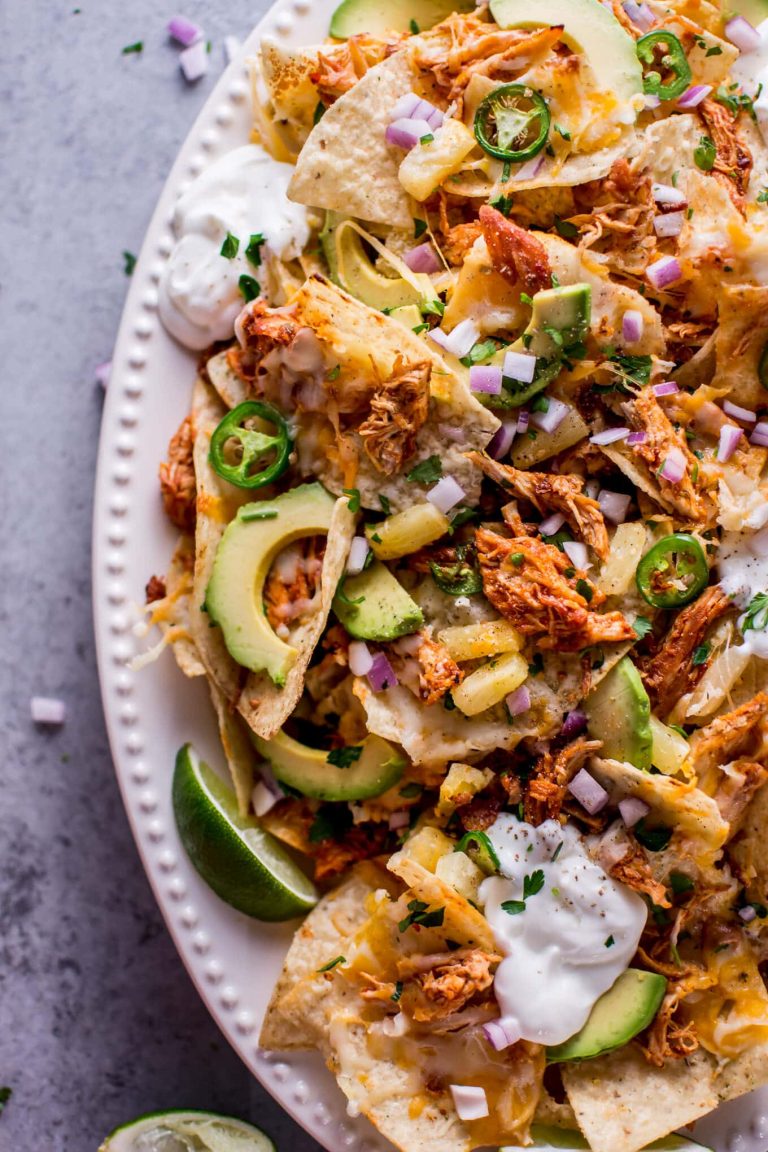 Feel free to swap in leftover chicken that's already cooked if you're looking for a shortcut, but in this recipe I use two fresh chicken breasts. I cut them in half lengthwise to make thinner cutlets, which helps cook them faster without drying them out too much.
After they're cooked through, I take them out of the pan and shred them with 2 forks. The sauce takes less than a minute to throw together. You then add the chicken back into the pan, coat it in the sauce, and cook it for a couple of minutes. Your nachos are then ready to assemble! I created two layers on my baking sheet.
These nachos feed a crowd, and I certainly would welcome them for some game-day grub. I really should mentioned that my Oilers made the NHL playoffs this year (it's been TEN years). As a long-suffering fan, I'm pretty relieved. 🙂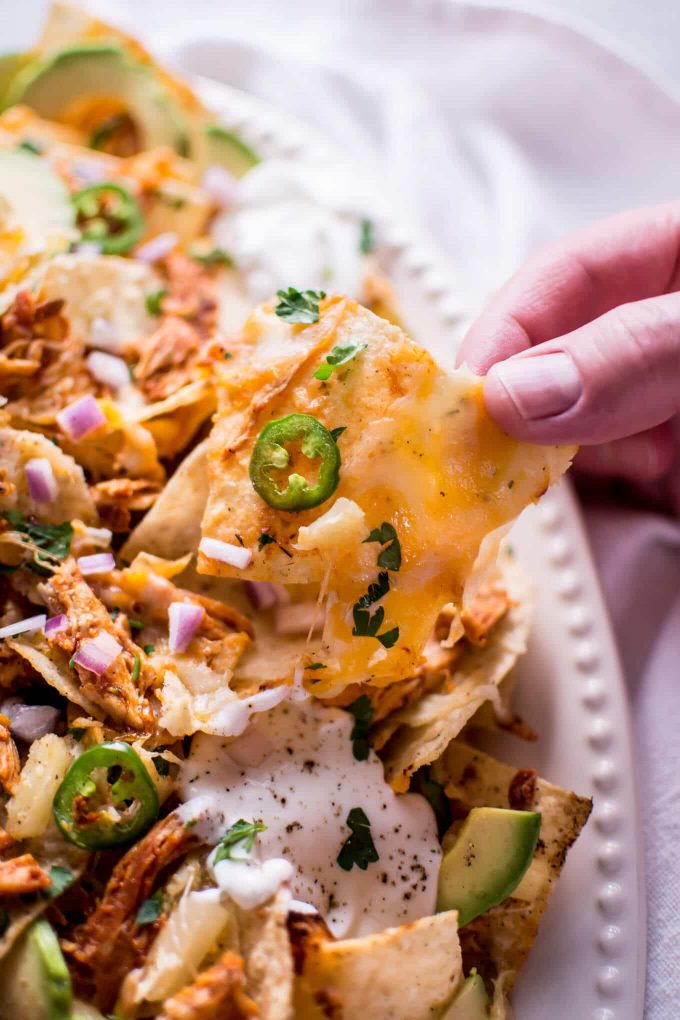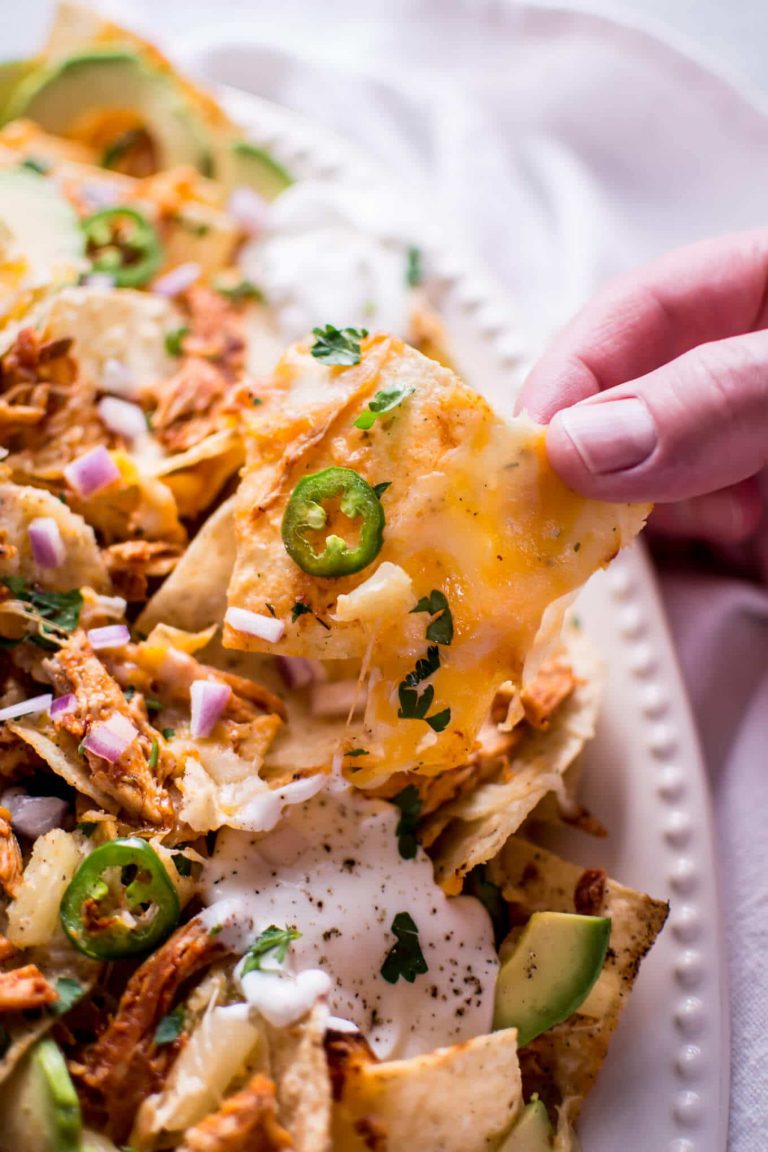 Questions about these chicken nachos? Leave me a comment below.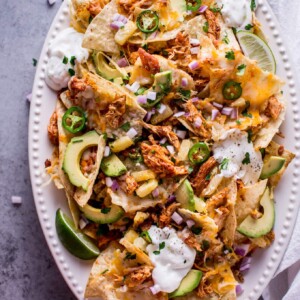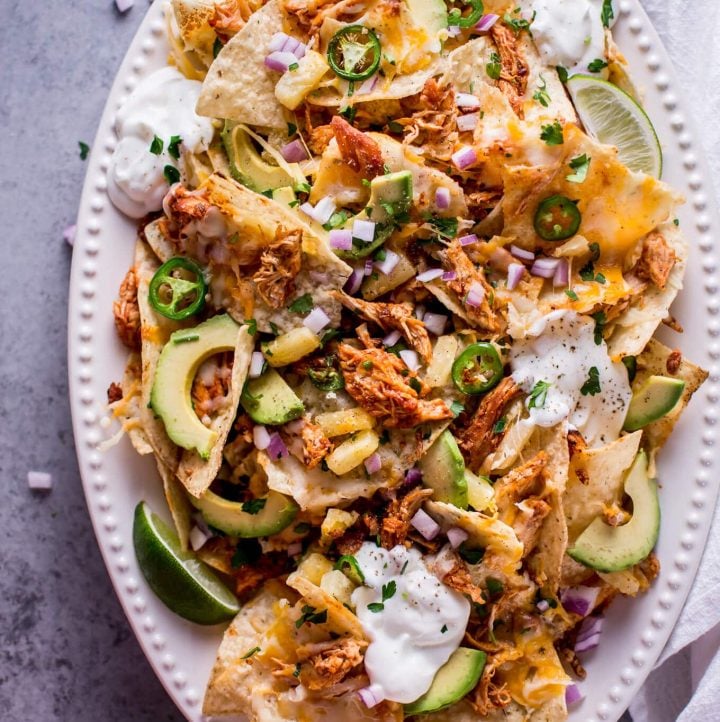 Tropical Chicken Nachos
Sweet and spicy chicken, pineapple, lime, avocado, sour cream, jalapenos, and lots of gooey cheese are a great combination of freshness and comfort in these delicious nachos.
Ingredients
1

tablespoon

olive oil

2

boneless skinless chicken breasts

cut in half lengthwise

1

can pineapple pieces (mine was 14 ounces)

drained, to taste

1/3

cup

pineapple juice (from can of pineapple)

Juice of 1/2 lime

2

heaping tablespoons tomato paste

1

clove

garlic

minced

1/2

tablespoon

Jamaican jerk seasoning (or to taste)

1

large bag tortilla chips

3

cups

grated mozzarella/cheddar blend

1

jalapeno

sliced thinly (optional)

1

avocado

sliced

Red onion

chopped, to taste

Extra lime wedges

for serving

Sour cream

to taste

Cilantro

chopped finely, to taste (optional)
Instructions
Preheat oven to 350F and move the rack to the top third of the oven.

Add olive oil in a large skillet on medium high heat. When the oil is hot, add the chicken. Cook for about 3-4 minutes per side, or until it's mostly cooked through. Turn the heat down if it really starts to splatter. Remove the chicken to a plate.

Add the pineapple juice, lime juice, tomato paste, garlic, and jerk seasoning to the pan. Shred the chicken with two forks, then add it back in the pan. Coat the chicken with the sauce and let it cook for 2-3 minutes.

Arrange a layer of tortilla chips on a baking sheet (use about half the bag - we'll be making 2 layers). Layer on about half the chicken, some pineapple, then about half the cheese. Repeat for the second layer, and then top with the jalapeno slices if using. Bake for 10-15 minutes or until the cheese is melted and they're cooked to your liking.

Meanwhile, prepare the avocado, red onion, remaining lime, sour cream, and cilantro.

When the nachos are done, remove them to a large plate (or keep them on the baking sheet... no one is judging), and add on the avocado, onion, lime, sour cream, and cilantro. Enjoy immediately.
Notes
I didn't use all the canned pineapple. It's up to you how much you put on. You could buy a slightly smaller can than I did. Just make sure that there will be enough pineapple juice in a smaller can to make 1/3 cup for the sauce.
I would say as an appetizer this serves 4-6. Really depends on how much people eat. These nachos were more than enough for dinner for 2 people when I made them.
You may also like my BBQ chicken nachos.