These BBQ chicken skillet nachos are fast, easy, and delicious! The perfect game-day comfort food appetizer. Ready in only 25 minutes!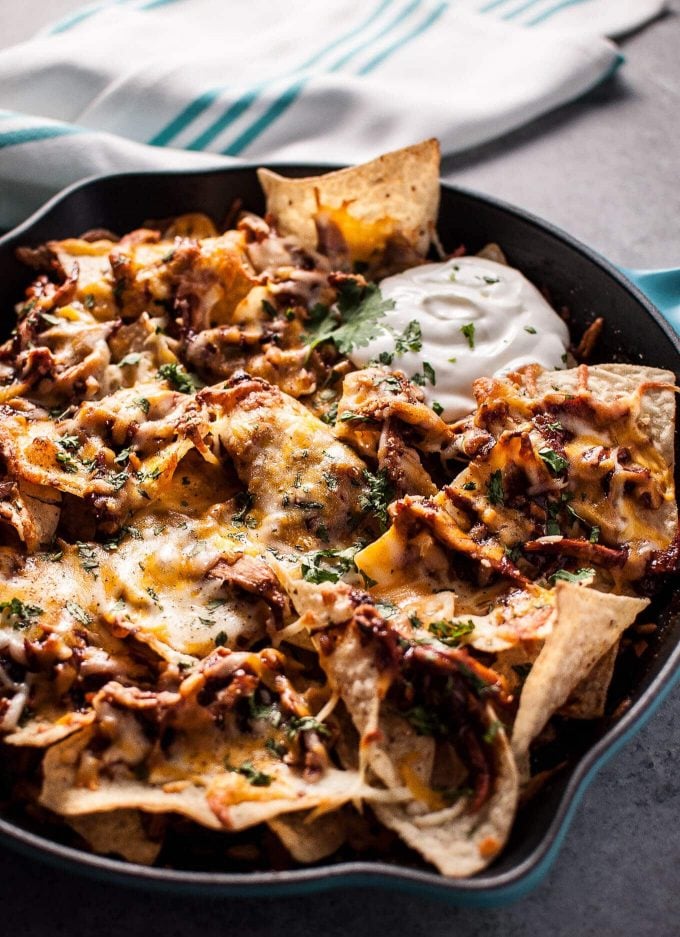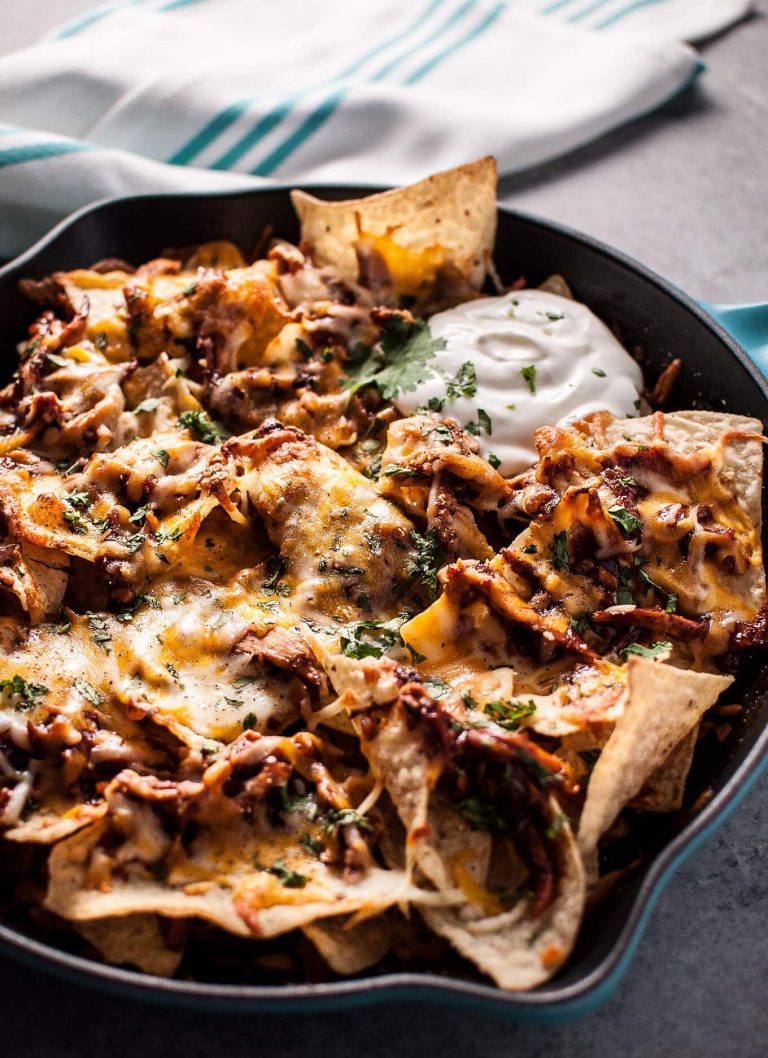 Like I mentioned on Friday's chorizo pizza dip recipe, I wanted to get some yummy tailgating/game-day food on the blog in time for the kickoff of football and hockey (we Canucks love anything played on ice ;)). These skillet nachos fit the bill perfectly.
I'm not someone who ever orders nachos when I go out, but I was having trouble stopping myself from eating these when I finished the photos and they were still warm. Something about homemade, I guess!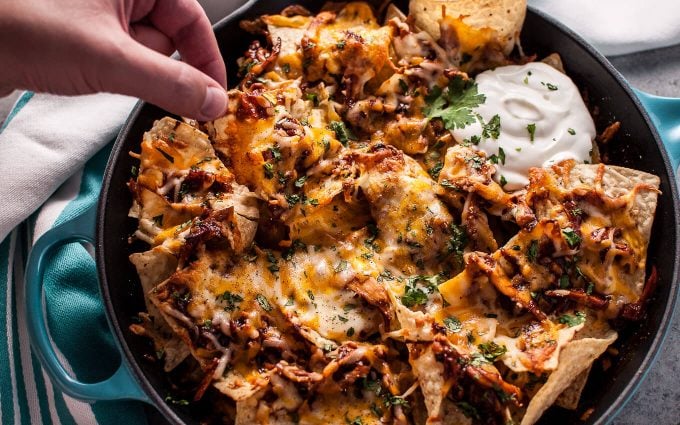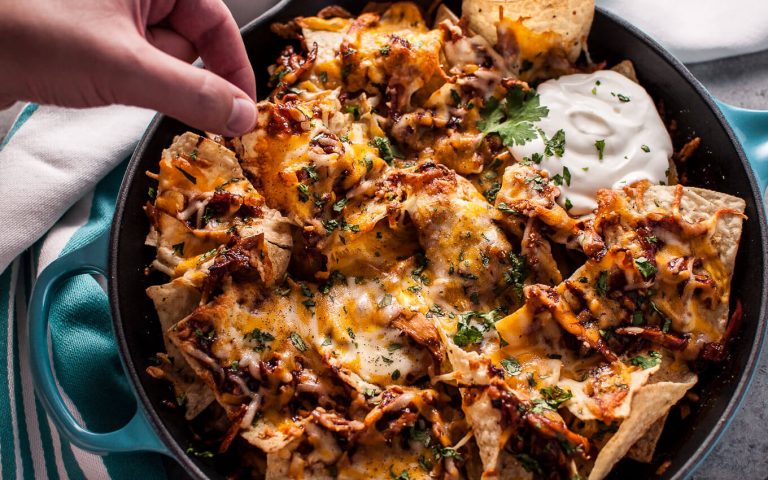 Anyway, these nachos have all your favorite BBQ chicken pizza flavors in here. Chicken, smoky BBQ sauce, red onions, cilantro… and the cheeeeese. All with a lovely dollop of sour cream on top. You could make some guacamole too (I have a recipe for that)!
I used rotisserie chicken to make this really fast. If you have leftover chicken, this really is the perfect way to use it up. Trust. My favorite skillet kept these nice and toasty warm until every last bite was devoured.
Cooking them in a skillet also = fewer dishes.
Enjoy!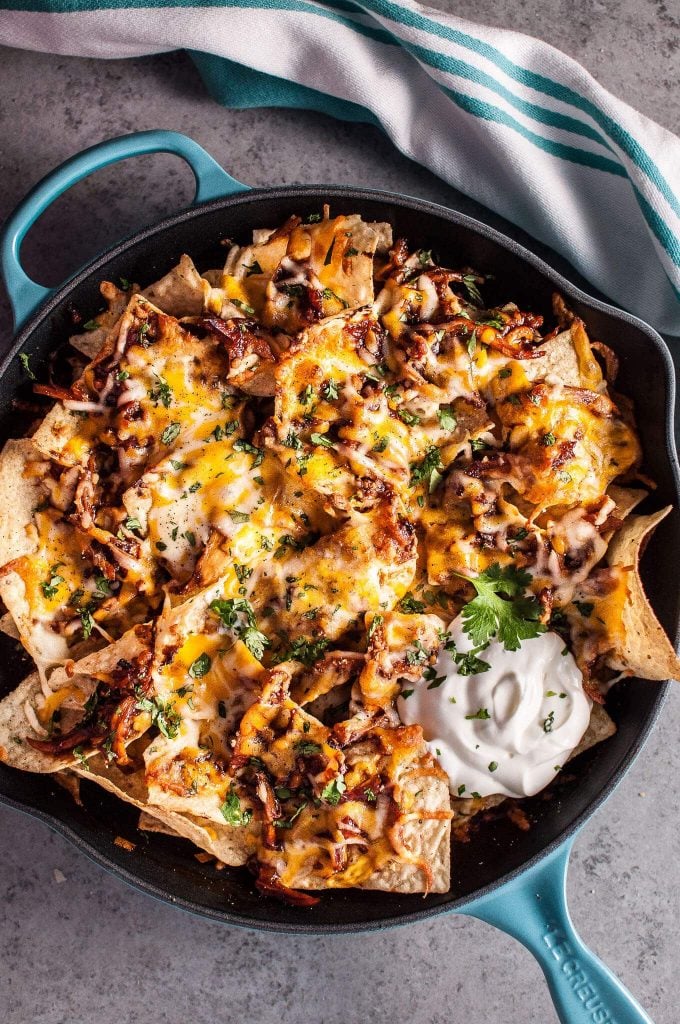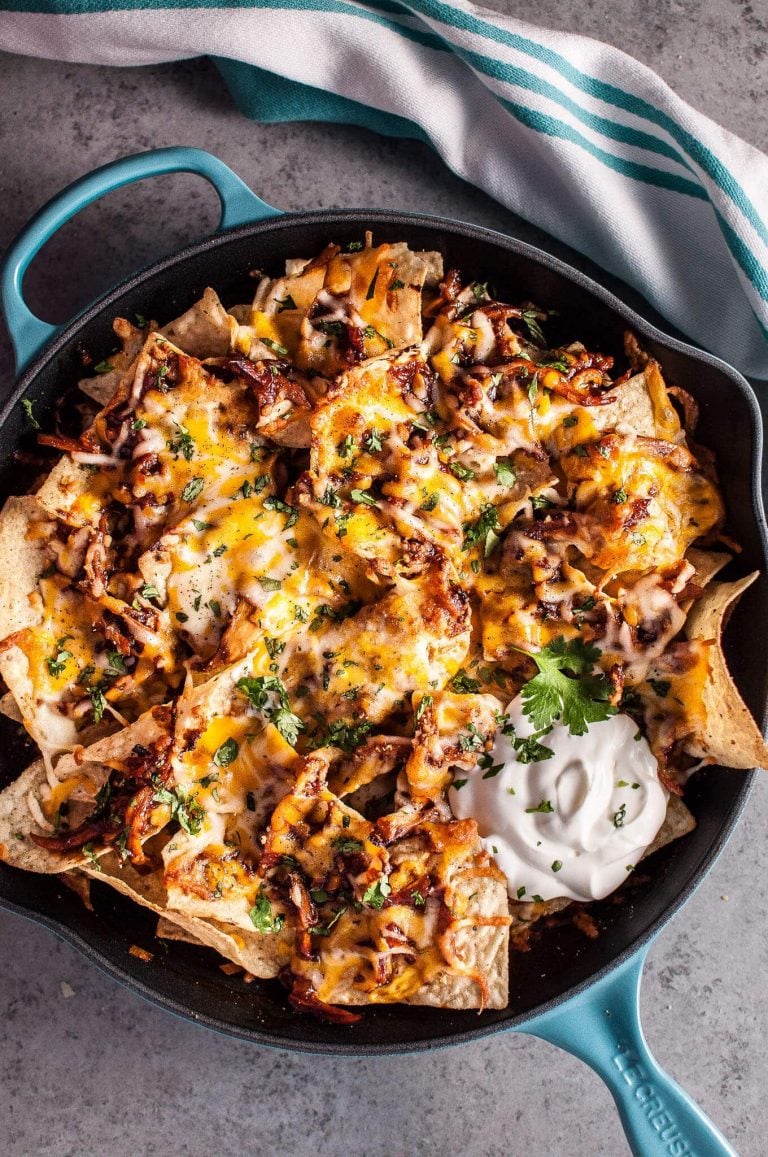 I made a video for this recipe! I kinda fell off the video wagon for a while, but I am trying to hop back on as it seems to be what's in demand these days.
I doubt I'll ever make a video for every single recipe I post, but the easier ones definitely lend themselves to quick videos. Here it is: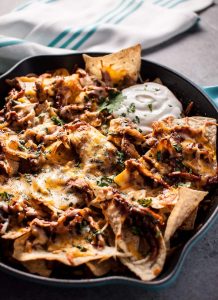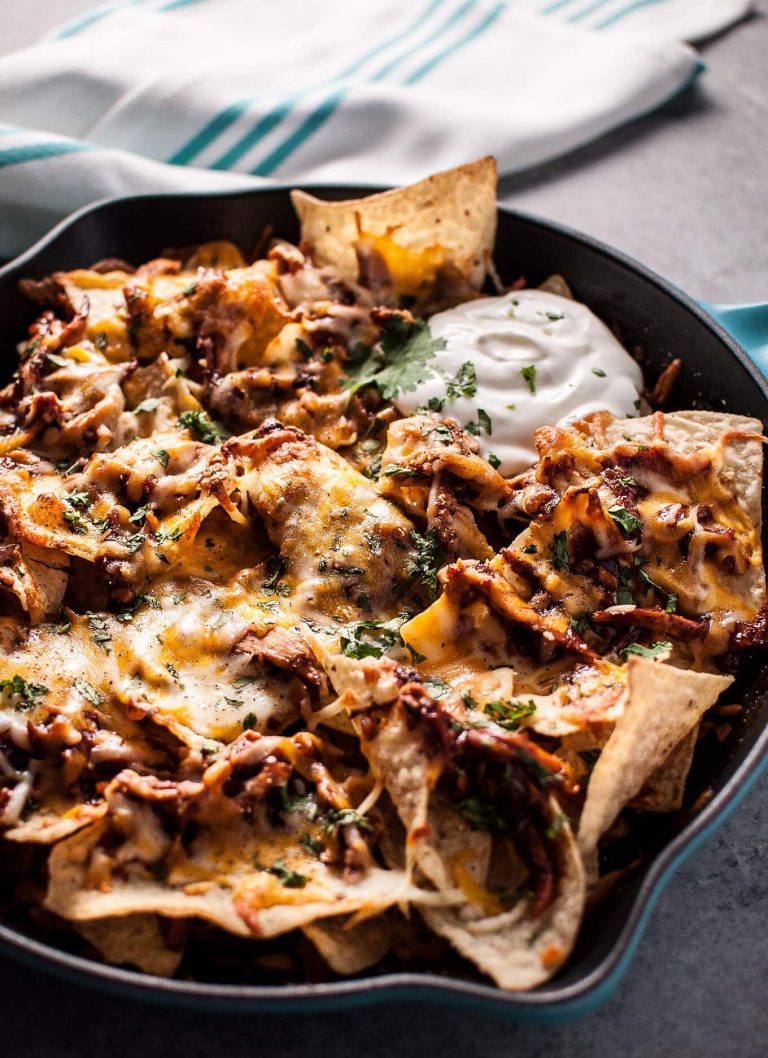 Print
BBQ Chicken Skillet Nachos
Yield 4-6
These BBQ chicken skillet nachos are fast, easy, and delicious! The perfect game-day comfort food appetizer. Ready in only 25 minutes!
Ingredients
1 tablespoon olive oil
1 small red onion
2 cups shredded cooked chicken
Salt & pepper
1 cup BBQ sauce
1 bag tortilla chips*
2 cups shredded cheddar/mozzarella blend
Garnish:
1 tablespoon cilantro, chopped finely
Sour cream, to taste
Instructions
Preheat oven to 350F.
Chop onion and cilantro and prepare cheeses (if you need to grate them).
Add the olive oil, onion, chicken, salt & pepper, and BBQ sauce to the skillet on medium-high heat. Cook for five minutes, stirring occasionally, until it's all mixed together and starts bubbling.
Remove the chicken mixture from the pan and set aside.
Add a fairly even layer (some overlap is ok) of tortilla chips to the bottom of the pan. Add half the chicken mixture, followed by half the cheese. Add another layer of tortilla chips, the rest of the chicken mixture, and the rest of the cheese. Bake for 15 minutes.
Serve with cilantro sprinkled on top and a dollop of sour cream. Dive in immediately.
Notes
*I bought a 10.7 ounce bag of tortilla chips and ended up using about 3/4 of it. How many chips you use will really depend on the size of your pan and how much you layer them.
This is the skillet pictured.
Courses Appetizer
Try more of my tasty recipes: