This 20 minute creamy mushroom sweet potato noodles recipe is healthy, fast, and vegetarian. You'll love the garlicky mushroom sauce!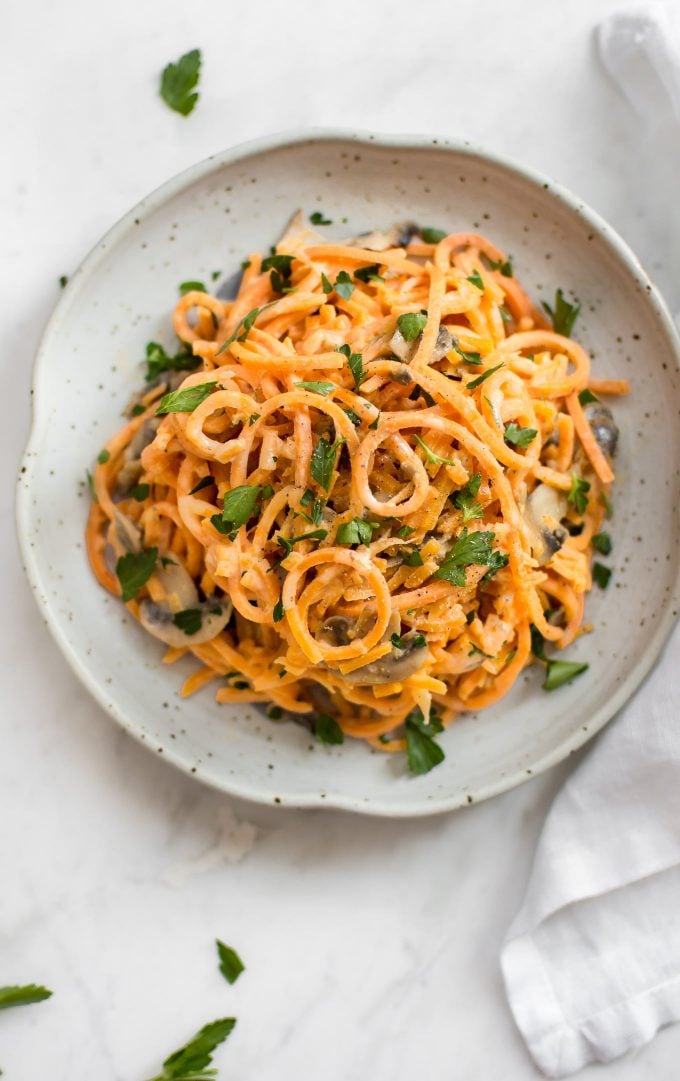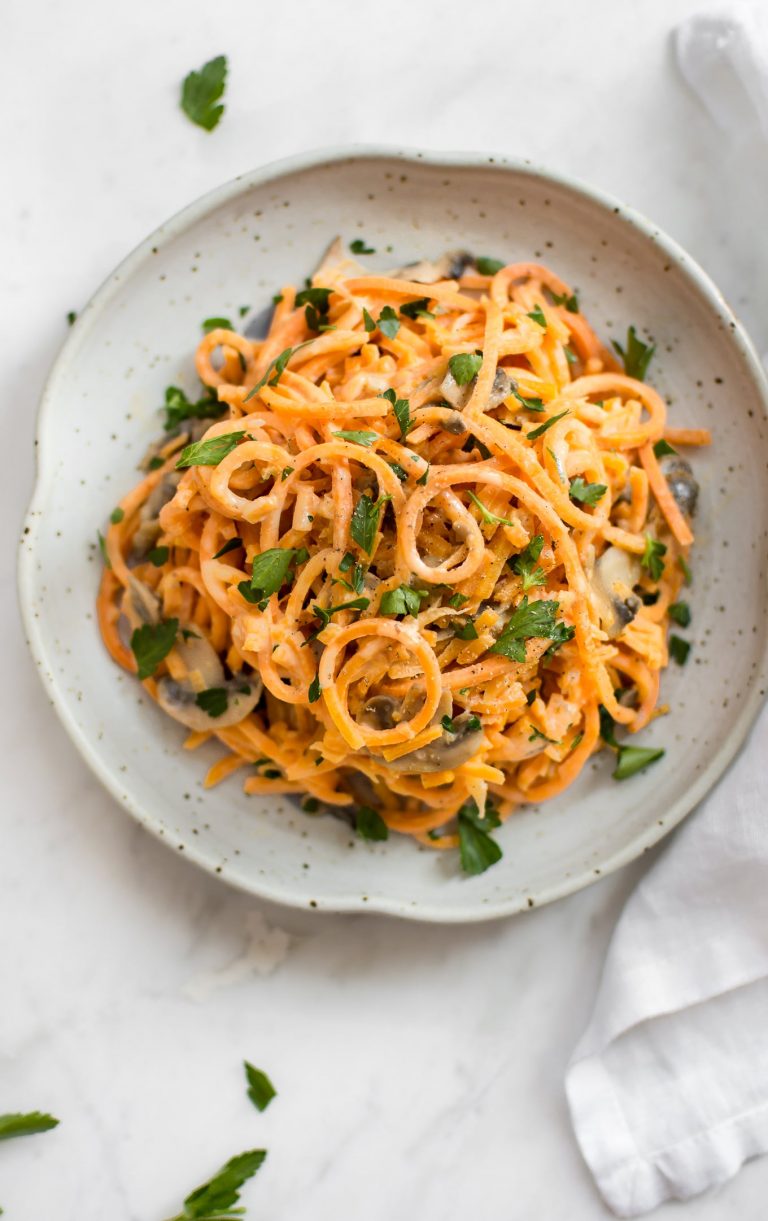 This is the first recipe I've ever put on the blog with sweet potato noodles. It's not that I don't like them, I just tend to cook with zucchini noodles more, I suppose. If you're looking for a bright and tasty alternative to pasta, you've found the right recipe!
Sweet potatoes aren't low-carb, so I wouldn't call this a low-carb recipe, but it has other benefits. Sweet potatoes are definitely healthier than pasta, and this is a way to enjoy a cream sauce with less guilt (if you feel guilty about those sorts of things). 😉
These creamy sweet potato noodles are ready in about 20 minutes (give or take depending on how handy you are with a spiralizer), so it's perfect for busy weeknights when you're craving something a little different.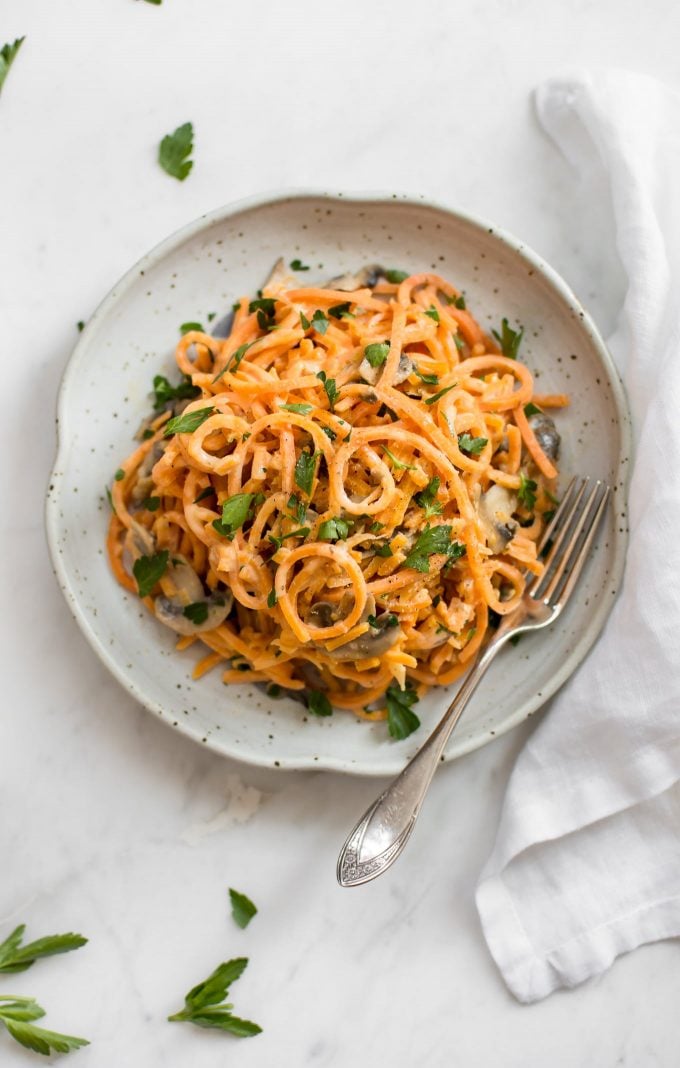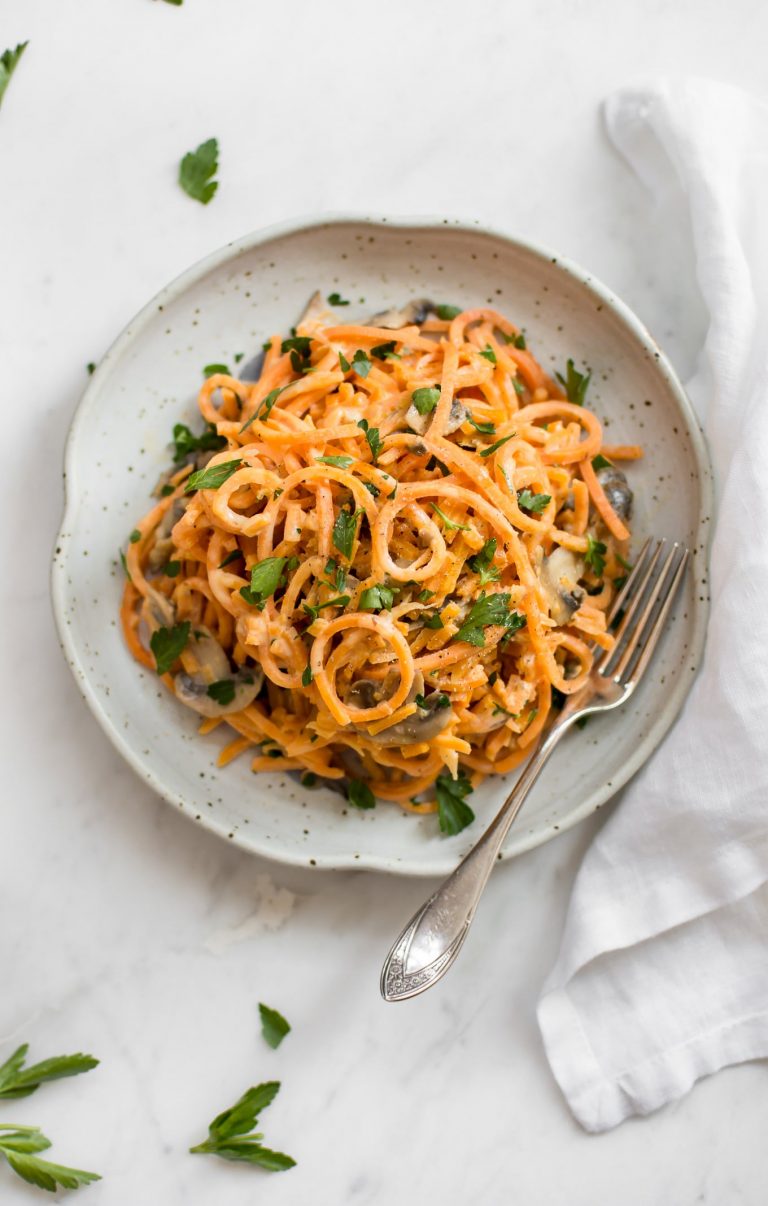 How to cook sweet potato noodles
If you've never spiralized sweet potatoes before, you might think "holy crap - that's a lot of noodles" - and you'd be right. They do cook down pretty fast, so don't panic if you're having issues fitting them all into the pan. I find using tongs and covering the pan is the best way to help them cook evenly. It takes a little trial and error, and I did overcook them a bit my first time around.
The good news is that they still taste good when they're a little softer, but they do tend to fall apart a bit if you cook them for too long. Make sure you really reach to the bottom of the pan with the tongs when you're tossing them. Since I'm covering the pan, I found 4 minutes total about right (tossing them once) to get them al dente. It'll vary depending on your pan and heat, though.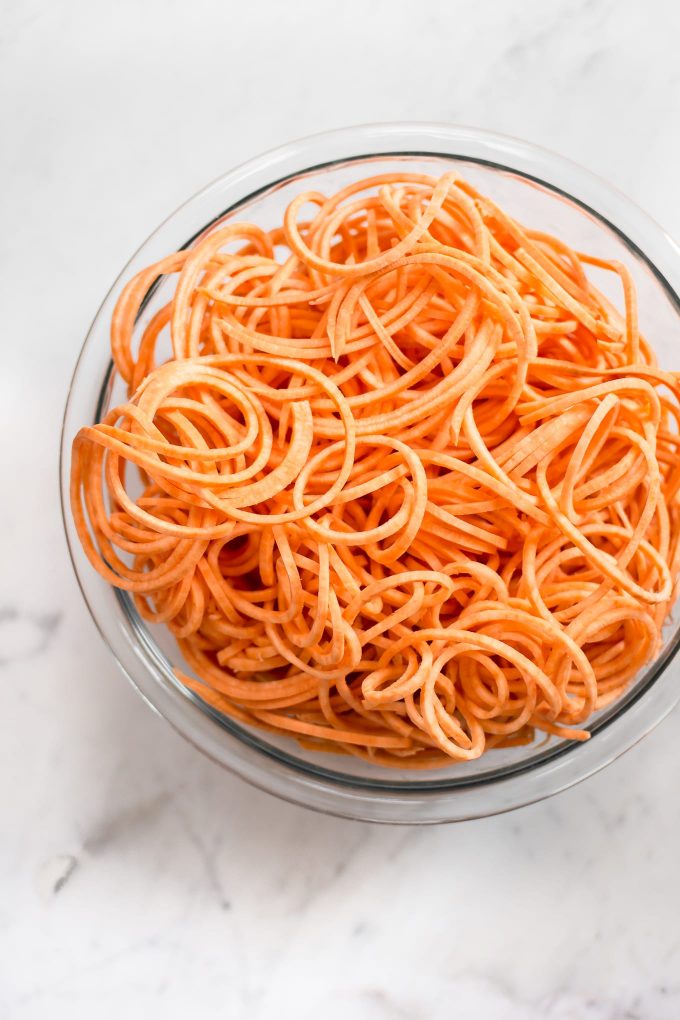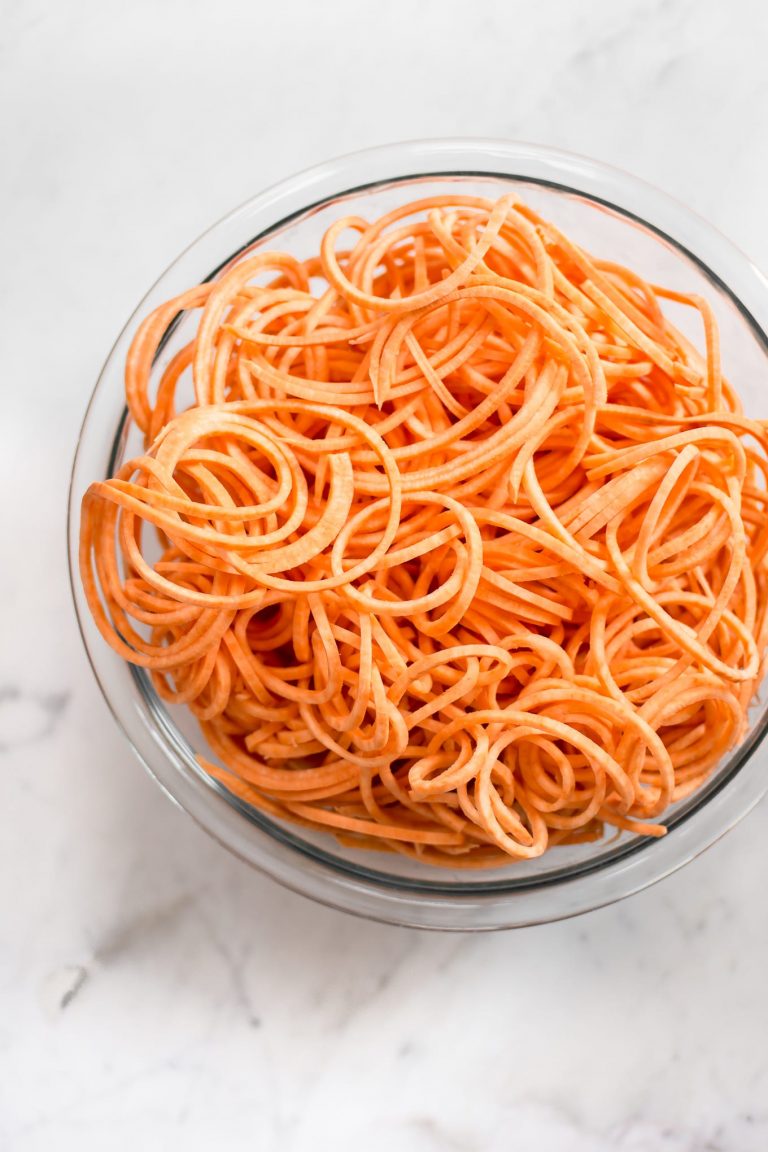 The super simple creamy garlic mushroom sauce is all you need to make this a delicious meal!
I used this spiralizer to make this recipe (I also use it for all my other spiralized veggie noodle) recipes.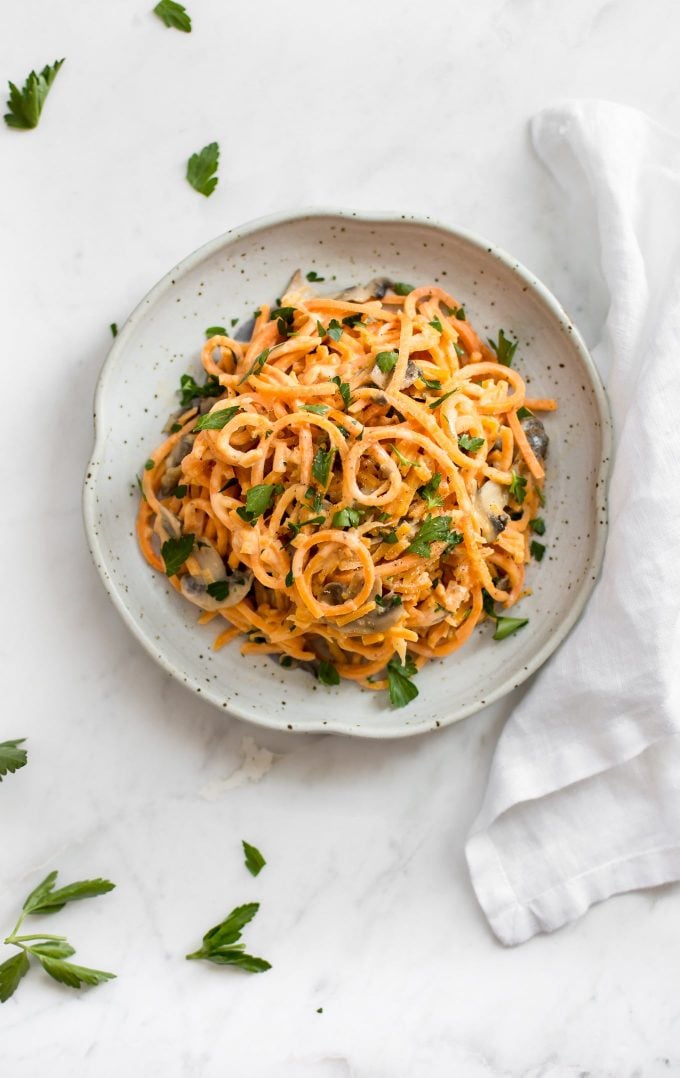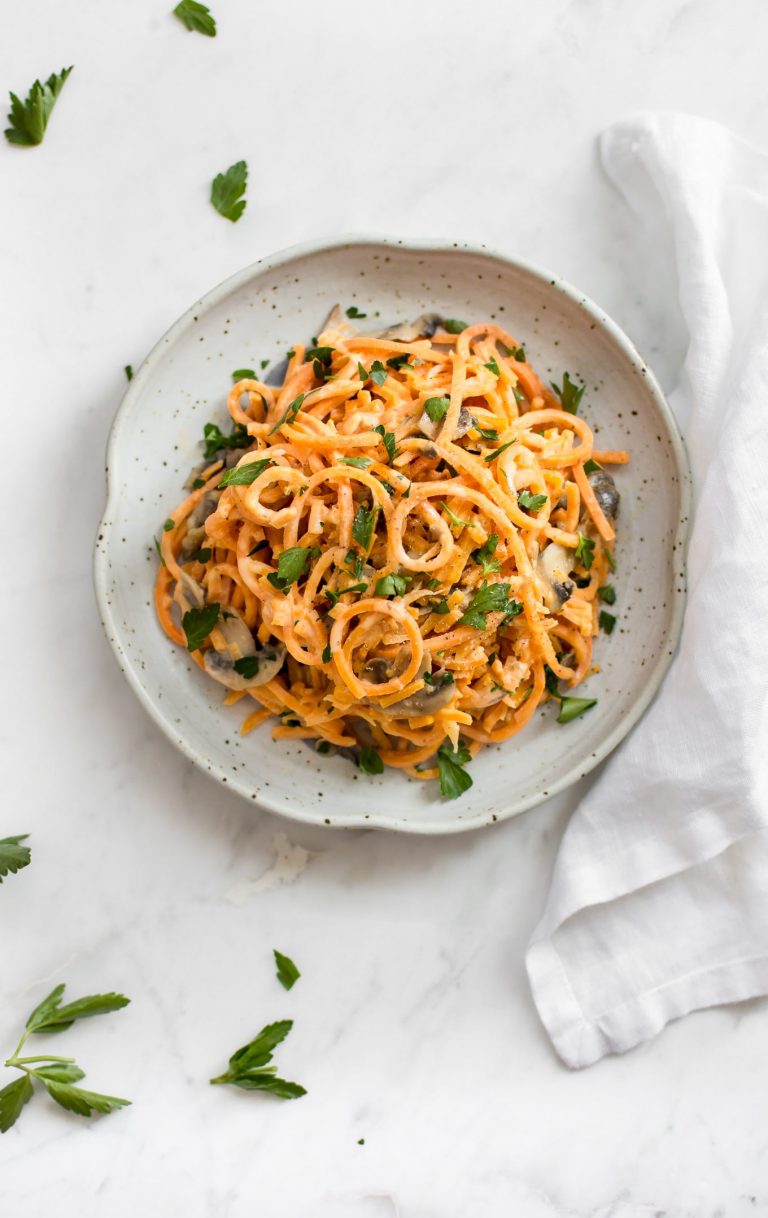 Hope you love this easy sweet potato noodles recipe.
Questions? Leave me a comment below.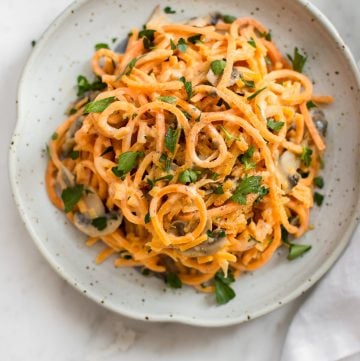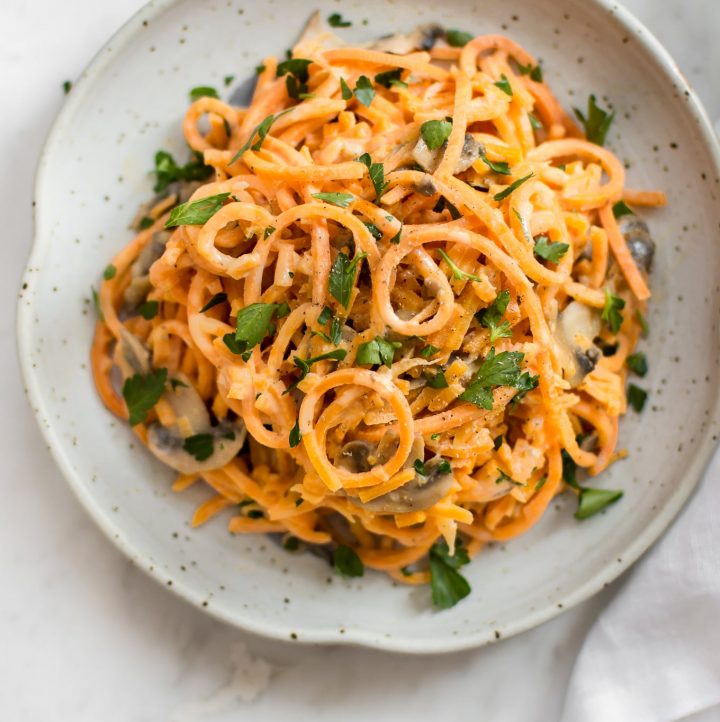 20 Minute Creamy Mushroom Sweet Potato Noodles
This 20 minute creamy mushroom sweet potato noodles recipe is healthy, fast, and vegetarian. You'll love the garlicky mushroom sauce!
Ingredients
2

pounds

sweet potatoes

peeled & spiralized on medium setting

1

tablespoon

olive oil

7

ounces

white mushrooms

sliced

3-4

cloves

garlic

minced

2

dashes Italian seasoning

1

teaspoon

flour

1

cup

heavy/whipping cream

1

tablespoon

fresh parsley

chopped

Salt & pepper

to taste
Instructions
Prep your sweet potatoes and mushrooms.

Add the oil to a large, fairly deep skillet. Over medium-high heat, sauté the mushrooms, garlic, and Italian seasoning for 4-5 minutes, stirring often.

Sprinkle in the flour and give it a good stir, then add in the cream and let it cook for about a minute.

Add in your sweet potato noodles. Cover the pan and reduce the heat to medium. Cook for 2 minutes.

Toss the sweet potato noodles with tongs or 2 spoons, then cover the pan again and cook for another 2 minutes or until noodles are cooked to your desired doneness (they will start to disintegrate quickly the more you cook them).

Season with salt & pepper as needed and serve with parsley sprinkled over top.
Notes
Serving size really depends how hungry you are and if you're serving anything else with it. It definitely feeds more than 2 light eaters, but 4 is a bit of a stretch if it's served by itself.
I like my sweet potato noodles to be al dente (slightly undercooked), so you can cook them for a bit longer if you like them even softer.
This is the spiralizer I used to make this recipe.
You may also like my vegan coconut curry soup with spiralized veggies, my 15 minute garlic shrimp zoodles recipe, or my creamy garlic mushrooms.