This easy beef and broccoli recipe has an extremely addictive sauce that's super quick to make from scratch! It rivals even the best takeout, yet it's way more affordable.
Try my Easy Orange Chicken, Easy Beef Stir Fry, or Ground Pork Stir Fry for more Asian-inspired favorites at home.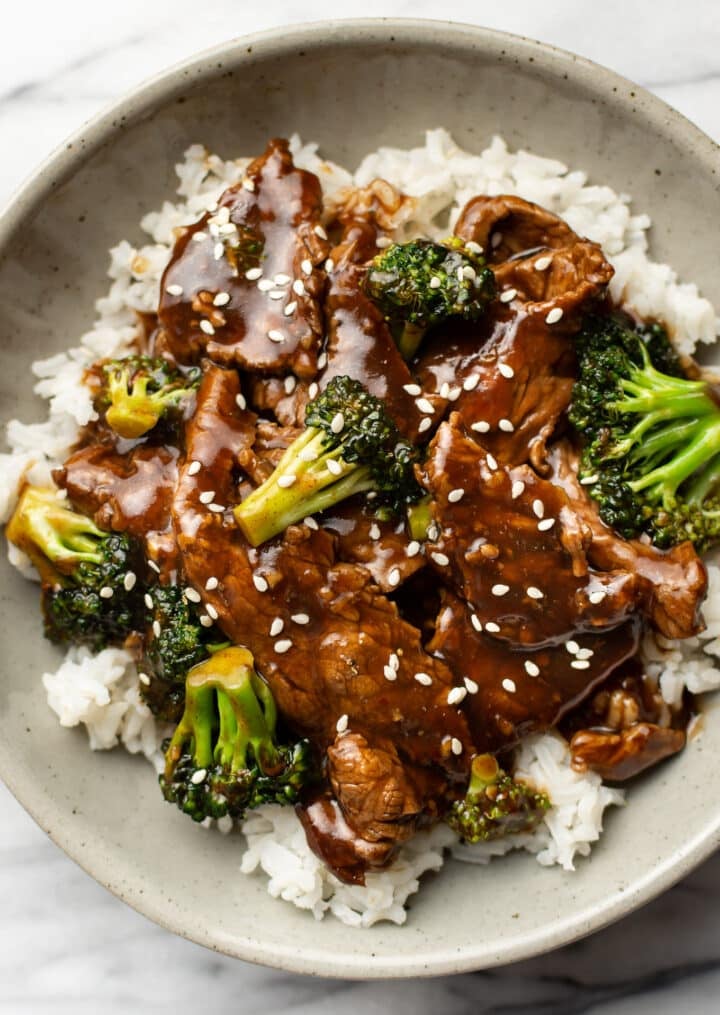 Why you'll crave it
If you're anything like me, you feel strongly that takeout is one of life's small joys. But you know what's even better? Making this simple beef and broccoli recipe in your own kitchen because it tastes so good that you'll forget all about takeout. It has thinly sliced tender beef ribbons smothered in a delicious savory and sweet sauce. I am so proud of myself for perfecting that totally irresistible sauce!
My simple beef and broccoli is also a great budget friendly dinner option. It's healthier and fresher than takeout, and you get to control exactly what goes into it. We're not using any hard to find ingredients, it's ready in half an hour, and it's a surefire way to get the kids to eat broccoli.
What goes into it
For the stir fry
Steak - flank steak is what's typically used for beef and broccoli. It's a lean all-purpose cut of beef that's fairly inexpensive.
Broccoli - I prefer fresh broccoli for this recipe. Make sure to chop into fairly small similar size pieces for even cooking.
Olive oil - for sautéing
For the sauce
Soy sauce - use the low sodium variety
Water - for the base of the sauce
Brown sugar - to add a hint of sweetness. It doesn't make it overly sweet and just balances everything out.
Vinegar - apple cider vinegar or rice vinegar for a touch of acidity and tang
Ginger - for that zesty quality. I always keep fresh ginger in the freezer, believe it or not, since it'll last longer and is actually way easier to grate when frozen! I use my trusty Microplane.
Garlic - I'm pretty generous, but feel free to use even more than suggested. I use this garlic press to mince it. You don't even need to peel the cloves beforehand.
Crushed red pepper flakes - we're only using enough to add a very gentle kick, but you're welcome to use more if you prefer spicy
Toasted sesame oil - make sure to get the kind labelled "toasted" or "pure" from the Asian foods aisle of the grocery store. It's darker in color than regular sesame oil.
Cornstarch - it's a thickening agent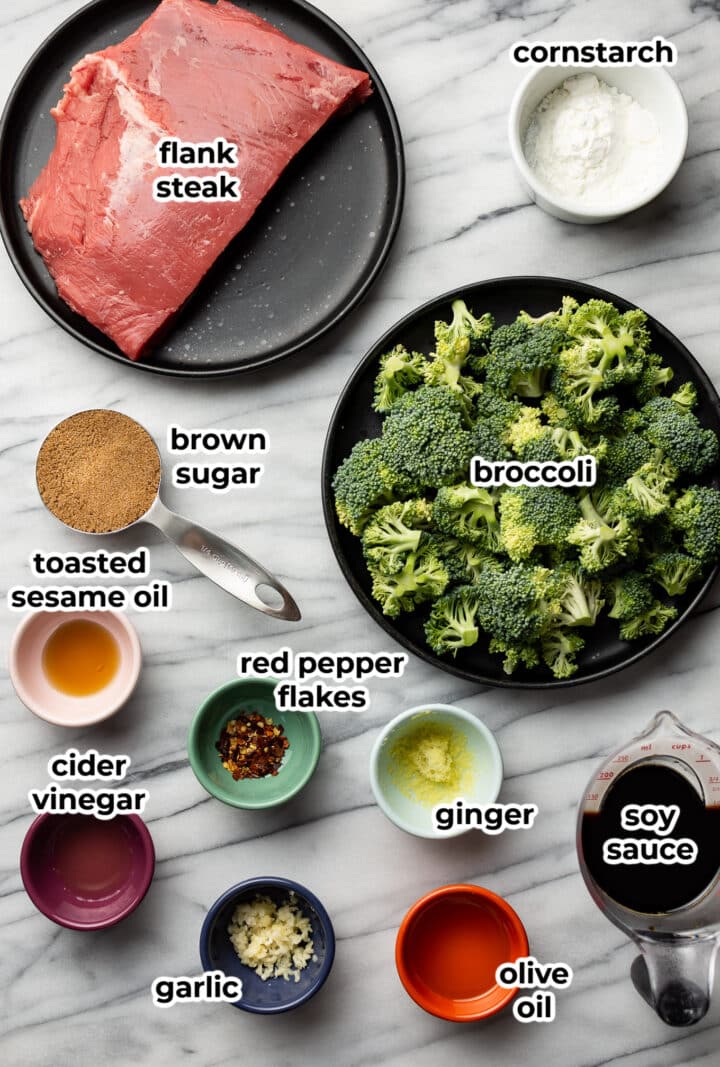 Pro tips for flank steak
It's very important to cut against the grain with flank steak to ensure it stays tender. Doing it wrong can ruin a piece of meat and make it stringy. Fortunately, it's very easy to slice it right! Locate the parallel lines (muscle fiber) running along the steak, and cut in the direction they're not running, like skipping across train tracks. That's all it means.
To make slicing the steak easier, try freezing it for 30 minutes or so ahead of time to firm it up a little.
How to make beef and broccoli
This is an overview with step-by-step photos. Full ingredients & instructions are in the recipe card below.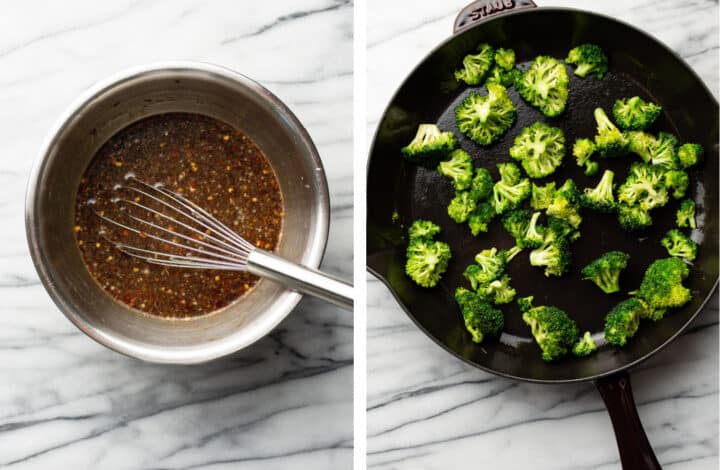 Prep all the ingredients before getting started. Slice the flank steak into thin bite-sized strips, and cut the broccoli into small florets. In a small bowl, combine the sauce ingredients with a whisk. In a skillet, heat the olive oil over a high heat. Cook the broccoli until tender-crisp, tossing often, and transfer it to a plate.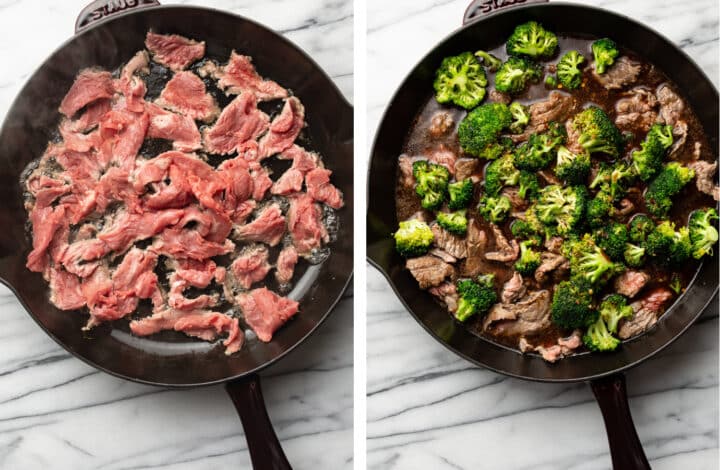 Add the remaining oil to the skillet. Place the beef in the pan in a uniform layer. Let it cook for a minute, then flip with kitchen tongs and continue to cook for another minute or so. Add the broccoli back in along with the brown sauce, and cook until the sauce has thickened up.
Keys to this recipe
Have everything prepped in advance. The actual cooking part is very quick, so all the ingredients should be ready to go beforehand so that you can cook with confidence and ease!
You're going to want to cook it on a high heat to get that great sear. I recommend using a cast iron skillet if you can.
Don't overcook the steak. Since we're cutting it thinly, it really doesn't take long at all. Flank steak is quite lean, which means that it can be overcooked easily.
Substitutions and variations
The flank steak can be substituted for sirloin or tenderloin if you prefer.
I recommend making the recipe as written the first time around. If after making it you'd prefer it sweeter or more tangy, for example, you can always make minor tweaks to sauce ingredient quantities the next time you make it.
If using frozen broccoli, I would thaw it first, and you may need to cook it for less time as it's already partially cooked.
Troubleshooting tips
If your sauce thickens up more than you want, simply add a splash of water.
If it's not thickening up, the skillet probably isn't hot enough to activate the cornstarch.
This recipe uses low-sodium soy sauce but is still fairly salty. Be sure to taste it before adding any extra salt!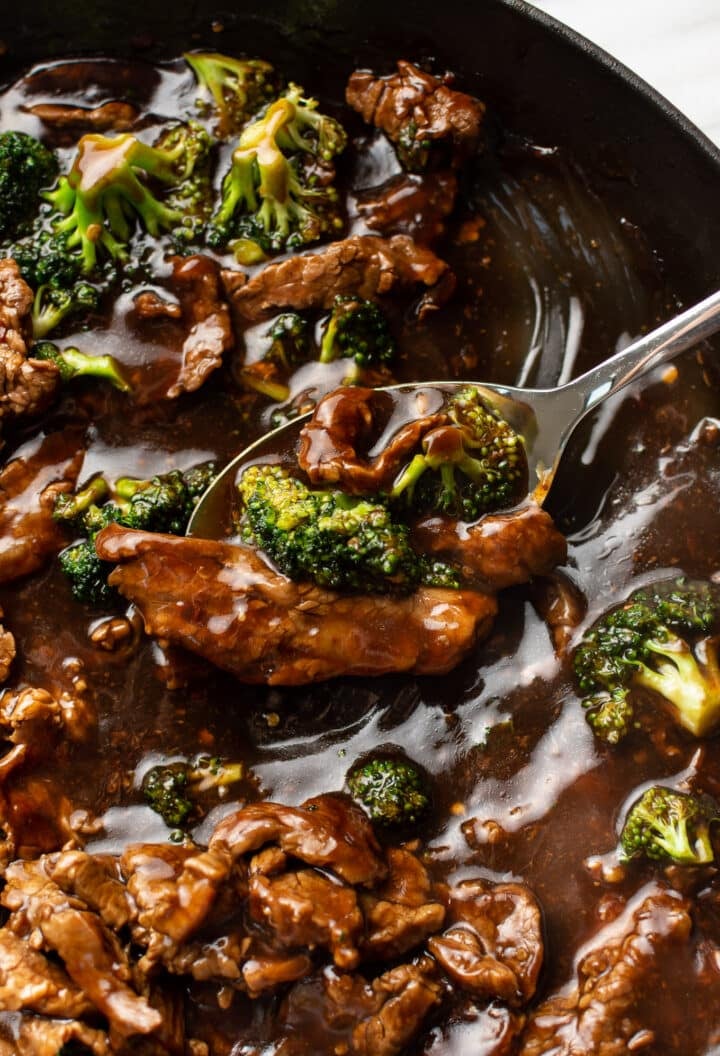 What to serve with beef and broccoli
It's usually served over a bed of rice for all that tasty sauce. I prefer a long grain white rice like jasmine best.
Your favorite Chinese noodles would work great as well.
It's not necessary, but you can definitely garnish this dish with sesame seeds on top.
Leftovers and storage
Beef and broccoli will keep for 3-4 days in the fridge in an airtight container. I like to store it separately and make fresh rice or noodles later.
Reheat on the stove in a covered saucepan for best results, but the microwave will work too. You may need to add a splash more water if the sauce becomes a bit too thick.
You can freeze leftovers for a few months, but keep in mind the broccoli will become softer over time.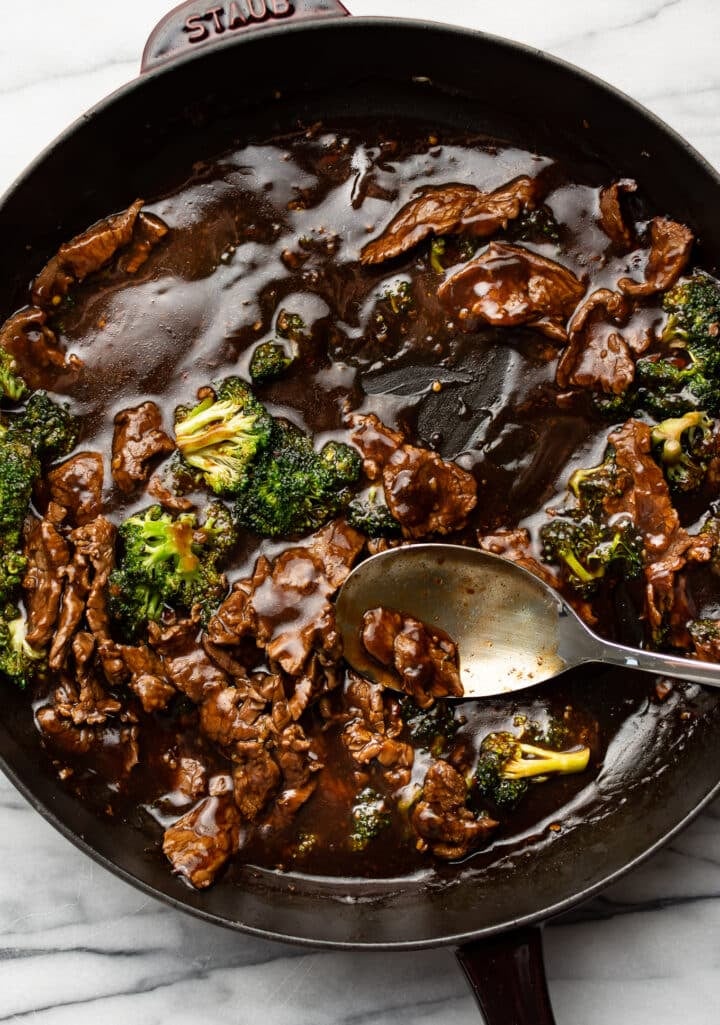 I hope you'll enjoy this restaurant-style beef and broccoli from scratch! Let me know if you have any questions, or leave me a review below. You can always tag me #saltandlavender on Instagram if you made this or any of my recipes.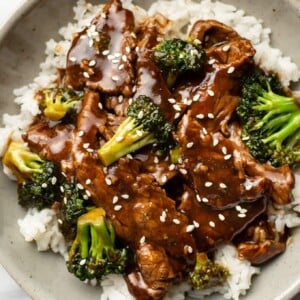 Beef and Broccoli (30 Minutes!)
This easy beef and broccoli recipe has an extremely addictive sauce that's super quick to make from scratch! It rivals even the best takeout, yet it's way more affordable.
Ingredients
1

pound

flank steak

sliced thin against the grain

2

tablespoons

olive oil

divided

3-4

cups

broccoli florets

see note
Sauce ingredients:
1/2

cup

low-sodium soy sauce

1/2

cup

water

1/2

teaspoon

apple cider vinegar or rice vinegar

1/2

teaspoon

toasted sesame oil

see note

1/4

cup

(packed) brown sugar

3

tablespoons

cornstarch

1

teaspoon

grated fresh ginger

4

cloves

garlic

minced

1/4

teaspoon

crushed red pepper flakes

or more, to taste
Instructions
Prep everything ahead of time as the actual cooking part goes very quickly. To prep the steak, trim off any fat and slice it across the grain into very thin bite-size pieces. Add the sauce ingredients to a bowl and whisk together thoroughly.

Add 1 tablespoon of the olive oil to a large skillet over high heat. Let the pan heat up for a few minutes (oil should be shimmering).

Add the broccoli and cook for 4-5 minutes, tossing/stirring often (it'll be tender-crisp). Transfer it to a plate.

Add the remaining tablespoon of olive oil to the skillet. Add the beef in a single layer (just sort of "sprinkle" it into the pan ensuring it's spread out a bit) and don't touch it for a minute. Stir/flip it with cooking tongs and cook it for another minute or so. It cooks fast and will easily overcook and become tough. Leaving it a bit rare at this stage is ideal.

Add the broccoli back to the pan and pour the sauce in. Stir/toss until coated and the sauce has thickened (about 1-3 minutes). Take the skillet off the heat and serve immediately.
Notes
See blog post for more flank steak tips and step-by-step photos if you need more info.
Cut the broccoli into fairly small florets so they cook fast and more evenly. A small-to-medium head of broccoli will easily yield 3-4 cups once cut into florets, and you don't need to be too precise with this.
You will find toasted sesame oil in the Asian foods aisle of the grocery store (I sometimes see it labeled as "pure" sesame oil). It's darker in color and tastes different than regular sesame oil. It's a flavor enhancer and has quite a strong taste.
Fresh ginger is way easier to grate when frozen! I always keep some fresh ginger in the freezer (in a ZipLoc) and I use my Microplane grater/zester to easily grate it.
I love to serve this recipe with rice, but that's totally optional! I typically measure out 1 cup of uncooked rice to serve 4, but feel free to make as much rice as you normally do. Start the rice before the beef so that it's ready at the same time.
Nutritional information is provided as a courtesy only and should be construed as an estimate rather than a guarantee. Ingredients can vary and Salt & Lavender makes no guarantees to the accuracy of this information.
Nutrition
Calories:
343
kcal
Carbohydrates:
26
g
Protein:
29
g
Fat:
14
g
Saturated Fat:
3
g
Polyunsaturated Fat:
1
g
Monounsaturated Fat:
8
g
Cholesterol:
68
mg
Sodium:
1239
mg
Potassium:
750
mg
Fiber:
2
g
Sugar:
15
g
Vitamin A:
463
IU
Vitamin C:
62
mg
Calcium:
84
mg
Iron:
3
mg