This quick and simple creamy shrimp and chorizo pasta with mushrooms is full of flavor and won't disappoint!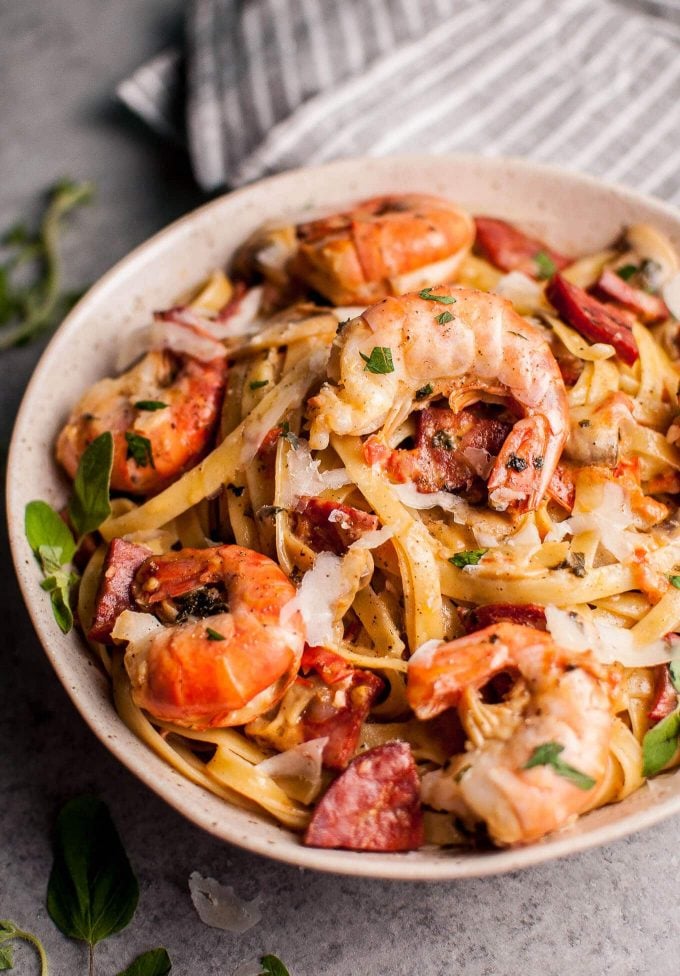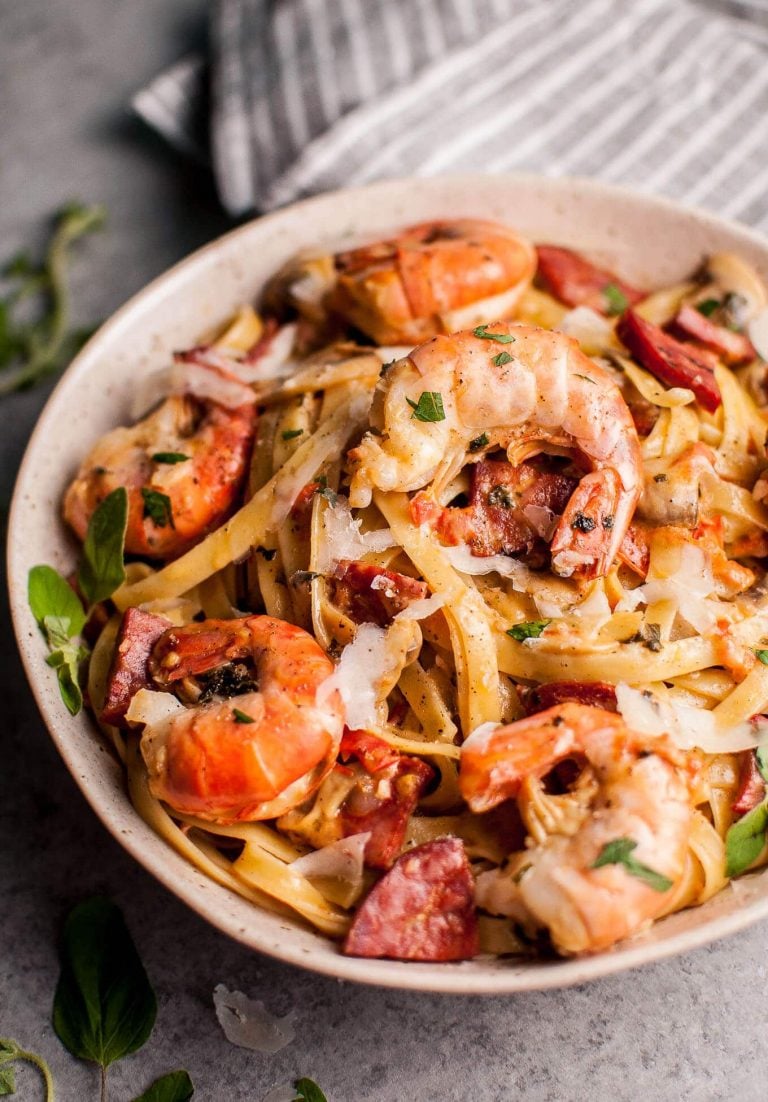 Chorizo sausage. It's just so versatile. If you've been following this blog for a while, you well know that I love my chorizo. Heck, I posted a chorizo pizza dip recipe a week ago. I've been kinda obsessed with chorizo again since I had it at Julian Serrano's Tapas restaurant in Vegas last month. I also love shrimp in pasta, so it was time to combine these two loves. I even have a creamy shrimp and mushroom pasta recipe you may like.
I suppose this dish looks and tastes quite impressive, but it really isn't hard to throw together. When you've got quality ingredients and classic flavors involved, you need not get too complex. Just the way I like it!
As you can see from the photos, I used large shrimp for this dish. That isn't necessary, but I do think they add that special touch if you're trying to go all out.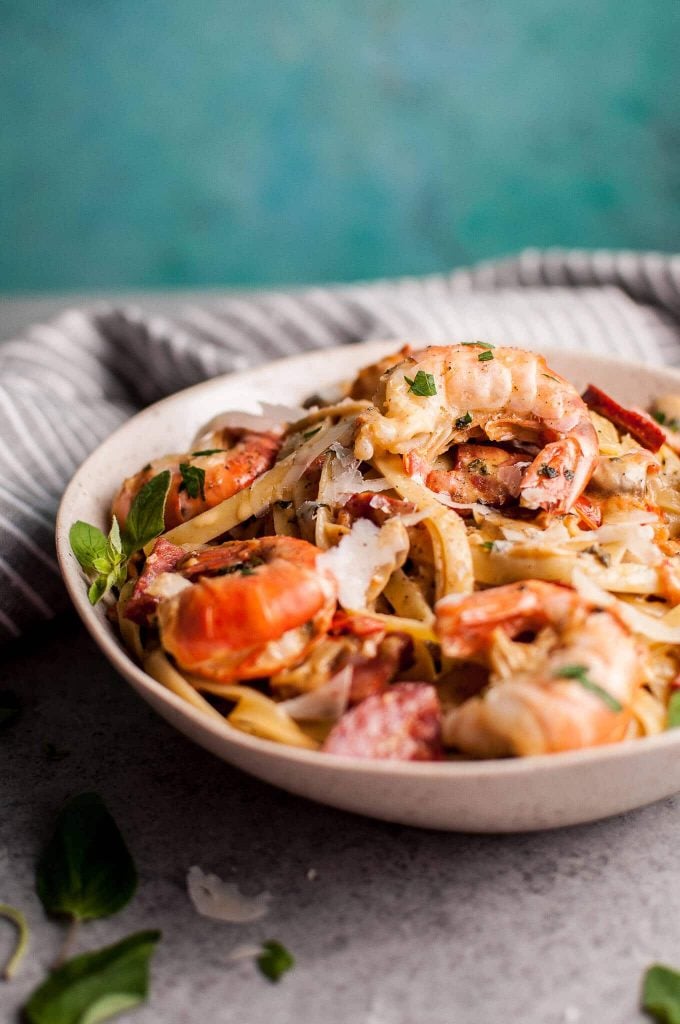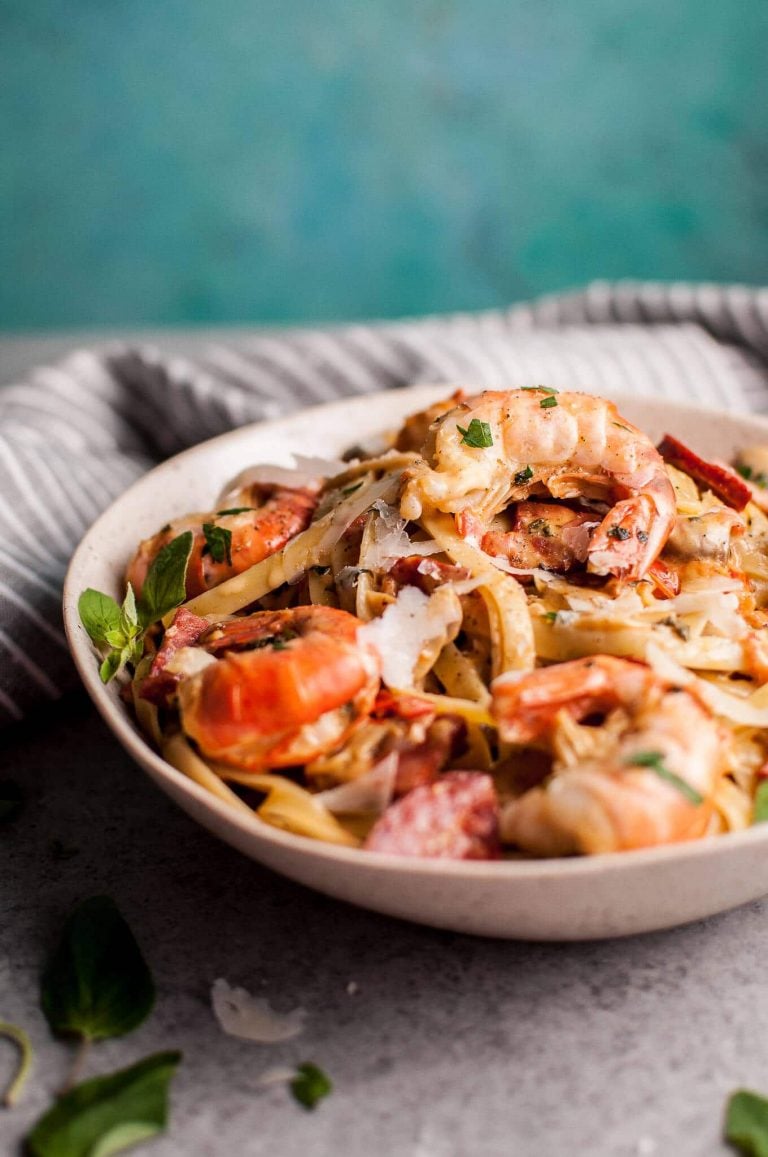 The sauce is the perfect harmony of creamy and tomato-y and adds a richness that also balances out the spice of the chorizo. White wine and fresh oregano up the flavor quotient even more.
Hello pasta of my dreams!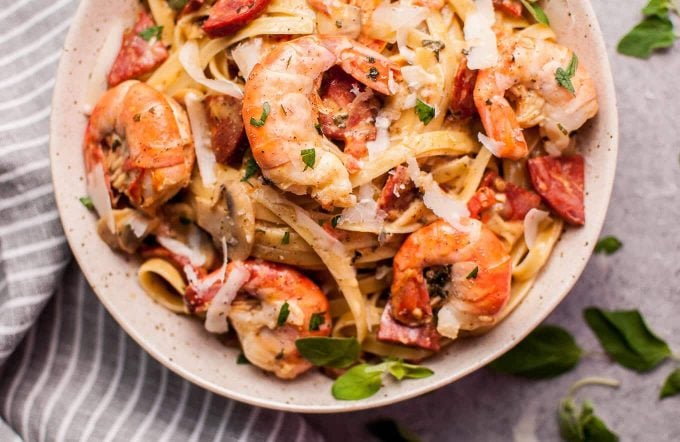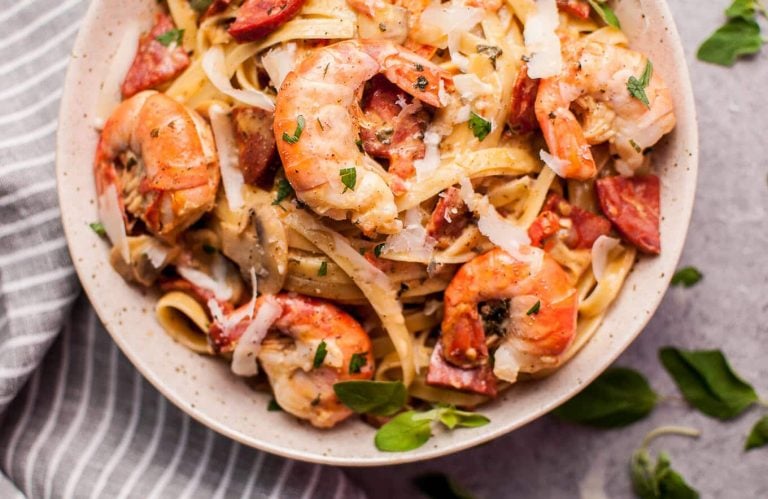 Is this creamy shrimp and chorizo pasta with mushrooms your thing?
Questions? Let me know!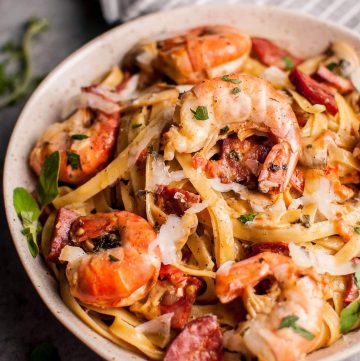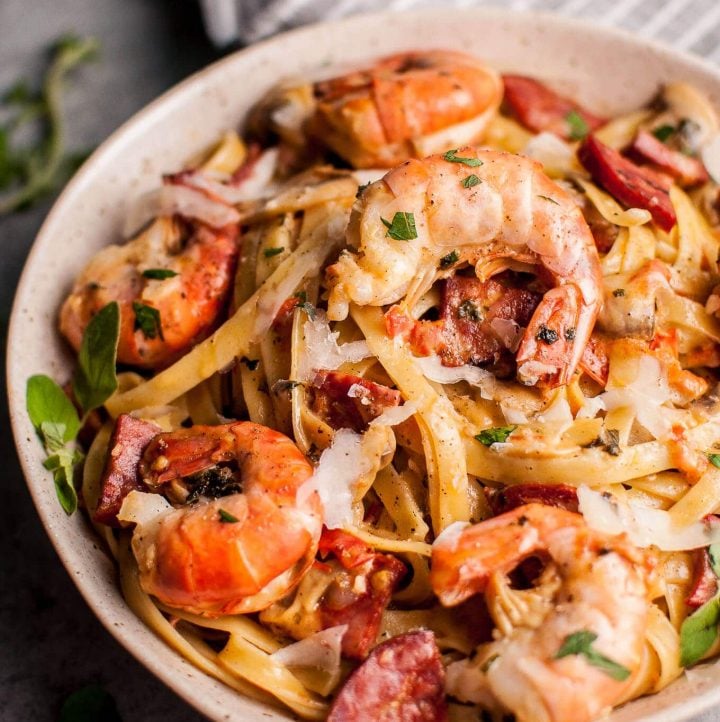 Creamy Shrimp and Chorizo Pasta with Mushrooms
This quick and simple shrimp and chorizo pasta with mushrooms is full of flavor and won't disappoint!
Ingredients
8

ounces

uncooked linguine or other pasta

3/4

pounds

medium or large shrimp

1

tablespoon

olive oil

5

ounces

Spanish chorizo sausage

7

ounces

white mushrooms

1

large tomato

2

cloves

garlic

minced

1

cup

heavy/whipping cream

1

tablespoon

fresh oregano

1/4

cup

dry white wine

Pepper

to taste

Freshly shaved or grated parmesan cheese
Instructions
Boil a large, salted pot of water. Cook pasta according to package directions.

If shrimp are frozen, thaw them under cool running water. Peel (optional) and devein.

Add olive oil to a skillet or deep frying pan on medium heat. Chop chorizo into smaller pieces and add to the pan. Cook for five minutes, stirring a couple of times.

Meanwhile, chop the mushrooms. Add them to the pan and increase heat to medium-high. Cook for about five minutes, stirring occasionally, until the juices are released and the edges start to brown.

Meanwhile, chop the tomato and oregano.

Add the garlic to the pan and cook for about 30 seconds then add the tomato and white wine to the pan. Simmer for a few minutes. Add the cream, oregano, and pepper, and cook for five minutes.

Reduce the heat to medium. Add the shrimp and cook for another five minutes or until the shrimp are cooked. Drain the pasta and toss with the sauce. Serve immediately with generous shavings of parmesan cheese.
Notes
As the chorizo is fairly salty, you probably won't want to add extra salt to this dish.