These easy salmon burgers are made from simple ingredients and come together fast. The zingy Cajun seasoning in the burgers paired with the lemon garlic mayo sauce makes these burgers irresistible! Ready in about 20 minutes.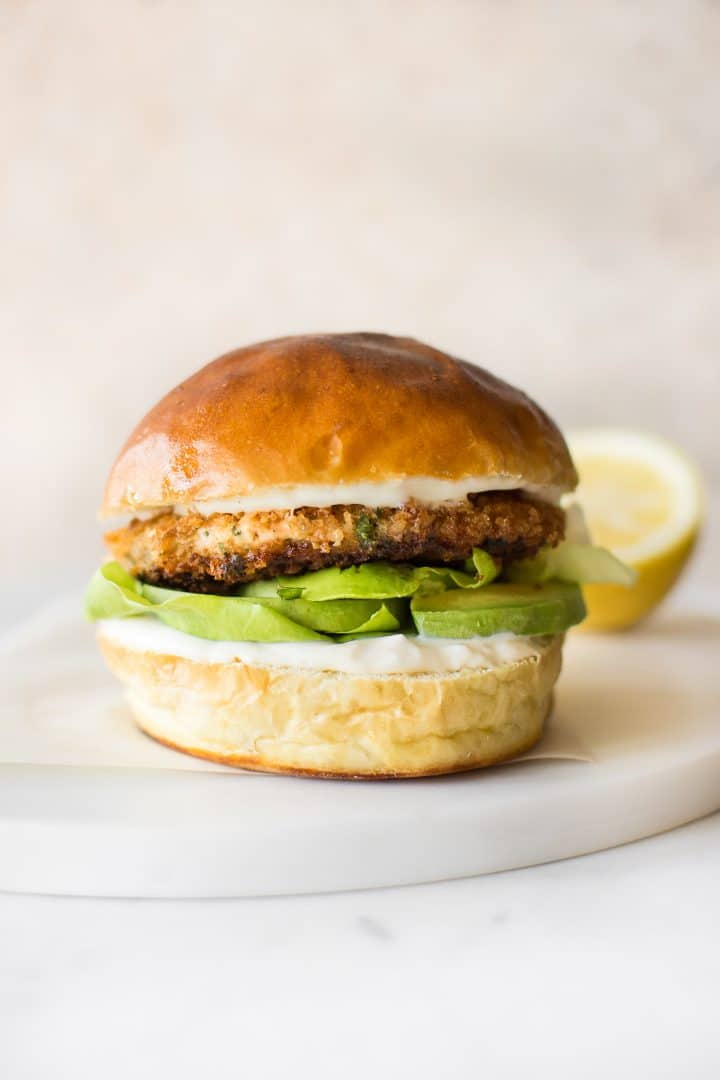 Are you a fan of fish burgers? I'm surprised it took me so long to finally get a salmon burger recipe up on the blog. They're not something I grew up with or eat very often, but since I like salmon, I enjoyed these Cajun salmon burgers.
If you've never made a burger like this before, you don't need to be too intimidated. The preparation method is very similar to making any kind of burger; the salmon simply needs to be minced in a food processor (or chopped very finely).
You then add the other ingredients and form them into burger patties as normal.
How to make fresh salmon patties
Cut salmon into several pieces; add to a food processor and pulse until just combined. Transfer salmon to a bowl and use your hands to mix it with the seasonings, lemon juice and herbs. Form the mixture into four burger patties; coat them in the Panko breadcrumbs.
Why panko? I read a tip on Serious Eats that recommends coating the salmon patties in panko breadcrumbs, and it works very well. It adds a bit of crispiness to the burger patty, and helps the crust get all golden and tasty. Panko breadcrumbs are lighter and less dense than normal breadcrumbs.
Tips for making the best salmon burgers
Don't over-handle the salmon. I pulse the fish in the food processor so I can control how much it's blended. It doesn't take much. You don't want a salmon paste. I gently mix it with the other patty ingredients, and I make sure to carefully form the patties.
Since the patties are really delicate and fall apart easily, these are best pan-fried.
Lemon and salmon go extremely well together, so I strongly recommend making the lemon mayo that goes with this burger recipe.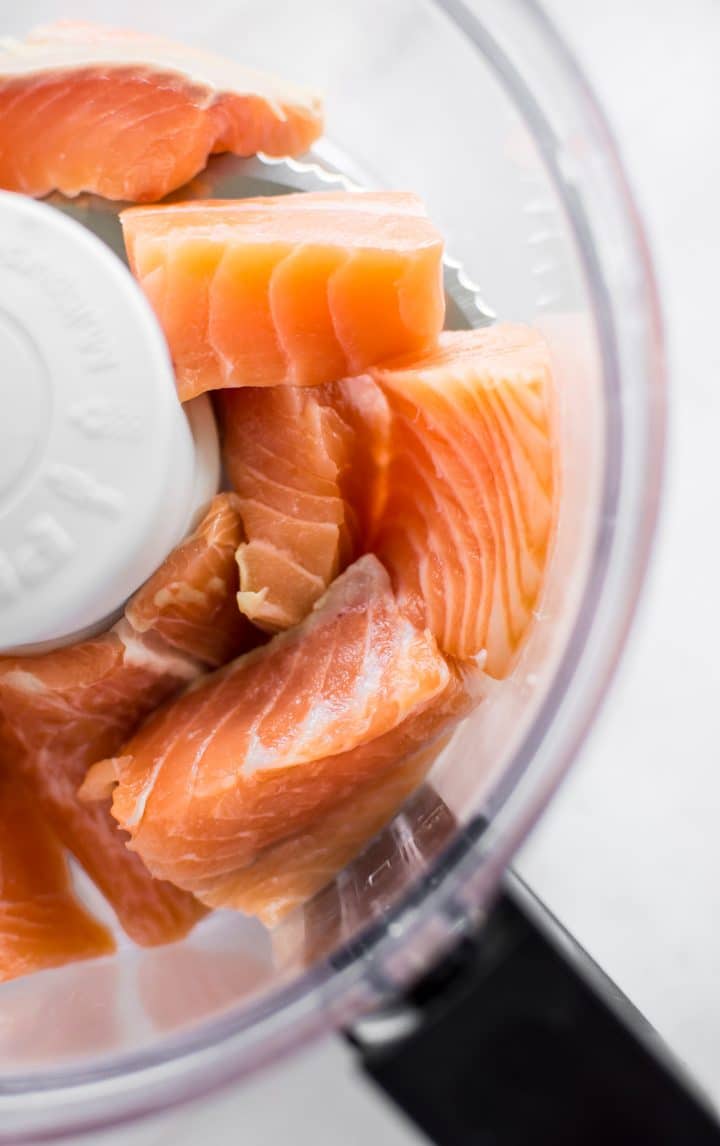 How to cook salmon burgers
Salmon burgers tend to be fairly delicate and fall apart easily, so I recommend pan-frying them vs. BBQing them. I just used a skillet with hot olive oil, but you could always use a grill pan or even one of those little countertop grills if you have one (like a George Foreman).
Cooking time depends on how thick you make the salmon patties. I made mine pretty thin, so they were done after I cooked them for 3-4 min/side.
Top the burgers with avocado and plenty of greens, and you've got yourself a pretty healthy salmon burger, or wrap them in lettuce for a low-carb burger. 😉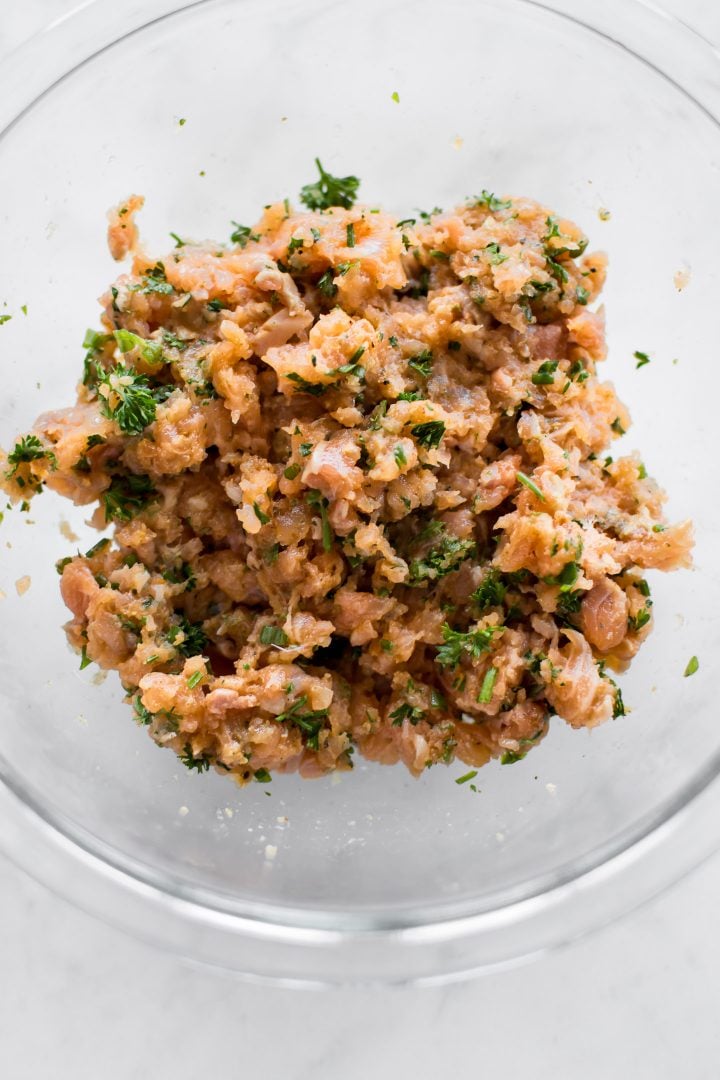 Will you give these simple salmon burgers a go?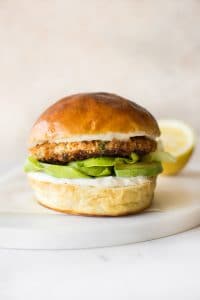 Print
Easy Salmon Burger Recipe
Yield 4 burgers
These easy salmon burgers are made from simple ingredients and come together fast. The zingy Cajun seasoning in the burgers paired with the lemon garlic mayo sauce makes these burgers irresistible! Ready in about 20 minutes.
Ingredients
1 pound skinless fresh salmon 
1 teaspoon lemon juice
1 teaspoon Cajun seasoning
1/4 teaspoon salt 
1/4 teaspoon garlic powder
1 tablespoon fresh parsley, chopped finely
1 tablespoon scallions, chopped
Panko (Japanese breadcrumbs), for coating the patties
Olive oil, for frying
Lemon + garlic mayonnaise:
1/3 cup mayo 
1 teaspoon lemon juice
1/4 teaspoon garlic powder
Salt & pepper, to taste
Toppings/other:
4 buns
Lettuce/salad greens/arugula, to taste (I used butter leaf lettuce)
Avocado, to taste
Instructions
Add the lemon mayo ingredients to a small bowl and stir until combined. Taste and adjust seasonings as needed. Set aside.
Cut the salmon into smaller pieces and add them to a food processor. Pulse a few times until you've got a loosely combined mixture (don't overdo it). Alternatively, you could use a knife to finely chop the fish.
Add the salmon to a bowl along with the lemon juice, Cajun seasoning, salt, garlic powder, parsley, and scallions. Use your hands to gently mix it together.
Add some panko onto a plate (start with only a small amount - you can always add more).
Form the mixture into 4 patties, then coat each of the patties in the panko. The patties will be very delicate and may need to be patted a few times so they stay together. They don't shrink up like beef burgers, so keep the in mind when shaping them.
Add 1-2 tablespoons of oil to a skillet over medium-high heat. Once the pan is hot, cook the salmon patties in 2 batches. I made my burgers fairly thin, so they only took about 3-4 minutes/side. 
Assemble burgers with the mayo and toppings. Enjoy!
Notes
Try not to over-work the salmon mixture or the burgers won't be as good.
I don't recommend BBQing these burgers because they're very delicate and can come apart easily.
If you're not into the Cajun spice blend, feel free to replace it with your favorite herb/spice blend.
This is the food processor I used to make this recipe.
Courses Sandwich
Cuisine American
You may also liked my baked salmon sandwich, salmon tartine, or my easy chicken burgers.
Try more of my tasty recipes: