This oven baked salmon recipe makes perfectly juicy and tender, flaky and buttery salmon without any fuss or complicated techniques! It's a fantastic option for busy weeknights.
Try my Easy Baked Pork Tenderloin or Easy Baked Chicken Breast for more back-to-the-basics dinner ideas.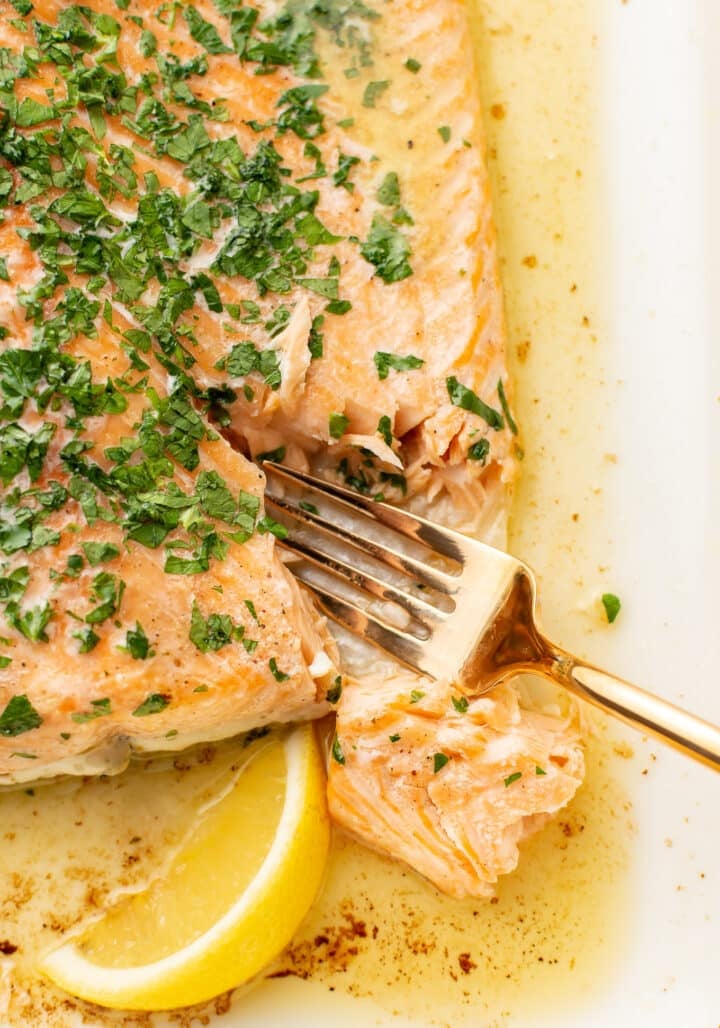 Why you'll love it
Learning how to bake salmon is what I consider an essential kitchen skill with delicious results. It's very simple to do, and salmon is one of the best proteins since it's healthy, packed with goodness like omega-3s, and doesn't need much to dress it up. You'll feel confident in making it with this comprehensive guide that demystifies baking salmon!
Another benefit of salmon is that it's a family-friendly fish that even the kids will enjoy. It goes with so many side dishes, and the leftovers are so tasty the next day. This recipe works both for any old weeknight or special occasions and is one you'll make over and over. If you're new to cooking seafood, this is also a great place to start.
What goes into it
Salmon - you can use either a large fillet or individual pieces. I used a skin-on fillet. Look for one that's very pink with no discoloration and isn't dried out.
Olive oil and butter - for moisture and that signature buttery taste
Salt & pepper - it's important to season generously to bring out the natural flavors
Parsley - for a pop of herby freshness that perfectly complements the fish. I like Italian (flat) parsley best, but the curly kind is fine.
Lemon juice - it adds so much brightness. Always used freshly squeezed.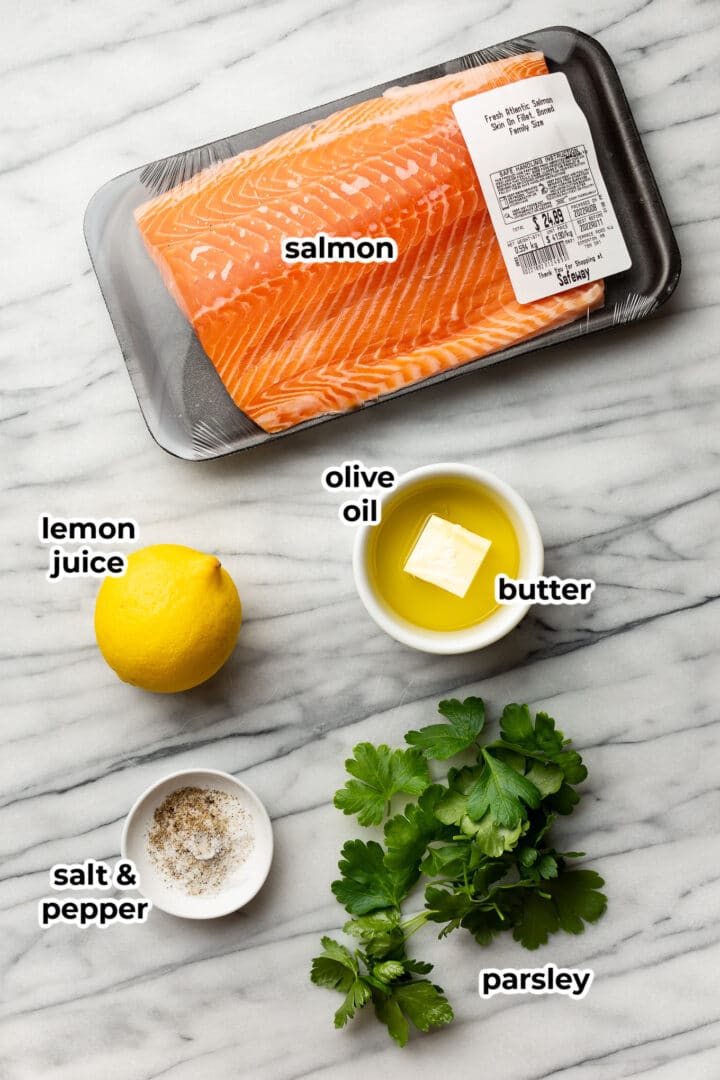 What kind of salmon do I use?
It's totally up to you! You can consider wild versus farmed. Some people have strong views about this in either direction. I recommend trying both and seeing what you prefer taste-wise. Wild salmon is typically leaner and less fatty and can have a stronger flavor. In general, I look for salmon that's a vibrant pink hue with good marbling, and skin-on keeps in the moisture when cooking.
How to bake salmon
This is an overview with step-by-step photos. Full ingredients & instructions are in the recipe card below.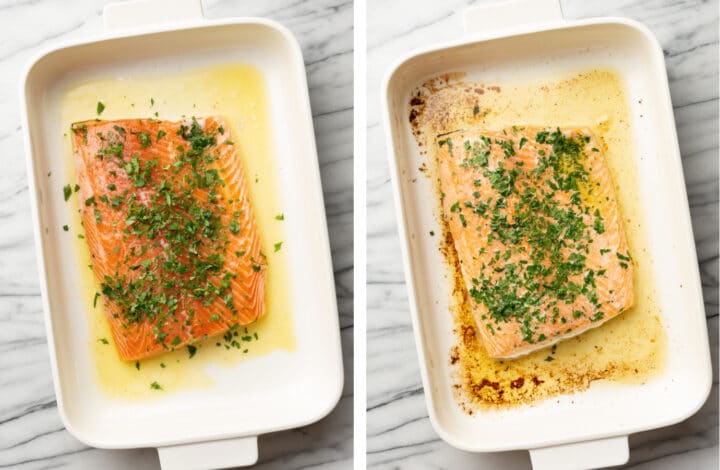 Let the salmon warm up for 15-20 minutes on the counter, and preheat the oven. Add the oil and butter to a small bowl and microwave it to melt it. Skin-side down, put the salmon on a foil-lined baking sheet or in a baking dish. Season with salt & pepper, pour the oil and butter mixture on, and sprinkle with chopped parsley. Bake until it flakes with a fork, drizzle the fresh lemon juice on top, and enjoy!
How long to bake salmon at 400F
For a 1" thick large fillet of salmon, like a whole side of salmon, check after 18-20 minutes. If it flakes easily with a fork and is opaque, it's done. I like visual cues best here. For smaller pieces of salmon, check after 12-15 minutes.
If using an instant read thermometer, I aim for 135F (120F is rare, and 140F is getting into overcooked territory).
Many factors can influence how long it takes to cook a piece of salmon, so it's best to check early and put it back into the oven for a few more minutes if needed. Consider the following:
Farmed vs. wild. Wild tends to contain less fat and cooks faster. Definitely err on the lower side of cook time and check frequently.
Thickness. If your piece of salmon is much thicker or thinner than 1", add/remove a few minutes from the suggested cooking times in the recipe below.
Skin-on. This recipe is written for skin-on salmon. It takes a few minutes longer than salmon with its skin already removed, so keep that in mind if you've bought skinless. Even if you don't want to eat the skin, it keeps the fish moist while cooking, so I recommend leaving it on until after it's cooked (easily slide it off).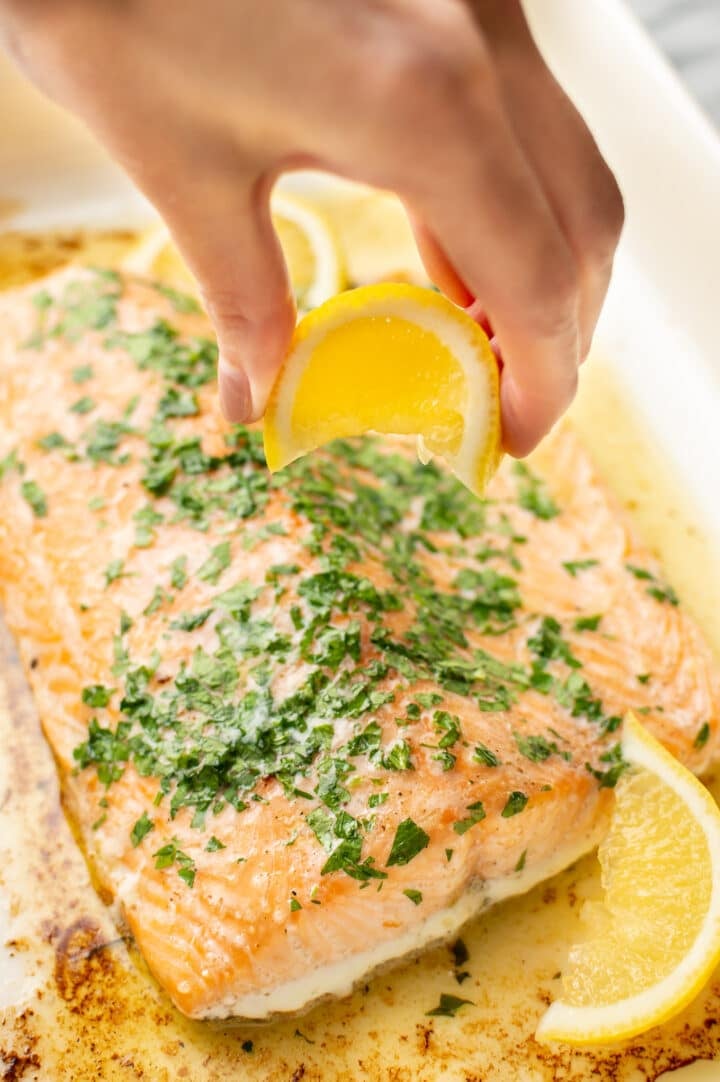 Pro tips
If using frozen salmon, defrost according to package directions. Thawing it in the fridge overnight usually works. If you're in a landlocked place, it may actually be a better option than the salmon sitting out on your grocery store's fish counter since that's previously frozen anyway; make sure it has a good best before date, and cook it ASAP. Salmon is flash frozen right after being caught.
You may want to lightly grease the bottom of your baking dish prior to adding the fish as the skin can sometimes stick.
The white stuff on salmon you sometimes see when it's cooking is a protein called albumin. It's totally normal, safe to eat, and absolutely nothing to be concerned about.
Substitutions and variations
You can definitely play with this recipe! It's simple and a great base. You could add everything from garlic to different fresh or dried herbs or even Cajun seasoning to jazz it up a bit once you've nailed the cooking method. I'm thinking dill or rosemary.
You can use all olive oil if you prefer (and you may not need the full 3 tablespoons in that case), but I love the flavor the butter adds.
What to serve with baked salmon
Leftovers and storage
Baked salmon will keep for 3-4 days in fridge in an airtight container.
I don't recommend freezing leftovers. The texture of the salmon will change and turn a little spongy.
Reheat in the oven at 275F slowly for about 15 minutes or until warmed through. If you do it too fast or at too high of a temperature, the leftovers will likely dry out.
I love eating leftover salmon cold in a salad. Or use it to make my Salmon Patties!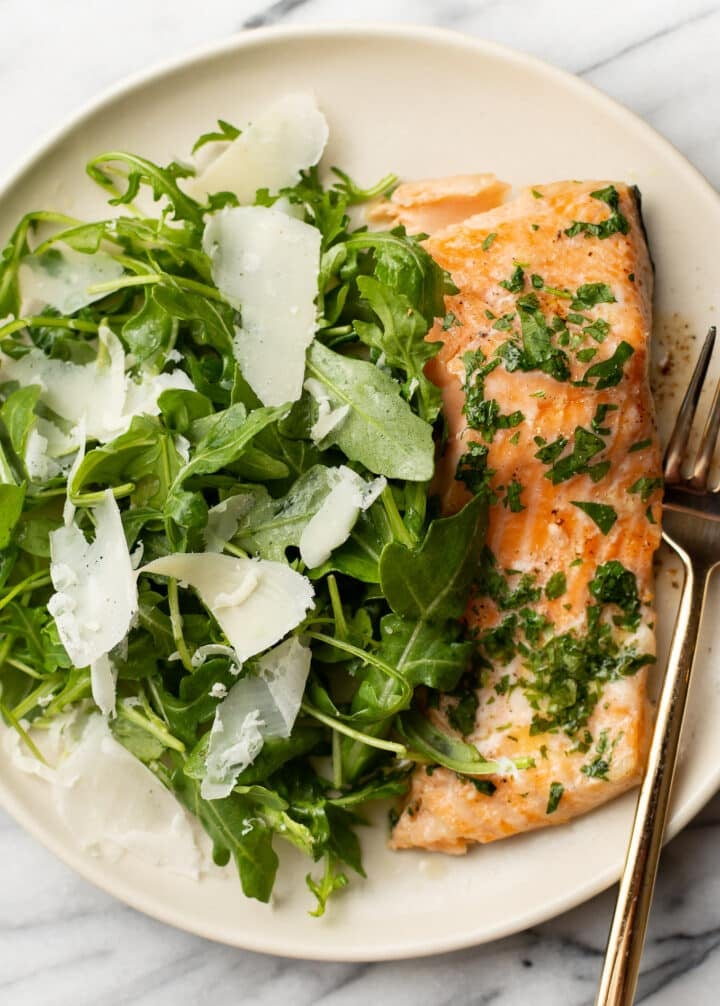 I hope you enjoy this salmon baked in the oven! Let me know what you think in the comments below, and you can also find me on Instagram. I'd love to hear from you.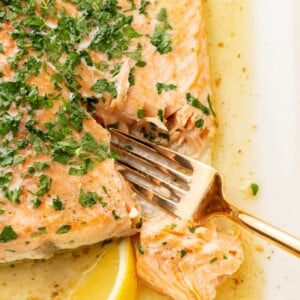 Easy Baked Salmon
This oven baked salmon recipe makes perfectly juicy and tender, flaky and buttery salmon without any fuss or complicated techniques! It's a fantastic option for busy weeknights.
Ingredients
1-2

pounds

salmon

use a large fillet of salmon or individual pieces

1

tablespoon

olive oil

2

tablespoons

butter

Salt & pepper

to taste

2

tablespoon

parsley

chopped

Fresh lemon juice

to taste
Instructions
Preheat your oven to 400F and move the rack to the top third of the oven. If possible, let the salmon warm up on the counter for 15-20 minutes prior to cooking it.

Add the oil and butter to a small bowl and melt it in the microwave.

Place the fish skin-side down in a baking dish or on a foil-lined baking sheet. Season it with some salt & pepper, and then pour the oil/butter mix over top and sprinkle the parsley on.

For a large single piece of salmon: for a piece that's about 1" in the thickest part, bake, uncovered, for 18-20 minutes and then check it. If it flakes easily with a fork, it's good to go. You can always pop it back in the oven if it's looking too raw in the thickest part. For a thinner piece, check after 15 minutes.If using individual fillets (about 1" thick): bake, uncovered, for 12-15 minutes or until a piece flakes easily with a fork (pop it back in the oven if it's still too raw in the thickest part).

Squeeze some fresh lemon juice over the salmon, serve, and enjoy! If you don't want to eat the skin, simply slide the salmon off of it when serving (use a metal spatula or knife).
Notes
If your salmon is a lot thinner than 1", is skinless, or you're a fan of more rare salmon, be sure to err on the lower side of recommended cooking times (or even give it less than suggested) as you can always cook it for longer if it's not yet cooked. If using an instant read thermometer, 120F is rare, and 140F is starting to get into overcooked territory.
Nutritional information is provided as a courtesy only and should be construed as an estimate rather than a guarantee. Ingredients can vary and Salt & Lavender makes no guarantees to the accuracy of this information. Calorie estimate is for 1.5 pounds of salmon (1/4 of the recipe is one serving).
Nutrition
Calories:
317
kcal
Carbohydrates:
0.1
g
Protein:
39
g
Fat:
18
g
Saturated Fat:
6
g
Polyunsaturated Fat:
3
g
Monounsaturated Fat:
6
g
Trans Fat:
0.3
g
Cholesterol:
156
mg
Sodium:
694
mg
Potassium:
579
mg
Fiber:
0.1
g
Sugar:
0.02
g
Vitamin A:
454
IU
Vitamin C:
3
mg
Calcium:
486
mg
Iron:
1
mg