This easy healthy shrimp and asparagus pasta is deliciously lemony, fast, and uses only a handful of ingredients. Ready in 20 minutes!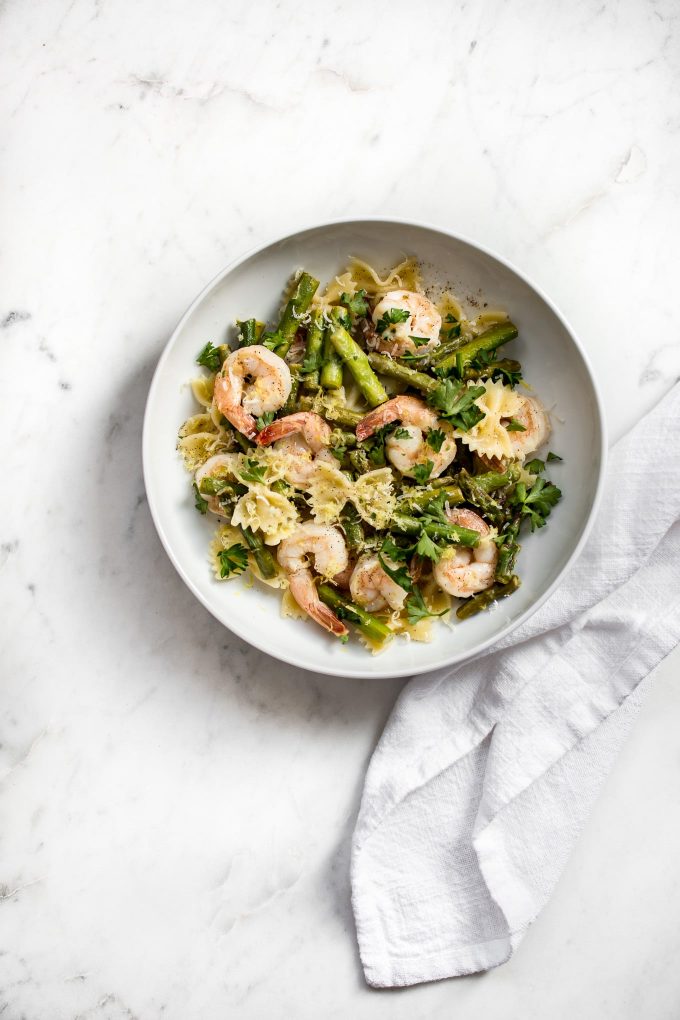 The shrimp and asparagus really shine in the oil, lemon juice, and parmesan cheese sauce. It really is a dish that's reminiscent of spring even though spring is still far away (here in Canada anyway).
This asparagus and shrimp pasta recipe is nice and satisfying, but it's also light enough that you don't get that carb crash that often comes with pasta dishes that are coated in a heavy cream sauce.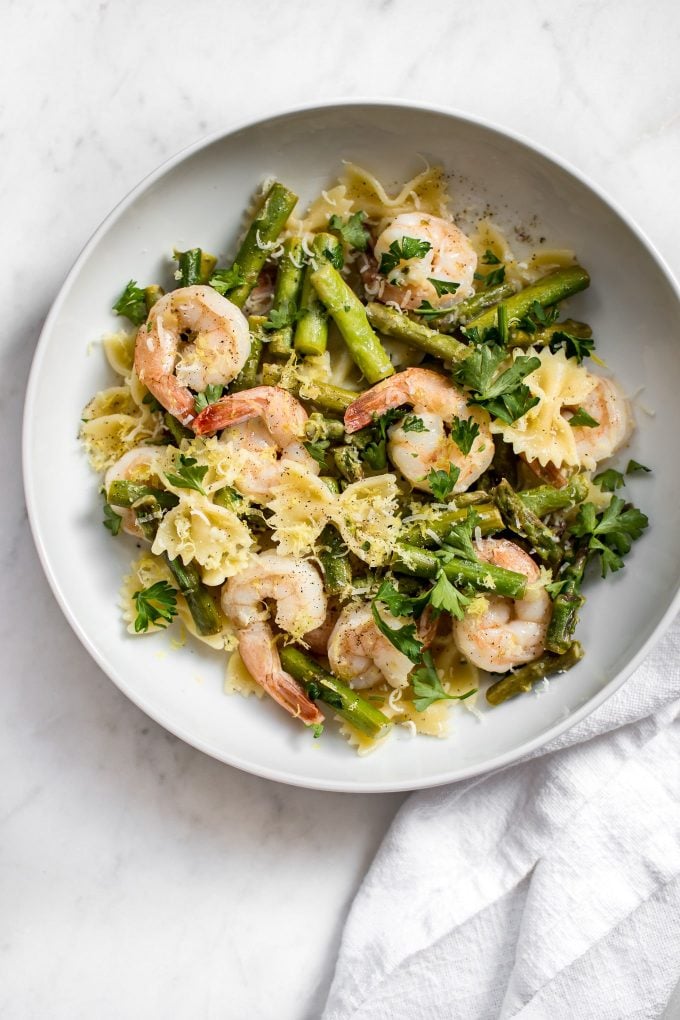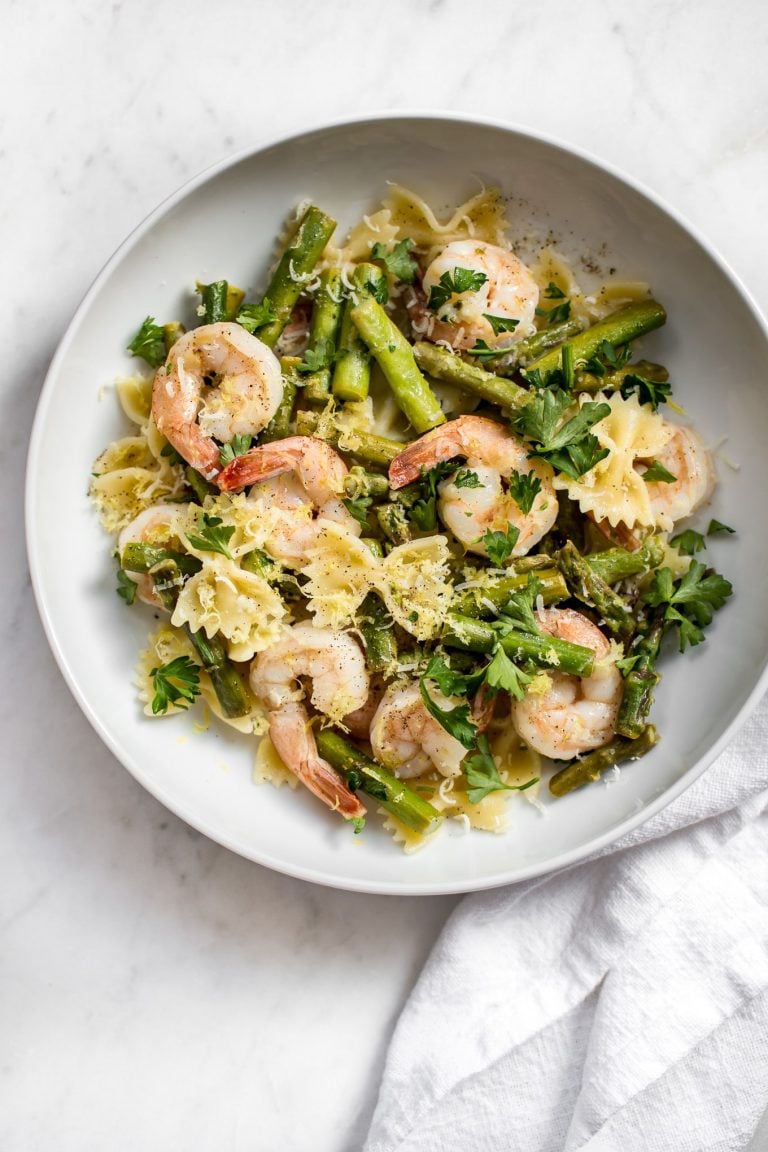 I've been trying to use less heavy cream in my recipes. Some recipes really need it, but I'm trying not to make it my go-to for every single pasta recipe I make. So, I've been using more half-and-half. It was going to go into this recipe until I totally botched the sauce and managed to separate it. I should have known that the lemon juice would curdle it, but I did it anyway and ended up throwing the first batch of sauce away (thankfully no shrimp were involved yet).
I'm actually pretty glad plan A failed and I moved onto plan B. I ended up with a light and cheerful pasta that really didn't need any creaminess to be good.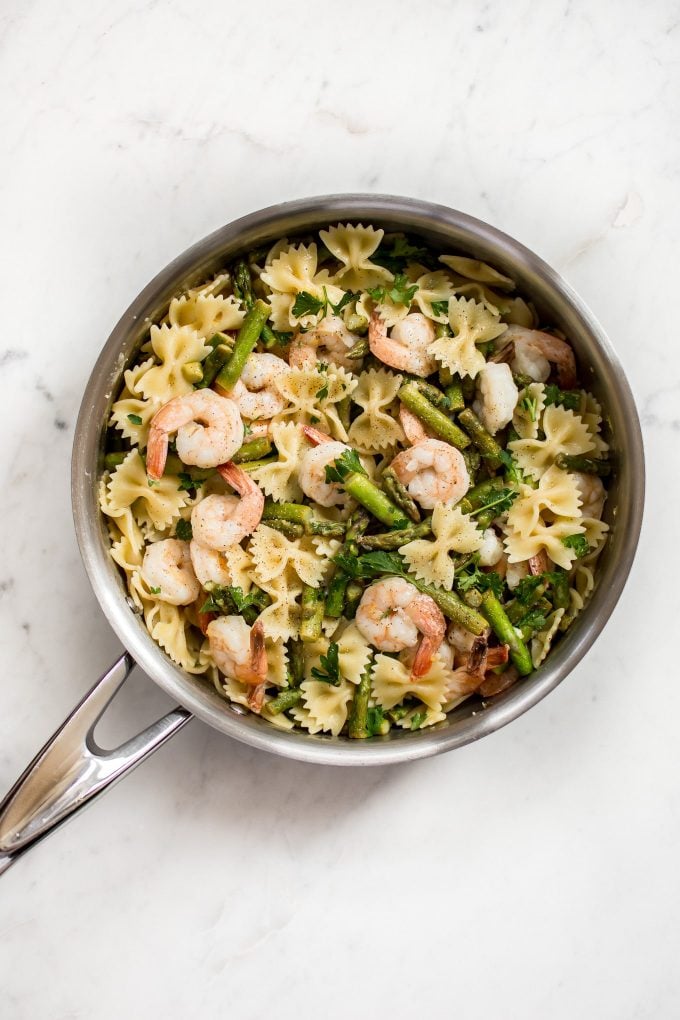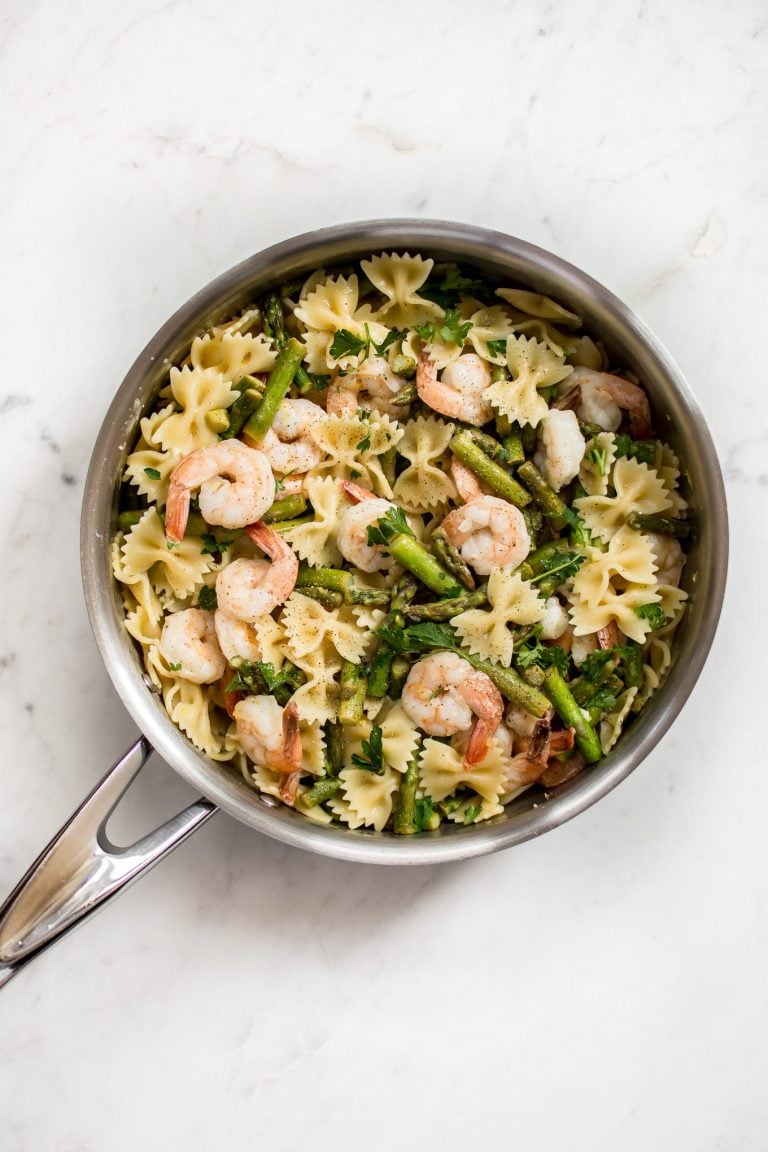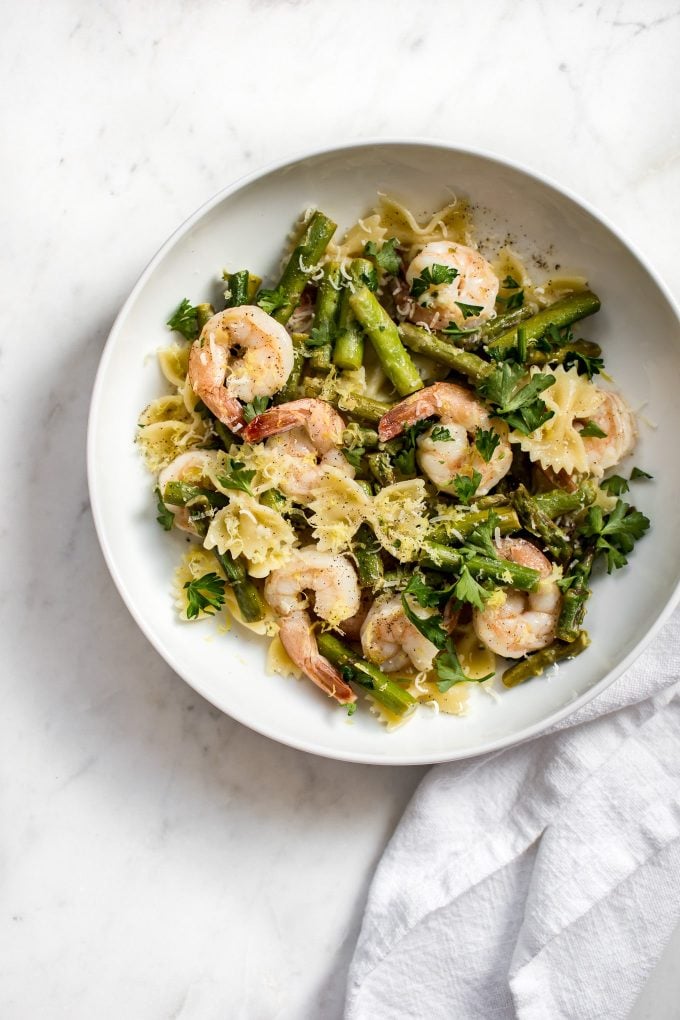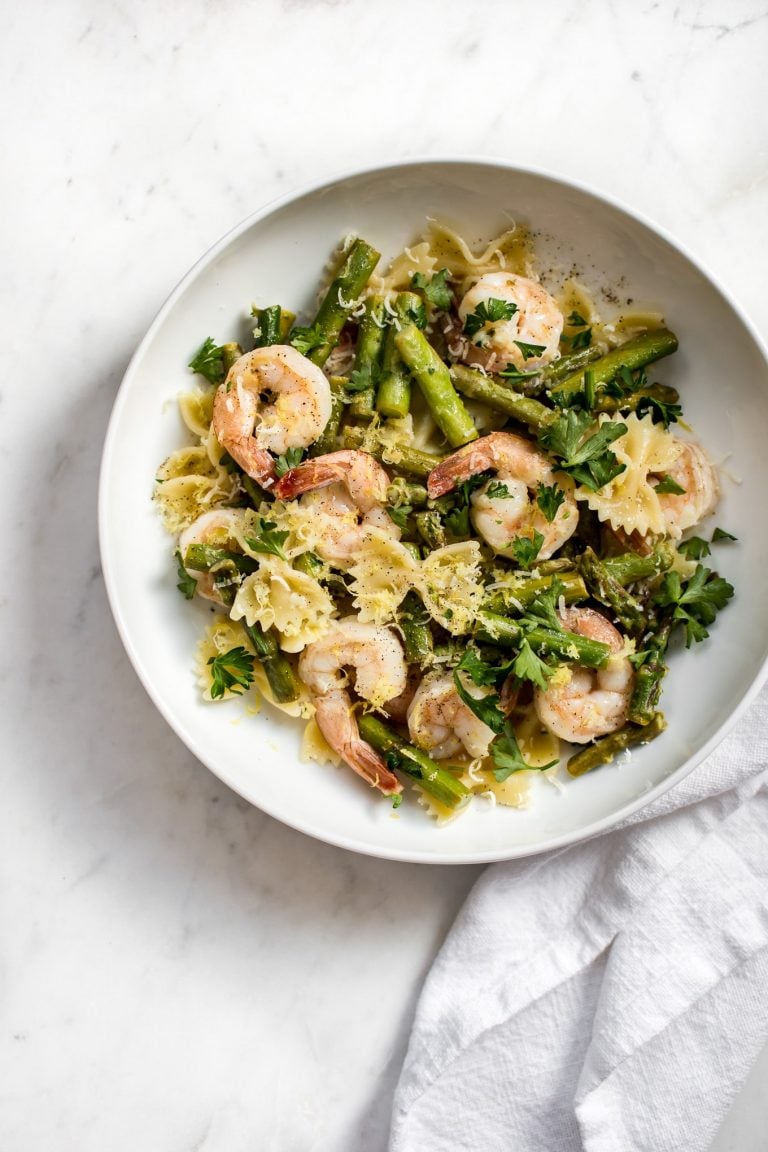 Hope you love this shrimp asparagus pasta! Let me know in the comments below if you've made it. 🙂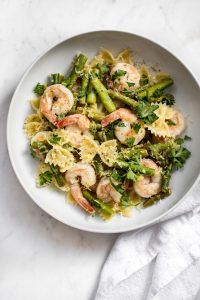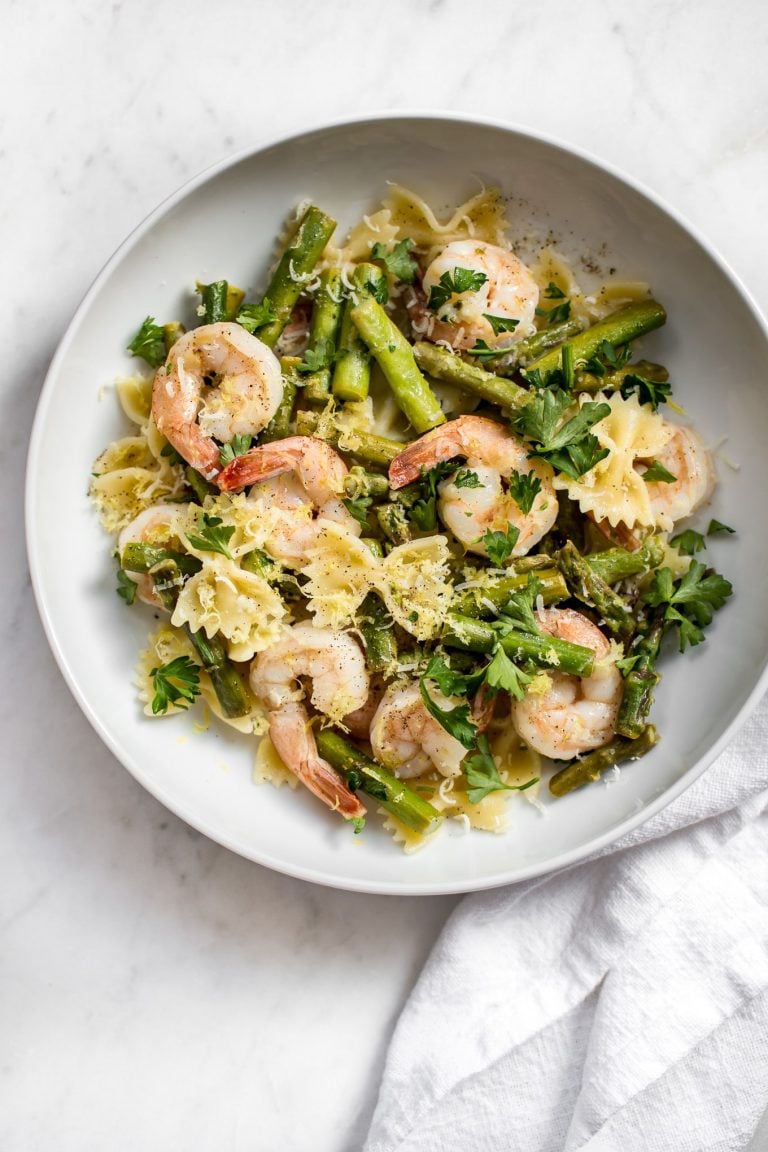 Print
Healthy Shrimp and Asparagus Pasta Recipe
Yield 4
Ingredients
8 ounces farfalle (bow tie) pasta
1 bunch of asparagus, ends trimmed, cut into bite-size pieces
1 tablespoon olive oil
1 tablespoon lemon juice + zest from 1/2 lemon
1 pound medium shrimp, thawed & peeled (tails on optional)
4 cloves garlic, minced
1/2 cup freshly grated parmesan cheese 
1 tablespoon fresh parsley, chopped
Salt & pepper, to taste
Instructions
Boil a large, salted pot of water for the pasta. Cook al dente according to package directions.
Meanwhile, prep your other ingredients.
Add the oil and lemon juice + zest to a large skillet over medium-high heat. Add the asparagus and sauté for 2 minutes, stirring often.
Stir in the shrimp and garlic. Cover the skillet, reduce the heat to medium, and let it cook for 3 minutes. If the shrimp are still a little gray, cover the pan again and continue cooking them for another minute or two (be careful not to overcook).
Stir in the parmesan, fresh parsley, and 1 tablespoon of the pasta water. Drain the pasta and add it to the skillet. Season with salt & pepper as needed. Add an extra squeeze of lemon juice as well if desired. Serve immediately. 
Courses Main Course
Cuisine Italian
Love asparagus and pasta? You may also like my asparagus and mushroom pasta or my lighter asparagus and bacon pasta.
Try more of my tasty recipes: