This shrimp and bacon pasta recipe is fresh and full of flavor. The creamy tomato sauce is to die for, and this dish is ready in only 30 minutes!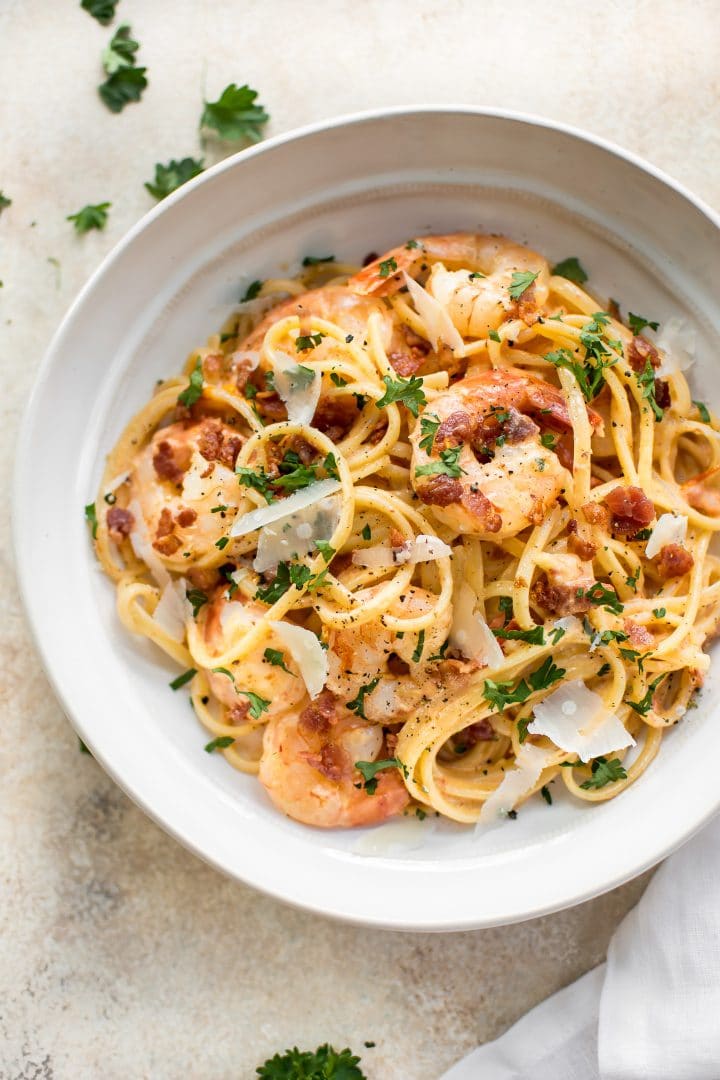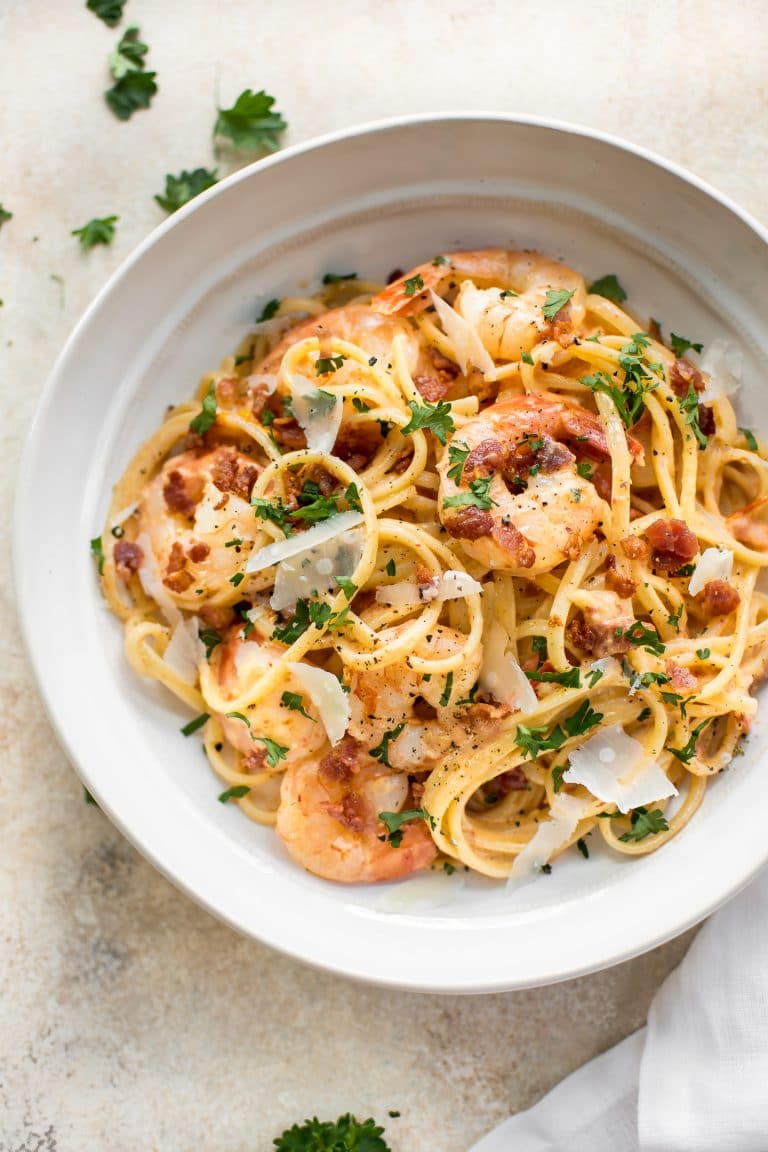 I love a creamy sauce with fresh tomato. My creamy tomato salmon pasta is quite similar, and that's one of my favorites. You still get your creamy sauce, but the tomato brightens it a bit, and so it tastes much less heavy. I guess you'd call it a rosé sauce (not to be confused with the wine!).
This shrimp pasta with tomato is very fast and straightforward. It's one of those pasta dishes that work if you want something a bit different and more elevated on a busy weeknight, but it's also good enough for when you've got company.
Those are my favorite types of dishes to create!
I don't go overboard with the bacon here. It's just enough to let you know it's there, but not enough for it to be too much. I'd say we've got a really nice balance of flavors in this pasta.
I finished it off with a bit of fresh parsley and some parmesan cheese. I find these items necessary on most pasta dishes. Obviously. 😛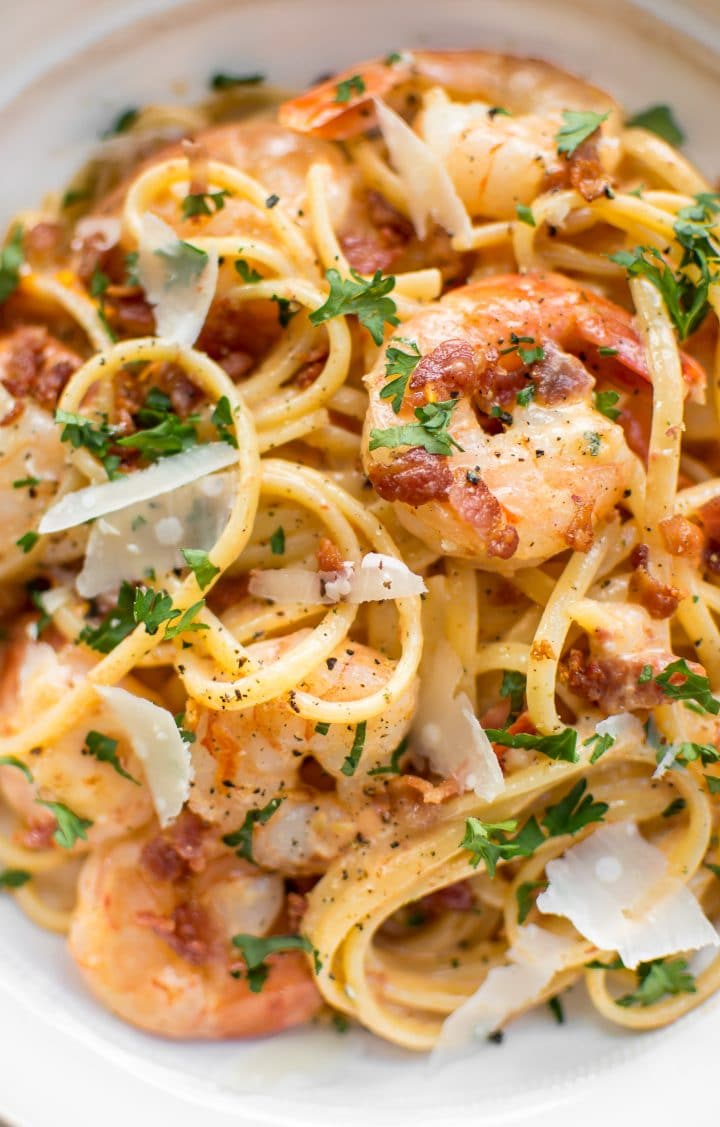 Pro tip: Feel free to take the tails off the shrimp prior to cooking them. I usually do when I am not staging photos. I've heard that it's a pet peeve of some people when they see shrimp tails in finished dishes.
I leave them on because I actually find it easier to photograph shrimp with the tails on. It adds some extra color and texture. Now you know if you were curious. 🙂
Love easy shrimp recipes? Try these: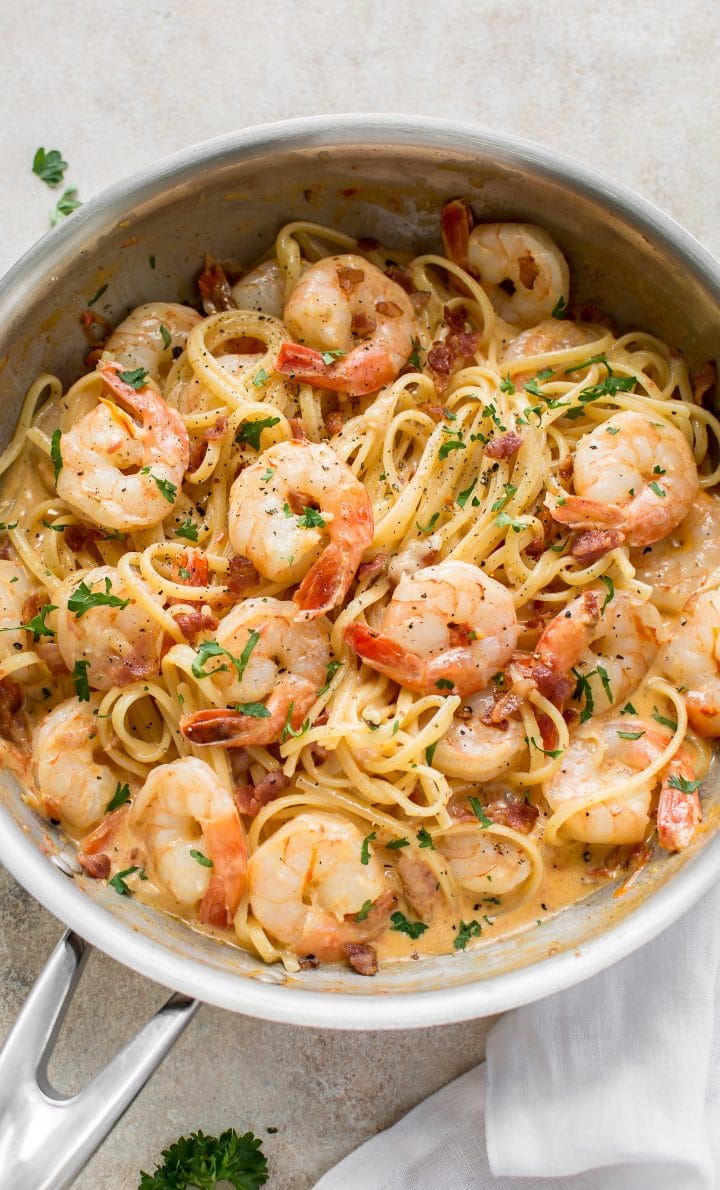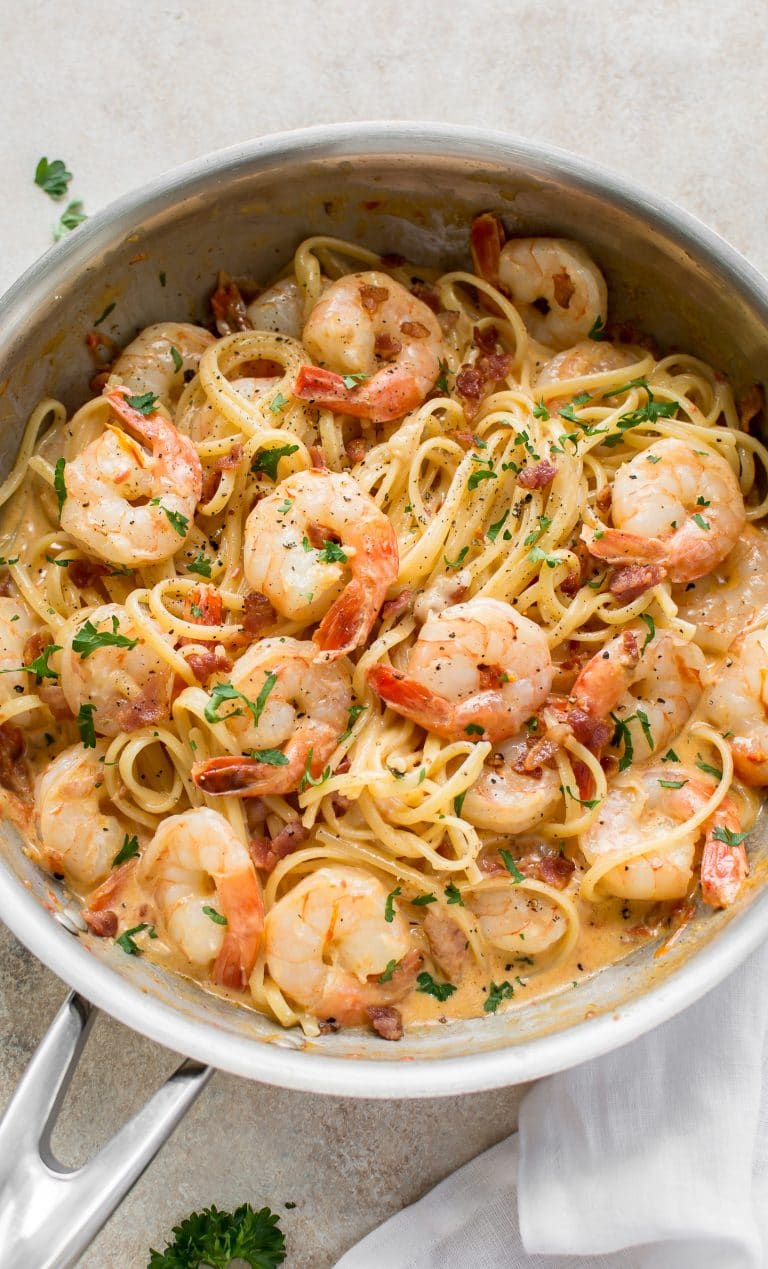 Will you give this shrimp and bacon pasta recipe a go?
Talk to me in the comments below!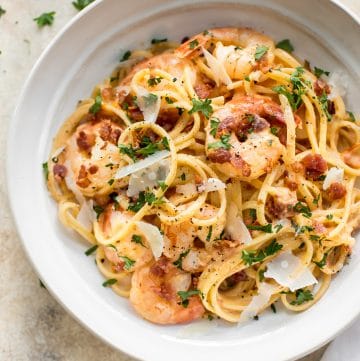 Shrimp and Bacon Pasta
This shrimp and bacon pasta recipe is fresh and full of flavor. The creamy tomato sauce is to die for, and this dish is ready in only 30 minutes!
Ingredients
8

ounces

uncooked pasta

1

pound

medium or large shrimp

thawed & peeled (remove tails if desired)

4

strips bacon

cut into small pieces

1

medium tomato

diced finely

1

large clove garlic

minced

1

teaspoon

Dijon mustard

2

dashes Italian seasoning

1/4

cup

chicken broth or dry white wine

1

cup

heavy/whipping cream

1/2

cup

freshly grated parmesan cheese

Salt & pepper

to taste

Fresh parsley

chopped (optional)
Instructions
Boil a large, salted pot of water for the pasta. Cook al dente according to package directions.

Prep your bacon (I use kitchen shears to make it easy to cut it up). Fry the bacon over medium-high heat in a skillet until crispy (7-10 mins.). Take the bacon out of the pan and set aside.

Drain most of the bacon fat from the pan, but keep a little bit in for flavor. Add the tomato, garlic, Dijon mustard, Italian seasoning, and chicken broth to the pan. Give it a good stir and let it simmer for about 1-2 minutes.

Add the cream to the pan. Let it cook for 5 minutes (so it reduces & thickens). If it's bubbling like crazy, turn down the heat.

Add the shrimp and bacon to the pan. Let it cook for another 4-5 minutes or until the shrimp have cooked through.

Drain the pasta and add it to the pan, tossing until it's nicely coated in the sauce.

Stir in the parmesan cheese and season with salt & pepper as needed. Garnish with parsley if using.
Notes
I used large shrimp (41-50/lb. size) in this recipe. Smaller shrimp will work too.