My creamy lemon and fresh tomato salmon pasta is an easy and fresh (yet decadent!) pasta dish that's ready in only 20 minutes.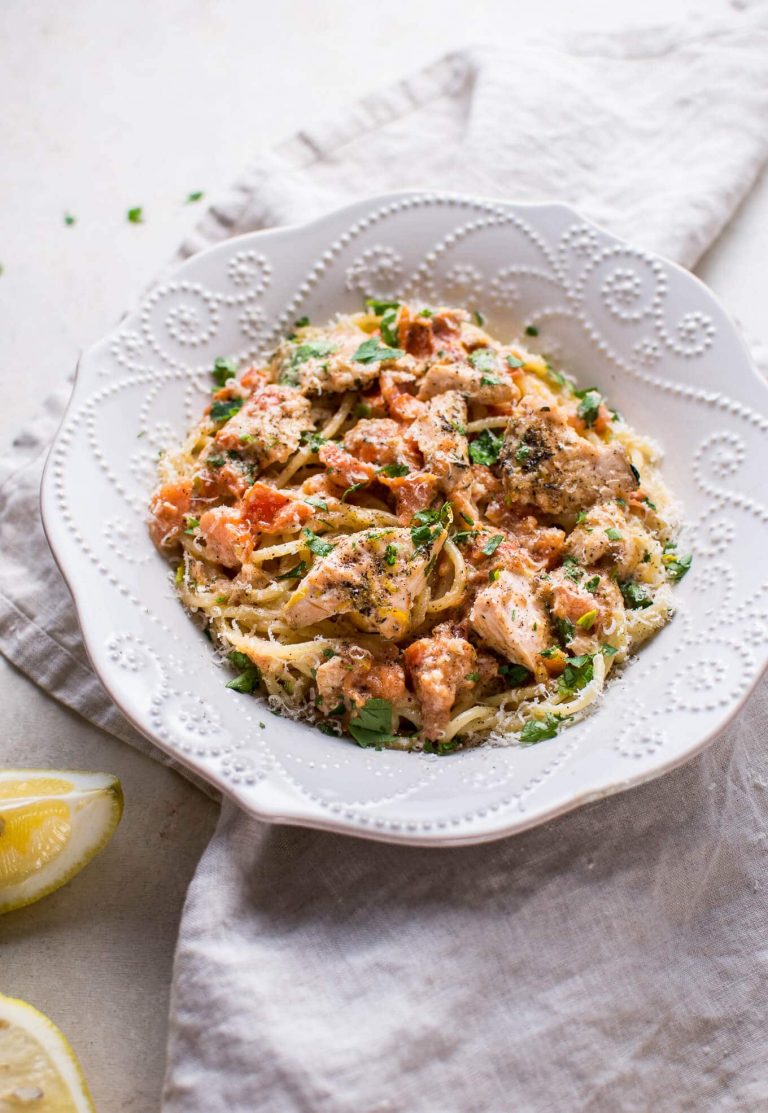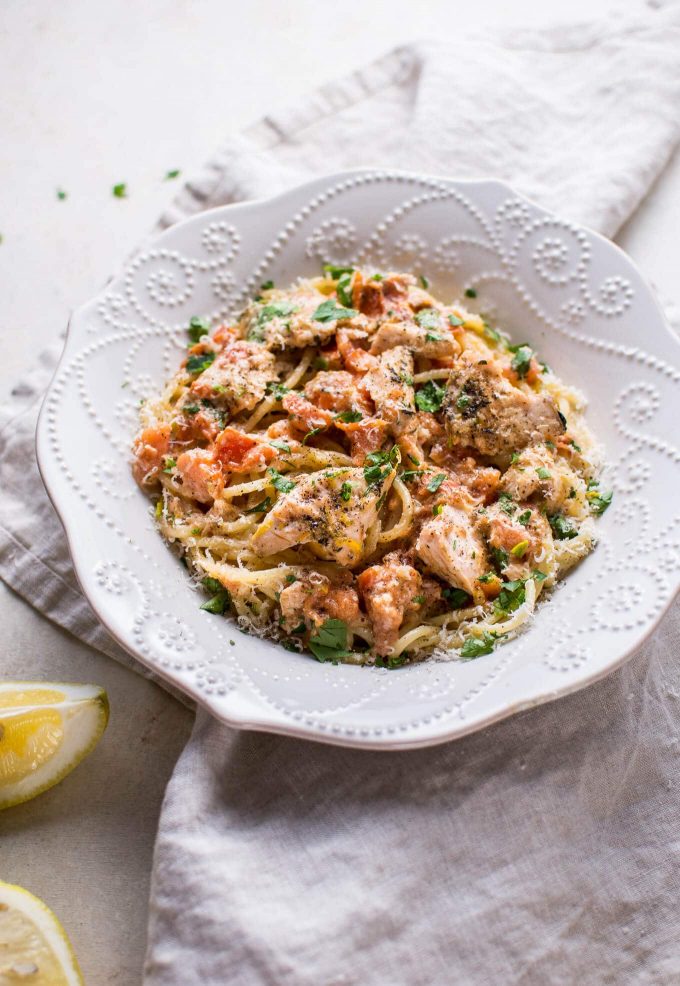 My creamy garlic salmon pasta has done really well (I hope I didn't just jinx it!), and I wanted to do something similar in this tomato salmon pasta.
Although salmon is versatile and I like to prepare it several different ways, enjoying it with pasta and a creamy sauce is probably my all-time favorite way of cooking it.
Salmon pasta is so quick and easy and typically tastes like it's more complicated to make than it is!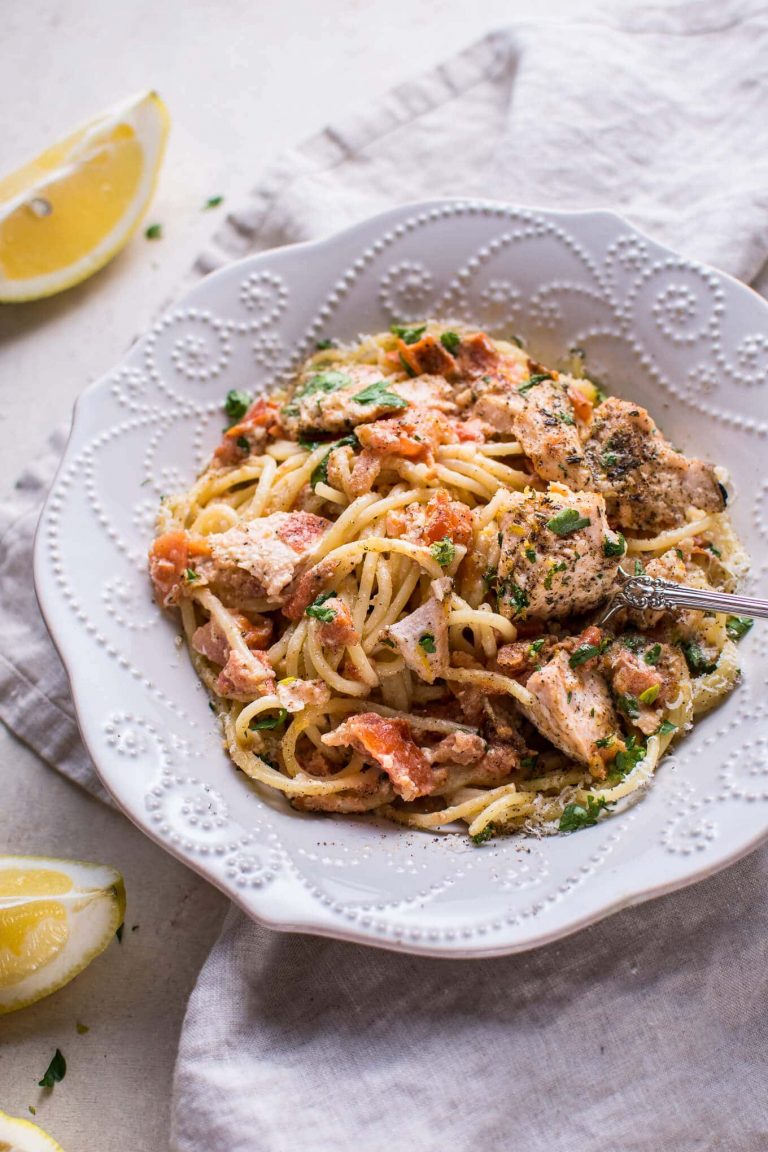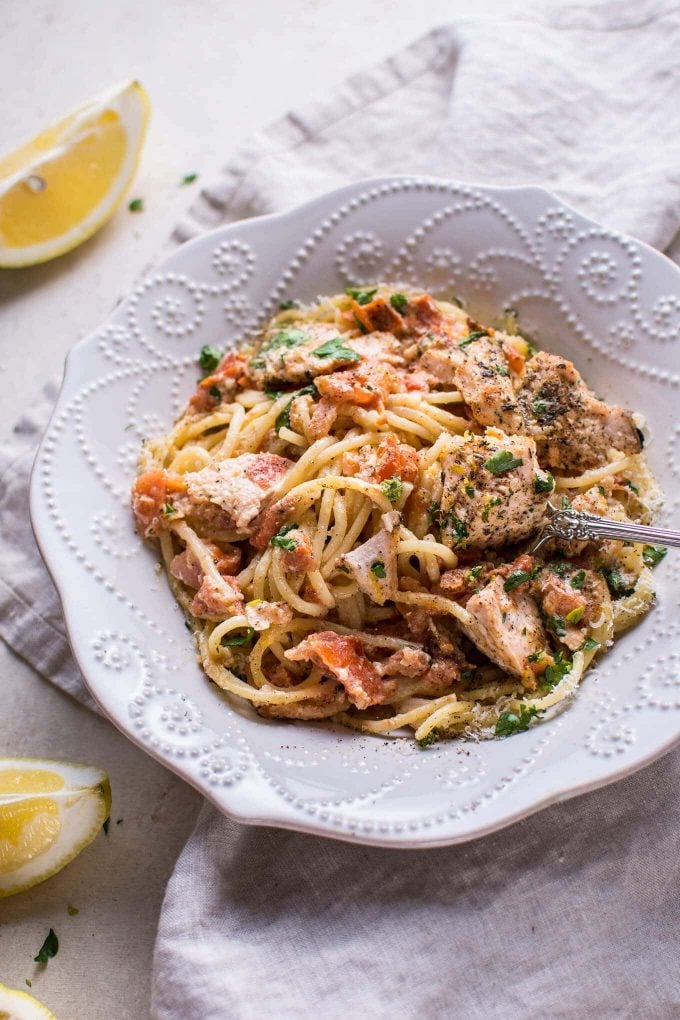 I love seafood pasta. When I'm anywhere near a coast, I order copious amounts of it since normally I'm landlocked and don't usually have access to the best seafood. It's not like you can't get seafood here, but it's just not the same as being right there.
You can find pretty good salmon here, so that's my go-to when I'm craving something from the ocean. I'm not even a big pasta person (though you wouldn't know it with the volume of pasta recipes I post on here!), but something about seafood pasta hits the spot for me.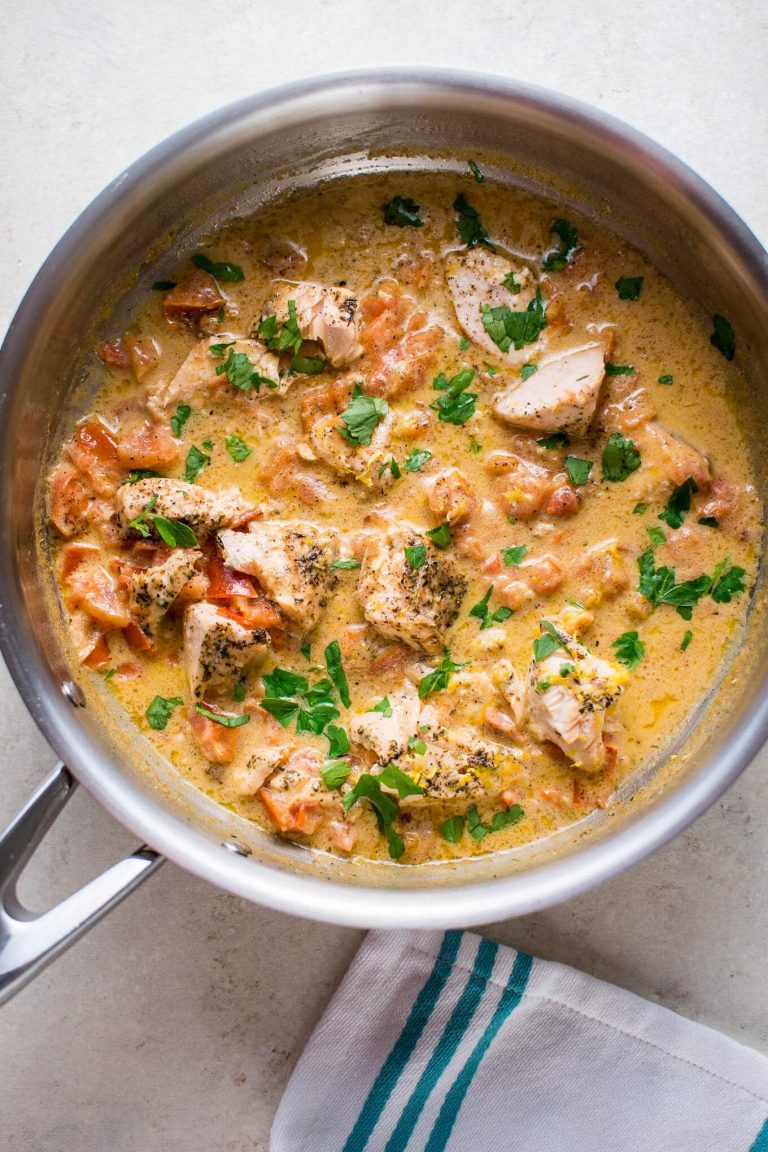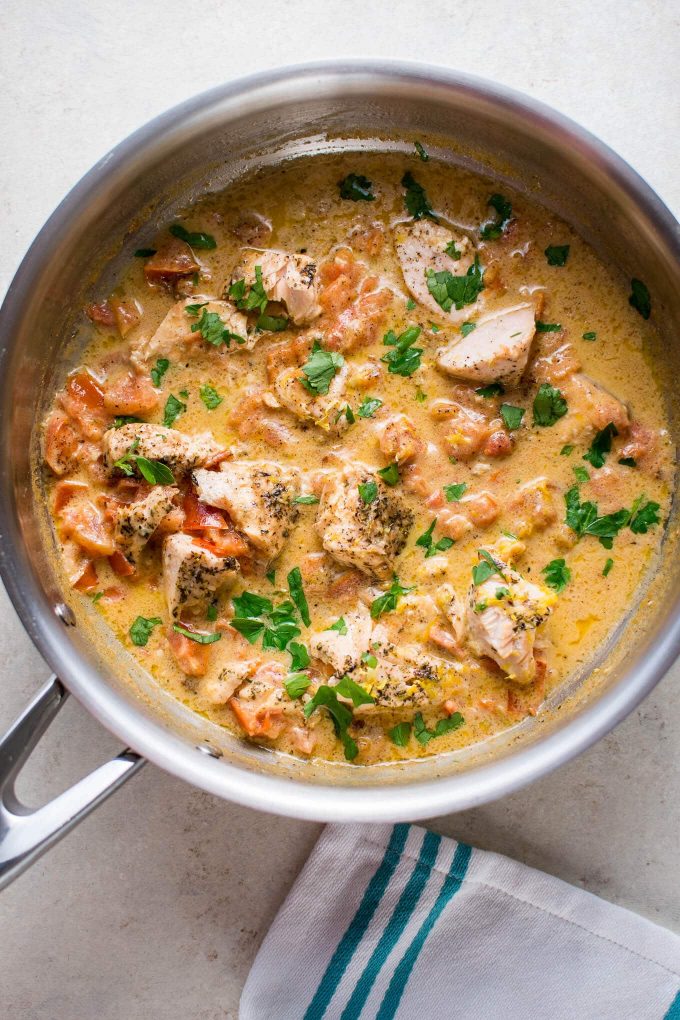 It's not spring yet, but the lemon and tomato make this a comforting yet light and fresh meal. A little bit of Dijon mustard is my not-so-secret ingredient (you'll see it a lot if you read this blog often) for adding more depth of flavor.
Aaaand of course garlic is in here because it's basically my lifeblood. I actually need a new garlic press because I've managed to use mine to the point where it's partially destroyed. 🙂
Love creamy salmon recipes? You'll probably like my creamy Tuscan salmon or my creamy salmon piccata.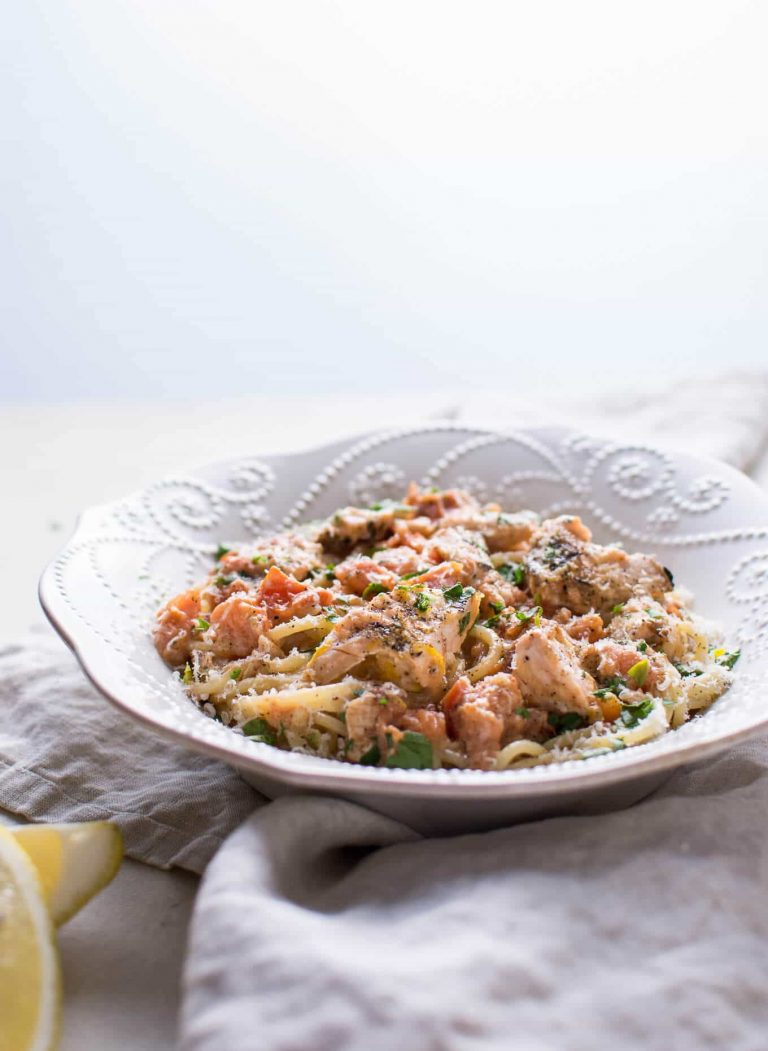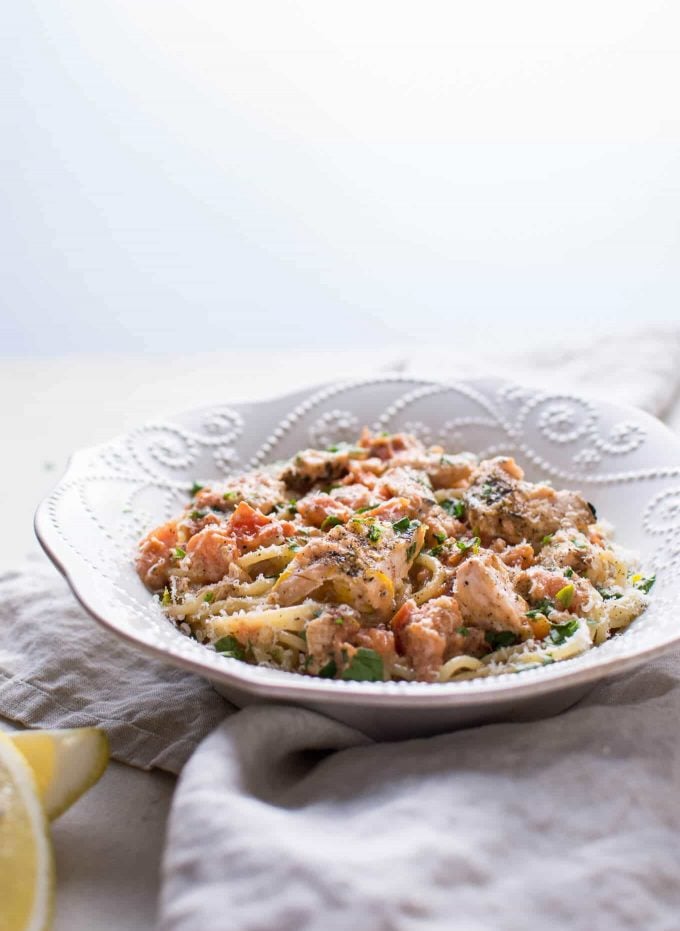 I used spaghetti for this creamy salmon pasta recipe, but feel free to sub with any pasta you choose.
And, like any pasta dish, a bit of fresh parmesan cheese grated on top seals the deal. 🙂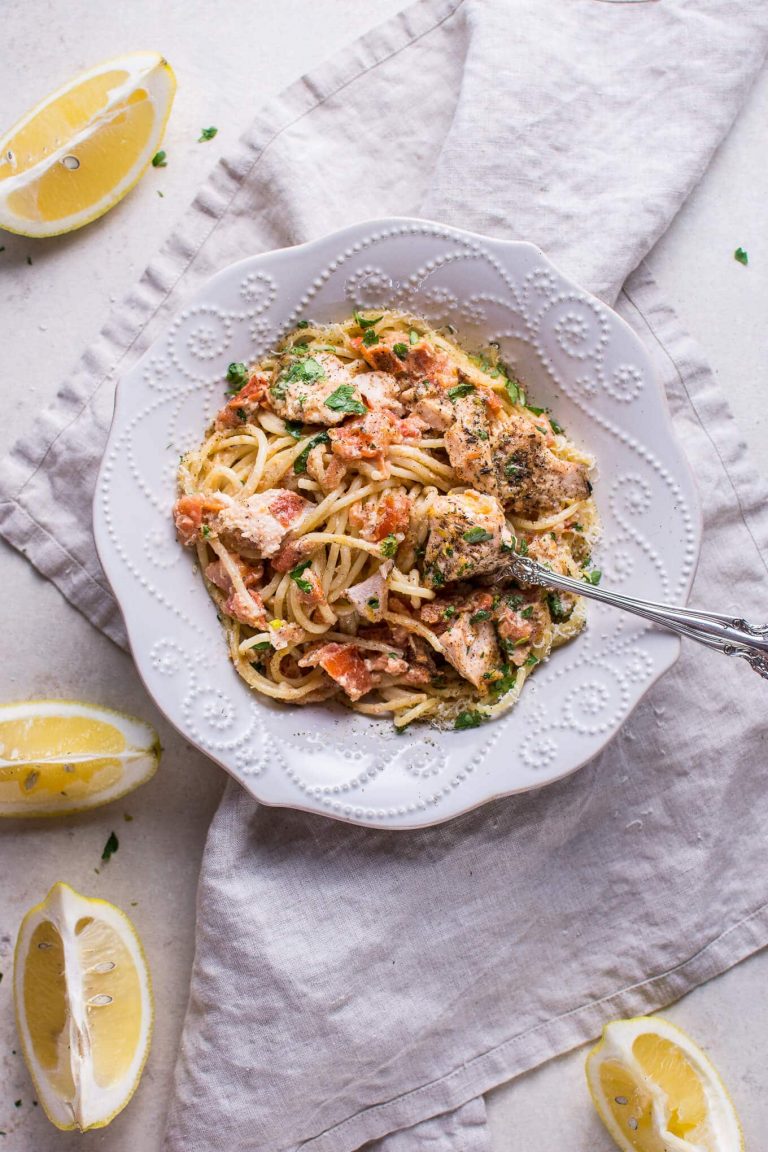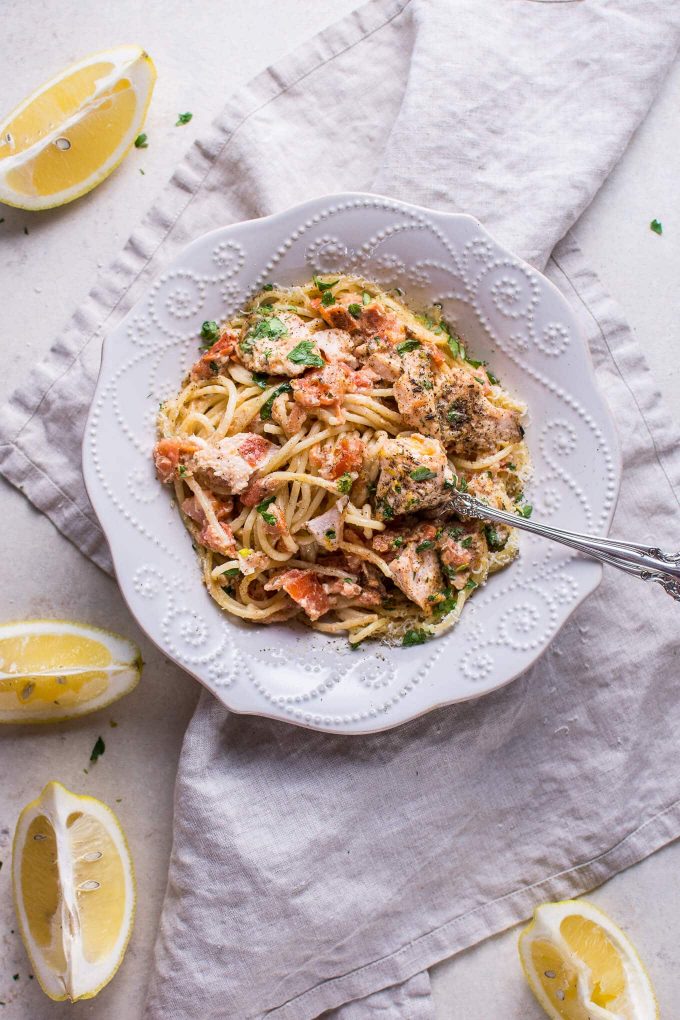 I hope you enjoy this easy salmon pasta recipe as much as I did! I really need to make it again soon.
That lemon-tomato-cream sauce is the best, really.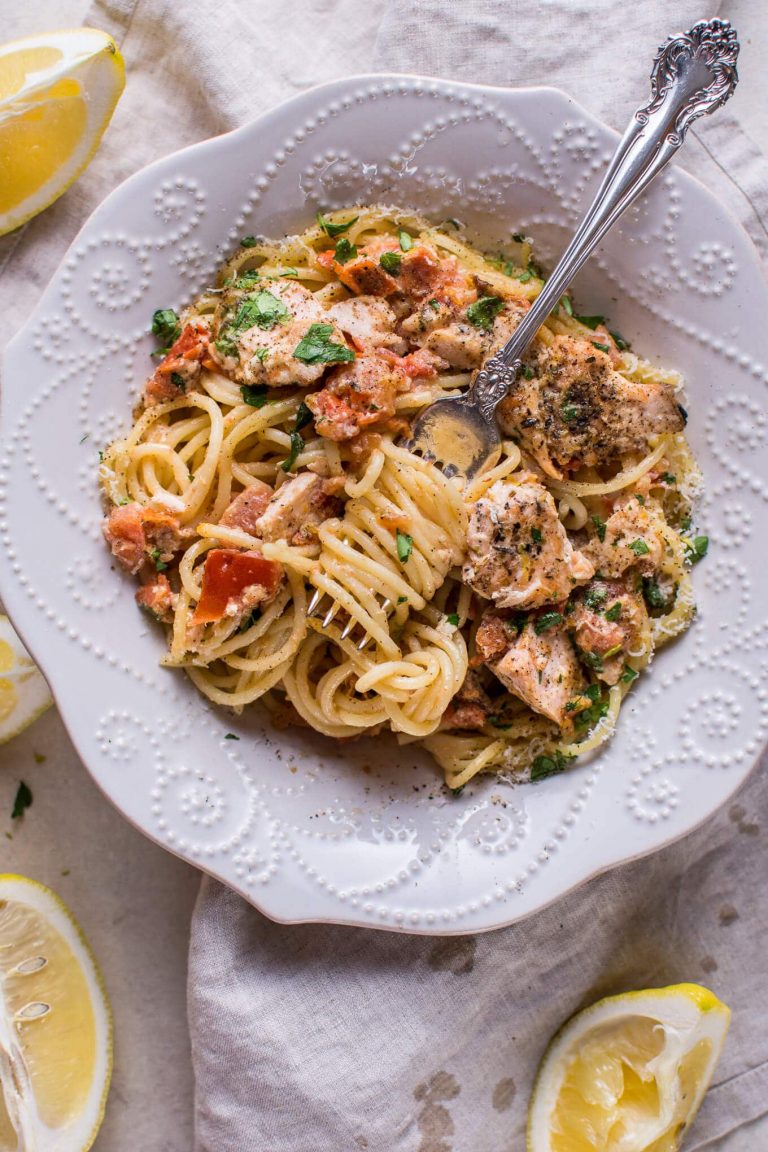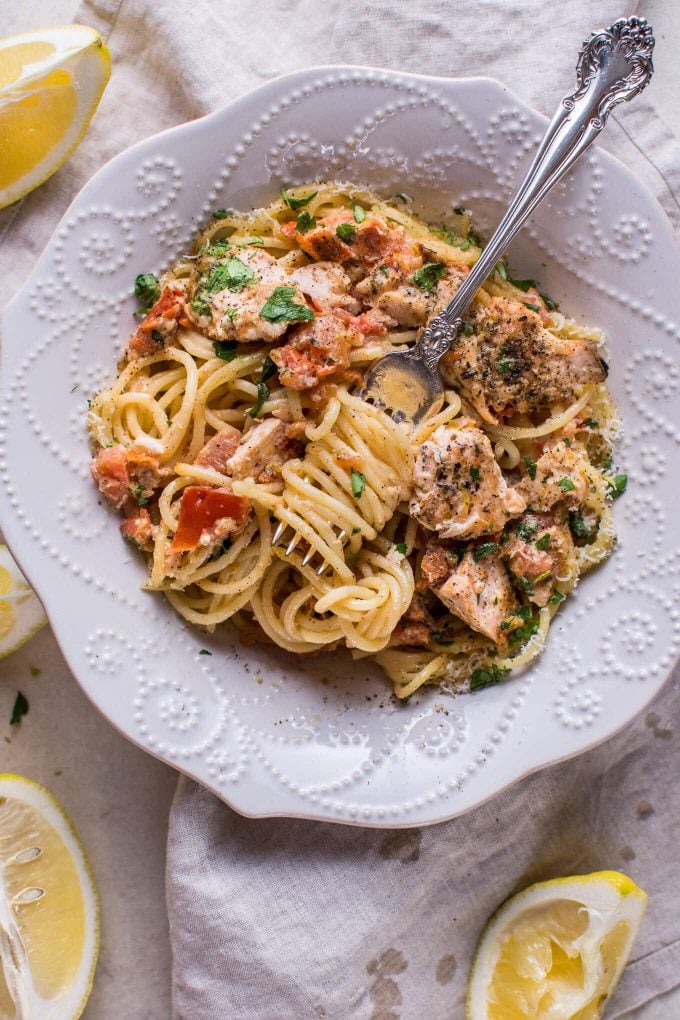 Let me know in the comments below if you have any questions about this fresh salmon pasta recipe!
More salmon pasta recipes you may like: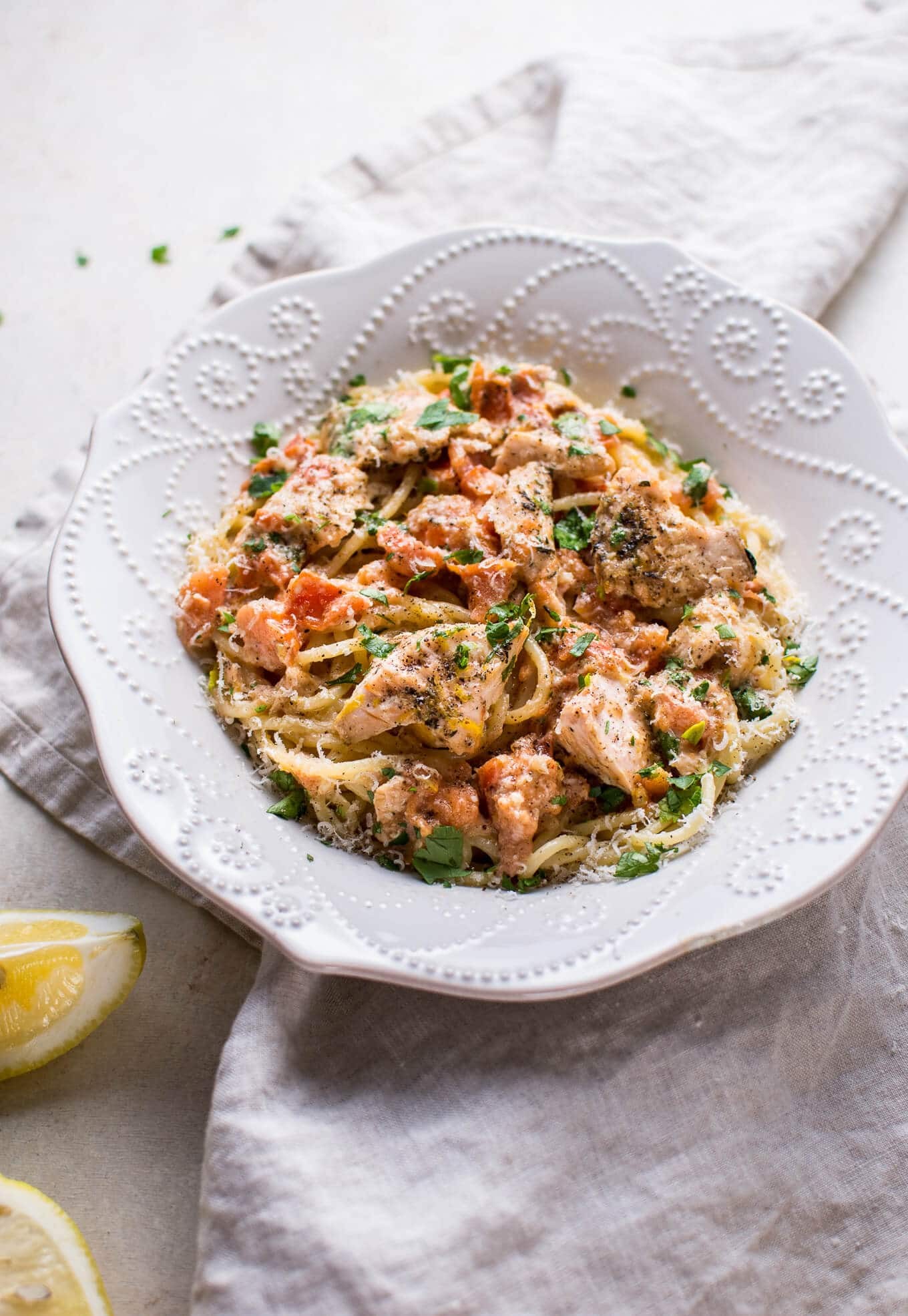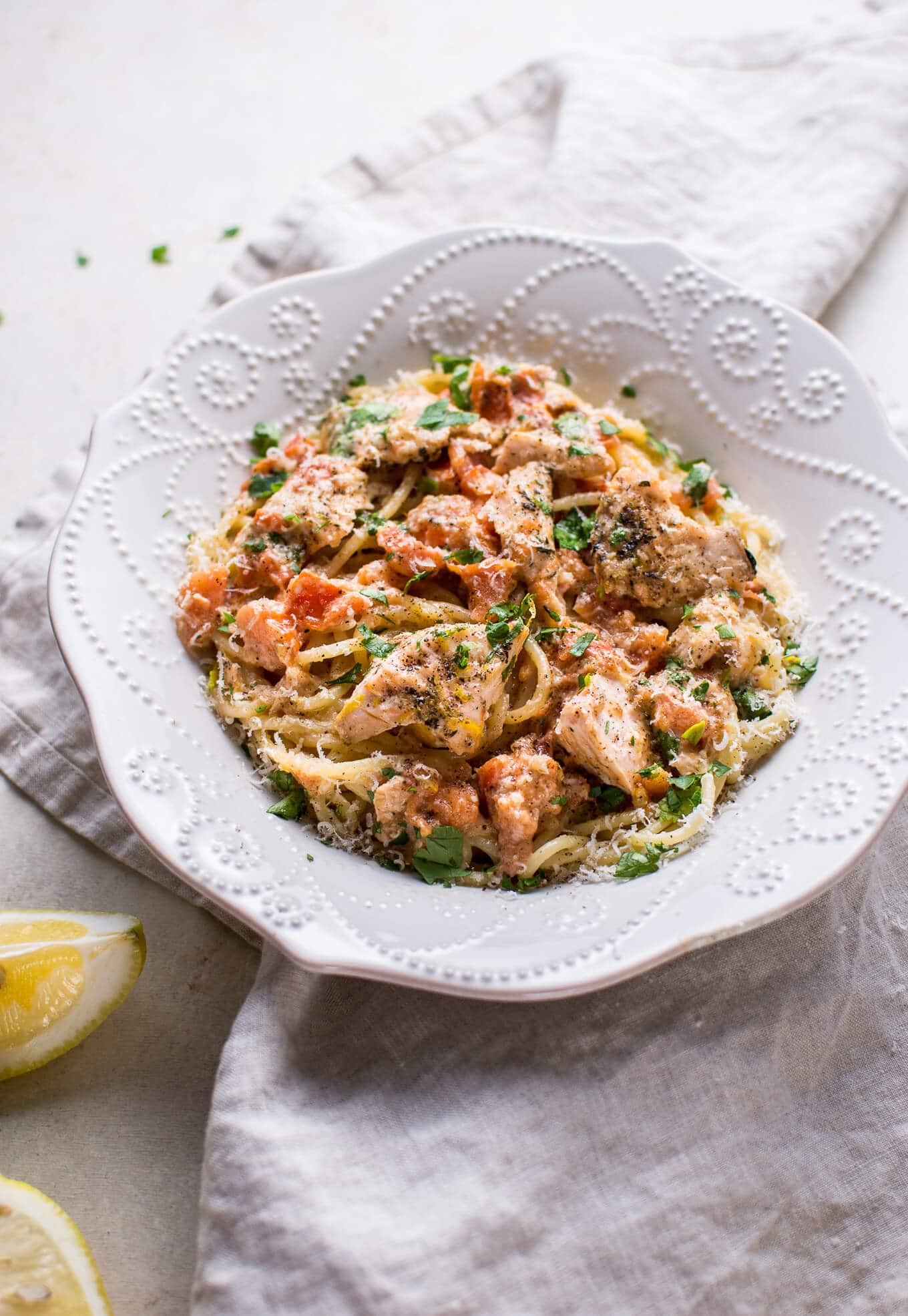 Creamy Lemon and Fresh Tomato Salmon Pasta
My creamy lemon and fresh tomato salmon pasta is an easy and fresh (yet decadent!) pasta dish that's ready in only 20 minutes.
Ingredients
4

ounces

uncooked spaghetti (or other pasta)

1/2

pound

fresh salmon

Italian seasoning

Salt & pepper

1

tablespoon

olive oil

1

tablespoon

butter

1/2

cup

freshly grated parmesan cheese

2

medium tomatoes

chopped

3/4

cup

heavy/whipping cream

Juice and zest of 1/2 medium lemon (about 1 tbsp juice)

3

cloves

garlic

minced

1

teaspoon

Dijon mustard

Chopped parsley (optional)
Instructions
Boil a salted pot of water and cook pasta according to package directions.

Sprinkle both sides of the salmon with Italian seasoning and salt & pepper, to taste

Add oil and butter to a skillet on medium heat. Sear salmon for 3 minutes/side. Remove salmon from pan and set aside.

Add the tomato, cream, lemon juice and zest, garlic, and Dijon mustard. Stir until smooth and cook for 2 minutes, then stir in the parmesan.

Add the salmon back into the pan, and use a spoon to break it up into smaller pieces. Reduce heat to medium-low and cover. Cook for another 5 minutes, or until the salmon is cooked through. Season with more salt and pepper if needed.

Once the pasta is cooked, toss it with the sauce. Serve with parsley and some extra grated parmesan cheese if desired.
Recipe Notes
I don't recommend subbing the cream with half-and-half or milk because the sauce is likely to curdle due to the amount of citrus in this recipe.