This asparagus and mushroom pasta is a healthy, light, and super flavorful meatless dish that comes together quickly and is reminiscent of spring.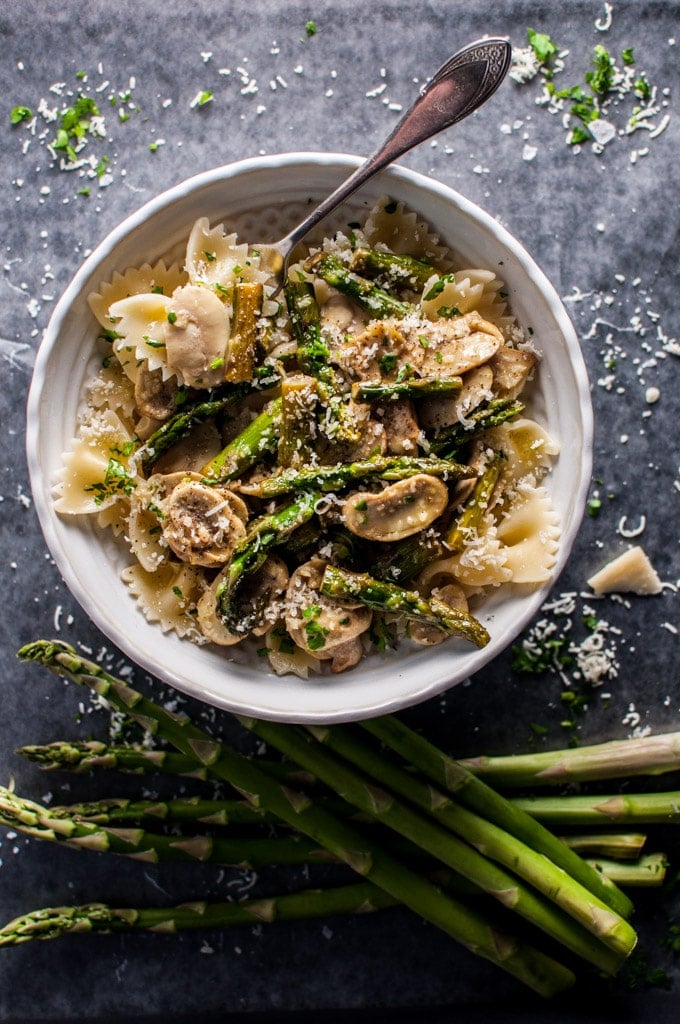 Well, as I type this, it's snowing. It does that a lot here. We've been spoiled this winter, but I still can't stand the cold white stuff falling from the sky.
I'm a meat and potatoes kinda guy, so I was quite surprised just how much I enjoyed this pasta dish.
I have a bit of a hate on for farfalle (bowtie) pasta. When I was an obnoxious teenager, my mom made me spaghetti and meatballs with bowties instead of spaghetti. Being the budding gourmand, I threw the biggest hissy fit because HOW DARE SHE FEED ME BOWTIE PASTA WITH MEATBALLS, and I subsequently got myself banned from that spaghetti and meatballs recipe for like 10 years. Good times.
Why did I choose bowties for this recipe? Because I want to re-live those repressed memories. No, I just thought it would look pretty in photos. You can choose any kind of pasta you want. Feel safe in knowing that.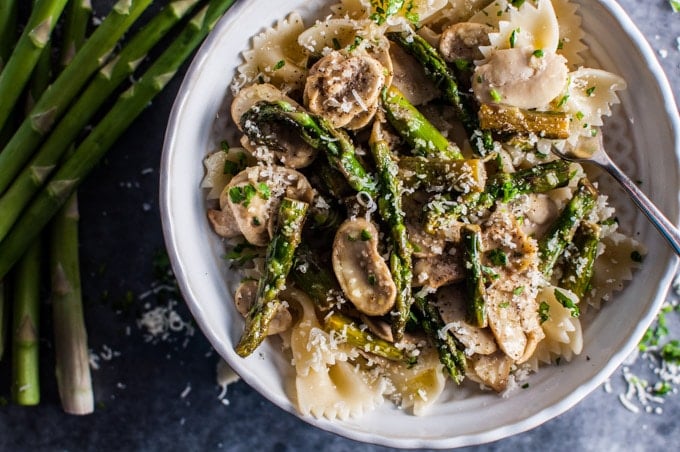 Will you make this asparagus and mushroom pasta dish?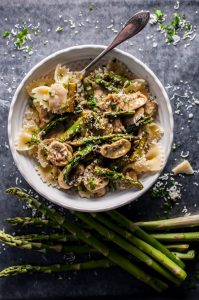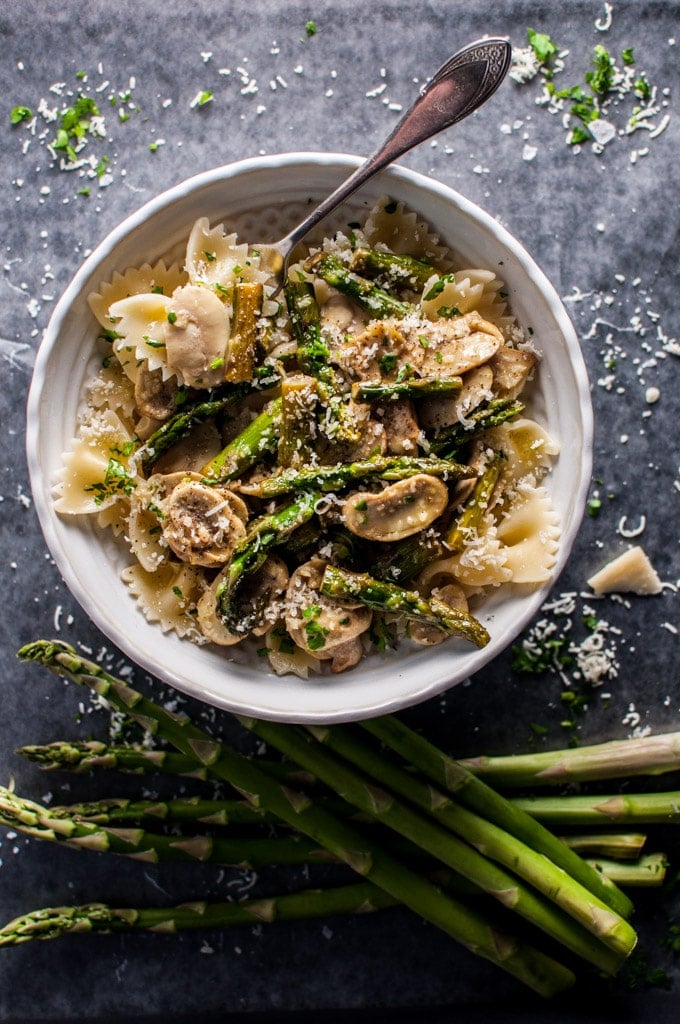 Print
Asparagus and Mushroom Pasta
Yield 2
A fast and delicious vegetarian pasta dish that is perfect for spring.
Ingredients
4 ounces farfalle (or other) pasta
1/2 bunch asparagus (approx. 12 stalks), ends trimmed
2 tablespoons butter
1 tablespoon olive oil
7 ounces white mushrooms
2 cloves garlic, minced
Juice of 1/2 lemon
Salt & pepper, to taste
Freshly grated parmesan cheese (optional)
Instructions
Bring a large pot of salted water to a boil. Cook pasta according to directions.
Grate parmesan. Set aside.
Meanwhile, in a skillet, melt butter and olive oil on medium heat.
Cut asparagus into roughly five equal sections (four cuts). Add asparagus to pan and cook for approximately five minutes.
While asparagus is cooking, slice mushrooms. Add to skillet. Cook for a few minutes, until mushrooms are softened.
Add the garlic, lemon juice, and salt and pepper. Stir and cook for a couple more minutes. Serve over the pasta once it has cooked and generously sprinkle with grated parmesan cheese.
Notes
Recipe is easily doubled.
Courses Main Course
Cuisine Italian