This easy Instant Pot beef stew recipe has a rich and flavorful sauce and tender fall-apart beef, carrots, and potatoes. The perfect hearty family meal made faster than oven or stove methods.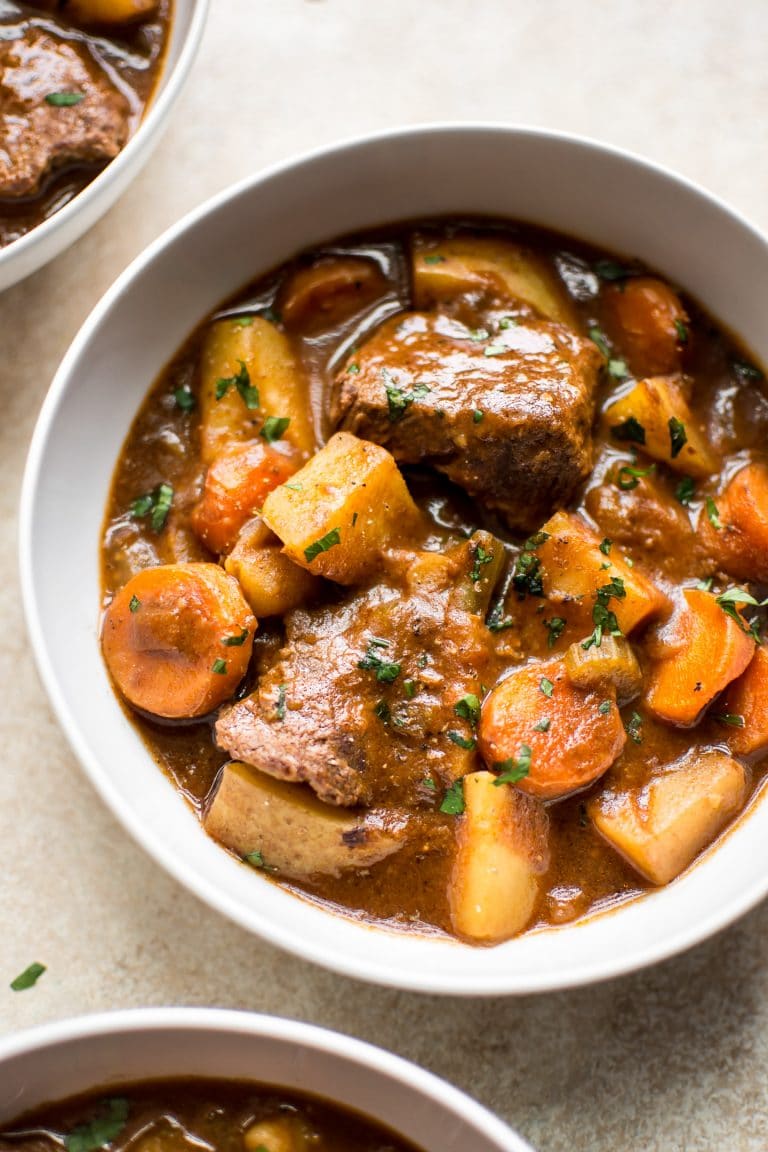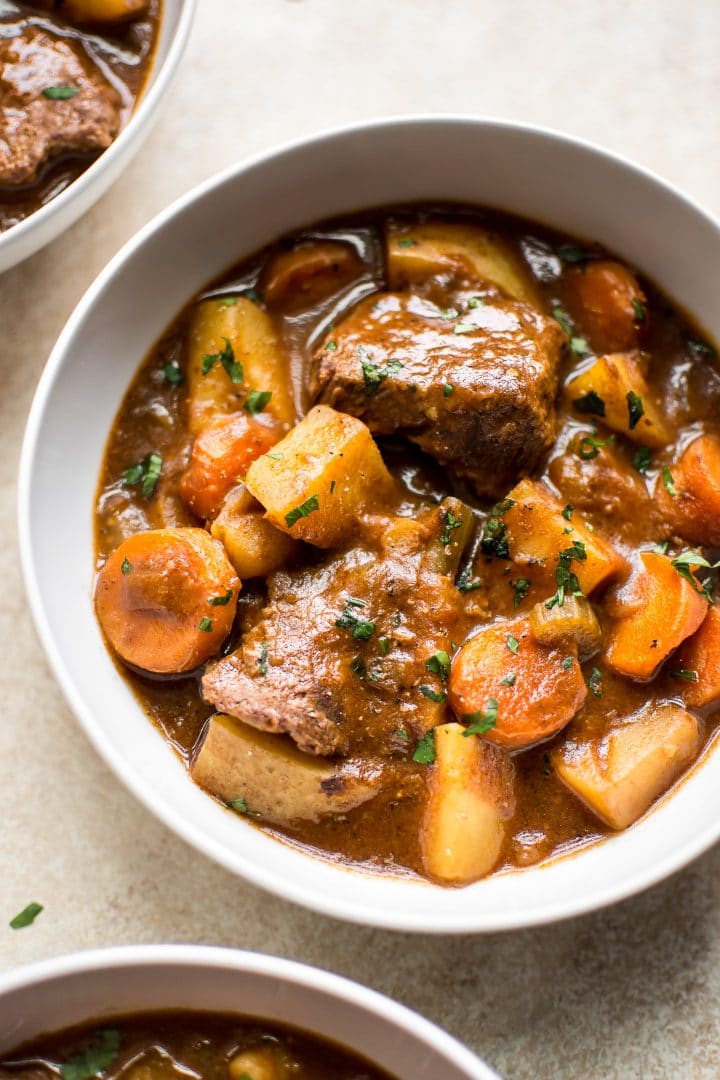 I have plenty of Instant Pot recipes on here, and it was only a matter of time before I tried out a classic beef stew in the Instant Pot.
I also have an Instant Pot Irish stew (with Guinness!) if you're looking for something a little different and a tasty Crockpot beef stew as well. The slow cooker version of the stew is very similar to this Instant Pot version.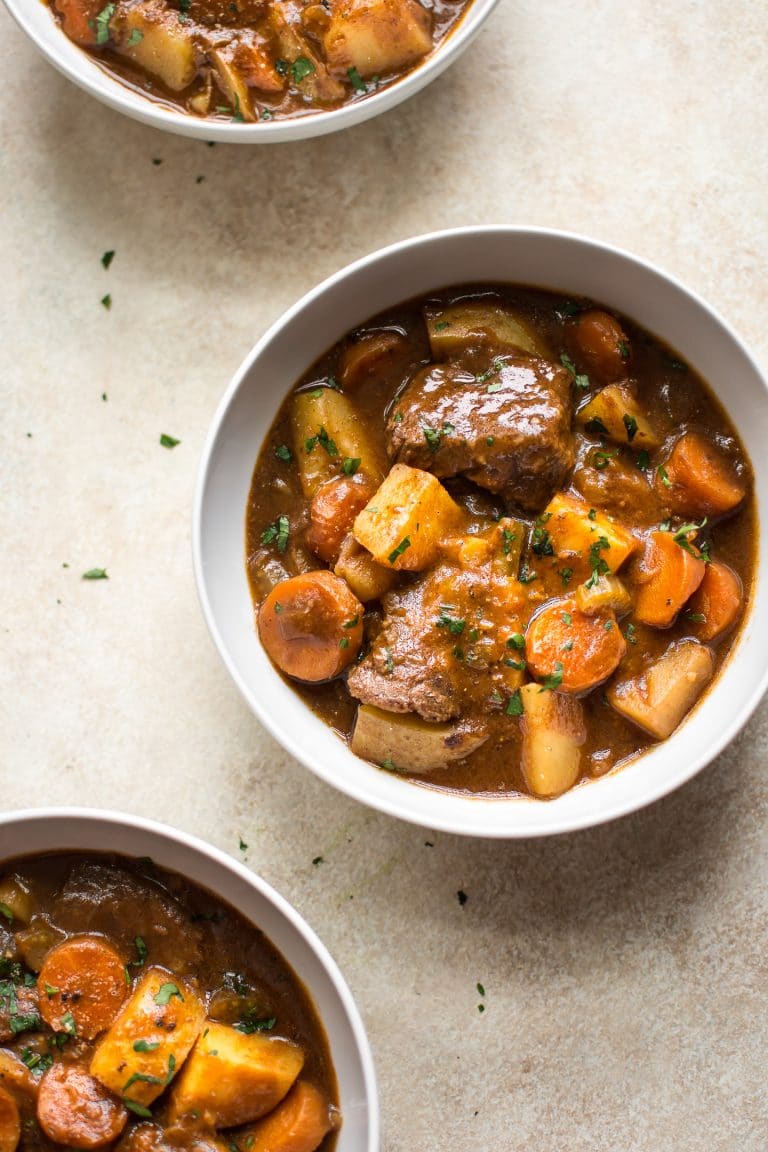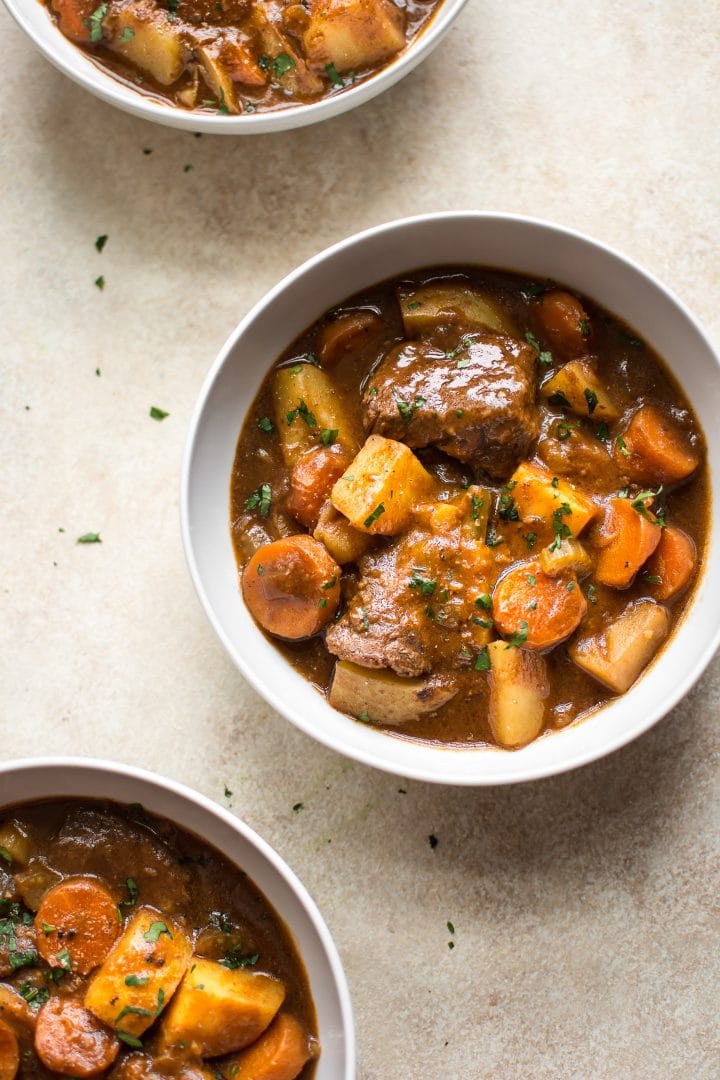 Beef stew is one of my favorite things to make in the electric pressure cooker because it really saves time/effort when it comes to tenderizing tougher cuts of meat like your standard beef stewing cubes. On the stove this can take anywhere from 1-2 hours to get the meat tender, but the Instant Pot makes this process quick and easier in my opinion. It's really hands off once you close that lid, which is something I like.
The beef, carrots, and potatoes in this stew will melt in your mouth. I tested this simple beef stew recipe a couple of times, and both times were delicious even though my Instant Pot stopped working halfway through the first attempt and I had to finish it without being able to actually pressure cook it.
Turns out I needed to replace my sealing ring! I ordered some from Amazon so my pressure cooking attempts aren't botched again. 😛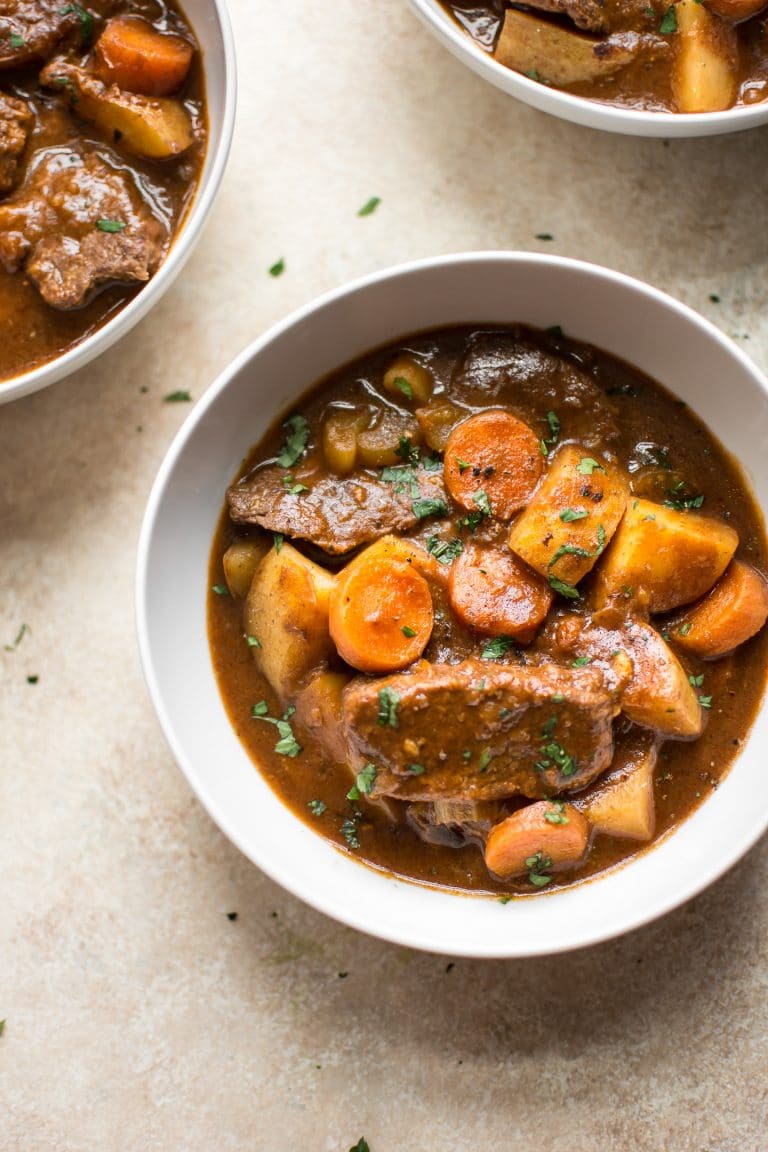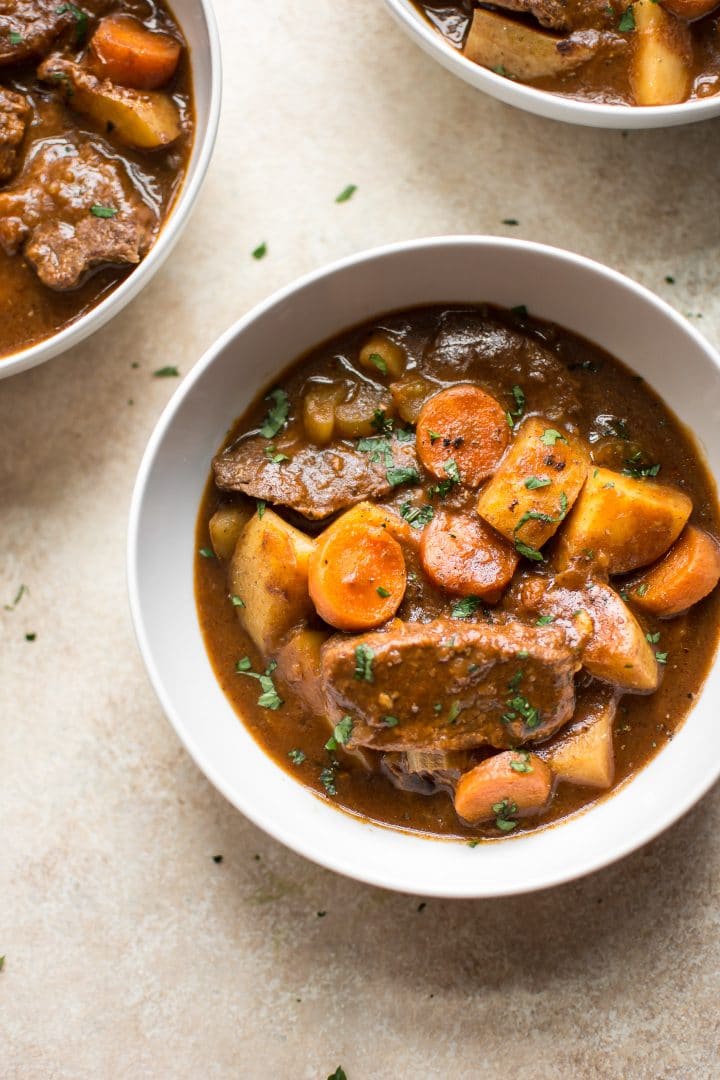 How to make Instant Pot beef stew
Start by dredging the beef in flour and then searing it on all sides. I love how this step can be done right in the Instant Pot. I definitely do not recommend skipping this step. It adds so much flavor to the recipe.
Once the beef is browned, sauté the onion for a few minutes.
Add in the sauce ingredients and give it a good stir.
Add in everything else, close the lid, and cook on high pressure!
You can do a quick pressure release when the time is up (I usually do this), but a natural release (even if you just do it partway e.g. 10 minutes then do a quick release) will allow the meat to tenderize even more.
The Dijon mustard and Worcestershire sauce are not-so-secret ingredients that I love to include in various recipes to add that extra "something something". I don't recommend omitting them, but if you're in a pinch, you could probably leave one or both of them out if needed.
Pro tip: The meat, carrots, celery, and potatoes were all cut fairly chunky for this recipe, but you could always chop things finer if you prefer that. They'll end up soft and tender either way.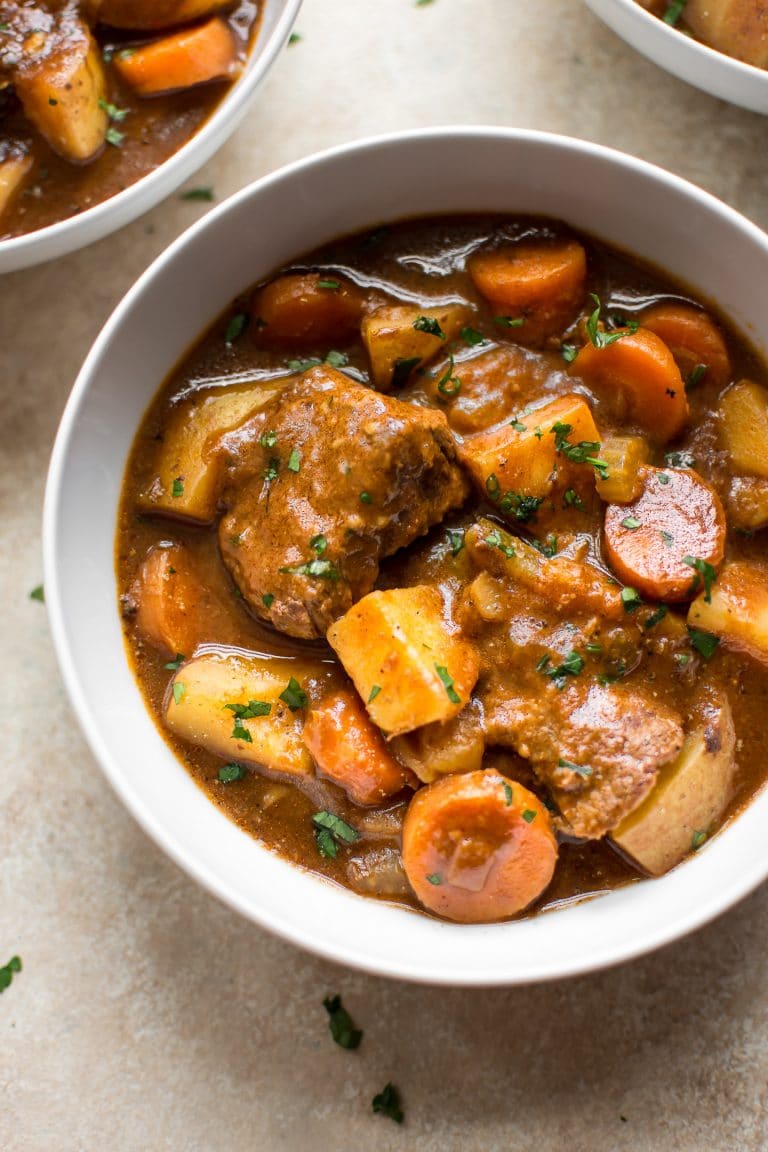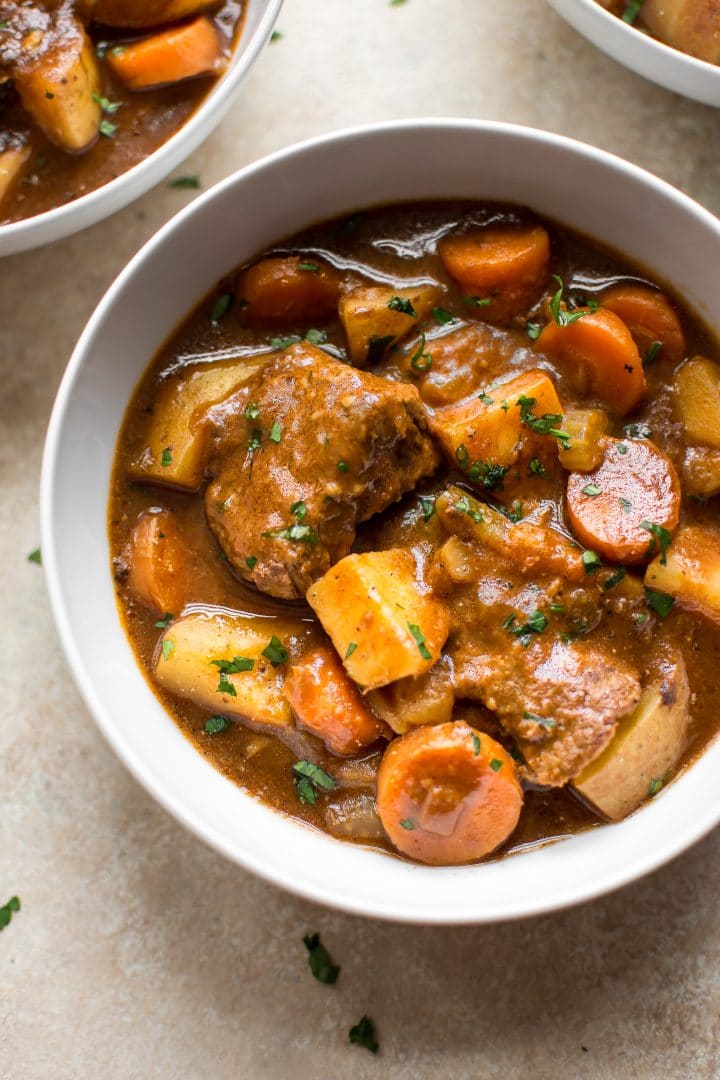 I hope you'll give this Instant Pot beef stew a try! It's perfect for crisper weather.
Let me know if you have any questions about this recipe.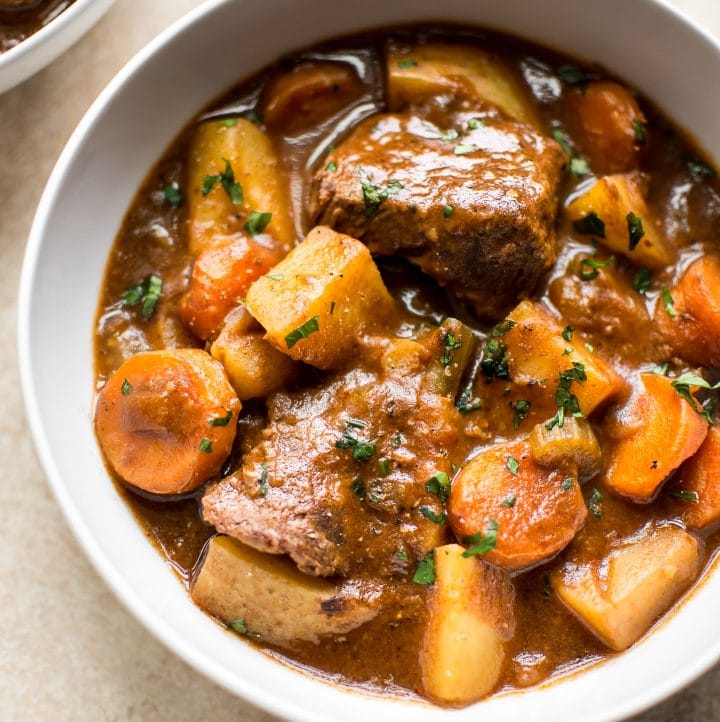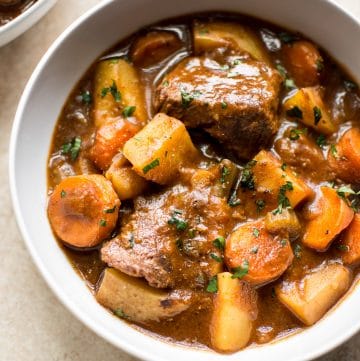 Instant Pot Beef Stew
This easy Instant Pot beef stew recipe has a rich and flavorful sauce and tender fall-apart beef, carrots, and potatoes. The perfect hearty family meal made faster than oven or stove methods.
Ingredients
2

pounds

beef stewing cubes

Flour

for dredging

2

tablespoons

olive oil

divided

1

medium

onion

chopped

2-3

large

carrots

sliced

3

sticks

celery

chopped

2

pounds

yellow potatoes

diced

2.5

cups

beef broth

1

(5.5 ounce)

can tomato paste

1

tablespoon

Dijon mustard

1

tablespoon

Worcestershire sauce

4

cloves

garlic

minced
Instructions
Dredge the beef in flour on all sides. Add 1 tbsp of the oil to your Instant Pot. Press the "sauté" button and once the oil is hot, add the beef. Brown the beef on all sides (I find this easiest to do with tongs). I like to do 2 batches so the meat isn't crowded and browns nicely.

Once the beef is nicely seared, take it out of the Instant Pot and set aside. I add the second tablespoon of oil before browning the second batch.

While the beef is browning, I like to do the onions/celery/carrots/potato chopping, but if you prefer to prep everything beforehand, that is fine too.

When the second batch of beef is browned, take it out of the Instant Pot. Add the onion and sauté for 3-4 minutes.

Add the beef broth, tomato paste, Dijon mustard, Worcestershire sauce, and garlic to the Instant Pot. Be sure to scrape up the brown bits from the bottom (I use a wooden spoon). Give it a good stir.

Add the remaining ingredients. The Instant Pot will be quite full, but it should not go over the maximum capacity line.

Close the lid and set the valve on "sealing", and cook on high pressure for 35 minutes. It will take 10-15 minutes for the Instant Pot to get up to pressure.

Once the countdown is done, I usually do a quick release if I'm in a rush. A natural pressure release (even partial) definitely won't hurt since the potatoes and carrots are already pretty soft in this dish, and it will leave everything even more tender. Season with salt & pepper as needed, and enjoy! Recipe freezes well.
Notes
Inactive time represents the time it will take to get your Instant Pot up to pressure.
I use this 6-quart Instant Pot.
Stove-top tips: You can definitely make this on the stove in a large pot if needed. I would follow all the instructions, but then let it "stew" on medium-low heat with the pot's lid slightly ajar until the meat is tender. Timing will vary, but it will be anywhere from 1-2 hours. I would stir it occasionally to ensure nothing sticks to the bottom of the pot.
Crockpot: Try my slow cooker beef stew recipe.