This Instant Pot chicken and rice recipe has tender, juicy chicken and the most amazingly soft and flavorful rice. You can even add carrots to make it a complete meal!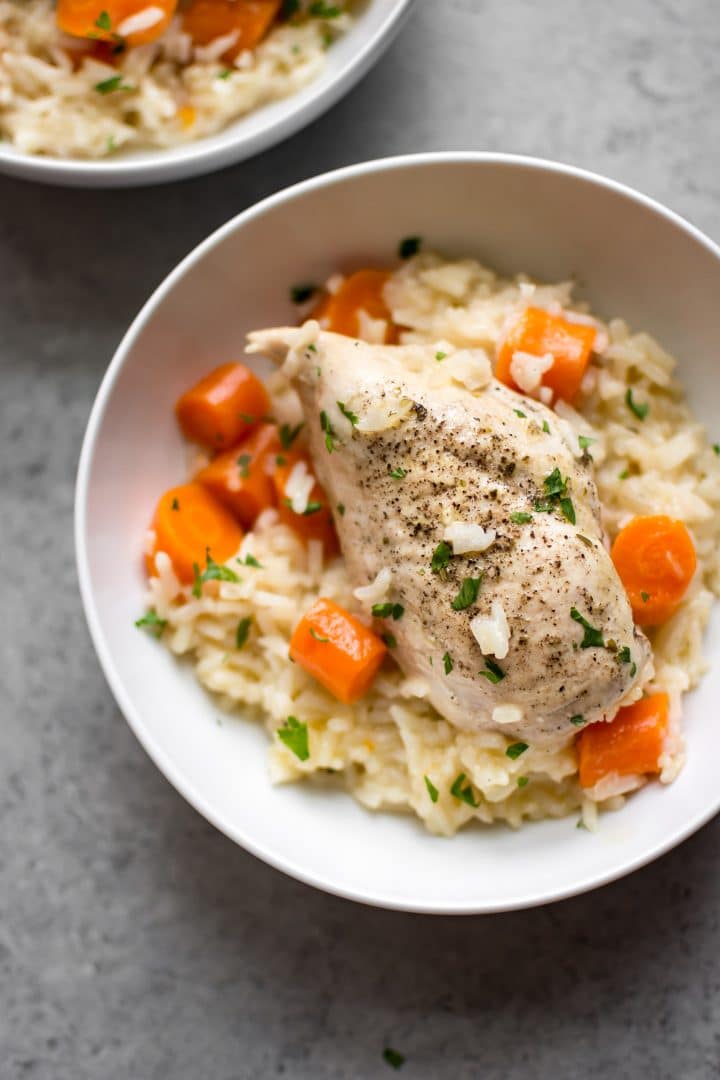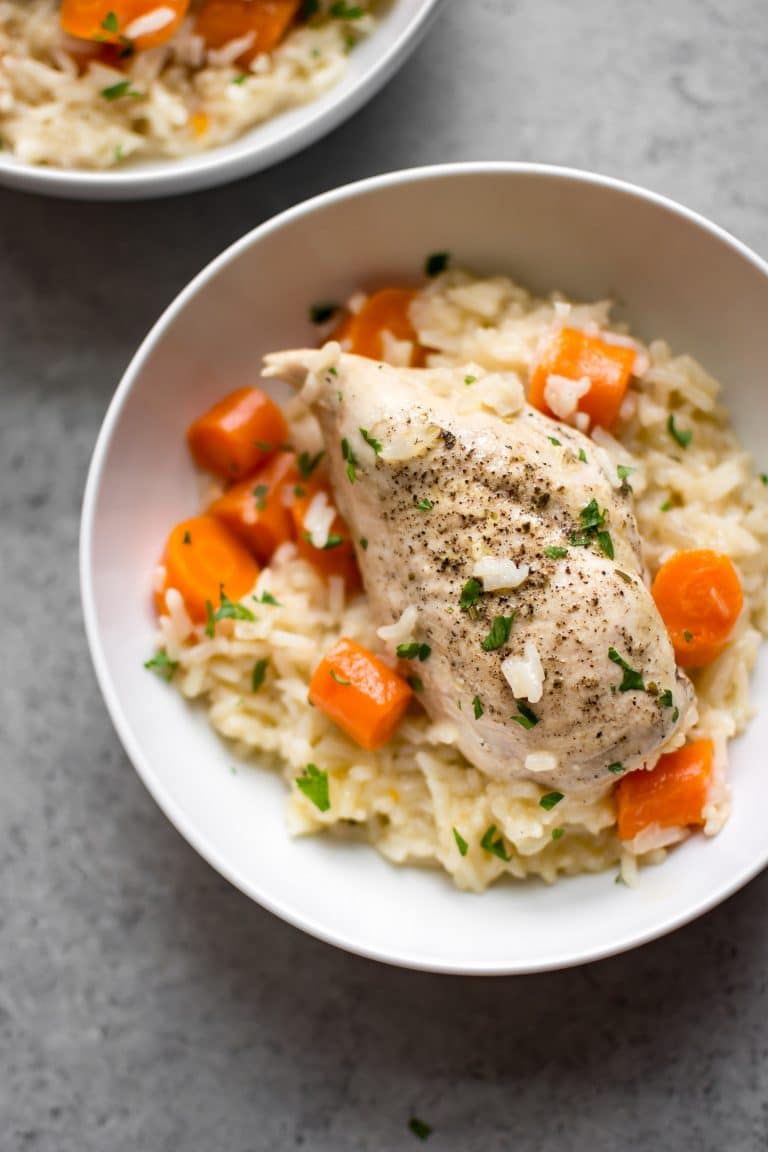 This lemon chicken and rice recipe came about because I keep seeing Crockpot recipes for chicken and rice that are cooked in there at the same time. Naturally, since I'm slightly obsessed with my Instant Pot (hello instant gratification), I wondered if it was possible to cook rice and chicken in an electric pressure cooker at the same time without anything going wrong. We'll figure out a Crockpot version later. 😛
There's just something tempting about throwing it all in there and it turning into a delicious dish with no extra work. I'm notorious for messing up stove-top rice, and I wanted to get this right!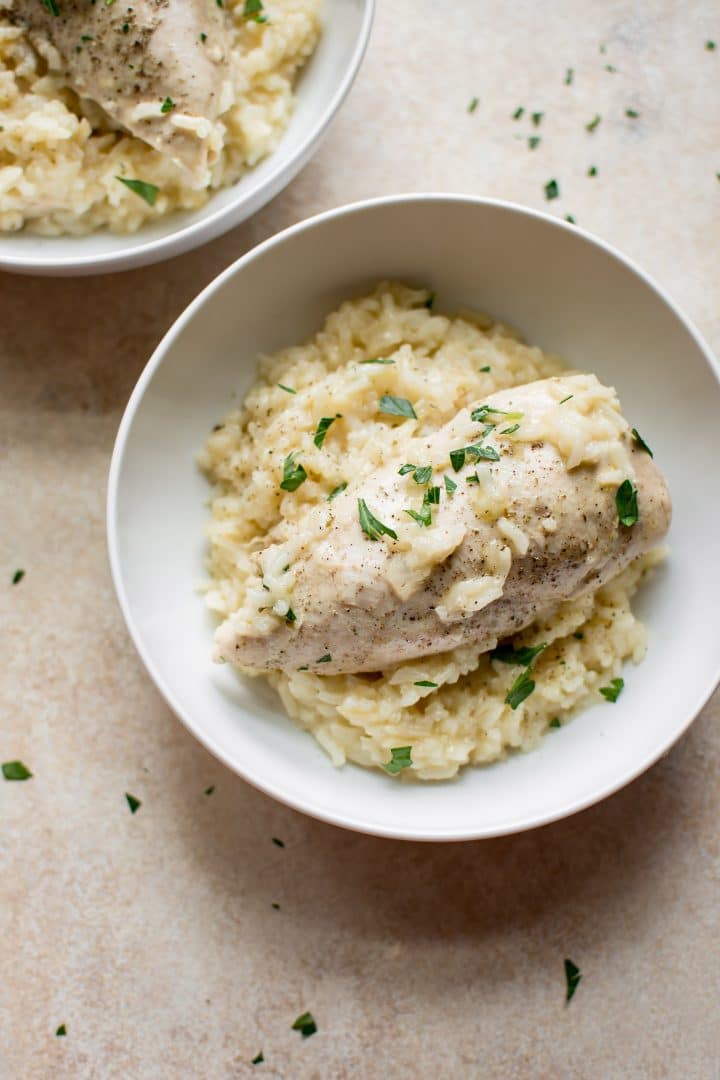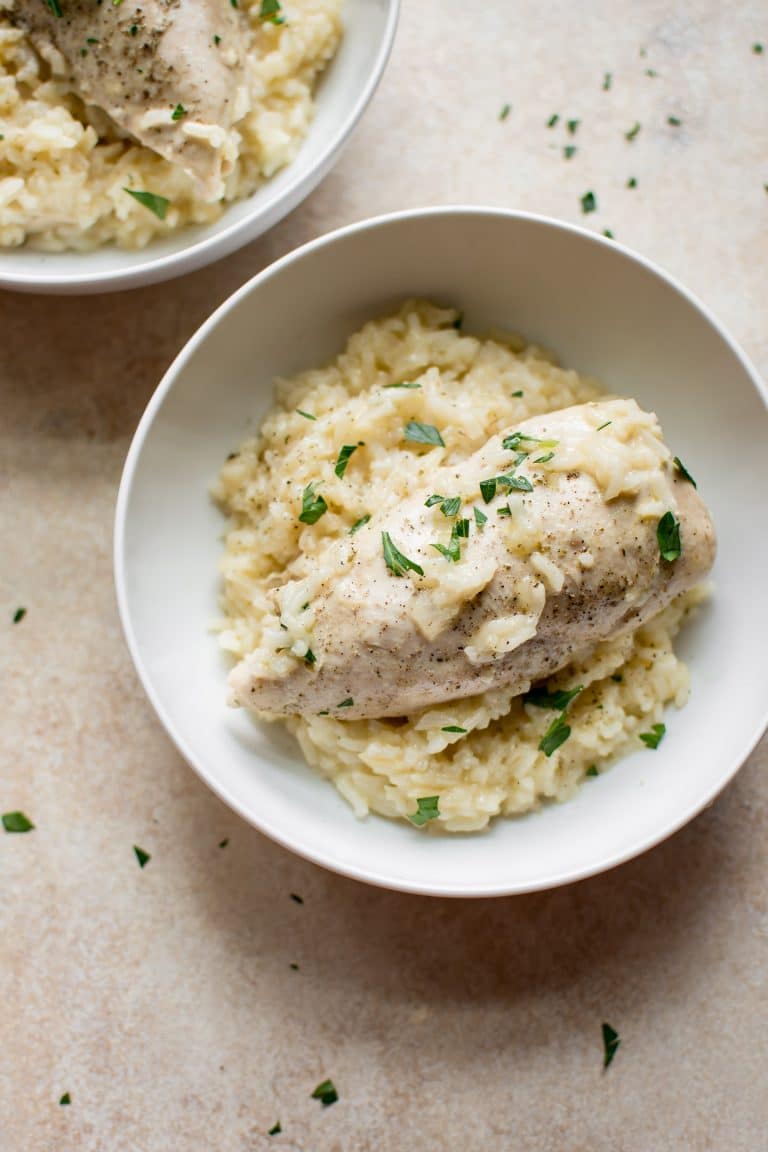 Turns out it is possible to make rice and chicken in the Instant Pot at the same time, and the results are great. It's also really hands-off once you close that lid, which to me is a bonus. 🙂
It saves time, dishes, and it's just really tasty. And that rice turns out sooo creamy without using cream or any type of condensed soup. There isn't a "sauce" per se, but the rice soaks up all the liquid and becomes perfectly seasoned and almost has a risotto quality to it.
And, this is actually a fairly healthy meal. I like the rice so much that I have posted a separate recipe for just the rice sans the chicken.
If you want a veggie in there, add some carrots… so good.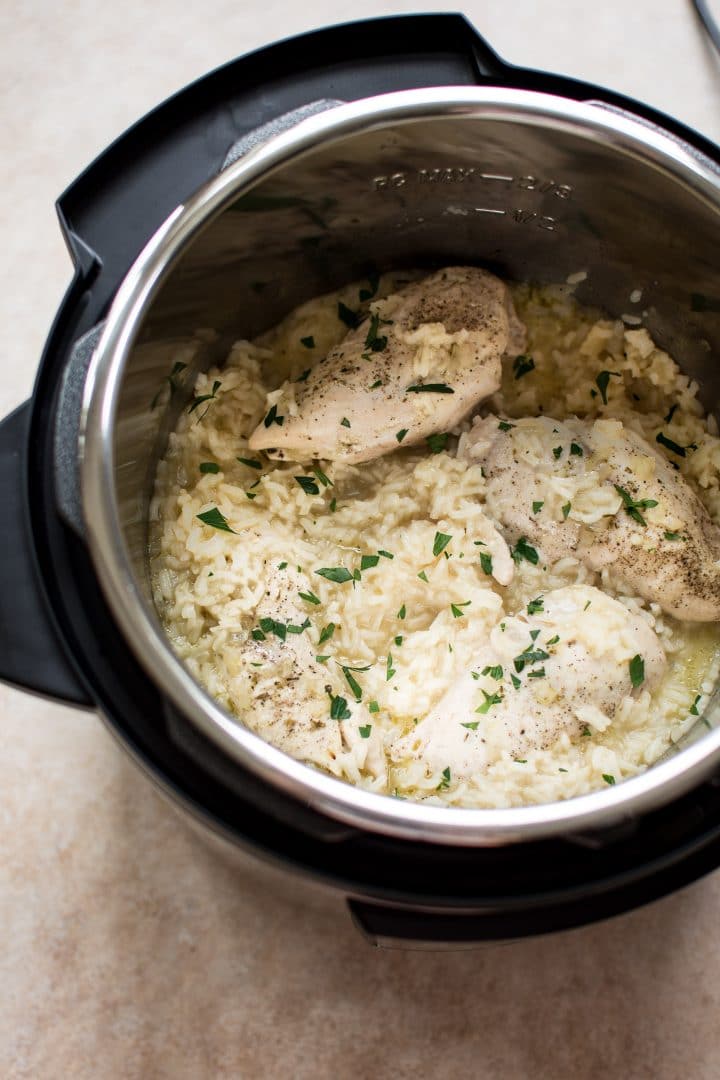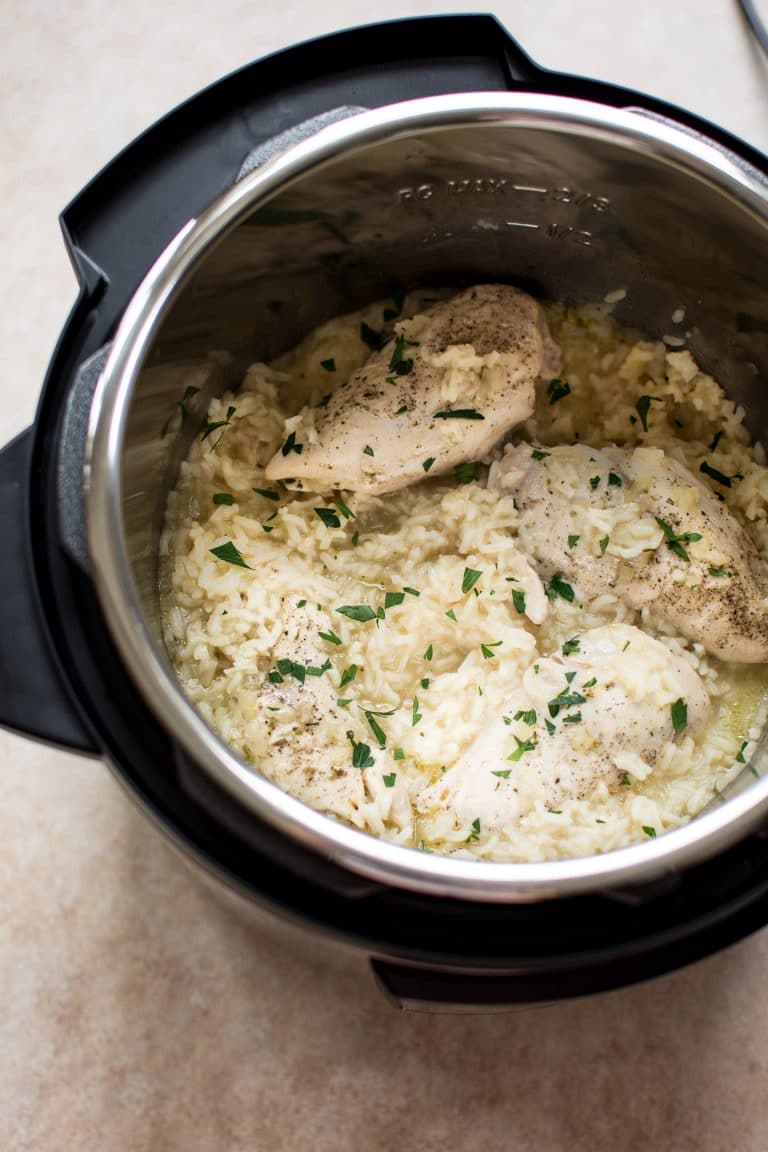 How to make chicken and rice in the Instant Pot
It's easy to make chicken and rice in the Instant Pot, but I do recommend following the tips below to ensure your recipe is successful. I have done a lot of research (and experimentation… I tested this recipe 5x before finally posting it) to make sure it works. I'm going to put it out there that there's a pretty good chance this recipe can go wrong if you don't follow the cooking instructions exactly.
Don't guess on liquid measurements.
Rinse the rice (I just measure it out, put it in a sieve, and then rinse and quickly let the water drain out).
Stick to using white rice (I've tested jasmine and basmati). Brown rice is a different beast.
Don't make substitutions unless you've made the recipe first and you're confident they will work… or you don't mind if it goes wrong in the name of experimentation. 😉
This recipe works best with larger chicken breasts. I don't look for a particular weight, but you know sometimes the ones at the grocery store are just tinier than you're used to. If you do end up with smaller ones, I'd reduce cooking time by a minute or two. You could definitely also try chicken thighs – they're typically more forgiving when it comes to overcooking them.
I really think this is the best chicken and rice. It's crazy easy and just so comforting.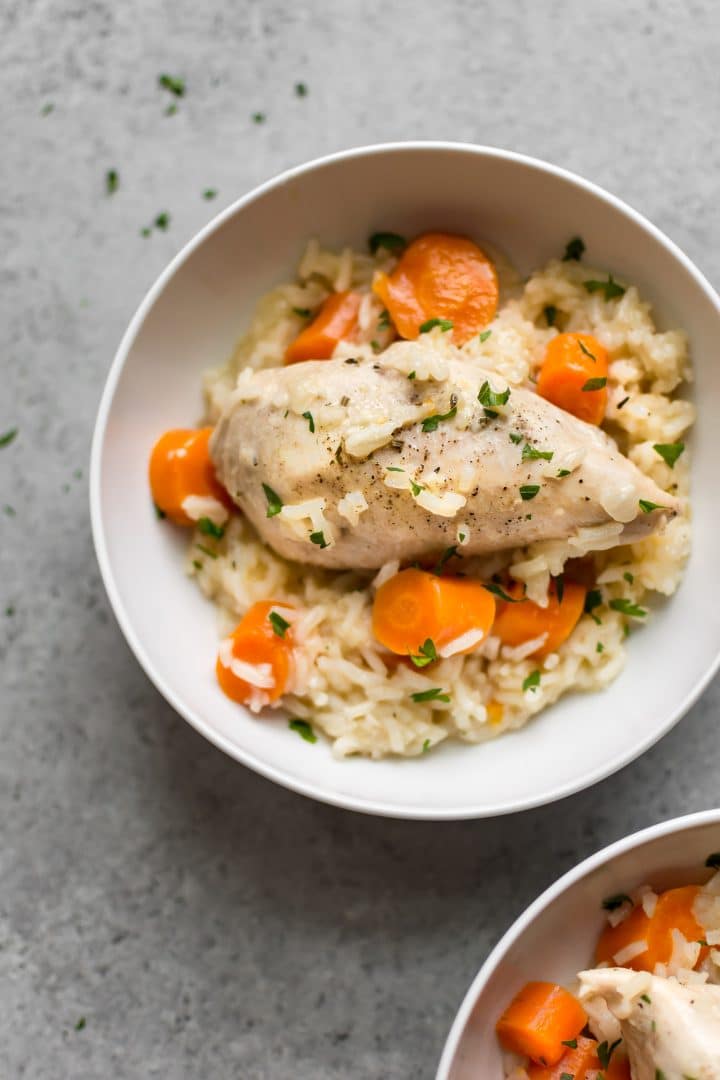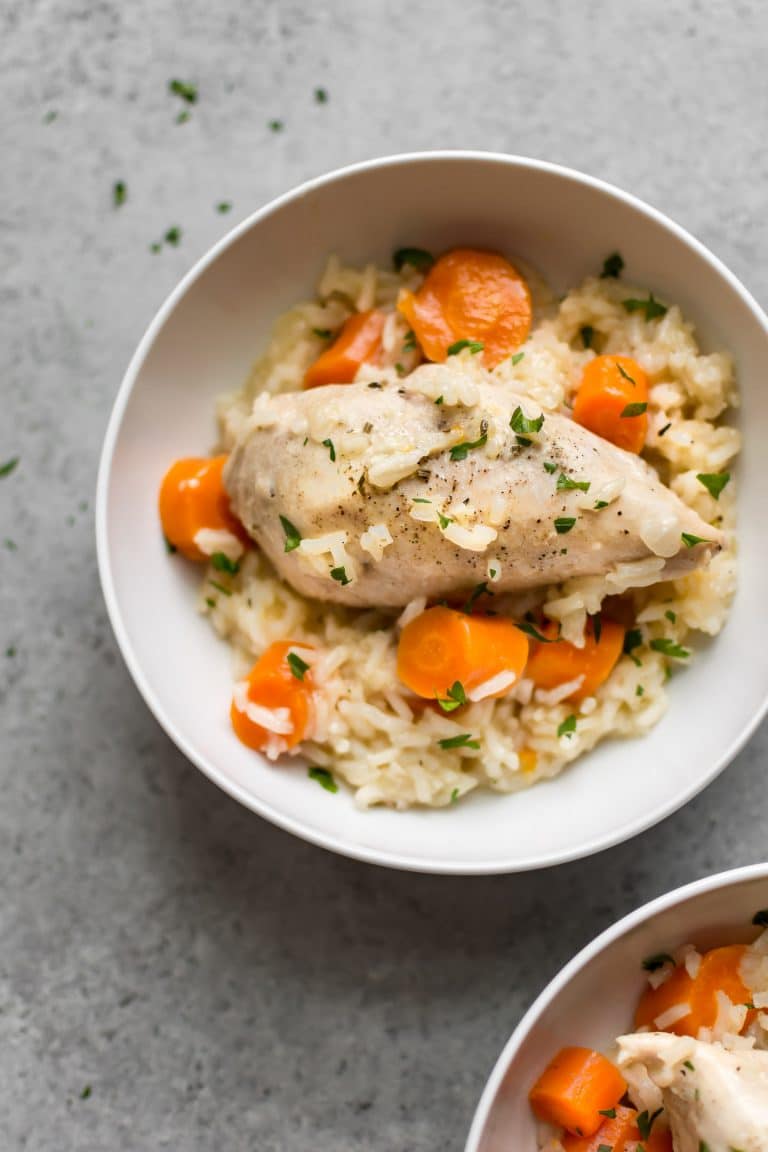 Love Instant Pot chicken recipes? Try my Instant Pot teriyaki chicken or my Instant Pot chicken tortilla soup recipe.
I hope you love this easy chicken and rice recipe!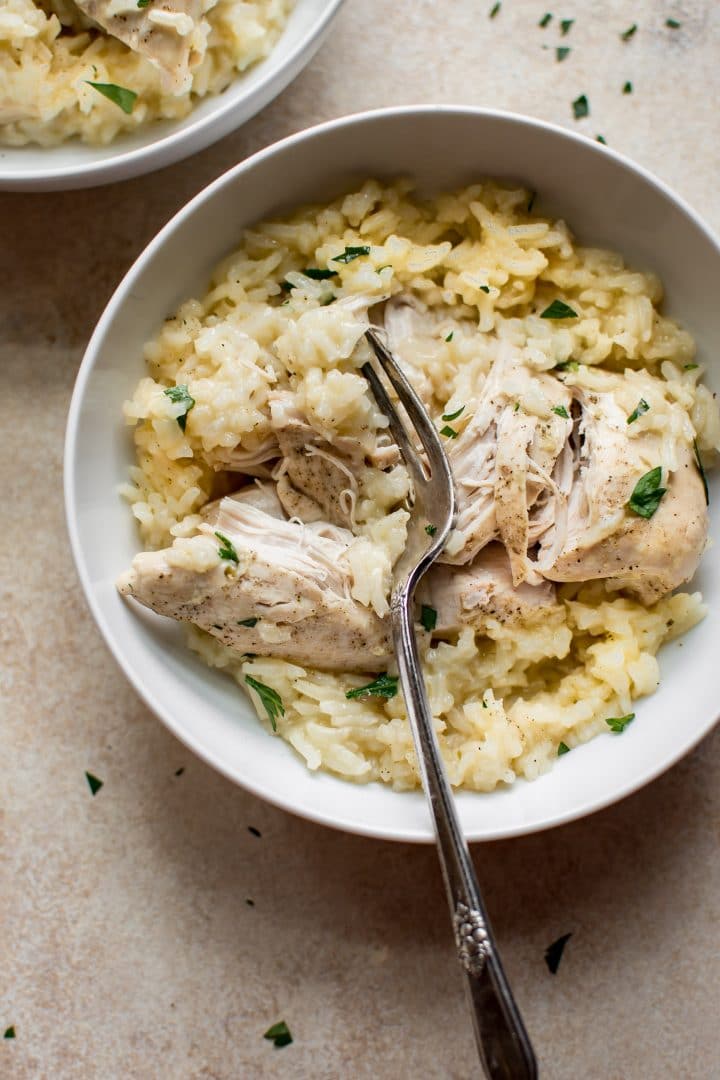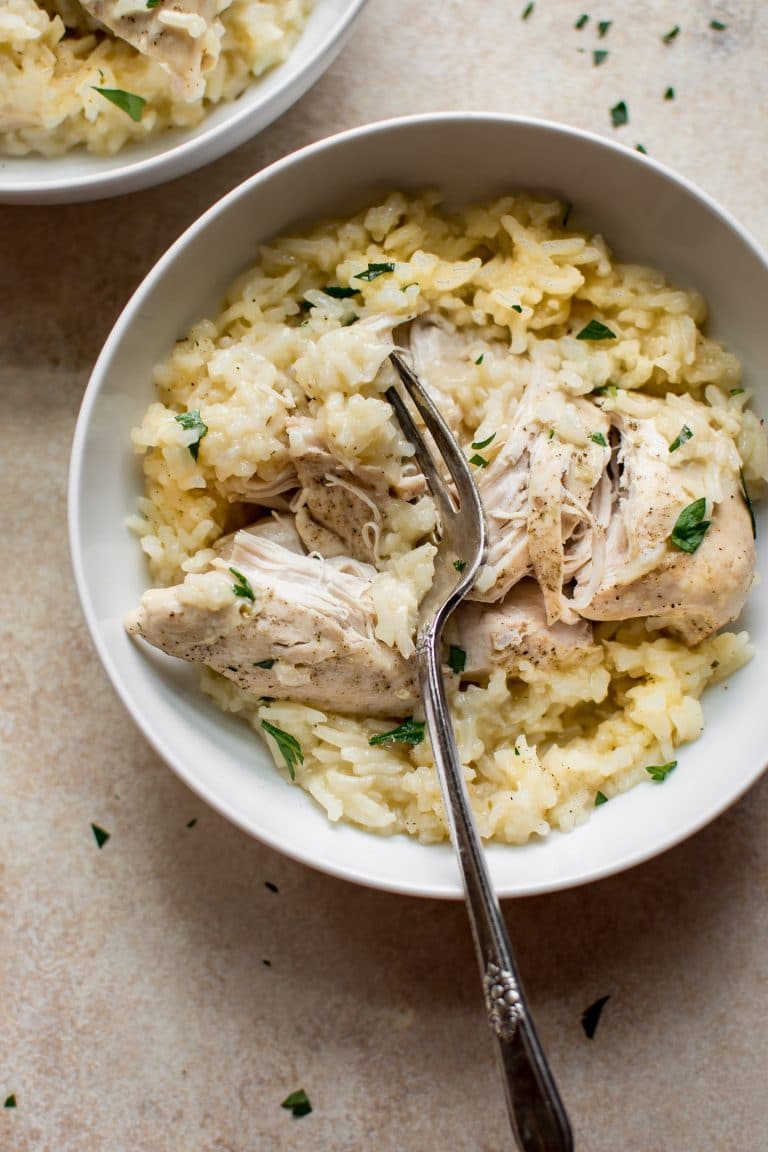 Questions? Don't hesitate to ask. Leave me a comment below. 🙂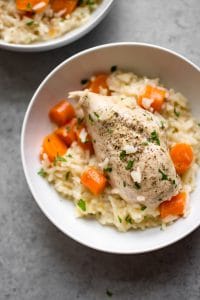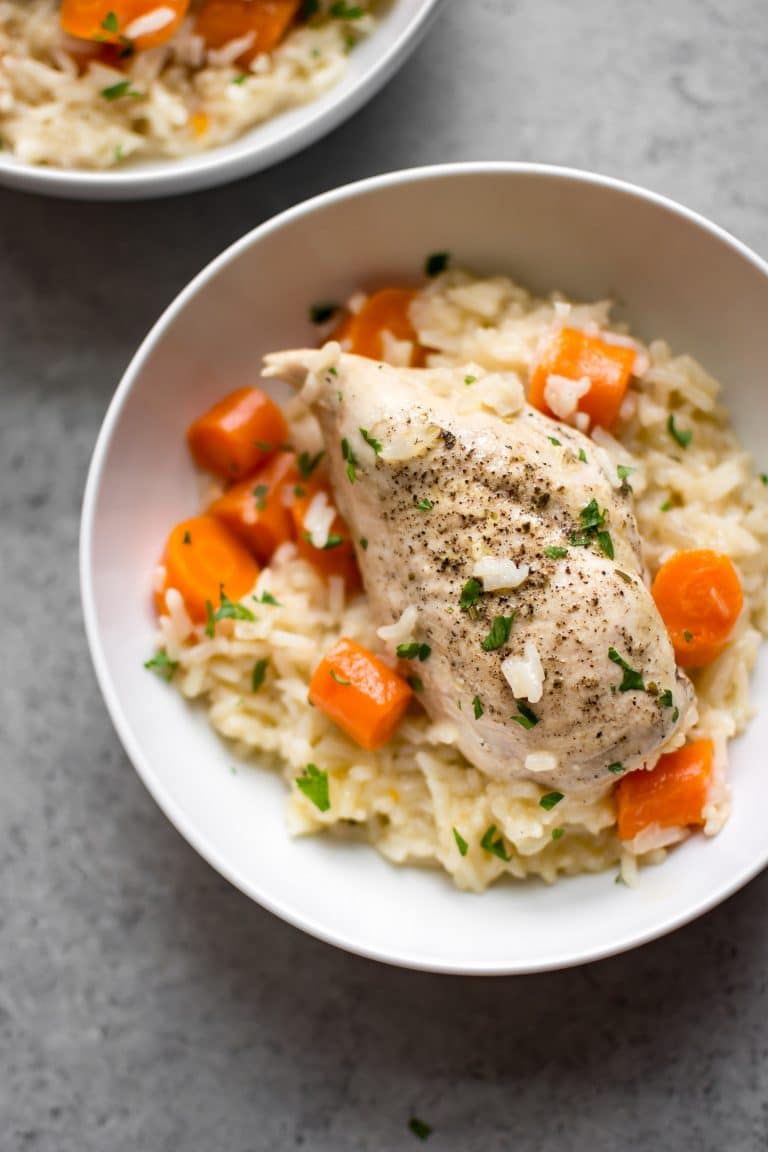 Instant Pot Chicken and Rice
This Instant Pot chicken and rice recipe has tender, juicy chicken and the most amazingly soft and flavorful rice. You can even add carrots to make it a complete meal!
Ingredients
4

large

chicken breasts

1/2

medium

onion

chopped

1

tablespoon

olive oil

2

cloves

garlic

minced

2.5

cups

chicken broth

2

tablespoons

lemon juice

1

cup

white jasmine rice (or basmati)

rinsed

4

dashes

Italian seasoning

1

tablespoon

butter

3

medium

carrots

peeled & sliced (optional)
Instructions
Season both sides of each piece of chicken with salt & pepper.

Press the sauté button on your Instant Pot. Add the oil and onion and sauté for 3-4 minutes. Stir in the garlic, then add the chicken broth, lemon juice, rice (rinse it first), Italian seasoning, and butter. If you want to add carrots, add those in at this point too. Leave the sauté button pressed so it heats up as you're adding the ingredients.

Give the ingedients in the Instant Pot a good stir, and then immediately add the chicken pieces on top. Close the lid, set the valve to "sealing", and cook on high pressure for 18 minutes.

Carefully do a quick pressure release once the countdown has completed. Serve immediately. If needed, season with salt & pepper to taste.
Recipe Notes
I have tested this recipe multiple times in my 6-quart Instant Pot, and it has worked every time without a burn warning (I've heard this can happen in some of the larger Instant Pots when cooking certain recipes - such as ones with rice). I suggest following my instructions exactly as written for best results.
If desired, use low-sodium chicken broth. I found this recipe to be perfectly seasoned with regular chicken broth, though.
I've tested this recipe with larger and smaller chicken breasts. The smaller ones do tend to be slightly too cooked for my liking when I cook the recipe for 18 minutes. If they're particularly small, you may want to try reducing the cooking time by a minute or two.
Makes 4 generous servings. If I was eating this by myself, it would be more like 6+ servings.
Inactive time indicates the time it takes the Instant Pot to get up to pressure.
Try more of my tasty recipes: