This easy vegetable and bean soup comes together quickly and makes a healthy and hearty meal. You can easily customize it with whatever veggies you have on hand.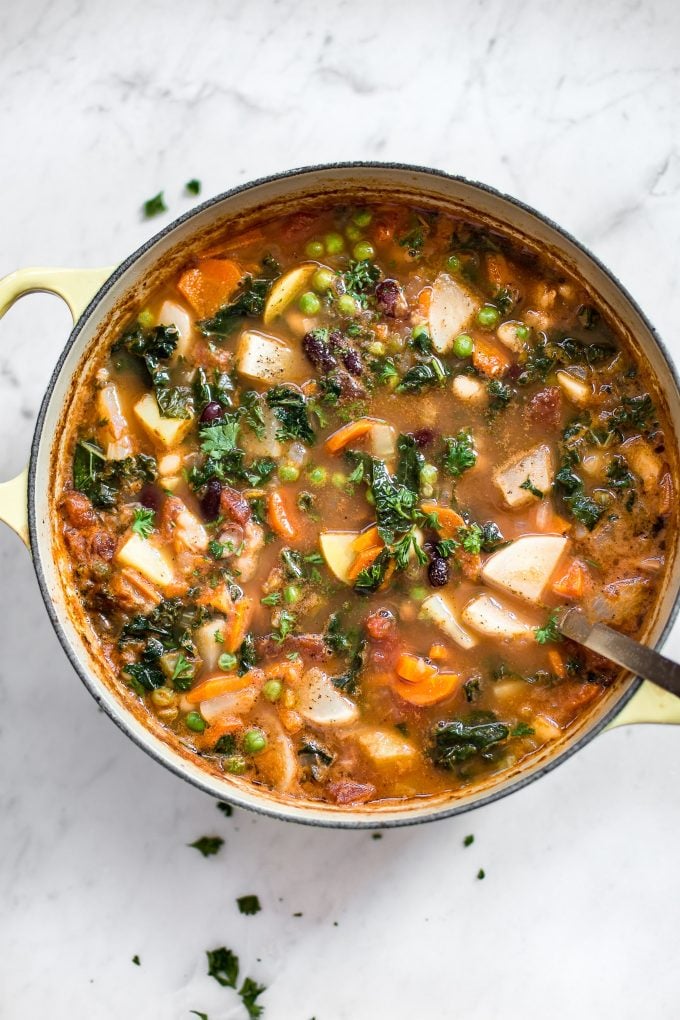 This healthy vegetable soup recipe came about because I'm not the best at packing work lunches on Thurs/Fri. I'm usually ok the first few days of the week because I either have leftovers from cooking for the blog on the weekend, or I am motivated enough to pack something.
So, I came up with the idea of making a nice and simple vegetable soup every couple of weeks and then freezing it. This soup freezes well, and it's a no-brainer when you need something quick. As long as you don't forget it in your freezer, that is. 😛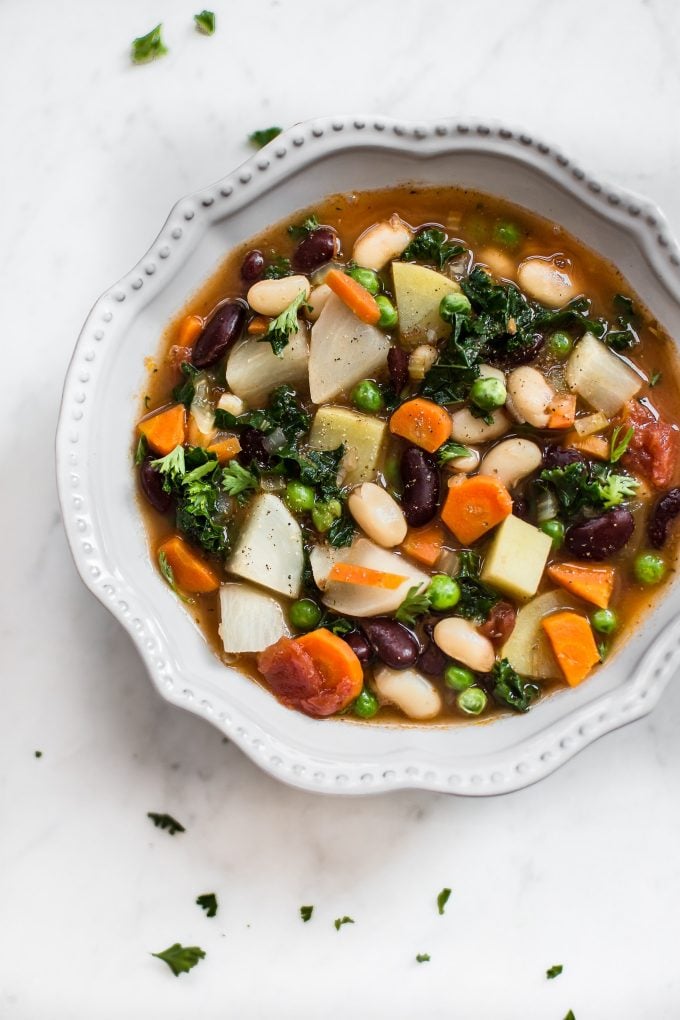 I put turnips in here, but it's up to you whether you include them. I don't think I'd include them every time, but I was going for variety when I came up with this recipe.
I don't eat turnips often, so that's how they ended up in here. I'm not sure how much I actually like them, though. Sorry, turnips.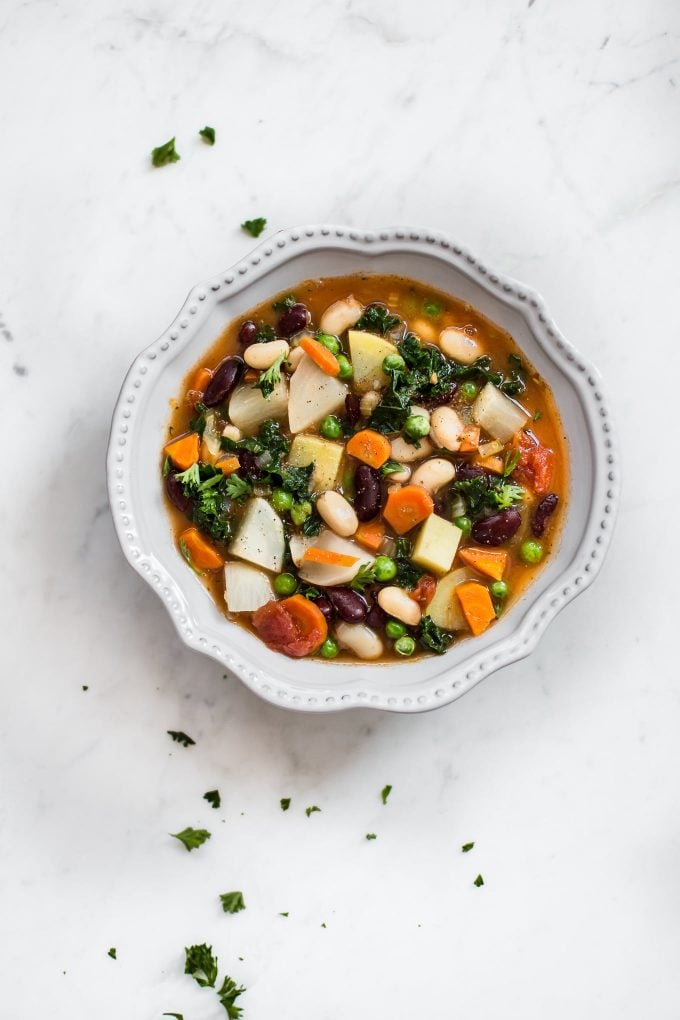 You can in fact include any veggie you desire in this hearty vegetable soup (shocking, I know!). Just use my recipe as a guideline, basically. I'd say the carrots/celery/onion (classic mirepoix) combo is good to keep as a base, and the potatoes add a bit of starch so I'd keep them too, but other than that, include whatever vegetables you have on hand.
I love beans so I would keep them as well, but that's entirely up to you. 🙂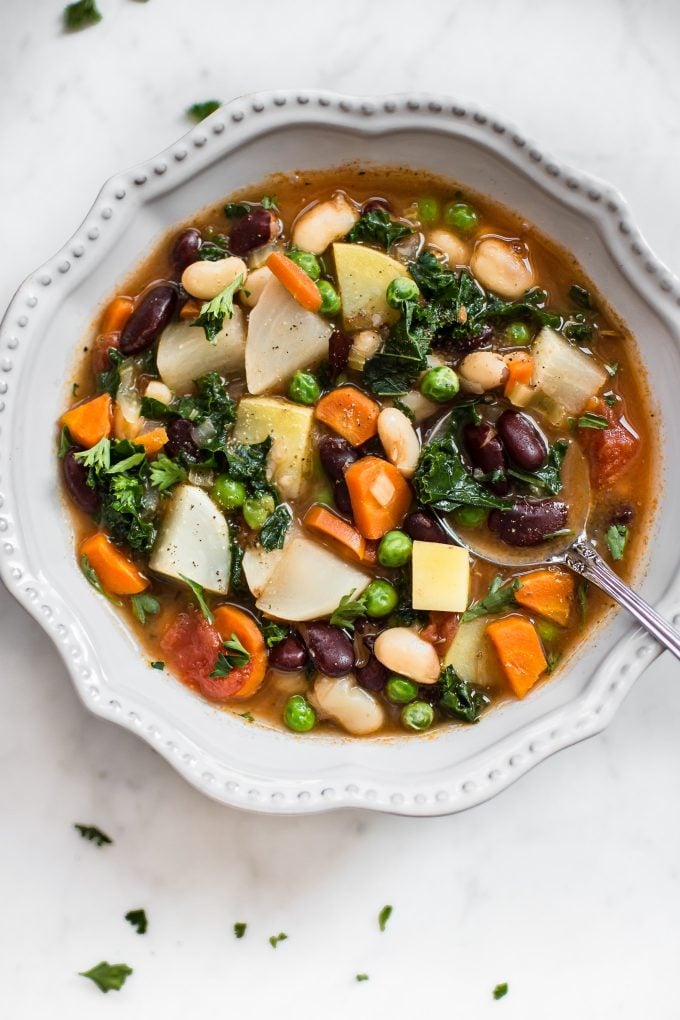 Hope you love this vegan vegetable soup recipe!
Questions? Talk to me in the comments below.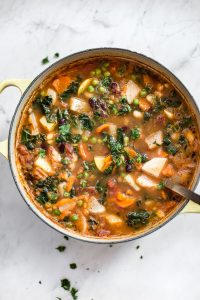 Print
Easy Vegetable and Bean Soup
Yield 4-6
This easy vegetable and bean soup comes together quickly and makes a healthy and hearty meal. You can easily customize it with whatever veggies you have on hand.
Ingredients
2 large carrots, chopped
3 sticks celery, chopped 
1/2 medium onion, chopped 
1 tablespoon olive oil
2 medium potatoes, diced (peel if you wish)
2 small turnips, peeled & diced
3 cloves garlic, minced
1 tablespoon flour
1 (14 fluid ounce) can diced tomatoes
4 cups vegetable broth
1 cup water
1 (19 fluid ounce) can white beans, drained
1 (19 fluid ounce) can red kidney beans, drained
6 dashes Italian seasoning
1 small bunch kale, torn into small pieces (remove tough stems)
1 cup frozen peas (optional)
Salt & pepper, to taste
Instructions
Prep your carrots, celery, and onion. Add them to a large pot over medium-high heat along with the olive oil. Sauté for 7-10 minutes, stirring often.
Meanwhile, chop the potatoes and turnips. 
Stir in the garlic and flour and cook for about 30 seconds.
Add the diced tomatoes, vegetable broth, water, potatoes, turnips, beans, and Italian seasoning. Increase the heat to high and bring to a gentle boil. Cover with the lid slightly ajar, and let the soup simmer on medium to medium-low heat (adjust as needed) for about 20 minutes or until the veggies are tender. Cooking the soup for longer will make it more flavorful, but it isn't necessary, especially if you like the vegetables tender-crisp, for example. 
Add the kale and peas and cook for an additional 10 minutes or so. Season with salt & pepper as needed. 
Notes
If you're not a fan of turnips, just use additional potatoes instead. I had some frozen peas to use up, so I added them. Feel free to swap veggies as needed and to use what you have on hand. 
Courses Soup
You may also like my vegetarian pasta e fagioli soup or my vegetarian tortellini soup.
Try more of my tasty recipes: