This filet mignon recipe has simple ingredients to let the juicy, gorgeous meat shine! It's all about a straightforward technique that you can master in your own kitchen.
You may also enjoy my Garlic Butter Steak Bites recipe or Seared Scallops.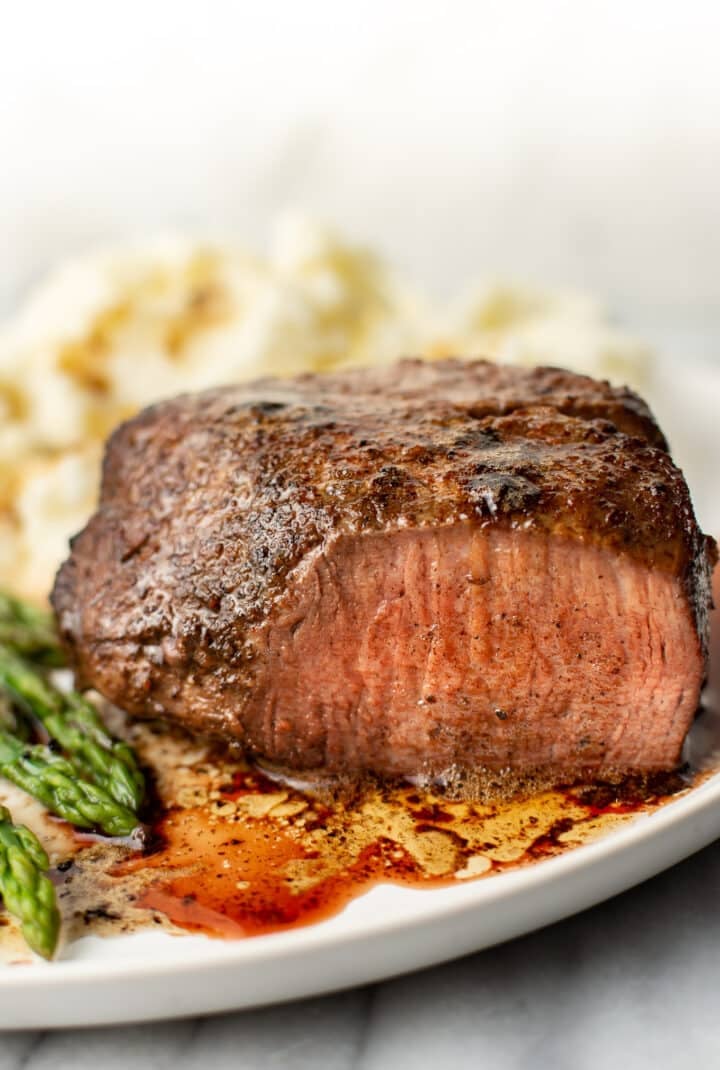 Why you'll love it
You know what's the best kept secret of every high-end steakhouse? Lots of butter and a HOT cast iron skillet. Pan searing and then finishing in the oven is the best way to cook filet mignon, bar none. It's how the restaurants do it, and you can replicate this tried and true technique at home with confidence! It's honestly pretty easy to get the hang of, I promise.
Ok, so filet mignon definitely isn't the cheapest cut of meat, but making it in your own kitchen is more affordable than at the steakhouse for a special meal at home. With my straightforward guide for how to cook filet mignon, it'll end up beautifully tender every time, and there's definitely no need to be intimidated. You'll feel like a gourmet chef.
What's so special about filet mignon?
Filet mignon is a round cut that comes from the end of the beef tenderloin, which is a muscle rarely used by the animal, resulting in the prized melt-in-your-mouth tender and lean cut of meat. It's usually viewed as the most desirable cut and is ideal for fancy occasions!
What you'll need
Filet mignon - we're using two 2" steaks. Sometimes you'll see it called tenderloin beef filets. To select a good steak, look for ones that are 2" thick and a nice deep red uniform color. They come in a variety of weights (anything from 6-10 oz is common), so buy what you think you will eat, but the key is to buy two that are about the same size so they cook evenly.
Salt & pepper - to get that fabulous browned crust on the exterior. If I've learned anything from Bobby Flay, it's to be generous with both here. I use pink Himalayan salt, but sea salt or kosher salt works too.
Butter - you don't need anything else to make steak taste amaaaazing. It'll leave your kitchen smelling like a fancy steakhouse. Unsalted real butter is essential.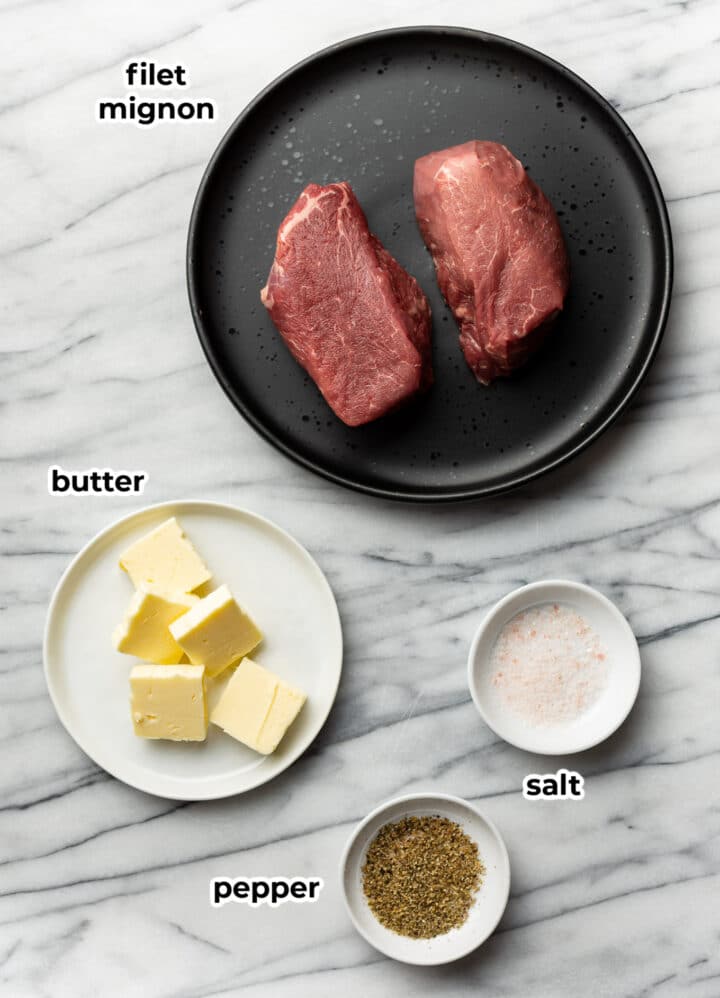 Helpful tips
I recommend reading through the recipe a couple of times to familiarize yourself with the technique before you start cooking. It goes quickly once you've started!
Getting a good sear on the steak will add more flavor, so don't be afraid to let the pan heat up before adding the meat! Also, don't be tempted to move the steak around the skillet as it cooks.
It's okay if you see a little smoke when searing and/or when the steaks come out of the oven.
Letting the steak rest before cutting into it is so important! It serves two purposes: the steak will come up to its final temperature, and the juices will redistribute so that you're left with a tender and juicy steak.
Please don't go past medium well (150-155F after resting) and turn a beautiful steak into shoe leather.
How to make filet mignon
This is an overview with step-by-step photos. Full ingredients & instructions are in the recipe card below.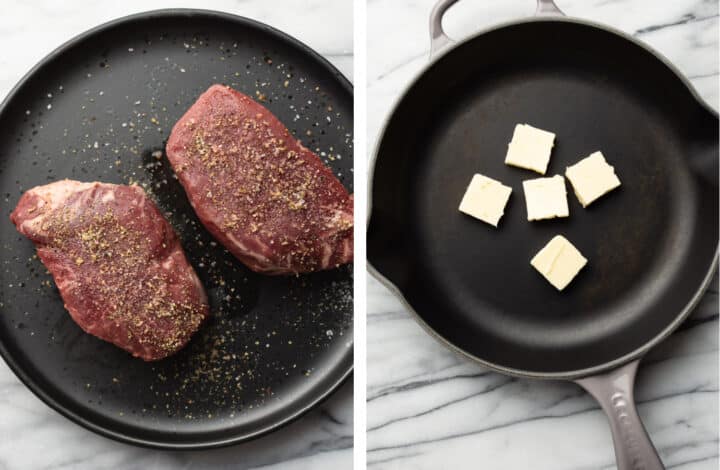 Take the steak out of the fridge at least 30 minutes prior and bring it to room temperature for a more even cook. Preheat the oven to 400F. Pat the steaks dry, and season with salt & pepper on both sides generously. In an oven-safe skillet, melt the butter over medium-high to high heat, letting the pan get very hot.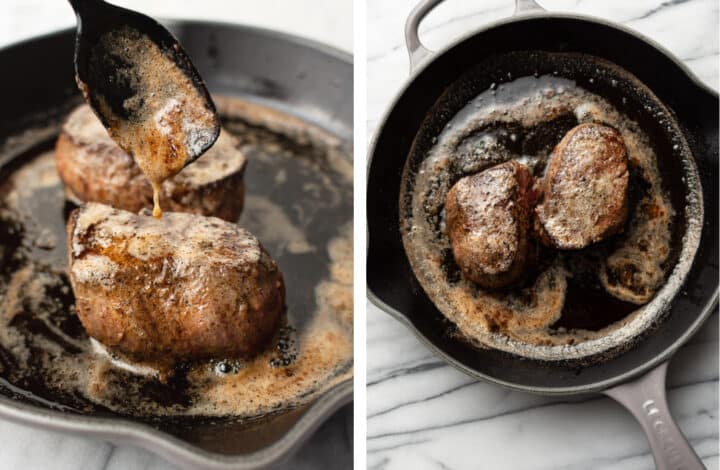 Place the steaks in the pan, spooning the butter over it constantly to baste. Cook for 2 minutes per side for that great sear. Transfer to the oven. See recipe card below for timing! When they're done, let the steaks rest to preserve the juices. Spoon over any remaining butter from the pan on top, and enjoy.
How to use an instant read thermometer with an external probe
With regular instant read thermometers, you insert it and it'll give you a reading, but the thermometer we're using here comes with a separate attachment that actually goes right into the steak and into the oven and stays there while it cooks.
The reader that's sitting on your countertop outside the oven will beep when the probe in the oven senses the steak is done to the temperature you set it to, so it's super easy and involves no guesswork.
Substitutions and variations
Our kitchen has experimented with various ways to cook filet mignon over the years including using an oil/butter mix and the grill, but we keep coming back to this method. As a result, we encourage trying it as written without any substitutions, especially when cooking it for the first time.
For a minor tweak, try adding some whole garlic cloves to the skillet as you're cooking the steak. Simply lightly smash them.
Fresh rosemary is another option. It'll lightly infuse the butter with more flavor.
Tools for this recipe
To make this recipe go smoothly, an ovenproof skillet is a game changer. It means fewer dishes since it goes seamlessly into the oven, plus a good-quality cast iron skillet gets that perfect sear. I like my Le Creuset best.
Cooking tongs make it easy to turn the steak, so they're my go-to for this one and loads of other skillet recipes.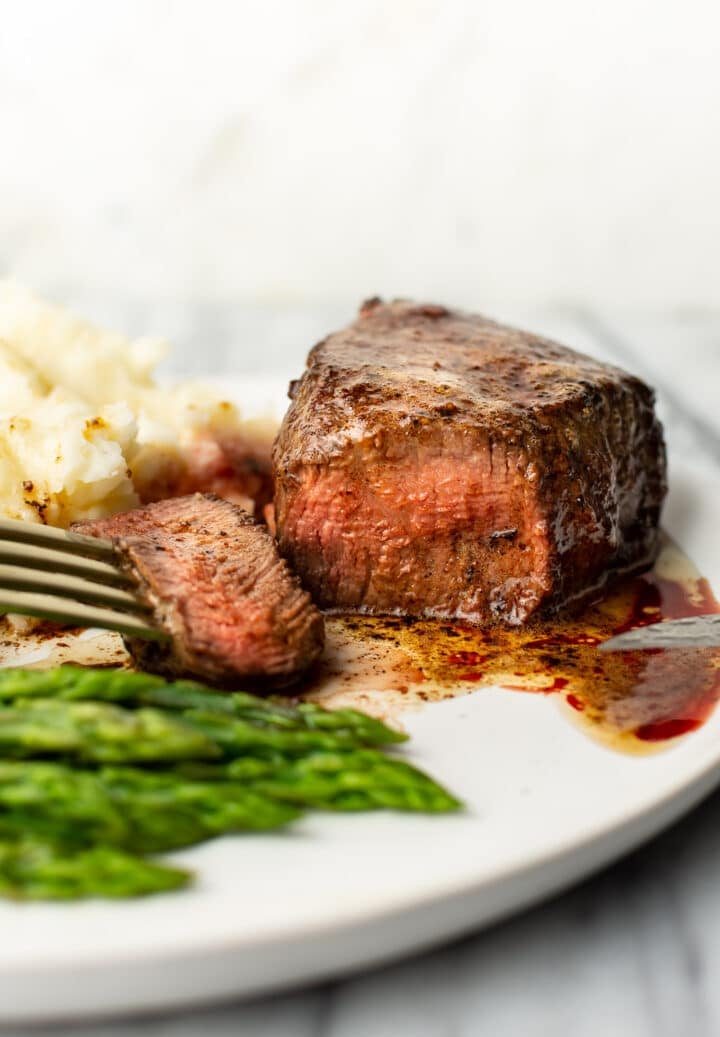 What to serve with filet mignon
Leftovers and storage
It's best eaten right away, but store leftovers in an airtight container for 3-4 days in the fridge.
To reheat filet mignon, set your oven to 250F and heat it up until warmed through.
Try slicing the steak thinly and adding it cold to a salad the next day for a creative option. Do a riff on steak and eggs as well with leftover filet mignon for breakfast!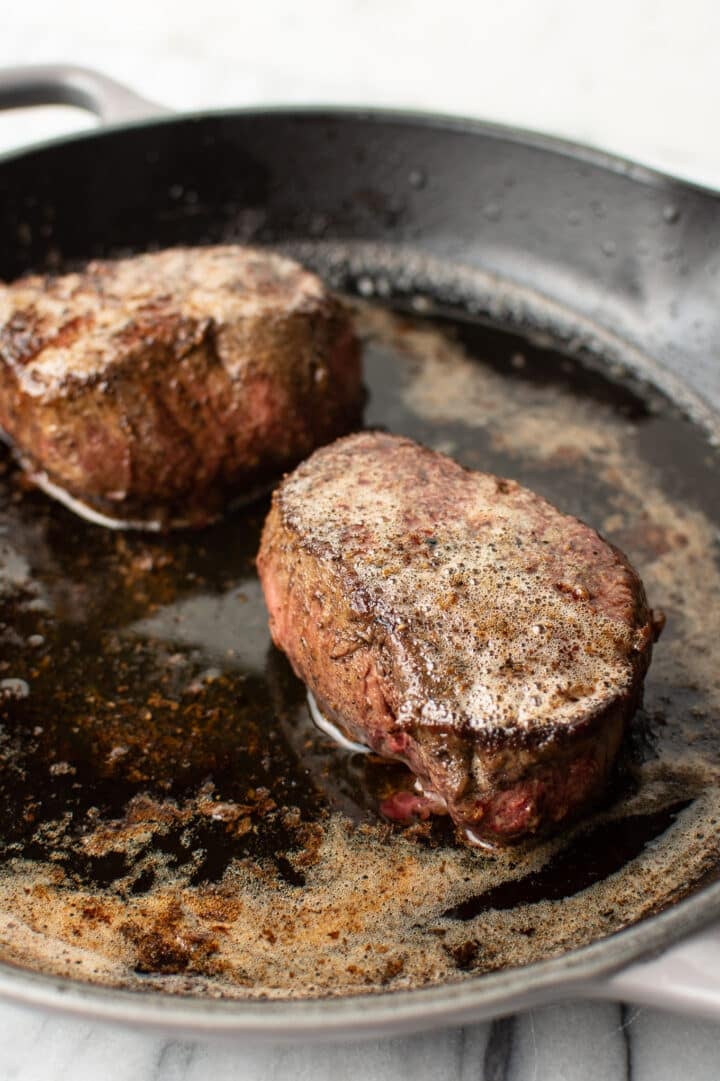 I hope you enjoyed my method of cooking filet mignon! Is this the best steak you've ever made? If the post didn't answer your questions or you want to leave a review, I'd love to hear from you in the comments below. As always, you can find me on Instagram.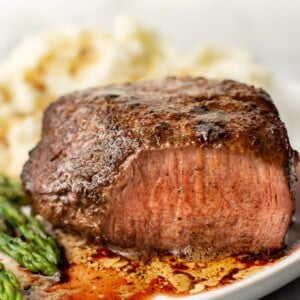 Simple Filet Mignon
This filet mignon recipe has simple ingredients to let the juicy, gorgeous meat shine! It's all about a straightforward technique that you can master in your own kitchen.
Ingredients
2

filet mignon steaks

2" thick

Salt & pepper

to taste

1/4

cup

unsalted butter (1/2 stick)
Instructions
Take the steaks out of the fridge 30-60 minutes prior to cooking them so they come up to room temperature.

Preheat your oven to 400F and move the rack to the middle position.

Pat the steaks dry with paper towel and season them generously (both sides) with salt & pepper.

Add the butter to a heavy oven-safe skillet over medium-high to high heat. The pan needs to get HOT, but be sure not to let the butter burn, so once it melts, stir it every 20-30 seconds until the pan is heated (about 4-5 minutes with cast iron over medium-high heat on my gas stove. Gas runs hotter than electric).

Place the steaks in the pan and then continuously spoon the butter over each steak, ensuring that you're keeping the butter moving around the pan so it doesn't burn. Cook the first side for 2 minutes, and then flip (tongs make it easy) and cook the second side for another 2 minutes. Keep spooning the butter over the steaks for this entire time.

Transfer the skillet to the oven and cook until the steaks reach 125-130F (this will yield medium steaks once they're done resting). For medium-rare, take the skillet out of the oven at 120F. A 2" thick steak will need about 10 minutes in the oven for medium doneness, but oven time will vary depending on the thickness of the steak and other factors. For best results, use an instant read thermometer with an external probe as it's very easy to overcook steak. If you have one with an external probe, insert it into one of the steaks before transferring the skillet to the oven. See blog post for more tips if you're unfamiliar with this tool.

After you take the skillet out of the oven, let the steaks rest in the skillet for 5 minutes before cutting into them so they finish cooking and the juices redistribute (very important so the steaks will remain juicy and tender). The leftover butter can be spooned over the steaks and mashed potatoes or whatever you're serving them with.
Notes
Cooking steak can produce a bit of smoke - this is perfectly normal! Turn on the over the stove extraction fan and/or open a window.
You could double the recipe by using 4 steaks. I'd double the butter too!
Cooking times are only guidelines as every skillet/stove/steak will vary. For steaks thinner than 2", they will need less time in the oven (about 5 minutes for a 1.5" thick steak). Use an instant read meat thermometer with an external probe for perfect results every time.
Nutritional information is provided as a courtesy only and should be construed as an estimate rather than a guarantee. Ingredients can vary and Salt & Lavender makes no guarantees to the accuracy of this information. The calculation is based on 6 oz steaks.
Nutrition
Calories:
670
kcal
Carbohydrates:
0.01
g
Protein:
31
g
Fat:
60
g
Saturated Fat:
30
g
Polyunsaturated Fat:
2
g
Monounsaturated Fat:
22
g
Trans Fat:
1
g
Cholesterol:
180
mg
Sodium:
86
mg
Potassium:
524
mg
Sugar:
0.01
g
Vitamin A:
709
IU
Calcium:
19
mg
Iron:
4
mg