Want to make a big batch of rich and delicious meaty spaghetti sauce? This is the recipe you've been looking for!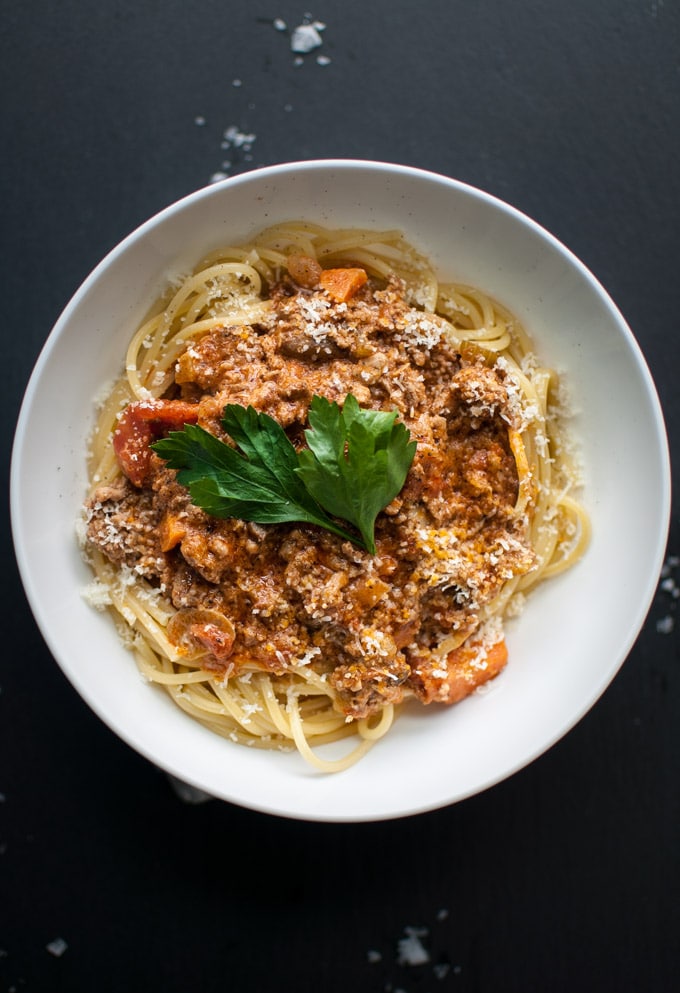 This is my version of a bolognese/meat sauce. It's rich and packed with flavor and also freezes very well so it's a great meal to have when you don't feel like cooking and want to eat something quick out of the freezer.
My husband always requests this spaghetti sauce, and honestly I get bored with it after going through the umpteen batches in the freezer. That's kinda funny considering if I had to list my signature dishes, this would be one of them.
I do love it, but it's one of those things that I just don't feel like eating every week. I could eat burgers every week, though. And steak. When I'm home alone, I sometimes get lazy and defrost one of these bad boys, warm it up, and eat it with a dollop of sour cream and a generous sprinkling of salt. Oh yeah!
Once you get past the chopping, you don't have to do much. I never measure anything out when I make it - it's very forgiving so if you want to put more carrots or fewer mushrooms in, it'll still taste good.
You can make this with any kind of pasta, I just like spaghetti best. It's charming in a Lady and the Tramp kinda way when I slop it all over myself haha.
Will you make this bolognese sauce?
Questions? Let me know!
If you're in a rush, try my Instant Pot spaghetti sauce for a quicker version of this recipe. Or try my Crockpot ragu recipe.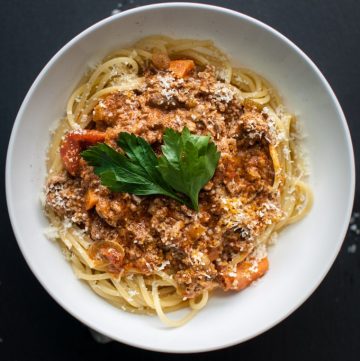 Spaghetti Sauce
An easy to make, satisfying meat and veggie pasta sauce.
Ingredients
1

tablespoon

olive oil

1

pound

lean ground beef

1

pound

ground pork

17.5

ounces

mushrooms

(I usually mix one or two varieties e.g. white and crimini or shiitake)

4

sticks celery

chopped

3

large carrots

chopped

1

onion

chopped

4

cloves

garlic

finely chopped or minced

1

bouillon cube (I like the McCormick ones)

1

tablespoon

Dijon mustard

1

teaspoon

dried oregano

1

teaspoon

Italian seasoning

6

dashes Worcestershire sauce (optional)

1

(23 fluid ounce) can tomato sauce

with juices

1

(28 fluid ounce) can stewed or diced tomatoes

with juices

1

cup

dry white wine

1

cup

heavy/whipping cream

Salt and pepper to taste
Serve with:
Pasta of your choice (I prefer spaghetti)

Grated parmesan cheese
Instructions
Coat the bottom of the pot with olive oil, turn on medium heat. I start by chopping the onions, carrots, and celery. I actually prefer them chopped fairly roughly, but chopping them finely is good too. I add them to the pot first, and then I just chop and add the vegetables to the pot as I go along. Stir periodically.

Once all the vegetables are in there, I add the garlic, bouillon, Worcestershire sauce, oregano, Italian seasoning, mustard, salt and pepper (not too much, I end up adding more later usually). Stir until bouillon is dissolved.

Add the ground meats. Cook until they change color, stirring often.

Add the tomato sauce and stewed/diced tomatoes. Stir.

Add white wine. Stir.

Turn the heat up to high. Just before it comes to a boil, turn the heat down to low and let it simmer with the lid slightly open. I generally let it simmer for at least an hour. If you're in a rush, you can cook it until vegetables are softened and the meat is cooked through.

When you're almost ready to serve, add the cream and stir it. Add more salt & pepper as needed.

Serve with pasta of your choice and then top with parmesan cheese.
Notes
You don't need to worry too much about the vegetable measurements. For example, 17.5 oz of mushrooms = 500g (Canada goes by metric measurements so I just converted it) - if you're measuring in ounces I really wouldn't worry about making it perfect. If you're in a rush, you don't need to cook it for the full two hours, but I find it tastes better the longer you cook it for. Adjust the whipping cream as desired. I sometimes add a bit extra because it makes the sauce taste creamier and richer. This recipe yields a lot of sauce and freezes really well so is good for fast weeknight dinners.
I sometimes eat this sauce with German dumplings and a dollop of sour cream.
Makes 10+ portions.