This spinach orzo salad with white beans is a simple and healthy summer side dish with the fresh flavors of lemon and basil.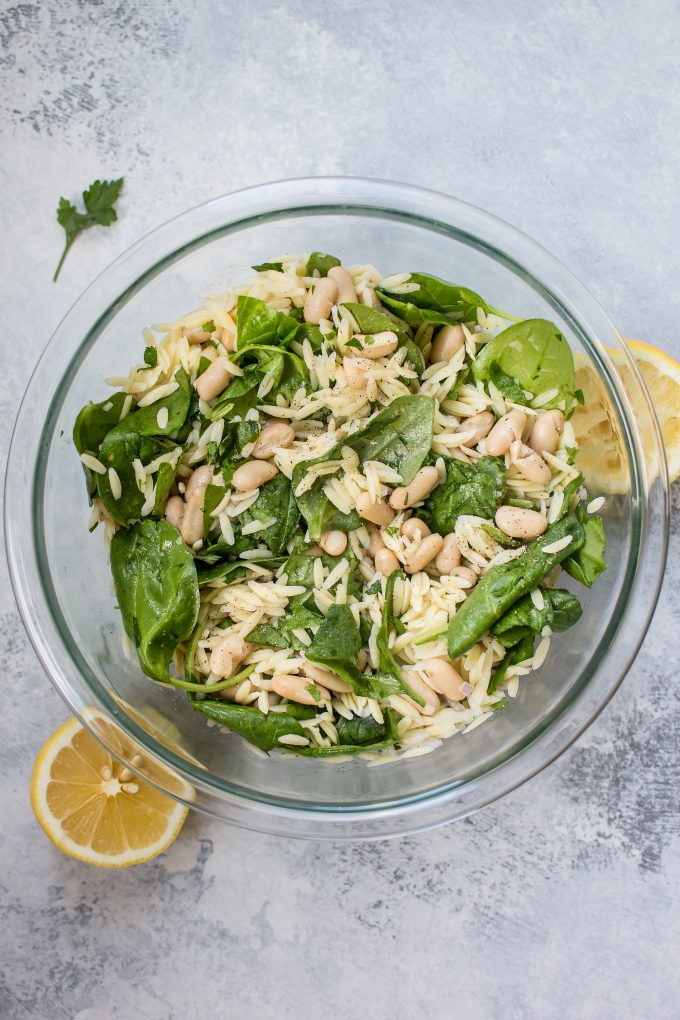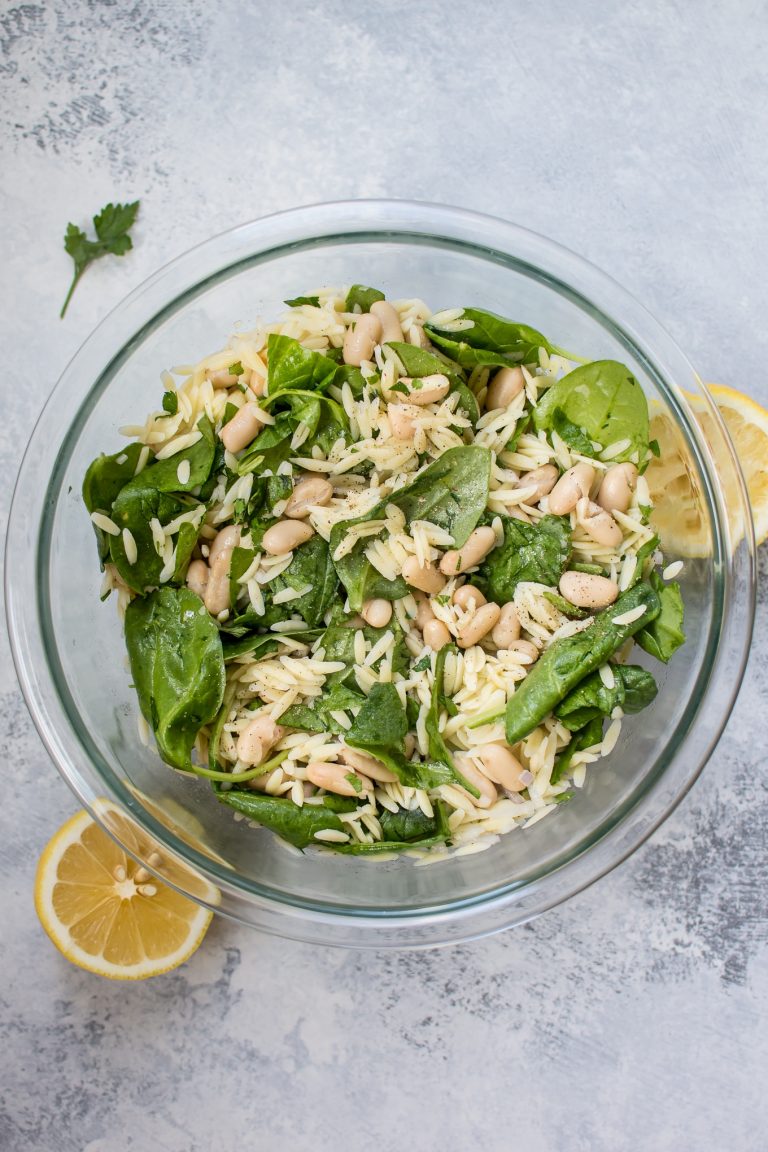 Another summer day, another healthy summer salad. Spinach is good for ya, the white beans add some filling protein, and the shallots add a sharp pop of flavor.
Sometimes I can talk on and on about a recipe. I don't know if I'm just not in a writing groove at all right now, but the words aren't coming to me. I mean how much can one say about a spinach and orzo salad? It's tasty. It's light. It's fresh. Your vegetarian friends will eat it. It will subtly complement a main dish without overpowering it. It could even be a light main course if you felt so inclined. Isn't it crazy how orzo is pasta but looks like rice?! Make it today!
I sometimes like to visit websites that are dedicated to snarking on bloggers (yeah, it's a thing). I find the food blogger threads particularly interesting, naturally. I feel some of the snark comes from a lack of understanding of why bloggers do certain things, but some of the snark is actually somewhat justified and can be quite funny. I think that being able to laugh at yourself sometimes is probably a healthy quality to have.
One of the main complaints I see is how bloggers write waaaaay too much. Many readers say "just give me the damn recipe already!! I don't need to see how your life story connects to this salad recipe!!" I get that. I try hard not to do too much of that, but at the same time, a blog generally requires a bit of commentary, and some people actually like it. Go figure! And Google likes it, you see. It's a balance.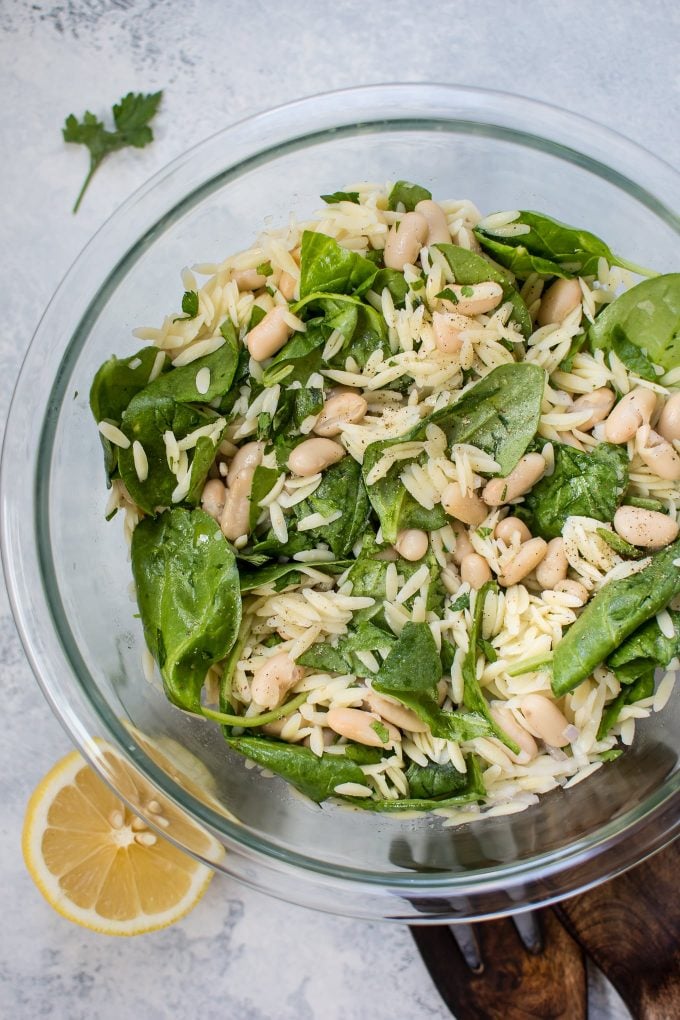 I think part of me would be horrified if I ended up on one of those snark sites, but the other parts of me would actually be pretty happy. Not gonna lie. If people are talking about you, that's generally a good thing if you can handle it. Sure... it still stings when I get rude comments (especially on Pinterest where I can't write back to try to resolve the situation), but part of me realizes that Martha, Nigella (hello carbonara with cream), Gordon, and anyone who is anyone has to deal with that stuff. And that cookie dough is a hot topic that people take very seriously. I'm slowly getting used to it. At least people are making my recipes, right?! Something to aspire to. 😉
In other news, I've been working hard to prep the blog for some traveling I will be doing this summer. Stubborn me wanted to keep to my fairly intensive 3 recipes/week posting schedule (and trust me, that is intensive since I do have a full-time day job on top of this one), but that ain't going to happen. Between having to redo photos for an upcoming grilled shrimp recipe twice now (and I'm still not satisfied... those little buggers are so tricky sometimes), and the fail known as rainbow vegetable crostini (nice idea but bland taste and fiddly assembly), I am running out of time.
I will still be posting new recipes, but there may not be as many in next couple months is what I am trying to say. You can follow my adventures (ok I am not particularly adventurous, but still) on my Instagram stories if you need a S&L fix. 😛
More orzo recipes to try: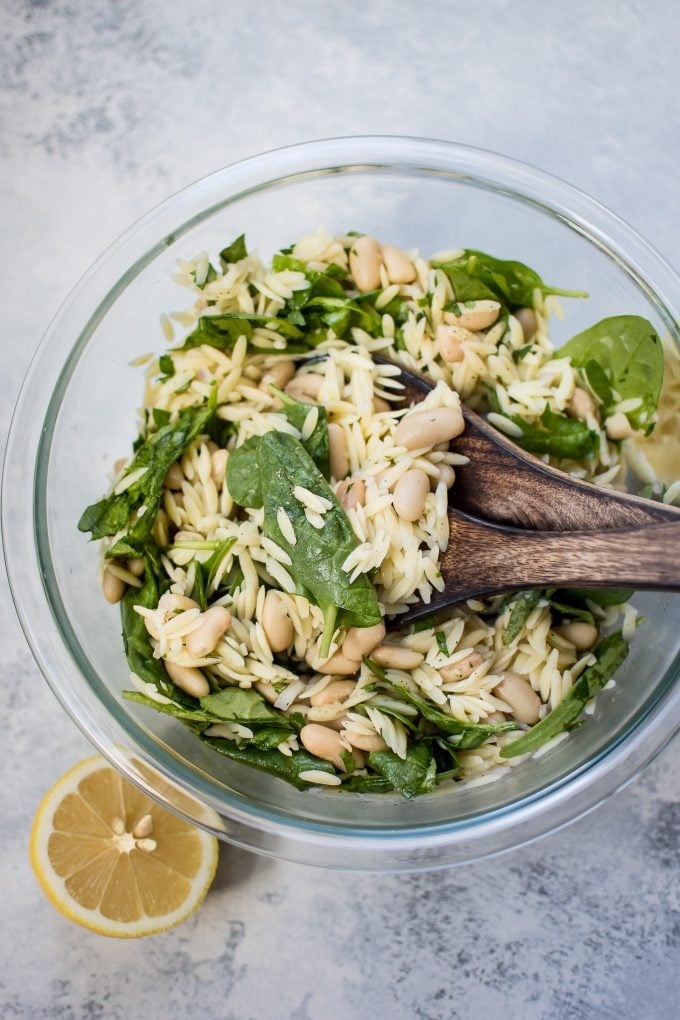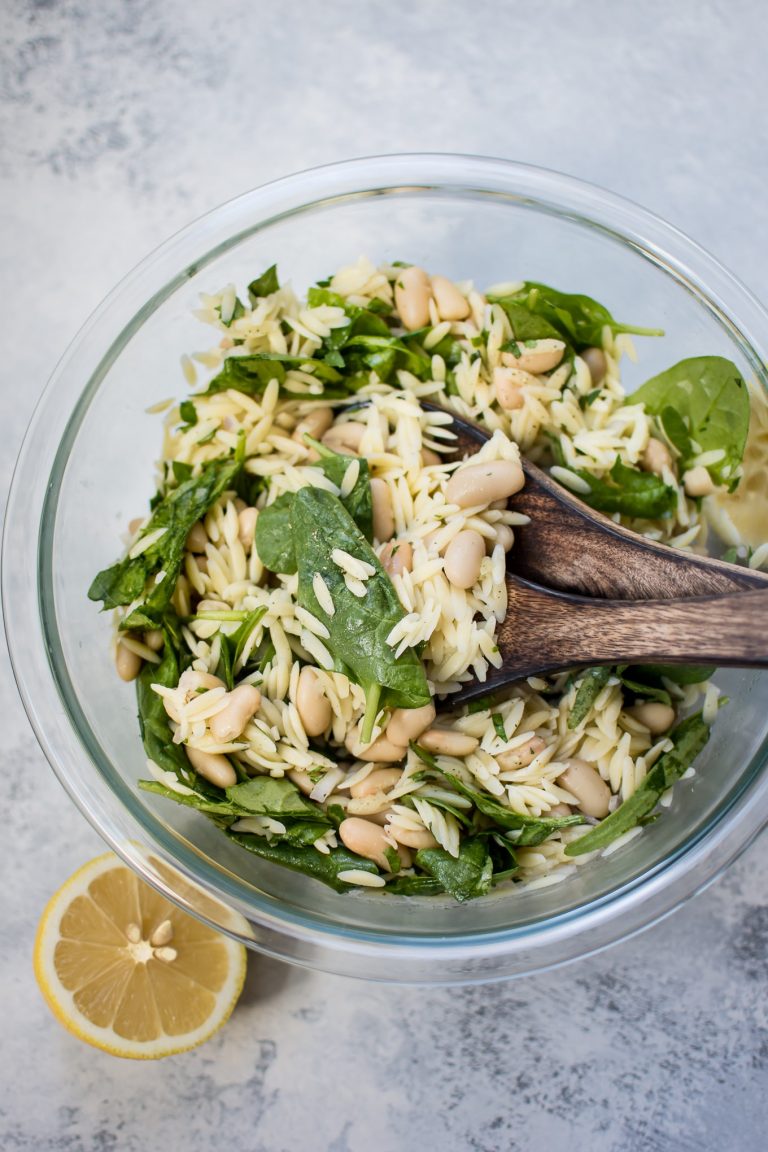 So how about that? I barely talked about this salad at all in this post AND managed to ramble on more than usual.
Questions about the recipe? Ask me in the comments!
You may also like last summer's grilled shrimp and orzo salad or my sun-dried tomato and basil white bean dip.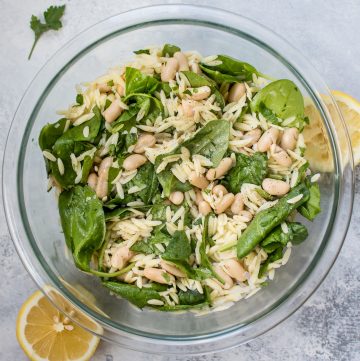 Spinach Orzo Salad with White Beans
A healthy orzo salad with spinach, basil, and a lemon vinaigrette.
Ingredients
1

cup

uncooked orzo

1

(14 fluid ounce) can white beans

drained & rinsed

1-2

large handfuls of baby spinach

1

small handful of basil

torn

1

tablespoon

parsley

chopped

1

tablespoon

shallot or chives

chopped finely
Dressing:
Juice of 1/2 lemon

1

tablespoon

olive oil

1

clove

garlic

minced

Salt & pepper

to taste
Instructions
Cook orzo according to package directions. Once it's cooked, rinse it under cold water and let it drain thoroughly.

Meanwhile, prepare your other salad ingredients and add them to a salad bowl.

Whisk the dressing together in a small bowl and toss it with the other salad ingredients once your orzo is cool and drained. You may need to adjust the oil quantity based on personal preferences. Make sure you season the salad well with salt & pepper.

Serve immediately.
Notes
I wouldn't make this salad ahead because the spinach will wilt. You could cook the orzo ahead and toss it with a little bit of olive oil to stop it from sticking, then assemble the salad when needed.
Serves 4+ as a side.
Nutritional information is provided as a courtesy only and should be construed as an estimate rather than a guarantee. Ingredients can vary and Salt & Lavender makes no guarantees to the accuracy of this information.
Nutrition
Calories:
291
kcal
Carbohydrates:
51
g
Protein:
13
g
Fat:
4
g
Saturated Fat:
1
g
Sodium:
20
mg
Potassium:
618
mg
Fiber:
6
g
Sugar:
2
g
Vitamin A:
1544
IU
Vitamin C:
7
mg
Calcium:
95
mg
Iron:
4
mg