These Waldorf chicken salad wraps are fast, easy, and a tasty way to enjoy the classic recipe! Ready in only 15 minutes.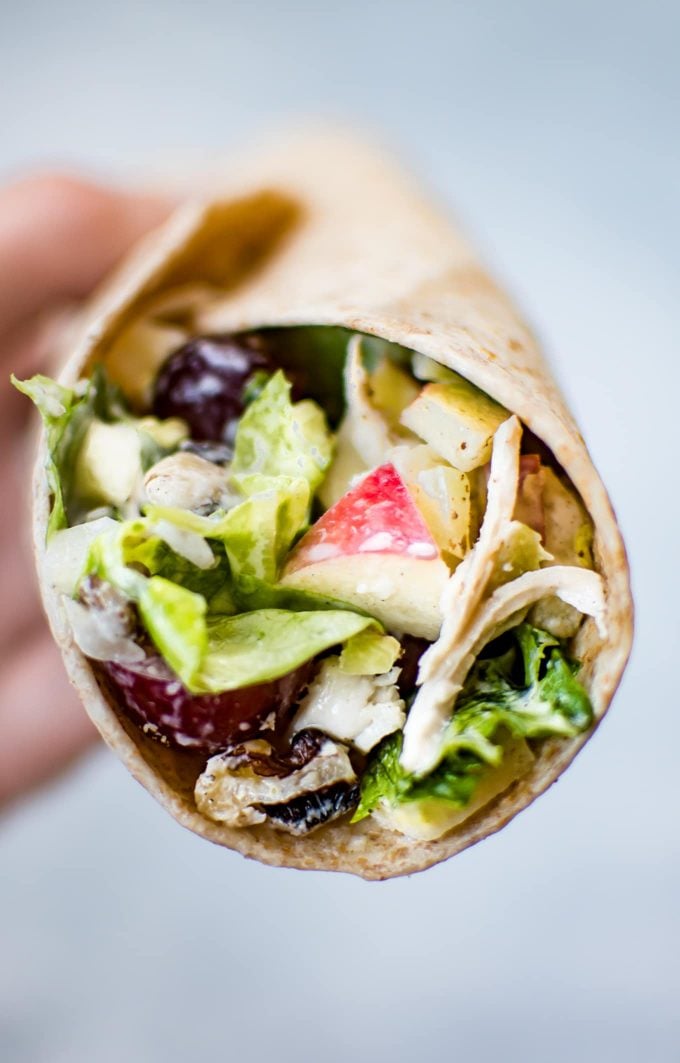 Did you know that the classic Waldorf salad originates from the Waldorf-Astoria hotel in New York?
The recipe is credited to the Oscar Tschirky, the hotel's maître d' at the time (1896). It's stuck around ever since.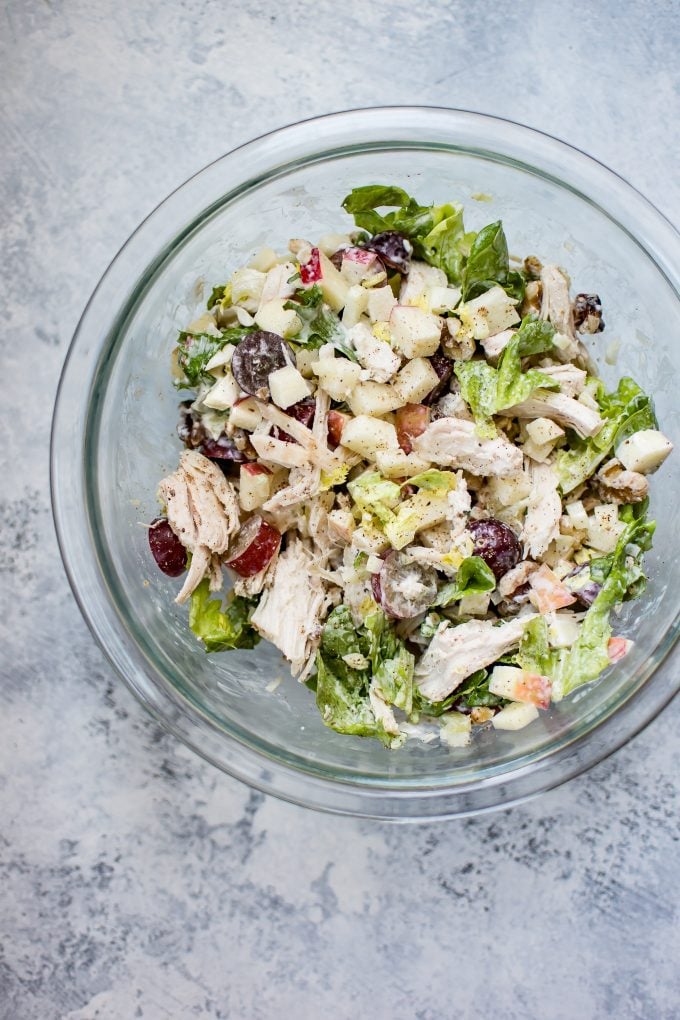 The traditional Waldorf salad does not contain chicken, but a quick Google search indicated that many people want chicken in theirs, so who am I to argue? It definitely goes well and tastes more interesting than most chicken salads I've tried. And adding Waldorf salad to wraps just makes sense in my mind. It would be good by itself or with bread too, of course.
Photographing this chicken Waldorf salad recipe reminded me why I don't often put wraps recipes on this blog. Wraps are pretty much the worst things ever to photograph, in my opinion. I always seem to have trouble with wraps and sandwiches/burgers. I probably should suck it up and practice more, but it's always an exercise in frustration, so I avoid it. 😛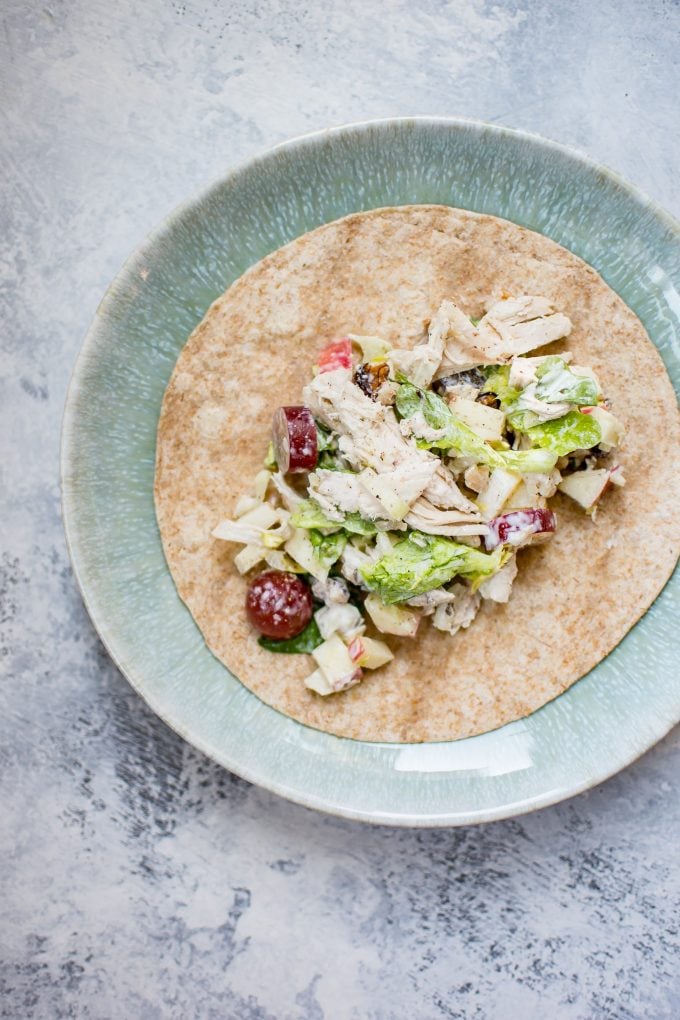 So, what's in this easy Waldorf salad recipe?
Cooked chicken (I just used a rotisserie chicken – so handy!)
Red seedless grapes
Apple (I used honeycrisp… I like a sweet-sour one vs. one that's overly sweet)
Celery
Chopped walnuts
Lettuce (I like a tender lettuce such as butter leaf)
Fresh lemon juice
Greek yogurt and mayo (I prefer a mix to just one or the other)
I've also heard of people substituting the grapes with raisins, which would work too. I love the crunchy mix of textures in these wraps.
I enjoy bringing back retro recipes every now and then. They have staying power for a reason, right?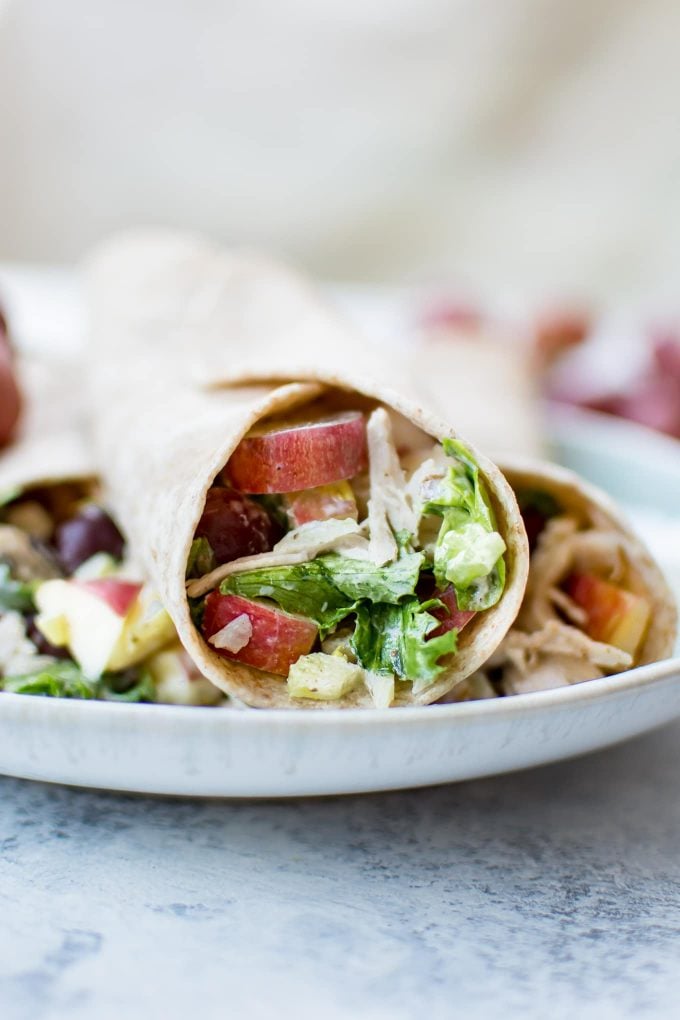 Hope you try this chicken Waldorf salad recipe! Let me know in the comments below if you've tried it or have any questions. 🙂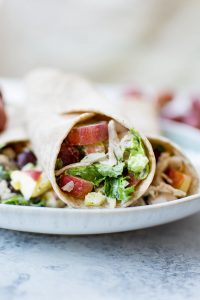 Print
Waldorf Chicken Salad Wraps
Yield 2-4 wraps
These Waldorf chicken salad wraps are fast, easy, and a tasty way to enjoy the classic recipe!
Ingredients
2 cups cooked chicken, shredded or chopped
2 sticks celery, chopped finely 
Handful red seedless grapes, cut into halves
1/2 cup chopped walnuts
1 apple, chopped finely (I used honeycrisp)
Handful lettuce, torn
1 heaped tablespoon plain Greek yogurt (I used 2%), or to taste
1 heaped tablespoon mayo, or to taste
1 teaspoon lemon juice, or to taste
Salt & pepper, to taste
2-4 whole wheat wraps 
Instructions
Prep your chicken, celery (I also chop up some celery leaves and add them if I buy a full head), grapes, walnuts, apple, and lettuce. Add them to a bowl.
Mix in the yogurt, mayo, and lemon juice. Adjust the dressing quantities to your personal preference and season with salt & pepper to taste. 
Fill the wraps with the chicken salad, or enjoy the chicken salad by itself or with bread. Serve immediately. 
Notes
Makes 2-4 wraps, depending on how full you stuff 'em.
Courses Main Course
Cuisine American
You may also like these chicken lettuce wraps or my go-to wraps recipe.
Try more of my tasty recipes: