It's easy to turn store-bought gnocchi into a restaurant-worthy meal! All of these gnocchi recipes are ready in less than 30 minutes, and the gnocchi is cooked right in the sauce so you don't have to pre-cook it.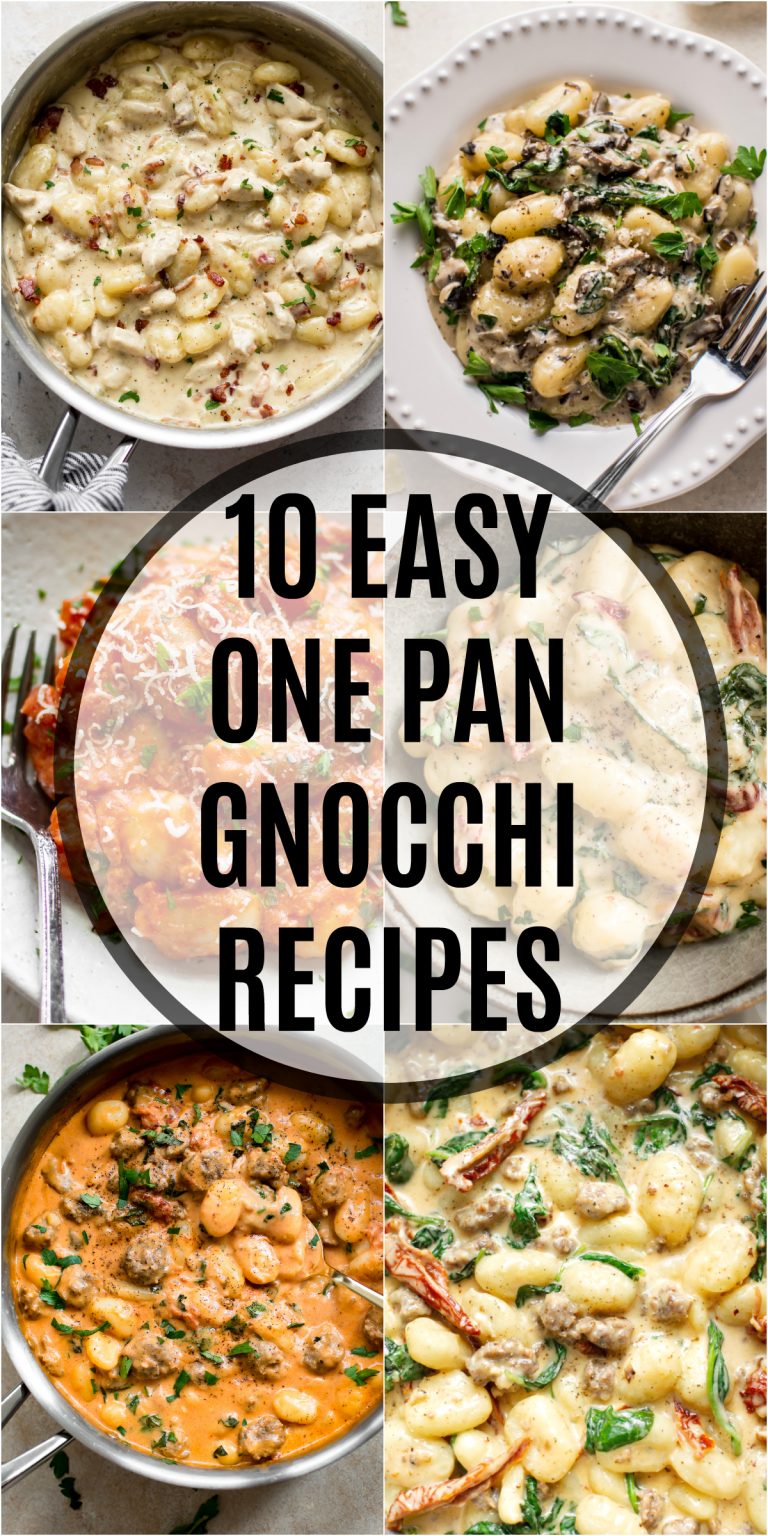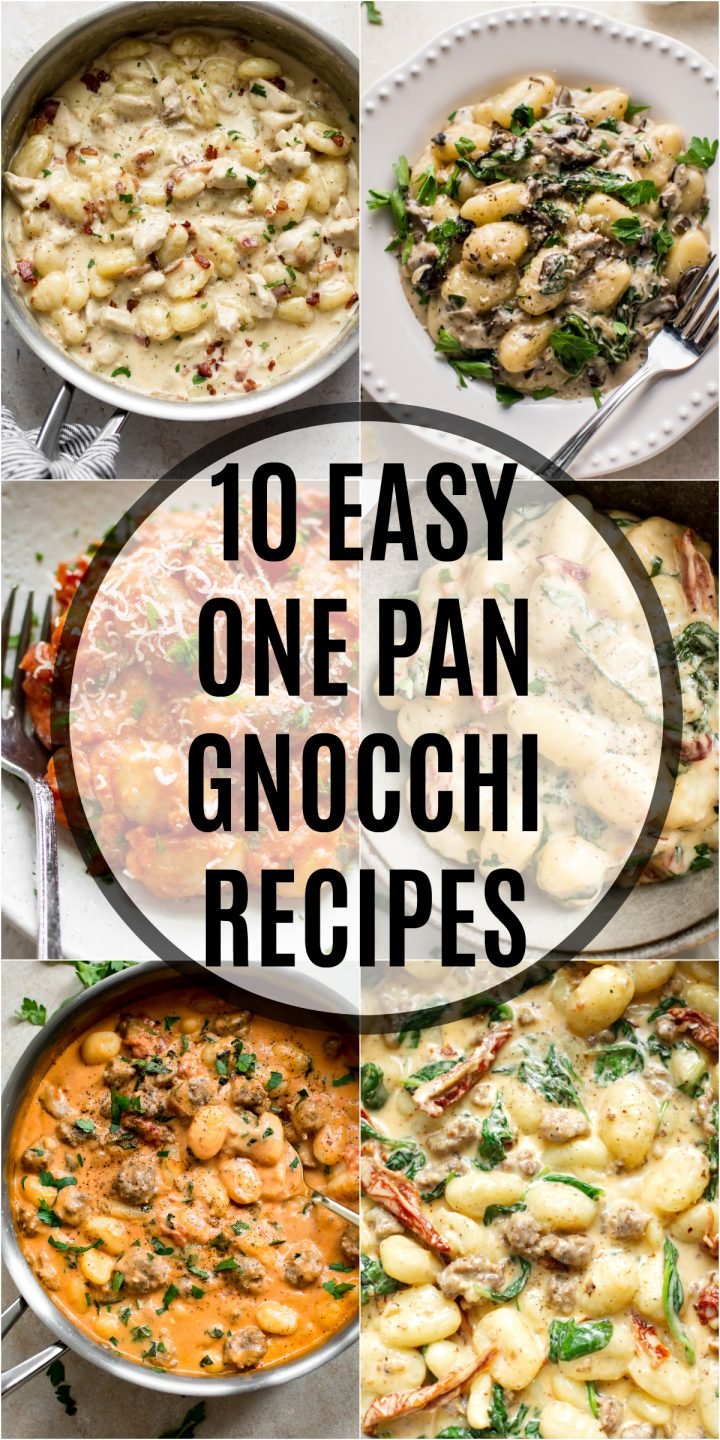 There's something for everyone in these 10 gnocchi with sauce recipes.
What kind of gnocchi do I use in these recipes?
I buy the shelf-stable potato gnocchi that's found in the dry pasta aisle in most major grocery stores. I don't have any particular brand loyalty. The refrigerated gnocchi will work too. I don't recommend using homemade gnocchi because it can be a bit delicate for the one pan cooking method.
What to serve with gnocchi?
Some of these recipes work best as main courses, and others are more side dishes. I recommend serving the main course ones with a salad or garlic bread. The side dishes go with any entree you can think of.
Without further ado, here's the recipes:
We've got bacon, tender chicken breast, and a creamy garlic sauce… what more could you ask for? This makes one awesome dinner. One reader said: "Made it exactly as the recipe called for…was delicious! Even my picky eater boyfriend absolutely loved it!"

Italian sausage pieces (you can use mild or hot) nestled with pillowy gnocchi in a creamy tomato sauce is the ultimate comfort food. Possibly my favorite out of the 10!

The sun-dried tomatoes and fresh basil scream summer (even if it's the middle of winter). A delicious vegetarian main course or side dish.

This gnocchi recipe doesn't have any cream, but it does have a garlicky tomato sauce with plenty of delicious, melty parmesan and mozzarella. So good.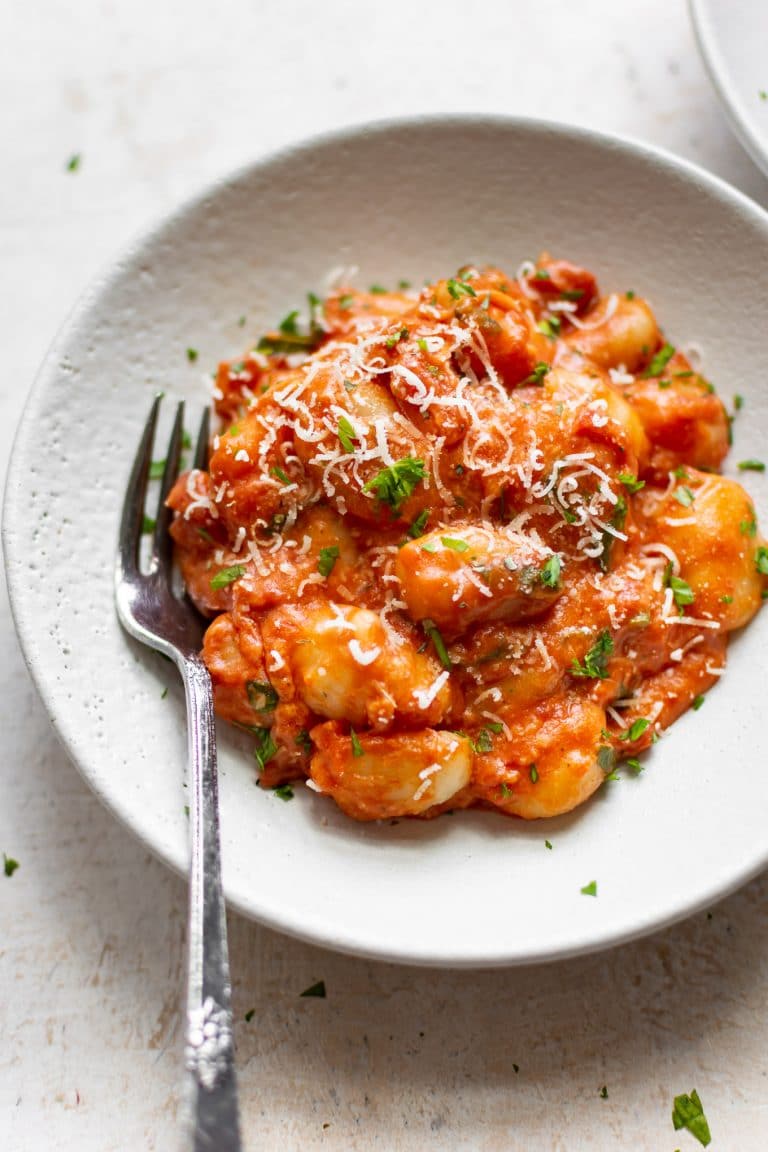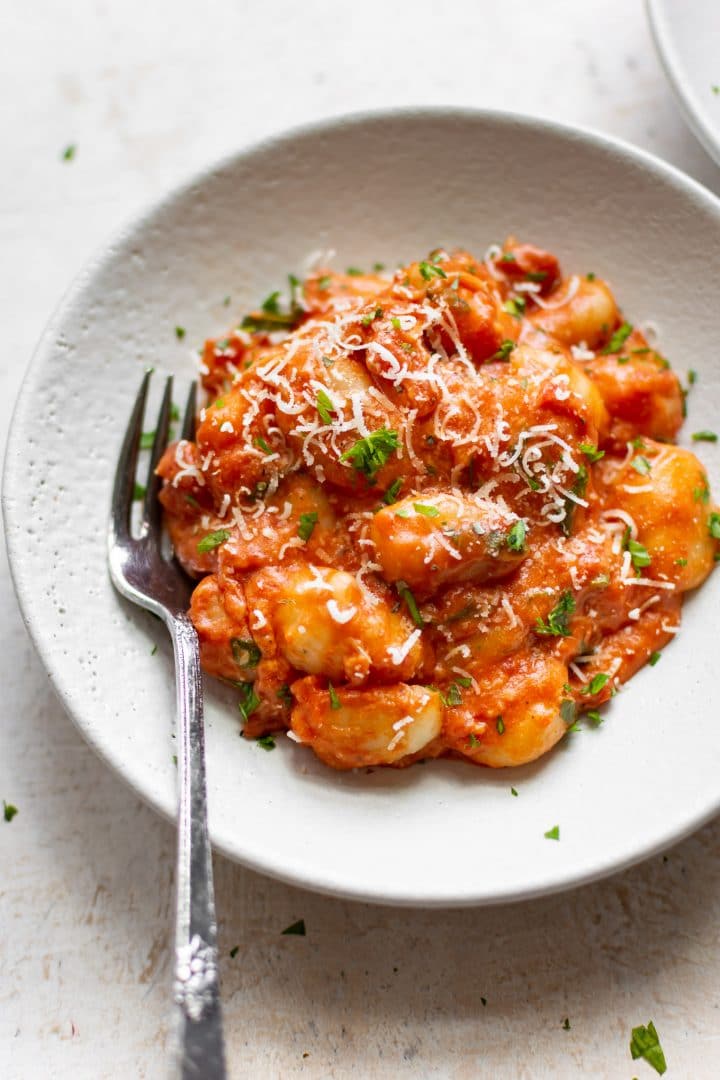 The recipe that started it all, and it remains one of my most popular recipes. Vegetarian and meat-eaters alike just love it. Great as a main course or side. One lovely reader said: "Awesome recipe! Even my fussiest family members loved it. My husband said it was a 10 out of 10. Thanks!!!"

The perfect quick & rich side dish if you want to try a twist on Fettuccine Alfredo!

This side dish is a fun twist on the popular hot dip.

The tomato cream sauce envelopes the gnocchi and you'll definitely want seconds. 😉 This one works as a vegetarian main course or a side dish.

If you like the classic penne alla vodka, try this. It has a lighter tomato cream sauce and makes an excellent side dish.

Spinach, sun-dried tomatoes, Italian sausages, parmesan cheese, cream, and fresh basil make the most incredible sauce. A reader said: "Made this for my boyfriend and I this past Saturday, OMG it was AMAZING!! We are big on flavor and this did not disappoint, there were no leftovers and we loved it so much we made another batch for dinner on Sunday!"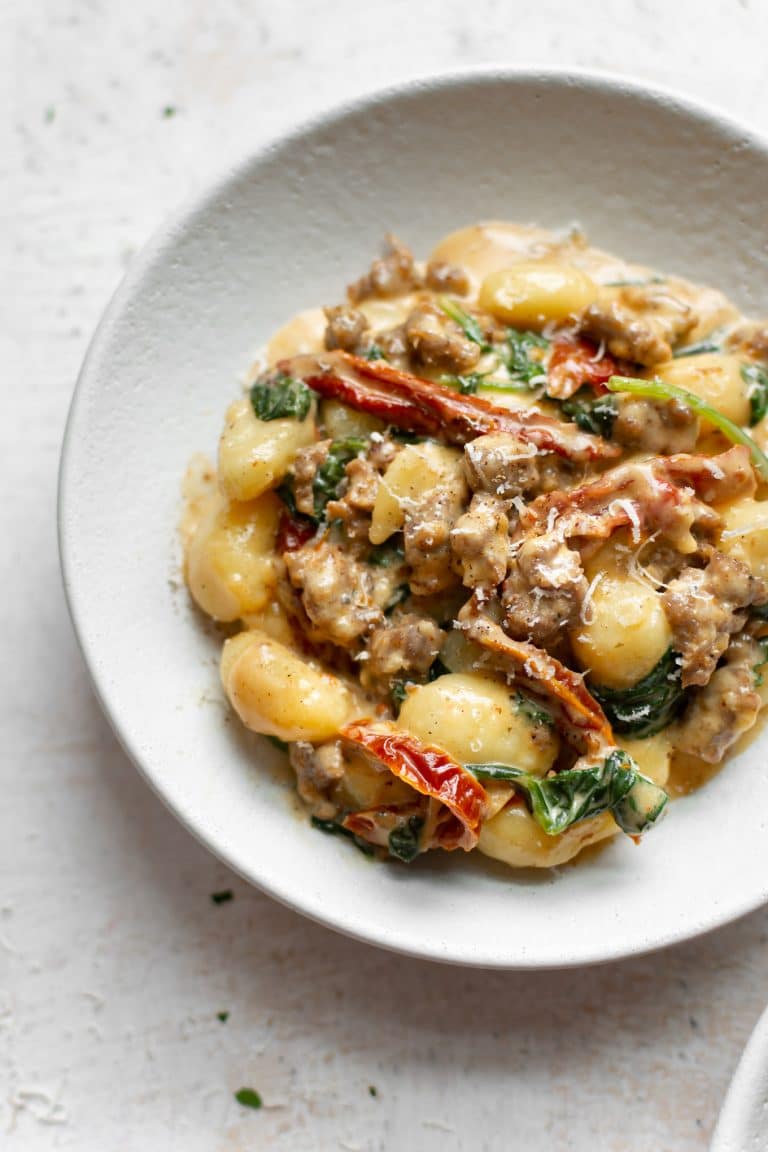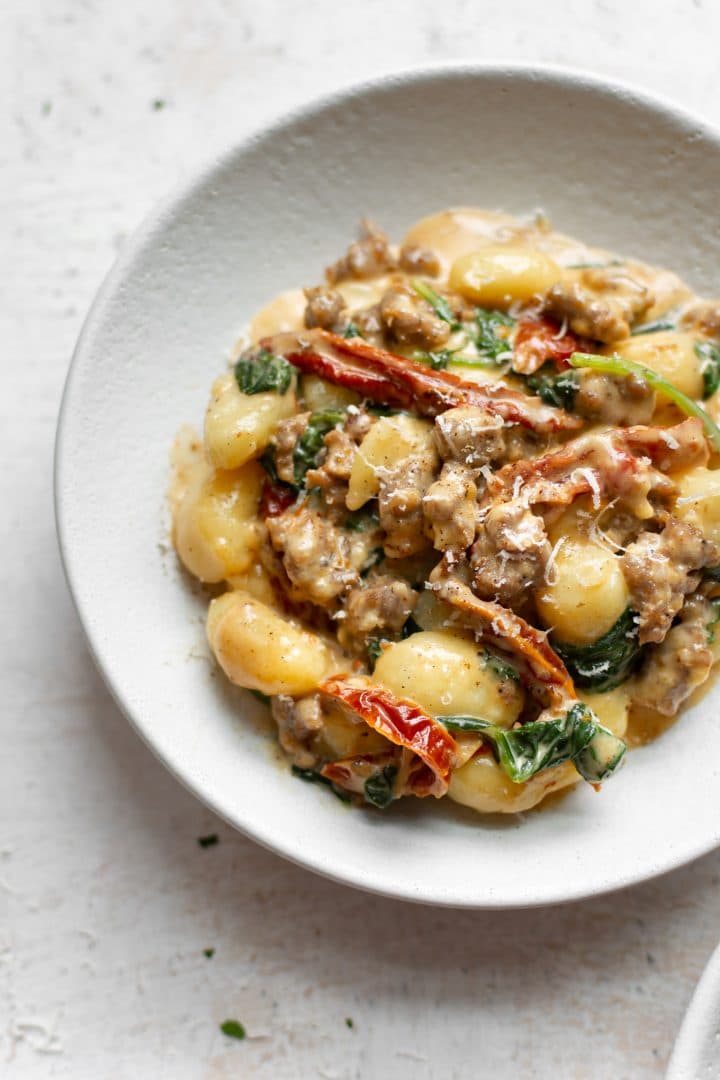 Which one will you try? If you make any of my recipes, tag me on Instagram! 🙂