This easy creamy balsamic chicken bacon mushroom pasta is loaded with flavor! A simple weeknight dinner that the whole family will love. Ready in only 30 minutes!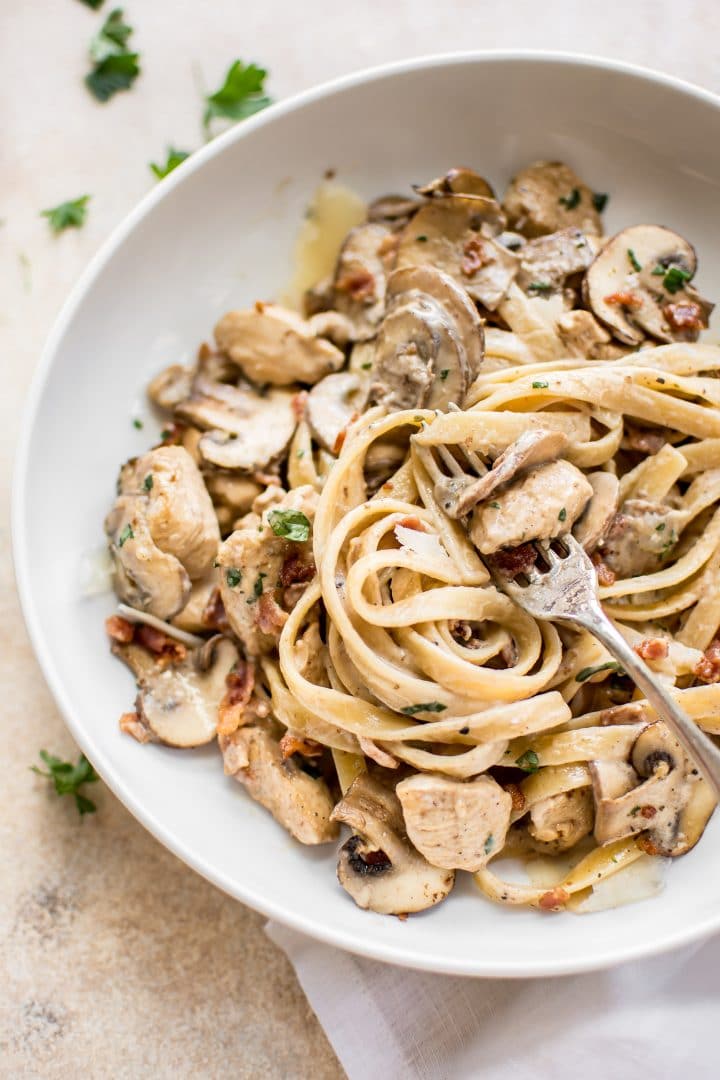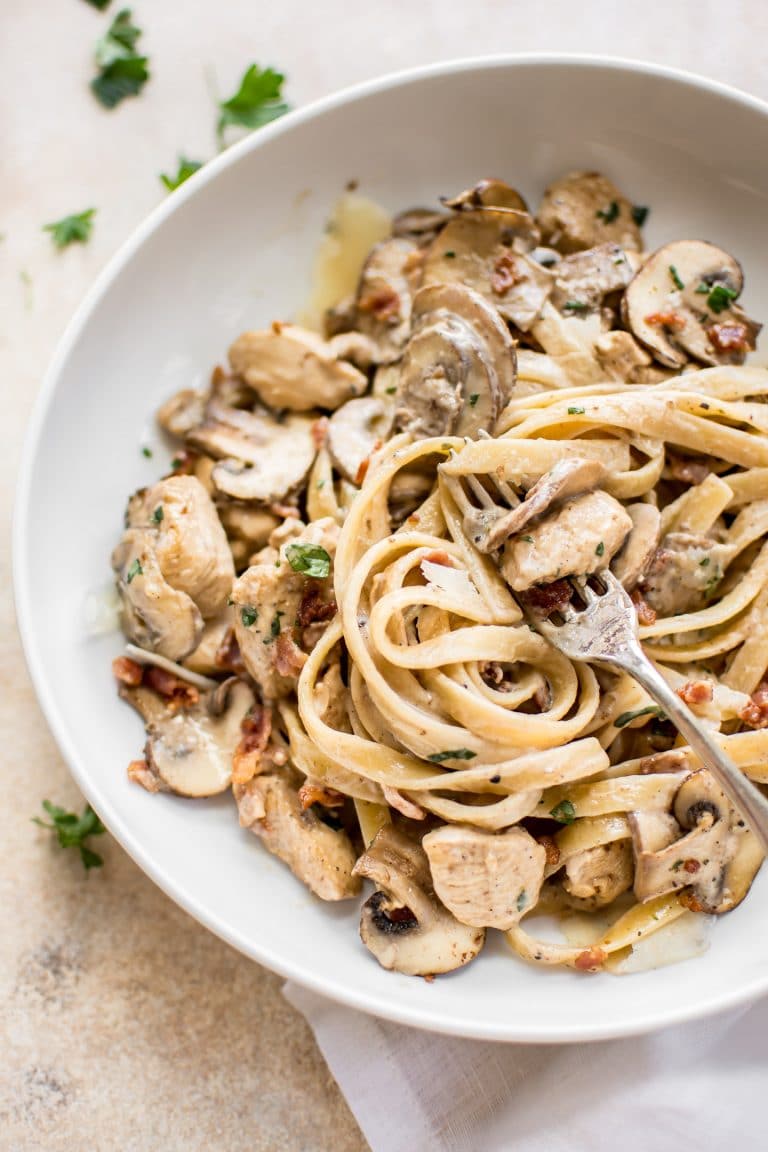 Have you ever made pasta with balsamic vinegar? I love cooking with it.
Whether you're making a salad dressing with it, a balsamic glaze, or putting it into a meat dish, it's a versatile ingredient.
Making a balsamic pasta sauce is easy. I didn't go overboard with the vinegar in here, so you're left with a nice, subtle balsamic flavor that isn't too strong.
This pasta is definitely a treat, but I only used 3 strips of bacon in the whole thing, and this feeds at least 4, so you're good. 😛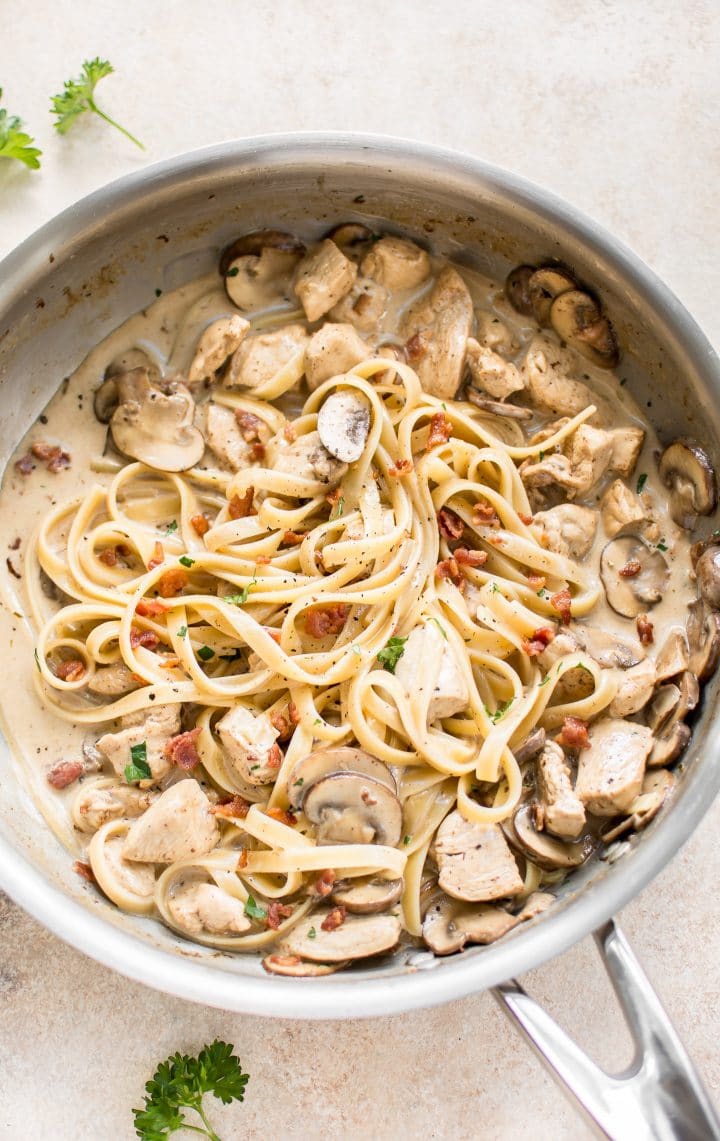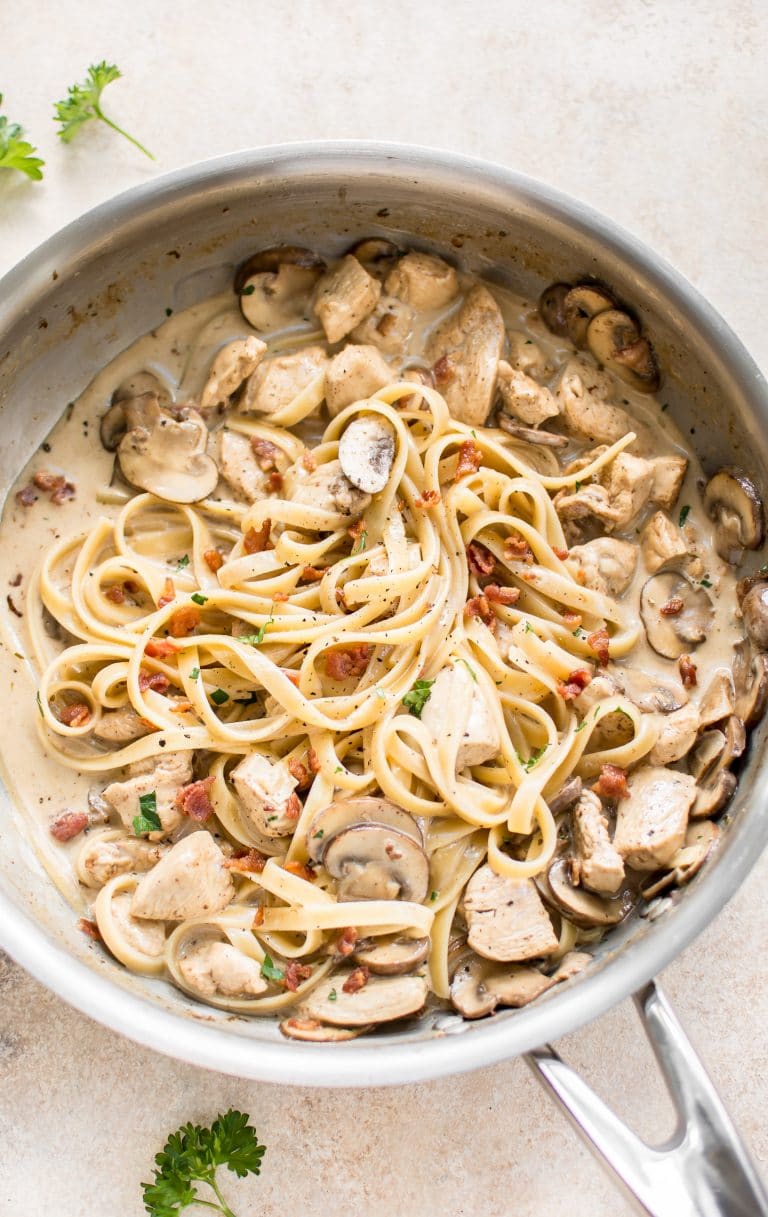 How to make chicken bacon mushroom pasta
This is a pretty straightforward recipe. Cook the pasta while you're making the sauce.
Crisp the bacon up, add the mushrooms and cook them for a bit, then add the chicken to the pan.
Stir in the balsamic vinegar then the cream. Simmer it for a while and then toss it with the pasta and some fresh parmesan.
So good and fast!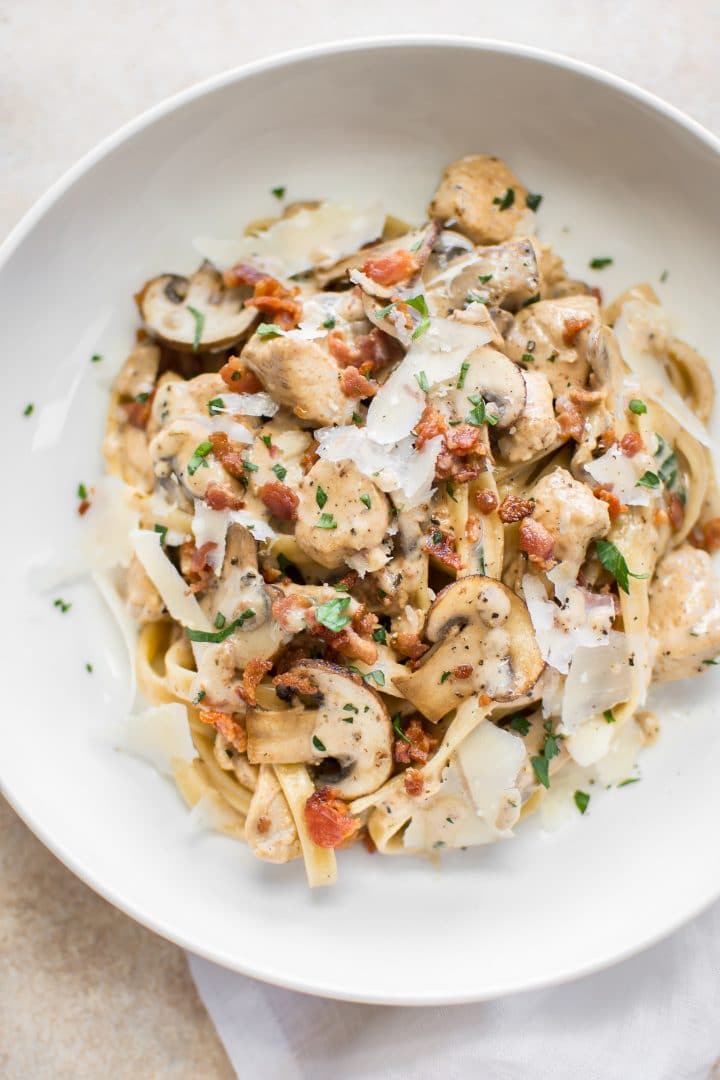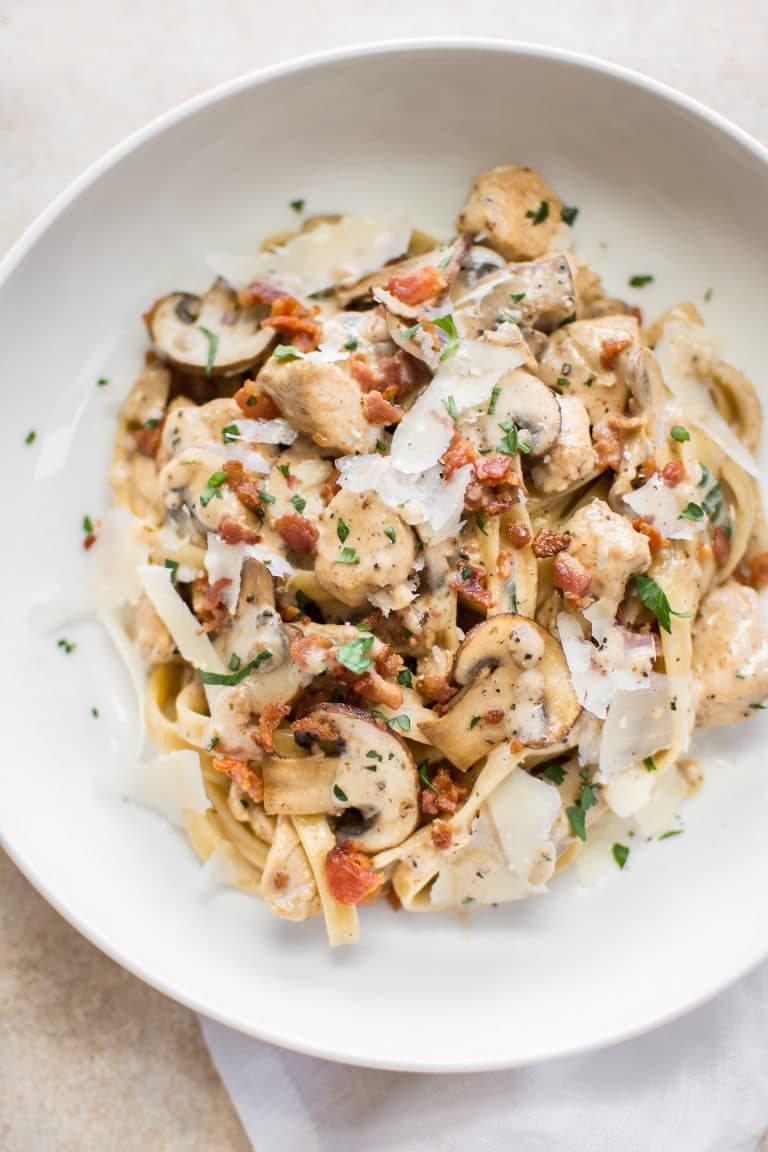 Pro tip: to thicken the sauce in this creamy chicken and bacon pasta without overcooking the chicken, I slightly undercook the pasta and then toss it with the sauce at the end for a couple of minutes.
This helps release more of the starch and the sauce is thickened just enough.
You could use any kind of mushroom you want in this dish. I've made it with white and cremini mushrooms before.
You may also like: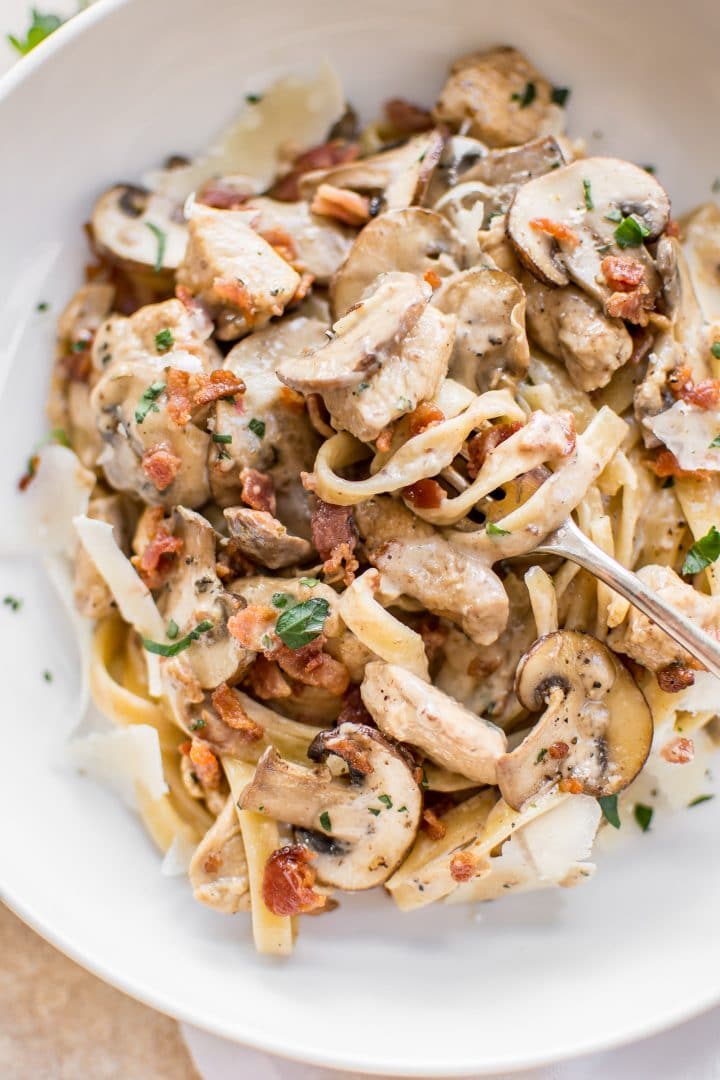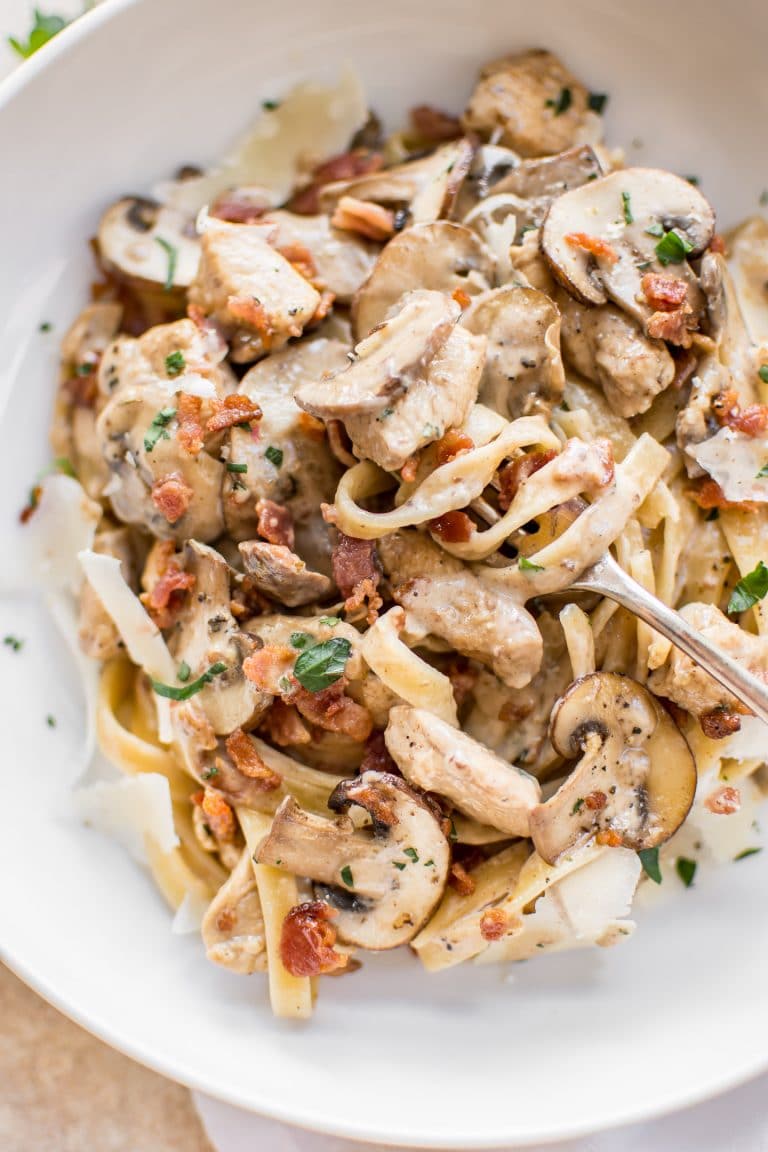 Will you give this creamy balsamic chicken pasta a try?
Questions? Let me know in the comments below.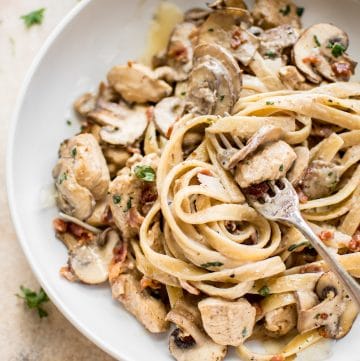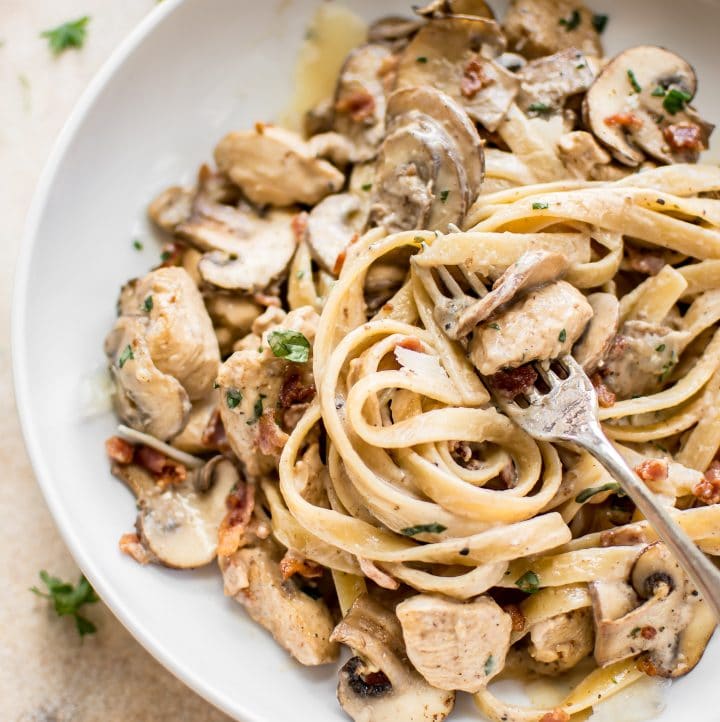 Creamy Balsamic Chicken Bacon Mushroom Pasta
This easy creamy balsamic chicken bacon mushroom pasta is loaded with flavor! A simple weeknight dinner that the whole family will love.
Ingredients
8

ounces

uncooked pasta

2

chicken breasts

cut into bite-size strips

3

strips bacon

cut into small pieces

7

ounces

mushrooms (white or cremini work well)

sliced

1

tablespoon

balsamic vinegar

1

cup

heavy/whipping cream

1-2

dashes Italian seasoning

Pinch

of garlic powder

1/2

cup

freshly grated parmesan cheese

Salt & pepper

to taste
Instructions
Prep your bacon and chicken. Boil a large, salted pot of water and cook pasta al dente according to package directions.

Meanwhile, add the bacon to a skillet over medium-high heat. Cook, stirring occasionally, until it's nice and crispy (about 7-10 minutes). Take the bacon out of the pan and set it aside.

Drain some of the bacon fat off, still leaving enough to cook the mushrooms in. Sauté the mushrooms for about 3-4 minutes or until they start to release some of their water.

Add the chicken in the pan and cook for another 4-5 minutes or so. Most of the liquid should be gone from the pan by now. If not, cook a little bit longer.

Stir in the balsamic vinegar and cook it for about a minute.

Add the cream, Italian seasoning, and garlic powder to the pan. Give it a good stir (make sure to scrape up any brown bits from the bottom of the pan) and let it cook for 5 minutes or so (reduce heat if bubbling like crazy), taking care not to overcook the chicken.

Stir in the parmesan cheese, bacon pieces, and season the sauce with salt & pepper as needed.

Drain the pasta and add it to the skillet. Toss the sauce with the pasta continuously for a minute or two (I used tongs) - this will help thicken the sauce a bit.