This Crockpot lemon chicken orzo soup recipe is healthy, super easy, and delicious. Come home to a steaming bowl of cozy soup!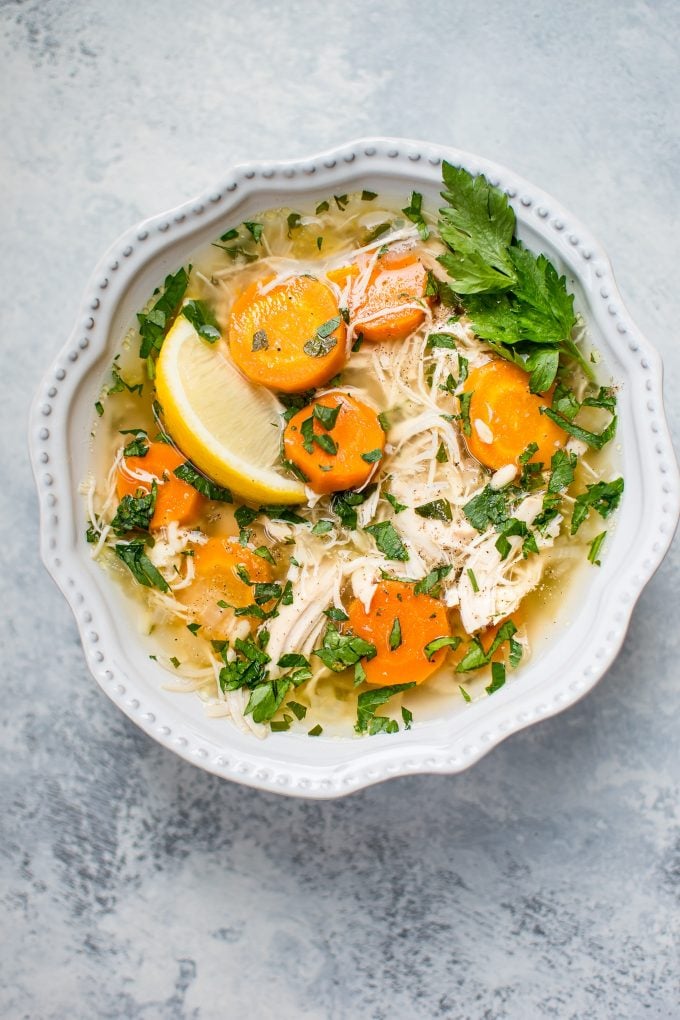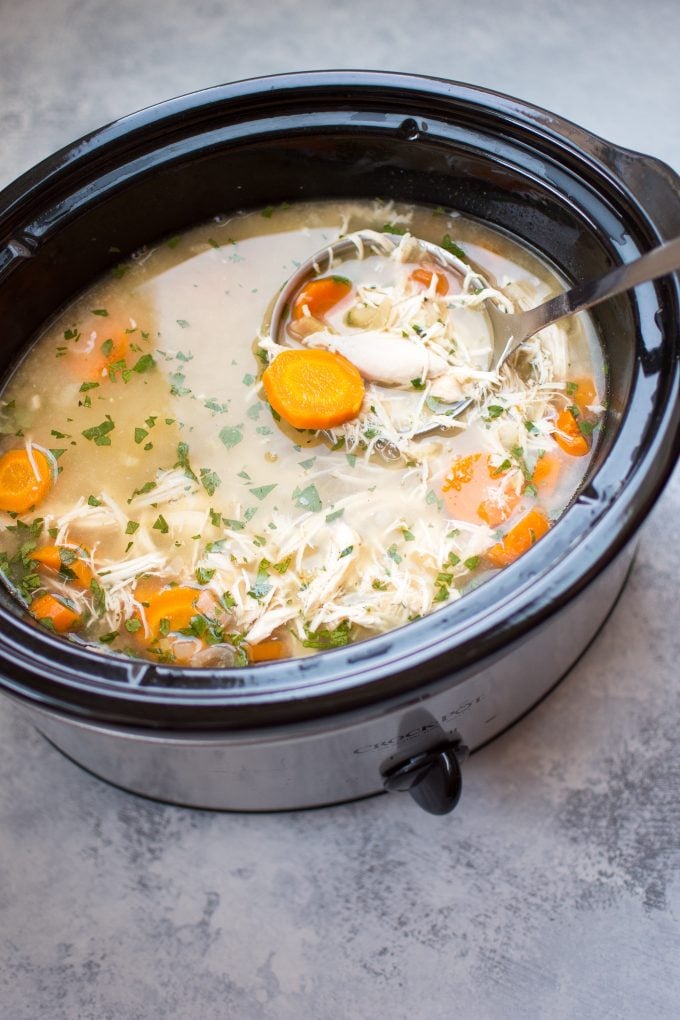 Happy Halloween! Ok, so this isn't a Halloween-themed recipe, but I'll acknowledge the occasion anyway. 🙂 Do you have any plans tonight? Trick-or-treating or handing out candy? I'm guessing most people did their Halloween parties over the weekend since this year Halloween falls on a Tuesday. I don't party much (shocking!), so I did not attend any parties haha. I'm a ton of fun.
Anyway, this chicken and orzo soup will come in handy this winter. It's the perfect way to warm up with very little effort. It's also the perfect soup if you're feeling under the weather. This is a soup that the whole family will love.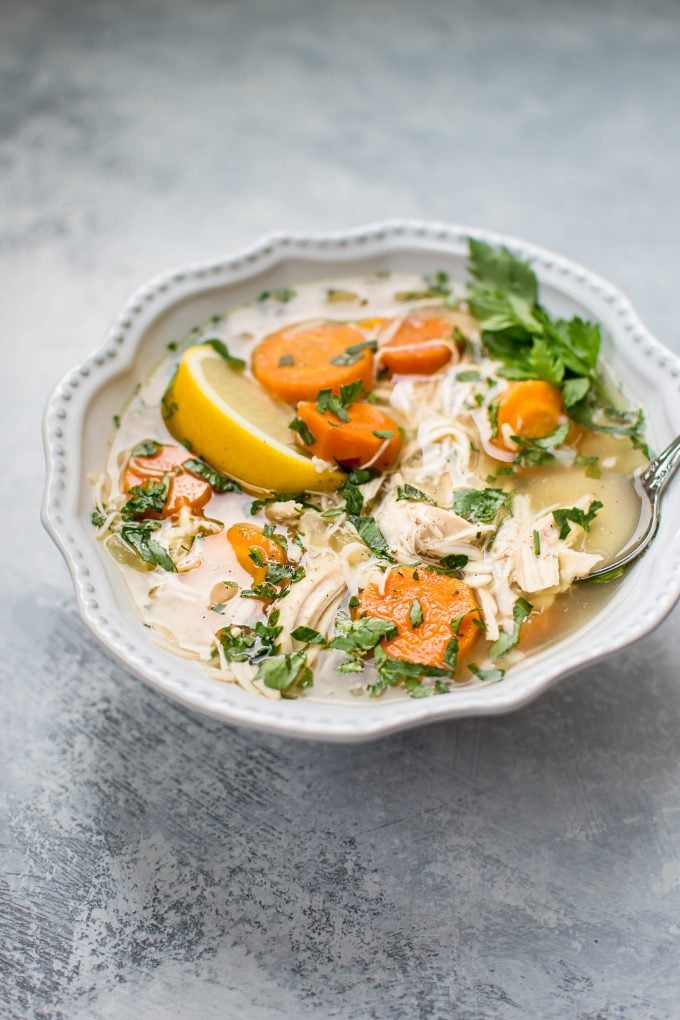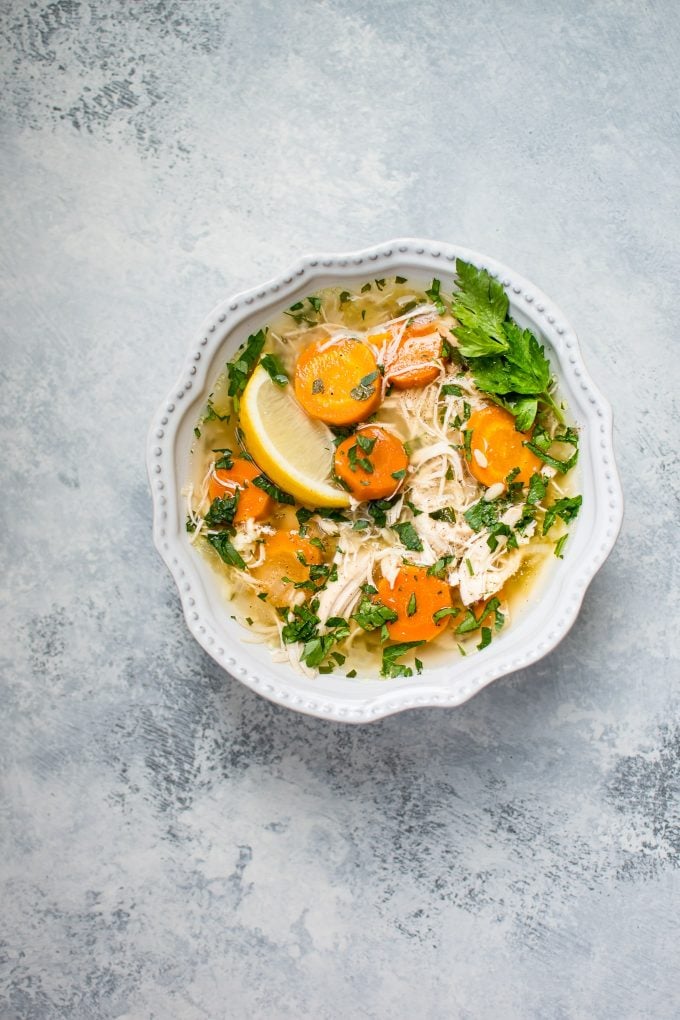 You know how sometimes parsley is just a pretty garnish and doesn't really make or break a dish? Well, I highly recommend adding the parsley to this lemon chicken soup. Adding the parsley and lemon juice at the end really perks it up and takes this out of just-another-chicken-soup recipe territory.
This would also be a great recipe to serve after all that Halloween candy. 😉 Enjoy!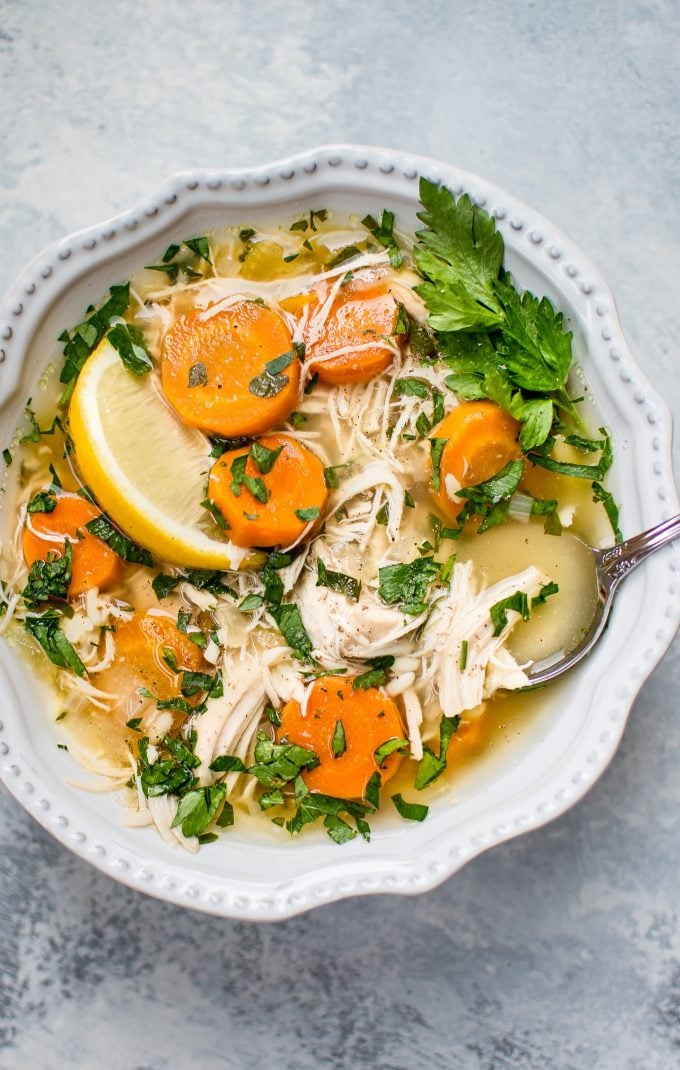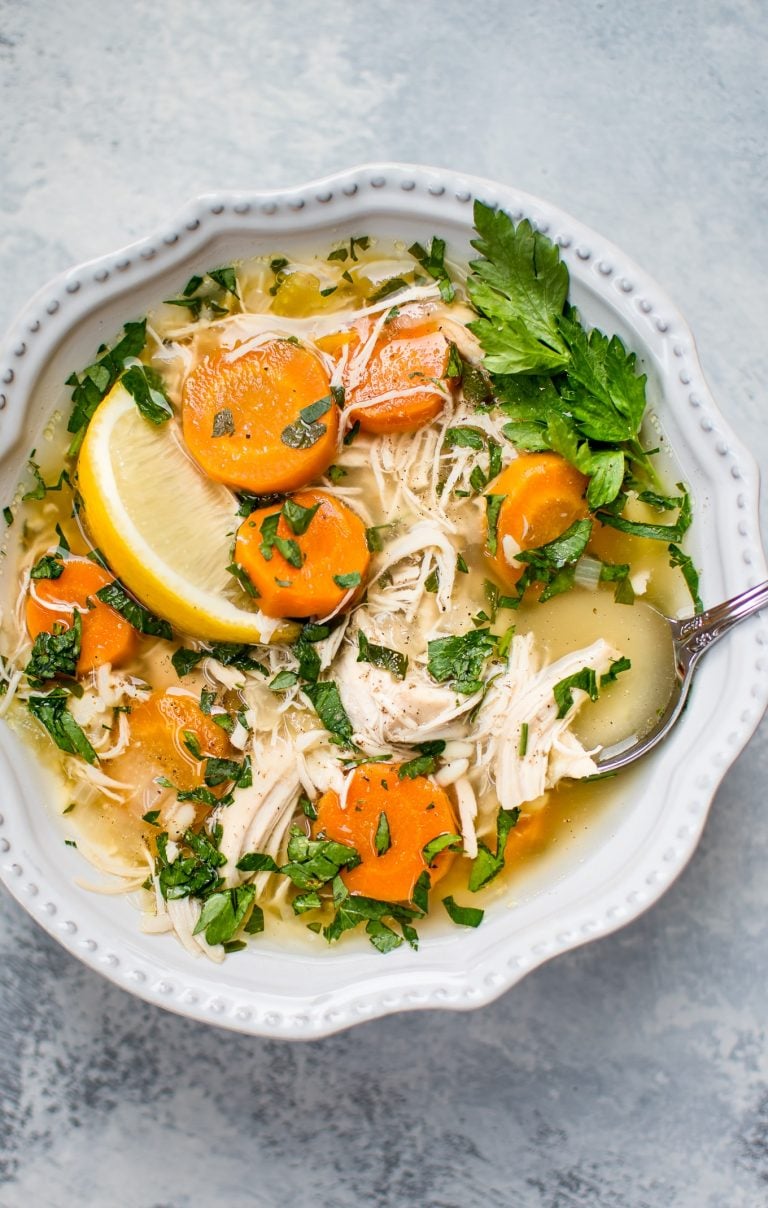 Print
Crockpot Lemon Chicken Orzo Soup
Yield 6
This Crockpot lemon chicken orzo soup recipe is healthy, super easy, and family-friendly. Come home to a steaming bowl of deliciousness!
Ingredients
4 boneless, skinless chicken breasts
2 large carrots, peeled & sliced
2 sticks celery, chopped fine
2 (10 fluid ounce) cans chicken broth
4 cups vegetable broth (or water)
4 cloves garlic, minced
1/2 teaspoon dried basil
1/2 teaspoon Italian seasoning 
3 bay leaves
Juice from 1 lemon (about 2 tbsp)
Handful fresh parsley, chopped
1 cup uncooked orzo
Salt & pepper, to taste
Instructions
Prep your celery and carrot. Trim any fat off the chicken. 
Add all ingredients except for the salt & pepper, lemon juice, parsley, and orzo. Cook on low for 6-8 hours.
About 30 minutes prior to serving, remove the bay leaves, shred the chicken with 2 forks, and add the lemon juice, parsley, orzo, and salt & pepper. I recommend stirring every 10 minutes or so because the orzo may stick to the bottom of the slow cooker otherwise. Serve immediately. 
Notes
You can also use boneless skinless chicken thighs if you prefer dark meat (I'd use 6 of them in this recipe and keep the cooking time the same). If you're cooking this for the full 8 hours the chicken breasts may dry out a bit - you may want to considering using chicken thighs instead.
If you're cooking it for 6 hours or less, I do suggest ensuring your chicken is properly cooked when you go to shred it. 
This is the 7 quart Crockpot I used to make this recipe. 
Courses Soup
You may also like my Crockpot Mexican chicken soup, my Crockpot cabbage soup recipe, or my Crockpot chicken stew.
Try more of my tasty recipes: