This Crockpot Mexican chicken soup is fresh, tangy, and comforting. Set it and forget it, and you'll come back home to a wonderful healthy homemade soup!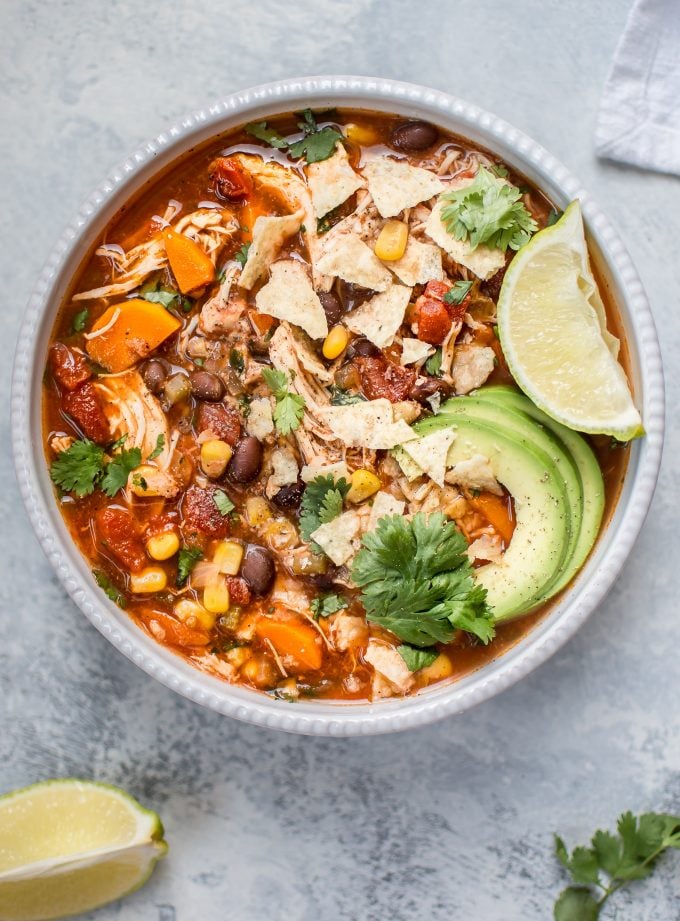 My favorite thing about this slow cooker Mexican chicken soup is how it's colorful and light but still cozy and filling. As much as I love heavy fall/winter soups, sometimes you just want something a bit lighter. Besides, depending on the toppings you choose, you can definitely load it up if needed!
There are plenty of versions of this recipe out there, but that didn't stop me from making my own. 🙂 I included plenty of corn, black beans, carrots, celery, and a delicious spice blend. It ain't lacking any flavor!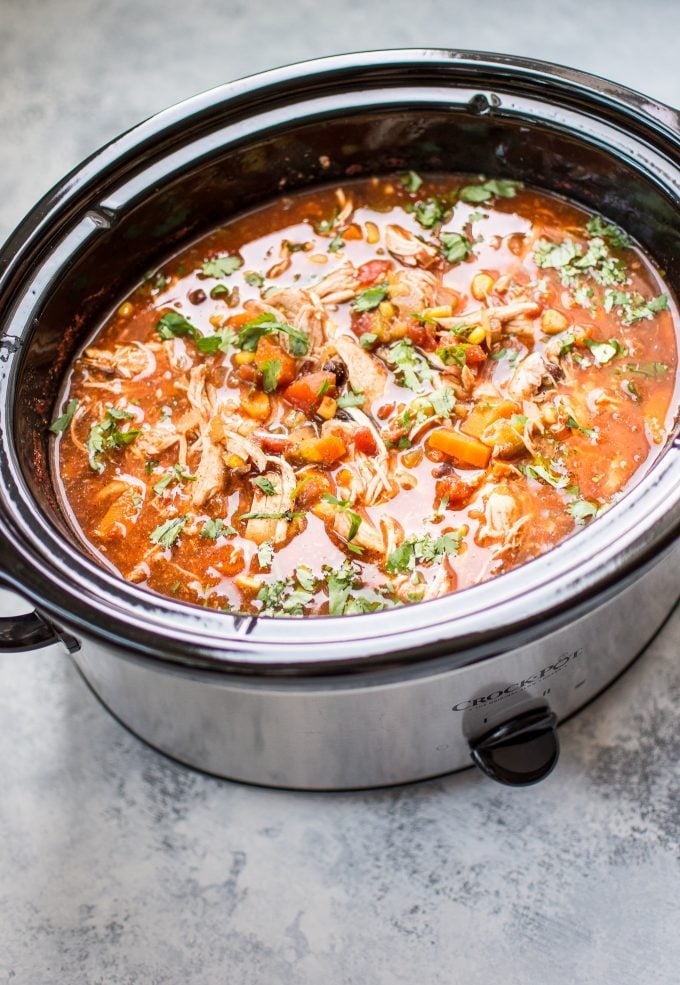 Let's talk about those toppings! Any/all of these would work in this Mexican tortilla soup:
Greek yogurt or sour cream
Fresh cilantro
Broken up tortilla chips
Sliced avocado
Lime wedges
Sliced jalapenos
Shredded cheese
As you can see from the photos,  I didn't add everything… feel free to add what works. A generous squeeze of lime juice is my favorite.
If you want this soup to be spicy, add some cayenne pepper!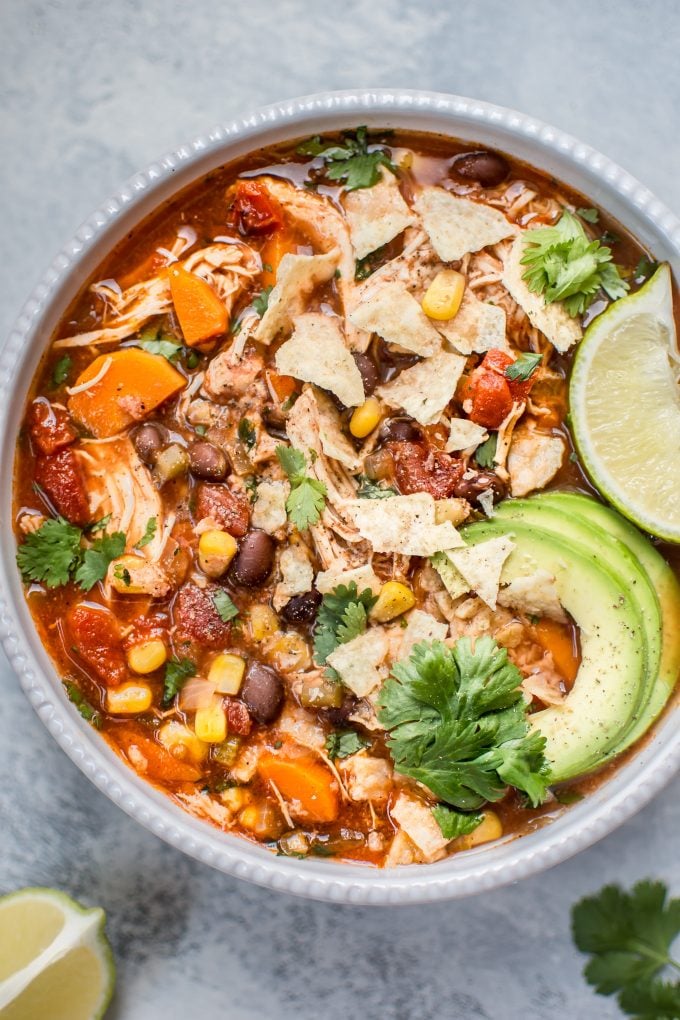 Let me know in the comments below if you make this healthy Crockpot chicken soup recipe!
So glad it's Friday… I hope you have a great weekend. 🙂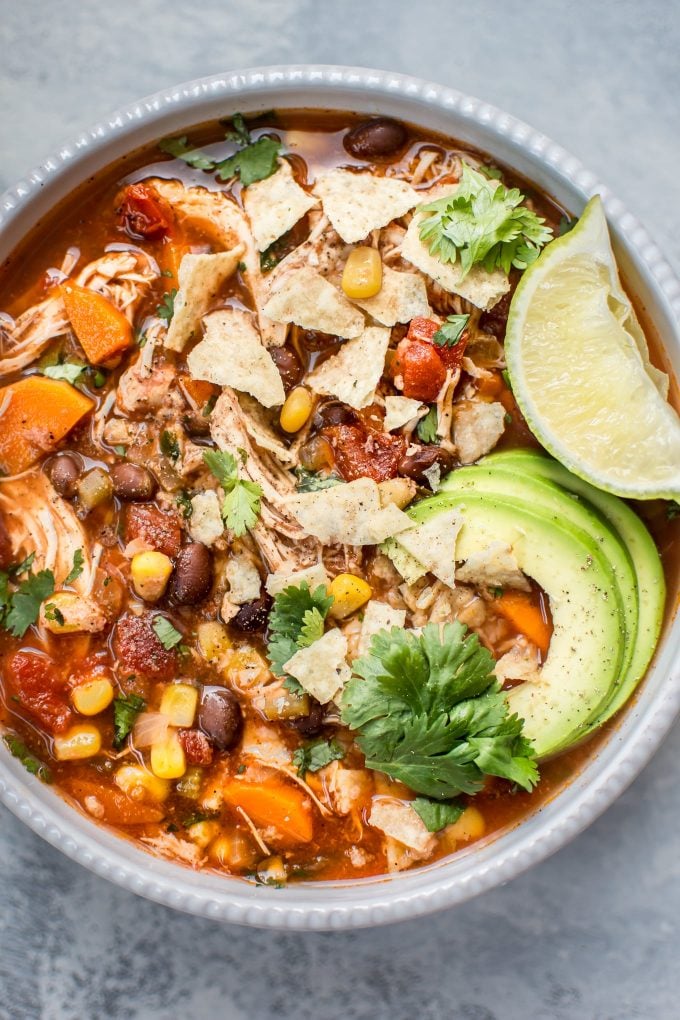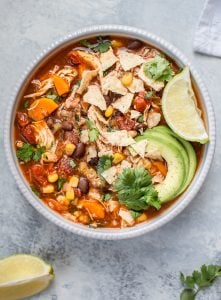 Print
Crockpot Mexican Chicken Soup
Yield 6+
This slow cooker Mexican chicken soup is fresh, tangy, and comforting. Set it and forget it, and you'll come back home to a wonderful healthy homemade soup!
Ingredients
1 (28 fluid ounce) can crushed or diced tomatoes (with juices)
2 (10 fluid ounce) cans chicken broth
1 (19 fluid ounce) can black beans, drained & rinsed
1 (12 fluid ounce) can corn, drained
1/2 medium onion, chopped
4 sticks celery, chopped
2 large carrots, sliced
1 teaspoon garlic powder
1 teaspoon ground cumin
1/2 tablespoon chili powder
Cayenne pepper, to taste (optional)
3-4 chicken breasts (boneless, skinless)
To serve:
Salt & pepper, to taste
Handful fresh cilantro, chopped
Juice of 1/2 lime
Garnish (optional):
Crushed tortilla chips
Greek yogurt or sour cream
Sliced jalapenos
Avocado slices
Lime wedges 
...etc!
Instructions
Prep your onion, celery, and carrots.
Add all the soup ingredients except for salt & pepper, cilantro, and lime juice to your Crockpot. I like to give everything a good stir prior to adding the chicken breasts. Cook on low for 6-8 hours. 
Once the soup is cooked, shred the chicken with 2 forks and stir in the cilantro and lime juice. Season to taste with salt & pepper if desired.
Garnish the soup with any/all of the garnish suggestions. Serve immediately. 
Notes
Feel free to swap the chicken breasts for boneless/skinless chicken thighs if you prefer dark meat. I'd add 4-6 of them for this recipe and keep the cooking time the same. 
If you're cooking it for 6 hours or less, I do suggest ensuring your chicken is properly cooked when you go to shred it. 
Courses Soup
Cuisine Mexican
If you like this recipe, you may also like my Crockpot cabbage soup or my slow cooker turkey chili recipe.
Try more of my tasty recipes: