These easy Instant Pot mashed potatoes are creamy, fluffy, and perfectly flavored with garlic, chives, and a bit of Greek yogurt and butter. The perfect cozy side dish!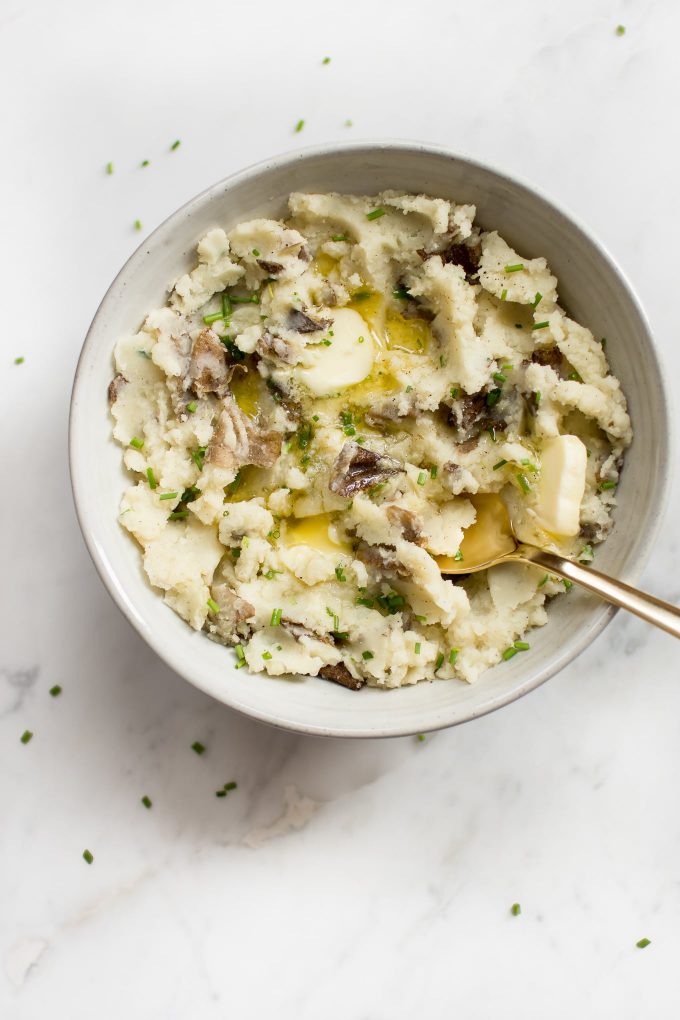 I'm very pleased with these Instant Pot garlic mashed potatoes. I kept sneaking bites. These are the perfect company mashed potatoes if you can keep your hands off long enough for people to arrive. 🙂
Are these the best Instant Pot mashed potatoes? I'd like to think so. Butter, plenty of garlic, chives, and Greek yogurt (or use sour cream if you prefer) to give it a bit of tanginess = the perfect flavors for mashed potatoes.
Cooking the potatoes in vegetable broth is another way that I'm kicking the taste of this side dish up. I reserved some of the vegetable broth to mash into the potatoes, and as well as giving it more flavor, it helps create that delectable creamy texture while mashing them.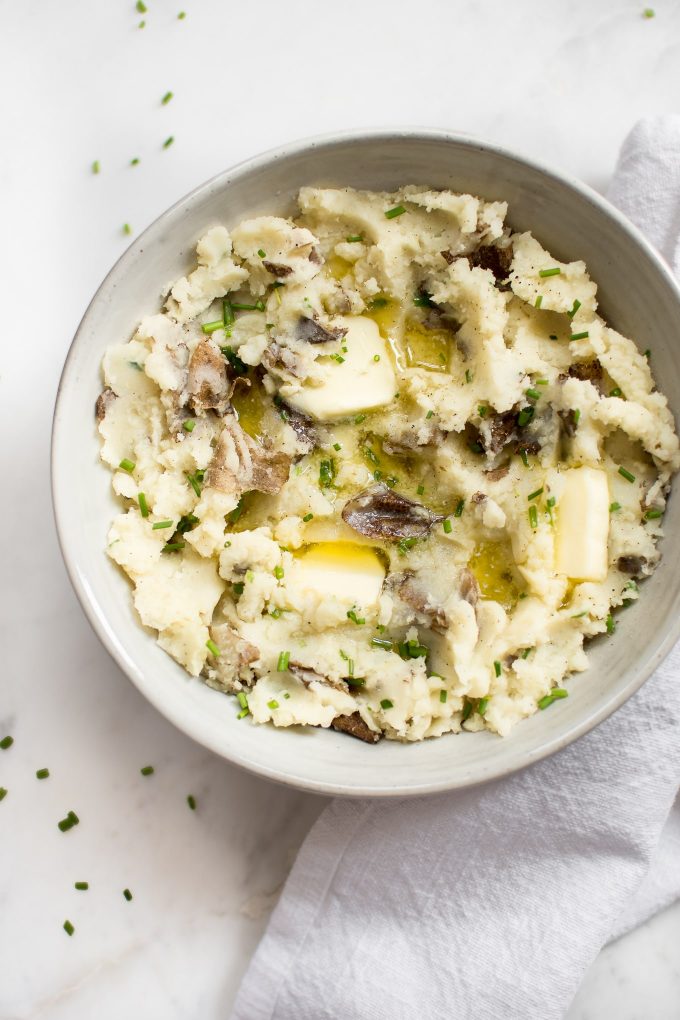 I didn't want to go crazy with the butter – there's only 2 tablespoons in here. These are actually fairly healthy compared to some of the mashed potato recipes out there. Naturally, I topped them with a generous amount of butter for the photos, but that's not necessary unless you want to. 😛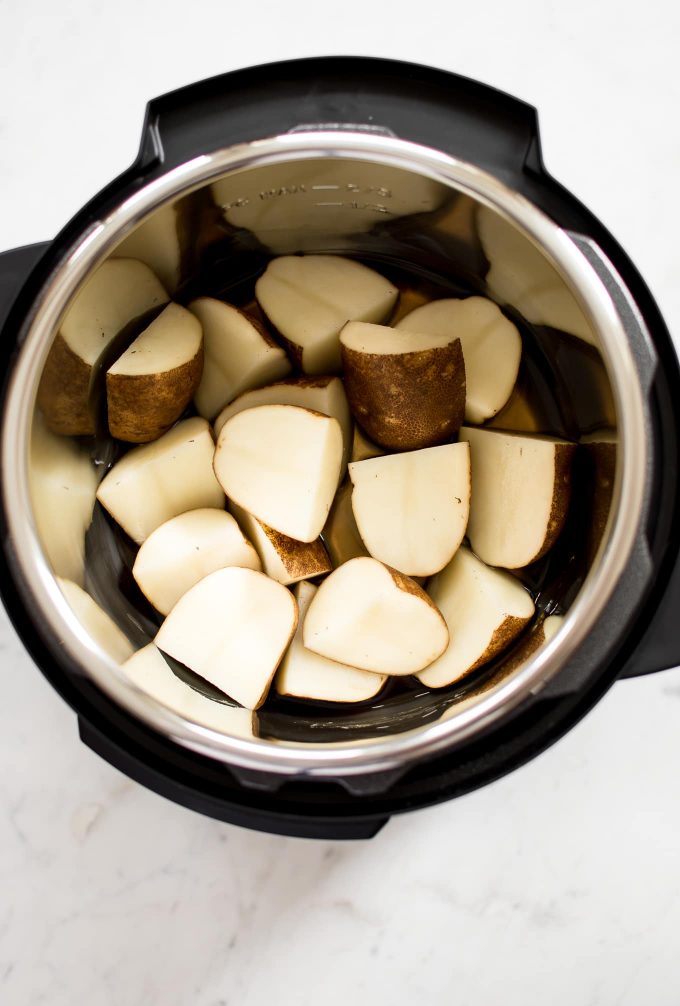 How to make mashed potatoes in an Instant Pot
Cut the potatoes into quarters & add them to your Instant Pot along with some vegetable broth (it's a key to making these more flavorful!). Cook the potatoes on high pressure for 8 minutes. Prep the mix-ins while they cook. Release pressure manually. Add the mix-ins and mash with some of the reserved broth to get the perfect silky texture.
Easy!
Why make mashed potatoes in an Instant Pot?
They cook more evenly in the pressurized environment
Frees up stove space (e.g. if you're making a big meal like Thanksgiving dinner or Christmas dinner)
The Instant Pot keeps healthy nutrients in
Won't heat your kitchen up
It's hands-off while the Instant Pot is getting up to pressure and cooking
It's fast!
What kind of potatoes should I use to make mashed potatoes?
I recommend Russet (baking) potatoes. You can also use Yukon Gold. These types of potatoes are the best because they're starchy and easier to mash.
You can use waxier potatoes (like red ones), but they're more prone to becoming sticky/pasty if you're not careful.
I like using a good old-fashioned manual potato masher to make mashed potatoes because you have more control than if you're using an electric mixer or food processor.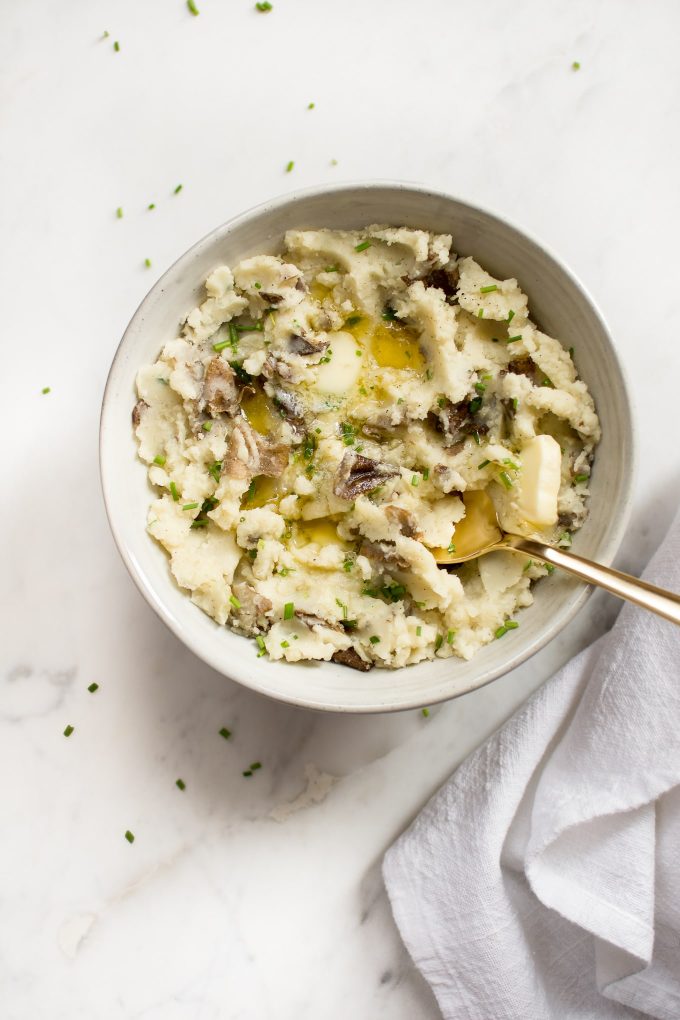 I hope you'll give these easy healthier pressure cooker mashed potatoes a try!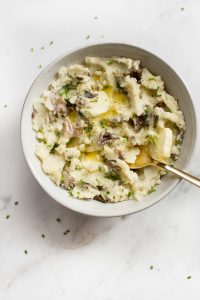 Print
Easy Instant Pot Mashed Potatoes
Yield 4-6
These easy Instant Pot mashed potatoes are creamy, fluffy, and perfectly flavored with garlic, chives, and a bit of Greek yogurt and butter. The perfect cozy side dish! 
Ingredients
2 pounds Russet potatoes (about 4 large ones), quartered (peel if desired)
1 cup vegetable broth
2 tablespoons butter
4 cloves garlic, minced
1/4 cup Greek yogurt (I use 2% or fat-free)
2 tablespoons fresh chives, chopped (or to taste)
Salt & pepper, to taste
Instructions
Prep your potatoes (peel if you want & cut them into quarters) and add them to your Instant Pot along with the vegetable broth.
Close the lid, make sure the valve is on "sealing", and set the timer to cook the potatoes for 8 minutes on high pressure (it'll take about 10 minutes or so to get up to pressure). 
Add the butter and garlic to a small bowl and microwave until the butter is melted. This step infuses the garlic into the butter for more flavorful potatoes and slightly cooks the garlic to take the edge off a bit.
Prep your Greek yogurt and chives.
Manually release the pressure once the potatoes are cooked. Test to make sure they're done by inserting a knife. If they're not done, put the lid back on and cook them on high pressure for another couple minutes.
Carefully take the inner cooking pot out of the Instant Pot and drain the vegetable broth into a bowl (use oven mitts). 
You can mash the potatoes right in the inner pot on your counter (I don't like to mash them with the inner pot in the pressure cooker in case I damage the heating element). Add the garlic + butter mixture and Greek yogurt to the potatoes. Mash the potatoes and add the vegetable broth as needed to get the texture you prefer. Season with salt and pepper (I'm pretty generous) and add the chives. Serve immediately. 
Notes
Make sure you salt these mashed potatoes enough - it really helps with the flavor. 
If you're not eating right away, you can simply leave them in the pressure cooker for up to a couple of hours and they will stay fresh and warm using the "keep warm" setting. 
This is the 6-quart Instant Pot I used for this recipe.
Courses Side Dish
Nutrition Facts
Serving Size 1/6 of recipe
Amount Per Serving
Calories 167
% Daily Value
* Percent Daily Values are based on a 2,000 calorie diet. Your daily values may be higher or lower depending on your calorie needs.
You may also like my Instant Pot mashed sweet potatoes recipe or my roasted mashed cauliflower recipe (not for Instant Pot but it's really tasty!).
Try more of my tasty recipes: