These easy Instant Pot mashed potatoes are thick and creamy, buttery, and perfectly flavored with a touch of garlic!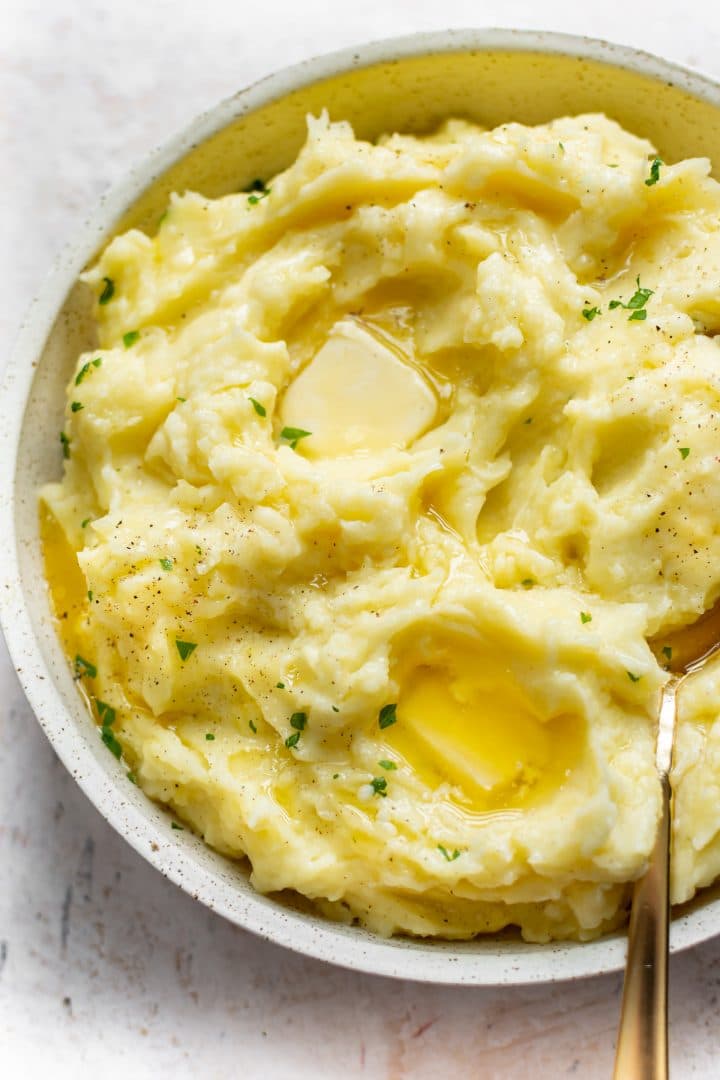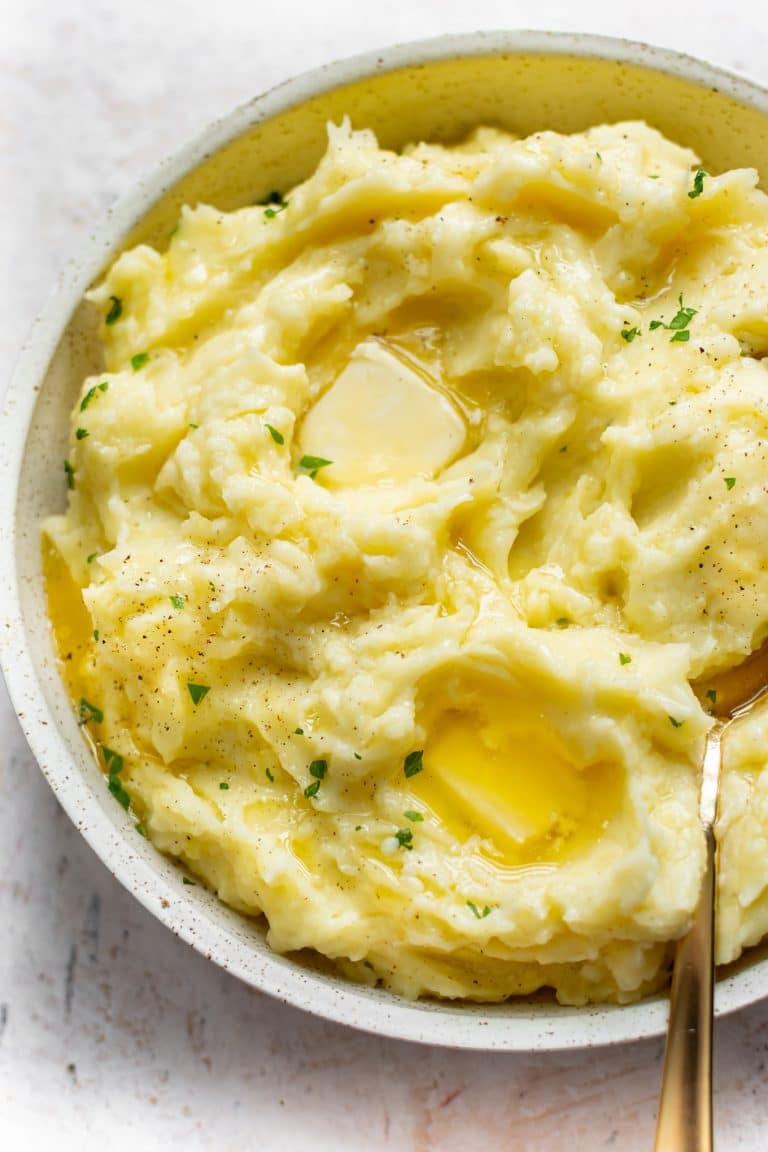 I'm very pleased with these Instant Pot garlic mashed potatoes. These are the perfect company mashed potatoes if you can keep your hands off long enough for people to arrive. 🙂 These would work great as a Thanksgiving or Christmas side dish.
I love how these mashed potatoes use just a handful of ingredients. The right variety of potatoes, butter, cream, salt, and a touch of garlic is all you really need!
This blog post was originally published on February 26, 2018. I revised the recipe to make it even yummier and added new photos to the post.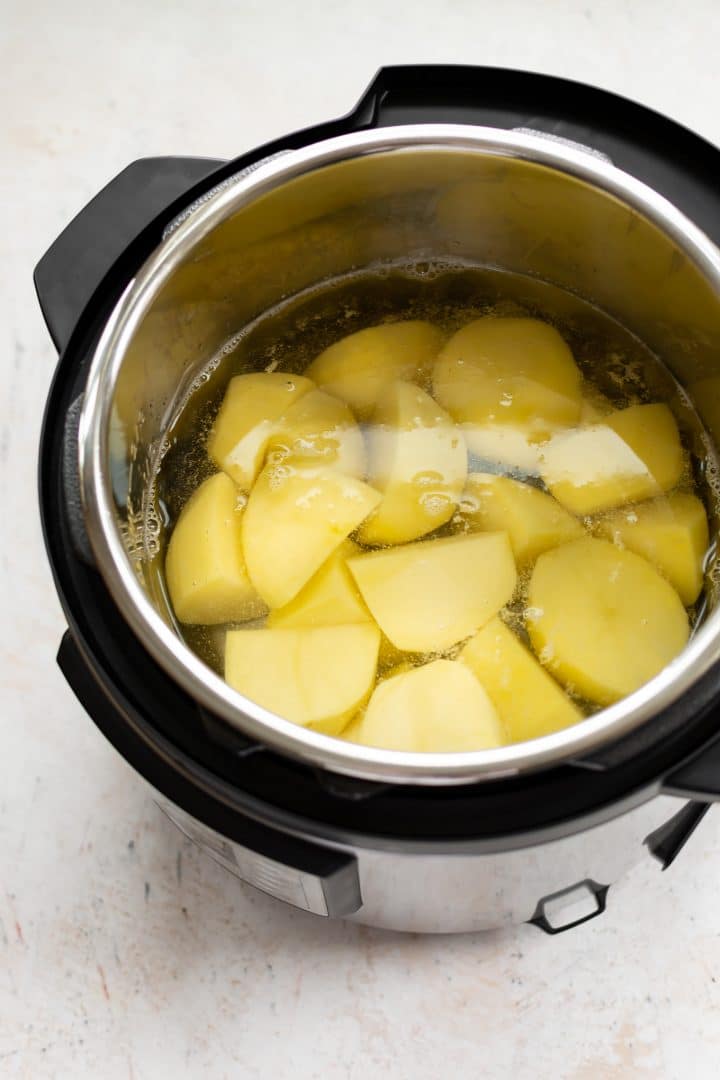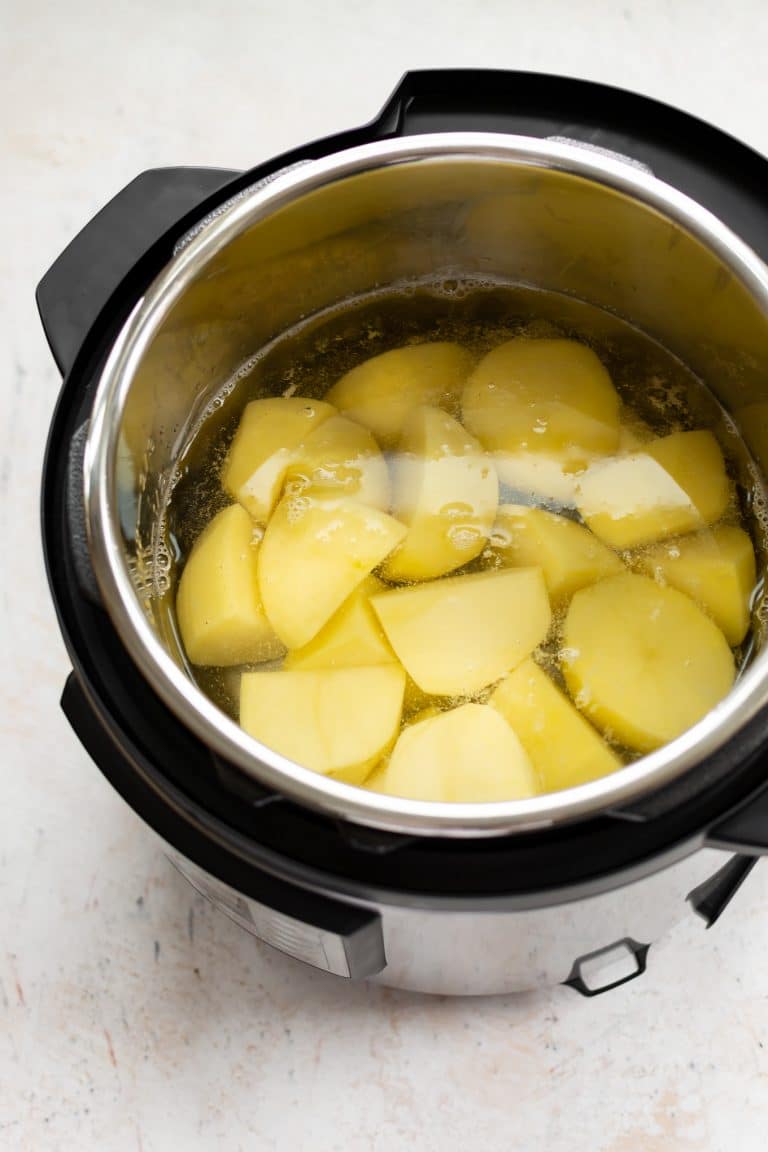 The key to making great mashed potatoes is plenty of butter, and these have plenty of butter. 😛 And enough salt. It's very easy to under-season mashed potatoes.
These mashed potatoes aren't the super light and airy kind... they're creamy and buttery and more restaurant-style. Just what I like.
Why make mashed potatoes in an Instant Pot?
Frees up stove space (e.g. if you're making a big meal like Thanksgiving dinner or Christmas dinner).
Won't heat your kitchen up.
You can keep the potatoes warm in the Instant Pot.
How to make mashed potatoes in the Instant Pot
Cut the potatoes into quarters & add them to your Instant Pot. Cover the potatoes with water and cook them on high pressure for 10 minutes;
Prep the cream and butter while they cook;
Do a quick pressure release;
Drain the potatoes & ensure they're fairly dry (try turning the sauté function on for a minute or so if there's a lot of extra water);
Mash the potatoes right in the Instant Pot while slowly pouring in the warm butter/cream/garlic mixture and generously seasoning them with salt & pepper.
Easy!
(Full ingredients and instructions are in the recipe card below)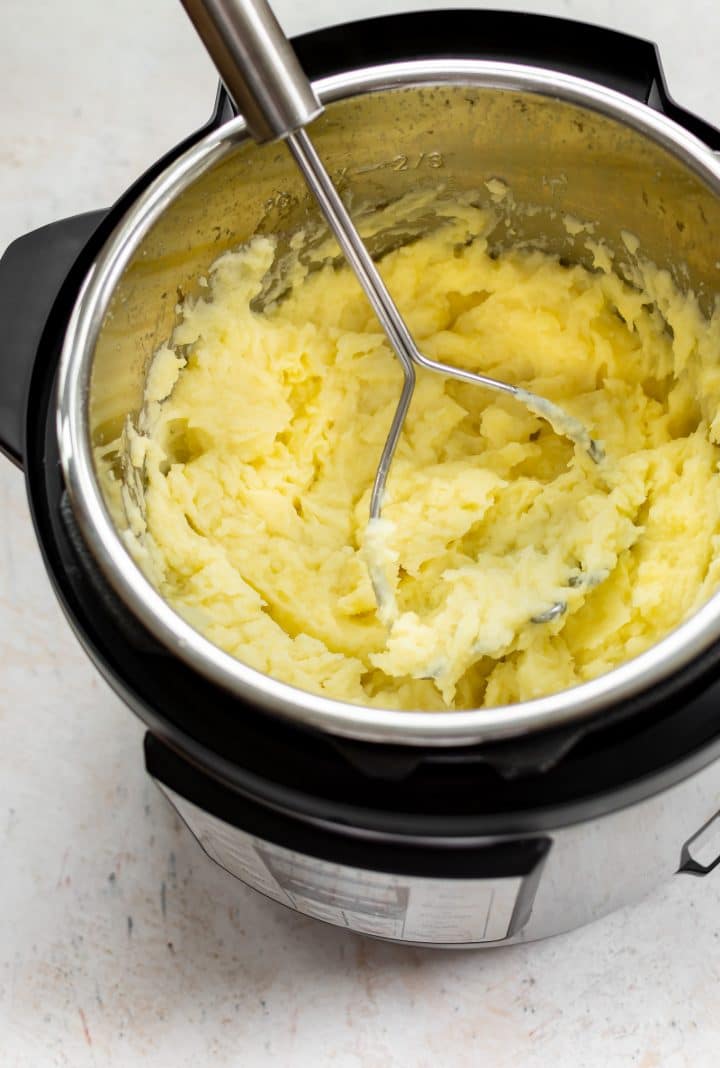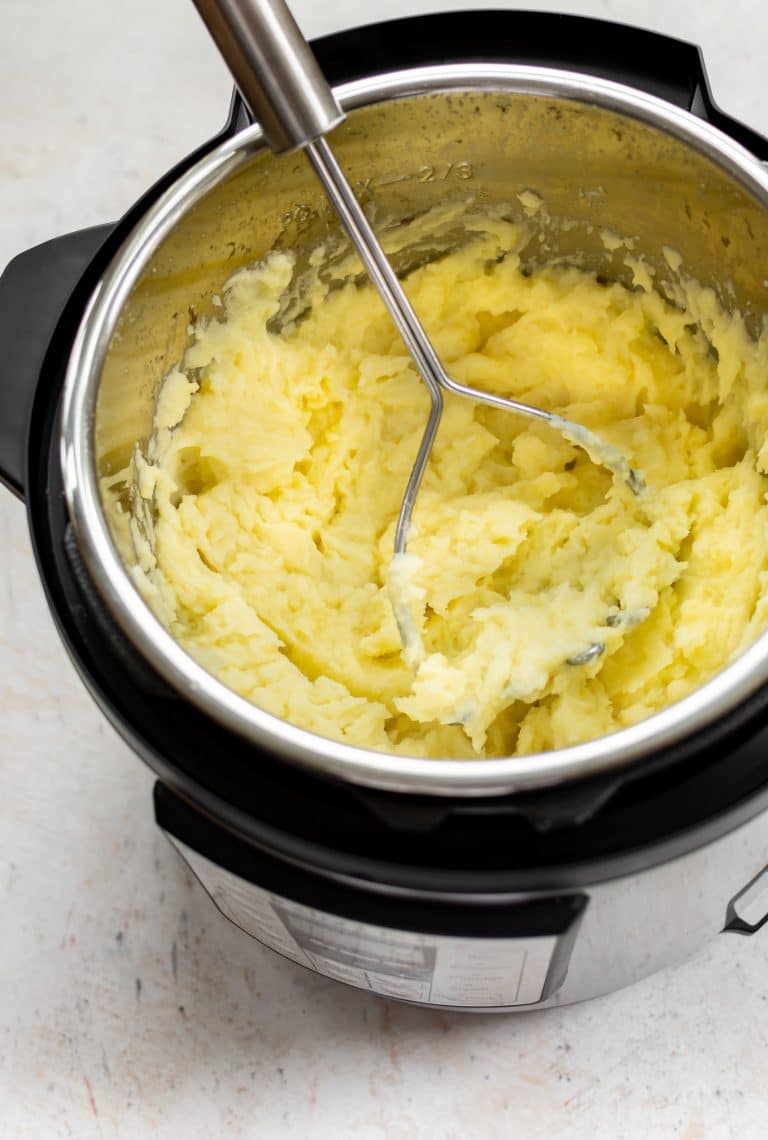 Recipe notes/success tips:
You can leave the potato skins on if you wish! Just make sure to scrub the potatoes fairly well. No one wants to taste dirt.
You can add even more garlic if you're a garlic lover like me!
Don't go easy on the salt - it's imperative for good flavor. I am hesitant to suggest a quantity since everyone's tastes vary, but 1 teaspoon of salt is a good starting point for this amount of mashed potatoes.
These are great make-ahead mashed potatoes (up to a few hours) because you can simply use the "keep warm" setting on your Instant Pot.
This recipe will easily double in a 6-quart or larger Instant Pot. Just add enough water to cover the potatoes and don't go over the max fill line. Cooking time will stay the same.
I use oven mitts to safely drain the potatoes - the IP gets really hot, so be careful.
It works best to mash the potatoes when they're nice and hot - don't let them sit draining in the sink for a long time.
I like using a good old-fashioned manual potato masher to make mashed potatoes because you have more control than if you're using an electric mixer or food processor, so it's less likely they'll become gummy/gluey by overworking them.
If your potatoes are various sizes, just try to get the pieces fairly equal (like cut larger potatoes into quarters and smaller ones into halves). You don't need to be too precise.
I garnished the potatoes pictured with extra butter and some fresh parsley. You could also chop up some fresh chives.
What kind of potatoes should I use to make mashed potatoes?
I recommend Yukon Gold (yellow) potatoes. Russet (baking) potatoes will work as well. These types of potatoes are the best because they're starchy and easier to mash.
You can use waxier potatoes (like red ones), but they're more prone to becoming sticky/pasty if you're not careful.
Can I substitute the cream for milk or half-and-half?
Yes, but the potatoes won't be as rich/creamy.
You may also like my Instant Pot mashed sweet potatoes recipe, my Instant Pot colcannon (Irish mashed potatoes), my bacon ranch mashed potatoes, or my roasted mashed cauliflower recipe (not for Instant Pot but it's really tasty if you're looking for a low-carb alternative to mashed potatoes!).
Are these the best Instant Pot mashed potatoes? I'd like to think so. 😉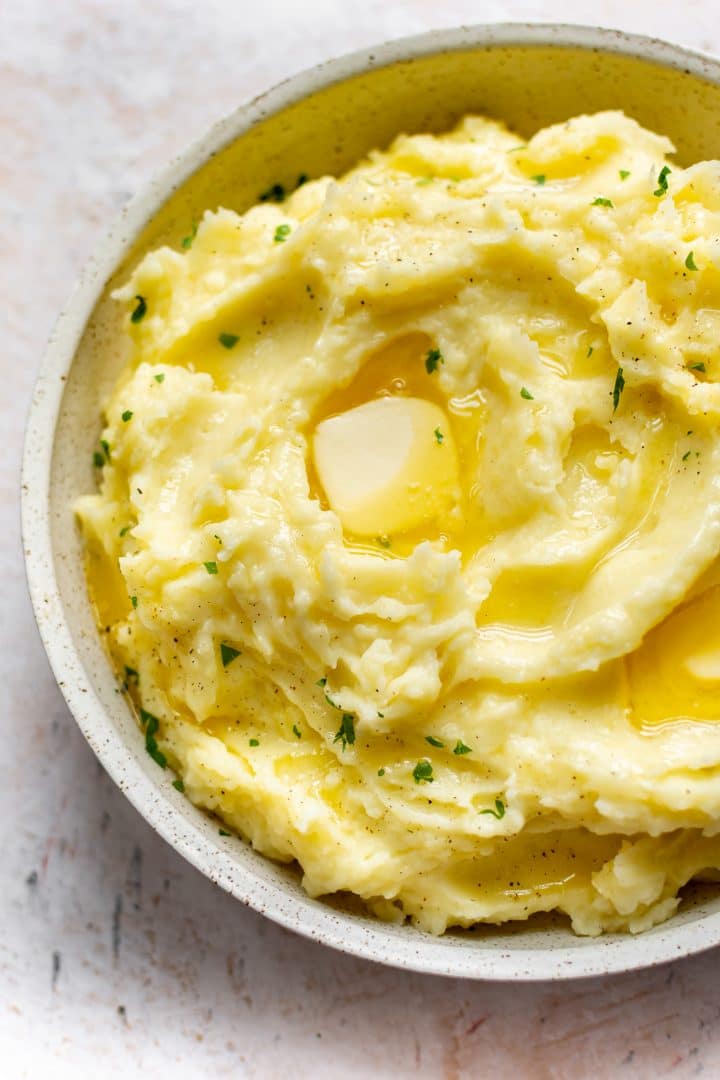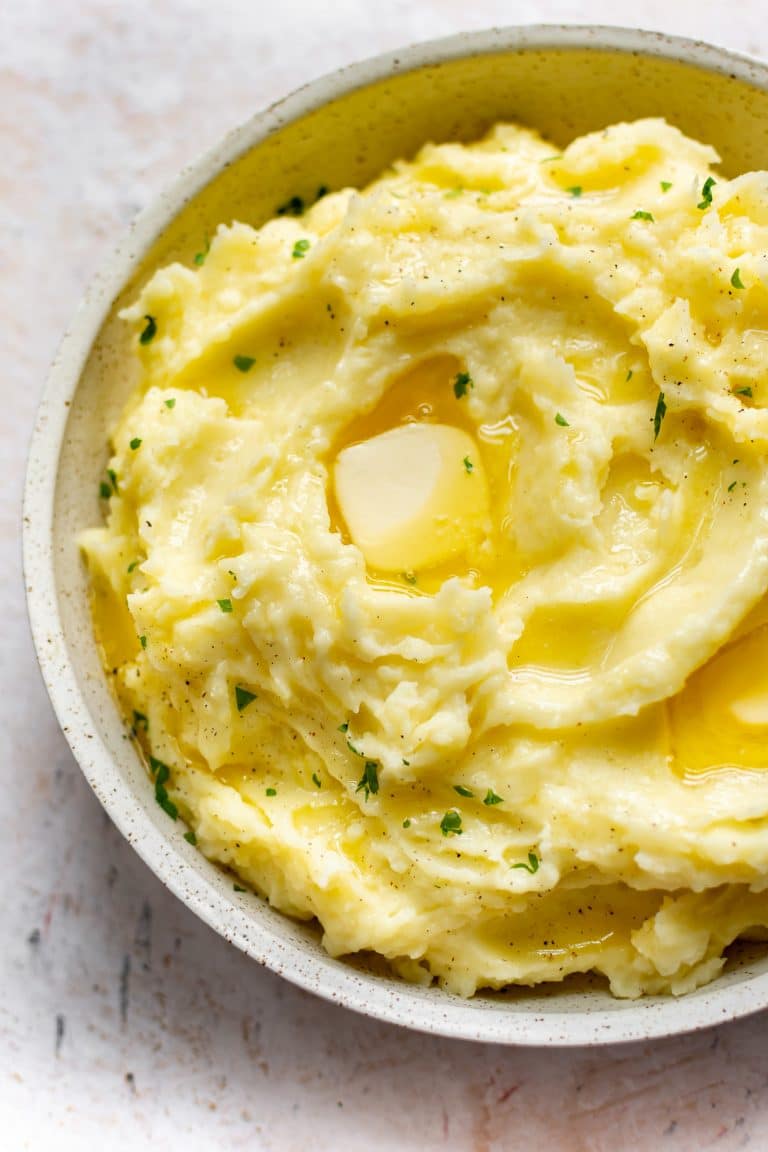 I hope you'll give these easy electric pressure cooker mashed potatoes a try!
Questions? Ask me below!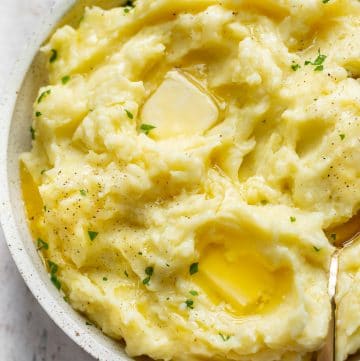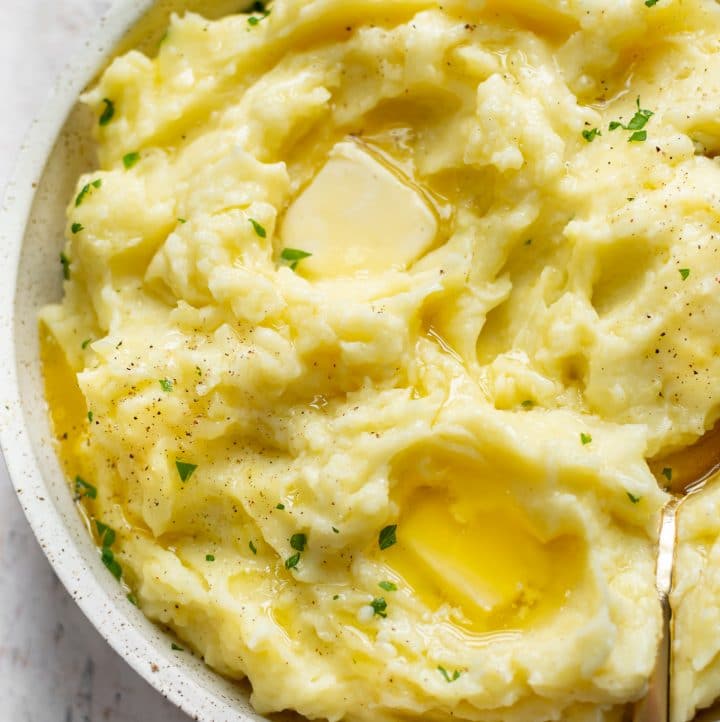 Easy Instant Pot Mashed Potatoes
These easy Instant Pot mashed potatoes are thick and creamy, buttery, and perfectly flavored with a touch of garlic!
Ingredients
3

pounds

Yukon Gold potatoes

peeled & quartered

Water

as needed

1/2

cup

butter

(1 stick)

3/4

cup

heavy/whipping cream

3

cloves

minced garlic

(or to taste)

Salt & pepper

to taste
Instructions
Prep the potatoes and place them in the Instant Pot. Add water until potatoes are just covered, along with a generous pinch of salt.

Close the lid, make sure the valve is on "sealing", press the "manual" button and set the timer to cook for 10 minutes on high pressure (it'll take about 10 minutes or so to get up to pressure).

Add the butter, cream, and garlic to a small saucepan and warm it over low heat. This step infuses the garlic flavor into the cream and slightly cooks the garlic to take the edge off a bit.

Quick release the pressure once the Instant Pot's countdown has finished.

Carefully take the inner pot out of the Instant Pot and drain the potatoes into a colander (I use oven mitts). Return the potatoes to the inner pot once they're thoroughly drained. If there's still excess water, press the "sauté" button and let the water evaporate for about a minute or so, then be sure to press the "keep warm" button to turn it off so they don't burn.

Mash the potatoes right in the Instant Pot. Slowly pour in the warm butter/cream/garlic mixture and mash until potatoes are smooth. Season with salt and pepper (I am hesitant to suggest an amount of salt since tastes differ, but 1 teaspoon for this quantity of potatoes is a good start). Serve with extra butter if desired.
Notes
Serves 4-6 depending how much people eat.
Make-ahead tip: Leave the potatoes in the pressure cooker for up to a few hours and they will stay fresh and warm using the "keep warm" setting.
This recipe will easily double in a 6-quart or larger Instant Pot. Add enough water to just cover the potatoes and don't go over the max fill line. Same cooking time.
This is the 6-quart Instant Pot I used for this recipe.
Stovetop tips: You can make these on the stove; just boil the potatoes until tender (about 15-20 minutes), drain thoroughly (leave them in a colander for a few minutes), and mash them as the recipe indicates using the regular pot they were cooked in.
Crockpot: See this recipe.
Nutritional information is provided as a courtesy only and should be construed as an estimate rather than a guarantee. Ingredients can vary and Salt & Lavender makes no guarantees to the accuracy of this information.
Nutrition
Calories:
372
kcal
Carbohydrates:
30
g
Protein:
7
g
Fat:
27
g
Saturated Fat:
17
g
Cholesterol:
81
mg
Sodium:
169
mg
Potassium:
965
mg
Fiber:
6
g
Sugar:
1
g
Vitamin A:
910
IU
Vitamin C:
27
mg
Calcium:
95
mg
Iron:
7
mg