This sausage, bacon, potato, and kale soup is an easy and delicious homemade version of the Olive Garden's Zuppa Toscana.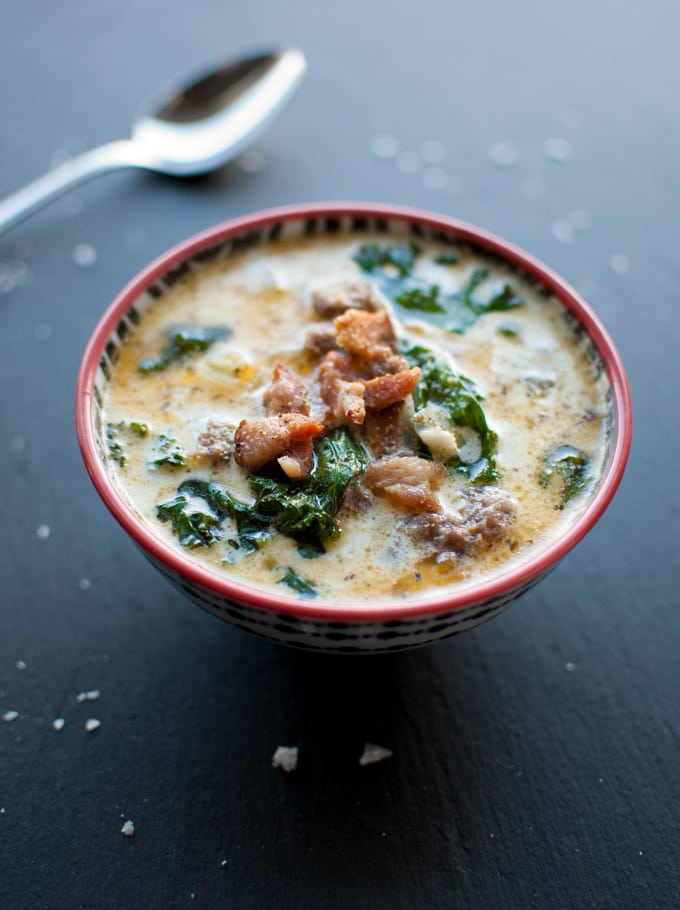 If you haven't tried this soup yet, now is your chance. It's popular for a reason. It's easy to make, very satisfying, and feels like a treat.
Probably because it has bacon. And sausage. And cream. And potatoes. The kale totally cancels out the calories from the sausage and bacon so you can feel good about eating this.
One day last winter my husband was craving a soup with sausage. Something like the Olive Garden makes, he said. I've never been to the Olive Garden (weird, I know), but apparently he used to go quite frequently back in the day with his former coworkers. They used to have competitions to see who could eat the most soup (something about unlimited soup and bread sticks brought out the competitive fire).
So, I turned to Google and went to work finding something that fit the bill. There was certainly no shortage of recipes that fit! I found out that this is a popular soup and there are many copycat recipes out there. I now see these copycats on Pinterest almost every time I go on there!
It really is too good not to share on here, though. I don't think my version of the soup is exactly the same as the Olive Garden's version (Zuppa Toscana), but we sure like it. During the winter, we make this practically every week… and let's be real –  it's not like we don't make this during the summer. The flavors come together wonderfully and this is one of my favorite soups.
Like the look of this? Don't? Tried it? Leave a comment below.
Questions? Let me know!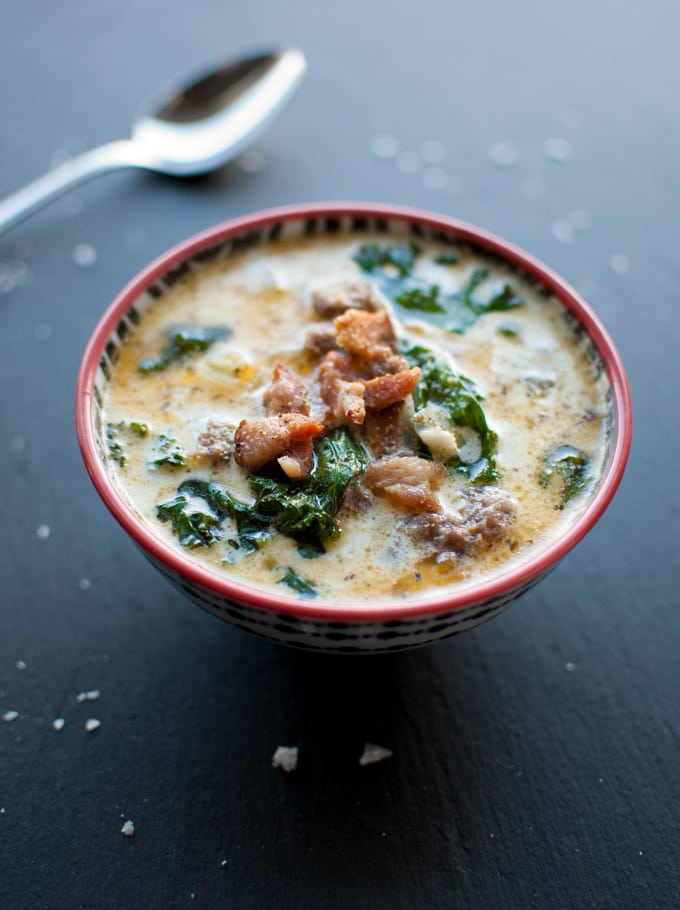 Sausage, Bacon, Potato, and Kale Soup
An amazing soup that tastes very similar to the Olive Garden's Zuppa Toscana.
Ingredients
1

(17.6 ounce)

pack Italian sausages

5

strips of bacon (thick cut works best)

2

cans chicken broth (beef works too)

4

cups

of water

1

onion

chopped

4

large red potatoes

roughly cubed (leave skins on)

5

cloves

garlic

minced

1

dash Italian seasoning

1

cup

whipping cream

1

bunch of kale

Salt and pepper

to taste
Instructions
Using kitchen shears (or a knife), cut the bacon into small pieces and put them into the pot. Cook the bacon for a few minutes over medium-high heat. I like to give the bacon a bit of a head start so it gets nice and crispy.

Take the sausages out of their casings. I lightly slice the sausages length-wise with a sharp knife to make a slit in the casings, and then it's really easy to get them out. I then use my fingers to break the meat into bite-size pieces and add them to the soup pot as I go.

While the sausages and bacon cook, I chop the onion and potatoes, making sure to stir the bacon and sausages occasionally.

When the sausages and bacon are nicely browned and crispy, add in your chicken stock and water.

Add onion, potatoes, and garlic.

Bring mixture to a boil and then reduce to medium-low heat to simmer.

Cook for 10-15 minutes or until potatoes and onions are softened.

Add kale (tear leaves into bite size pieces).

Add cream and salt and pepper and cook for a further 10 minutes or until kale is softened.
Recipe Notes
If you're worried about calories, you could probably use fewer sausages than I do without changing the taste of the soup too much. Conversely, I go all out with this soup and sometimes add more than a cup of cream to it.
Adapted from one of the many copycat Zuppa Toscana recipes out there. I can't remember which one (I did try to find it) - I memorized it and adapted it quite a while ago.
I use a 5-pack of Johnsonville Mild Italian sausages in this recipe.
Try more of my tasty recipes: