Kick up your next dinner with this spicy Italian sausage pasta in a creamy tomato sauce!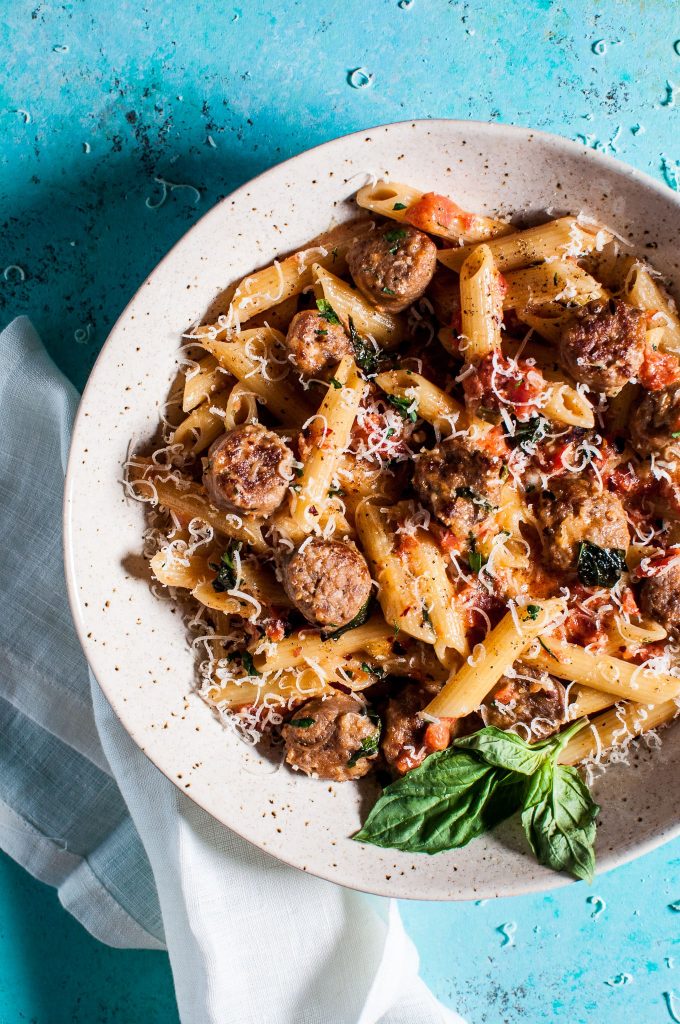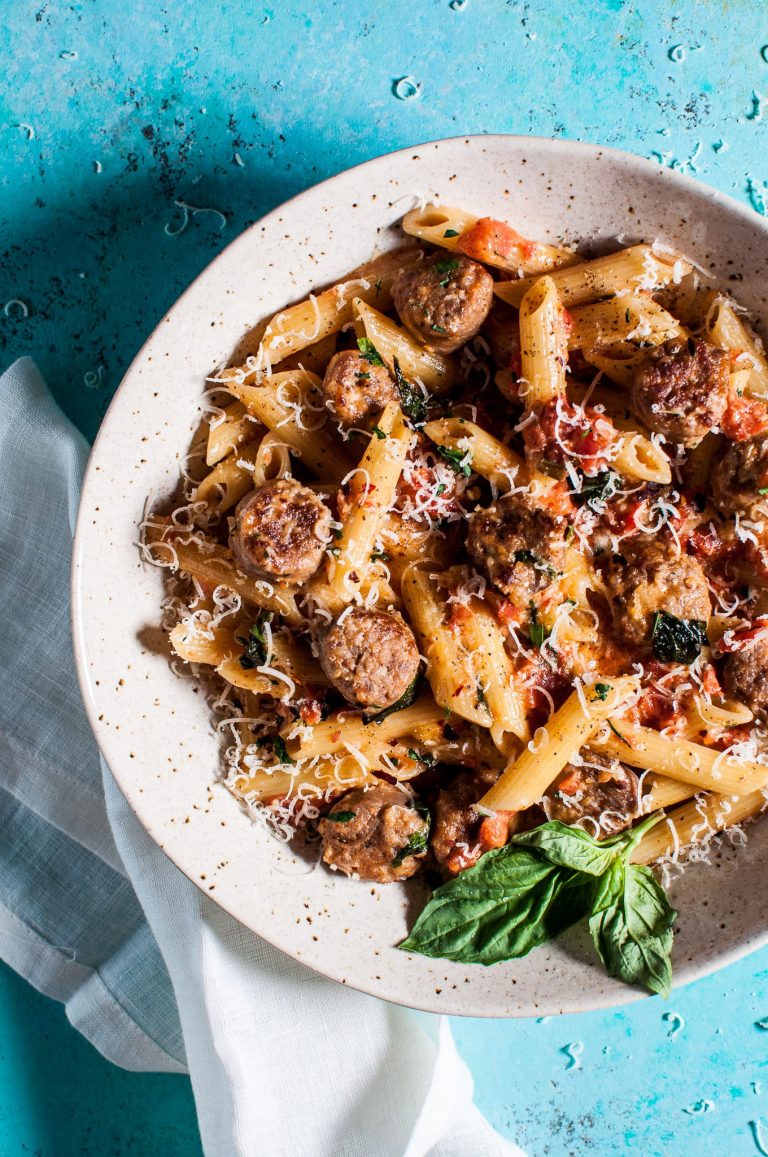 This dish is ideal for those sausage and carb lovers out there. Spicy Italian sausage, tomatoes, white wine, garlic, cream, lots of fresh parmesan cheese, and a touch of fresh basil make this recipe a winner.
I made this pasta extra spicy by adding some chipotle chili pepper and red pepper flakes because someone in my house loves spice. I won't name names.
The best part? It'll only take you 30 minutes to make this. It makes four very generous portions or six more reasonably sized ones. Need leftovers for lunches this week? You've got them 🙂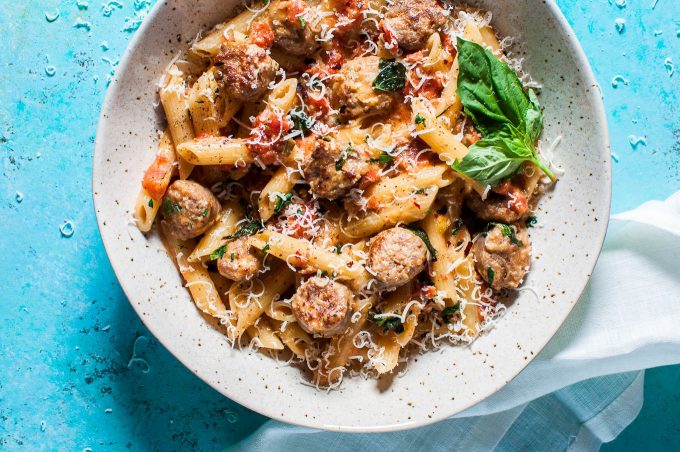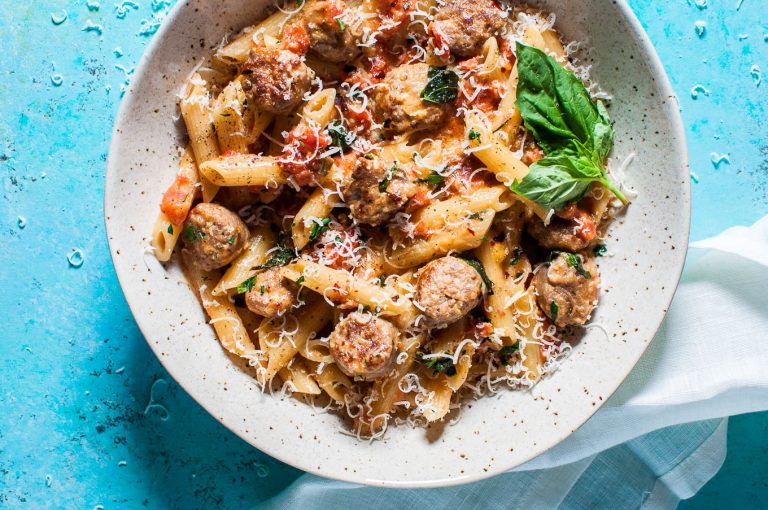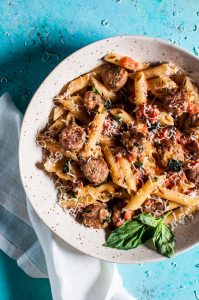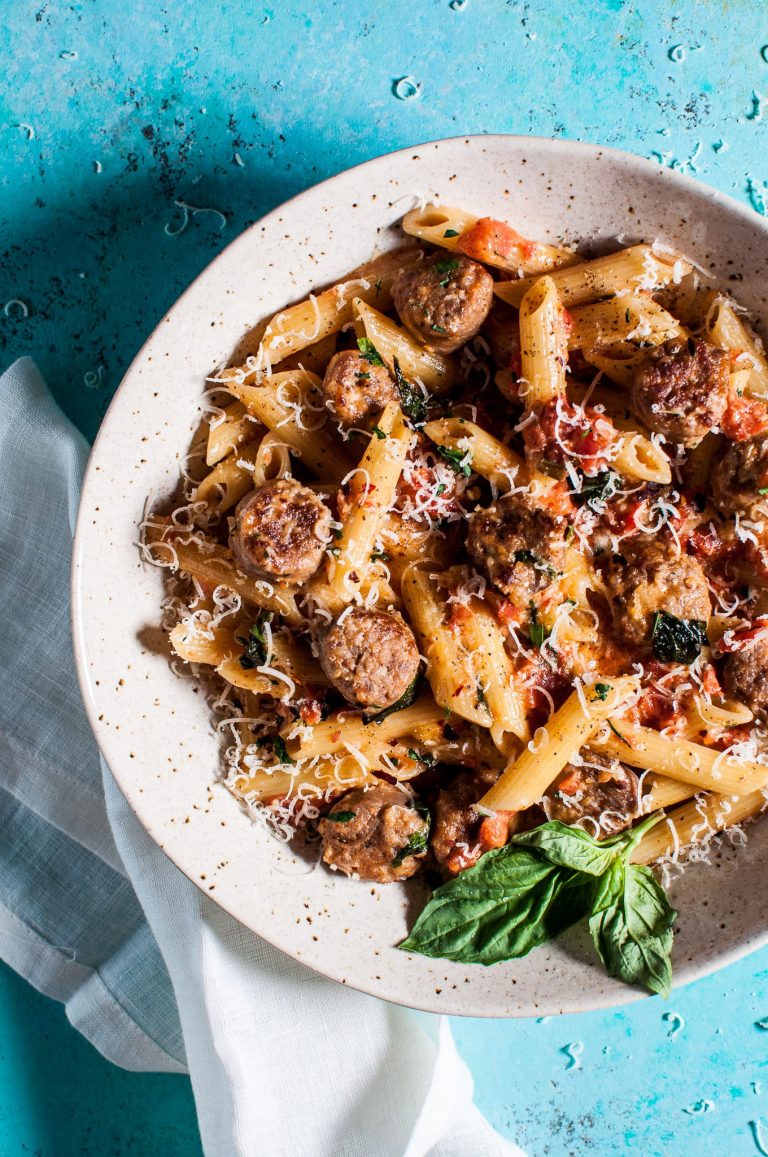 Print
Spicy Italian Sausage Pasta in a Creamy Tomato Sauce
Yield 4-6
Kick up your next dinner with this spicy Italian sausage pasta in a creamy tomato sauce!
Ingredients
16 ounces penne (dry)
1 pound spicy Italian sausage
1/2 cup white wine
1 (18 ounce) can diced tomatoes (I used petite cut green pepper, celery & onion flavor)
1/2 cup whipping cream
2 cloves garlic, minced
Red pepper flakes, to taste (optional)
Chipotle chili pepper, to taste (optional) or black pepper if not using chipotle chili pepper
1 tablespoon flour
6 large leaves basil, torn into small pieces
Freshly grated parmesan cheese, to taste
Instructions
Bring a large pot of salted water to a boil. Cook pasta according to package directions (I used penne for this recipe. You can use any shape you like).
Slice sausage into bite-size pieces and add to a medium pan or a deep skillet. Cook for 5-10 minutes, stirring occasionally, on medium-high heat until browned.
Add the wine, diced tomatoes, whipping cream, garlic, red pepper flakes, and pepper to the pan. Scrape any browned bits from the bottom so they are mixed in with the sauce.
Slowly sprinkle in the flour while stirring, so it dissolves evenly and doesn't leave any lumps. Once the sauce starts to bubble, reduce heat to medium and let it simmer for another 10 minutes until the sauce is reduced and thickened.
Just prior to serving, add in the torn basil leaves and then toss with the drained pasta. Serve with freshly grated parmesan cheese.
Courses Main Course
Cuisine Italian
You may also like this healthy chicken sausage pasta recipe.