These baked chicken thighs are tender with deliciously crispy skin! They're super simple to make with about 5 minutes prep time.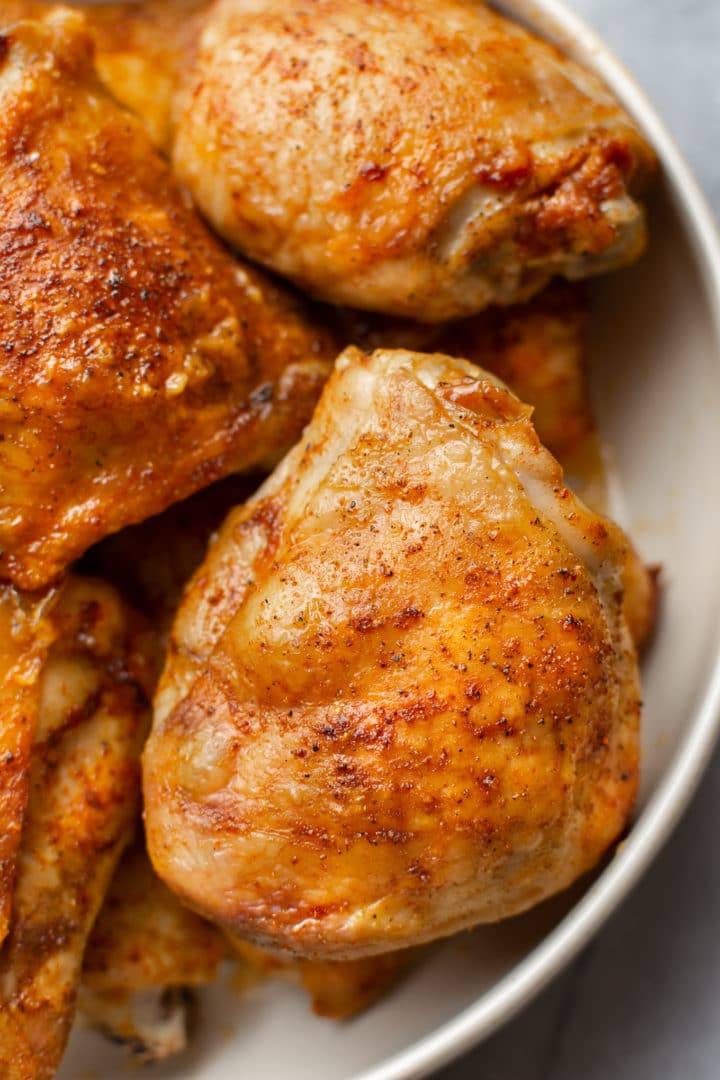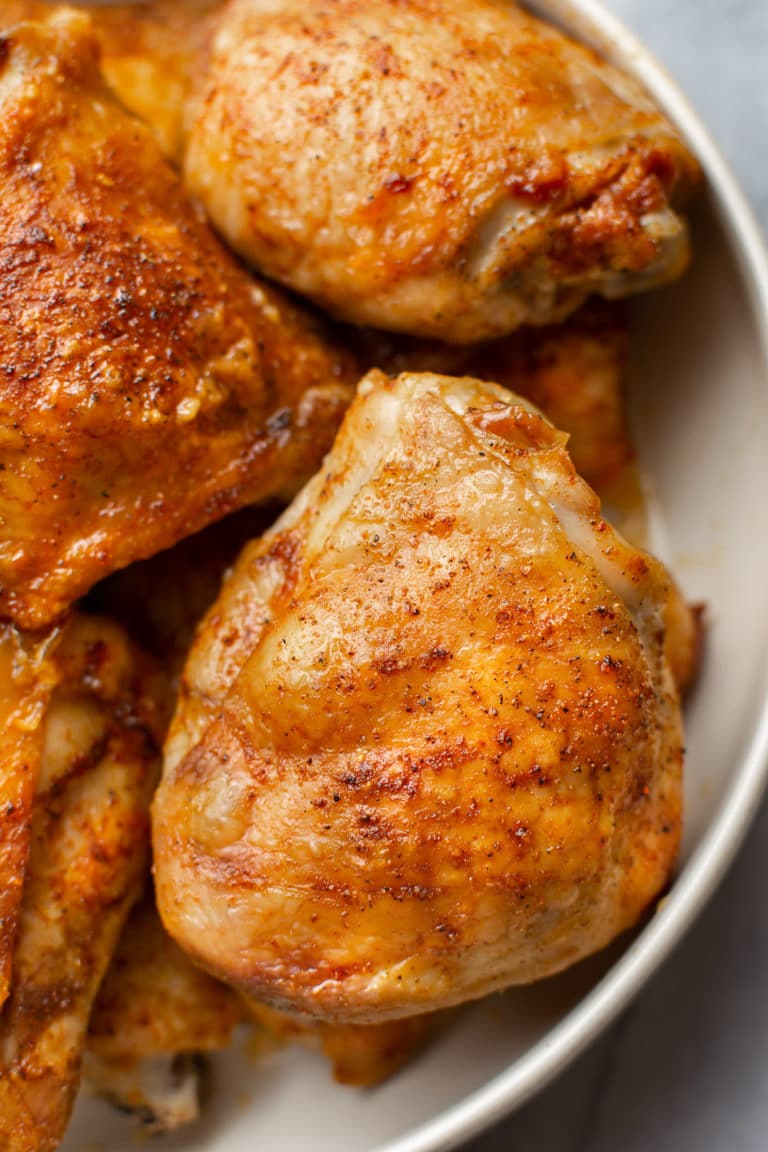 My favorite part of making chicken thighs is that they're pretty difficult to overcook. This is definitely not the case with chicken breasts! They also tend to be more flavorful and reheat better without drying out.
To make clean-up fairly painless, I line my baking sheet with foil. These roasted chicken thighs are great because you can make as many or as few as you want - the size of your baking sheet is the only limit. Make a bunch for the week and you have chicken ready to add to salads or work lunches (eat them hot or cold!).
I chose the simple can't-go-wrong combo of salt, pepper, and smoked paprika for this recipe for baked chicken thighs, but you can definitely jazz up the seasoning a bit more if you want (I put some suggestions in the recipe notes below). The smoked paprika adds a slight smokiness and also gives the chicken skin a richer color.
You may also like my Easy Baked Chicken Drumsticks.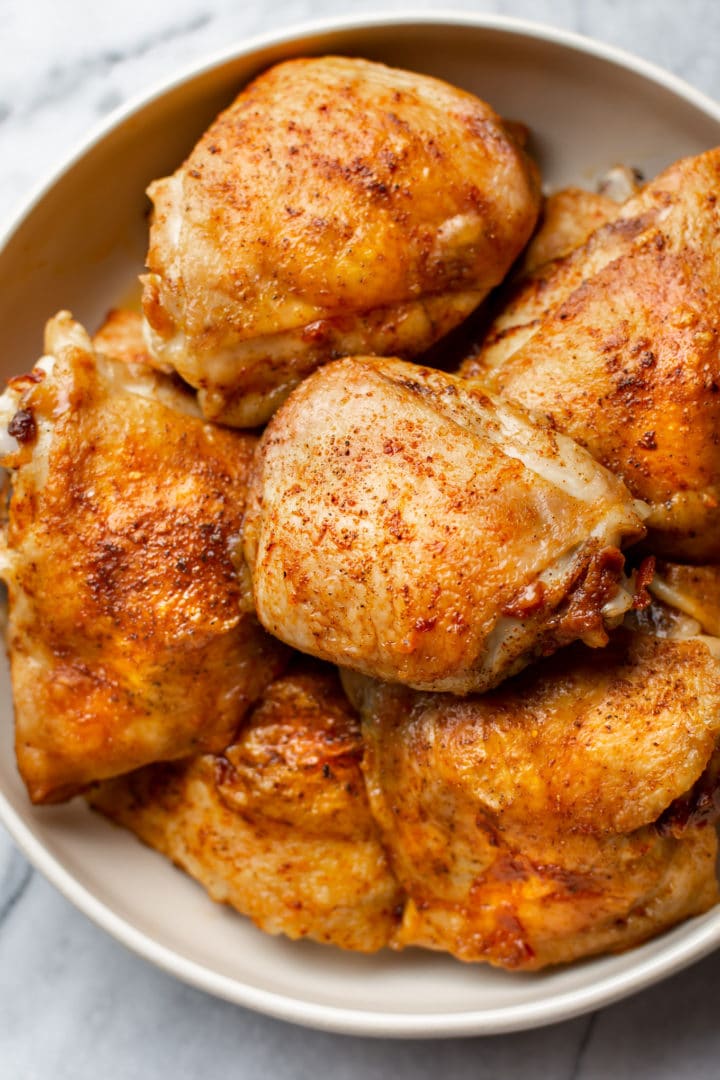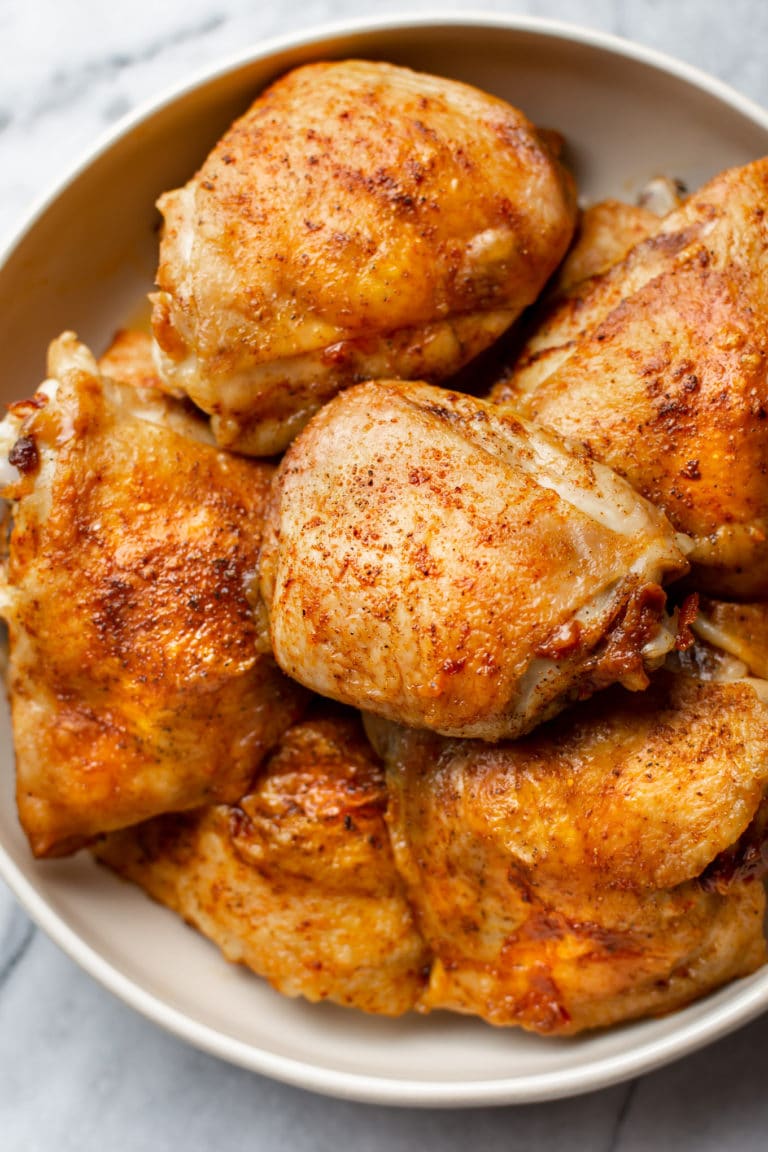 This post was originally published on February 16, 2020. I updated the post with better info, slightly tweaked the recipe, and added new photos.
How long to bake chicken thighs at 400F?
Most bone-in skin-on chicken thighs will take between 25 and 45 minutes to cook at 400F depending on their size. Your average sized chicken thighs should be plenty cooked (and have a chance for the skin to crisp up as well) by 35-40 minutes. Chicken thighs are tougher and become tender once they're cooked beyond the 165F safe minimum temperature, so that's why I suggest the cooking time of 35-40 minutes for this recipe.
How do you know when chicken is cooked?
The only truly safe way to tell when chicken is done is to use a meat thermometer (try this instant read one). When a meat thermometer shows 165F in the thickest part of the chicken (without touching the bone), it's safe to eat. Thighs become tender around 175F. The chicken's temperature will rise a little bit if you're letting it rest once you've taken it out of the oven.
Why let chicken rest?
Letting chicken rest for 5-10 minutes after you take it out of the oven helps keep it tender and juicy because the juices have some time to redistribute, especially if you cook it beyond 165F.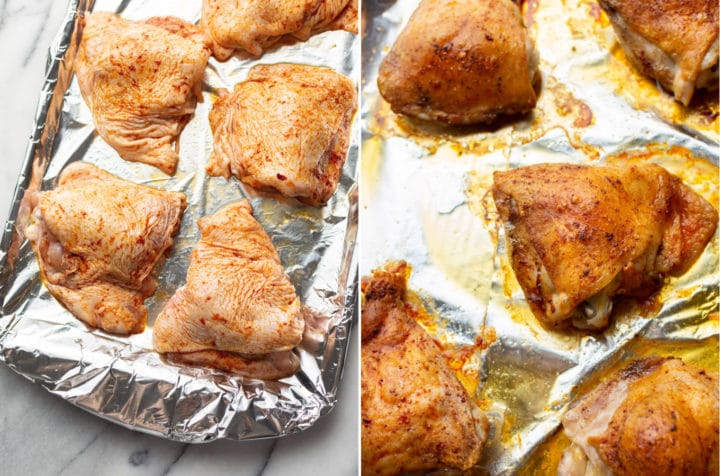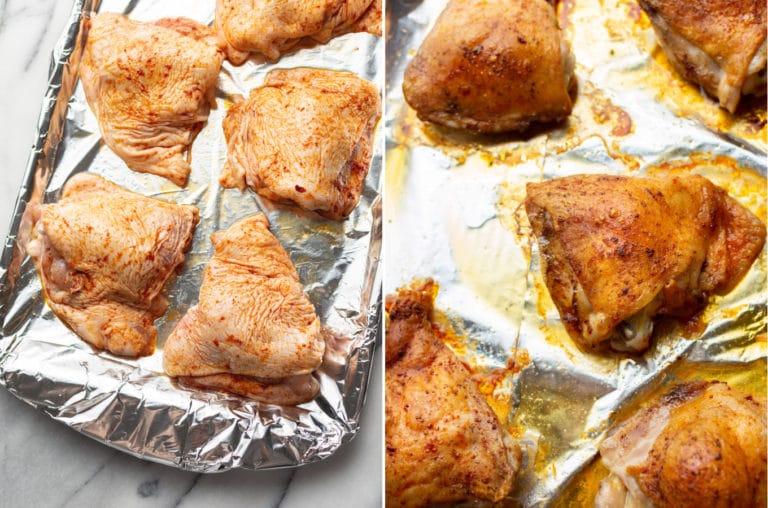 How to reheat chicken thighs?
Reheating in Oven: Set the temperature to 400F. Add chicken pieces to a baking dish with a bit of chicken broth in the bottom. Cover with foil. Cook until it reaches 165F in the thickest part (this will vary depending on the size of the chicken but check how warm it is after 20 minutes or so). You can try broiling it for a few minutes at the end to crisp the skin up again. You can reheat the chicken thighs uncovered, but keep in mind that method is more likely to dry out the chicken.
Reheating in Microwave: If you can, put in on a plate and cover it with damp paper towel so it doesn't dry out as much. Microwave in 1-2 minute increments until it's warm.
What to serve with crispy baked chicken thighs?
Chicken thighs are a great addition to salads, or you can serve them with anything from rice to pasta, mashed potatoes, or any cooked vegetable. Try serving this recipe with my creamed spinach - it's one of my favorite side dishes.
Recipe notes, tips, and tricks:
If you want extra crispy skin, broil it for a few minutes at the end (just watch it carefully so it doesn't burn).
Chicken thighs vary a lot in size, so that's why I suggest buying two pounds worth. You can get anywhere from 5 or 6, up to 8 chicken thighs depending on their individual sizes. Most people will eat 1-2 chicken thighs each. Make as many/few as you want - that's the beauty of this recipe.
Line your baking sheet with foil - the baked on juices are not a fun thing to scrub off.
If you want to use boneless skinless chicken thighs, you can. They will take a bit less time to cook (about 5-10 minutes less depending on size).
For food safety purposes, it's recommended that you don't rinse your chicken prior to cooking it. It simply spreads bacteria around your kitchen. Cooking the chicken will kill any lingering bacteria.
Other seasoning ideas: Try sprinkling garlic powder, onion powder, and Italian seasoning or Herbs de Provence onto chicken. Or use a one stop shop like McCormick's Montreal Chicken Seasoning. So many possibilities! You can definitely change it up based on what you feel like.
More chicken recipes to try: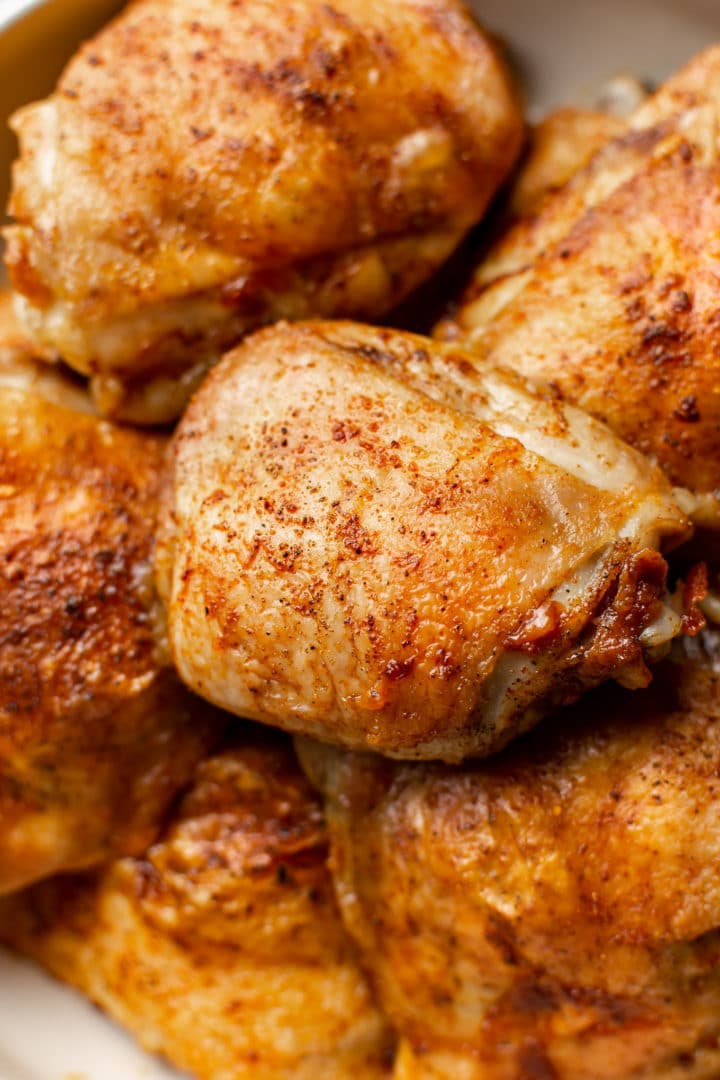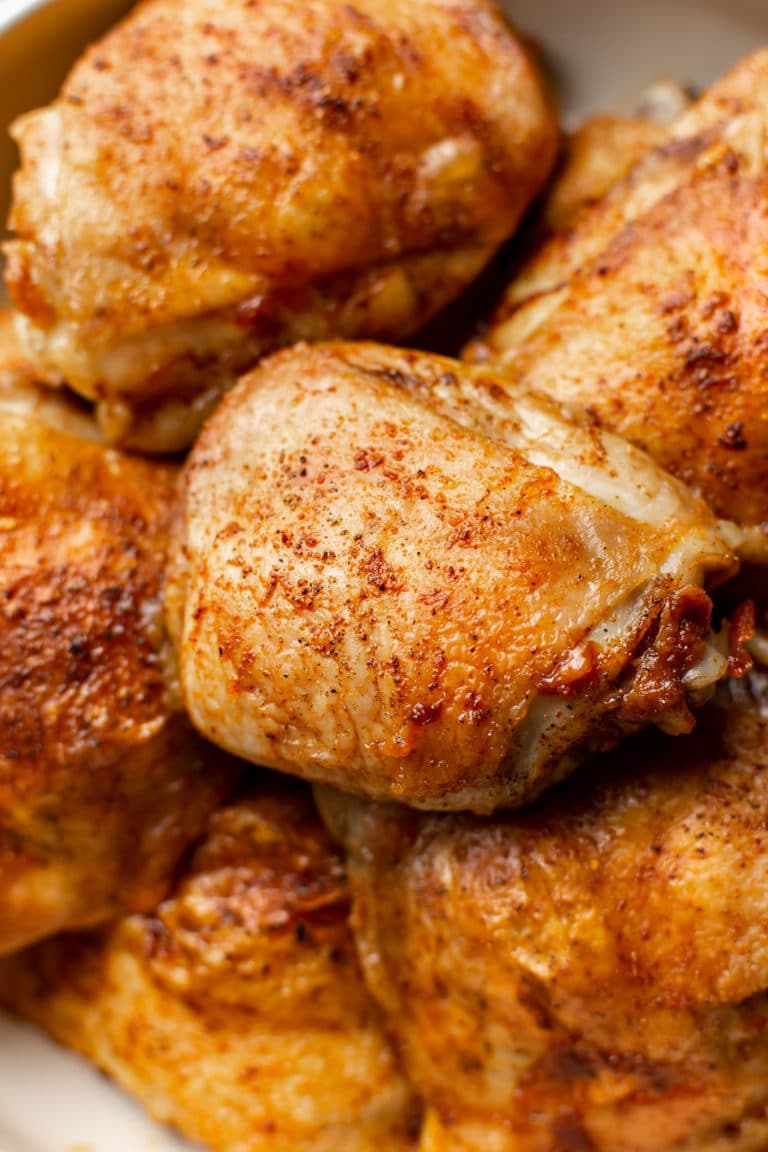 Will you try this method to cook crispy chicken thighs?
Questions? Made this recipe? Leave me a comment below. 🙂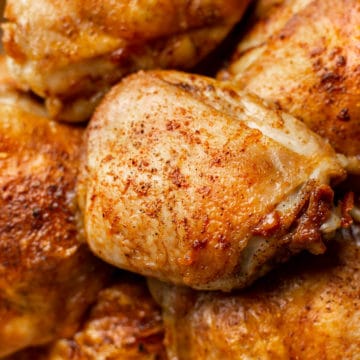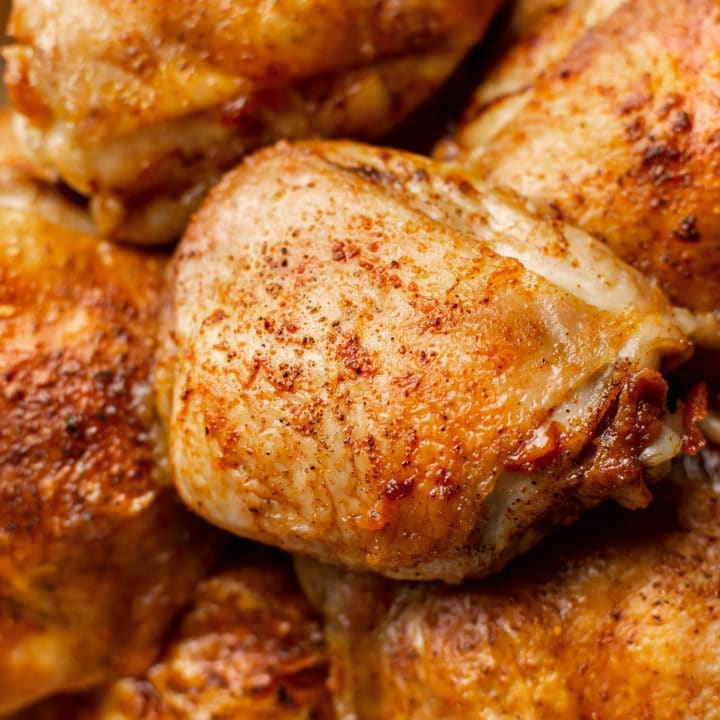 Easy Baked Chicken Thighs
These baked chicken thighs are tender with deliciously crispy skin! They're super simple to make with about 5 minutes prep time.
Ingredients
2

pounds

chicken thighs

(bone-in skin on)

2-3

tablespoons

olive oil

Salt & pepper

to taste

1/2

teaspoon

smoked paprika

or more, to taste
Instructions
Preheat the oven to 400F and move the rack to the middle position. Line a baking sheet with foil for easy clean-up.

Pat the chicken dry with paper towel. Place the chicken pieces on the baking sheet and coat them on both sides with olive oil. Season them generously with salt & pepper on both sides. Sprinkle the smoked paprika on the skin (and then rub it on).

Bake, uncovered, skin side up, for 35-40 minutes. See recipe notes below for more info on timing. Optional: broil for a few more minutes to really crisp up the skin.

Let the chicken thighs rest for 5-10 minutes prior to serving them (this ensures they will be juicy and tender).
Notes
2 pounds of chicken thighs serves 4-6 depending on how much people eat/what you serve them with. Cook as many as you need.

Chicken thighs at 400F will take 25-45 minutes depending on their size. Test doneness after 25-30 minutes if the chicken thighs are on the small side. Go up to 45 minutes before testing doneness if the chicken thighs are

very large.
I find chicken thighs more tender when they're cooked well beyond 165F (the minimum safe temperature). It takes some time for the skin to crisp up, and as long as you let the chicken rest, it'll still be juicy unless you waaay overcook it.
Nutritional information is provided as a courtesy only and should be construed as an estimate rather than a guarantee. Ingredients can vary and Salt & Lavender makes no guarantees to the accuracy of this information.
Nutrition
Calories:
373
kcal
Carbohydrates:
1
g
Protein:
25
g
Fat:
30
g
Saturated Fat:
7
g
Cholesterol:
148
mg
Sodium:
117
mg
Potassium:
310
mg
Fiber:
1
g
Sugar:
1
g
Vitamin A:
200
IU
Calcium:
12
mg
Iron:
1
mg