This Mediterranean chickpea salad has all the flavors of a classic Greek salad plus hearty chickpeas and fresh oregano and parsley for an extra pop of flavor. A wonderful light meal or side dish!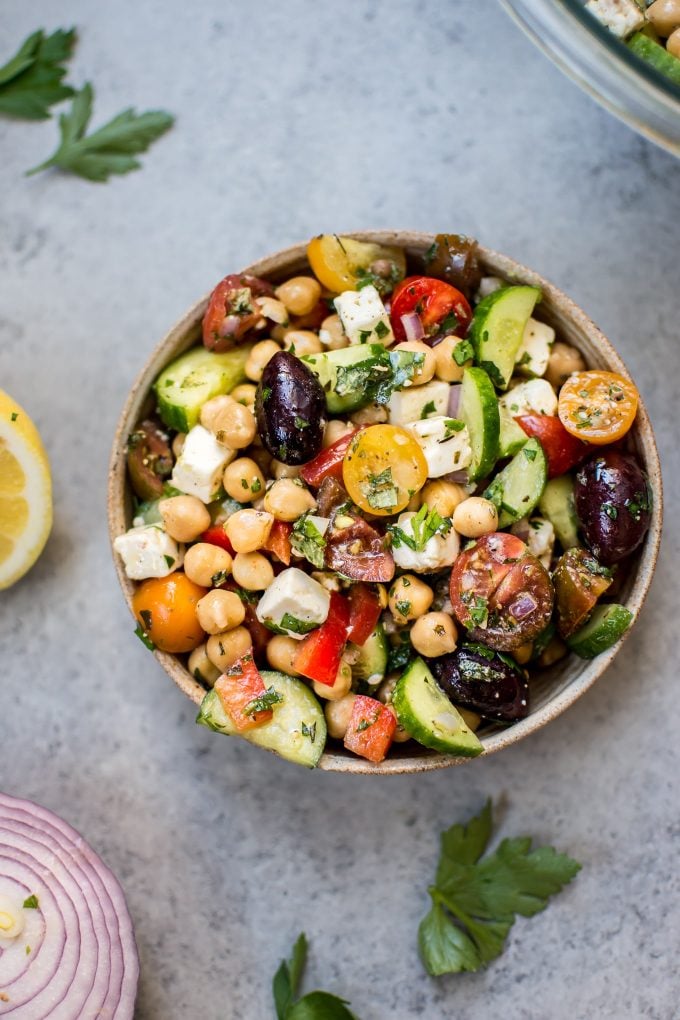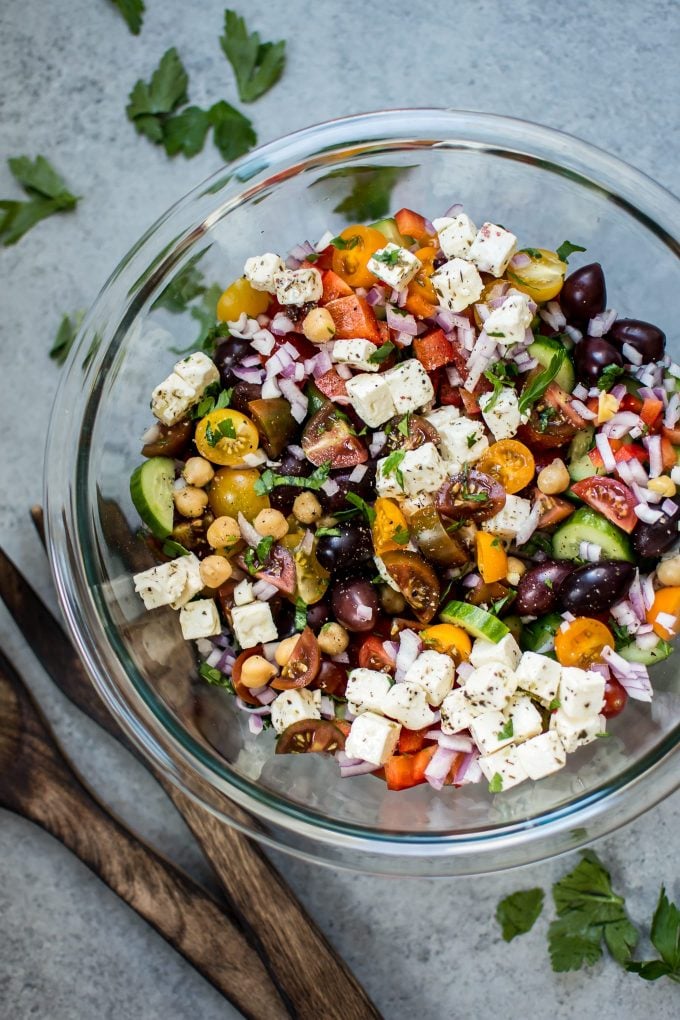 This is a convenient make-ahead salad. Great for summer gatherings, meal prep, or work lunches. Nothing in here will wilt, and the flavors will meld together even more. Everyone will love the vibrant colors and fresh taste!
Usually I'm pretty good at spelling, but geez, the word "Mediterranean" had me so stumped that I not only had to look it up like 5x, I ended up copying it straight from Google into this post so I didn't have to type it out the first couple times. Yikes. Some words do that to me… what can I say?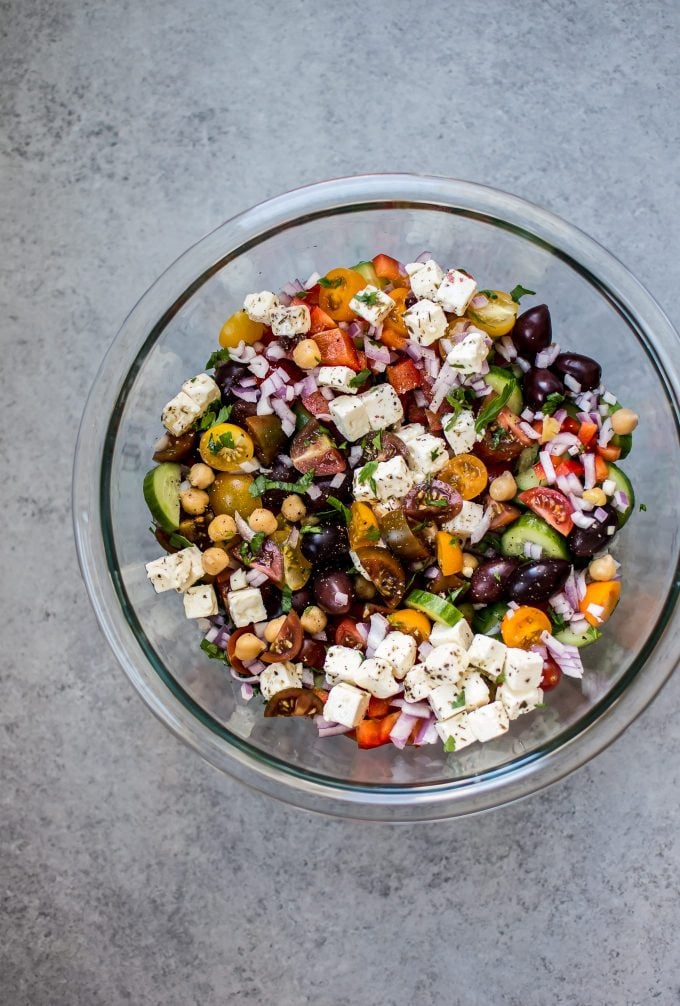 So. This salad.
We have a schwack of healthy, yummy ingredients here:
Red peppers
Little tomatoes
Red onion
Kalamata olives
Chickpeas
Persian cucumbers
Garlic
Fresh parsley
Fresh oregano
Lemon Juice
Olive oil
Feta (that came marinated in herbs and oil)
Oh yeah!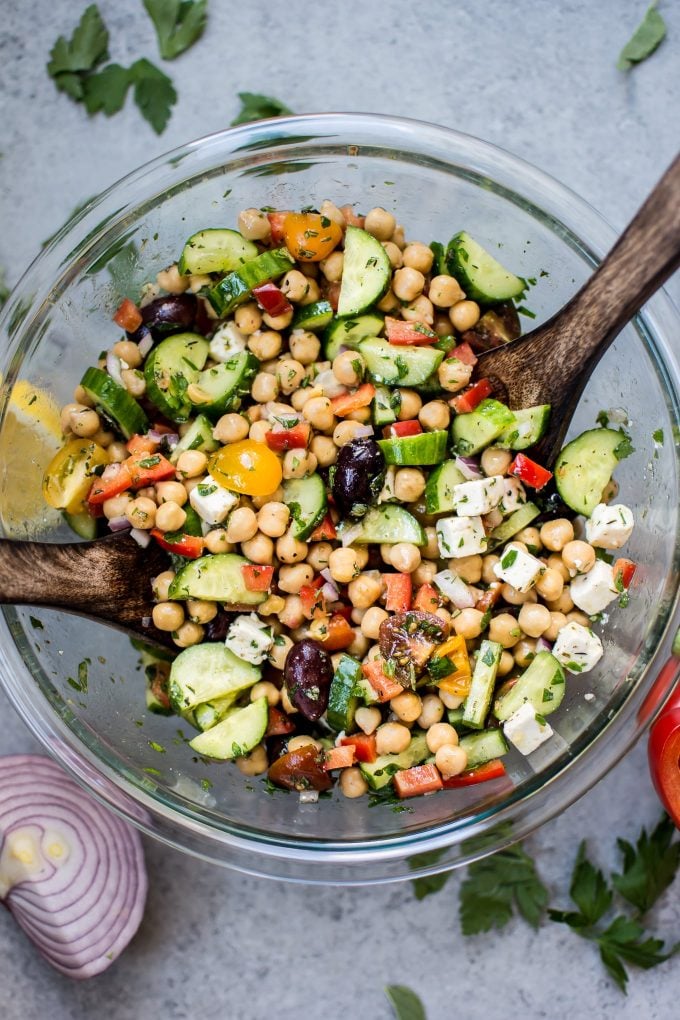 This salad comes together in about 15-20 minutes, and you don't need to cook anything. A little chopping is all that's needed. Easy peasy.
The feta and chickpeas make this salad fairly filling, so it feeds 2 as a light meal or 4+ as a side.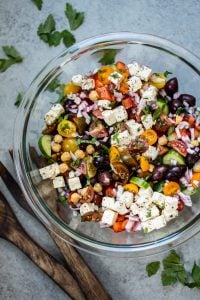 Print
Mediterranean Chickpea Salad
Yield 2-4
An easy chickpea salad with Greek flavors.
Ingredients
1 (19 fluid ounce) can chickpeas, rinsed and drained
2 Persian cucumbers, chopped
1 tablespoon red onion, chopped
1 tablespoon fresh oregano, chopped
1 tablespoon fresh parsley, chopped
1/2 red bell pepper, chopped
Handful assorted little tomatoes, cut into halves
Handful Kalamata olives
3.5 ounces cubed feta (packed in oil & herbs if possible)
2 tablespoons olive oil
1/2 tablespoon lemon juice
1 clove garlic, minced
Salt & pepper, to taste
Instructions
Drain & rinse  your chickpeas and add them to a salad bowl.
Prep your veggies and herbs, and add them to the salad bowl as you go along.
Add the dressing ingredients (olive oil, lemon juice, garlic) right into the salad bowl and toss gently. 
Notes
If you can't find feta that's packed in oil and herbs, any feta will work fine. Also, don't worry about it being exactly 3.5 ounces... that was the size package mine happened to come in.
Courses Salad
Cuisine Mediterranean
Hope you enjoy this Mediterranean garbanzo bean salad!
Try more of my tasty recipes: