These 10 healthy spiralizer recipes are easy, delicious, low-carb, and simple to make. You just need a spiralizer and you're on your way!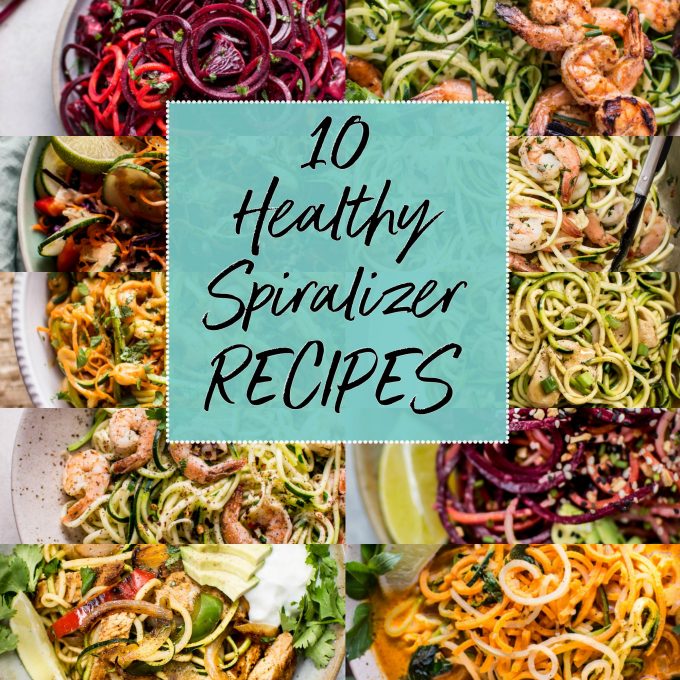 This roundup includes 10 of Salt & Lavender's best spiralizer recipes. I hope you enjoy them!
Zucchini is probably the most common thing to spiralize, and you will definitely find some zucchini noodles in this roundup. I also spiralized other veggies in the recipes below, including beets, carrots, and even celery root. You're sure to find something that you like. 🙂
All of these recipes were made using my trusty Paderno World Cuisine spiralizer.
Without further ado...
15 Minute Garlic Shrimp Zoodles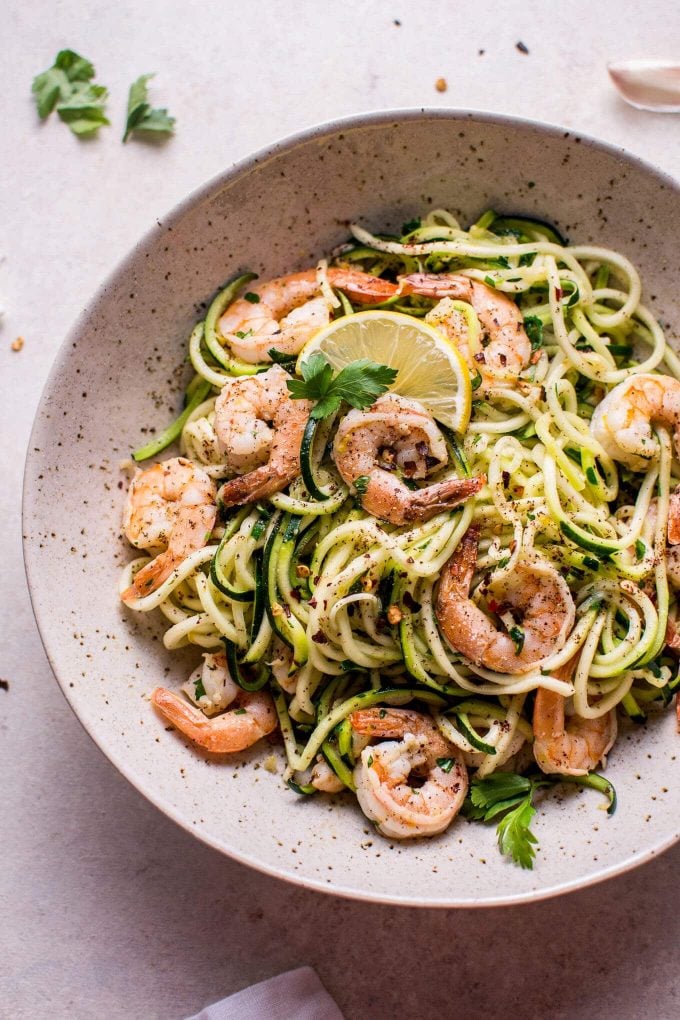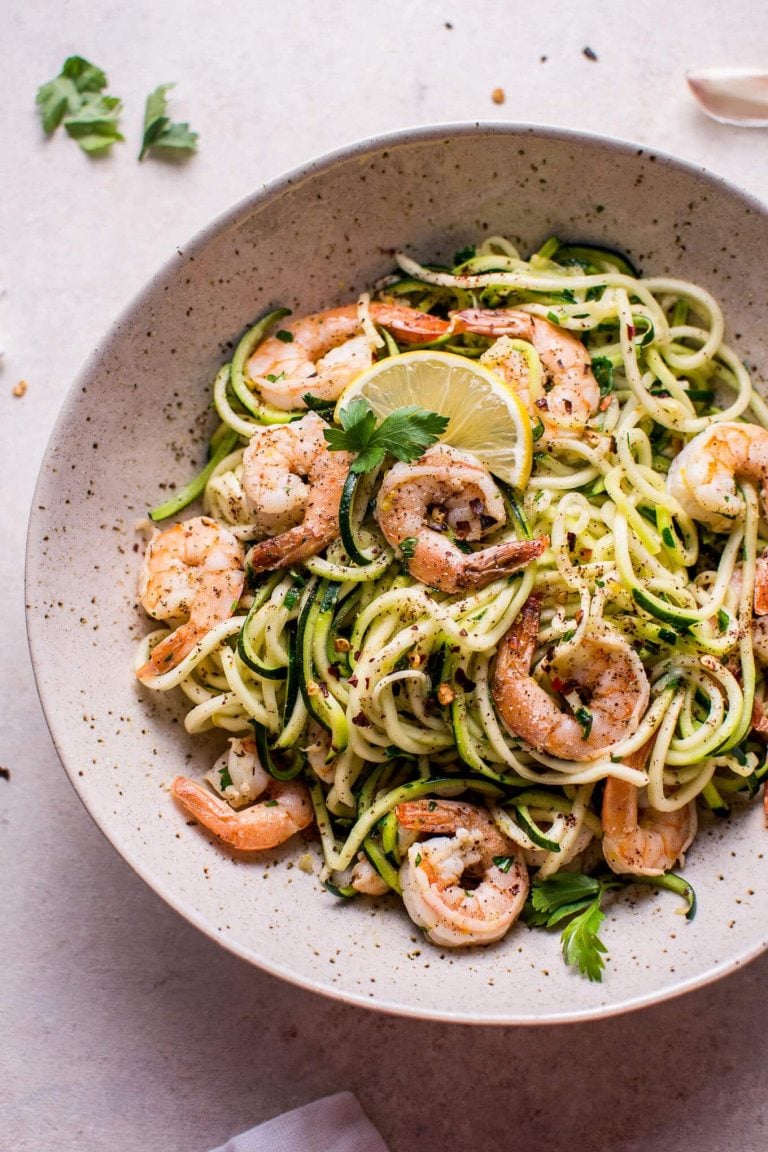 This recipe has been one of my blog readers' favorites since I posted it. It's easy, has only a handful of ingredients, and it sure tastes good. I mean... garlic shrimp, lemon juice, and zucchini noodles all in 15 minutes makes this one a must-try. Get the recipe here.
Thai Lemongrass Coconut Curry Soup (Vegan)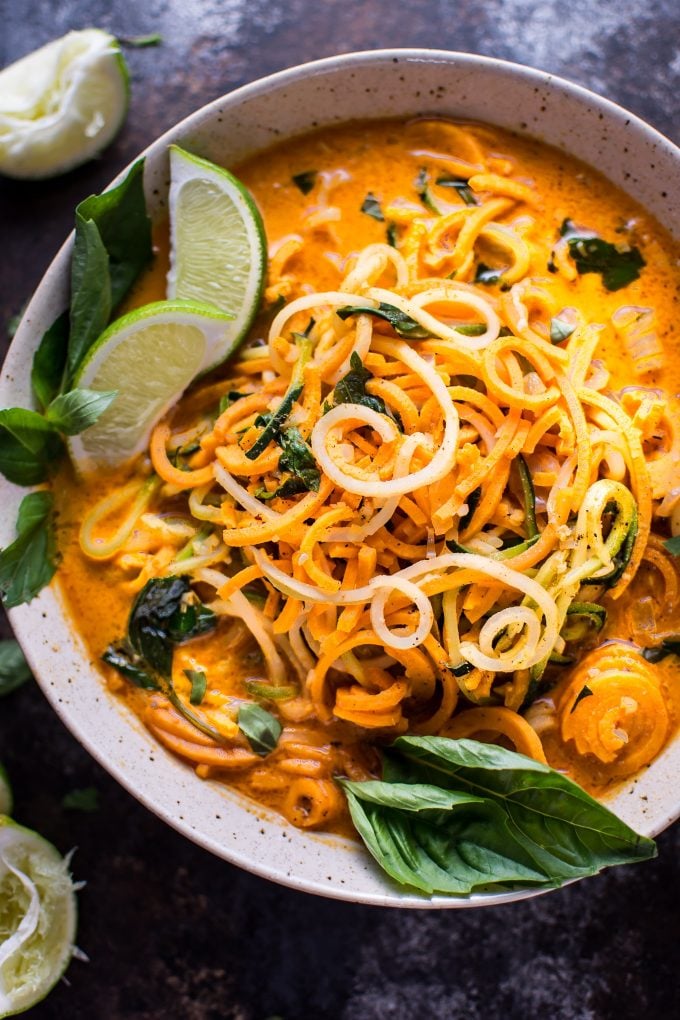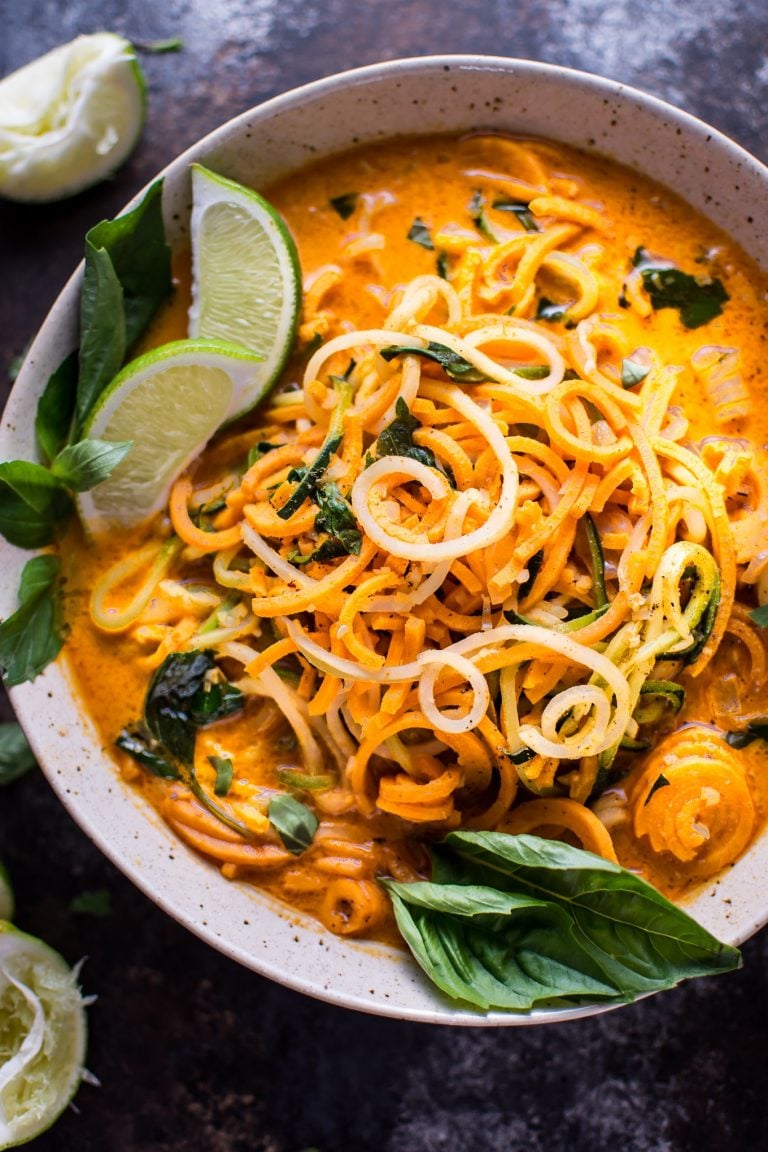 This soup has your favorite Thai flavors in a delicious coconut broth. Spiralized "noodles" make this soup nice and filling. Get the recipe here.
15 Minute Teriyaki Chicken Zoodles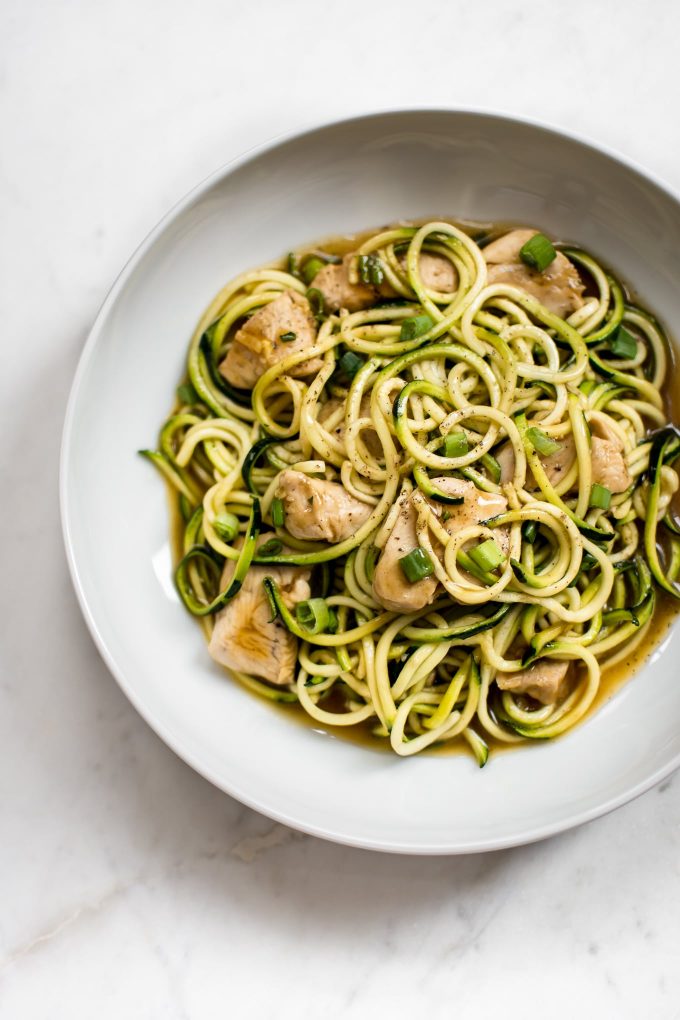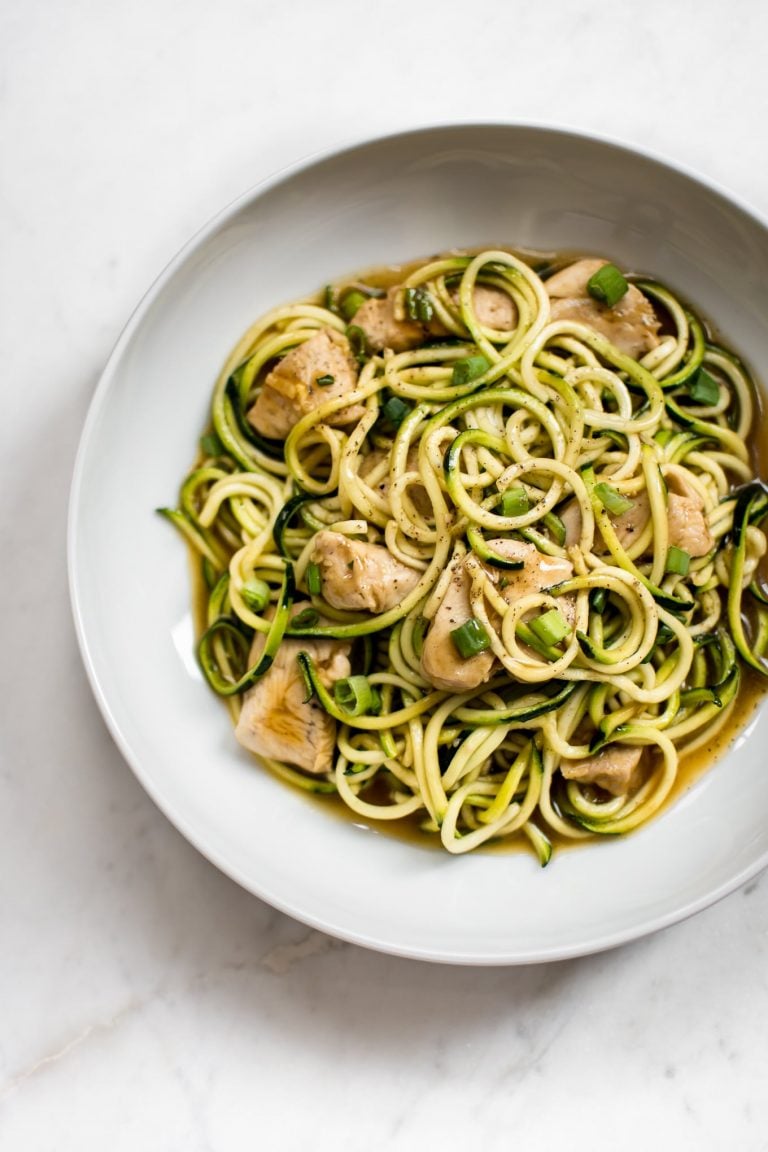 Teriyaki chicken is a popular comfort food, but it's not the healthiest meal when it's served with rice or noodles. I took some of the calories out by replacing the starches with zucchini noodles, and you're going to love it! Get the recipe here.
15 Minute Garlic Lime Cashew Zoodles (Vegan)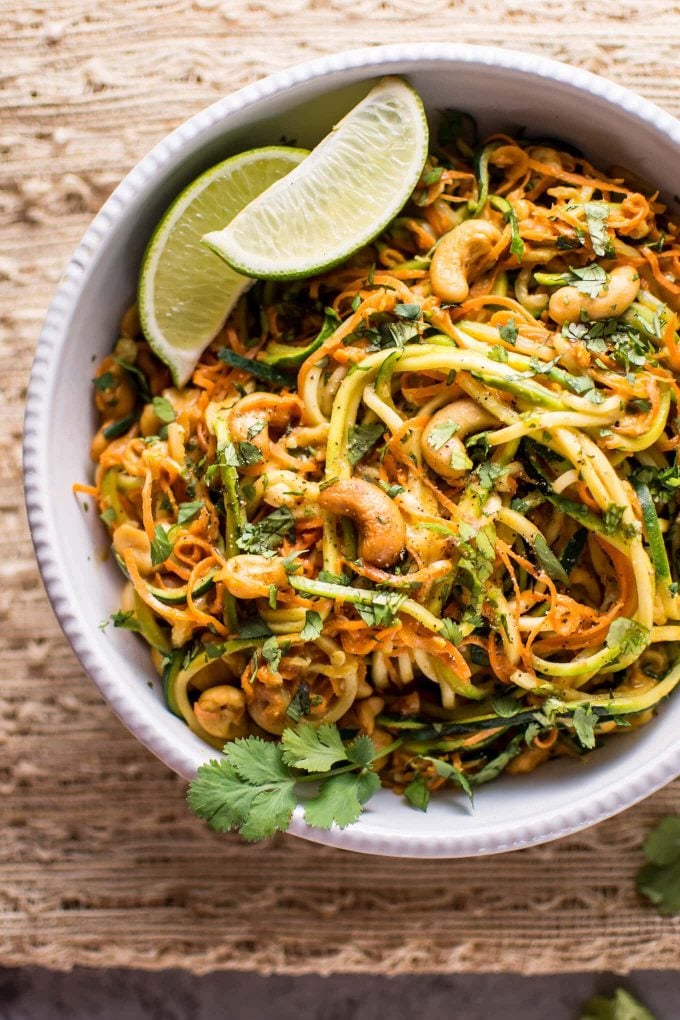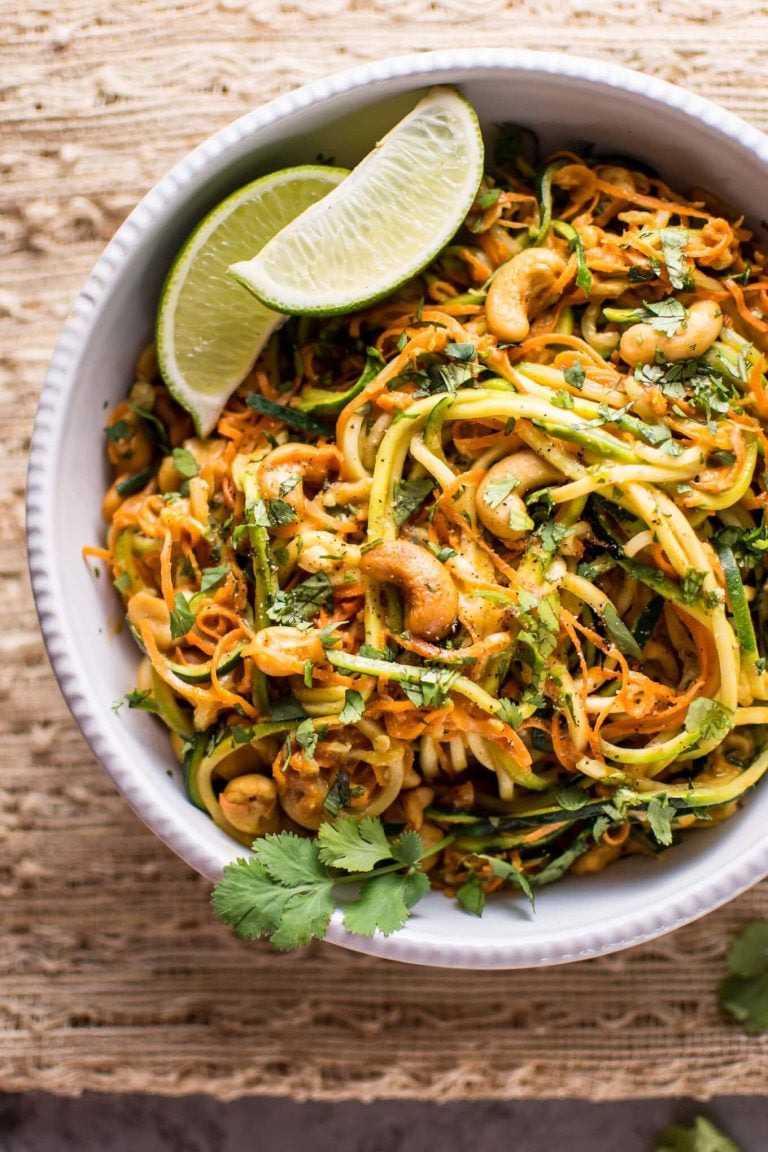 This recipe's popularity took me by surprise since I created it last-minute and kinda by accident, but I am so glad I did. The sauce is totally addictive. Get the recipe here.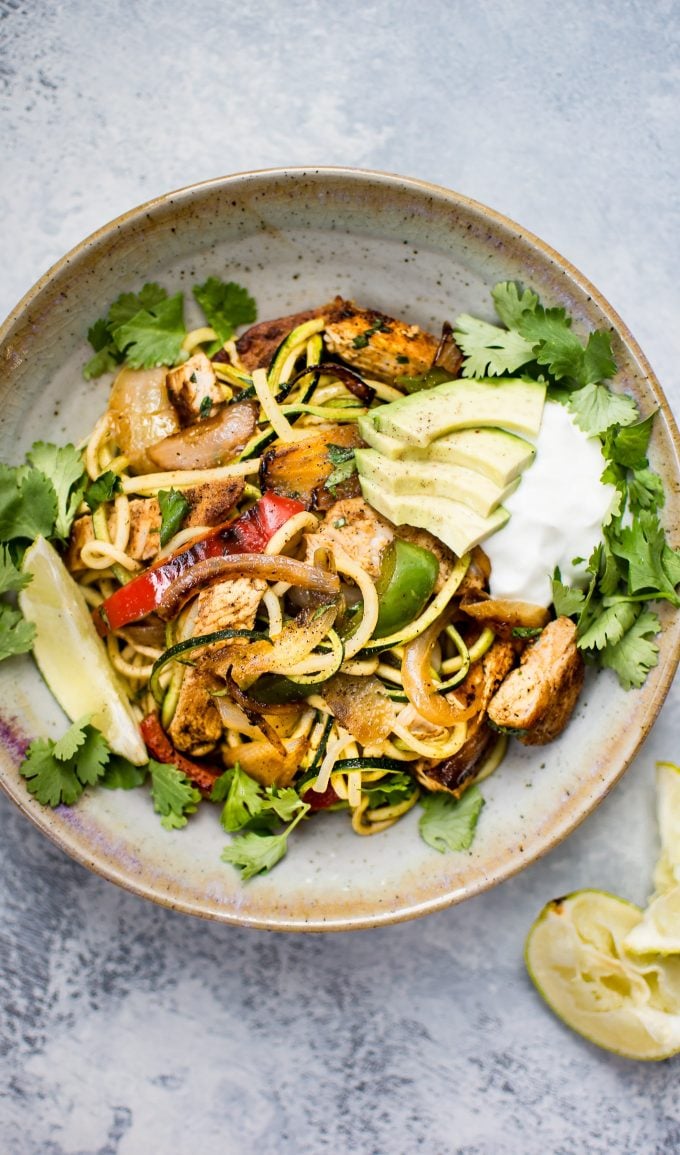 Ditch the tortillas and enjoy the Mexican favorite without the carbs. The chicken and veggies are seared to perfection, but the whole meal tastes wonderfully fresh and lightened up. Get the recipe here.
Rainbow Veggie Noodle Salad (Vegan)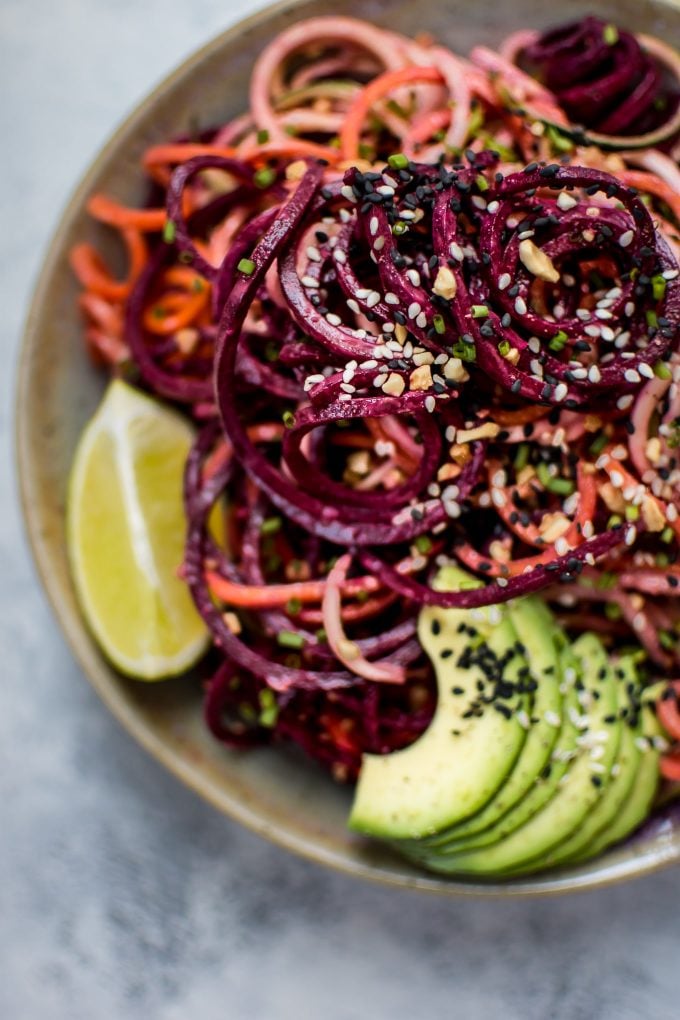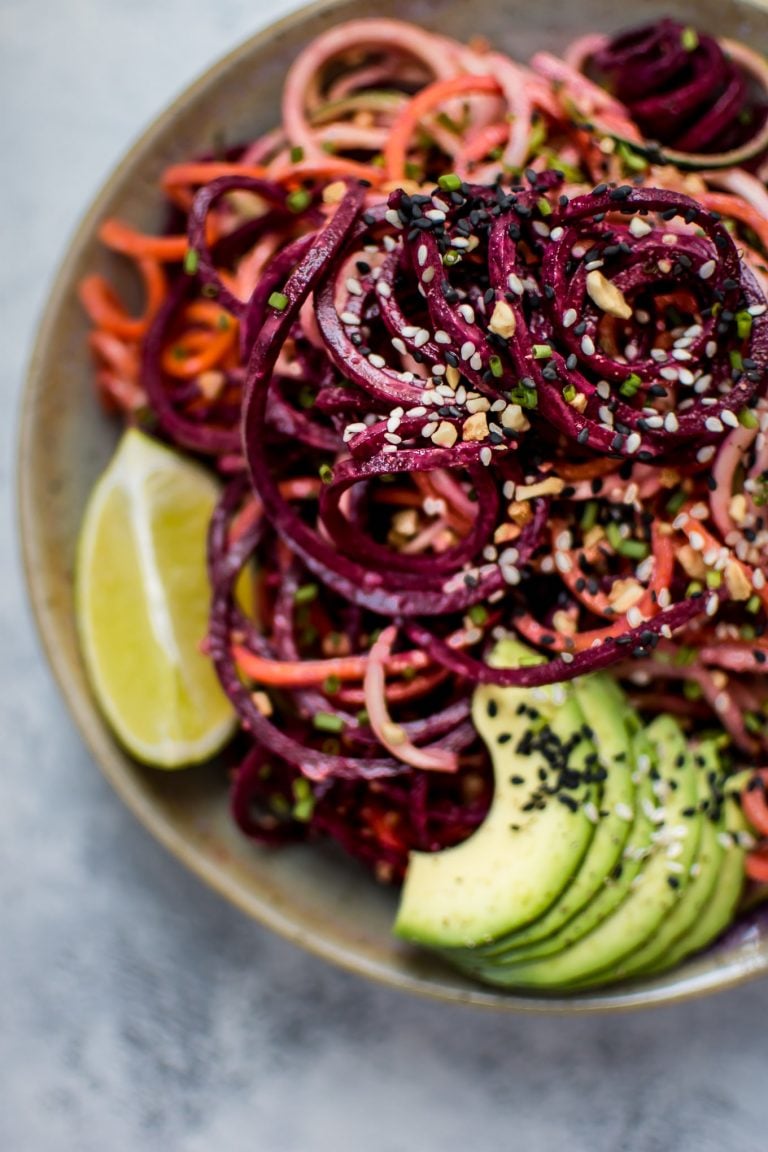 This rainbow noodle salad is filled with vegetables and a delicious avocado dressing. It's healthy and very pretty to look at. Eating your veggies in noodle form is much more fun, don't you think? 😛 Get the recipe here.
Grilled Chili Lime Shrimp Zoodles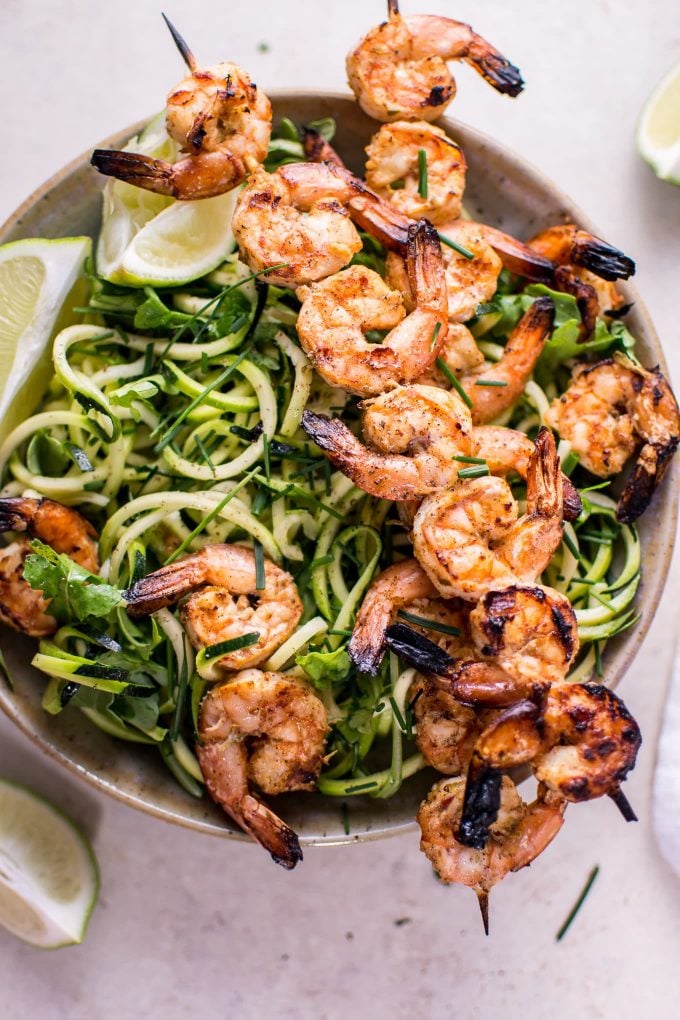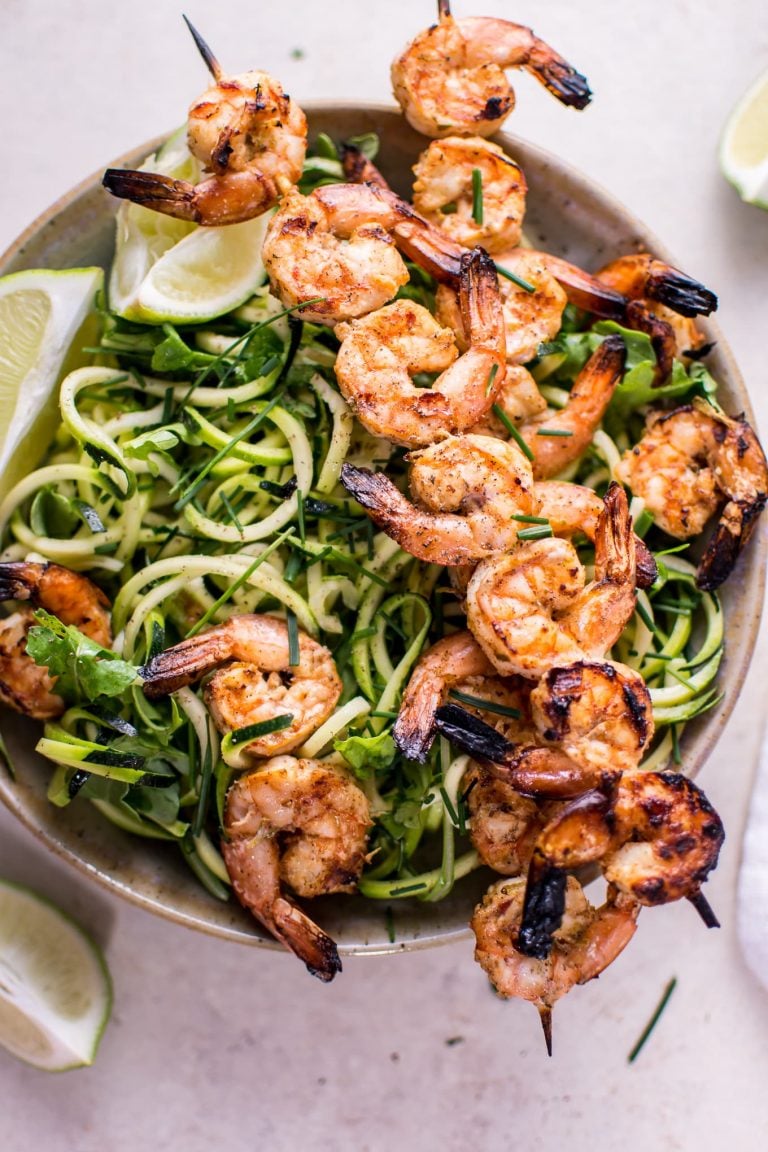 The chili-lime flavor combo kicks this zucchini noodles recipe up a notch. Bust out the BBQ or grill pan to get this delicious recipe fast. Get the recipe here.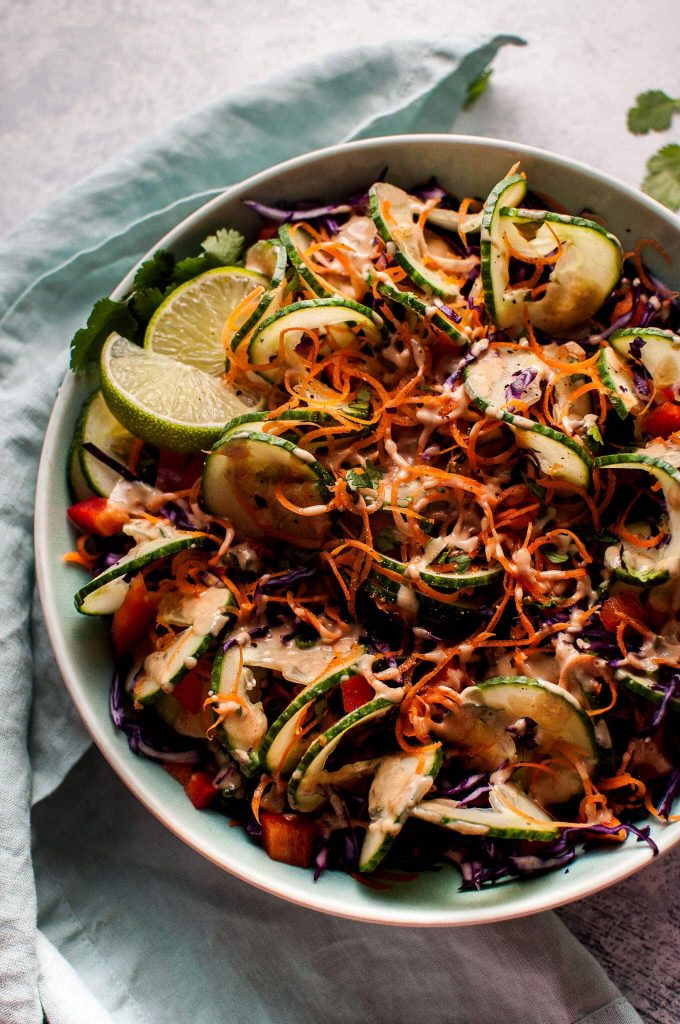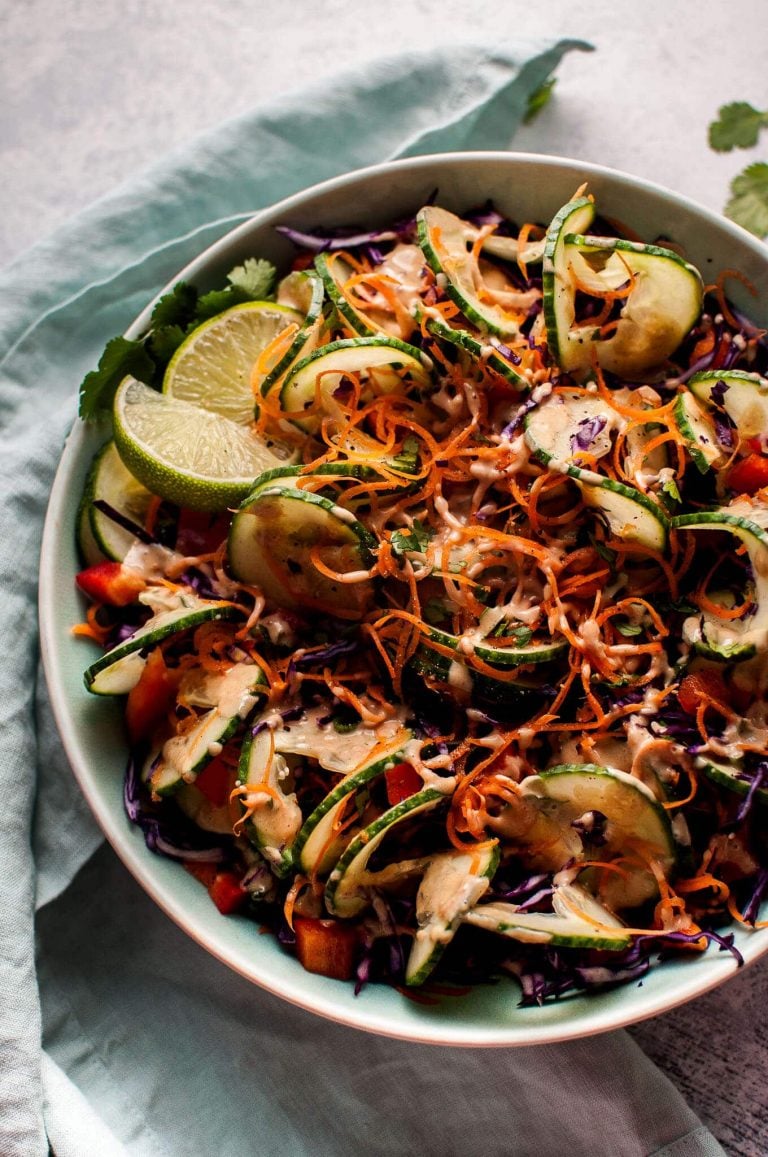 This salad has the classic, well-loved Thai flavors that are so popular. You can come back for seconds and that's ok. 🙂 Get the recipe here.
15 Minute Sweet Chili Shrimp Zoodles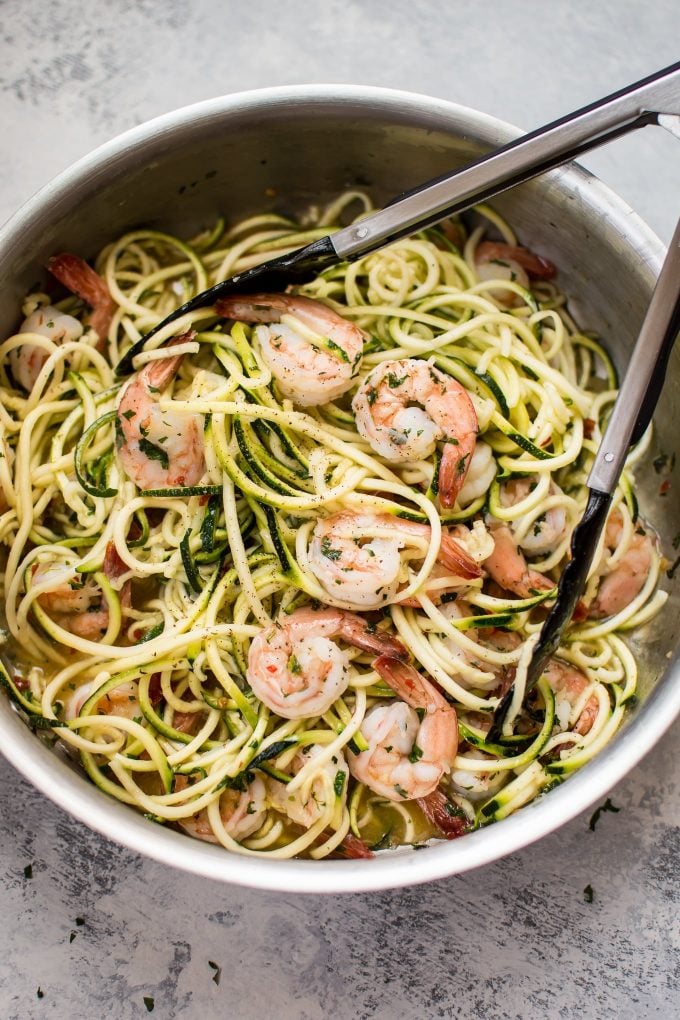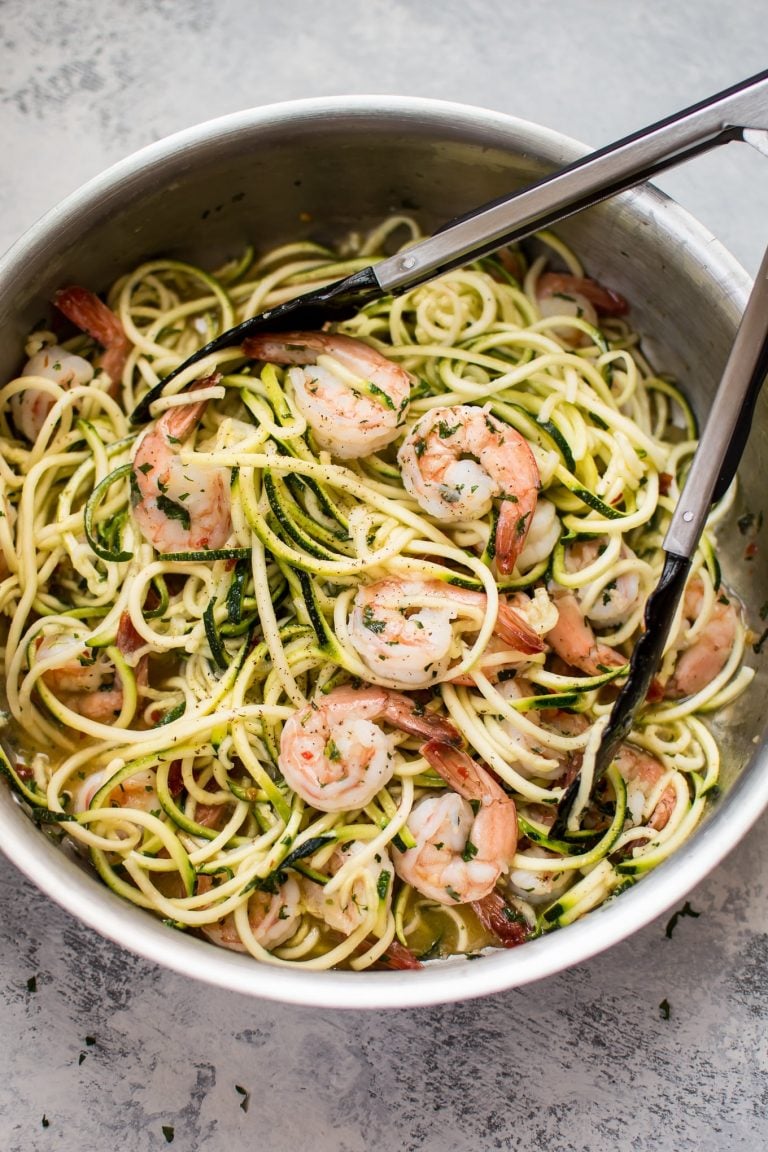 Another 15 minute zucchini noodles recipe coming 'atcha! Sweet chili sauce is really, really good... and it's even better on shrimp. Get the recipe here.
Spiralized Raw Beet Salad (Vegan)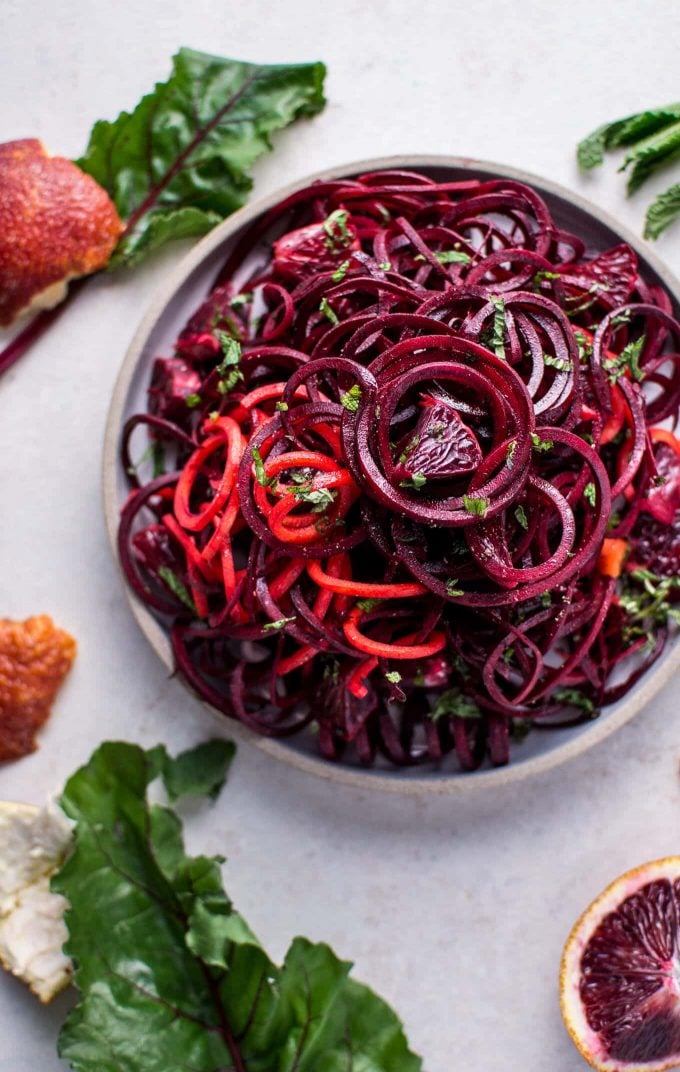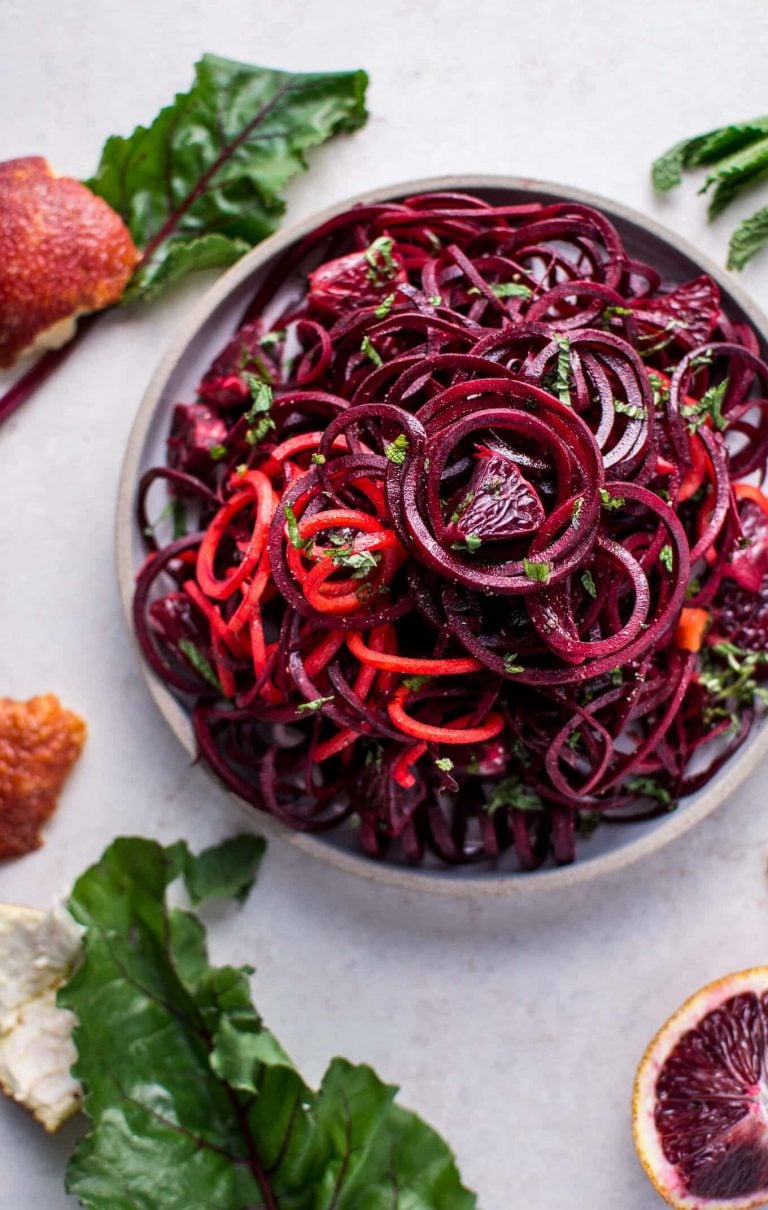 If you've never tried raw beets, you might want to. This salad is incredibly fresh and it's also a showstopper due to those gorgeous beet "noodles". Easy to make, fast, and full of antioxidants. Get the recipe here.
So. Will you be trying any of these healthy spiralizer recipes? Which is your favorite? This is the spiralizer I used to make all of these tasty recipes.
Want to see all my spiralizer recipes? Check them out here.