This Instant Pot ham and potato soup recipe is easy, healthy, quick, and dairy-free. It has a slow-cooked taste with none of the waiting! Ready in a little over half an hour.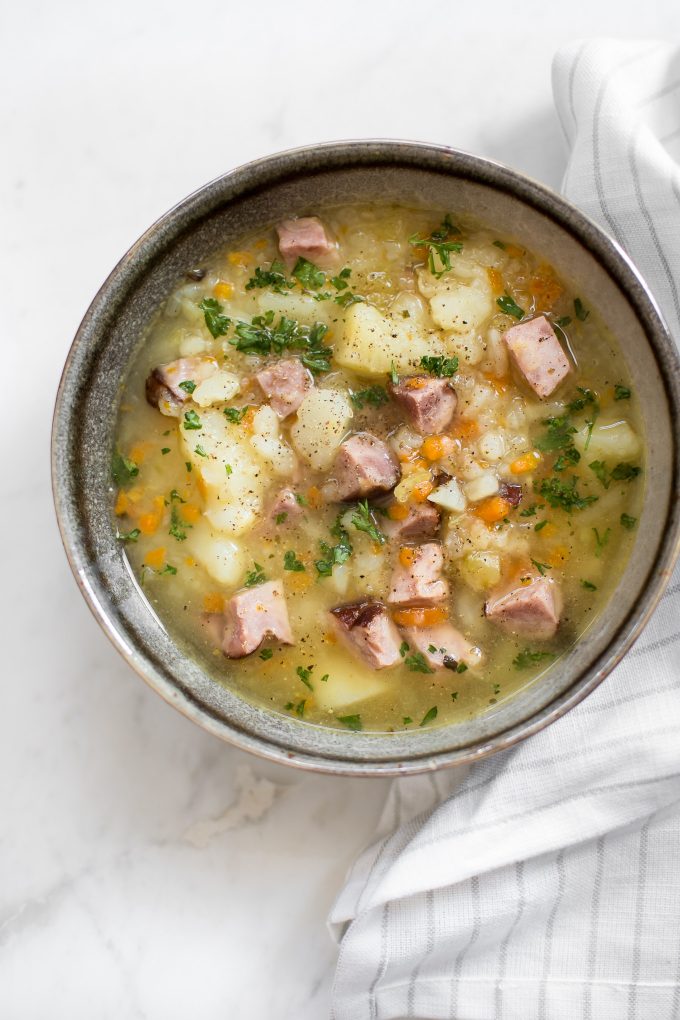 This potato and ham soup was surprisingly flavorful. It doesn't contain many ingredients, either!
Not to say my usual recipes are tasteless (ha), but this is exactly the type of recipe that benefits from being cooked in an electric pressure cooker. It cooks for 13 minutes (including sautéing), and it tastes like it's been cooked for hours.
Like I mentioned in yesterday's recipe post, it's that weird time of year here where I'm craving light summer foods as well as more hearty winter ones. It's warm(ish), but there's still snow on the ground.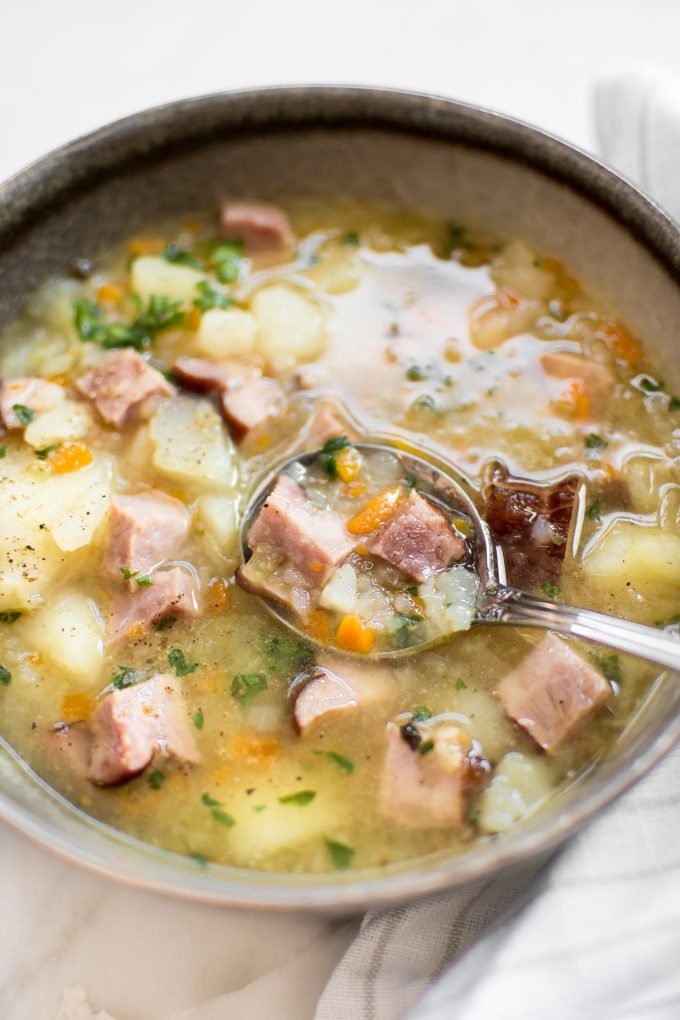 I was sad when I finished the leftovers. This healthy ham and potato soup is simple and hearty, and I couldn't get enough. Aside from the ham, this recipe contains everyday ingredients.
The key to making this taste so good is cooking it under pressure. Is it weird that I now hear the Queen/David Bowie song whenever I use/think about my Instant Pot? Probably. I sometimes even make my husband sing it while my Instant Pot is doing its thing. Yes, I'm annoying.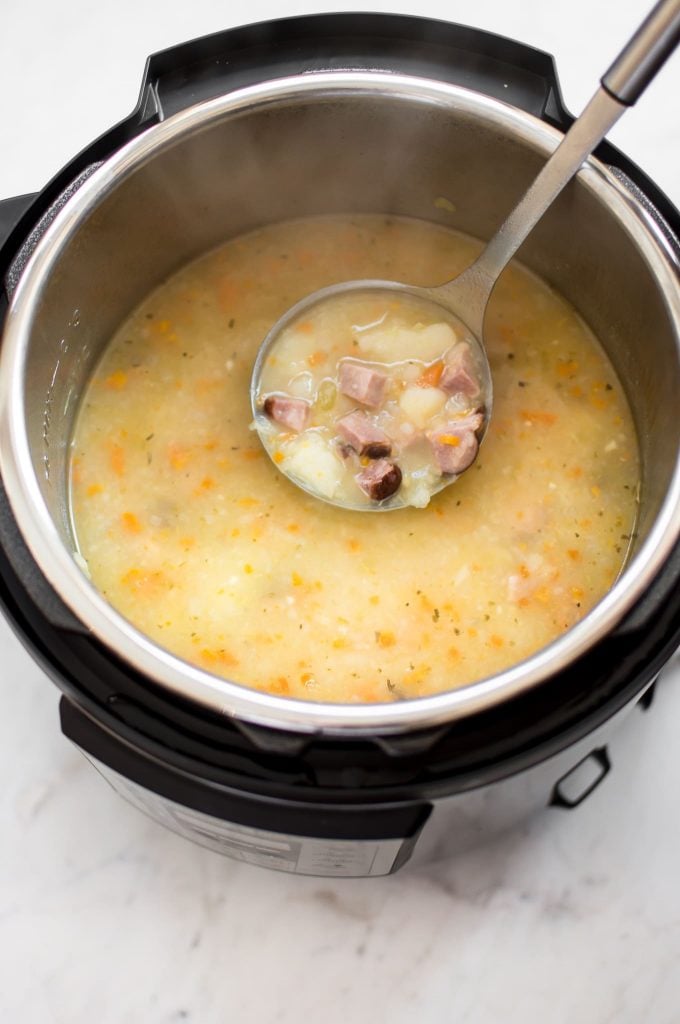 I used a piece of hickory smoked ham from my local grocery store, but this would also be a great recipe if you cooked a large ham for a special occasion like Christmas or Easter or just a Sunday lunch. This makes the perfect leftover ham soup.
This easy ham and potato soup recipe doesn't need super precise measurements. The piece of ham I bought was around 1.2 pounds. Anything close to that mark is fine. I used 2 pounds of Russet potatoes. Again, anything around that mark is fine and will work.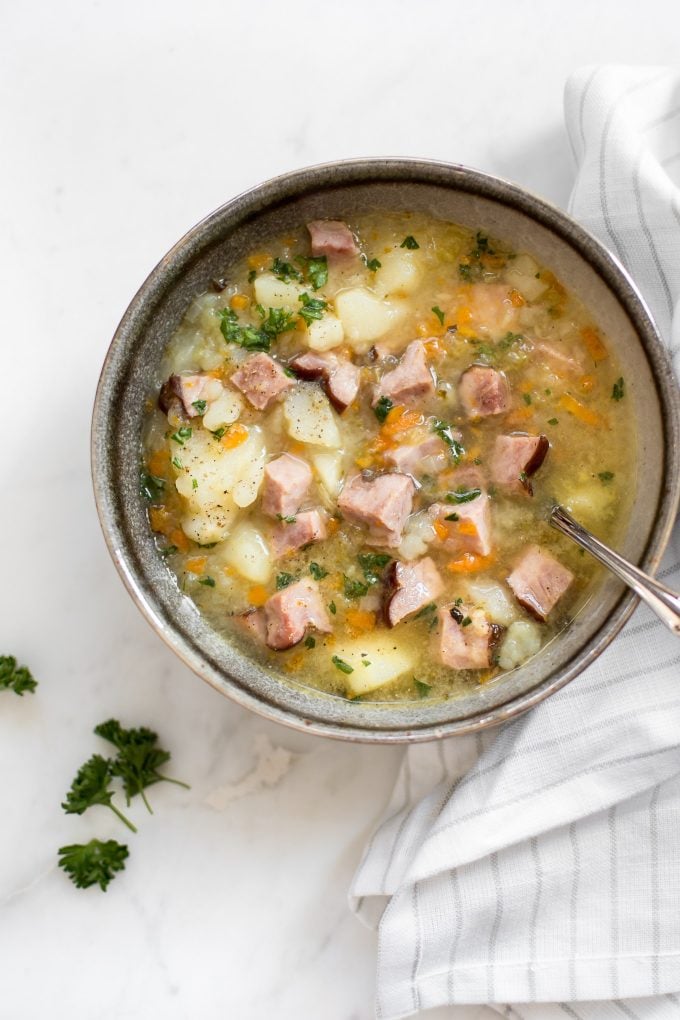 Hope you love this easy Instant Pot potato soup recipe!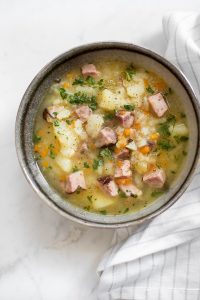 Print
Instant Pot Ham and Potato Soup Recipe
Yield 4-5
This Instant Pot ham and potato soup recipe is easy, healthy, quick, and dairy-free. It has a slow-cooked taste with none of the waiting!
Ingredients
1 large carrot, chopped
2 sticks celery, chopped
1/2 medium onion, chopped
1 tablespoon olive oil
1 pound (approx.) smoked ham, cut into small pieces
2 pounds Russet potatoes, peeled & cut into 1" pieces
3 cloves garlic, minced
4 dashes Italian seasoning
4 cups chicken broth
1 cup water
Salt & pepper, to taste
Instructions
Prep your celery, carrot, and onion and add them to your Instant Pot along with the olive oil. Sauté for 5 minutes, stirring occasionally.
Meanwhile, prep your ham and potatoes. 
Add the ham, potatoes, garlic, Italian seasoning, chicken broth, and water to your electric pressure cooker. Set the lid on "sealing". Cook on high pressure for 8 minutes. It'll take 10-15 minutes for the Instant Pot to get up to pressure.
Once the countdown has finished, release the pressure manually (use caution - soup can splatter a bit). 
Using a potato masher, lightly mash some of the potatoes right in the Instant Pot. I like a mix of potato pieces and a bit of mash. Season with salt & pepper and serve immediately. This soup makes great leftovers. 
Notes
Inactive time in this recipe indicates the time it takes the Instant Pot to get up to pressure.
I use this 6-quart Instant Pot.
Calorie information is provided as a courtesy only and should be construed as an estimate rather than a guarantee. 
Courses Soup
Nutrition Facts
Serving Size 1/4 of recipe
Amount Per Serving
Calories 422
% Daily Value
* Percent Daily Values are based on a 2,000 calorie diet. Your daily values may be higher or lower depending on your calorie needs.
If you're looking for more leftover ham recipes, you may also like my leftover ham and pea pasta or my ham and white bean soup.
Try more of my tasty recipes: