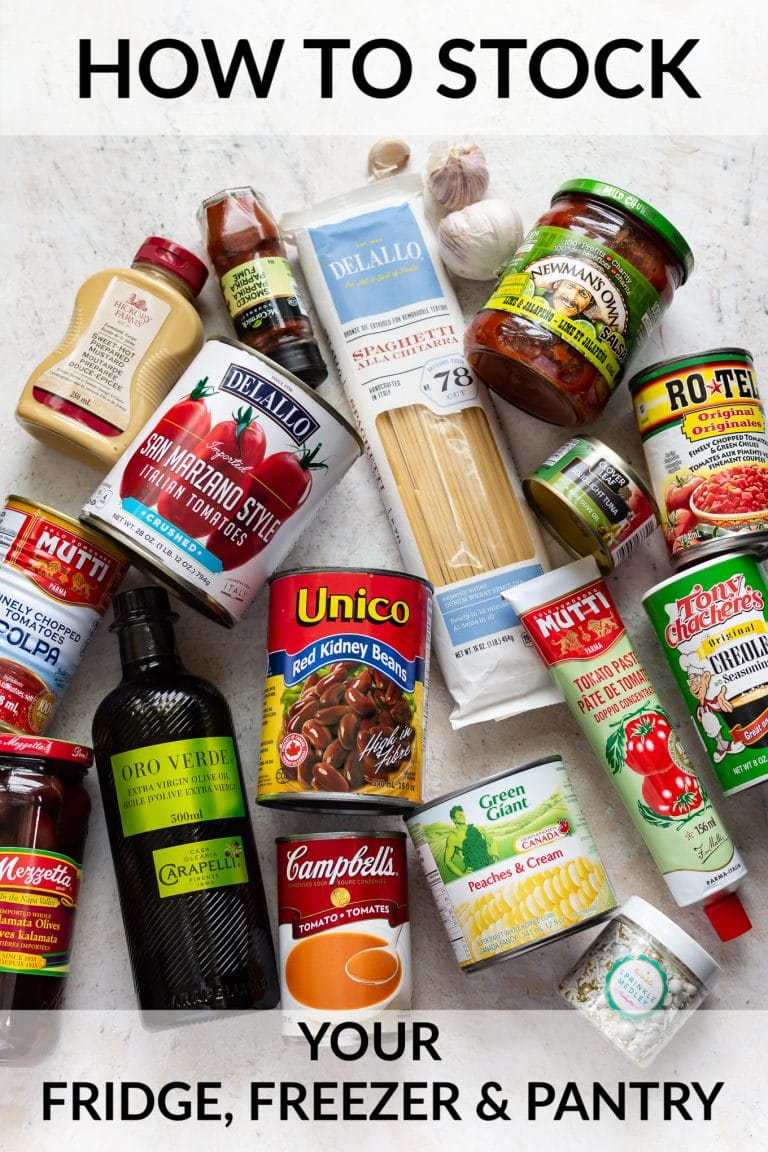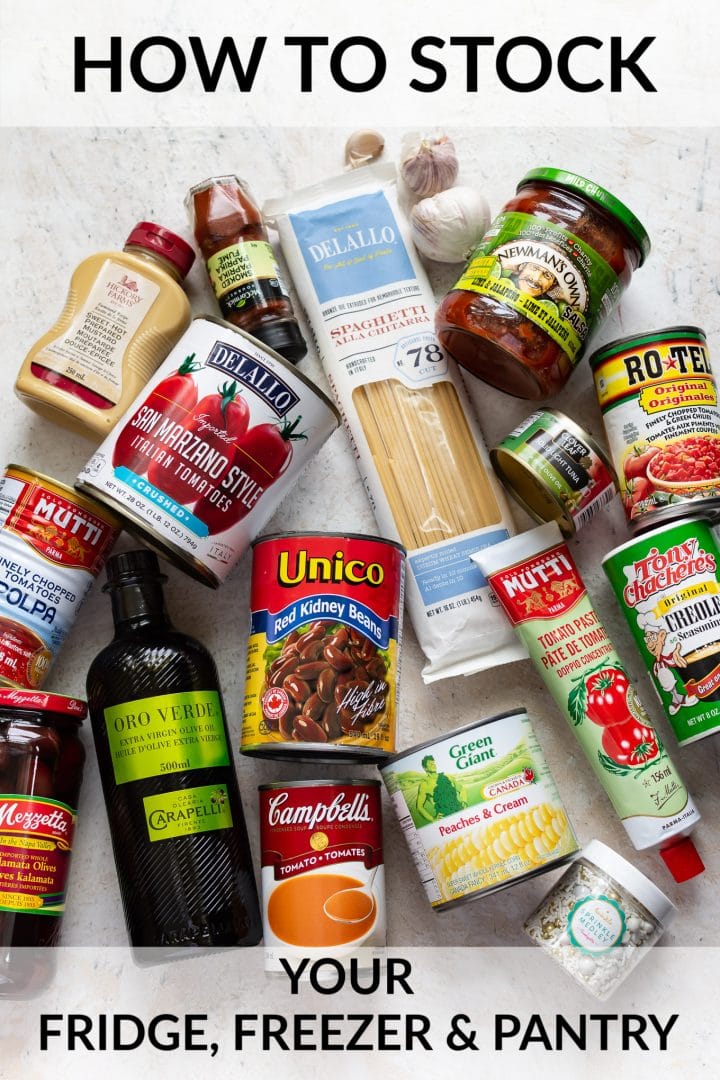 Having a well-stocked pantry is the key to becoming a better (and more relaxed) cook. If you're a beginner or you simply want to get better organized, I've put together a guide that will give you some ideas on how to stock your pantry. I tried to really pare it down into what I consider to be pantry staples for myself as well as the most common ingredients I use in Salt & Lavender recipes. This list is by no means comprehensive, and depending on your diet, you will of course need to add/remove items as needed. This will give you a framework that you can build on.
This list is organized by how/where I store the items. I broke it down into categories to make the list easier to follow.
How to stock your kitchen
Fridge
There's definitely some debate about what should and shouldn't be kept in the fridge. For items like onions and tomatoes, it's definitely personal preference! I choose to keep certain items in the fridge (like onions and tomatoes) because they last sooo much longer.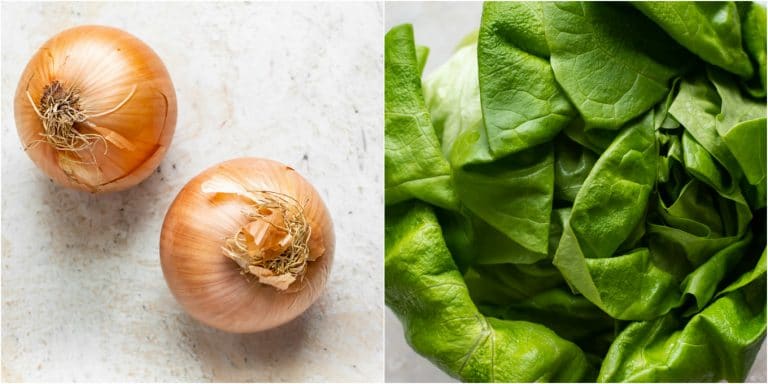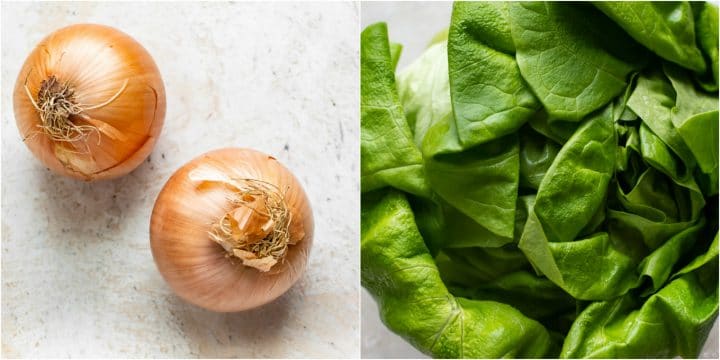 Fresh produce:

Lemons & limes
Apples
Onions (I always have the sweet Vidalia onions on hand – they're great cooked or raw)
Tomatoes (I typically always have grape/cherry tomatoes on hand)
Lettuce (I love the living butter leaf lettuces that you can add water to – they last about a week)
Celery & carrots (I'll cook with them often and they're also great to snack on, so I usually have some on-hand)
Parsley (trim the ends & keep a bunch in a glass of water to keep it fresh)

Dairy products:

Heavy cream
Sour cream
Butter (unsalted)
Milk
Cheese (I always keep a wedge of parmesan and usually have various cheeses in for the blog like shredded mozzarella and/or cheddar)
Philadelphia cream cheese (I always keep a block in the fridge because a lot of my recipes call for it)
Plain yogurt (I prefer the taste of full-fat Greek yogurt but 2% is great too)

Condiments:

Mustard (I always keep Dijon for cooking and a milder one for sandwiches)
Mayo
Ketchup
Worcestershire sauce (I cook with it a lot – it adds a great umami flavor to recipes)
BBQ sauce
Hot sauce
Hoisin & soy sauce (for Asian recipes)
Salsa
Tomato paste
Salad dressing
Jam/jelly

Meats: I buy them as needed, and I prefer to buy fresh vs. freezing it, but you can definitely freeze meat when needed. I do a lot of cooking with ground turkey, extra-lean ground beef, Italian sausage, and boneless/skinless chicken breasts.
Eggs
Sliced bread (yes, I keep it in my fridge for it to last longer. I buy whole wheat and also a German rye bread that lasts for ages. I also often buy pita bread)
Pickles, kalamata olives, capers
Freezer
I tend to buy everything fresh when I can, so I am not one who stores a lot in my freezer typically. You can, of course, buy meat in bulk and freeze it (especially if you have a lot of freezer space available).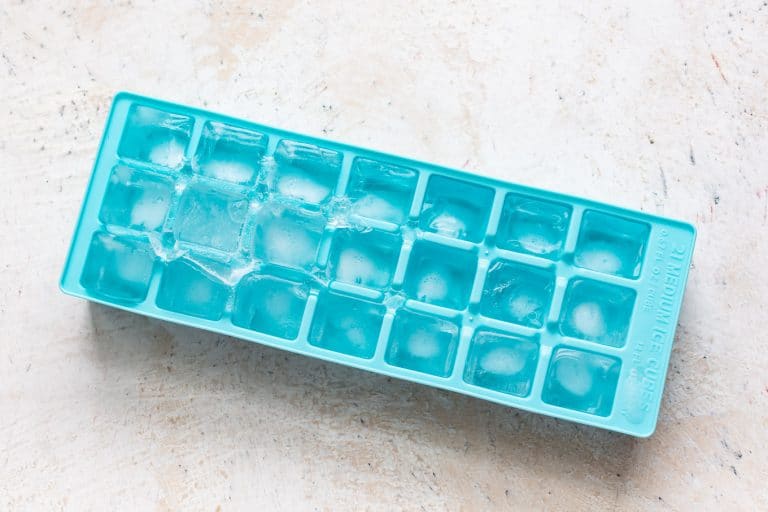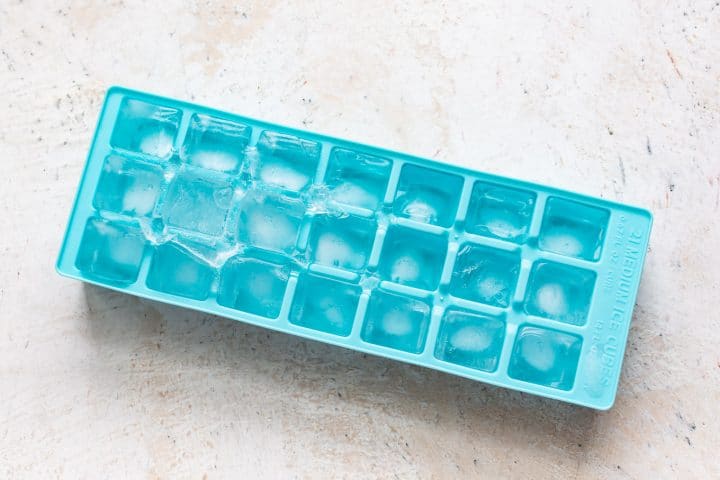 Ice cubes
Frozen shrimp
Homemade spaghetti sauce (I've made it so often that I just eyeball ingredients now. It's a great thing to keep in your freezer to quickly thaw!)
Frozen corn or other vegetables e.g. Brussels sprouts (and frozen fruit if I'm planning on making smoothies)
Fresh ginger (it's easier to grate when frozen – I just store it in a ZipLoc bag so it's always ready for any recipe I need)
Pantry/Cupboard/Counter (not refrigerated)
Herbs & Spices
As a food blogger, I have way more herbs/spices than the ones listed, but these ones are my essentials.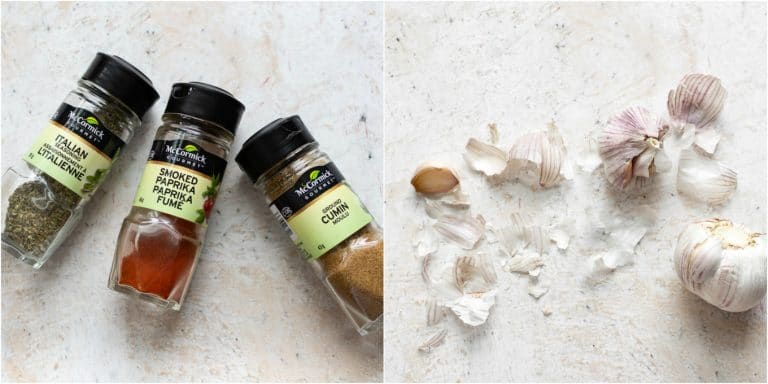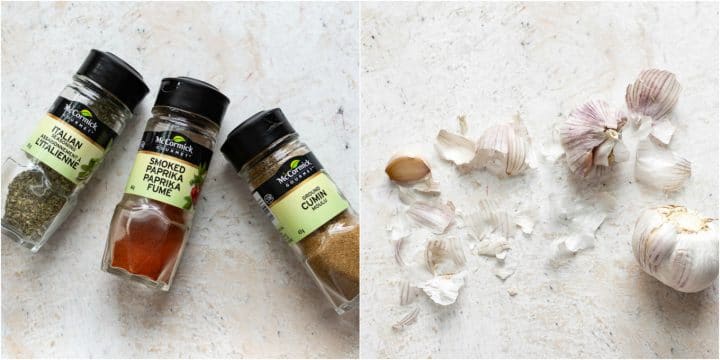 Fresh garlic
Fresh basil (in the summer I grow my own and add it to everything from salads to pasta sauces)
Garlic powder and onion powder
Italian seasoning (it's a blend of some of the most common dried herbs and can replace having to buy individual jars of herbs in a lot of recipes including my recipes)
Herbs de Provence (another popular herb blend that's similar to Italian seasoning but includes lavender)
Smoked paprika and regular paprika
Chili powder
Ground cumin
Crushed red pepper flakes & cayenne pepper (to add heat to recipes)
Various salts – sea salt grinder for cooking, truffle salt for finishing dishes, etc. (I'm a bit of a salt collector)
Pepper
Tony Chachere's Original Creole Seasoning (I put it on pretty much anything I'd use salt for)
Cans/Jars/Cartons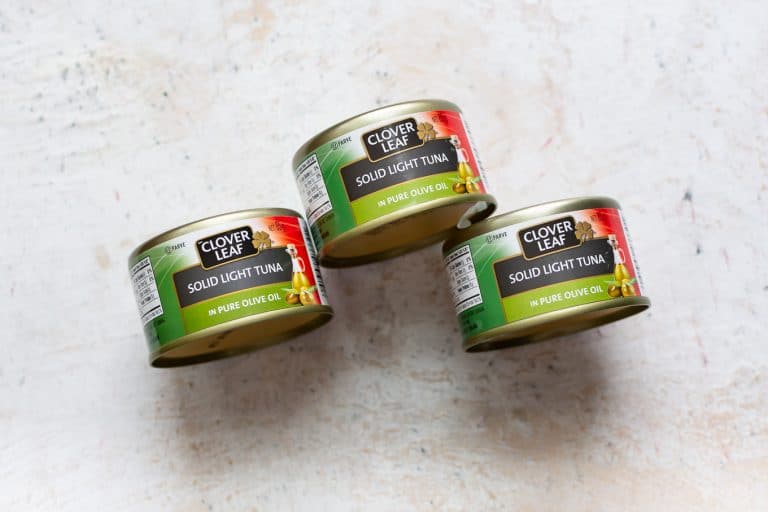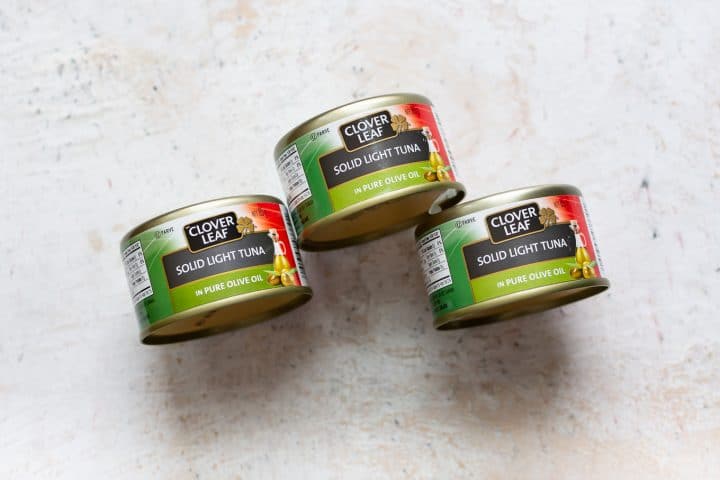 Chicken/beef/vegetable broth (I buy the large 32 oz./4 cup size resealable cartons as well as smaller cans)
Canned tuna (I prefer oil-packed tuna – it has better flavor)
Canned salmon
Canned beans (I always have red kidney, white cannellini beans, and black beans in stock)
Canned tomatoes: various sized cans of diced tomatoes, crushed tomatoes, tomato sauce, Ro-tel, etc.
Canned soup (this is good to have as a just-in-case item. I always keep some Campbell's Tomato Soup on hand)
Canned corn
Peanut butter
Coconut milk
Miscellaneous (grains, rice, pasta, oil/vinegar, etc.)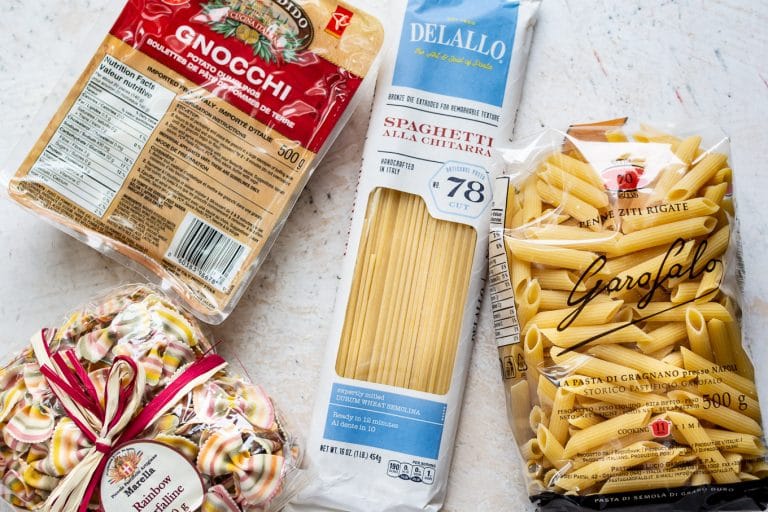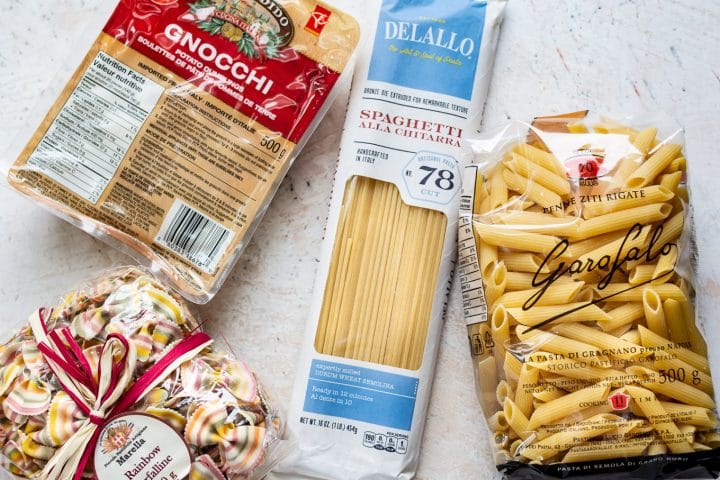 Oils: I always have plenty of olive oil. That's my #1 recommendation if you only want one oil. I also use an avocado oil spray, Pam cooking spray, and I use canola oil for some recipes, but not as often.
Vinegars: red wine vinegar, white vinegar, balsamic, apple cider vinegar, and for Asian cooking I buy rice wine vinegar
Pasta and shelf stable gnocchi (I always like to at least have spaghetti and penne in stock)
Rice (I always have white jasmine in stock. You may want brown and/or wild rice as well)
Fresh produce:

Potatoes (I usually have Russets on hand – they're great for baking as well as soups and mashed potatoes. I store these in the pantry)
Avocados (I'll have half as a snack or add it to salad, I'll sometimes mash it up and make avocado toast or guac. I keep these on the counter)

Ramen soup (great for when I have a cold, and I also have a few recipes that use ramen)
Tea
Tortillas
Snack foods: beef jerky, Goldfish, crackers, etc.
Baking supplies
Keep in mind I don't do much baking so it's not comprehensive for serious bakers, but I always keep these items on hand.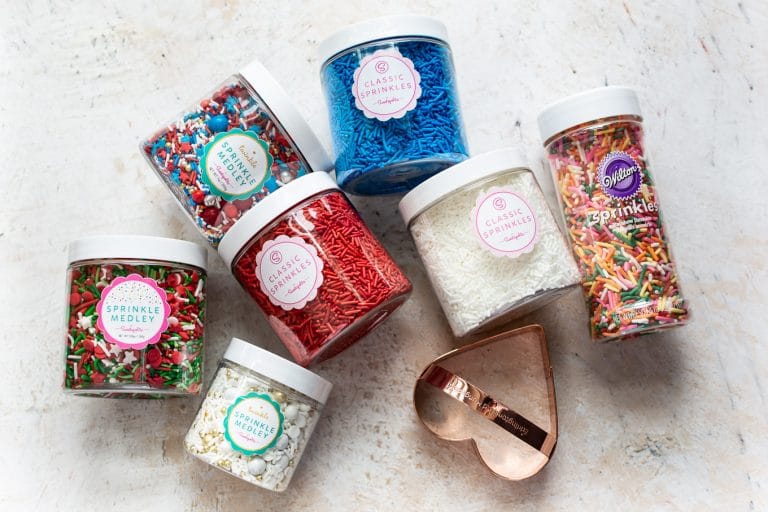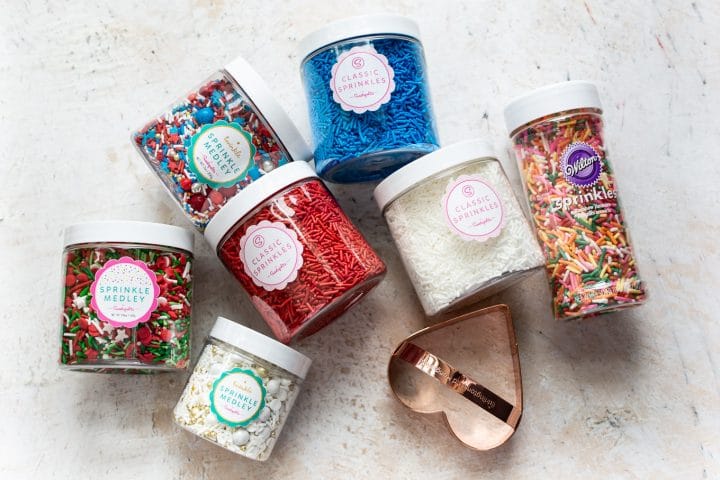 All-purpose flour (I use flour a lot in savory cooking as well)
Honey (I use it in tea and savory recipes as well)
Sugar: granulated, superfine, and brown sugar
Baking soda
Baking powder
Semisweet chocolate chips
Cocoa powder
Pure vanilla extract
Sprinkles
My go-to kitchen tools/small appliances:
I use these items regularly. I am not the type of person to collect gadgets. These are truly useful and I use them for many different recipes. Aside from my kitchen knives, these are the tools I use most often: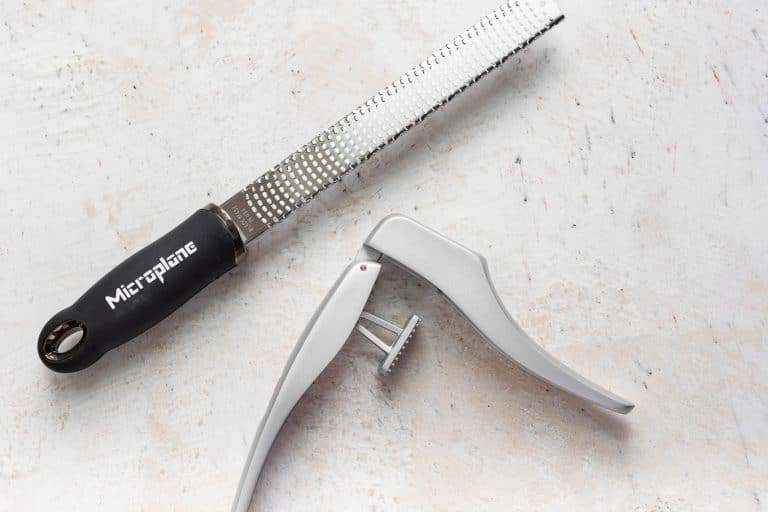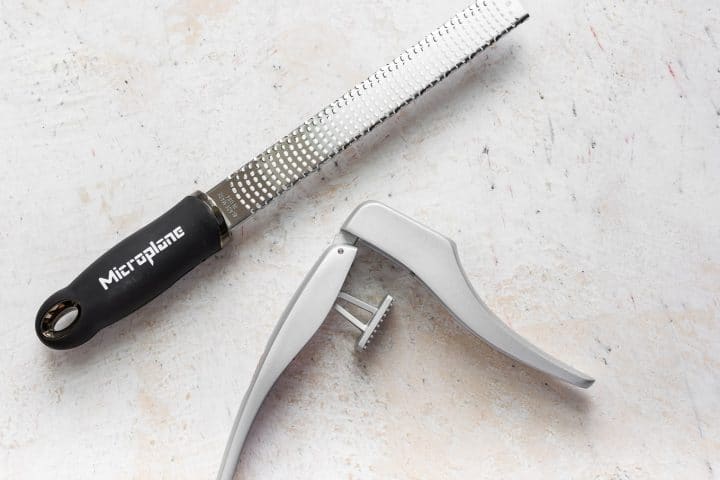 Pantry, Fridge, & Freezer Staples Recipes
These recipes are made with minimal, basic ingredients that you're likely to have in your fridge/freezer/pantry. They also lend themselves to substitutions as needed.
Chicken:
Beef & Pork:
Fish:
Vegetarian:
Dessert/Sweets: